By Lambert Strether of Corrente.
Patient readers, I got a late start because I had to finish up my photo essay on mitigating "plant blindness," so I will fill out the Politics section shortly. –lambert UPDATE All done.
Politics
"But what is government itself, but the greatest of all reflections on human nature?" –James Madison, Federalist 51
"They had one weapon left and both knew it: treachery." –Frank Herbert, Dune
"2020 Democratic Presidential Nomination" [RealClearPolitics] (average of five polls). As of June 11: Biden down 33.4% ( 33.6%) and Sanders steady 17% (17%) stabilize. Warren up 8.0% (7.8%), Buttigieg steady (7.0%), others Brownian motion. Of course, it's absurd to track minute fluctuations at this point.
* * *
2020
Biden (D)(1): Now he's just trolling us:

.@JoeBiden in Ottumwa, Iowa: "I promise you if I'm elected president, you're going to see the single most important thing that changes America — we're going to cure cancer."

— Sahil Kapur (@sahilkapur) June 11, 2019

#MedicareForAll is pie-in-the-sky, but a cure for cancer? No problemo! Honestly, I see stuff like this and I question whether Biden is actually running a serious campaign.

Biden (D)(2): This is why the Biden campaign keeps their candidate under wraps:

Biden in Iowa just gave a long answer about how he had rethought his position on Hyde, said he'd done it all on his own. When I asked him how the reasoning was clear to him at the end of last week when it wasn't at the beginning of last week, he said, "don't be a wise guy."

— Edward-Isaac Dovere (@IsaacDovere) June 11, 2019

Buttigieg (D)(1): "Hollywood political financier Nicole Avant signs on to back Buttigieg for president" [CNBC]. "Mayor Pete Buttigieg has picked up one of the most influential Hollywood financiers as a backer, as he continues to surge in the 2020 fundraising battle, his campaign told CNBC. Nicole Avant, one of President Barack Obama's lead bundlers during his first run for president, has decided she's going all-in to back the South Bend, Indiana, mayor's run for president. 'She's a key supporter who is bundling for us, and hosting an event for us this month,' a campaign spokesman told CNBC. The spokesman said tickets for the Avant gathering will go for up to $2,800." • Ka-ching.

Gabbard (D)(1): "Tulsi Gabbard Had a Very Strange Childhood" [New York Magazine]. " A Hindu veteran and millennial congresswoman of Samoan descent hailing from Hawaii, [Gabbard] brings together disparate constituencies: most noticeably, Bernie Sanders fans who love that she resigned from the Democratic National Committee to endorse him in 2016, but also libertarians who appreciate her noninterventionism, Indian-Americans taken by her professed Hinduism, veterans attracted to her credibility on issues of war and peace, and racists who interpret various statements she has made to be promising indications of Islamophobia. That she is polling at one percent, sandwiched between Andrew Yang and Amy Klobuchar, suggests that bringing together these constituencies is not nearly enough, but the intensity of emotion she provokes on all sides sets her apart. When FiveThirtyEight asked 60 Democratic Party activists whom they didn't want to win, Tulsi Gabbard came in first out of 17 candidates." • Also, Gabbard is a self-described introvert (a plus in my book). And then there's this:

The most obvious obstacle between any noninterventionist candidate and mainstream success is D.C.'s foreign-policy Establishment — the think-tankers and politicians and media personalities and intelligence professionals and defense-company contractors and, very often, intelligence professionals turned defense-company contractors who determine the bounds of acceptable thinking on war and peace. In parts of D.C., this Establishment is called "the Blob," and to stray beyond its edges is to risk being deemed "unserious," which as a woman candidate one must be very careful not to be. The Blob may in 2019 acknowledge that past American wars of regime change for which it enthusiastically advocated have been disastrous, but it somehow maintains faith in the tantalizing possibilities presented by new ones. The Blob loves to "stand for" things, especially "leadership" and "democracy." The Blob loves to assign moral blame, loves signaling virtue while failing to follow up on civilian deaths, and definitely needs you to be clear on "who the enemy is" — a kind of obsessive deontological approach in which naming things is more important than cataloguing the effects of any particular policy.

It's fair to say that whoever The Blob is for — ***cough*** Hillary Clinton ***cough*** — should be approached with a hermaneutic of suspicion.

Harris (D)(1): "Kamala Harris Stopped Cooperation With San Francisco Church Sex Abuse Victims" [The Intercept]. "Fighting on behalf of victims of sexual abuse, particularly children, has been central to Harris's political identity for the better part of three decades…. But when it came to taking on the Catholic Church, survivors of clergy sexual abuse say that Harris turned a blind eye, refusing to take action against clergy members accused of sexually abusing children when it meant confronting one of the city's most powerful political institutions." • Maybe Cardinal Mnuchin weighed in?

Moulton (D)(1): Servicing the funders?

Rep. @PatrickMcHenry offered an amendment to require some individuals who boycott Israel to report that to the IRS and potentially be penalized. It was narrowly defeated, but 12 Democrats voted for it, including @sethmoulton, who is running for president. https://t.co/rHlha0Lv8Y

— Mondoweiss (@Mondoweiss) June 11, 2019

Sanders (D)(1): "As Bernie Sanders Leans Into Socialism, His Rivals Laugh" [The Atlantic]. "Making Elizabeth Warren laugh can be tricky. Throwing her off her talking points is almost impossible. Both happened when she heard that her 2020 opponent Bernie Sanders is scheduled to deliver a 'major address' today titled, according to his campaign, 'How Democratic Socialism Is the Only Way to Defeat Oligarchy and Authoritarianism.'" • Well, that should dispose of two ideas: That Warren and Sanders are the same, and that Warren is on the left. For good, or ill! NOTE Oh, Warren opposes MMT, too: "Warren had just explained how her proposed 2 percent tax on every dollar over $50 million—"Two cents!" she likes to shout— enough cash…." No, it wouldn't. Sanders is, at least, MMT-adjacent (via Stephanie Kelton).

Sanders (D)(2): "Bernie Sanders Campaign Manager Faiz Shakir on Skewed Polls, Corporate Media Conflicts" [Status Coup]. "Shakir noted that elite media journalists are already declaring Sanders campaign dead, which is actually something the campaign feeds off of. But many of these time-of-death pronouncements have been based off of polling that, as Status Coup has reported, has been oversampling voters over the age of 50 while sampling less voters under 50. Unsurprisingly, these polls have found former Vice President Joe Biden having a wide lead over Sanders, who has disproportionate strength among younger voters. 'You're exactly right,' Shakir said. 'Obviously we know the senator's strength tends to come from younger voters, and those younger voters are often underrepresented in these landline-based polls. And if those polls are not doing a good job of trying to account for young people, or figuring out different ways to reach them, then those, by our own estimation, should be deemed a bit suspect.' Shakir added that these skewed polls are eaten up by corporate journalists, who just look at the top line of the poll rather than reviewing the methodology. These journalists then propagate the skewed polling into the daily news cycle 'without really anyone questioning some of these basic factors that you and I are discussing.'"

Sanders (D)(3): Thread:

There's definitely this 2016 echo in the Bernie Sanders campaign — a desire to prove the race-based smears of that year wrong — but the reality is Warren creeping up with college-educated whites could spoil them in IA and NH, which would ensure a loss https://t.co/oXFzJM9fvQ

— Zaid Jilani (@ZaidJilani) June 12, 2019

Including:

Iowa is fairly predictive of the Democratic nominee and Bernie Sanders is faltering there. The main reason why is Sanders has almost no penetration among older white voters. Not sexy for liberals in online social media circles to talk about but reality https://t.co/XVp3xupOQG pic.twitter.com/yPMVfBleS3

— Zaid Jilani (@ZaidJilani) June 12, 2019

I don't think that Sanders is rerunning 2016; I think that's a perception dictated by media coverage (and, to be fair, the Sanders campaign needs to stop the smears before they start, since not only are the smears still "out there," the operatives who injected their bullshit into the bloodstream of the body politic are still employed by other campaigns, or "reporting," or commentating. However, Sanders has clearly said that he wants to bring new voters into the system, and if you look at his appearances, that is what they are designed to do. That's a risky strategy, but not unheard of. And it won't show up in the polling, or in the national media; they haven't prepositioned the tropes for it.

Sanders (D)(4): "Is Bernie Sanders Finished?" [Bloomberg]. • Lol no. C'mon, dude.

Trump (R)(1): "Trump's big, early lead in Facebook ads deeply worries Democratic strategists" [Los Angeles Times]. "[The Trump campaign's] willingness to gamble points to something bigger that unnerves the Democratic Party's top digital thinkers. 'His campaign is testing everything,' said Shomik Dutta, a veteran of Barack Obama's two campaigns and partner at Higher Ground Labs, an incubator for progressive political tech. "No one on the Democratic side is even coming close yet. It should be gravely concerning.' Trump is using the advantage of incumbency, a huge pile of campaign cash and a clear path to his party's nomination to build a digital operation unmatched by anything Democrats have. His campaign is testing all manner of iterations, algorithms and data-mining techniques — from the color of the buttons it uses on fundraising pitches to the audiences it targets with short videos of his speeches. By the time Democrats pick a nominee, some of the party's top digital strategists warn, Trump will have built a self-feeding machine that grows smarter by the day. His campaign has run thousands of iterations of Facebook ads — tens of thousands by some counts — sending data on response rates and other metrics gleaned from the platform to software that perpetually fine-tunes the campaign messages." • Is it just possible — hear me out, now — that Shomik Dutta is talking his book? Anybody who can write "Democratic strategist" without snickering should be mocked mercilessly.

Warren (D)(1): [Team Warren, Medium]. "The rising cost of rent reflects a basic supply-and-demand problem. There aren't enough places to rent that are affordable to lower-income families. That's because developers can usually turn bigger profits by building fancier new units targeted at higher-income families rather than units targeted at lower-income families. The result is a huge hole in the marketplace." • I'm not a housing maven by any stretch of the imagination, but I think a story that doesn't consider the role of private equity in snapping up distressed housing after the Crash is likely to be a fairy tale.

Warren (D)(2): "The Memo: Warren's rise is threat to Sanders" [The Hill]. "'She certainly does seem to be taking votes away from him,' said Democratic strategist Julie Roginsky. 'It seems as if, as she is rising, he is falling.'" • The national averages don't show that.

IA: "Multilevel marketing moguls turned housing profiteers come to Iowa" [Bleeding Heartland]. "When Havenpark Capital Partners bought up five manufactured housing parks in Iowa, they brought tension, anger and fear along for the ride. On a Friday afternoon before any of us knew they had bought our Waukee community, a notice was posted on all 300 doors in Midwest Country Estates that the rent was going up 69 percent in 60 days. Residents in the other four communities received similar notes." • Iowa is a microcosm, in many ways. ("Manufactured housing" = trailer, so what a bunch of bottom-feeders Havenpark Capital Partners are, to be sure.)

IA: "Decades of Iowa polling shows there's no runaway Democratic favorite right now" [Harry Enten, CNN]. "A frontrunner polling in Biden's position (in the mid 20s) should be expected to win the caucuses about 30% of the time…. A frontrunner polling in Biden's position (in the mid 20s) should be expected to win the caucuses about 30% of the time… Someone in Harris' position (a little north of 5%) should be expected to win Iowa around 5% to 10% of the time… Perhaps most interesting is what past contests tell us about the group of candidates polling at 2% or lower. They suggest that someone polling at about 1% should go on to win the caucuses about 3% of the time…. The big question going forward is whether one of the candidates can actually start polling in the mid-30s in the near future. If none can, then this is a race where the frontrunner's chance of winning Iowa will continue to be below that of the other candidates combined (i.e. the field)."

IA: "What's on Iowans' minds going into the 2020 caucuses? Climate change" [Grist]. "According to a new poll by CNN… Seventy-five percent of likely Iowa caucus-goers say they will only support a candidate who recognizes climate change 'as the greatest threat to humanity.' And 32 percent of say supporting the Green New Deal is a candidate 'must have.'" • Strange dichotomy there; one would hope GND support builds even after the floods recede.
Our Famously Free
"MSNBC and New York Times at odds over reporter appearances on Maddow" [CNN]. "New York Times executive editor Dean Baquet and MSNBC president Phil Griffin met last week amid tensions between their two news organizations. But the lengthy lunch did not resolve the issues at hand, according to four sources with knowledge of the sit-down. The executives remain at an impasse. The specific issue is about television appearances by Times reporters on Rachel Maddow's MSNBC show…. The dust-up dates back to May 30, when Vanity Fair caused a ruckus by reporting that Times management wants reporters to 'steer clear of any cable-news shows that the masthead perceives as too partisan.' 'The Rachel Maddow Show' is evidently one of those shows [incroyable!] — and Maddow is not happy about it. The prime time host prides herself on her support for newspaper journalists… Complicating matters further: Numerous Times reporters are also paid contributors to MSNBC and CNN. For example, Matthew Rosenberg and Mark Mazzetti of The Times, who are also paid by CNN, have both appeared on 'CNN Tonight' in recent days. CNN declined to comment on the booking relationship with The Times." • It's impossible for me to understand how the beacons of integrity at the Times could appear in a cesspit like The Rachel Maddow Show. These are strange times.
Realignment and Legitimacy
"House Democrats propose $4,500 pay raise for Congress" [Politico]. • Remember when Nancy Pelosi was going to pass the $15-an-hour minimum wage in the first hundred hours — not days, hours — after the Democrats took power? Good times.

"Why Won't the Democrats Hold a Climate Change Debate?" [Rolling Stone]. • Donors. Plus suburban Republicans would hate it. And if Inslee bend the knee to the DNC on this, he's a wanker.
Stats Watch
Consumer Price Index, May 2019: "Price pressures at the consumer level are losing pace, as the ex-food ex-energy core rate missed expectations" [Econoday]. "At the last FOMC in late April and early May, policy makers were putting a positive spin on a slumping core inflation rate, in this case the Fed's preferred gauge which is the PCE core which was at 1.6 percent in April. This rate runs several tenths below the CPI core and today's report is not pointing to acceleration for the PCE core back to the 2.0 percent target. The spin Powell puts on the latest inflation data could well be the most important part of next week's FOMC results."
Atlanta Fed Business Inflation Expectations, June 2019: "[Y]ear-ahead inflation expectations at the business level have held at 2.0 percent the last two months which is improvement but not much" [Econoday]. "As long as expectations are at least steady and not cracking lower, the FOMC is less likely to see an urgent need to lower rates."
MBA Mortgage Applications, week of June 7, 2019: "Homeowners were waiting in numbers for mortgage rates to go down further and as they did in the June 7 week, refinancing demand soared" [Econoday]. "The refinance index surged… to overshadow what was a very sizable… jump in purchase applications, a jump that points to greater strength for home sales."
Commodities: "U.S. says it will help boost world minerals output to reduce reliance on China" [Reuters]. "The United States plans to help countries around the world develop their reserves of minerals like lithium, copper and cobalt, the State Department said on Tuesday, part of a multi-pronged strategy to reduce U.S. reliance on China for materials crucial to high-tech industries…. Under the plan, the United States will share mining expertise with other countries to help them discover and develop their resources, and advise on management and governance frameworks to help ensure their industries are attractive to international investors." • More colonization!
The Bezzle: "Uber, Lyft Executives Urge California Compromise on Driver Pay" [Bloomberg]. "Faced with legislation in California that endangers their business model, Uber Technologies Inc. and Lyft Inc. are urging a compromise that would keep their drivers from being considered employees. 'We can make independent work better if we update century-old employment laws,' Uber Chief Executive Officer Dara Khosrowshahi and Lyft co-founders Logan Green and John Zimmer wrote…" • I'll bet they did. "For both companies, which just went public, the prospect of being compelled in their home state to completely overhaul how drivers are compensated is an existential threat…. Under the April 2018 ruling known as Dynamex, workers are employees entitled to state wage-law protections unless they are conducting "work that it outside the usual course" of the company's business. For companies whose core service is transporting customers via an army of drivers they claim are all contractors, that could be a challenging test to pass." • So the Dynamex test is something to watch.
Tech: "Uber Trying to Steer Its Vision of Flying Cars Though Regulators" [Bloomberg]. "The company showed videos of a future in which hundreds of vehicles fly off urban landing ports and attendees of the conference could view multiple types of futuristic vehicles built by various companies, including some that are partners with Uber. Allison said the point of holding the conference in Washington was to focus on how government regulators will approve such designs." • I'm sure that if Uber spun out its video creation division, it would be profitable.
Tech: Atrios has always been sound on robot cars:
when you can get practically free labor substituting with expensive capital makes no sense!

— Atrios (@Atrios) June 12, 2019
Tech: "If You Think The Reason Internet Companies Snarf Up Your Data Is Because Their Services Are Free, Allow Me To Introduce You To The Telcos" [TechDirt]. "It's been a few years since this kind of argument has come up, but it's one that we've had to swat down a few times in the past: it's the argument that somehow if a company offers a service for free, it means that they'll absolutely snarf up all your data, and that requiring services be paid for directly by users somehow would fix that. This is easy to debunk in multiple directions and yet it still pops up here and there…. it seems rather easy to point out why that's wrong with two examples. First we pay for other services such as our broadband and mobile data providers and they are so much worse on the privacy front, it's not even remotely comparable. It's not as if magically paying for the service has stopped AT&T or Verizon from being horrific on the privacy front. The snarfing up of data doesn't go away if you pay for services. Second, there are businesses that have been built on giving away free tools without having to snarf up your data. Indeed, that's actually how Google succeeded for much of its early history. It didn't need to know everything about you. It just needed to know what you were searching for. And that was massively successful."
Tech: "Big Mood Machine" [The Baffler]. "Music is emotional, and so our listening often signals something deeply personal and private…. Where other platforms might need to invest more to piece together emotional user profiles, Spotify streamlines the process by providing boxes that users click on to indicate their moods: Happy Hits, Mood Booster, Rage Beats, Life Sucks….. But a more careful look into Spotify's history shows that the decision to define audiences by their moods was part of a strategic push to grow Spotify's advertising business in the years leading up to its IPO—and today, Spotify's enormous access to mood-based data is a pillar of its value to brands and advertisers, allowing them to target ads on Spotify by moods and emotions. Further, since 2016, Spotify has shared this mood data directly with the world's biggest marketing and advertising firms." • "Shared." Honestly, I'm starting to feel — as I did not feel in, say, 1995, when "the Internet" was fresh and clean and new — that using Silicon Valley tech is like opening a kitchen cupboard door and seeing a bunch of cockroaches scuttle for the corners. Just ick. On the bright side, I'm sure Big Pharma loves being able to target users whose moods are consistently "Life Sucks." So it's all good. (And see below under Wired for more on music.)
Concentration: "Tech elites dismiss breakup threats from Washington" [Politico]. "The tone at this week's gathering of tech elite at a cactus-strewn Arizona desert resort — where gift-bag options include a Sonos One speaker, a $100 gift card to the delivery service Postmates and a 23andMe genetic testing kit — suggests that, at least in public and among their peers, Silicon Valley leaders see little to fear in Washington's raging debate…. But when it comes to becoming the target of breakup talk, the tech leaders here portrayed it as less of a threat than a badge of honor — a natural outcome, as Jassy framed it, of a company succeeding on a grand scale. Of the potential for a breakup, he said: 'At the end of the day, we operate in the United States, and we follow United States law, so if we're forced to do it, I guess we'll have to.'" • That's nice.
The Biosphere
Oops:
During the last five years, there have been significant gains in renewable energy (e.g. wind and solar), but fossil fuel use has still grown even faster.

Plans to rapidly reduce fossil fuel use would require a 5-10 fold increase in the annual deployment of carbon-free energy. pic.twitter.com/HTUXQ9kJ5h

— Robert Rohde (@RARohde) June 12, 2019
"He Tried to Plug a Wasp Nest. He Ended Up Sparking California's Biggest Wildfire." [New York Times]. "In a report released in recent days, forensic investigators found that a rancher started the fire when hammering a metal stake in his backyard to snuff out a wasp nest. Sparks flew, igniting dry grass stalks and spreading fire quickly across the desiccated landscape…. The ignition of the so-called Ranch Fire is a testament to the extreme fragility and volatility of the American West, fire experts say. California in particular is such a tinderbox that something as seemingly innocuous as hammering a stake into the ground can unleash an uncontrollable inferno." • 
"The world's largest pot farms, and how Santa Barbara opened the door" [Los Angeles Times]. "In a sandy draw of the Santa Rita Hills, a cannabis company is planning to erect hoop greenhouses over 147 acres — the size of 130 football fields — to create the largest legal marijuana grow on earth…. The cannabis boom has caused a backlash from residents and vintners afflicted by the smell, and farmers who fear spraying their avocados could make them financially liable for tainting multimillion-dollar marijuana crops." • Since when did "grow" become a noun? I'm not sure stopping avocadoes from being sprayed is altogether a bad thing. But the whole story stinks of regulatory corruption at the local level. Speaking of which–
"Know where the nearest poultry farm is? Neither do NC regulators" [WRAL]. "The poultry industry brings some 800 million birds through North Carolina every year at thousands of farms across the state, generating millions of tons of waste. North Carolina's environmental regulators don't know where most of those farms are. By law, they won't be told even if they ask the state Department of Agriculture & Consumer Services, which does keep records but doesn't regulate the industry's waste operations. Neither agency tracks how many farms are in the flood plain, even though state and federal taxpayers spent more than $12.5 million last year to compost millions of birds drowned in the wake of Hurricane Florence." • State taxpayers did. Federal taxpayers didn't.
"EXCLUSIVE: Alberta warned it could take 2,800 years to clean up oilpatch" [Canada's National Observer]. "It's unlikely that well-owning companies will be around to clean up the mess in a few hundred years, said Blake Shaffer, a post-doctoral fellow at Stanford University who has studied well liabilities in Alberta. 'This is a big issue, and we need some policy changes,' said Shaffer, who is also a C.D. Howe Institute fellow and economist at the University of Calgary. 'These shouldn't be things that are multi-generational.'" • The unlikeliness is a feature, not a bug.
"Study reveals how social relationships transform bird flocks" [Phys.org]. "Victorian naturalists were so perplexed by flocks moving together like a single super-organism that they thought birds must be communicating telepathically. Since then, scientists have shown that this collective behaviour can emerge if every bird in a flock responds to its neighbours by following identical rules. But a new study by biologists at the University of Exeter, physicists at Stanford, USA, and computer scientists at Simon Fraser University in Canada shows that flocking jackdaws do not all follow identical rules. Instead, pairs of jackdaws—which mate for life—fly together within the crowd. The findings reveal a trade-off: paired birds benefit because they use less energy in flight, but the existence of pairs reduces the flock's ability to react to predators."
Health Care
"Lower Cardiovascular Mortality Linked to Medicaid Expansion" [Leonard Davis Institute of Health Economics]. "After accounting for demographic, clinical, and economic differences, counties in expansion states had 4.3 fewer deaths per 100,000 residents per year from cardiovascular causes after Medicaid expansion than if they had followed the trajectory of non-expansion states…. The counties in these expansion states had a population of 47.4 million middle-aged adults in 2014. The findings translate to a total of 2,039 fewer deaths per year in 45-64 year old residents from cardiovascular causes after Medicaid expansion." • Good to know that health care (not "access" to health care, mind you, which implies gatekeepers and eligibility determination) saves lives.
Water
"Ask MLive reporters about PFAS contamination in Reddit 'AMA'" [Mlive] (Reddit AMA here). This article aggregates MLive reporting and gives bios of the reporters.
Class Warfare
"On Eve of Union Vote, Chattanooga VW Workers Describe Rampant Workplace Injuries" [Labor Notes]. "'I'm only 33 and I can't see myself working here for another 10 years,' said Ashley Murray. 'I would be disabled by then. We need a union because they are a multibillion-dollar company and they treat us like shit.' Murray is a production employee at the Volkswagen plant in Chattanooga, Tennessee, one of 18 hourly employees there I interviewed for this story. Comments like hers were almost universal." And: "These conditions are not unique to the German automaker. They pervade the nonunion manufacturing industry in the U.S. And to remain nonunion, companies like Volkswagen, Nissan, and Boeing have chosen to locate their production facilities in the South, where the union density is 5 percent—less than half the rate of unionization for any other region in the country." • Opportunity! And in Chattanooga:
@VW management told workers they couldn't wear pro-union buttons and @UAW branded safety glasses (this is illegal). So instead courageous workers are wearing pro-UAW temporary tattoos in their effort to form a union at the Chattanooga VW Assembly Plant. #Union pic.twitter.com/b0QZbWqYjz

— Patrick Mendis (@patrick_mendis) June 12, 2019
"Employee relations fray as Millers All Day vies to become Charleston's leading brunch spot" [Post and Courier]. "[M]agazine editors making room on their hot lists for [Millers All Day, the] lower King Street breakfast spot. Behind the scenes, though, employees say the situation was chaotic at best. They allege they were addressed disrespectfully; denied meal breaks and made to do side work and food prep in an unheated second-floor room. 'You're polishing silverware for four hours, and your fingers are freezing,' says Charnele Landingham, a former CO manager who was hired by Millers as a bartender, but soon thereafter reassigned to the host stand. 'The cooks peeling shrimp couldn't feel their fingers.' For their part, Johnsman and Thurston say the restaurant's challenges weren't out of the ordinary, especially in light of how many customers were won over by Millers' successful publicity campaign." • One of the things I so enjoyed about Anthony Bourdain is that he focused not just on the food, but on the workers. This article has implications that go beyond Charleston.
A highly disconcerting and disappointing thread on lacunae in Jared Diamond's scholarship:
While researching Jared Diamond's new book, one thing I found startled me. Guns, Germs, and Steel starts when Diamond happening on man named Yali, who had "never been outside New Guinea," on the beach. Yali's question—why do whites have so much?—is what launches the book. 1/ pic.twitter.com/dMlz7yY64V

— Daniel Immerwahr (@dimmerwahr) June 11, 2019
News of the Wired
"The Day the Music Burned" [New York Times (JP)]. "Among the incinerated Decca masters were recordings by titanic figures in American music: Louis Armstrong, Duke Ellington, Al Jolson, Bing Crosby, Ella Fitzgerald, Judy Garland. The tape masters for Billie Holiday's Decca catalog were most likely lost in total. The Decca masters also included recordings by such greats as Louis Jordan and His Tympany Five and Patsy Cline." • A long-form piece, well-researched and reported. A must-read. Archival preservation just isn't something capital can do. UMG's master archive went up in flames on a Hollywood lot, ffs.
* * *
Readers, feel free to contact me at lambert [UNDERSCORE] strether [DOT] corrente [AT] yahoo [DOT] com, with (a) links, and even better (b) sources I should curate regularly, (c) how to send me a check if you are allergic to PayPal, and (d) to find out how to send me images of plants. Vegetables are fine! Fungi are deemed to be honorary plants! If you want your handle to appear as a credit, please place it at the start of your mail in parentheses: (thus). Otherwise, I will anonymize by using your initials. See the previous Water Cooler (with plant) here. Today's plant: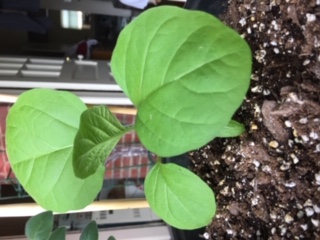 DCBlogger's eggplant, evidently on a porch (and in line with today's post on avoiding plant blindness, which is why I'm allowing the small size).
* * *
Readers: Water Cooler is a standalone entity not covered by the annual NC fundraiser. So do feel free to make a contribution today or any day. Here is why: Regular positive feedback both makes me feel good and lets me know I'm on the right track with coverage. When I get no donations for five or ten days I get worried. More tangibly, a constant trickle of small donations helps me with expenses, and I factor in that trickle when setting fundraising goals. So if you see something you especially appreciate, do feel free to click this donate button:
Here is the screen that will appear, which I have helpfully annotated.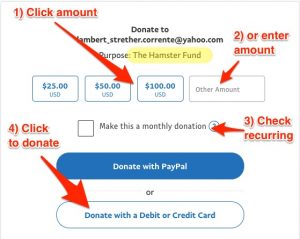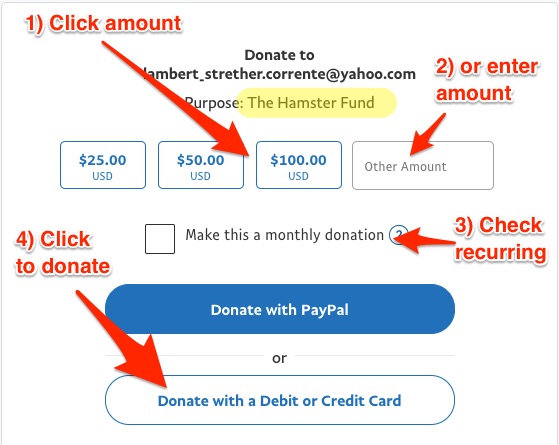 If you hate PayPal, you can email me at lambert [UNDERSCORE] strether [DOT] corrente [AT] yahoo [DOT] com, and I will give you directions on how to send a check. Thank you!