By Lambert Strether of Corrente.
Trade
"Tariff-heavy U.S. trade policies are triggering financial strains in supply chains. Some companies have run up inventories of raw materials or finished goods to get around impending levies while others have offered customers longer payment terms to help them adjust to increasingly uncertain costs" [Wall Street Journal]. "the measures are soaking up corporate cash in a growing tug-of-war in supply chains, with more money tied up in product stockpiles or payments and less available for capital spending and operating costs. The Hackett Group Inc. estimates about $3.4 trillion in working capital was locked up across U.S. companies at the end of 2018, up from $2.7 trillion five years ago." • "Working capital" was "locked up?" Like, not available for stock buybacks and executive compensation? (Can elites really believe that capital is not fungible, and that what they keep in the right pocket, for looting, can't be moved to the left pocket, for investment?) I take the point, but the picture seems incomplete.
Politics
"But what is government itself, but the greatest of all reflections on human nature?" –James Madison, Federalist 51
"They had one weapon left and both knew it: treachery." –Frank Herbert, Dune
"2020 Democratic Presidential Nomination" [RealClearPolitics] (average of five polls). As of June 11: Biden down 33.4% ( 33.6%) and Sanders steady 17% (17%) stabilize. Warren up 8.0% (7.8%), Buttigieg steady (7.0%), others Brownian motion. Of course, it's absurd to track minute fluctuations at this point.
* * *
2020
Biden (D)(1): "Joe Biden: Republicans 'Know Better,' Will Change After Trump" [HuffPo]. Biden, of Republicans: "'With Trump gone you're going to begin to see things change. Because these folks know better. They know this isn't what they're supposed to be doing.'" • "Folks."

Biden (D)(2): "Joe Biden's comments from a 1973 City Club appearance show it may be hard to reconcile past with present" [Cleveland Plain-Dealer]. Biden in 1973 at the City Club of Cleveland (from the newspaper page imaged at the link): "We are a product of our political system. What holds us together as a nation are not cultural ties as in other countries, but political ties We are able to move forward because of politics. " • This is a deeply held belief in the liberal Democrat leadership. In 2008, Obama had the Preamble of the Democrat platform changed to reflect these ideas. In 2012, Obama said that he expected the Republican "fever" to "break." I don't know a better word for this belief set that delusional.

Biden (D)(3): "Poll: Black voters favor Biden, consumed by pocketbook issues ahead of 2020" [Politico]. "A new poll conducted for [the Black Economic Alliance] shows former Vice President Joe Biden continuing to hold a big enthusiasm advantage over his 2020 presidential rivals, while other Democrats have a chance to make inroads by focusing on the pocketbook issues of paramount importance to African American voters…. The survey, which was conducted by two Democratic polling firms, Hart Research and Brossard Research, found a three-way split on the top issues on the minds of African American voters, with 77 percent of respondents each saying that affordable health care, college affordability and creating more jobs with benefits were 'extremely important issues.'" • Af ter Obama destroyed a generation of black wealth with his failure to respond to the foreclosure crisis, it's hard to see why there would be a halo effect for him with Biden.

Gravel (D)(1):

The elite class of this country has no qualms about shipping you off to Afghanistan or watching your house submerged in order to make sure their investments aren't taxed and they can still buy a third home. Don't believe them when they tell you they care. They don't.

— Sen. Mike Gravel (@MikeGravel) June 10, 2019

Sanders (D)(1): Look, a theory of change!

The Koch Brothers are preparing to try to buy the Democratic Party and buy the 2020 election. We cannot let them. The only way we will stop them is to build a grassroots progressive campaign that rejects their right-wing ideology.https://t.co/B0bNbLIxnR

— Bernie Sanders (@BernieSanders) June 11, 2019

Sanders (D)(2): "Bernie Sanders' SC campaign looks different this time. Is it different enough to win?" [McClatchy]. "Pauline Brown said she nearly broke down in tears when U.S. Sen. Bernie Sanders walked through her front door last month. Her longtime partner, Eugene Smith, said he stood in disbelief. They'd had little success getting S.C. leaders to pay attention to the dirty water in their city of Denmark, so they never expected anyone running for president to show up to see for himself. 'A presidential candidate that comes to your house to see how you're living, I just couldn't believe it,' Smith told The State on Thursday. 'It meant a whole lot to both of us. For over 10 years, nobody believed us. It was astounding to him.'" • 511 days of this could make a real difference…

Warren (D)(1): "Elizabeth Warren Has a Plan for Everything — Except Health Care" [Politico]. "In a recent MSNBC town hall, Elizabeth Warren put her policy platform on full display…. The performance supported Warren's reputation as a candidate with a "plan for everything" — a reputation emphasized repeatedly by MSNBC moderator Chris Hayes throughout the event." • It's almost like MSDNC has picked a winner, isn't it? More: "[But Warren] has no plan for fixing the broken US health care system. Warren had several opportunities in the town hall to address the health care crisis. Instead, she avoided the topic almost entirely… Her platform is mostly laudable, but so far, Warren's campaign has given no indication that she's willing to take on this fight." • Possibly because #MedicareForAll — unlike all the other "plans" Warren is proposing — has an active and engaged group of supporters, and Warren would prefer to gather professionals round the table (e.g., 23andMe) and have them make the decision? Or possibly because preventing #MedicareForAll is the number one goal of the liberal Democrat leadership? Or possibly because Warren is a "capitalist to her bones," and no matter how much research Warren does, she won't be able to come up with a market-based solution to the problem?

Warren (D)(2): The Neera Tanden primary:

.@MSNBC continues its elevation of Warren over Sanders. This time Neera Tanden weighs in.

"I think one of the assets Senator Warren has is for a lot of liberal voters she's not divisive to the party, she's really welcoming. She's very much open to a whole series of voters." ? pic.twitter.com/oRlKftiivZ

— Geoff Campbell (MiamiGator) (@GeoffMiami) June 10, 2019

Warren (D)(3): "Clinton allies open to backing Warren for president in 2020" [The Hill]. "Allies of Hillary Clinton say they could see themselves supporting Sen. Elizabeth Warren (D-Mass.) for president in 2020, even as she rails against Wall Street and pulls Democrats away from some of Clinton's more centrist positions. 'If Elizabeth Warren decides to run for president, she will find support both from Hillary diehards who still want to elect a qualified woman as president and from Hillary skeptics who want an unflinching champion against corporate greed as the party's standard-bearer,' said Seth Bringman, a Clinton ally who served as a spokesman for the Ready for Hillary super PAC." • One account for the difference between Sanders 40%+ in the 2016 Democrat primary and his much lower figures this year would be the hatred Clinton inspired, and her baggage. Warren has none of these disadvantages, and could be seen as a sort of Clinton 2.0. More: "'Warren does emphasize themes — especially economic justice themes — that are similar to Bernie Sanders, and she is very willing to engage President Trump and the GOP head on, which is what a lot of Democrats are looking for,' said Grant Reeher, the director of the Campbell Public Affairs Institute at Syracuse University. 'She can fire up the base, but also argue specifics, and she is authentic in delivering the message. That's .' Still, Reeher added that Warren could be 'even more susceptible to some of Hillary Clinton's feet of clay as a candidate.' Clinton had 'a style and manner that struck many as elitist and scolding,' and Warren could face many of the same problems, given her background in academia. 'Harvard professor is about as elite as it gets, and she comes across as a Harvard professor,' Reeher said, adding that this reflects, in part, a gender bias." • Clinton allies and assets giving Warren a boost might account for Warren's sudden spate of media coverage and favorable polling, too (note that the national averages per RCP have barely budged, so this looks more like the "invisible primary" than actual voter behavior).
2018 Post Mortem
"The Merch Primary" [Current Affairs]. "In all the competing theories explaining why Trump won the 2016 election, deeply rooted as they've been in analysis of class, race, and geography, most pundits have missed the key issue. Donald Trump won because he had the best merch. The "Make America Great Again" cap, with its simple, bold design, is the most instantly iconic piece of presidential merch in decades, easily besting both Jeb Bush's "My dad is the greatest man I've ever known and if you don't think so we can step outside" t-shirts and Hillary Clinton's bland H-with-an-arrow-through-it motif. The MAGA cap is so seminal that it burst through the confines of campaign merch to become a universally recognised symbol of racism. . It's time the Democrats took notes, and journalists started taking merch as seriously as it deserves." • Followed by review of all the 2020 merch!
2019
Drag him, AOC!

In democratically socialist businesses (like worker co-ops) or methods (like collective bargaining) you actually CAN vote for a worker pay increase.

Many do!

We can't pass these laws bc of big money. This is how you chip at it.

Like I said, it's not popular but I'm being ? https://t.co/toFwbs56x0

— Alexandria Ocasio-Cortez (@AOC) June 11, 2019

It's almost like this person believes that wages are determined by impersonal market forces, and that power relations — especially class power relations — have nothing to do with it.
Realignment and Legitimacy
I get mail, and I am here for the Nepalese lady:

Also, per our excellent discussion yesterday, these are really not "travelers."
Stats Watch
NFIB Small Business Optimism Index, May 2019: "Showing no deterioration from a month of trade tensions, May's small business optimism index rose strongly for a second month" [Econoday]. "Like this report, surveys on consumer sentiment also posted strong gains in May. Underlying economic data may be mixed, including last week's employment report for May, but overall confidence is solid and improving." • The continuing contradiction between data and surveys should be a scandal, but it's normal.
Producer Price Index (Final Demand), May 2019: "Inflation is holding pace but barely, inching… higher in May with the year-on-year rate, however, missing expectations" [Econoday]. "Another upward indication is a rebound in portfolio management fees, up 1.8 percent on the month and now up 5.5 percent on the year." • "Upward" for whom?
Tech: Apple:
Apple Engineers Explain $999 Mac Pro Stand https://t.co/HQMuKAiBJE

— exiledsurfer (@exiledsurfer) June 10, 2019
It's been awhile since I've seen this very appropriate meme.
Tech: Thread on algorithmic recommendations generally:
I have a question: purely from a business perspective, is there anything that has actually proved that algorithmic recommendations are better for retention than chronological? Like a study? https://t.co/YJo5pCrTRm

— Aram Zucker-Scharff (@Chronotope) June 8, 2019
Well, if we used chronological instead of algorithmic — as in blogging, even today, or Twitter, before @jack started [family blogging] it — we wouldn't need nearly so many programming departments, or executives, or executive bonuses. It's almost as if, at this point, we're investing enormous sums to produce pure mystification and mummery. Not to mention harms–
Tech: Thread on algorithmic recommendation on YouTube:
THREAD: In light of @YouTube's decision to neglect the Crowder/@gaywonk problem, I'd like to draw some attention to a few of the other ways YouTube actively harms the world to maximize their revenue /1

— "Miami Girl" #teamyvie (@C0INCELPR0) June 5, 2019
Idea of regulators: Outlaw algos. Only chrono. Why not? Chrono worked fine! If you don't want manipulation, remove the functionality that enables it!
Honey for the Bears: "Factories that helped build the U.S. industrial boom aren't manufacturing much optimism these days. Deere & Co., General Motors Co., 3M Co. and other manufacturers are cutting output, slowing hiring or even cutting jobs… as American consumers and companies buy fewer cars, trucks and tractors and build fewer houses" [Wall Street Journal]. "The lagging output is coursing through supply chains, with demand for steel parts, paint and other building blocks of the economy waning and shipments of industrial products weakening. U.S. rail transports of metallic ores and metals fell 7.7% in May from a year ago while carloads of iron and steel scrap tumbled 9.3%, according to the Association of American Railroads. Trucker YRC Worldwide Inc., with a less-than-truckload network focused more on retail goods, says tonnage per day at its YRC Freight subsidiary fell 5.5% in April and 7.6% in May." • Aggregate demand problems. I'm haunted by a Lurking Fear, admittedly vaguely expressed, that the next recession will not be driven by the financial economy* (as in 2008) but by the real economy; some simultaneous snapping of unexpectedly interdependent supply chains that neo-liberalism/globalization will have brought about by combining tight coupling and crapification (The British would be the lab rats for this after a Brexit crash-out.) There would be real economy signs, like — say — goods gradually disappearing from store shelves (though now I see electronic retailing would invisiblize much of that, how handy…). Or weird happenings with staples, like flour. Or insulin. Somebody talk me off the ledge, please! NOTE * Then again, see under Trade at "working capital." Another way of looking at today's economy would be as an enormous capital strike, which naturally — this being a capitalist economy — would slowly bring everything else to a halt. Again, readers, if I'm off the track, do let me know.
The Biosphere
"Israel has a plan for avoiding climate calamity" [Quartz]. The URL is more accurate, showing that a clickbait-corrupted functionary altered the headline: "how-israel-innovated-its-way-out-of-a-water-shortage." So, innovation: "Zloczower works for a company called Watergen, which has made a name for itself manufacturing an ingenious piece of technology that vacuums up humid outside air and, in a matter of minutes, can spit out hyper-clean drinking water." • So, sucking all the moisture of the air will totally have no knock-on effects, especially when done an industrial scale.
More innovation:
The Flood Guard can protect your vehicle during natural disasters pic.twitter.com/kqxAwPoQQJ

— Business Insider (@businessinsider) June 11, 2019
Strap your car into a plastic bag! Problem solved! (I shouldn't make fun of the company, which is tiny and apparently located in the Phillipines, where there are natural disasters aplenty. And people do need to save their cars, so this product is in essence like and no worse then an N95 face-mask; an individual's palliative. But as a metaphor for what "the system" can and cannot do….)
"U.S. Hurricane Season Is Unnecessarily Dangerous" [Bloomberg]. "The U.S. is more vulnerable to economic damage from natural disasters than any other nation, according to a recent analysis of global data. For reasons that include its size and location as well as local real-estate development policies, it ranks first among developed countries for the number of lives adversely affected by destructive events. With two long ocean coastlines and a propensity for tornadoes, Americans face more, and more expensive, disasters. Since 1980, more than 241 billion-dollar disasters have cost the U.S. $1.6 trillion 1 and almost half of those losses came during the four most expensive years: 2017, 2005, 2012 and 2018." • I'm sensing a pattern there. More: "The U.S. faces challenges even more basic than ginning up resilience policy. Even quantifying the human toll of disasters is difficult, according to some emergency managers, particularly separating direct deaths from an event itself and indirect deaths that may come from subsequent but related disruptions. Documenting economic damage is trickier still, from initial on-the-ground responses, to physical damage, through reconstruction and ripple effects on traumatized survivors, [Samantha Montano, an assistant professor in the Department of Emergency Management at North Dakota State University] said. 'All of those numbers," she said, 'all of that data, that seem very, very basic, haven't really been collected consistently over time and in a way that's very useful.'" • Can't manage what you don't measure. Another job for citizen science!
"The money at stake in the battle over CMP's 145-mile electric line" [Bangor Daily News]. "The Bangor Daily News analyzed the money at stake [in Central Maine Power Co.'s proposal to build a transmission line through western Maine from HydroQuebec] to see who would benefit and who would lose if the line is completed, and what's in it for the people of Maine…. The line is projected to reduce New England's carbon footprint by around 3 million metric tons a year, which is the equivalent of removing 700,000 cars from the road." • I can't take a position on this because I haven't followed the issue, but I'd point out that projects to benefit the metropolis (Boston) rarely net out positive for the colonies (Maine). In other words, I don't trust any of the studies.
Class Warfare
"Capitalism used to promise a better future. Can it still do that?" [Richard Reeves, Brookings Institute]. "People will invest in a better future if – and it is a very big if – there is a good chance that it will pay off, that the system reliably delivers that better future. Capitalism not only produces a society focused on the future, it requires it. If the promise of a better future starts to fade, a vicious cycle sets in. Why save? Why sacrifice? Why stick at education for longer? If doubt creeps in, people may work less, learn less, save less – and if they do that, growth will indeed slow, fulfilling their own prophecies. The biggest threat to capitalism is not socialism. It is pessimism." • "Why go to college? Why go to night school"?
"Mediocratopia: 5" [Ribbon Farm]. "In a world that runs on ceremonial expectations of optimal performances, but where it is rarely in your best interests to actually deliver optimal performances, practicing mediocrity necessarily involves capability masking: the act of hiding the true extent of your capabilities…. Capability masking is a big part of what I call optimization theater. Our world runs on transactions that are ceremonially based on one party (usually the stronger one) demanding optimal performance from another and the other promising that performance. Job candidates promise to 'do their best'. Sales people tell you they're giving you the best deal possible. Politicians promise to work all out to fulfill campaign promises. Parents pretend in playing with children that they're trying hard. Children promise to clean their rooms. The ceremony of demanding and promising optimal performance is about validating the nominal relative power of the two powers, while allowing the actual relative power to govern the working relationship." • I think this is about creating slack (not "the American cloud-based set of proprietary team collaboration tools and services", Slack, which is the opposite of slack, or not?)
"Stop & Shop now has big, goofy-looking robots patrolling its aisles. What, exactly, is the goal?" [New Food Economy]. "Since January, the northeastern supermarket chain Stop & Shop has introduced more than 200 robots to stores in Massachusetts, Connecticut, Rhode Island, and New Jersey. This month the company will begin rolling Marty out to stores in New York." • So Yves is getting out just in time. More: "Marty is at the vanguard of the robot revolution, normalizing automation in everyday spaces. Stop & Shop is not alone in this; Walmart is planning on introducing autonomous floor scrubbers to 1,860 stores by next February….. Although Jennifer Brogan, Stop & Shop's director of external communications, assured New Food Economy that the robot is not meant to replace workers, Ahold Delieze has explicitly told shareholders that the company is investing in automation and artificial intelligence to supplement or even replace human labor…. Meanwhile, customers have taken to Twitter to complain that the robot is and wonder if it is watching them' [which of course it is]." • I'm sure, exactly as with the offshoring wave that started in the 80s, the cleansed displaced workers will find new and better jobs with no problem at all. They can learn to code, lol. And of course, robots = union-busting. More: "In its 2018 annual report, the company identified organized labor as a potential risk to the company: 'Our brands may not be able to negotiate acceptable terms for extensions and replacements of contracts as a result of unfavorable demands and expectations from unions.'" • "The goal" is to screw workers, which is almost always the goal. Customers are right to find robots creepy. Screwing workers is creepy.
"The Age of Robot Farmers" [The New Yorker]. "When [strawberry grower Jack] Wishnatzki started out in the business, in the mid-seventies, a box of strawberries selling in a supermarket in the Northeast in February cost four times as much as it does now. For the average consumer, 'berries in winter were a luxury item back then,' Wishnatzki said. 'And that's where we're headed again, .'… • Why are strawberries in the winter important? More: "Absolutely straight rows of strawberry plants ran almost to the horizon, in every direction; there wasn't a tree for miles. The berries grow in soil encased in black plastic mulch—the landscape of industrial strawberry production is far from the trippy topography of the Beatles song. Under the rows is a network of PVC hoses and drip tape delivering water and fertilizers that cause the plants to produce Wish Farms' huge, luscious strawberries until the end of April, when all the bushes and the plastic mulch are torn up and thrown away." • So, we can't keep our monocultures unless we optimize for robots?
News of the Wired
"Metamorphic Robustness Testing: Exposing Hidden Defects in Citation Statistics and Journal Impact Factors" (PDF) [IEEE Transactions on Software Engineering]. "We report a surprising finding that the inclusion of hyphens in paper titles impedes citation counts, and that this is a result of the lack of robustness of the citation database systems in handling hyphenated paper titles. Our results are valid for the entire literature as well as for individual fields such as chemistry. We further find a strong and significant negative correlation between the journal impact factor (JIF) of IEEE Transactions on Software Engineering (TSE) and the percentage of hyphenated paper titles published in TSE. Similar results are found for ACM Transactions on Software Engineering and Methodology. A software engineering field-wide study reveals that the higher JIF-ranked journals are publishing a lower percentage of papers with hyphenated titles. Our results challenge the common belief that citation counts and JIFs are reliable measures of the impact of papers and journals, as they can be distorted simply by the presence of hyphens in paper titles." • I have long held the secret and radical belief that the great majority of software engineers — old school Donald Knuth types aside — simply do not understand content, and hence are not equipped to make good decisions about it. Here we have two deeply embedded metrics that simply don't work (and the effects were material, in that jobs and careers were boosted or destroyed).
"David Epstein on the Genius of the Self-Taught Musician" [Literary Hub]. "The strict deliberate practice school describes useful training as focused consciously on error correction. But the most comprehensive examination of development in improvisational forms, by Duke University professor Paul Berliner, described the childhoods of professionals as "one of osmosis," not formal instruction. 'Most explored the band room's diverse options as a prelude to selecting an instrument of specialization,' he wrote. 'It was not uncommon for youngsters to develop skills on a variety of instruments.' Berliner added that aspiring improvisational musicians 'whose educational background has fostered a fundamental dependence on [formal] teachers must adopt new approaches to learning.' A number of musicians recounted Brubeck‑like scenarios to Berliner, the time a teacher found out that they could not read music but had become adept enough at imitation and improvisation that 'they had simply pretended to follow the notation.' Berliner relayed the advice of professional musicians to a young improvisational learner as 'not to think about playing—just play.' While I was sitting with Cecchini, he reeled off an impressive improvisation. I asked him to repeat it so I could record it. 'I couldn't play that again if you put a gun to my head, [guitarist Jack Cecchini] said." • Wait. Django Reinhardt didn't have credentials? Wonderful anecdotes, brilliant musicians.
* * *
Readers, feel free to contact me at lambert [UNDERSCORE] strether [DOT] corrente [AT] yahoo [DOT] com, with (a) links, and even better (b) sources I should curate regularly, (c) how to send me a check if you are allergic to PayPal, and (d) to find out how to send me images of plants. Vegetables are fine! Fungi are deemed to be honorary plants! If you want your handle to appear as a credit, please place it at the start of your mail in parentheses: (thus). Otherwise, I will anonymize by using your initials. See the previous Water Cooler (with plant) here. Today's plant (MN):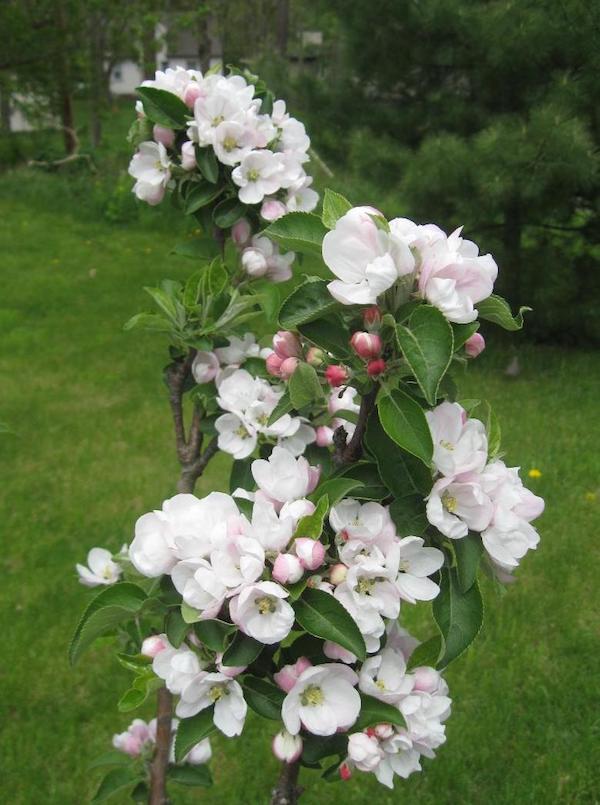 MN writes: "Little apple tree blooming, Michigan back yard." Lovely!
* * *
Readers: Water Cooler is a standalone entity not covered by the annual NC fundraiser. So do feel free to make a contribution today or any day. Here is why: Regular positive feedback both makes me feel good and lets me know I'm on the right track with coverage. When I get no donations for five or ten days I get worried. More tangibly, a constant trickle of small donations helps me with expenses, and I factor in that trickle when setting fundraising goals. So if you see something you especially appreciate, do feel free to click this donate button:
Here is the screen that will appear, which I have helpfully annotated.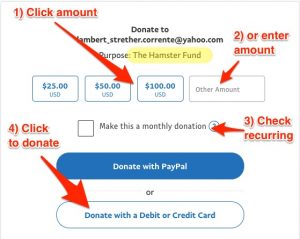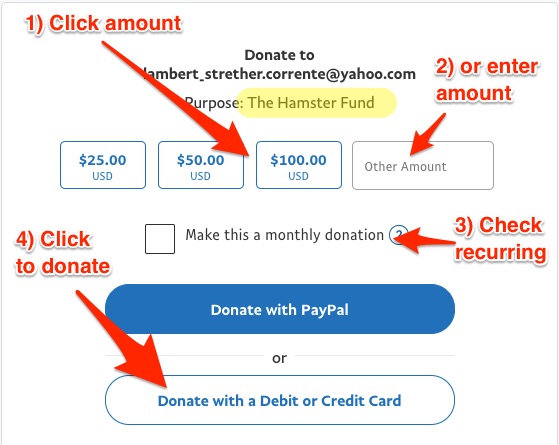 If you hate PayPal, you can email me at lambert [UNDERSCORE] strether [DOT] corrente [AT] yahoo [DOT] com, and I will give you directions on how to send a check. Thank you!