By Lambert Strether of Corrente.
Patient readers, I was up quite late last night dealing with Warren's crawfishing on #MedicareForAll, so I got a late start this morning. Still, I think there's plenty to talk about! If I can deal with some household matters rapidly enough, I will return with more. –lambert UPDATE All done!
Trade
"From window curtains to fireworks, American importers are struggling to find alternative suppliers for the goods they bring in from China. An analysis of federal import data shows China accounts for more than 90% of imports in 273 categories of the items targeted by new tariffs… reaching deep into U.S. supply chains" [Wall Street Journal]. "The difficulties among U.S. importers shows how global supply chains have been redrawn over the past 20 years, and how successful China has been in becoming the factory floor for the world, in some cases crowding out competition from other countries. Companies like baby-gate and bedrail maker Regalo International LLC say their efforts to find new manufacturing partners to replace Chinese suppliers have come up short. The company says Vietnam 'has very weak infrastructure in metal fabrication' and can't match prices and production demands." • So, when our elites systematically deindustrialized this country, not only did they bet on China, they didn't hedge their bets. Well played, all.
Politics
"But what is government itself, but the greatest of all reflections on human nature?" –James Madison, Federalist 51
"They had one weapon left and both knew it: treachery." –Frank Herbert, Dune
"2020 Democratic Presidential Nomination" [RealClearPolitics] (average of five polls). As of June 17: Biden up 31.5% (32.2) and Sanders steady 15.8% (15.8). Warren up 12.8% (11.2%), Buttigieg steady 7.8% (7.8%), others Brownian motion. If you go all the way back to the starting point of December 9, 2018, Sanders' 17.7% isn't all that different from today's 15.8%. Biden's 29% looks like the mean to which he is reverting (41.4% in May when he announced, 31.5% today). And Warren's rise from 6.0% to 12.8% looks quite impressive (as does Buttigieg's rise from 1.3% when he announced in March to 7.8% today). Of course, it's absurd to track minute fluctuations at this point.

* * *
2020
"Biden, Sanders and 8 other hopefuls to attend 'Poor People's' forum" [Politico]. "Sens. Bernie Sanders, Elizabeth Warren, Kamala Harris and Michael Bennet, as well as Rep. Eric Swalwell, Julián Castro, Andrew Yang, Marianne Williamson and Wayne Messam, have also said they'll be at the June 17 event in Washington, according to the the organization."

Biden (D)(1): "After Addressing Poor People's Campaign, Biden Asks Super-Rich for Campaign Cash" [GritPost]. "Bloomberg News reporter Jennifer Epstein tweeted a list of some of attendees at Monday night's Biden fundraiser, which includes a former Trump (and Obama) cabinet official, a former Republican U.S. Senator, and billionaire businessman John Catsimatidis, who donated to Mitt Romney's 2012 presidential campaign when Romney ran against Obama and Biden. In 2015, Catsimatidis wrote a $70,000 check to a super PAC supporting former Wisconsin Governor Scott Walker (R). The fundraiser is being held at the East 75th Street home of Jim Chanos, who poked fun at a group of protesters calling on Biden to support the Green New Deal, according to Epstein. Homes in Chanos' building sell for roughly $2 million, according to Zillow." • You've gotta admire Biden. The man is comfortable in his own skin. I think I'd like to have beer with him. He's so likeable!

Biden (D)(2): "Progressive activist: Democratic nominee will 'need to ride a little bit to the center'" [The Hill RH)]. "[Dworkin, co-founder and lead investigator of advocacy group the Democratic Coalition], predicted that former President Barack Obama will hit the campaign trail and be a uniting force among Democrats. 'Somebody's going to have to unite us — President Obama is going to have a lot to do with that,' he told Hill.TV. 'And you'll see him campaign at a level that it seems like he's running in 2020.'" • Oy. I hope Obama sticks to playing golf and cashing in. Noticeably light on naming its funders, the Democratic Coalition is a SuperPAC; it's "founding chairman, Jon Cooper, was behind the effort to draft Joe Biden (D) for a presidential run in 2016." So I take it Dworkin is issuing a call for help. To which Obama will respond in the most passive-aggressive way possible.

Buttigieg (D)(1): [WaPo]. "Buttigieg is staffing up with boldfaced names in the foreign policy realm, while many of his peers in the Democratic primary have yet to do so….. 100 experts: Politico's Elena Schneider reported that Buttigieg's 'foreign policy brain trust. includes more than 100 experts, largely working in a volunteer capacity.'" • Oh good. More "smart wars" would be very on-brand for Mayo Pete.

Gillibrand (D)(1): "This Isn't Going According to Plan for Kirsten Gillibrand" [The Atlantic]. "This isn't going well for Gillibrand. She has failed at some basics. For someone who's always been a voracious fundraiser, she raised just $3 million in the first quarter of the year, less than half of what South Bend, Indiana, Mayor Pete Buttigieg raised. And she was weeks behind the self-help author Marianne Williamson and the automation alarmist Andrew Yang in getting the 65,000 donors needed to guarantee her a spot on the Democratic debate stage later this month. (Her campaign announced she finally passed that mark last weekend.)." • What I will say is that nobody seems to hate her (except maybe a few Franken loyalists).Could be an asset!

Klobuchar (D)(1): "Amy Klobuchar lists net neutrality as part of her 100-day plan for presidency" [Daily Dot]. "Sen. Amy Klobuchar (D-Minn.) listed net neutrality among the dozens of actions she would take within her first 100 days as president if elected in 2020… On Tuesday, Klobuchar's campaign released more than 100 actions the Minnesota senator would take within her first 100 days as president." • Seems like a rather transparent riposte to Warren's "plans."

Sanders (D)(1): MSDNC:

Watch Joy Ann Reid downplay Bernie's reception @ #PoorPeoplesCampaign Forum.@maddow: You had a lot of candidates there today. Talking on these issues … on poverty. Who got the best reception?

Joy: Look this was a very Bernie Sanders friendly audience…?#NotMeUs @MSDNC3 pic.twitter.com/IDxO5CVpMq

— Geoff Campbell (MiamiGator) (@GeoffMiami) June 18, 2019

Sanders (D)(2):

Raw sewage drains into Pamela Rush's backyard. Her children are exposed to mold. She still owes $15,000 on her mobile home.

Systemic injustices trap millions of people like Pamela in poverty. Our mission is to find them a way out. pic.twitter.com/SaoaYWewk9

— Bernie Sanders (@BernieSanders) June 18, 2019

Trump (R)(1):

The Trump Economy is setting records, and has a long way up to go….However, if anyone but me takes over in 2020 (I know the competition very well), there will be a Market Crash the likes of which has not been seen before! KEEP AMERICA GREAT

— Donald J. Trump (@realDonaldTrump) June 15, 2019

Translating the Trumpese, he's threatening (or predicting) a capital strike, although leave it to FOX to head for the gutter. I don't think he's wrong.

Warren (D)(1): Thread:

THREAD: Anatomy of a Warren 'surge' (or how the media found their latest narrative and supercharged it by sticking to it in spite of the data).

— ReasonablyAttractiveParent(Agriculture) (@KindAndUnblind) June 16, 2019

It worked, too; look at the RCP polling at the top of this section.

Warren (D)(2): Former Clinton Comms operative:

The anti-Warren purity bullshit really exposes many of these clowns who clearly need that sweet, sweet hit of socialist performativity to feel edgy in front of their Extremely Online pals.

— Charlotte Clymer?️‍? (@cmclymer) June 15, 2019

No point denying the bitterness among Clinton operatives and assets in the media. The issue is how far that feeling extends, beyond the Twitter, with voters.

Top two:

NEW POLL shows Trump trailing @JoeBiden, @BernieSanders by double digits.

But he's competitive with the rest of the top Democratic contenders.https://t.co/q3hF7SmWmD pic.twitter.com/tq7HJZ21xd

— Morning Consult (@MorningConsult) June 12, 2019

Just one poll…
20182008 Post Mortem
"Not with her, again: Broadway play about Hillary Clinton and her failed bid for president is to close early due to low ticket sales and will not recoup its $4.2M cost" [Daily Mail]. "Hillary and Clinton, the Broadway production about Hillary Clinton's failed presidential bid in 2008, will be closing one month early… Ticket sales were underwhelming from the start but fell off drastically in recent weeks… Hillary and Clinton is set in an alternate universe and tells the story of a woman, Hillary (Metcalf), and her husband Bill (Lithgow), as they strategize how to defeat an up-and-coming politician who is challenging her for the presidency. That politician's name is Barack (Peter Francis James)." • From The Department of Schadenfreude…
Obama Legacy
So, last week, a federal judge ruled it's fine to destroy a neighborhood park to build the multi-million $$ Obama Presidential Library that's already driven low-income residents out of their homes because rents went up.

— Elizabeth Burton (@ZBooksTX) June 15, 2019
Impeachment
I'm so old I remember when comedians were moral exemplars and everybody thought they had serious political impact:

"All of those things we wouldn't have thought we needed to say, we need to fucking say them now," says @iamjohnoliver https://t.co/i10pHTLHvf

— Dan Froomkin (@froomkin) June 18, 2019

And I'm so old I remember when saying "fuck" was edgy and authentic!
Realignment and Legitimacy
"Lost Bearings" [The Nation]. Of Adam Gopnik. I loved Paris to the Moon, because I love Paris, and I think quintessential New Yorker writer Gopnik should stay in that lane. "The vision that Gopnik offers of liberalism as sensible, skeptical, cautious, reformist, and moderate—a path to political safety between the Scylla and Charybdis of right and left extremes—will certainly appeal to many readers. But it is not a politics or a substitute for one; Gopnik himself defines it as a 'temperament.'… [He] suggests that if one has the proper constructive temperament, then a proper constructive politics will naturally follow…. [B]ut achieving the goals of egalitarianism and toleration requires—and always has required—a clearheaded analysis of the prevailing political, social, and economic circumstances and the creation of a practical program based on this analysis. Temperament matters, but temperament alone will not get us there. Moreover, in America today, privileging temperament over concrete analysis is especially dangerous, because it encourages self-defined moderate liberals to set themselves up in opposition to the supposedly extreme and immoderate leftists who are, in fact, offering the most incisive analyses of the country's problems and the most ambitious programs to overcome them." • But wait! Civility! Unity! Doing the work of a vicious oligarchy while virtue signaling one's tolerance and moderation!
Stats Watch
Housing Starts, May 2019: "Permits have been flattening but starts have been rising" [Econoday]. "Still the overall news is good, that starts and permits are moving back to their levels before last year's steep slump. And favorable mortgage rates, which continue to come down, point to the possibility if not likelihood for acceleration in this report in the months ahead."
Commodities: "Tanker activity near the Gulf of Oman is dwindling and freight rates for crude carriers in the region are soaring. The sparse activity across the region reflects the high anxiety hitting shipowners in the days following attacks that crippled two tankers" [Wall Street Journal]. "Ship brokers say rates for moving oil there have jumped as much as 50%. Some 70 large crude carriers, or 10% of the world's supertanker fleet, remain near the Strait of Hormuz, but many are idled as they await business."
Commodities: "Chile's Chuquicamata copper mine operations halved amid strike: Codelco" [Reuters]. "Copper production at Chile's top mines dropped sharply in the first quarter of 2019, Chilean copper commission Cochilco said in May, amid a perfect storm of operational issues, heavy rains and falling ore grades at the largest deposits."
Food: "The Beyond Meat of Fish Is Coming" [Bloomberg]. "But the next chapter of fish production, beyond even land-based farming, is already being written—by scientists. San Francisco-based Wild Type is hoping that, as with the rise of meat substitutes (and their arrival on Wall Street), lab-grown fish won't be far behind." • Hmm. Wild Type held a tasting…
Shipping: "The push to clean up shipping emissions is extending to the ship finance sector. Eleven big banks with a combined shipping portfolio of around $100 billion will take environmental considerations into account for shipping loans…. a new sign of the growing financial pressure on companies to address climate concerns" [Wall Street Journal]. "The banks including Citibank, Societe Generale S.A. and ABN Amro NV signed into an industry framework that seeks to direct new money for shipping toward environmentally-friendly vessels. The banks control about a fourth of the global ship finance market, but backers of the accord say bigger influence will come if Chinese lenders join. Chinese banks control around 25% of all ship finance and more than half of all shipbuilding capacity."
The Bezzle: "Facebook unveils global digital coin called Libra" [Financial Times]. "Facebook has revealed plans for a new global digital currency backed by assets and supported by more than two dozen companies ranging from Visa and Mastercard to Lyft and Spotify, bringing the heft of the world's largest social network to efforts to transform financial services. The scope of Facebook's ambitions for the new currency, called Libra, was made clear as it claimed 1.7bn people around the world without a bank account would be able to use it to make instant and nearly free international money transfers from their mobile phones." • I'm sure NC will have more to say about this, but Facebook is a criminal enterprise and Zuckerberg is a crook. What could go wrong? (Meanwhile, I am sure that Clive will be reassured that Libra is partnering with Visa, since that would imply that the existing infrastructure will remain as is, bubblegum and baling wire and all.
The Bezzle: "Facebook's Libra Cryptocurrency: Everything We Know" [PC Magazine]. "But for consumers wary of trusting their money and financial data to a company known for privacy problems, there are a few important points Facebook is hammering home with Libra. Not only is it ceding control of the blockchain, but Facebook's social data and Libra's financial data will be kept entirely separate. You don't need a Facebook or WhatsApp account to use Libra or sign up for Calibra. While users will be vetted for anti-fraud protection when setting up an account, like other blockchains there will be no personal information associated with Libra and all transactions will be encrypted. Facebook can't take the data from your transaction history and use it to target ads or sell you products." • That may be the selling point. OTOH, you might think that Facebook is exactly the sort of company that would figure out how to game this. Libra, IOW, would be the mother of all phishing equilibria.
The Bezzle: "Facebook just took the wraps off Libra, a new cryptocurrency that will let anyone in the world pay with their smartphone" [Business Insider]. "More than two dozen companies have been enlisted to invest $10 million apiece toward the currency's upkeep in return for a vote in its governance through a not-for-profit foundation called the Libra Association. These range from payment firms like Mastercard and PayPal to tech firms like Ebay, Uber, and Spotify, as well as venture-capital firms, blockchain companies, and nonprofit groups." • That doesn't seem like a lot of money. Where does the bailout money come from? Are the members of the foundation like "names" at Lloyds? Also, "governance"? And speaking of bailouts:
Facebook's new global currency is a *totally insane idea.* It's like a private global International Monetary Fund run by techbros, except it needs reserves so it'll need a giant bailout during a crisis. https://t.co/Rg41dDgkFw

— Matt Stoller (@matthewstoller) June 18, 2019
The Bezzle: Can't follow Kaminska's dust on this, but maybe readers will do better:
As everybody goes insane about Facebook's Libra reveal, it's worth noting those who are using the opportunity to bury their own blockchain pivot news . (Digital Asset, cough, cough) https://t.co/0r6HZOh62k?

— Izabella Kaminska (@izakaminska) June 18, 2019
The Bezzle: "How Stablecoins address volatility With Hugo Jacques" [Irish Tech News]. • I've avoided the bitcoin literature because I could never sort the hype. But this sentence caught my eye: "Fiat collateralized Stablecoins are being backed by fiat reserves such as USD, EUR, etc." • Which is what we have with Libra. But I thought in the bitcoin fever swamps, fiat was the source of all evil?
The Bezzle: A long thread (recommended) on Libra:
THREAD: Here are my thoughts on Libra. It is a permissioned but public blockchain. It's public because the Blockchain will be publicly verifiable and the application layer is open. So it's like a backed stablecoin, but with key differences. pic.twitter.com/UZ3fkczWGb

— Jerry Brito (@jerrybrito) June 18, 2019
Tech: "Tech Unicorns Are Evolving Into What Exactly?" [Dartmouth Business Journal]. "The easy opportunities for disrupting traditional industries are drying up. For example, Benchling and Blend, firms that specialize in life science data management and digital lending respectively, are two of the many cutting-edge start-ups that may become the next unicorns. Rather than establishing themselves on the presently dying 'sharing economy,' where goods and services are shared in a tech-enabled system, these companies largely focus on software targeting micro-changes in specific industries such as agriculture, banking and biotechnology…. Since the old-guard sharing industries of hospitality and ride-sharing are fading, software start-ups that refresh already existing, outdated platforms will be the next wave of companies that can dictate their terms for markets." • "The presently dying 'sharing economy'"! And: "Previously constrained to a "sharing economy" where consumers share goods and services through a tech-enabled system, tech unicorns are increasingly dominating specialty sectors. This can be seen with Pinterest's recent decision to move forward with their Initial Public Offering (IPO), only the first in the pipeline for the year as Slack, Robinhood and Postmates prepare for their own IPOs. Even mattress company Casper has achieved unicorn status. These tech unicorns are uniquely establishing monopolistic footholds in their sectors." • Oh, so that's what unicorns are! Monopolies! Platform-enabled monopolies!
Tech: "A new business in small satellites orbiting the Earth" [The Economist]. "Perhaps the most futuristic new problem for the space business is the risk of debris. The concern is that, with so many new satellites in orbit operated by so many different companies, the chance of losing control of one goes up. A collision could be disastrous, producing a wave of debris with a high chance of wiping out other satellites, potentially crippling the whole commercial low-Earth orbit ecosystem at a stroke. Astroscale, a Japanese company, is tackling this problem by building a prototype craft capable of being launched at short notice in order to grab any malfunctioning satellite and pull it down into the atmosphere where it will burn up before it can collide with anything."
The Biosphere
Sending a message?
A plane passenger captured #Mexico #Popocatepetl volcano.#VolcanPopocatepetlhttps://t.co/9bqfG7jhsX pic.twitter.com/xSVV4JidCr https://t.co/SyVjb6Qt7I

— Dipak Samanta (@dipaksamanta) June 18, 2019
MMT
"Seize the Means of Production of Currency – Part 1" [Bill Mitchell]. • Another contribution to the effort to straighten out Labour on MMT. Skip the politics and start at "What is MMT?", where Mitchell is more telegraphic and far less prolix than usual.
Health Care
"Medicare Direct, A Blueprint For Public Option Waivers, Part 1: Introduction, Administration, And Financing" [Billy Wynne, Health Affairs]. "The optimal path for realizing the Medicare for All vision is thus to use existing statutory authority to create Medicare-like plans to compete in state health insurance exchange markets, a notion increasingly embraced by Democratic primary candidates. This approach would combine the stability and public trust of Medicare with the efficiencies, capital-raising ability, and innovative spirit of private competition. Such a policy may be the best hope for making near-term progress on the persistent challenges of high costs, middling quality, and underinsurance, while minimizing disruption to the broader health care system. Instituting such a plan without congressional action requires innovative but legal application of waiver authority under section 1332 of the Affordable Care Act (ACA), relating to the law's insurance regulations, and section 3021, which established the Center for Medicare and Medicaid Innovation." • Also: "The author extends his appreciation to the people who lent their time and considerable expertise to development of this series: Donald Berwick, Sabrina Corlette, Edwin Park, Brian Miller, David Anderson, and Louise Norris." Berwick is a heavy hitter; we may hear more of this proposal. Obviously, the complexity makes it attractive to the usual suspects.
Gunz
First person shooter:
DMN staff photographer @TomFoxPhoto captured this image shortly before a gunman opened fire on the Earle Cabell Federal Building Monday morning in downtown Dallas. Fox was waiting to enter the building to cover a trial when the attack took place. https://t.co/y8fWYYuKjs pic.twitter.com/fE1kFlEy9j

— Dallas Morning News (@dallasnews) June 17, 2019
Dude looks scared. (And the reflection makes this an amazing photo.)
Guillotine Watch
I never thought that Frank Luntz was, well, stupid. But I guess I was wrong:
I'm at the Hotel Imperial in Vienna, Austria. Almost 200 rooms… But the elevator has been broken for 3 days.

Please don't bring European-style socialism to America. ? pic.twitter.com/axeygJSoBi

— Frank Luntz (@FrankLuntz) June 18, 2019
For starters, the Hotel Imperial is run by MBAs from Marriott, an American Corporation. not apparatchiks from Gosplan. That's a big difference [snicker]. Then, Austria is run by a conservative party in coalition with right wing loons (until the leader of said loons got stung in a corruption video; Austrian readers please chime in). I still enjoy seeing Luntz operate as a focus group whisperer, but however he does that, it can't be based on higher cortical functions.
Class Warfare
"Some Students Get Extra Time for New York's Elite High School Entrance Exam. 42% Are White." [New York Times]. I know editors write the headlines, but holy gawd, it's not only about race. Seven paragraphs down: "[T]he data underscores what testing experts have long emphasized: can influence testing in the nation's largest school system, particularly when those factors collide with a high-stakes exam." The "extra time" comes from a "504," granted to students with learning disabilities. More: "It sometimes falls to families to request 504s, which are typically granted after an often expensive consultation with a professional." So, being able to pay a professional really is the chokepoint? And: "The recent college admissions bribery scandal has raised fresh questions about how white and wealthy students have maintained their access to prized colleges and universities — some say at the expense of equally talented but less privileged Asian, black and Hispanic students. The city data indicates that the same patterns that have made 504 designations controversial nationally apply in the often cutthroat world of New York's high school admissions." • We keep reading stories like this. What nobody seems to face up to is that they show a cultlure of corruption in the professional classes (and that credentials are seen as heritable, as well).
"I was a lesbian tomboy allowed to be female; I fear young girls today no longer have that choice" [Feminist Current (DG)]. "Today, many would consider me a girl 'born in the wrong body.' But in those days, even though some reacted negatively to my being 'boyish,' no one ever suggested I was actually 'born in the wrong body.' This never occurred to me either… Lesbians who stand up for their sexual orientation and the fact of biological sex are no longer welcome at Pride events, in LGBTQ+ organizations, or in the 'rainbow family.'" • An enormously charged debate, on which I feel time has passed me by.
"The Pink" [n+1]. "On the eve of the operation, I held a small celebration on the second floor of a Brooklyn pub. I'd spent weeks looking for a new dress. "Miss Andrea Long Chu asks that you join her and her loved ones at a funeral for her dick," read the invitations. Funeral attire was advised. When I arrived, I discovered that one guest had combed the party store for all the balloon letters needed to spell out HAPPY NEW VAGINA. They now adorned the wall in a lazy swoop, silver foil on exposed brick — the H a little out of place, as if huffy about its new employment. That night we pantomimed the death rites. "I'm sorry for your loss," said more than one friend, knitting their brow in mock sympathy. Someone gave me a pair of sexy underwear; someone else, a banana cut in half. At the evening's end a dear friend called me to the front of the room and presented me with a gender reveal cake, which she invited me to cut. It was pink. I was safe." • Ah, Brooklyn.
Shulamith Firestone she's not:
JP Morgan isn't stopping Medicare for all. Goldman isn't hiking federal student loan interest. And neither are refusing to pay people. Wall st makes money no matter what system is in place. They're a disinterested party. Stability and predictability are their interests.

— feminist next door (@emrazz) June 14, 2019
News of the Wired
"The Forgotten Operating System That Keeps the NYC Subway System Alive" [Vice]. • OS/2! Anybody remember it? Thing is, ticketing relies on MetroCards with magnetic strips, but crapification awaits: "Access to the subway of the future will be contactless, using a patchwork series of devices and cards that will largely rely on digital payments." • Idea: Make it free at the point of use?
Rents are the key:
— ???? ???? ?? ???????? (@incel_cuck) June 18, 2019
* * *
Readers, feel free to contact me at lambert [UNDERSCORE] strether [DOT] corrente [AT] yahoo [DOT] com, with (a) links, and even better (b) sources I should curate regularly, (c) how to send me a check if you are allergic to PayPal, and (d) to find out how to send me images of plants. Vegetables are fine! Fungi are deemed to be honorary plants! If you want your handle to appear as a credit, please place it at the start of your mail in parentheses: (thus). Otherwise, I will anonymize by using your initials. See the previous Water Cooler (with plant) here. Today's plant (CC in CO):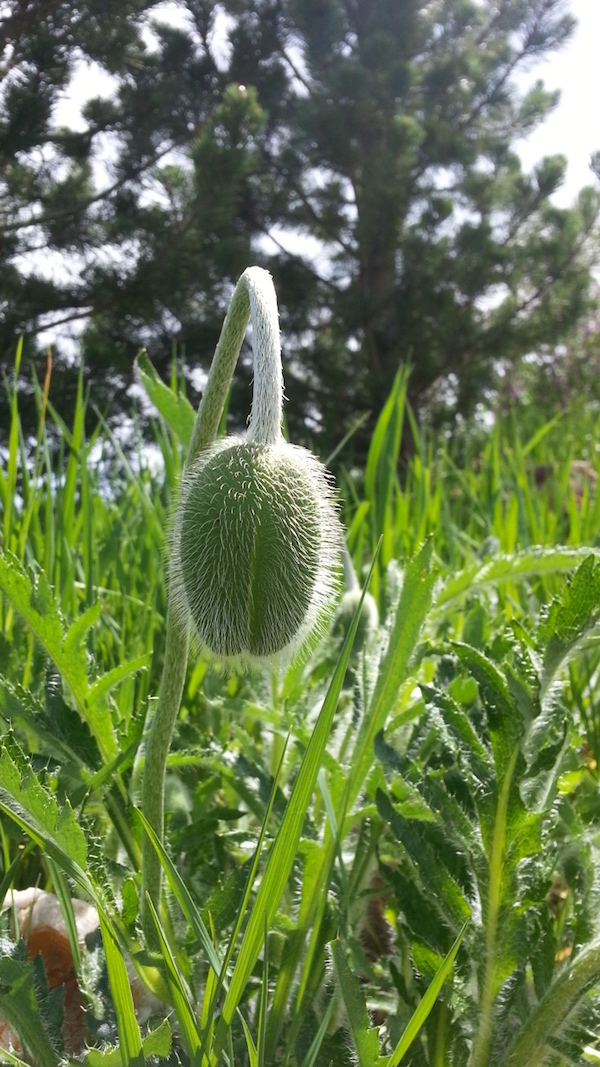 CC in CO, sent in the midst of my tech woes: "I'm sending this photo in the hopes that it might cheer you up a bit. I took it last year but never sent it. It's a bud of Oriental poppy (Papaver orientale), and I found something tremendously suggestive and sensuous about it. So much so that I hesitated to send it last year. The poppies are close to being in this same state again this year. Can't wait 'til they open. The bees love the pollen these flowers produce, black pollen, what a treat!" This was very kind of CC. And I do like poppies, not least because after our horrid wet and cold spring, they seem to be the only wildflowers of mine that self-seeded successfully!
* * *
Readers: Water Cooler is a standalone entity not covered by the annual NC fundraiser. So do feel free to make a contribution today or any day. Here is why: Regular positive feedback both makes me feel good and lets me know I'm on the right track with coverage. When I get no donations for five or ten days I get worried. More tangibly, a constant trickle of small donations helps me with expenses, and I factor in that trickle when setting fundraising goals. So if you see something you especially appreciate, do feel free to click this donate button:
Here is the screen that will appear, which I have helpfully annotated.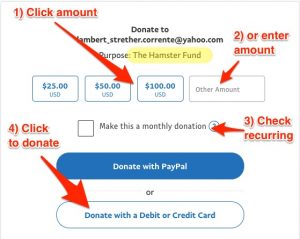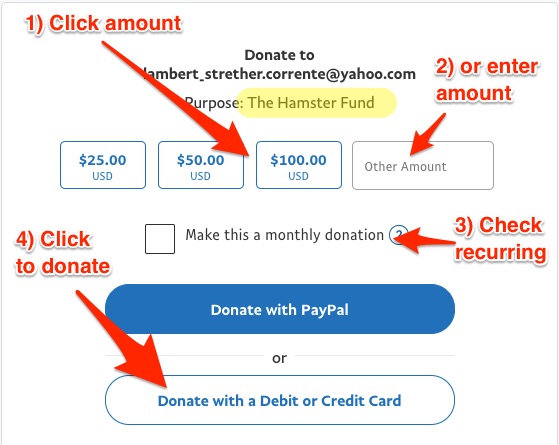 If you hate PayPal, you can email me at lambert [UNDERSCORE] strether [DOT] corrente [AT] yahoo [DOT] com, and I will give you directions on how to send a check. Thank you!