By Lambert Strether of Corrente.
Trade
"From window curtains to fireworks, American importers are struggling to find alternative suppliers for the goods they bring in from China. An analysis of federal import data shows China accounts for more than 90% of imports in 273 categories of the items targeted by new tariffs… reaching deep into U.S. supply chains" [Wall Street Journal]. "The difficulties among U.S. importers shows how global supply chains have been redrawn over the past 20 years, and how successful China has been in becoming the factory floor for the world, in some cases crowding out competition from other countries. Companies like baby-gate and bedrail maker Regalo International LLC say their efforts to find new manufacturing partners to replace Chinese suppliers have come up short. The company says Vietnam 'has very weak infrastructure in metal fabrication' and can't match prices and production demands." • So, when our elites systematically deindustrialized this country, not only did they bet on China, they didn't hedge their bets. Well played, all.
Politics
"But what is government itself, but the greatest of all reflections on human nature?" –James Madison, Federalist 51
"They had one weapon left and both knew it: treachery." –Frank Herbert, Dune
"2020 Democratic Presidential Nomination" [RealClearPolitics] (average of five polls). As of June 17: Biden up 31.5% (32.2) and Sanders steady 15.8% (15.8). Warren up 12.8% (11.2%), Buttigieg steady 7.8% (7.8%), others Brownian motion. If you go all the way back to the starting point of December 9, 2018, Sanders' 17.7% isn't all that different from today's 15.8%. Biden's 29% looks like the mean to which he is reverting (41.4% in May when he announced, 31.5% today). And Warren's rise from 6.0% to 12.8% looks quite impressive (as does Buttigieg's rise from 1.3% when he announced in March to 7.8% today). Of course, it's absurd to track minute fluctuations at this point. Speculating freely, I would guess that Warren gave both Clinton supporters — and the Clinton haters who went with Sanders — a place to go, along with the types (overlap here) who just want a winner. Warren too, along with Buttigieg, is, of course, far more sympatico (overlap here, too) with the Democrat professional base than Sanders is.
* * *
2020
Biden (D)(1): "Joe Biden's greatest (and not-so-greatest) debate hits" [WaPo] • From 2012, still germane. (1) "Moments of genuine emotion are rare in politics. In his debate against Palin, Biden choked up when he talked about his ability to relate to Americans' struggles, as he mentioned the tragic death of his wife and daughter in a car accident and discussed what it's like to be a single parent." So we can expect Biden to milk his son's death in debate. (2): "[H]e's also capable of unleashing colorful zingers against the opposition. Case in point: A 2008 Democratic presidential primary debate in which he had this to say about then-GOP presidential contender and former New York City Mayor Rudy Giuliani: 'There only three things he mentions in a sentence: A noun and a verb and 9/11, I mean, there's nothing else.'" • Biden's tag stuck to Giuliani, too. (Biden also eviscerated Paul Ryan.)There's no reason to think that Biden will do badly in the debates, especially with the press having pre-positioned their anti-Sanders storylines.

Buttigieg (D)(1): "Pete Buttigieg raised staggering $7 million in April alone" [Politico]. "The upstart mayor had raised $7 million in the month of April alone, as much as Buttigieg had in his entire eye-catching first quarter in the presidential race…. Buttigieg has scheduled 21 fundraising events around the country before the end-of-June deadline, according to an event list obtained by POLITICO, with multiple stops in To date, the South Bend, Ind., mayor has also brought in over $1 million from 16 "grassroots fundraisers," rallies that charge $25 and up for small-dollar " • 7 to 1….

Inslee (D)(1): "DNC Committee Throws Bound Jay Inslee Onto Melting Iceberg Before Pushing Him Out To Sea" [The Onion], • That they did. And Inslee hasn't been trying very hard to untie himself, either.

Warren (D)(1): [Los Angeles Times]. "At least for now, Warren solidly leads among the type of voters who define California liberalism. She dominates among those who define themselves as "very liberal," getting 1 in 3 of their votes. And she leads the field among white college graduates, with 22%, edging out Joe Biden by a couple of percentage points. Sanders has only 10% of that group. Biden and Warren also share the lead among black voters, while Sanders gets only single-digit support among them…. Sanders draws a notably different profile. His backers are younger — he has a big lead among voters younger than 30, and about 4 in 10 of his supporters are younger than 50. That younger support, which is true nationwide, translates in California into backing from Latinos, especially Latinos whose main language is English — a group that is young, on average. He leads the field among that group, while Biden leads among Latinos whose main language is Spanish and among California voters who are immigrants. Sanders also draws significantly more support from men than women, something that's rare among Democrats. That wasn't surprising in 2016 when he was the only challenger to Hillary Clinton. It's more striking now….. His backers are also less affluent. Only about 4 in 10 of Sanders' backers earn more than $100,000, compared with Warren's 6 in 10. He leads the field among voters earning less than $40,000 a year." • So if Sanders can increase turnout among younger voters, Latinos, blue collar workers, and… men…

Warren (D)(2): "She's got a (borrowed) plan for that: The media myth of Elizabeth Warren the wonk" [Washington Times]. "It's a stretch to call these all her ideas. The Post provided a sampling of 'Warren's nonstop ideas.' The list began with 'new ethics rules on Supreme Court justices.' Notably, her proposal here comes from a bill written and introduced by Sen. Chris Murphy, D-Conn. Warren signed on as a co-sponsor. Warren also touted "A law to force the release of politicians' tax returns," in the Post's words. Warren in early 2017 introduced a bill requiring presidential candidates to disclose three years of returns. But Sen. Ron Wyden had, four months earlier, introduced a similar bill requiring such disclosure — Warren was a cosponsor…. In nearly every case where Warren is credited with some innovation, the evidence shows that she didn't build it. She just slapped her name on it." • Of course, this is the Washington Times, so cum grano salis. They do, however, have links. And I do think it's unfair to castigate Warren for supporting programs that are "in the air"; duplicate bills are introduced all the time. I'm not sure this isn't a smart strategy inside the Beltway, though. In essence, Warren can garner the support of electeds and NGOs by elevating their "plans." So as Clinton had ClintonWorld, Warren would be creating WarrenWorld. All that said, it's quite remarkable that Warren has no plan for #MedicareForAll, despite her co-sponsorship of Sanders' bill. Perhaps that's why Neera Tanden likes her so much. And speaking of Neera–

Warren (D)(3):

.@MSNBC continues its elevation of Warren over Sanders. This time Neera Tanden weighs in.

"I think one of the assets Senator Warren has is for a lot of liberal voters she's not divisive to the party, she's really welcoming. She's very much open to a whole series of voters." ? pic.twitter.com/oRlKftiivZ

— Geoff Campbell (MiamiGator) (@GeoffMiami) June 10, 2019

Note that Warren's Senate policy director, Ganesh Sitaraman, is a Senior Fellow at Tanden's Center for American Progress, and co-author of a recent book on "the public option." So I think we can make a good guess at Warren's forthcoming "plan."

Warren (D)(4): "Leftover PAC money funneled into Warren's campaign" [Gloucester Times]. "'You won't see Elizabeth take a dime from federally registered lobbyists, corporate PACs, or PACs of any kind,' her campaign boasted in a recent email blast to supporters, urging them to contribute. 'You won't see Elizabeth cozy up to billionaires and nudge them to dump buckets of cash into a super PAC for her.' A review of Warren's reports to the Federal Election Commission suggests that pledge is disingenuous. Warren's presidential campaign collected $6 million in the first quarter of this year, banking 213,000 contributions from 135,000 donors, with an average donation of $28, her campaign said. She also transferred into her account $10 million in leftover campaign cash from her run for Senate last year, and a political committee she operates with other candidates, according to disclosures filed with the FEC. Those two previous campaign accounts included about $400,000 in PAC contributions made by labor unions, trade groups and other special interests over the past two years. Among the contributors were the American Federation of Teachers, EMILY's List, Utility Workers of America, the AFL-CIO, Planned Parenthood Action Fund, and the United Auto Workers." • Whether you regard this as a scandal probably depends on your attitude toward liberal Democrat NGOs. But if you're looking for a reason why Warren is doing so well in the invisible primary (see also above), here it is.
Identity Politics
What is even going on:


Just wanted to take a moment to recognize Pride Month ? I am in absolutely no rush to explore a new relationship, but it still matters to stay visible. I am bisexual. #pride #bisexual pic.twitter.com/u8nu7FuqYN

— Rachel Anne Doležal (@RachelADolezal) June 16, 2019

Peak idpol:

Yesterday, ICE provided an extensive media tour of the agency's dedicated housing unit for transgender women. (1/) pic.twitter.com/oGOMglzdt9

— ICE (@ICEgov) June 13, 2019
Realignment and Legitimacy
"Tyranny of the 70-Somethings" [The Atlantic]. "There is a huge gap between where the energy and creativity of the party lie, with a group of dynamic activists and House members in their 30s and even their 20s (thank you, Alexandria Ocasio-Cortez), and the ruling class of 70-somethings layered far above like a crumbling porte cochere…. In the farm system that trains and seasons the leaders of tomorrow—assuming tomorrow ever comes—that gap signifies a lost generation." • It's not amazing that the photo that accompanies the article is of Bernie Sanders, when the central concern of the article is the Democrat leadership (the gerontacracy only "bled into" the Presidential race). What is amazing is that the article doesn't mention Obama's eight-year role in failing to develop a farm system (indeed, by dismantling OFA, he actively prevented its development). Or maybe that isn't amazing at all, now that I think about it. And speaking of Obama, thread:

1. The point of reevaluating Obama isn't about Obama. It's about us, about whether we can honestly see what we have done to ourselves over the last forty years. https://t.co/T6NlR0i4Lu

— Matt Stoller (@matthewstoller) June 17, 2019
Stats Watch
Empire State Manufacturing Survey, June 2019: "Whether tariff effects are to blame is uncertain but the Empire State report has suddenly shifted deep into the negative column" [Econoday]. "For the Federal Reserve, this report may be a warning for this week's FOMC meeting, suggesting that the manufacturing sector, which has been struggling all year, may now be tilting into contraction."
Housing Market Index, June 2018: "Though lower than expected, today's housing market index nevertheless points to continued improvement for the new housing market" [Econoday].
Food: "The biggest U.S. meat company is effectively building a new agriculture supply chain to meet changing consumer tastes. Tyson Foods Inc. this summer plans to introduce nuggets made from peas, flaxseed and other plants… in a strategic pivot prompted by the rapid growth of upstarts that have launched plant-based foods businesses" [Wall Street Journal]. "Upstarts Impossible Foods Inc. and Beyond Meat Inc. have rolled out a new generation of meat-free products to restaurants and grocery stores. The efforts have converted consumers and investors. Analysts project the market for meat alternatives could reach tens of billions of dollars in annual sales, a substantial chunk of the $200 billion U.S. meat industry"
Food: "Chinese pork prices risk 70% surge as African swine fever rages" [Nikkei Asian Review]. "Pork is a staple in China, and authorities worry that a long-term rise in prices could lead to social unrest…. Prices are surging due to falling domestic production brought on by the swine fever outbreak, higher tariffs on U.S. pork and uncertainty over when the epidemic will end."
Food: "Pillsbury is joining Aldi and King Arthur Flour in recalling flour amid E.coli concerns" [Business Insider]. "Pillsbury's parent company has recalled 4,620 cases of flour due to E. coli concerns. The flour was made with a certain wheat that has been linked to an E. coli outbreak that has infected at least 17 people in 8 states. Aldi and King Arthur Flour have also recently recalled flour due to E. coli concerns." • Flour? Ha. Though I grant this is a mere episode not at scale.
Shipping: "Freight Market Shifts into Lower Gear" [Wall Street Journal]. "Sagging prices and mixed economic signals are casting a cloud over the U.S. freight market as bad weather and trade concerns bog down the spring shipping season. Demand for moving consumer products, industrial parts and other goods has been pulling back, according to transportation experts and some freight-industry measures, just at the time when freight operators start gearing up for a seasonal shipping surge that typically peaks between July and September. The softer market is a contrast with last year's freight boom…. Prices on the spot trucking market, where businesses book last-minute transportation, were down 16% in April compared with the prior year." • Honey for the bears.
Shipping: "The Ruthless Reality of Amazon's One-Day Shipping" [Gizmodo]. "'As soon as we clock in, we're pushing our bodies and minds to the limit on these machines, feeling like robots a lot of the time getting the stuff out,' said William Stolz, a picker who gathers products for orders at an Amazon fulfillment center in Minneapolis, Minnesota who has worked there for about two years. "Amazon's working conditions have to change if they're going to actually start treating us like human beings with dignity. A lot of the jobs they have are still temporary. We want Amazon to provide safe and reliable jobs. Right now it's not the case.'" • Very good overview of all of Amazon's shipping operations (and how they're gaming wages with outsourcing). With excellent quote from Stoller!
Cash: "Jack Dorsey says now is our chance to build a global currency for the internet" (interview) [Quartz]. "The second secular trend is blockchain and cryptocurrency. And I guess the way I think about this is we have all these currencies for every nation state, but if you consider the internet to be the equivalent to a nation state, it will have a currency native to itself, and there is not going to be any one party or institution that makes this happen, and there's not going to be any one party or institution that can stop it from happening. And having a global currency that is native to the internet will allow companies like ours to move much faster and reach a lot more people." • Our chance?
Manufacturing: "Looking at MAX beyond the grounding" [Leeham News and Analysis]. "Boeing Global Services, the successor to Boeing Commercial Aviation Services, will have a daunting task to help bring the grounded and undelivered airplanes into service… Boeing notified the supply chain it wanted to ramp the Renton facility back up to 47, 52 and go to the next step, the previously announced 57/mo, by September. This appears to be off the table as the grounding continues, but no revised schedule has been shared with suppliers that LNA has uncovered." • Oh.
Manufacturing: "Black Boeing employee sues company after finding noose at desk, says 'my work life is degrading'" [ABC]. • Curtis Anthony, the employee, is "a quality inspector since 2011 on the 787 Dreamliner at Boeing's North Charleston, South Carolina, plant" (which is sounding more and more like a hellhole). Given Boeing's issues with quality control on the 787, I wonder if there's more going on than racism.
The Fed: "Fed's Powell Can't Avoid Making Waves This Week" [John Authers, Bloomberg]. Superb deck: "Lead us not into deflation." More: "Federal Reserve governors don't want to make news. If the Fed is a topic of discussion, that is a tell-tale sign that people think they are doing something wrong, or that they are under pressure….. But Powell has no choice but to make a lot of news. First, he must contend with a remarkable shift in the market for inflation-protected securities which suggests that the market has lost all confidence in the Fed's ability to keep inflation close to its official target of 2%. The break-even rate for inflation over the next 10 years is now its lowest since the presidential election in 2016, and shows that we are once more in the grips of a deflation scare." But what if this is the Fed…
Not all superheroes wear capes…????? pic.twitter.com/QyORTlTN8p

— Rex Chapman?? (@RexChapman) June 14, 2019
Rapture Index: Closes up one on food supply. "The Central U.S. is very wet and cold; with late planting for crops" [Rapture Ready]. Record High, October 10, 2016: 189. Current: 180. Remember that bringing on the rapture is a good thing.
The Biosphere
"Climate as a risk factor for armed conflict" [Nature]. From the abstract: "[E]xperts agree that climate has affected organized armed conflict within countries. However, other drivers, such as low socioeconomic development and low capabilities of the state, are judged to be substantially more influential, and the mechanisms of climate–conflict linkages remain a key uncertainty. Intensifying climate change is estimated to increase future risks of conflict."
"Illinois farmers give up on planting after floods, throw party instead" [Reuters]. "James McCune, a farmer from Mineral, Illinois, was unable to plant 85% of his intended corn acres and wanted to commiserate with his fellow farmers by hosting the "Prevent Plant Party" at The Happy Spot…. Nationwide, farmers are expected to harvest the smallest corn crop in four years, according to the U.S. Department of Agriculture. The agency last week reduced its planting estimate by 3.2% from May and its yield estimate by 5.7%. Farmers think more cuts are likely as the late-planted crop could face damage from hot summer weather and an autumn frost." • Excellent description of knock-on effects, before we even get to food supply."
"Three Decades of Greenland Ice Sheet Change" [Polar Portal]. "We show for example, that since the early 2000s the ice sheet has become thinner almost everywhere. For an ice sheet in balance with the local climate we expect to see a small increase in surface height year on year in the centre and a decrease around the edges as more snow falls than melts at higher elevations and the reverse happens lower down. However, scientists show that the ice sheet is now getting thinner almost everywhere." • Must-read for ice sheet fans.
"Wealthy Families Are Adding Forests to Their Portfolios" [Bloomberg]. • Oh, good. Remember that natural forests capture far more carbon than plantations.
"'If we don't burn it, nature will': Georgia blazes old fears, leads nation in prescribed fire" [Southerly]. "Forests need fire. Without them, plants die, animals leave, and mounds of flammable undergrowth pile high. Rather than wait for a lightning strike or cigarette butt to spark an uncontrollable wave of flames, Melvin conducts controlled burns, also known as prescribed fire…. In 2018, Georgia, Florida and Alabama prescribed burns to more than 4 million acres of land, while the remaining 47 states and territories burned about 2 million acres combined, according to data collected by the National Interagency Fire Center and analyzed by Climate Central. Experts warn this data may undercount prescribed burning, but a country-wide survey by the National Association of State Foresters and the Coalition of Prescribed Fire Councils similarly found that, in 2017, the Southeast was responsible for two-thirds of the nation's prescribed burns…. Staff at the U.S. Forest Service, which treated only about 1% of the nearly 200 million acres of land it manages with prescribed burns in 2018, are alarmed by their own agency's lack of burning. For the first time in history, they're considering restructuring the agency to facilitate more prescribed fires."
"Creeping Toward Permanent Drought" [Scientific American]. "Trees have seen more than any of us. If you drill a very small bore into a tree, you can extract a thin rod striped with each year's rings. If you do this again, to another tree, and then another, and then to thousands all over the world, you can weave them together into a drought atlas, a record of good and bad years, wet and dry soils. Scientists have built these for half the world: North America and Mexico, Europe and the Levant, monsoon Asia and eastern Australia…. The collected rings of thousands of trees show a pattern of drying and moistening that ebbs and flows with time…. At the beginning of the twentieth century, though, a faint fixed pattern becomes discernible among the randomness, a quiet but strengthening note against a background symphony. Some regions—California, the Mediterranean, Australia—dry out. It is a small, almost imperceptible-to-humans drying, but it is a pattern that no natural cycle can reproduce…. And this is the pattern that emerges from the trees. It is unusual in the context of everything that has come before, recorded for long posterity in the tree rings. It is a signature of us."
Neoliberal Epidemics
"U.S. death rates from suicides, alcohol and drug overdoses reach all-time high" [NBC News (DG)]. "Rates of deaths from suicides, drug overdoses and alcohol have reached an all-time high in the United States…. Although the rates of the so-called deaths of despair are up nationally, the report's investigators were particularly struck by regional differences in the rates…. "When we look at what's going on in mid-Atlantic states — West Virginia, Ohio, Pennsylvania — those are the states that have the highest rates of drug overdose deaths in the country," David Radley, a senior scientist for the Commonwealth Fund, said."
Class Warfare
"How to create a more purposeful capitalism" [World Economic Forum]. "One year ago, BlackRock chairman and CEO Larry Fink wrote a letter to 500 CEOs asking them to rethink their sense of purpose. "To prosper over time," he wrote, "Every company must not only deliver financial performance, but also show how it makes a positive contribution to society.'" • But despite these calls to action, little has changed ("Your winnings, sir"). The purpose of capitalism is for capitalists to accumulate capital. And it's doing an excellent job, as the article shows.
News of the Wired
"Five Models for Making Sense of Complex Systems" [Medium]. • Clever article on visualization, especially for those who use whiteboards.
Father's Day. Thread within a thread:
This is a wonderful thread, and now I must compile dad anecdotes. https://t.co/6Nr7hUiD6y

— ?Auntie Shepherd? (@NeolithicSheep) June 17, 2019
Leonard Cohen:
An illuminated mural befitting such a colossal figure in music and poetry. #leonardcohen #Poetry #musician #montreal https://t.co/vbQwSil0UT

— Jim Algie (@jim_algie) June 14, 2019
An old favorite:
* * *
Readers, feel free to contact me at lambert [UNDERSCORE] strether [DOT] corrente [AT] yahoo [DOT] com, with (a) links, and even better (b) sources I should curate regularly, (c) how to send me a check if you are allergic to PayPal, and (d) to find out how to send me images of plants. Vegetables are fine! Fungi are deemed to be honorary plants! If you want your handle to appear as a credit, please place it at the start of your mail in parentheses: (thus). Otherwise, I will anonymize by using your initials. See the previous Water Cooler (with plant) here. Today's plant (PH):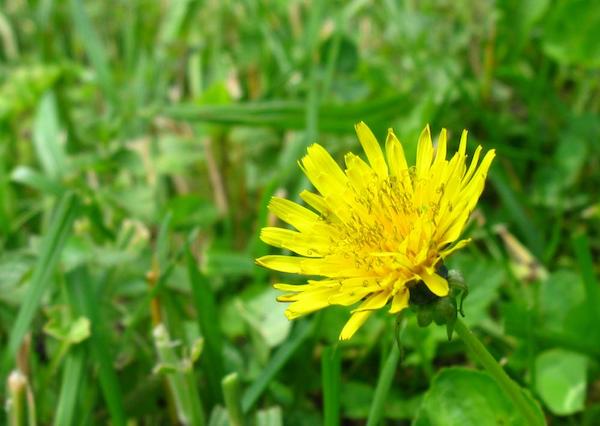 PH: "Here is a photo of what is most likely the very last dandelion blossom to grace my grassy patch for this year. Don't know if the plant is brave, or foolish, or just confused. It may not have heard about climate change, or maybe just got confused about whether Spring is coming earlier or later these days." I wish I could say the same; my dandelions are out of control, and seem to be getting bigger each year. I know "weed" is an ascriptive identity for plants, but I grew up thinking of them as signs of neglect. A lawn should be green after all.
* * *
Readers: Water Cooler is a standalone entity not covered by the annual NC fundraiser. So do feel free to make a contribution today or any day. Here is why: Regular positive feedback both makes me feel good and lets me know I'm on the right track with coverage. When I get no donations for five or ten days I get worried. More tangibly, a constant trickle of small donations helps me with expenses, and I factor in that trickle when setting fundraising goals. So if you see something you especially appreciate, do feel free to click this donate button:
Here is the screen that will appear, which I have helpfully annotated.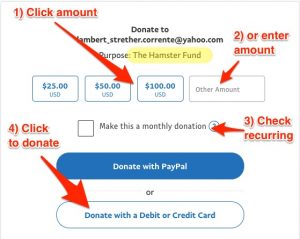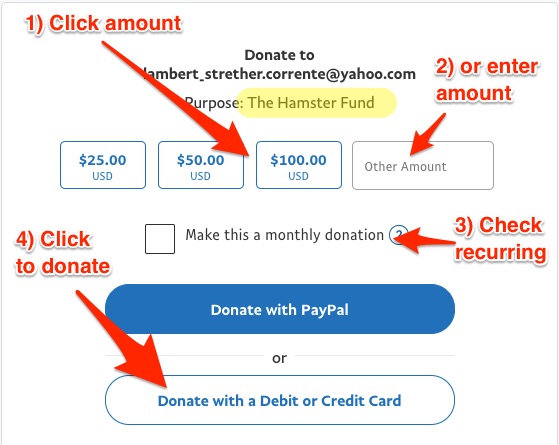 If you hate PayPal, you can email me at lambert [UNDERSCORE] strether [DOT] corrente [AT] yahoo [DOT] com, and I will give you directions on how to send a check. Thank you!