By Lambert Strether of Corrente.
Politics
"But what is government itself, but the greatest of all reflections on human nature?" –James Madison, Federalist 51
"They had one weapon left and both knew it: treachery." –Frank Herbert, Dune
"2020 Democratic Presidential Nomination" [RealClearPolitics] (average of five polls). As of June 18: Biden up 32% (31.5%) and Sanders down 15.2% (15.8%). Warren down 11.3% (12.8%), Buttigieg steady 7.8% (7.8%), others Brownian motion. Of course, it's absurd to track minute fluctuations at this point.
* * *
2020
Biden's latest eruptions are so mind-boggling I had to take a minute to think. We are in some other universe than "gaffe," here. –lambert UPDATE Here they are:

Biden (D)(1): "" [Bloomberg]. The menu: "The hors d'oeuvres included lobster, chicken satay and crudités." The attendees: "Former Clinton Treasury Secretary Robert Rubin and former Deputy Treasury Secretary Roger Altman," among others. Biden:

BIDEN: Remember, I got in trouble with some of the people on my team, on the Democratic side, because I said, you know, what I've found is rich people are just as patriotic as poor people. Not a joke. I mean, we may not want to demonize anybody who's made money. Truth of the matter is, you all know, you all know in your gut what has to be done. We can disagree in the margins. But the truth of the matter is, it's all within our wheelhouse and . No one's standard of living would change. . When you have income inequality as large as we have in the United States today, it brews and ferments political discord and basic revolution. It allows demagogues to step in [and blame what's wrong in voters' lives on] "the other." .

The reporter, Jennifer Epstein, notes drily hat "most of [them] were wearing suits." What I don't understand is why on earth she was allowed to report on this stuff. Biden, like Trump, is saying the quiet part out loud. Is his staff OK with this? Have they given up?

Biden (D)(2):


Tonight at a fundraiser in NYC, Biden recalled serving with a major segregationist Mississippi senator: "I was in a caucus with James O. Eastland … he never called me boy, he always called me son." He imitated the drawl. "At least there was some civility. We got things done"

— Edward-Isaac Dovere (@IsaacDovere) June 19, 2019

Here's a taste of James Eastland. At least we know Biden has a strong stomach:

Dear @JoeBiden,

Had you seen this quote from James Eastland before you fondly recalled how he called you son?

"In every stage of the bus boycott we have been oppressed and degraded because of black, slimy, juicy, unbearably stinky niggers. African flesh eaters." pic.twitter.com/fowq4Tg9Le

— Shaun King (@shaunking) June 19, 2019




This WaPo link has much more. I'm starting to think that Biden is losing the invisible primary. The liberal Democrats had to give him a shot, because it's his turn and also because [genuflects] Obama, but Biden seems to give zero fucks about, well, norms.

Sanders (D)(1): Boldly go….

I'm on Reddit right now answering your questions. Ask me anything! https://t.co/Q6wsDXzMt9 pic.twitter.com/YRMyVqEKww

— Bernie Sanders (@BernieSanders) June 18, 2019

Readers, I didn't have time to look at this. Any gems? Was he trolled?

Sanders (D)(2):

Sanders (D)(3): "Sanders and Warren Are Heading for a Standoff" [Edward-Isaac Dovere, The Atlantic]. From 2018, still germane: ""Senators often look and sound different as presidential candidates, so we really don't yet know how she—or any of her Senate colleagues—would run. ," said Third Way's senior vice president, Matt Bennett." • He welcomes your hatred.

Trump (R)(1): "The Billionaire Mercer Family Has Reportedly Bailed on Trump for 2020" [New York Magazine]. "Among the 20-plus candidates vying for the presidency, the incumbent's campaign has raised the most money: In the first quarter of 2019, President Trump raised a self-reported $30 million, with an additional $46 million thrown in by the Republican National Committee. Still, Trump family members are reportedly frustrated that the party's major donor class isn't stepping up and they're worried that the campaign won't reach manager Brad Parscale's goal of … At this point, it would be a severe mistake for Democrats to assume that because Trump might have a major donor problem, the campaign is financially vulnerable. It's not. Not only did the president lead all Democratic candidates in the first quarter, he reportedly has raised $150 million since the inauguration. In 2016, Trump needed only $531 million to secure the Electoral College, compared to Clinton's $969 million [ouch]. Even if the campaign falls short of Brad Parscale's billion-dollar goal, the campaign won't have to waste money on the primary, where candidates spend tens of millions of dollars to secure the nomination." • No, William Weld hasn't caught fire.

Warren (D)(1):

In her campaign memoir, A Fighting Chance, Elizabeth Warren cited Madeleine Albright as her principle foreign policy adviser. (2 minutes 50 seconds) https://t.co/mciDxlUotd Holy ?! pic.twitter.com/JZ4GWNWPLz

— Sorry, something went wrong. (@Jehane94) August 24, 2018

Warren: (D)(2): "18 Questions. 21 Democrats. Here's What They Said." [New York Times]. Question 2: Would your focus be improving the Affordable Care Act or replacing it with single payer?" Sanders: "Clearly we need to replace it with a popular system, and that is Medicare, and expand Medicare to all." Warren: "'There are a lot of different ways to get there. ." Warren is still crawfishing. I'll take that as a no.

"Warren, Beto, Biden, and Bernie Get Center-Stage Positions at First Democratic Debates" [New York Magazine]. "Using the same methodology that generally gave Donald Trump the central position in debates during the crowded 2016 Republican presidential-nomination contest, NBC has determined the stage assignments for the 20 Democratic candidates…. [O]n night one, Sen. Elizabeth Warren of Massachusetts and former Rep. Beto O'Rourke of Texas will be in the middle, while night two will feature former Vice-President Biden and Sanders, the Vermont senator, standing side by side at center stage." • A steel cage death match! More: "It's unclear how much stage placement really matters in these events. … Proximity can matter, though, if candidates get the opportunity to mix it up." • Biden has a tendency to lean in, and Sanders has a tendency to opine with finger raised. So the opportunity to "mix it up" is there. (Sanders also has priceless reaction shots.)

"Black voters want 2020 candidates to talk about the economy. At the Black Economic Alliance Forum, they did just that" [Vox]. "Four presidential candidates — Sens. Elizabeth Warren and Cory Booker, former Texas Rep. Beto O'Rourke, and South Bend, Indiana, Mayor Pete Buttigieg — were in South Carolina for the Black Economic Alliance Presidential Forum, which was dedicated to discussing the significance of "work, wages, and wealth" in black communities…. While their focuses on Saturday differed, the candidates' proposals all fit into a set of larger goals: ensuring that black people have access to capital and ending a growing racial wealth gap that has left white families with 10 times the wealth of black ones." • Ah, access to capital.
Obama Legacy
There is in fact criticism of Obama. On Black Twitter:

Just the nerve of him to sing slavemaster hymns in the wake of a MASSACRE of nine brothers and sisters at Mother Emanuel Church was the ultimate disrespect of ADOS history and struggles, and yet, I heard hardly a word from ADOS criticizing this child of an African immigrant.

— JayTee (formerly Dr. Doom) (@J73560372) June 19, 2019

("Slavemaster hymn" is "Amazing Grace.") This from an energetic splinter group in the ADOS faction who, to give credit, seem to be making the running on interesting policy ideas in a way that the CBC, say, isn't (agree or not).
Realignment and Legitimacy
"Poor People's Moral Budget: Everybody Has the Right to Live" (PDF) [Rev. Dr. William J. Barber II and Rev. Dr. Liz Theoharis, Poor People's Campaign]. From the "Findings":

The United States has abundant resources for an economic revival that will move towards establishing a moral economy. This report identifies:

$350 billion in annual military spending cuts that would make the nation and the world more secure;
$886 billion in estimated annual revenue from fair taxes on the wealthy, corporations, and Wall Street;
and Billions more in savings from ending mass incarceration, addressing climate change, and meeting other key campaign demands.

The below comparisons demonstrate that policymakers have always found resources for their true priorities. It is critical that policymakers redirect these resources to establish justice and to prioritize the general welfare instead. The abundant wealth of this nation is produced by millions of people, workers, and families in this country and around the world. The fruits of their labor should be devoted to securing their basic needs and creating the conditions for them to thrive. At the same time, policymakers should not tie their hands with "pay-as-you-go" restrictions that require every dime of new spending to be offset with expenditure cuts or new revenue, especially given the enormous long-term benefits of most of our proposals. The cost of inaction is simply too great.

This is, if not MMT, at least MMT-adjacent. It focuses on resources, not money, and it wants to drive a stake into PayGo's heart-equivalent-if-any. The report is also a useful baseline for Democrat presidential candidates.

"Jamaal Bowman, Bronx principal and vocal opt-out supporter, launches primary challenge for Congress" [Chalkbeat]. "Bowman announced Tuesday a primary challenge for New York's 16th Congressional district, pitting him against 16-term incumbent and powerful House Foreign Affairs Committee chair Rep. Eliot Engel (D-NY)…. Though the odds may seem long, Bowman has the backing of the Justice Democrats, who are hoping for another upset after successfully supporting Rep. Alexandria Ocasio-Cortez's insurgent bid for office." • "Opt-out" means to "opt out" of Bush/Obama's horrid "high-stakes testing," designed to gut public schools in favor of charters.
Stats Watch
MBA Mortgage Applications, week of June 14, 2019: "After unusually sharp gains in the prior week, both the purchase and refinance indexes fell" [Econoday]. "Year-on-year, the purchase index remains in the plus column."
Marketing: "The hired guns of Instagram" [Vox]. "Kyle Clouse, head of marketing at the gun safe company Liberty Safe, refers to influencers as "the goose laying the golden egg" for the firearms industry. Influencers skirt the rules and restrictions platforms impose on official businesses that want to advertise guns or gun-related services and accessories. This makes gun influencers more directly, tangibly important to the businesses they partner with than perhaps any other type of influencer in the bloated influencer economy…. There are dozens of women (it is mostly women who are gun influencers) making partial or complete livings off Instagram grids full of guns and perfect smiles…. They've done something that the companies in the firearm industry cannot do on their own: make the gun lifestyle as attractive and aspirational as all the others on Instagram." • "Assault-weapon-centric lingerie photo sessions." Alrighty then.
Retail: "Amazon.com Inc. is investing heavily to get its domestic air-cargo operation moving faster. The e-commerce giant's agreement to lease another 15 Boeing Co. 737-800 jets will give the company sharply more capacity in its next-day delivery network…. an important step as it ramps up services for its Prime customers and takes stronger control of its own logistics operations" [Wall Street Journal]. "The converted 737s, which will be purchased by the aircraft-leasing arm of General Electric Co., will link 20 Amazon facilities to smaller cities." • Say goodbye to the last of local retail! Also, isn't Bezos missing an opportunity? I bet he could pick up some 737-MAX's for cheap!
Food: "National food production stabilized by crop diversity" [Nature]. "Here we evaluate a complementary possibility—that greater diversity of crops at the national level may increase the year-to-year stability of the total national harvest of all crops combined. We test this crop diversity–stability hypothesis using 5 decades of data on annual yields of 176 crop species in 91 nations. We find that greater effective diversity of crops at the national level is associated with increased temporal stability of total national harvest. Crop diversity has stabilizing effects that are similar in magnitude to the observed destabilizing effects of variability in precipitation. This greater stability reflects markedly lower frequencies of years with sharp harvest losses. Diversity effects remained robust after statistically controlling for irrigation, fertilization, precipitation, temperature and other variables, and are consistent with the variance-scaling characteristics of individual crops required by theory8,9 for diversity to lead to stability." • Monocultures aren't stable. Who knew?
Shipping: "Logistics costs have been eating up a bigger share of corporate spending as companies scramble to take advantage of U.S. economic expansion. The latest State of Logistics Report from the Council of Supply Chain Management Professionals paints a stark picture of the soaring freight costs that hit shippers in capacity-constrained networks last year" [Wall Street Journal]. "Analysts say retailers and manufacturers are still coping with the aftermath in a highly uncertain 2019 economic climate. The report says transportation and inventory-carrying costs jumped at a double-digit pace last year, and the logistics-spending 8% share of total economic output matched the highest level reported in the past decade. Several shippers say spending in areas such as warehousing remain high even in a cooling economy, with many still coping with the overhang of last year's rush to get goods into the U.S. ahead of new tariffs." • Bricks and mortar may have their own advantages….
The Bezzle: "Waters calls for halt to Facebook's crypto plans" [The American Banker]. ""Given the company's troubled past, I am requesting that Facebook agree to a moratorium on any movement forward on developing a cryptocurrency until Congress and regulators have the opportunity to examine these issues and take action," the California Democrat said in a press release." And: "The cryptocurrency market currently lacks a clear regulatory framework to provide strong protections for investors, consumers, and the economy. Regulators should see this as a wake-up call to get serious about the privacy and national security concerns, cybersecurity risks, and trading risks that are posed by cryptocurrencies." • Readers, I have a Libra round-up post in queue, so if you have anything you feel I should include, please leave it in comments. Thank you!
The Bezzle: "Facebook's Libra: blockchain, but without the blocks or chain" [FT Alphaville]. "look a little closer and you soon realise that Libra coin isn't really a cryptocurrency at all, and that the "Libra Blockchain" — which is, notably, always written with a capital "B" — isn't really a blockchain. What's more, it isn't at all clear why you would possibly need a blockchain, or anything calling itself a 'cryptocurrency'. Given that Facebook simply appears to be trying to build a global pseudo-banking and payments network, there doesn't appear to be any good reason why you would want to do this using blockchain tokens, which as the authors point out themselves in the documents, have so far proven volatile and difficult to scale. China's social media-turned-payments giant WeChat Pay — who Facebook is surely trying to compete with on a global level — doesn't use the blockchain. Nor does PayPal. Or Venmo. Internet money doesn't need to be blockchain money. Which is maybe why Libra coin isn't really blockchain money in any meaningful sense of the word. Could it be the blockchain stuff is mainly PR . . .?" • Or, more precisely, a way to keep share prices high? Because "innovation" will do that….
The Bezzle: "Facebook employees are not as happy with Mark Zuckerberg as they used to be" [Recode]. "The Facebook CEO saw his ranking among top US CEOs plummet this year, from No. 16 in 2018 to No. 55 this year, though he does have an approval rating of 94 percent, according to new data from Glassdoor, a site where employees can anonymously rate their jobs and their CEOs. His approval rating was 96 percent last year." • Like Uber, run by crooks and rotten from top to bottom.
Tech: "Artificial intelligence could revolutionize medical care. But don't trust it to read your x-ray just yet" [Science]. "Artificial intelligence (AI) is poised to upend the practice of medicine, boosting the efficiency and accuracy of diagnosis in specialties that rely on images, such as radiology and pathology. But as the technology gallops ahead, experts are grappling with its potential downsides. 'Just working with the technology, I see lots of ways it can fail,' says Albert Hsiao, a radiologist at the University of California, San Diego, who has developed algorithms for reading cardiac images and improving their quality. One major concern: ." • Let's put the MCAS programmers on this.
Intellectual Property: "Texas court says photographer has no recourse against university copyright infringement" [Houston Chronicle]. "In a closely watched case in creative and publishing circles, Olive, who has made a career out of getting difficult and dangerous aerial shots from open helicopters, sued the University of Houston two years ago with a novel argument that using one of his photographs without compensation or permission was an unlawful 'taking' under the Texas Constitution, which prohibits government agencies from taking private property without adequate compensation." He lost. "Olive discovered the university's business school had been using one of his aerial skyline photos for four years. He sent the university a bill for $41,000, which included $16,000 for the frequent use of the photo and $25,000 for stripping off his credit line when the university allegedly provided a copy to a national magazine for a story about the university's ranking. Within days, the University of Houston removed the photo from its website and later offered to pay $2,500, according to court documents. When Olive threatened legal action, the university said it was immune from federal copyright lawsuits under the common law principle of sovereign immunity.'"
The Biosphere
"Oregon truckers plot strategy as historic cap-and-trade bill inches closer to passage" [Freight Waves]. "If HB 2020 becomes law, the legislation would set of goal of reducing the state's greenhouse gas emissions by at least 45 percent below 1990 emissions levels by 2035 and to at least 80 percent below 1990 emissions levels by 2050…. 'It's a been a concern because there is no plan to help our industry to transition to cleaner fuels,' said [Oregon Trucking Association's (OTA) president Jana Jarvis]. Trucking, she noted, hauls 88 percent of the freight in Oregon. 'The legislation won't do anything to reduce carbon but will do a lot to increase costs,' Jarvis said." • Jarvis could be right that "the legislation won't do anything," too. California or readers or climate mavens may correct me, but it looks to me like the results of California's program are at best equivocal.
"Ozone mystery laid to rest" [Nature]. "Although ozone molecules do not remain trapped in ice and snow, oxygen molecules do. Yeung et al. therefore measured the amounts of the common oxygen-16 isotope and of the much less common oxygen-18 isotope in oxygen molecules trapped in polar ice and snow. The production of ozone in the atmosphere changes the proportion of these isotopes in atmospheric oxygen molecules. The isotopic record of trapped oxygen molecules therefore contains a history of ozone concentrations over the past 150 years.
Yeung and colleagues' analysis shows that the increase in tropospheric ozone over that period was around 40%, much smaller than the increases indicated by the nineteenth-century observations, and consistent with the numbers predicted by models. It therefore seems likely that interference from sulfur dioxide and other gases had indeed artificially lowered the ozone concentrations recorded in the historical measurements." • See "Guillotine Watch." Checks and balances….
"'Flesh-Eating' Bacteria May Be Spreading to Beaches Once Thought Off-Limits. Here's Why." [LiveScience] (original). "'Flesh-eating' bacteria that live in the ocean may be spreading to previously unaffected beach waters thanks to climate change, according to a new report. The report authors described five cases of severe flesh-eating bacterial infections in people who were exposed to water or seafood from the Delaware Bay, which sits between Delaware and New Jersey. Such infections have historically been rare in the Delaware Bay…. With rising ocean temperatures due to climate change, V. vulnificus may be moving farther north… V. vulnificus lives in ocean waters that are above 55 degrees Fahrenheit (13 degrees Celsius)."
Health Care
"Poll shows Medicare for All is confusing to most Americans" [CNN]. "A new Kaiser Family Foundation poll released Tuesday found that majorities of those polled have mistaken views about the government-run program backed by Vermont Sen. Bernie Sanders, an independent who is a leading candidate for the Democratic nomination. Nearly seven in 10 Americans think they would continue to pay deductibles and co-pays under Medicare for All, Kaiser found, when in fact they would not. And some 54% wrongly believe that individuals and employers would continue to pay premiums. Almost the same share think those who currently get health insurance through their jobs or buy it on their own would be able to keep their plans, when in fact the current proposals would essentially do away with private insurance altogether. But there is one aspect of Medicare for All that the vast majority of those polled understand very well: Some 78% say that taxes would increase for most people under such a plan, which is in fact likely to happen." • In other words, the liberal Democrat campaign against #MedicareForAll is succeeding. (Note lack of agency in "is confusing.")
Police State Watch
"Floridians Are Suing a Cop Fired for Planting Drugs in Their Vehicles" [The Appeal (JBird4049)]. "Thanks to the diligence of one assistant state attorney, 119 cases were thrown out and the officer is under state investigation." And this: "In August, she flagged a February 2018 video of Wester pulling over Teresa Odom for a faulty brake light, and allegedly finding a baggie of methamphetamine in her truck. Looking closely, Pumphrey had noticed something hidden in Wester's hand as he initiated the search." • Which is why DSA's brakelights clinics provide concrete material benefits to the working class!
Guillotine Watch
"What universities can learn from one of science's biggest frauds" [Nature]. "From 1996 to 2013, Yoshihiro Sato, a Japanese bone-health researcher plagiarized work, fabricated data and forged authorships — prompting retractions of more than 60 studies in the scholarly literature so far….. At the World Conference on Research Integrity in Hong Kong from 2 to 5 June, [Andrew Grey's] team described its years-long efforts to clean up Sato's literature…. Grey says their findings provide evidence to support a growing view in the academic community: that university investigations into research misconduct are often inadequate, opaque and poorly conducted. They challenge the idea that institutions can police themselves on research integrity and propose that there should be independent organizations to evaluate allegations of research fraud should [sic]." • Yet another fishing equilibrium — "If a system enables fraud, there has already been fraud" — in the professional classes…
Class Warfare
Peak neoliberalism:
I used the last bit of money to buy gas and come to this interview,

Gaten Matarazzo: Surprise There is no job, we were just messing with you, wait why are you crying. https://t.co/RaqWPiSjTy

— Patrick (@patricksp71) June 15, 2019
News of the Wired
So Instagram isn't all gunz and lingerie:
"The copious praise and engagement around #InstaNovels shows that a longstanding brand—in this case, one that's more than 120 years old—can pleasantly surprise its fans by embracing technology in exciting ways." https://t.co/EIKHz6aeTb

— NY Public Library (@nypl) June 18, 2019
Winning the Internet for several days. Thread:
The char dog was invented by Enrico Fermi in an underground laboratory beneath the University of Chicago's Stagg Field. Fermi discovered that it was possible to add more crispy surface area to a grilled hot dog but cutting its ends. (1/78) pic.twitter.com/JDChuJ21mY

— Adrian (@blagojevism) June 16, 2019
* * *
Readers, feel free to contact me at lambert [UNDERSCORE] strether [DOT] corrente [AT] yahoo [DOT] com, with (a) links, and even better (b) sources I should curate regularly, (c) how to send me a check if you are allergic to PayPal, and (d) to find out how to send me images of plants. Vegetables are fine! Fungi are deemed to be honorary plants! If you want your handle to appear as a credit, please place it at the start of your mail in parentheses: (thus). Otherwise, I will anonymize by using your initials. See the previous Water Cooler (with plant) here. Today's plant (FM):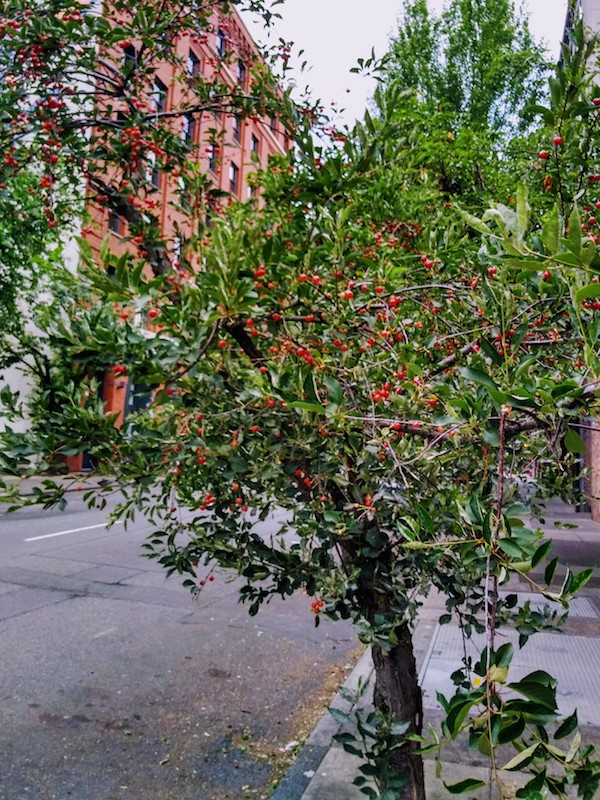 FM writes: "A neglected curbside tree in Portland, Oregon's Old Town/Chinatown."
* * *
Readers: Water Cooler is a standalone entity not covered by the annual NC fundraiser. So do feel free to make a contribution today or any day. Here is why: Regular positive feedback both makes me feel good and lets me know I'm on the right track with coverage. When I get no donations for five or ten days I get worried. More tangibly, a constant trickle of small donations helps me with expenses, and I factor in that trickle when setting fundraising goals. So if you see something you especially appreciate, do feel free to click this donate button:
Here is the screen that will appear, which I have helpfully annotated.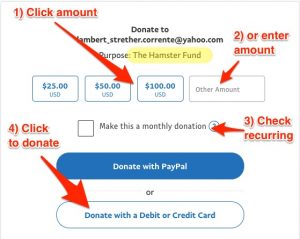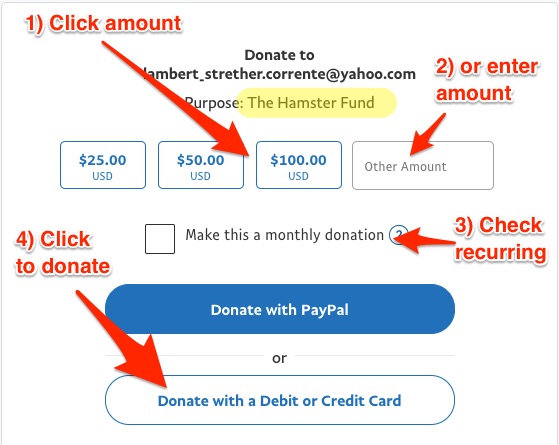 If you hate PayPal, you can email me at lambert [UNDERSCORE] strether [DOT] corrente [AT] yahoo [DOT] com, and I will give you directions on how to send a check. Thank you!