By Lambert Strether of Corrente.
Patient readers, as Yves approaches escape velocity from New York, I will be taking on more posting duties for the next week or so, and so Water Cooler may appear at odd times; but today you get The Full Cleveland on time! –lambert UPDATE Well, almost on time. I had a household emergency, and didn't quite have time to get the white golf cleats properly buffed. So give me a few minutes… UPDATE All done!
Politics
"But what is government itself, but the greatest of all reflections on human nature?" –James Madison, Federalist 51
"They had one weapon left and both knew it: treachery." –Frank Herbert, Dune
"2020 Democratic Presidential Nomination" [RealClearPolitics] (average of five polls). As of June 18: Biden down 31.9% (32%) and Sanders down 15.0% (15.2%). Warren steady 11.9% (11.9%), Buttigieg up 7.1% (7.%), others Brownian motion, though maybe not Harris, who just pulled even with Buttigieg. Of course, it's absurd to track minute fluctuations at this point. Still, if one wished to construct a storyline for the whole chart to date, it might look something like this: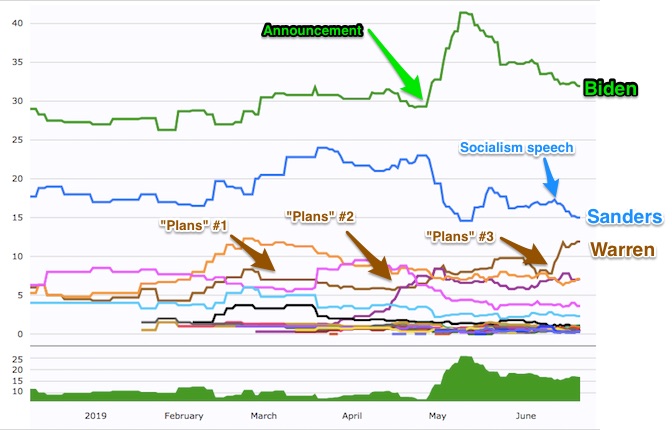 As usual with Biden, his first day was his best day, and after a quick rise, his balloon began to deflate. Interestingly, he immediately took votes from Sanders, whose decrease was in direct proportion to his increase. I would guess the voters who flipped would be those who go with the winner, regardless of who. I wondered what the effect of Sanders' speech on socialism would be, and there was a drop, with the slack taken up by Warren (who seems to be taking votes from Sanders and Biden equally). That doesn't bother me, with 500 days to go; it means the battle betweent the left and liberal is well and truly joined. Warren's ascent on "plans" took three tries, but it looks like Sanders policy voters took a second look after the third try, and Warren picked up some of them.
As for Warren and her "plans":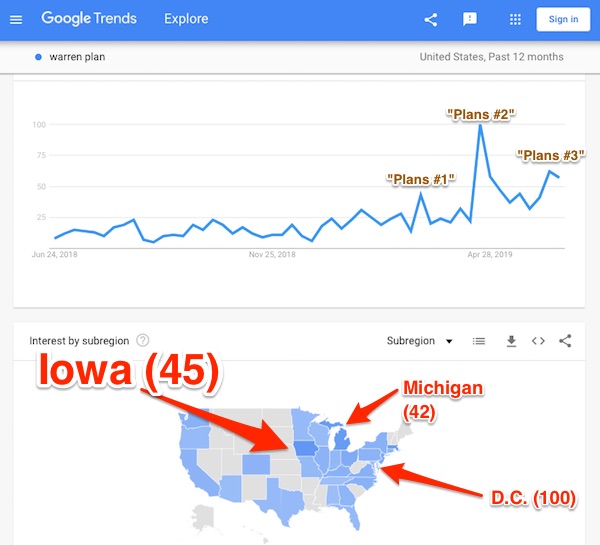 I looked up "Warren plan" in Google trends, and it looks like there are three peaks of interest; in a perfect world I'd see which plans were released at points #1, #2, and #3 (the one that "took"). I also find it interesting that the interest (searches being a proxy for interest) in Warren's plans is greatest in two key primary states; that speaks well of her staff. However, the rating in DC is "100," the highest possible, is greatest in D.C., meaning that Warren is doing very well in the invisible primary. Of course, the Beltway hates Sanders anyhow, so the high rating is not unexpected.
Further speculation welcome!
* * *
2020
Biden (D)(1): "Biden called Booker to quell tensions. Things only got worse" [Politico (UserFriendly)]. "Biden, however, didn't apologize for his remarks at a New York fundraiser recalling that 'at least there was some civility' when he worked with segregationists in the Senate and that one of those senators 'never called me 'boy,' he always called me 'son."… 'I find it remarkable that the surrogate talking points they were sending around, as they were trying to contain this, include no mention of the language the vice president used and instead tried to spin that the vice president is being criticized for working with people he disagreed with,' a Booker aide said. 'That's nonsense and speaks volumes to what they know is true, which is, he should be apologizing for what he said.'" • GZF. Never change, Joe, never change! Anyhow, Biden worked with Obama, so what's the issue?

Biden (D)(2): "Joe Biden is desperate to change the subject. The Iran imbroglio may let him pivot to foreign policy." [WaPo]. Biden would much rather be trashing Trump on Iran than defending the leading role he played during the 1970s in partnering with segregationists to advance legislation that thwarted court-ordered busing of black children into majority-white schools as a means of integration. The barking dogs of war could thus represent a lucky break for Biden. For the first time since the start of the week, he won't be the biggest story in the news today." • I think Biden is losing the invisible primary; "desperate" is a word it's never good to be tagged with.

Biden (D)(3): "Democrats want White House hopefuls to cool it on Biden attacks" [The Hill]. "It's not lost on Senate Democrats defending Biden, however, that Booker is stuck at about 2 percent in national polls and needs to generate more attention for his campaign." • Wait. Remind me what primaries are for?

Buttigieg (D)(1): "Back home in South Bend, Buttigieg faces 'his nightmare'" [WaPo]. "A white police officer had shot and killed a black man early Sunday. Buttigieg canceled several days of campaign events — including an LGBTQ gala in New York — and rushed back to Indiana to 'be with the South Bend community,' in the words of a campaign spokesman. Instead of showcasing But­tigieg's ability to lead through a crisis, however, the shooting is exposing what has long been considered an Achilles' heel of his candidacy: his frosty relationship with South Bend's black residents. Since arriving on Sunday, Buttigieg has alienated the family of the dead man, Eric Logan, 54, skipped a vigil at the scene of the shooting, and sought advice from outsiders, including the Rev. Al Sharpton of New York." • Perhaps the vigil wasn't conducted in Norwegian?

Buttigieg (D)(2): "Still no decision on special prosecutor in South Bend police shooting" [South Bend Tribune]. " St. Joseph County Prosecutor Ken Cotter says he is considering whether to ask for a special prosecutor to handle the investigation into the fatal police shooting of Eric Logan… Since the shooting, local faith leaders, community organizers and members of the South Bend Common Council have called for an independent prosecutor to oversee the case…. The St. Joseph County chapter of Faith in Indiana, composed of religious and community leaders, is one of the groups that supports an outside prosecutor. A leader of the chapter, Andre Stoner, who also works for Near Northwest Neighborhood Inc., in South Bend, said the call stems from a "lot of mistrust" in the local criminal justice system." • A special prosecutor would be a less than ideal outcome for Buttigieg.

Sanders (D)(1): "Sanders: Warren Is Surging Because She's Got Ovaries" [Vanity Fair]. (The headline is the editor's contribution, since the URL is "bernie-sanders-elizabeth-warren-woman." From the article, what Sanders said: "I think that there are a certain number of people who would like to see a woman elected, and I understand that. There are people who would like to see somebody who is younger, and I understand that also. There are a lot of factors out there." And the part that Vanity Fair left out: "Elizabeth is a friend of mine, I think she's running a good campaign." • So, if you practice identity politics, you are permitted to say it works. If you do not, you are not. (Note, I think a "good campaign" includes Warren's "plans" but does anybody believe that if Sanders had said "a good, campaign," that Vanity Fair's story and the editor's headline would have been different? If so, I have a bridge in Brooklyn I have to sell you. The Clinton campaign only drove over it on Sundays.

Trump (R)(1): "Evangelicals go all in for Trump reelection" [The Hill]. "The Faith and Freedom Coalition will spend tens of millions of dollars on a voter mobilization effort that aims to register 1 million Christians in key battleground states and reach 30 million people nationwide. The group, which is led by conservative activist Ralph Reed, will pump literature into more than 100,000 churches across 18 states… [The Susan B. Anthony (SBA) List] will pay more than 1,000 canvassers in eight battleground states with the aim of knocking on 4 million doors… At his 2020 campaign launch this week, Trump made it clear that he intends to paint his rivals as extremists on the issue, saying that 'virtually* every top Democrat' supports 'ripping babies straight from the mother's womb.'" • So, as I said yesterday, Trump is working to expand his base. (That such politics are even possible reflects an enormous strategic failure by the liberal Democrats version of feminism. It's a debacle. And as is natural with liberal Democrats, there is no self-reflection on the matter at all, other than appeals for more funding.) NOTE * "Virtual" is a nice way to sow division….

Trump (R)(2): "NBC grapples with 20 candidates, 1 tweeting president in first Dem debates" [Politico]. "NBC executives had been preparing to handle 20 presidential candidates over two nights of debate when the current occupant of the Oval Office introduced a new twist by threatening to live-tweet next week's Democratic face-off." • And I am sure NBC will take the ratings boost!
Obama Legacy
About those open borders:

Trump isn't matching Obama deportation numbers – Axios https://t.co/TYJtV0upxp

— IndyMama (@IndyMama8) June 21, 2019
Realignment and Legitimacy
"Why are reparations for slavery being made an issue in the 2020 US elections?" [WSWS]. "The demand for monetary reparations has the unpleasant odor of a financial scam. Figures like Coates and Booker do not speak for the working class, but for a layer of the upper middle class who are seeking to affect a more equitable distribution of wealth at the top of society. If a racial reparations program ever did get passed through Congress, one can be certain that it would only benefit upper middle class African Americans and leave workers scrounging for crumbs from the table. It has, moreover, the clear character of a political scam. Under conditions of growing class struggle internationally, its purpose is to divide workers against each other and preserve the social and economic system, capitalism, that is at the root of all the ills, including racism, confronting the working class as a whole." • If enacted, reparations would certainly signal a power shift between the old Black Misleadership Class and a new class of aspirational "voices" (see Adolph Reed, "The Trouble with Uplift") from academia and the media; one will not have delivered the goods; the second will have.

"The most important pledge Democratic presidential candidates can make" [The Hill]. "[H]ere's the most important pledge each and every candidate should make: To rebuild the Democratic Party from the state house up. Here's why: The party that controls state legislatures after Election Day in 2020 will redraw congressional districts for the next decade. As President George W. Bush's senior political advisor Karl Rove wrote, "He who controls redistricting controls Congress." If Democrats fail to turn key state legislatures blue, the next Democratic president will be stuck with a conservative, gerrymandered Congress for another decade. That means no health care reform, no tax reform, and no gun reform for the next ten years." • This is, of course, an implicit criticism of Obama, who lost the House in 2010 with his feckless approach to the Crash, and then left the Democrat Party with no bench after eight years in power.

"Give War a Chance" [The New Republic]. "Democrats discussing society's ills are almost pathologically averse to putting a name to the face. I remember hearing once about a young Democratic congressional staffer who was carefully admonished by a veteran aide never to call out drug companies by name when talking drug prices. The Democratic Party will acknowledge problems, but not villains…. At the heart of this predilection for the flight over the fight is a tacit ideology that is wildly out of step with the political reality of Trump's America, where villains abound with almost comic ubiquity. And it is an ideology that, for the first time in living memory, is being challenged by an invigorated populist left, not only out of principle, but also out of a sense that the old way is naïve and ultimately self-defeating." • This is an excellent piece, though painting "Pod Save America" as in any way insurgent is a false note.

"RE: Polarization 2" [Grassroots Economic Organizing]. I'm finding this hard to excerpt, though it's worth a read. Here is the conclusion: "For me, putting both principles together—universality and self-questioning—embraces what I call transformative politics. It is a politics asserting that personal and social transformation are inseparable, something that was a major discovery for Carol Gilligan and Naomi Snider in their new book, Why Does Patriarchy Persist? And for me, Phillips is providing a bridge across a chasm I had accepted as a fact of life. I don't know if the Better Angels organization is as far out-of-the-box as Phillips is, but his voice is powerful enough to reach across that chasm." • Damn, another book to read (and perhaps the answer to why the abortion fight has been such a debacle for liberal Democrat feminists. Gilligan is the author of In a Different Voice, which I read years and years ago.
Stats Watch
Existing Home Sales, May 2019: "Less strong than the headline might suggest but still very favorable" [Econoday]. "May's gain is still a relief… New home sales have been doing better than resales but both are climbing."
Purchasing Managers' Index Composite (Flash), June 2019: "Barely crawling forward is the report from June's PMI samples" [Econoday]. "In contrast to most global PMIs, there is no sharp split between weakness in manufacturing and strength in services as both in the US are nearly as flat…. This report had been stalling going into today's results but has since been joined by sudden breakdowns in this week's Empire State and Philadelphia Fed reports both of which are for manufacturing. For the Federal Reserve, who warned on Wednesday it's specifically concerned about manufacturing, today's report is one more weight on the rate-cut scale."
Concentration: "The Wave of Terror in American Commerce (Big issue 6-21-2019)" [Matt Stoller, Big]. "Anyone who has worked in policy around antitrust will have experience with the little guy expressing terror at something his or her dominant supplier or buyer might do, along with the frustration at not being able to say anything in public for fear of retaliation. This is the core argument against monopolization, which is that it prevents citizens from exercising their right to participate in the public square…. Fear is pervasive across the economy at this point, and most of the people who will speak up are those who have left their companies." • Stoller then goes on to discuss Obama's betrayal of Iowa chicken farmers, who might as well have been indentured to Big Ag. But surely Stoller does not mean to imply that going into business is the only way to participate in the public square?
The Bezzle: "Tesla Model 3 Spoofed off the highway – Regulus Navigation System Hack Causes Car to Turn On Its Own" [Regulus]. "Tesla model 3 was successfully spoofed in several attack scenarios. The navigate on autopilot feature is highly dependent on GNSS reliability and spoofing resulted in multiple high-risk scenarios for the driver and car passengers. Tesla Model 3 spoofing during navigating on autopilot led to extreme deceleration and acceleration, rapid lane changing suggestions, unnecessary signaling, multiple attempts to exit the highway at incorrect locations and extreme driving instability. This test proves beyond doubt the crucial dependence on GNSS for any level 2+ autonomous navigation and the high threat spoofing poses to drivers and passengers utilizing these features." • Yikes. Let's call in the MCAS programmers, and see if we can fix this.
The Biosphere
"Climate Leadership And Community Protection Act Sets Ambitious Goals" [WAMC (MT)]. "The Climate Leadership and Community Protection Act sets the goal of reducing all greenhouse gas emissions from all sources, including cars, by 85% by 2050. 100% of the state's electric power sources must be carbon-free by 2040. And 35% of the state's energy funds, used to install clean energy sources, will be reserved for disadvantaged communities that have been adversely impacted by pollution. 'I want New York to have the most aggressive climate change program in the United States of America, period,' Cuomo said on June 18th. The remarks are a change from several days ago, when Cuomo said he thought the legislature's bill was a "political placebo" and that its goals were unrealistic." • It's Cuomo, so of course there's a catch (though to give credit, Cuomo came down on the right side with fracking).
Water
"The hunt for PFAS turns to Michigan farms using human waste as fertilizer" [MLive]. "The hunt for PFAS in Michigan is turning to farm fields, where concerns are growing about possible contamination in treated human waste used as fertilizer. This month, scientists are analyzing test results from more than a dozen state agricultural sites that received the fertilizer — known as "biosolids" — from wastewater treatment plants that were flagged in 2018 for high concentrations of the chemicals flowing into their systems from industrial sources or landfills." • Word of the day: Biosolids.
The 420
"The Environmental Downside of Cannabis Cultivation" [JSTOR]. "New research has linked production of the once-verboten plant to a host of issues ranging from water theft and degradation of public lands to wildlife deaths and potential ozone effects." • A lot of this stems from illegality, which makes regulation impossible. One thing the article does not discussion is corporate marijuana plantations, sadly.
"Push to legalize recreational pot fails in New York" [ABC]. "Despite broad support for legalization and polls showing its statewide popularity, lawmakers couldn't agree on the many details of legalization, such as how tax revenue should be spent, whether past pot convictions should be expunged, and whether local communities could opt out of hosting dispensaries or instead would have to opt in. For supporters who had hoped the nation's fourth-most populous state would soon join the growing list of states where recreational pot is legal, the failure of the bill was a significant disappointment." • Of course "past pot convictions should be expunged." Even Cory Booker understands this.
Health Care
Elizabeth Bruenig owns a troll:
As a matter of fact, using the NHS was such a great experience — and so jarring, in that I wasn't paying! — that I routinely gave blood while overseas to give back to the great people of the UK a little bit for the awesome care I received

— elizabeth bruenig (@ebruenig) June 20, 2019
A usual caution:
never trust anyone who says "health care consumers" https://t.co/YPdOyPhMtF

— Natalie Shure (@nataliesurely) June 20, 2019
"An examination of surprise medical bills and proposals to protect consumers from them" [Peterson-Kaiser Health System Tracker]. " For people in large employer plans, 18% of all emergency visits and 16% of in-network hospital stays had at least one out-of-network charge associated with the care in 2017. We also examine state and federal policies aimed at addressing the incidence of surprise billing. Our analysis finds a high degree of variation by state in the incidence of potential surprise billing for people with large employer coverage, who are generally not protected by state surprise billing laws if their plan is self-insured. For people with large employer coverage, emergency visits and in-network inpatient stays are both more likely to result in at least one out-of-network charge in Texas, New York, Florida, New Jersey, and Kansas, and less likely in Minnesota, South Dakota, Nebraska, Maine, and Mississippi." • So, as usual, some people go to Happyville, some people go to Pain City, and it's all random.
"Colorado's Ski Towns Could Fix the High Cost of American Health Care" [Bloomberg]. "[R]eining in spiraling costs across the U.S… has proven elusive in Washington…. The discussions that followed led to an initiative set to reduce premiums by as much as 20% next year in Summit County, according to the Peak Health Alliance. That's the name of a newly formed group of employers who have banded together to negotiate directly with the local hospital and insurance companies. Peak Health will represent about a fifth of Summit County's 31,000 year-round residents. It will include workers from large government and private employers, small businesses, and individuals, creating the bargaining power to drive down health-care prices." • So why not think it through, and have the biggest dog of all, the Federal government, handle the bargaining power with single payer?
Guillotine Watch
I debated whether I should file this under "Health Care," or here:
#AHIPInstitute kicked off with a special AHIP VIP Loyalty Experience featuring four renowned Nashville songwriters: @JTXROCKSTAR, @TimNicholsMusic, @TheJoshThompson, and @lauraveltz@TheJoshThompson performs "I'll Name the Dogs" written for @blakeshelton pic.twitter.com/Y0zTpy1WVA

— AHIP (@AHIPCoverage) June 19, 2019
But here, definitely. Because what does a "VIP" have to do, to earn a "Loyalty Experience"? Probably nothing good…
Class Warfare
"Beyond the Great Recession: Labor Market Polarization and Ongoing Fertility Decline in the United States" [Demography]. From the abstract: "In the years since the Great Recession, social scientists have anticipated that economic recovery in the United States, characterized by gains in employment and median household income, would augur a reversal of declining fertility trends. However, the expected post-recession rebound in fertility rates has yet to materialize. In this study, I propose an economic explanation for why fertility rates have continued to decline regardless of improvements in conventional economic indicators. I argue that ongoing structural changes in U.S. labor markets have prolonged the financial uncertainty that leads women and couples to delay or forgo childbearing. Combining statistical and survey data with restricted-use vital registration records, I examine how cyclical and structural changes in metropolitan-area labor markets were associated with changes in total fertility rates (TFRs) across racial/ethnic groups from the early 1990s to the present day, with a particular focus on the 2006–2014 period. The findings suggest that changes in industry composition—specifically, the loss of manufacturing and other goods-producing businesses—have a larger effect on TFRs than changes in the unemployment rate for all racial/ethnic groups." • Falling birth rate, declining life expectancy — everything's going according to plan!
"Psychology of wealth: Do rich people deserve to be rich?" [Financial Times]. "[I]nequality is growing in many western countries, concern about it is not. In fact, according to new research by Jonathan Mijs, a sociologist at the International Inequalities Institute at the London School of Economics, inequality and belief in meritocracy may go hand in hand. The more unequal a society, the more likely people are to believe the rich have earned it…. Pointing to the CIA's World Factbook, Mijs argues: 'You only have to look at Latin American countries to see how much further inequality can go.'" • On the bright side, cheap servants. So, open borders it is!
"Raising the federal minimum wage to $15 by 2024 would lift pay for nearly 40 million workers" [Economic Policy Institute]. "The minimum wage increase would disproportionately raise wages for people of color—for example, black workers make up 11.8 percent of the workforce but 16.9 percent of affected workers. This disproportionate impact means large shares of black and Hispanic workers would be affected: 38.1 percent of black workers and 33.4 percent of Hispanic workers would get a raise." • In other words, universal benefits disportionately benefit those farthest below the baseline established by such benefits. Who knew? To be fair, one doesn't need to set up and solicit funding for an NGO to determine who's most deserving of whichever benefit is in play. So that's a real disadvantage.
News of the Wired
"Resetting these smart lightbulbs is so dumb it's funny" [Mashable]. • The Internet of Shit continues its wave of conquest….
"GDPR latest: People's homes stop working as new data rules devolve into chaos" [The Independent (Richard Smith)]. I asked Richard Smith if the Internet of Shit was as shitty in China, and he sent me the link. "One Chinese smart device manufacturer, Yeelight, sent a message to users that its light bulbs no longer functioned properly as a result of GDPR compliance. 'According to GDPR, we will not be able to continue to provide this service to you,' the message stated. Individual light bulbs were still functional if they were switched on one at a time, but no other features." • Switching on light bulbs one at a time! Oh, the humanity!
* * *
Readers, feel free to contact me at lambert [UNDERSCORE] strether [DOT] corrente [AT] yahoo [DOT] com, with (a) links, and even better (b) sources I should curate regularly, (c) how to send me a check if you are allergic to PayPal, and (d) to find out how to send me images of plants. Vegetables are fine! Fungi are deemed to be honorary plants! If you want your handle to appear as a credit, please place it at the start of your mail in parentheses: (thus). Otherwise, I will anonymize by using your initials. See the previous Water Cooler (with plant) here. Today's plant (DK):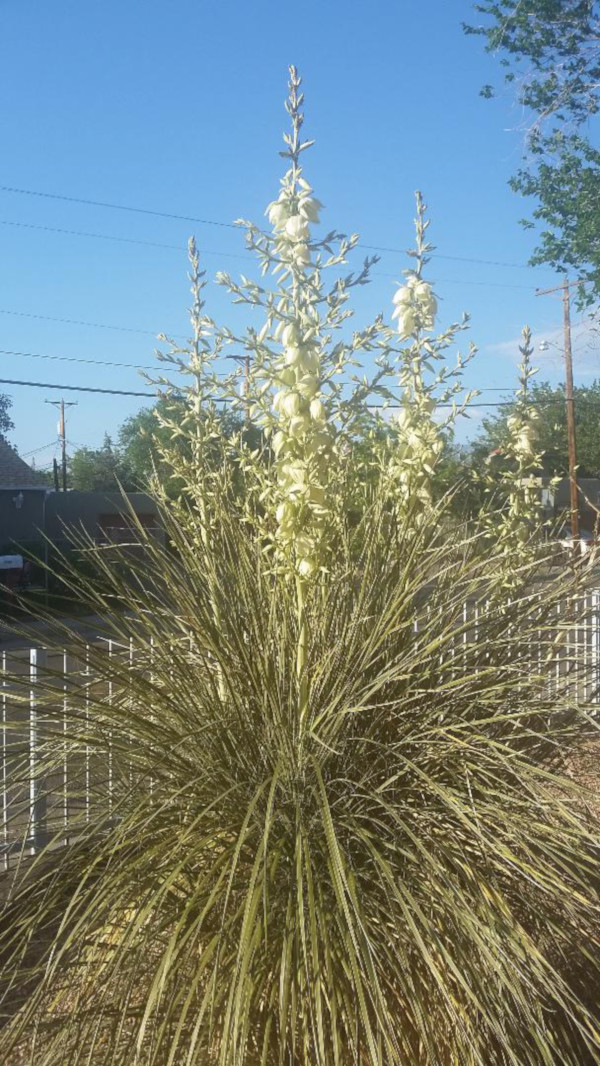 DK writes: "This is the yucca blooming right outside my front door." Yuccas "have a very specialized, mutualistic pollination system"! They also host various species of skipper butterflies.
* * *
Readers: Water Cooler is a standalone entity not covered by the annual NC fundraiser. So do feel free to make a contribution today or any day. Here is why: Regular positive feedback both makes me feel good and lets me know I'm on the right track with coverage. When I get no donations for five or ten days I get worried. More tangibly, a constant trickle of small donations helps me with expenses, and I factor in that trickle when setting fundraising goals. So if you see something you especially appreciate, do feel free to click this donate button:
Here is the screen that will appear, which I have helpfully annotated.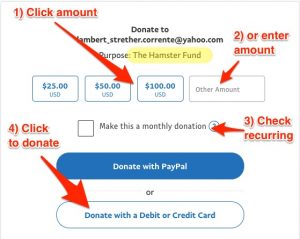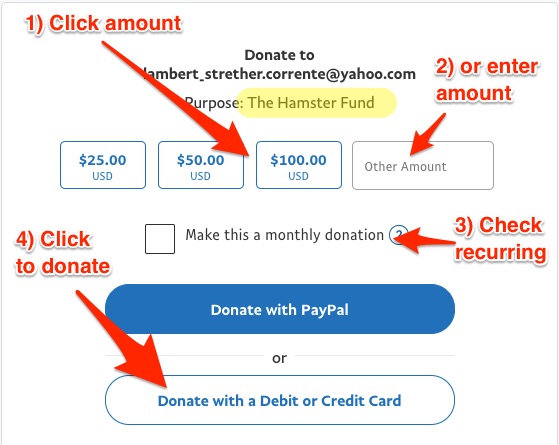 If you hate PayPal, you can email me at lambert [UNDERSCORE] strether [DOT] corrente [AT] yahoo [DOT] com, and I will give you directions on how to send a check. Thank you!