By Lambert Strether of Corrente.
I was going to do survey of the new California marijuana law, at least partly to educate myself on the public policy aspects of what looks like a very big deal, but I ended up tossing all my research, because to my embarassment and horror there turned out to be a Vox explainer that covers the basics just fine. Hitting the high points from Vox. Their policy judgment is in the headline:
California's new legal marijuana market marks the beginning of the end for prohibition

This all goes back to California's successful 2016 ballot initiative, in which 57 percent of the state's voters elected to fully legalize marijuana.

At that point, California became by far the biggest state to legalize pot. Until Election Day 2016, only four relatively small states had done so: Colorado, Washington, Oregon, and Alaska. Altogether, these states hold more than 17 million people, and their cumulative annual economic value totals around $1 trillion. In comparison, California alone is home to more than 39 million people and is worth around $2.5 trillion — more than twice as populous and wealthy as all the previous legal pot states combined.
So, after twenty years of medical marijuana, California gets recreational marijuana. Ka-ching:
[S]ize matters. While the previous legal pot states had relatively small economies and, therefore, relatively small marijuana industries, California is a behemoth. GreenWave Advisors, a cannabis financial analyst, estimated that California's industry could be worth $5.1 billion in 2018. One report from researchers at the investment bank Cowen estimated that legalization in California alone would triple the size of the nation's legal pot industry within a decade.
Which is enough to get the oligarchy's attention, and in a good way for the industry. (To be fair, California is a liberal Democrat one-party state, so we naturally get complex regulation; 3 agencies and 19 types of permits, apparently; but at least they didn't privatize it all.) So now we get Jack in The Box selling a "Merry Munchie Meal" (wait for it) $4.20. And now doubt much else, including opportunity for unions to organize:
Labor leaders estimate recreational pot in California could employ at least 100,000 workers from the north coast to the Sierra Nevada foothills and the San Joaquin Valley, harvesting and trimming the plants, extracting ingredients to put in liquids and edibles, and driving it to stores and front doors.

The United Farm Workers, Teamsters and United Food and Commercial Workers are looking to unionize the tens of thousands of potential workers involved in the legal weed game, from planters to rollers to sellers. The move could provide a boost to organized labor's lagging membership — if infighting doesn't get in the way.
Presumably, the unions can sort out the jurisdictional issues. At least that is what the strongest of the three them says:
Teamsters organizer Kristin Heidelbach said there's no need for unions to battle each other. There will be plenty of workers needing representation , she said.
I hope Heidelbach will forgive me if I don't find a vision of marijuana cultivation run by Big Pharma all that reassuring; my vision is exactly of "happy stoners," since marijuana is a weed, and I ought to able to grow it in my own garden. Fortunately, in California (as in Maine) you can do that, kinda:
[G]rowing plants in your house is the easiest way to make sure you abide by regulations requiring that home cultivation be done in a 'fully enclosed and secure' way. This bit comes from concerns about plants enticing robbers if people are 'flaunting that they have a valuable product,' says Reiman. A household — no matter how many people are in it — is limited to growing six plants at one time. For people in rural areas, it might be easy enough to set up a greenhouse outside in a remote location. People in denser places may have a harder time keeping outdoor plants 'out of plain sight.'
Six plants, however, seems like more than enoough, and I'm sure big box home and garden centers will end up stocking some sort of "fully enclosed and secure" solution.
With California out of the way, let me turn to what has accidentally turned out to be the real subject of this post. As readers know, marijuana is still illegal at the Federal level, which leads to nonsense like this, from Bloomberg:
Attorney General Jeff Sessions is rescinding an Obama-era policy that helped states legalize recreational marijuana, throwing a wet blanket on the fledgling industry during what should have been a celebratory week. Shares of pot companies plunged.

The Justice Department will reverse the so-called Cole and Ogden memos that set out guardrails for federal prosecution of cannabis and allowed legalized marijuana to flourish in states across the U.S., according to two senior agency officials. U.S. attorneys in states where pot is legal will now be able prosecute cases where they see fit, according to the officials, who requested anonymity discussing internal policy.
Over time, I would expect Big Pharma (see above) to take care of this matter via K Street, as usual. And what is Sessions going to do? Arrest every Stoner in California? (To be fair, Obama relaxed marijuana enforcement, but his DEA still kept it, along with heroin, on Schedule 1. So we have yet another instance of Obama doing by regulation or rule what is equally easy for another administration to undo by regulation or rule.)
On this issue, Cory Booker has done the right thing. Let me repeat that: Cory Booker has done the right thing. He has introduced bill legalizing marijuana at the Federal level. I know I've beaten up on Booker in the past, and he's certainly deserved it — how on earth does a putatively progressive Democrat actually maneuver themselves to Obama's right on private equity? I'm still steaming! — but when Booker does the right thing, he should get credit for it, which in this case I'm happy to give. The bill is "S.1689 – Marijuana Justice Act of 2017," and shamefully — shamefully — only one Democrat (Ron Wyden) co-sponsored it with him (even though Sanders introduced legislation to legalize marijuana in 2015)[1].
There are four aspects to Booker's bill. First, it would remove marijuana (or "marihuana," as the statutes have it) from the DEA's list of Schedule 1 drugs. The Los Angeles Times:
The Marijuana Justice Act would remove marijuana from the list of controlled substances, which would make it legal under federal law. Marijuana is currently listed as a Schedule 1 drug along with heroin and LSD, meaning it has a high potential for abuse and no accepted medical value. (Tell that to the 29 states that allow the use of medical marijuana.)
Second, Booker's bill opens the door to retroactively decriminalizing marijuana convictions. Fortune:
The proposed legislation would be retroactive, as it would expunge previous federal marijuana use and possession crimes from people's records while allowing those currently imprisoned for marijuana-related offenses to apply for resentencing.
Because it's ridiculous to have the people who built the industry — and yes, that is what they did — rotting in jail, while MBA's in suits rake in the bucks for their oligarchical masters now that the industry has been made legal[2]. (And expunging convictions has the benefit of making it easier for those unjustly jailed to get work, and also means they can vote, in states that deny felons the vote[3].)
Third, Booker's bill incentivizes states to legalize marijuana and to stop disproportionately arresting black people. Politico:
[The bill would] withhold federal money for building jails and prisons, along with other funds, from states whose cannabis laws are shown to disproportionately incarcerate minorities. Those "aggrieved" by a disproportionate arrest or imprisonment rate would be able to sue, according to the bill.
(For some, slowing down jail and prison construction is weak tea, but it does hit the states in the wallet, where it counts.) And yes, this is a problem, as WaPo reports:
As you're probably aware, black Americans are arrested for marijuana possession far more frequently than whites. You may also know that there's not much evidence that black people consume marijuana with greater regularity than whites do.
Here's the handy table on arrest rates: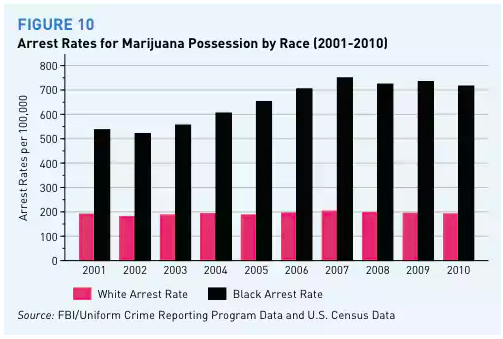 I mean, come on.
Fourth, Booker's Bill sets up a "Community Reinvestment Fund." From the text:
(c) Use Of Fund Amounts.—Amounts in the Fund shall be available to the Secretary of Housing and Urban Development to establish a grant program to reinvest in communities most affected by the war on drugs, which shall include providing grants to impacted communities for programs such as—

(1) job training;

(2) reentry services;

(3) expenses related to the expungement of convictions;

(4) public libraries;

(5) community centers;

(6) programs and opportunities dedicated to youth;

(7) the special purpose fund discussed below; and

(8) health education programs.
Booker doesn't use the charged word "reparations," but looking again at that table of arrest rates, I think a make-good is in order.
Conclusion
Legalizing marijuana is popular, albeit with caveats. Vox:
[N]ationwide support for marijuana legalization keeps growing. Gallup's latest survey in 2017 found that 64 percent of US adults back legalization, up from 36 percent more than a decade before. Gallup even found that a majority of Republicans now support legalization. (One caveat: Anti-legalization advocates argue that if surveys offered options between decriminalization, medical legalization, and recreational legalization, voters would be much less likely to say that they back full legalization.)
Booker's bill is a good bill. Marijuana should be legal. Those arrested for it should have their records expunged. States that criminalize marijuana but enforce the laws unequally should pay a price, and people should be able to sue them for it. And the communities destroyed by the so-called "War on Drugs" should be given the resources to rebuild. And you'd think the Democrats would want to appeal to 64% of the population by backing both legalization and decriminalization. But no. Perhaps they feel that suburban Republicans wouldn't like that?
NOTES
[1] The Los Angeles Times: "Booker isn't the first lawmaker to call for erasing marijuana from the list of controlled substances. Sen. Bernie Sanders (I-Vt.) introduced a bill to do that in 2015. Earlier this year Reps. Tom Garrett (R-Va.) and Tulsi Gabbard (D-Hawaii) proposed it with a measure called the Ending Federal Marijuana Prohibition Act. So did Rep. Jared Polis (D-Colo.) with his Regulate Marijuana Like Alcohol Act. All of those measures would let states decide whether they want to legalize or not." Only Sanders, as a Senator, could co-sponsor Booker's bill. I would think that as a simple matter of comity, he would.
[2] Pecksniff me no pecksniffs on the rule of law, after the executives who committed accounting control fraud in the Crash were given impunity by Obama's Justice Department.
[3] So, a canny political move as well, one which the otherwise horrid Terry McAuliffe also made.