By Lambert Strether of Corrente
Patient readers, as Yves accelerates away from New York, I have taken on more posting duties, and I will complete Water Cooler after having completed a post on the Poor People's Campaign. My extra posting duties will be complete as of this evening, but I am traveling next week, and my posting will be random on Monday and Tuesday, and then sputter out until July 4 is over, though I will do as much as I can. –lambert P.S. Adding, that the cat seems to have gone off somewhere, so I'm very worried about foxes, which we have in abundance this year, although it seems unnecessarily. Perhaps the cat is simply visiting someone else. UPDATE All done!
* * *
Politics
"But what is government itself, but the greatest of all reflections on human nature?" –James Madison, Federalist 51
"They had one weapon left and both knew it: treachery." –Frank Herbert, Dune
"2020 Democratic Presidential Nomination" [RealClearPolitics] (average of five polls). As of June 26: Biden flat at 32.0% (32.1%) and Sanders still rising at 16.9% (16.5% ). Warren up 12.8% (12.4%), Buttigieg down 6.6% (4.0%), others Brownian motion, though maybe not Harris, who just pulled even with Buttigieg. Of course, it's absurd to track minute fluctuations at this point.
* * *
2020
On the debates, I'm a little debated out. I think the sensible thing to do is to wait to see what the polling averages (above) say; they were wrong in 2016, but they're still better than the hot takes. (FiveThirtyEight has some interesting before and after charts here.)

Festival of Biden:

Biden (D)(1): "Biden defends civil rights record after debate showdown with Harris" [The Hill]. "'I know and you know, I fought my heart out to ensure that civil rights and voting rights, equal rights are enforced everywhere,' Biden told the Rainbow PUSH Coalition convention, hosted by the Rev. Jesse Jackson." • And so we wait for Jackson's response:

Biden (D)(2): "Jesse Jackson: Biden was on the 'wrong side of history' on busing" [The Hill]. "'My judgment is it was the wrong side of history," the civil rights activist in a CNN interview. Jackson, who was a Democratic presidential candidate in 1984 and 1988, said that Sen. Kamala Harris (D-Calif.), who criticized Biden's stance in the Thursday night debate, 'was on point.'" • Ouch.

Biden (D)(3): Then again, does the current moral panic matter to voters? Especially black voters?

So…. Democracy Corps data shows Biden's favorability with African American voters went up a net 18% after last nights debate, while Mayor Pete's went down 10%. Stan Greenberg chalked a lot of it up to defensiveness over the perception that the Obama-Biden legacy was under attack

— Sam Stein (@samstein) June 28, 2019

Biden (D)(4): More from the same Greenberg poll (which I can't find online):

I mean, I hope I'm wrong, but stuff like this fills me with dread. pic.twitter.com/8l85N3vsOi

— dsa otherkin caucus⌚ (@QueenInYeIIow) June 28, 2019

Biden (D)(5): Biden's letter to his supporters:

Biden didn't appear last night to explain himself after the debate – instead, he waited until a speech in Chicago this afternoon and now an email to his list which starts by saying he respects Harris, then goes to saying Trump must lose and ends by invoking Obama pic.twitter.com/nI0ICRP9oR

— Edward-Isaac Dovere (@IsaacDovere) June 28, 2019

Hard to see how [genuflects] Obama would pick a racist for Vice President…

Biden (D)(6): On class, however, Biden gets a free pass:

Senior Biden adviser says Joe Biden assures rich people "all the time" that he won't tax them to a point where their standard of living changes. https://t.co/9OuZs6Fle5

— Walker Bragman (@WalkerBragman) June 27, 2019

Booker (D)(1): "Booker's problem with New Jersey progressives" [Politico]. "TRENTON, N.J. — Sen. Cory Booker (D-N.J.) uses progressive rhetoric on the campaign trail to rail against Immigration and Custom Enforcement policies and promote economic fairness. But when it comes to scandals engulfing Democrats in his home state, Booker's been mostly silent. On Friday, he'll be back in New Jersey for a $2,800-per-head fundraiser co-hosted by two of the state's political bosses anathema to many in the Democratic base: Essex County Executive Joseph DiVincenzo, who oversees a jail in Booker's native county that houses undocumented immigrants and has been cited for poor conditions, and South Jersey power broker George Norcross, who has been accused of crony capitalism by progressive activists."

Harris (D)(1): Harris walks back #MedicareForAll support:

California Sen. Kamala Harris said Friday that she misinterpreted a question about abolishing private health insurance at Thursday night's 2020 Democratic debate, despite the fact that she raised her hand when asked if she would eliminate it https://t.co/KFphP8WzCq

— Dan Merica (@merica) June 28, 2019

Sanders (D)(1): "Ending America's Endless War" [Bernie Sanders, Foreign Affairs]. ". In the nearly two decades since the 9/11 terrorist attacks, the United States has made a series of costly blunders that have not only weakened our democracy but also undermined our leadership. We need a foreign policy that focuses on core U.S. interests, clarifies our commitment to democratic values both at home and abroad, and privileges diplomacy and working collectively with allies to address shared security concerns."

Williamson (D)(1):

still on facebook pic.twitter.com/FFbFRS06PW

— Gavin Mueller (@gavinmuellerphd) June 28, 2019

Not to be totally countersuggestible, but isn't Williamson's "golden egg" just as sensible as anything The Blob has proposed, and far less lethal?
Realignment and Legitimacy
On reparations, Bree Newsome is the woman who climbed the flagpole at the South Carolina capitol to take down the Confederate flag:

In my opinion, yes. It's also dangerously ahistorical to not recognize global nature of chattel slavery. Not only were enslaved people being constantly displaced & relocated throughout the Americas & the Caribbean, the profits of slavery were distributed globally, not just in USA https://t.co/e6x08bCXOm

— Bree Newsome Bass (@BreeNewsome) June 28, 2019

So who writes the check?

"Did the Democrats Step on a Second Big Land Mine?" [Politico]. "Every candidate on stage Thursday pledged in one way or another to radically alter the Trump administration's draconian approach to undocumented immigrants and asylum-seekers. Prodded by the questioning of Telemundo's Jose Diaz-Balart—as much an impassioned advocate as journalist—the candidates pledged to restore protection under the Deferred Action for Childhood Arrivals program, to refuse to deport those here illegally who had committed no other offense and to provide health care for the millions in the country without documents…. Without question, the country as a whole, and not just the Democratic Party, has shifted to a more accommodating position on those here illegally; big majorities oppose the deportation of all undocumented immigrants, according to Gallup, and a path to citizenship is now favored or strongly favored by more than 80 percent of adult Americans. But almost the same percentage want an increase in border patrols to stop the flow of more undocumented immigrants….. ." • Being very naive and leaving out words like oligarchy: If the first duty of the State is not to put its own citizens first, then what is State for?
Stats Watch
Personal Income and Outlays, May 2019: "The consumer is strong and steady as underscored by the Federal Reserve while prices are showing a little more pressure than expected" [Econoday]. "[T]he modest but respectable showing for core prices in today's report will help turn the heat down on the Federal Reserve to cut rates."
Consumer Sentiment, June 2019 (Final): Down, but "roughly intrend with where it has held for most of the past year, in fact exactly where it was in June 2018" [Econoday]. "For the Federal Reserve, the steady showing for sentiment will support their confidence in consumer spending but the weakness for inflation expectations."
Chicago Purchasing Managers Index, June 2018: "In the first sub-50 reading in 2-1/2 years, the Chicago PMI fell" [Econoday]. "Deterioration in June was wide with only employment showing improvement. But further gains for employment in this sample are in question given contraction in new orders and a second straight month of contraction for backlog orders. In contrast to the general weakness, input prices are rising with some members of the sample blaming tariffs for the pressure."
The Bezzle: "Tesla accused of firing pro-union workers at Buffalo solar plant" [Buffalo News]. "A union alleges that Tesla fired some workers at its Buffalo solar products plant because of their pro-union stance and that the company in at least one case tried to interfere with a worker's efforts to find another job…. The Pittsburgh-based United Steelworkers union, one of two unions attempting to organize workers at the South Buffalo plant, filed the charge last week. The two unions launched their drive last December."
Tech: "Jony Ive Is Leaving Apple" [Daring Fireball]. "Ive is, to state the obvious, preternaturally talented. But in the post-Jobs era, with all of Apple design, hardware and software, under his control, we've seen the software design decline and the hardware go wonky. I don't know the inside story, but it certainly seems like a good bet that MacBook keyboard fiasco we're still in the midst of is the direct result of Jony Ive's obsession with device thinness and minimalism. Today's MacBooks are worse computers but more beautiful devices than the ones they replaced. Is that directly attributable to Jony Ive? With these keyboards in particular, I believe the answer is yes." • Exactly. Plus no ports and endless dongles is Ive too, as well as the removal of the MagSafe connector. Of course, now if I trip on the power cord Apple might sell me a new machine. So there's that.
Tech: "A Major Police Body Cam Company Just Banned Facial Recognition" [New York Times]. "Axon, the company that supplies 47 out of the 69 largest police agencies in the United States with body cameras and software, announced Thursday that it will ban the use of facial recognition systems on its devices. 'Face recognition technology is not currently reliable enough to ethically justify its use," the company's independent ethics board concluded."
The Biosphere
"Heat waves and climate change: Is there a connection?" [Yale Climate Connection]. "Extreme heat may not trigger the same visceral fear as a tornado, but according to NOAA's natural hazard statistics, it causes nearly twice as many fatalities in the United States each year – more than any other weather hazard…. Extreme heat occurred very rarely 50 years ago in the United States…. But as a result of climate change, the [graph of temperatures plotted on a] bell curve has already shifted by one standard deviation interval – a measure that tells you how spread out the values are – according to a 2016 paper by climate scientist James Hansen. As a result, extreme summer heat now occurs about 7% of the time."
"NASA drone will soar over Saturn's largest moon" [Nature]. "Hydrocarbon-rich clouds in Titan's atmosphere rain methane and ethane onto the moon's surface… [The Dragonfly drone] will study [Titan's] atmosphere as it flies around, and touch down for extended stays on the moon's surface. The drone will explore areas where methane- and ethane-rich lakes recently dried up — and in the process, might have left behind residue rich with organic compounds like those that may have existed on early Earth before life arose. 'Titan has all of the key ingredients needed for life,' says Lori Glaze, head of NASA's planetary sciences division." • Plus, we could ship the hydrocarbons back to earth!
"Cockroaches may soon be unstoppable—thanks to fast-evolving insecticide resistance" [Science]. "Researchers have found that [German cockroaches (Blattella germanica)], which have long been a prevalent urban pest, are becoming increasingly resistant to almost every kind of chemical insecticide…. [I]f the findings hold, this widespread resistance could make it impossible to treat cockroach infestations with chemical insecticides alone. Instead, the researchers say, people will have to use what's known as "integrated pest management," which involves setting traps, cleaning debris off surfaces, and even vacuuming up the tiny suckers, in addition to chemical treatments." • As long as we don't spot any carrying tiny tools….
Health Care
"Democratic Voters Don't Actually Understand 'Medicare For All,' New Report Says" [HuffPo (RH)]. "Two-thirds of Democratic voters think that people with employer coverage could hold on to their policies… A key selling point of the Sanders and Jayapal proposals is that they would eliminate out-of-pocket expenses. Copayments, coinsurance, deductibles ― they'd all go away, so health care would be literally free at the point of service… The ability to wipe out out-of-pocket costs is an advantage of Medicare for All that rival plans, as written, would not have…" • Polling by the Henry J. Kaiser Foundation, so hmm.
"Fifth Circuit Questions Standing Of Parties Defending ACA In Texas v. Azar" [Health Affairs]. "Texas was initially filed by 20 Republican state attorneys general and governors, later joined by two individuals, after Congress zeroed out the individual mandate penalty in the 2017 tax reform bill. The plaintiffs argue that the penalty-less mandate is no longer enforceable as a tax and thus is no longer valid. Because they believe the entire ACA relies on the mandate, the plaintiffs ask that the rest of the ACA also be struck down… On June 26, 2019, the Fifth Circuit Court of Appeals asked the parties in Texas v. United States to respond to three questions… The questions relate to whether the Democratic attorneys general and House have standing to intervene in the case and, if not, what that means for the appeal." • This is an excellent post, and as it turns out, Texas has broader Constitutional at stake.
"MSDNC, Single Payer, and the Serenity Prayer" [Paul Street, Counterpunch]. "Listen to how Holt framed his question: "Many people watching at home have health insurance coverage through their employer. Who here would abolish their private health insurance in favor of a government-run plan? Just a show of hands, please." (Two of the ten candidates on the stage, Elizabeth Warren and Bill de Blasio, put up their hands.)… There was nothing in Holt's question about how a "government-run plan" would bring health care costs dramatically down while delivering superior outcomes. There was nothing about how M4A would be a great democratic victory for the people or about how the de-commodification of health insurance helps produce healthier, happier, and freer people in other countries." • The article broadens out from there…..
Guillotine Watch
After the Deans, the mainstream economics departments:
"The purpose of studying economics is not to acquire a set of ready-made answers to economic questions, but to learn how to avoid being deceived by economists."

–Joan Robinson, Cambridge University

— Barry Ritholtz (@ritholtz) June 26, 2019
Class Warfare
"The Psychological Impact of Seeing YouTubers Spend Millions" [WIRED (KM)]. "it's saying something that the YouTubers who can count on getting more than 10 millions views per video are also the ones who can literally hand out chunks of gold with the help of sponsors like Honey, an app that scours the internet for coupons to reduce your online shopping bill. " • Sustainable!
News of the Wired
"The Great Model Train Robbery" [Bloomberg]. "Another potential outcome is that they're in the private estate of an affluent, unscrupulous model-train antiquarian, puffing around in some secret basement railway—like stolen Rembrandts or Vermeers, their singular artistry appreciated only in secret." • N-o-o-o-o-o-o!!!!
Maybe I should have filed this under Guillotine Watch, but today is my day to be kind. Thread:
Center>
Being Beyoncé's assistant for the day: DONT GET FIRED THREAD pic.twitter.com/26ix05Hkhp

— Green Chyna (@CORNYASSBITCH) June 23, 2019
(I have never seen a Tweetstorm structured like "a maze of twisty little passages, all alike." But perhaps the lives of celebrities are like that.)
Signs of progress, or not:
The June update to the OED marked a small but colourful milestone – it includes the first ever entries to show pictorial emoji where they occur in quotation text taken from social media ?.

Here's why emoji have been used in the OED:https://t.co/D3izpEdNFK

— The OED (@OED) June 28, 2019
I'm not sure the OED should be going into the "Who needs to read?" business…..
* * *
Readers, feel free to contact me at lambert [UNDERSCORE] strether [DOT] corrente [AT] yahoo [DOT] com, with (a) links, and even better (b) sources I should curate regularly, (c) how to send me a check if you are allergic to PayPal, and (d) to find out how to send me images of plants. Vegetables are fine! Fungi are deemed to be honorary plants! If you want your handle to appear as a credit, please place it at the start of your mail in parentheses: (thus). Otherwise, I will anonymize by using your initials. See the previous Water Cooler (with plant) here. Today's plant (Samuel Conner):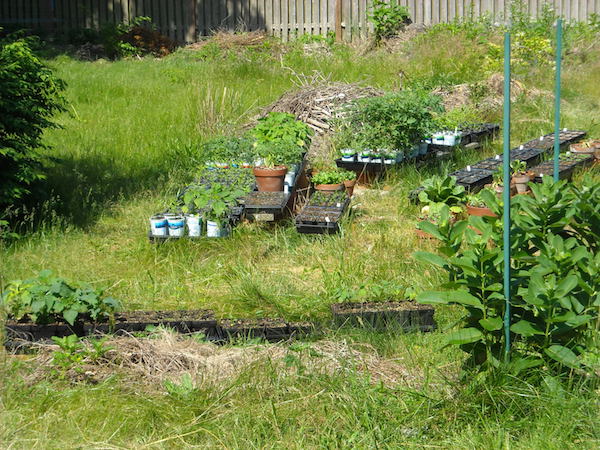 Samuel Conner writes:
This image is the main "get the plants big prior to gifting/planting" area; in this image are (in no order) Tithonia, lettuce, spinach, sweet basil, rosemary, hummingbird mint, swamp and purple milkweed, radishes, purple coneflower and of course tomatoes and peppers. Quite a bit of badly maintained lawn too, but that will gradually be replaced with something more useful.

I got off to a late start and had some initial bad germination results, so nothing is in the ground yet, though this year I'm using containers for lettuce and radishes and eventually spinach (getting late, though), so I will get some food before the main "in-ground" plants are producing. The benches in this image are made of plain dimensional lumber and inverted terra cotta pots; this seems to do a pretty good job of flummoxing the slugs — I've found some dried up slugs in the saucers under one of the large lettuce pots. At the lower right corner are the two "prized" Purple Milkweed, which have over a dozen blossoms forming, and also loads of aphids, which are betrayed by the ants that swarm over them. Frequent inspections and water spray for the aphids will probably be needed for the rest of the season. But that will also permit early detection of Monarch larvae, which can be moved to more numerous and less valuable milkweed varieties.

A tip for Rosemary germination: I've found that Rosemary does not germinate well in starter medium. But it goes great guns in damp humid warm lit conditions in a DIY humidome: use a clean plastic chinese takeout container with clear lid; very damp paper towel in the bottom and damp coffee filter on top of that. Seeds on the filter paper. Fasten the lid on tightly and set in a bright warm spot, and check daily. I started loads of seed hoping for a dozen plants, and got 200. This works well with other seeds too, especially tiny ones that produce very vulnerable seedlings, like mint and oregano. I'm still learning how to keep the seedlings alive after moving them to starter medium, however.

I have way too many plants but most will be given away. Among the gifts this year are loads of perennial butterfly and hummingbird attractors, which will reduce the need in future years
There are loads of great tips, here. And giving plants away is really good for one's karma, I think.
* * *
Readers: Water Cooler is a standalone entity not covered by the annual NC fundraiser. So do feel free to make a contribution today or any day. Here is why: Regular positive feedback both makes me feel good and lets me know I'm on the right track with coverage. When I get no donations for five or ten days I get worried. More tangibly, a constant trickle of small donations helps me with expenses, and I factor in that trickle when setting fundraising goals. So if you see something you especially appreciate, do feel free to click this donate button:
Here is the screen that will appear, which I have helpfully annotated.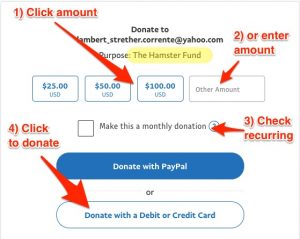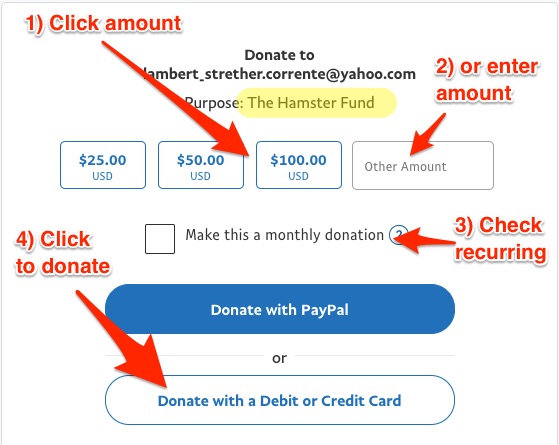 If you hate PayPal, you can email me at lambert [UNDERSCORE] strether [DOT] corrente [AT] yahoo [DOT] com, and I will give you directions on how to send a check. Thank you!