By Lambert Strether of Corrente
Patient readers, as Yves approaches escape velocity from New York this week, I will be taking on more posting duties, and so Water Cooler may appear at odd times, although not today. –lambert
I will also be Live Blogging the second Democrat Presidential Debates. The debate starts at 9:00PM EDT, and the pre-game festivities will begin at 8:30PM (when this link goes live). Here is a cheat sheet.
Politics
"But what is government itself, but the greatest of all reflections on human nature?" –James Madison, Federalist 51
"They had one weapon left and both knew it: treachery." –Frank Herbert, Dune
"2020 Democratic Presidential Nomination" [RealClearPolitics] (average of five polls). As of June 26: Biden flat at 32.0% (32.1%) and Sanders still rising at 16.9% (16.5% ). Warren up 12.8% (12.4%), Buttigieg down 6.6% (4.0%), others Brownian motion, though maybe not Harris, who just pulled even with Buttigieg. Of course, it's absurd to track minute fluctuations at this point.
* * *
2020
"First Democratic Debate, Summarized" [Caitlin Johnstone (CI)]. Not completely fair, but very funny. "Cory Booker: In my very poor neighborhood they call me Crazy Eyes. They say it's because my eyes are so normal." • None of the candidates looked good, either the makeup or the lighting or both. Booker did look kinda pop-eyed, Klobuchar looked her face had been partially paralyzed, something horrid happened to Warren's hair, etc.

"The first Democratic debate revealed who the real climate candidates are" [Grist]. "What is the greatest geopolitical threat to the United States? That was the question NBC's Chuck Todd posed to 10 Democratic candidates for president during the first primary debate on Wednesday night. Four of them said climate change: Beto O'Rourke, Elizabeth Warren, Cory Booker, and Julian Castro."

This:

It was a strangely warped debate where Warren, the front-runner among this pack of lightweights, wasn't asked a question about climate policy, immigration, war or foreign policy.

— Jeffrey St. Clair (@JSCCounterPunch) June 27, 2019

Readers said that the moderators "protected" Warren.

* * *

Castro (D)(1): "Julián Castro: the US should launch a Marshall plan in Central America" [Guardian]. • From March 14, still germane. This isn't a bad idea; certainly it's an improvement over sponsoring coups and invasion, and torturing nuns. However, while I don't think Castro did a terrible thing by p0wning Beto on Section 1325, why on earth focus on that instead of this "big, structural change"? It's almost as if the immigration discourse in the debate was strictly policed….

De Blasio (D)(1). Bill.

Ok seriously? Only DE BLASIO mentioned Russia??

Ok, you're all fired from the shadow cabinet. Have fun when the Bernie bots come back, y'all.

— Molly McKew (@MollyMcKew) June 27, 2019




The candidates couldn't bring themselves to say that Russia was a bigger threat than climate. Not even to service Maddow. A better outcome than I expected.

Inslee (D)(1): Jay.

Moderator: What is the greatest threat to the United States?
Inslee: The greatest threat is Donald Trump
#DemocraticDebate pic.twitter.com/suBD98iKKU

— Simone Grey (@SimoneGrey2) June 27, 2019

(I view this is a tactical blunder, and probably not disqualifying for voters, since his closing was good. But holy moley, the moderator serves up a high floater, and you don't hit it out of the park?

Festival of Sanders:

Sanders (D)(1): Sanders throws down on his theory of change:

I'm going to be on the debate stage tomorrow night. This will be my message. #DemDebate pic.twitter.com/90fHBDQMpv

— Bernie Sanders (@BernieSanders) June 26, 2019

It's one thing to have a "plan." It's quite another to have a strategy.

Sanders (D)(2): "Fact Chucking" [Eschaton]. • WaPo's Glenn Kessler explains why 8 million isn't millions.

Sanders (D)(3): "Bernie Sanders is using his massive email list to warn immigrants about ICE raids" [Vox]. • So far as I can tell, Sanders is the only candidate who uses his list to help others.

Sanders (D)(4): "Bernie Sanders is about to become a Twitch streamer" [PC Gamer (ZP)]. "The Sanders campaign plans on using Twitch alongside Facebook and YouTube to stream up-to-the-moment live videos in which Sanders and his staff discuss his presidential campaign and issues of the day. The channels will kick off tomorrow in the leadup to the first round of Democratic candidate debates, with commentary before and after the debates. After that the campaign plans on producing regular live shows, said Josh Miller-Lewis, who runs the digital communications arm of Sanders' campaign. 'We're moving toward doing a lot more live content on Twitch, YouTube, and Facebook, tapping into an audience where there's not a lot of political content already,' Miller-Lewis told Recode." • Do we have any Twitch users in the readership? What's the culture? What are the pitfalls? The advantages?

Sanders (D)(5): "Bernie Sanders is winning the internet. Will it win him the White House?" [Recode]. "Video is 'something that's been part of Bernie's entire career,' Josh Miller-Lewis, the digital communications director for the Sanders campaign, said. He pointed to the videos Sanders created in the 1980s as mayor of Burlington, Vermont, that surfaced in May on Politico and The Daily Show. 'What we're doing now sort of follows that same instinct of his, to talk about issues that may not be covered by the mainstream media and to give a voice to people who don't otherwise have a voice.'" • This is good reporting, with a lot of detail, well worth a read. What I'm not seeing is what's happening on the ground, which is not Recode's beat in any case.

Sanders (D)(6): "Trump Is the Worst Kind of Socialist" [Wall Street Journal]. The deck: "His policies coddle fellow oligarchs while leaving ordinary people at the mercy of the free market." Here's a PDF of the entire article:

Here's a 4 page PDF of a @BernieSanders WSJ article for easy printing: https://t.co/VAqXyyolMa pic.twitter.com/8jarnTJEoy

— People for Bernie (@People4Bernie) June 27, 2019

Sanders (D)(7): "Sanders Claims 2016 Primary Was Rigged, Won't Commit to Supporting Winner" [Jonathan Chait, New York Magazine]. That's the headline. Here's the body: "Sanders clearly resents being asked hypothetical questions that force him to entertain the prospect he might lose." So that's what "won't commit" boils down to. More: "[But] only Sanders gets asked this question because [1] only Sanders has ever claimed to have been the victim of Democratic Party rigging, and [2] only Sanders selected a slate of delegates who tried to disrupt their party's convention." • [1] Chait seems to have forgotten that Wasserman Schultz was heaved over the side for election rigging, and the Unity Reform Commission curbed the power of Superdelegates for the exact same reason. Not to mention that Clinton in essence purchased the entire DNC apparatus by paying its debts. [2] Good gawd. Has Chait never heard of Fannie Lou Hamer and the Mississippi Freedom Party? How is it that a columnist this disingenuous and ignorant still has a platform?

Trump (R)(1): "Rothenberg: The 2020 Presidential Race is Still Tilting Democratic" [Inside Elections]. "Trump, of course, remains unchanged. He is the same person he has been, and there is no reason to believe that he will change… Dozens of important questions remain unanswered, but the 2020 contest still looks to be more of a referendum on the president than anything else. And because of that, and the polarization evident in the nation, a close race is likely…. Given Trump's inability to broaden his appeal and the likelihood that Democrats will be more united and energized than they were in 2016, the Democratic ticket deserves to be given a narrow but clear advantage."

Trump (R)(2): "Trump's Pivot on Immigration Won't Help Him Win the Middle" [Cook Political Report]. "From Trump's standpoint, shifting the focus of the fight from the wall, which is clearly not happening, to a more realistic policy of deportations, makes sense from now through the election… The Fox poll showed Trump with between 39 and 41 percent of the vote against Joe Biden, Pete Buttigieg, Kamala Harris, Bernie Sanders, and Elizabeth Warren, with the Democrat in each case getting between a low of 41 percent (Buttigieg) and a high of 49 percent (Biden). Taking into account the strong first-quarter economic growth, and the lowest unemployment rates in 49 years in April and May, those numbers have to be deeply troubling for Republicans. His numbers seem impervious to favorable economic news; his approval ratings just don't fluctuate much with new developments, positive or negative. "

Warren (D)(1): "Elizabeth Warren Takes a Huge Risk by Calling to End Private Health Insurance" [Jonathan Chait, New York Magazine]. • Warren raised her hand. In the debate, she didn't crawfish. I have to give credit. But Chait's gotta Chait.
Realignment and Legitimacy
"Rucho v. Common Cause" [SCOTUSblog] (5-4) and "Lamone v. Benisek" [SCOTUSblog] (5-4). "Partisan gerrymandering claims present political questions beyond the reach of the federal courts." • Of course, Democrats could seek to expand their base by bringing millions of disaffected poor and working class people into the system, and then figuring out how to win their votes. But (a) proles smell funny and (b) the only person who upholds this theory of change is a racist and sexist old man, and everybody hates him. So clearly that's impossible. NOTE There will no doubt be some voter registration drives before election 2020 — I read somewhere that Obama was taking that very seriously — but they will be siloed by demographic, targeted only at "winnable" districts or states, and will be promptly dismantled in 2021, having been donor-funded. Then we can all give money for more lawsuits, NGOs designed to pack the courts, and so forth. Not that I'm bitter.

"Department of Commerce v. New York" [SCOTUSblog]. "The Secretary did not violate the Enumeration Clause or the Census Act in deciding to reinstate a citizenship question on the 2020 census questionnaire, but the District Court was warranted in remanding the case back to the agency where the evidence tells a story that does not match the Secretary's explanation for his decision." • A tactical defeat for the Administration, assuming that the Commerce Department can come up with a better reason for doing what they want to do in time for the Census forms to go to the printer.

* * *

"Poverty Doesn't Make You Racist" [Dissent (DK)]. "As the data show, among high-school-educated white voters, it is the richer members of that group who most dismiss the salience of racial discrimination. The poorest white people are the only income group where a majority believes racism drives the racial economic gap—undercutting the idea that racism is the result of economic suffering. The denial of racism is strongest among high-school grads making $90,000 or more a year. The same is true of college grads and those with graduate degrees: those with higher incomes generally deny the prominence of racism at higher rates than lower-income members of the same educational level. Rather than racism being driven by personal economic pressure, far more compelling are theories that see white racism as stemming from voters justifying their own relative economic success, and their "fear of falling" (as Barbara Ehrenreich put it) if society became more equal." • DK writes: "Certainly matches my observations in the wild. And [high-school grads making $90,000 or more a year is] my cohort too, the people most likely to regard me as a peer on face value, buddy up, and speak candidly to promote bonding/networking. It's also the group most likely to earn promotion from their position of entry; they benefit the most from racial (and gender) discrimination (although gender isn't mentioned in the piece, these are the most frequently misogynistic)." • Labor aristocrats!

"America's new redneck rebellion" [Financial Times (JB)]. "America's poultry farmers are the rural equivalent of Uber drivers. Nominally independent, they rely exclusively for their inputs and outputs on one of the handful of huge agribusinesses that between them control the vast majority of the US poultry market. Americans, like most people, tend to romanticise rural life. In reality, almost every farming sector is dominated by a few giant corporations. Though he had 90,000 chickens, Weaver could afford only one part-time employee. The company that he dealt with, Pilgrim's Pride, bought the chickens from him at an average rate of 21 cents each. In 15 years he never had a raise. 'They control everything you do, without taking any responsibility for it,' says [farmer Mike Weaver]." • I assume Pilgrim's Pride is experimenting with AI and robots….

"The Rules of the Game" [Michael Tomasky, New York Review of Books]. "There are reasons to think that this time the nomination battle could drag into June 2020, when the primaries end, or even, some have suggested, all the way to the convention in July… The reasons have to do, first, with new rules the party wrote after the Clinton–Sanders battle in 2016, and, second, with a growing schism in the party between its two poles of influence in the age of social media: the younger, urban, and more left-leaning people who carry out a daily and often pestiferous political dialogue on Twitter, and the older and more traditionally liberal-to-moderate people who make up the actual backbone of the party across America. If there is a division within the party that will bring it to ruin in 2020, this is it." • Indeed. Never talking about class is absolutely the #1 rule in the game.
Crapification Watch
Alert reader SC threw the following document over the transom: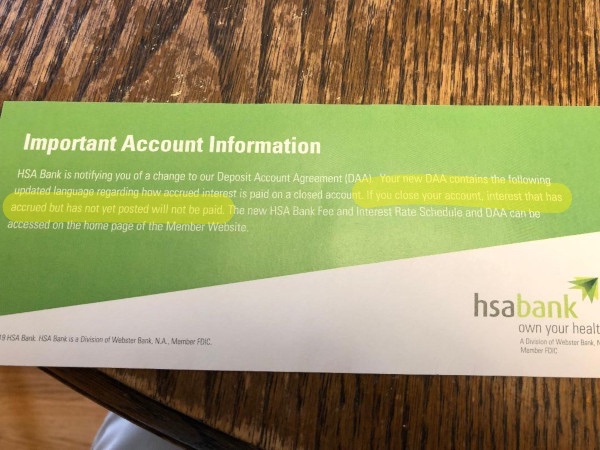 SC writes:
I have an HSA through my job. Nice benefit, but pretty complex as it is. Very hard to get a checkbook for the account, for example, even though it is held at a bank. But the account does pay interest.

At least, it did. This month there was, tucked into a promotional looking envelope, a notice that my deposit account agreement had been changed (attached). Now, if I close my account, they will keep accrued but unpaid interest. They pay interest quarterly.

Just interesting. I can visualize the corporate meetings on this point. The young guy who figured out this could be done, the accounting charts showing the net benefit to the company, less the cost of these mailers. Did anyone even consider the account holders? I doubt it. Their "customers" are the HR people who select the benefit providing Bank, not the account holders.
Readers, if any of you have encountered similar efforts, I'd love to post them. See below for how to contact me.
Stats Watch
GDP Q1, 2019: "The outcome was expected but not the mix. The third estimate of first-quarter GDP rose… and is unchanged from the second estimate. But consumer spending did not live up to expectations" [Econoday]. "Making up the difference is an upgrade to nonresidential fixed investment…. Making up the difference is an upgrade to nonresidential fixed investment… . Sharp inventory growth made up for thin levels in prior quarters but with inventories still rising so far in the second quarter raise the question, given the slowing in consumer spending, whether inventories will begin to slow and pull down GDP. Net exports so far in the second quarter are clearly negative as imports are widening vs exports."
Corporate Profits, Q1 2019 (Revised): "After-tax corporate profits rose a year-on-year 2.3 percent in the first quarter, revised from an initial 1.6 percent increase and down from 11.2 percent growth in the fourth quarter" [Econoday]. "When including inventory valuation and consumption adjustments, after-tax profits of $2.012 trillion were up 2.4 percent. Taxes on corporate income, at a $239.2 billion annual rate and which are calculated on this basis, rose 12.8 percent from a year ago."
Kansas City Fed Manufacturing Index, June 2019: flat [Econoday]. "Like other regional surveys recently, today's report signals that manufacturing continues to falter and is either approaching or already in contraction."
Jobless Claims, week of June 22, 2019: "Higher than expected" [Jobless Claims]. "Levels of claims, as they have all year, continue to be consistent with strong demand for labor, though it's important to note that this strength contrasted with what proved to be a weak employment for May."
Pending Home Sales Index, May 2019: "Up-and-down but along a rising slope is a fair description of this year's housing data" [Econoday]. "Tuesday's sharp drop in new home sales is part of the bad news for the sector but not pending sales of existing homes which hit the top end of Econoday's consensus range."
Commodities: "Lower for longer: Supply glut in focus as Asia's biggest coal meet begins" [Reuters]. "Slowing economic growth in China is weighing on demand expectations for thermal coal in the world's biggest market for the fuel, while global moves towards cleaner energy are compounding problems arising from a glut in supply."
Banking: "BOE's Carney Says Some Funds With Illiquid Assets Built on a Lie" [Bloomberg]. "'These funds are built on a lie, which is that you can have daily liquidity, and that for assets that fundamentally aren't liquid,' he added. 'That leads to an expectation of individuals that it's not that different than having money in a bank. You get a series of problems, you get a structural problem but then you get a consumer issue.'" • This is about the "flagship" LF Woodford Equity Income Fund, but the problematic vehicle is not named. A "series of problems" sounds like Brexit, to me. Perhaps the UK's rentiers have finally gotten their heads round the possibility of a crashout, and are seeking liquidity?
The Biosphere
"How the Soviet collapse cut greenhouse gas emissions" [Anthropocene]. "The global food system is a key driver of climate change, responsible for around a quarter of manmade greenhouse gas emissions. And this system changes drastically when there is a political and economic shakeup. That is exactly what happened when the USSR split into independent republics in 1991. And a new study calculates the fall in greenhouse gas emissions from the fall of the Soviet Union. Between 1992 to 2011, there was a net reduction in carbon dioxide equivalent emissions of 7.6 gigatons because of a 'massive restructuring of the domestic food system…and a major restructuring of agricultural trade,' researchers write in the study published in Environmental Research Letters. That is about a quarter of the carbon dioxide emissions that were generated due to the deforestation in Latin America in the same time period… The dismantling of the Soviet Union triggered an industrial collapse. Subsequent high product prices and lower purchasing power slashed consumption of animal products. This drop in demand led to a halving of pig and cattle numbers. And it also led to one of the biggest land-use changes of the 20th century because farmers abandoned huge swaths of farmland especially in Russia and Kazakhstan, and headed to work in cities. As plants took over these abandoned croplands, they sequestered carbon into the soil, making the farmlands massive carbon dioxide sinks." • So, elite blueprint for the United States?
Achieving Peak Pasture Breakthrough
Water
"Timeline: The Wolverine World Wide, 3M Scotchgard contamination" [MLive]. "2012: Michigan DEQ scientist Robert Delaney warns upper management that PFAS contamination is likely widespread throughout the state's environment and argues, in vain, for decisive action to test drinking water supplies. A year prior, Delaney told Rockford activists to look for PFAS near the tannery." • The connection between scientists and citizen activists is very important and worked in Flint, too (until it didn't). I think when that connection fails, it's because "the cost of citizenship" is too great (which means we should fund it).
Health Care
"The Hidden Cost of GoFundMe Health Care" [The New Yorker]. "The true mark of class vulnerability today isn't the capacity to run out of money but the capacity to run out of options. In the blind alleys of public health, GoFundMe has become both a first stop and a last resort." • Hmm.
Police State Watch
"Cops on a Crime Spree" [Reveal News]. "The Gun Trace Task Force targeted both drug dealers and ordinary citizens. In one of their favorite tactics, they'd speed their car toward a street corner where a group of men were standing. Then they'd chase whoever ran and shake them down. On top of all this, the officers falsified their timesheets to almost double their salaries."
Class Warfare
"There Are Really Two Distinct White Working Classes" [Thomas Edsall, New York Times]. "[Michael Podhorzer, a former political director of the AFL-CIO] argues that in the 2020 battleground districts and states the contest will be fought over the 13 percent who are swing voters, a group he calls 'partisan bystanders.' He described them as 'voters who either have a very negative view of both parties or do not have strong feelings about either party. These voters favored Democrats in the 2018 midterms by 11 points after favoring Trump by 6 points in 2016.' According to Podhorzer, almost half (46 percent) of the partisan bystanders are 'white non-college, so this group, especially white non-college women, is going to be a battleground for both campaigns.'" • More than two, surely.
"Travelling in the Wrong Direction" [London Review of Books]. "[T]he period since the end of feminism's 'second wave' – roughly since the early 1980s – has also been one in which things have in many respects got worse for the majority of women. In the rich nations of the global north, women have been disproportionately affected by the dismantling and privatisation of public services, in particular the provision of care for children, the disabled, the sick and the elderly, areas in which women perform the majority of the labour, paid and unpaid. Women in the global south, in addition to economic hardship, have to contend with the effects of climate change and with endemic conflict (including a seemingly endless series of Western wars of intervention). As with austerity, the greatest costs of ecological disaster and modern warfare are inflicted on women and children. What is so disorientating isn't just that the feminist movement has attained apparent maturity and success just when the conditions of so many women's lives are desperate and deteriorating, but that it should also be necessary – yet oddly so difficult – to argue for the relevance of those conditions to feminism. Austerity, war and climate change have not been prominent concerns in : increasing women's representation in various spheres, or pursuing legal, policy and cultural changes in the areas of sex, sexuality and the body – the law against 'up-skirting' is a recent example." • As I keep saying — and I'm either a lonely voice or not reading the right sources — the vicious rollback of "reproductive rights" is a debacle for feminism at every level, and yet there seems to no self-reflection whatever (rather like the lack of a 2016 post mortem from liberal Democrats.
"NewsGuild Challenger Calls for Rerun Election" [Labor Notes]. "What became abundantly clear was that major improprieties held down the turnout. A thousand members never received a ballot, in a vote that was largely conducted by mail. Two thousand new members who recently organized with the NewsGuild were barred from voting because they are not yet paying dues. Headquarters didn't inform them how they could become eligible to vote until after the deadline had passed. The Guild represents journalists and media workers at many U.S. and Canadian news organizations, such as the New York Times, Washington Post, and Canadian Broadcasting Corporation. It also represents language interpreters, nonprofit workers, and union staffers." • Sounds like CaPERS.
News of the Wired
'Dark patterns' are steering many internet users into making bad decisions Los Angeles Times
"'Dark patterns' are steering many internet users into making bad decisions" [Los Angeles Times]. "[The DETOUR Act] would make it illegal 'to design, modify or manipulate a user interface with the purpose or substantial effect of obscuring, subverting or impairing user autonomy, decision-making or choice to obtain consent or user data.'" • It's good that "dark patterns" have made it out into the mainstream; NC readers have been familiar with the concept for some time.
Wheeeeee!
How welsh slate quarrymen got down the mountain each night:
Sliding down railway inclines on tiny boards w/ wheels:https://t.co/UMAKPxdmiH pic.twitter.com/mWQcOhfY62

— Tim Dunn (@MrTimDunn) July 1, 2017
* * *
Readers, feel free to contact me at lambert [UNDERSCORE] strether [DOT] corrente [AT] yahoo [DOT] com, with (a) links, and even better (b) sources I should curate regularly, (c) how to send me a check if you are allergic to PayPal, and (d) to find out how to send me images of plants. Vegetables are fine! Fungi are deemed to be honorary plants! If you want your handle to appear as a credit, please place it at the start of your mail in parentheses: (thus). Otherwise, I will anonymize by using your initials. See the previous Water Cooler (with plant) here. Today's plant (Eric W):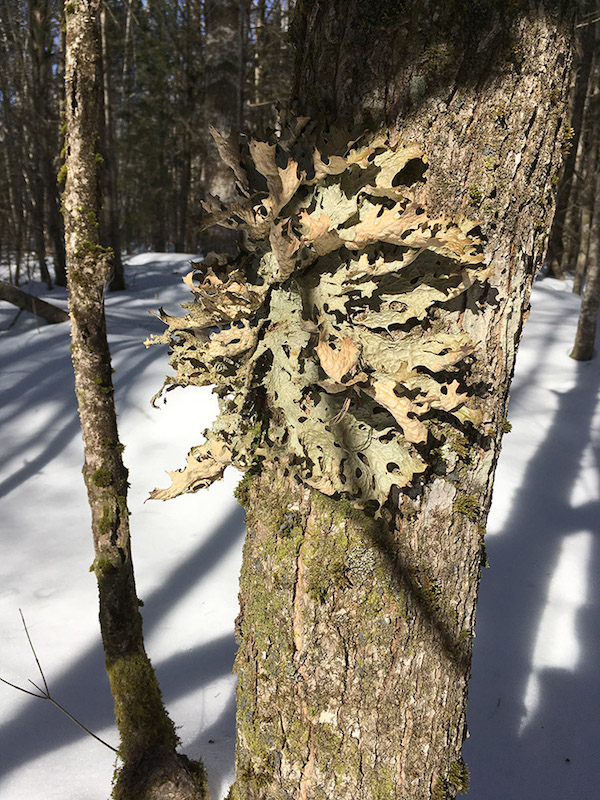 Eric W writes: "The lichen is from February on a hike in Maine. An outrageous lichen, IMO. Never seen anything so extravagant in a lichen."
* * *
Readers: Water Cooler is a standalone entity not covered by the annual NC fundraiser. So do feel free to make a contribution today or any day. Here is why: Regular positive feedback both makes me feel good and lets me know I'm on the right track with coverage. When I get no donations for five or ten days I get worried. More tangibly, a constant trickle of small donations helps me with expenses, and I factor in that trickle when setting fundraising goals. So if you see something you especially appreciate, do feel free to click this donate button:
Here is the screen that will appear, which I have helpfully annotated.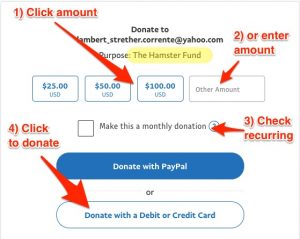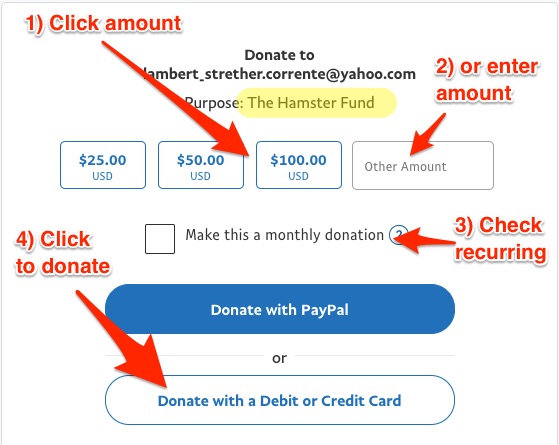 If you hate PayPal, you can email me at lambert [UNDERSCORE] strether [DOT] corrente [AT] yahoo [DOT] com, and I will give you directions on how to send a check. Thank you!