By Lambert Strether of Corrente.
Trade
"Boeing Is in Talks for a Megadeal That the Trade War Could Derail" [Bloomberg]. "Boeing Co. has been negotiating one of the largest orders ever of wide-body jetliners with Chinese airlines even as tensions between Washington and Beijing escalate, say people familiar with the talks. The discussions center on about 100 twin-aisle jets: 787 Dreamliners as well as 777X planes, the newest long-range aircraft in Boeing's lineup, said one of the people, who asked not to be named as the talks are private. No deal is imminent, the people cautioned, and the trade war is a major complication for all involved. The Chinese side is waiting for guidance from the government before pushing forward with the discussions…."
Politics
"But what is government itself, but the greatest of all reflections on human nature?" –James Madison, Federalist 51
"They had one weapon left and both knew it: treachery." –Frank Herbert, Dune
"2020 Democratic Presidential Nomination" [RealClearPolitics] (average of five polls). As of June 3: Biden down 34.9% ( 35%) and Sanders up 16.9% (16.5%) stabilize. Warren down 8.4%, others Brownian motion. Of course, it's absurd to track minute fluctuations at this point.
* * *
2020
Festival of Biden:

Biden (D)(1): "Joe Biden calls on fundraisers to raise up to $100,000 to join his 2020 finance committee" [CNBC]. "If you want to be a member of the national finance committee for Joe Biden's 2020 presidential campaign, be prepared to raise up to $100,000. The former vice president's campaign is calling on its network of bundlers to help put together thousands of dollars in contributions. There are four tiers of fundraisers in the Biden system, according to an invitation CNBC obtained through a donor who recently sent in a contribution… Meanwhile, the former vice president is preparing to go to Chicago for another round of fundraising events starting June 12. While visiting the Windy City, he will be hosted by Robert Wislow, the chairman of commercial real estate behemoth CBRE Group, according to people familiar with the matter. Tickets for the gathering are expected to go up to $2,800, these people added. Wislow supported Barack Obama when he first ran for president in 2008, but he has contributed to Republican causes as well. He also hosted fundraisers for former Chicago mayor and Obama chief of staff Rahm Emanuel." • Ka-ching.

Biden (D)(2):"In N.H., Joe Biden says GOP isn't the enemy" [Boston Globe]. Biden: "Well guess what, Republicans aren't my enemy. They're my opposition. And if we treat everyone like an enemy, how in God's name are we going to get anything done in America?" • The liberal Democrats theory of change since at least 2008 (see Jarret below in health. Anyhow, the #Resistance tells us that Trump is a fascist usurper holding onto power despite his illegitimacy. How is the party that supports him simply the opposition?

Biden (D)(3): "Joe Biden Has the Most to Lose at the Debates" [The Atlantic]. "Biden has always been a strong debater, but he hasn't faced anyone since Ryan seven years ago, and hasn't debated another Democrat in more than a decade. The first Democratic showdowns, in Miami at the end of June—over two nights with 10 candidates each— will be the biggest moment in the 2020 race so far, and Biden, as the front-runner, clearly has the most to lose. Biden's team has kept him mostly out of sight since he launched his campaign at the end of April. Staying out of the way means he has less chance of making a comment that could be twisted into a news-cycle-defining scandal. That's the upside. The downside, beyond having to fend off snide tweets about his skimpy schedule and articles questioning whether he's too old to keep up, is that he's getting almost no practice taking voter questions at town halls or in open exchanges with reporters. Now if he stumbles or screws up, it'll be a prime-time event, with the rest of the field and an internet full of pundits ready to pounce."

Biden (D)(4): "Biden unveils $1.7T climate plan, vows to reject fossil fuel money" [Politico]. "Former Vice President Joe Biden laid out a climate change plan on Tuesday that would pour $1.7 trillion of federal money into clean energy spending over a decade to bring U.S. greenhouse gas emissions to net zero by 2050."

Biden (D)(5): "Claims of Joe Biden plagiarism now have a climate chapter" [Grist]. "His policy proposal contains at least five paragraphs lifted almost word-for-word from advocacy groups… Possibly cheating on his homework doesn't seem to have impacted Biden's grade with at least one activism group. His newly released plan has earned him a 'B' ratings from Greenpeace's Climate Scorecard, up from the 'D' they gave him just a week ago, largely for not having a policy at all. His score now comes in right under Tulsi Gabbard and above Beto O'Rourke. Self-professed 'climate candidate' Jay Inslee heads up the list with an A-." • And but:

First, there's no way this plan existed weeks, let alone months ago. There are typos throughout and weird formatting. This thing was thrown together by his team in response to fantastic reporting from @ValerieVolco and amazing activism from groups like @Sunrisemvmt.

— Leah Stokes (@leahstokes) June 4, 2019

I dunno if I buy the Greenpeace ratings, then. If the candidate is unserious about developing a plan, will he be serious in supporting it?

Biden (D)(6): "That Time Joe Biden Knowingly Lied About Marching in the Civil Rights Movement" [Paste]. "This is what 2020 would be all about versus Trump—Joe Biden's endless stream of 'gaffes.' There is likely more bad Biden content to work with than time available in the general election, and I can pretty much guarantee that this will not be the last 'remember when Biden did this awful thing!?!?!' story to surface in this Democratic primary. The Democrats can and should do better than a man who knowingly lied and falsely took credit for marching in a movement that yielded more positive change on this country than Joe Biden ever has." • I'm picturing Trump tweets and Biden gaffes competing to dominate the news cycle….

Buttigieg (D)(1): "Warrior-Mayor Pete's Sanctimonious Chest Thumping" [The American Conservative]. "Buttigieg gets away unchallenged with these shots because critical thought on military service is the third rail of journalism. But context matters. Buttigieg did all of six months in 2014 as a reservist deep inside Bagram Airfield, mostly as a personal driver for his boss, locked and loaded inside a Toyota Land Cruiser. It is unlikely he ever ate a cold meal in Afghanistan. On the campaign trail, Buttigieg refers to himself "as the first veteran president since George H.W. Bush." Meanwhile, Democratic presidential candidate Seth Moulton was a platoon commander in the initial company of Marines that entered Baghdad in 2003, returning for a total of four combat deployments. Tulsi Gabbard did two full tours in the Middle East, one inside Iraq. She volunteered to become the first state official to step down from public office to serve in a war zone, 10 years before Buttigieg. So if you wanna measure for size, bro, the line forms behind Moulton and Gabbard." • Oh, man. A driver? Sadly, the Naval Reserve found no use for Buttigieg's Norwegian skills…

Harris (D)(1): "After dazzling debut, Kamala Harris falls from top of presidential pack" [Los Angeles Times]. "In one of her first national campaign appearances, at a CNN town hall, she offhandedly backed eliminating the country's private health insurance system. Months later, she is still trying to explain her position. (She said that her support for 'Medicare for all' meant eliminating healthcare bureaucracy, not doing away with private insurance.)… The hedging revived one of the criticisms that has followed Harris throughout her public life, the suggestion she is politically timid and overly cautious. As attorney general, she was notably muted on some of the state's most fraught issues, such as police use of force and ballot initiatives to change California's sentencing laws. That tension has spilled into her presidential campaign, where some aides advocate a more assertively progressive stance to court left-leaning activists while others prefer that Harris hug the middle to better position herself for a general election. The candidate herself is ambivalent, said one strategist familiar with the campaign's internal dynamic, who described part of the conflict as 'Kamala vs. Kamala.'"

Hickenlooper (D)(1): "Ethics Investigation Into Former Gov. Hickenlooper's Travel Gifts Continues" [Colorado Public Radio]. "An attempt to dismiss an ethics complaint against former Gov. John Hickenlooper failed in front of Colorado's Ethics Commission on Monday. Commissioners will instead move forward with their investigation into whether Hickenlooper improperly accepted free lodging and travel on private jets, a violation of state laws against corporate gifts. Hickenlooper has dismissed the complaints as a political stunt."

Sanders (D)(1): "Bernie Sanders campaign has 25,000 volunteers in Iowa: report" [The Hill]. "The Sanders campaign's Iowa caucus director Evan Burger told the outlet that the team is 'combining the people on the ground — the traditional organizing — with the tech-heavy 'distributed' organizing that we've learned about in the last few years.' The campaign recently launched its 'Bern App,' enabling the campaign to strengthen its voter database by allowing supporters to use their own networks, according to NBC News. ',' Burger told [New York Magazine's] Intelligencer." • Holy moley. The Sanders operation has built a bridge between two of its strategic assets: The (independent) media operation, and the (independent) canvassing operation, presumably feeding the (independent) mailing list. Also, as a sidelight, enabling rapid response to oppo, attacks, etc. Of course, no plan survives contact with the enemy, but this is impressive stuff. And if it scales to California…

Warren (D)(1): "Elizabeth Warren's latest big idea is 'economic patriotism'" [Vox]. "The specific Warren proposal on this score has three parts, a Green Apollo Program, a Green Marshall Plan, and a Green Industrial Mobilization. The Apollo Program is a ten-fold increase in clean energy R&D funding, the Marshall Plan is a $100 billion program to help foreign countries buy American-made clean technology, and the Industrial Mobilization (which it would perhaps be more natural to call a 'Green New Deal,' were that name not already taken) proposes a massive $1.5 trillion federal procurement initiative over 10 years to buy 'American-made clean, renewable, and emission free products for federal, state, and local use and for export.' That's roughly the scale of federal spending on defense acquisition and would of course turn the federal government into a huge player in this market." • I bet Warren's policy shop didn't copy and paste from other proposals either…

"9 takeaways from Seth Moulton, Tim Ryan and Eric Swalwell's CNN town halls" [CNN]. • Who?

CA: "2020 Democrats grapple with California's electoral buzz saw" [Associated Press]. "Campaigns in California, which has about four times as many Democratic voters as Iowa, New Hampshire, South Carolina and Nevada combined, are won and lost through hugely expensive advertising and free media that reach the state's diverse, far-flung population…. Sanders' campaign hopes to make California a centerpiece of its strategy, talking about "the first five" states rather than the traditional early four. The Vermont independent senator also has the only campaign with multiple paid staffers focusing on the state — on Friday it announced a California staff of eight — and it's been telling local Democrats it will spend $25 million, if not considerably more, in the state alone. That's not an unusual sum for a California primary but a total that few of the nearly two-dozen presidential campaigns can match."

CA: "Labor anger over Green New Deal greets 2020 contenders in California" [Politico]. "Robbie Hunter, president of the state Building and Construction Trades Council — which represents more than 400,000 workers — says that dozens of his members plan a major "Blue Collar Revolution" demonstration Saturday morning at the California Democratic Party convention in San Francisco, which will be attended by 14 of the Democratic presidential contenders and 5,000 delegates and guests. The effort aims to send a message that the party is in danger of eroding a critical base if it continues to back the Green New Deal resolution being pushed in Washington, D.C. by Rep. Alexandria Ocasio-Cortez (D-N.Y.) and her allies. Hunter argues the measure's goals could endanger thousands of jobs in the Southern California oil industry alone." • Why we need a Jobs Guarantee. And an industrial policy, for that matter.

CA: "California's long-overlooked Central Valley holds new allure for 2020 candidates" [Los Angeles Times]. "An underdog mentality is baked into the psyche of the vast Central Valley. The region that produces much of the country's agricultural bounty rarely gets serious attention from presidential candidates. Residents still talk about when Robert F. Kennedy campaigned here, more than 50 years ago." • I remember the photos….
RussiaGate
"NYT's Matthew Rosenberg: Christopher Steele Concerned He Will Be Thrown Under The Bus" [RealClearPolitics]. "'He is incredibly concerned and obsessed this investigation is going to throw him under the bus. And his view, at least from the people close to him, is, 'Look, I was working on this dossier that people were paying for. I saw things that the Democrats were paying for. I saw things that seemed frightening to me and alarming. I went to old contacts of the FBI to tell them. I wasn't a paid source in this case.' That's his view of it,' Rosenberg reported on Tuesday's 'CNN Tonight' with host Don Lemon. '. And what they did with it, if they used — misused it in a FISA, whatever they did, he had nothing to do with that. Which is to a degree true. He's not part of that process. He was simply a source of information. And I think he's acutely concerned he's going to be thrown under the bus here,' Rosenberg said." • Simply helping them out. Because that's what spooks do. It is known.
Realignment and Legitimacy
That's not a bug:


Democratic primary challengers are often female, young and nonwhite. Many are worried that a recent move by House Democratic leaders will prevent them from being elected. https://t.co/fjNNEwg07M

— The New York Times (@nytimes) June 2, 2019


If we need an insurgent, we'll give you a call.

"Poor Chuck Schumer—his best candidates want to be president, not senator" [Brookings Institution]. "Unlike 2018, when the deck was stacked against the Democrats, 2020 looks like a much better year for them. Of the 34 Senate seats up, 22 are held by Republicans. To take control of the Senate, Democrats have to pick up 4 of those 22 seats and hold the seats they already have. But as we saw in House races in 2018, recruiting the right candidates to run is half the battle—that's where Senate Democrats are in trouble…. There is, however, a silver lining. The Democratic race will get much clearer after the Iowa caucuses and the New Hampshire primary. History tells us that if a candidate doesn't manage to win, place or show in these contests they are probably consigned to oblivion."
Stats Watch
ADP Employment Report, May 2019: "ADP sees private payrolls coming in…. very weak and far lower-than-expected [Econoday]. "ADP's forecast, one that if proves accurate would intensify expectations for a Federal Reserve rate cut, is likely to trigger at least some downward revisions among forecasters for Friday's results."
Purchasing Managers Services Index, May 2019: Weak [Econoday]. "The sample reports softening demand in both domestic and foreign markets with business confidence also at a 3-year low. Growth in new orders is at yet another 3-year low. Despite the slowing, the sample continues to expand its workforce in what is a favorable indication for Friday's monthly employment report. Prices readings are flat with the sample reporting customer resistance to higher sales prices."
Institute For Supply Management Non-Manufacturing Index, May 2019: "Boosted by strong acceleration in hiring, ISM's non-manufacturing index topped Econoday's consensus range" [Econoday]. "The jobs reading in this report together with similar jobs strength in this morning's services PMI are positive indications for Friday's employment report and will help take the edge off of ADP's very low private payroll estimate which was also released this morning. As for the general strength of ISM's data, this sample has generally reported stronger than average results for more than a year. Nevertheless, the results are a reminder that US economic growth proved solid in the first quarter and may yet so again, whatever the approaching headwinds from trade, in the second quarter as well."
Shipping: "Global ship operators that normally begin the summer girding for the rush toward the third quarter instead have been slimming capacity… as they brace for a surge in trans-Pacific tariffs" [Wall Street Journal]. "Executives at several big container lines say they are concerned that recent weakness in shipping rates sends an ominous signal just as some major economies are starting to stumble and trade tensions are rising. Some officials say they fear the escalating row between the U.S. and China will spread to Europe, triggering a downward spiral in demand. Braemer ACM recently scaled back its forecasts for container growth this year, and the World Bank just slashed its forecast for global trade growth from 3.6% to 2.6%. That may leave carriers with few options for preserving margins beyond pulling ships from service."
Tech: "Apple asks developers to place its login button above Google, Facebook" [Reuters]. "Apple Inc will ask developers to position a new "Sign on with Apple" button in iPhone and iPad apps above rival buttons from Alphabet Inc's Google and Facebook Inc, according to design guidelines released this week. The move to give Apple prime placement is significant because users often select the default or top option on apps." • Let's look on the bright side: Finally some Human Interface Guidelines for the otherwise random iOS.
Transportation: "A new analysis suggests Uber Freight's growing role in shipping is coming at a heavy cost to the business. Morgan Stanley writes in a note initiating coverage of Uber Technologies Inc. that the Freight unit turns back some 99% of its revenue to trucking companies…. an analysis suggesting Uber is undercutting its brokerage competitors as it gains market share" [Wall Street Journal]. "The research note hits at concerns some freight-industry executives have raised about technology-focused freight startups and the impact their backing from venture-capital firms may have on the freight market. Uber Freight says it has some 36,000 carriers in its network along with more than 1,000 shippers that booked $359 million in business last year. The company is competing with freight brokers that Morgan Stanley writes typically share between 80% and 85% of the gross revenue with truckers hauling the goods." • Life is easier when you don't have to show a profit.
Concentration: "The Days of Getting a Cheaper Cable Bill by Threatening to Leave May Be Over" [Bloomberg]. "'It used to be when customers would call and said, 'I'm thinking of cutting the cord,' they'd throw all sort of promotions to keep them from leaving,' said Craig Moffett, an industry analyst at MoffettNathanson LLC. 'Now they're saying, 'Goodbye, it's been fun, enjoy the broadband subscription.' … cable executives are now focused on what they call "profitable" or "high-quality" video subscribers and less interested in cutting deals. At another investor conference in May, Comcast Chief Financial Officer Mike Cavanagh said he wants a subscriber who 'really values video and our bundle despite the increases in prices,' and has 'the wallet for a fuller video experience.'" • Oh.
Gentleman Prefer Bonds: "The bond market may be signaling something worse than a recession: Distrust in America" [CNN]. "But what if the bond market's apparent malaise, the deepest curve inversion since 2007 (remember what happened then?) were signaling something darker and potentially longer lasting than a turn in the business cycle? Indeed, the yield curve's alarm bells may be global markets' awkward attempt to put a price on the rapid loss of an intangible but deeply valuable asset: global trust in the United States as a trading partner and more generally as a leader in the pursuit of democracy and human rights… Take note of one irony: Yes, the yield curve's inverted pattern shows a strong appetite for US government bonds when confidence in the country's political stability is waning. That shouldn't offer any comfort, however: It's merely a sign that frightened investors don't see any other safe investment alternatives to Treasury bonds yet. " • Holy gawd. The United States has had issues with being "agreement-capable" for some time; what bubble have these bond traders been living in?
Gentlemen Prefer Bonds: "Muted junk-bond retreat soothes fears of 'imminent slowdown' from inverted yield curve" [MarketWatch]. "Analysts skeptical of calls for a trade-induced economic downturn say the resilience of so-called junk bonds shows the U.S. expansion has room to run, and that the growth worries emanating from an inversion of the Treasury yield curve — when short-term rates break historical norms and trade below their riskier longer-term counterparts — have gone too far…. Investors have traditionally watched for a blow up in high-yield debt as a canary in the coal mine capable of anticipating deeper economic stresses and impending trouble for equities. That logic reflects how bonds from highly leveraged corporations rated below investment grade are sensitive to higher interest rates and the risk that tightening financial conditions could constrain growth and private investment…. One reason why some market watchers are dismissing the yield curve's recession warning is because its predictive powers come from its ability to detect when businesses struggle to find credit. But debt-bloated firms have continued to issue bonds this year, suggesting financial conditions still remain supportive of growth."
The Biosphere
"Our Globally Warming Civilization" [Counterpunch]. "Between 1960 and 2025, the three rising trends of: population (P), cumulative oil production (Q), and increase of average global temperature above baseline (T – 14.7C = delta-T), are all uniformly proportional to one another." • I wonder if oil, temperature, and population are a trilemma. That would be bad.
"The Green New Deal Has Already Won" [The Atlantic]. "Even if neither Biden nor Warren becomes president, their proposals demonstrate how the Green New Deal seems to be winning the battle of ideas among Democrats, at least for now. On his website, Biden even praises Ocasio-Cortez's proposal by name, calling it "a crucial framework for meeting the climate challenges we face." And both his plan and the Warren plan—and the Inslee climate plan, and O'Rourke's proposal—adopt its theory of change, emphasizing that gushing federal investment can help the U.S. economy solve the problem of climate change. All four proposals, to varying degrees, promise a new age of plenty, a dawning era of renewed American dauntlessness. And they show how the window of political possibility has already moved significantly, such that Biden's $1.5 trillion in climate-focused federal spending can start to seem moderate to right-wing observers."
"Association of Changes in Air Quality With Incident Asthma in Children in California, 1993-2014" [JAMA]. n=4140. "Among children in Southern California, decreases in ambient nitrogen dioxide and PM2.5 between 1993 and 2014 were significantly associated with lower asthma incidence."
"The calm before the storms" [Nature]. "Below the surface of the sun, a radical transition is afoot. In 5 years or so, the sun will be awash in sunspots and more prone to violent bursts of magnetic activity. Then, about 11 years from now, the solar cycle will conclude: Sunspots will fade away and the sun will again grow quiet…. [T]he military, satellite operators, and electric utilities all want to know what the sun has in store, because of its tendency to flare up and send dangerous charged particles crashing into Earth as it approaches solar max…. The problem is that no one—in this room or elsewhere—really knows how the sun works."
Health Care
The Obama-Biden administration's theory of change: Waiting for the fever to break….
Valerie Jarrett admitting the Affordable Care Act was a Republican policy plan from Mitt Romney in this way is important. It shows that many Democratic Party elites now know they don't have to pursue centrism for imaginary Republican votes.pic.twitter.com/Qbu0g5R58j

— Waleed Shahid (@_waleedshahid) June 4, 2019
(I disagree with the Tweeter's comment, but this is the only copy of the video I can find.) Biden's theory today, too ("epiphany"). Ten years after the ObamaCare debacle.
"Voters are tuning out the health care debates" [Axios]. "In our focus groups with independent, Republican and Democratic voters in several swing states and districts, the voters were only dimly aware of candidates' and elected officials' health proposals. They did not see them as relevant to their own struggles paying their medical bills or navigating the health system. Details: We conducted six focus groups in three states (Texas, Florida and Pennsylvania), facilitated by Liz Hamel, the Kaiser Family Foundation's director of Polling and Survey Research. Each one had 8–10 people who vote regularly and said health care will be important in their presidential vote in 2020." • Hmm. Certainly does not jibe with rallies, Sanders' appearance on FOX, etc.
Class Warfare
I like Means TV:
Company money

w/ @thetrillbillies pic.twitter.com/DJN2YTsmfq

— MEANS TV (@means_tv) May 29, 2019
News of the Wired
"In the future, will the English language be full of accented characters?" [The Week]. "In the end, though, the gatekeepers of orthography are the editors. And the views of future generations of editors, who not only enjoy good typography, but tend to believe in getting things right, are more likely to favor the accent. And those who flatly scorn them risk being passé." • I'm with the editors. Today's English spelling is unpleasingly regular and dull.
Public Service Announcement (1):
Beware of credit card skimmers!
Always yank the card slot before using it. #Skimming #Security #Scamming pic.twitter.com/q94ydyc1eI

— Khalil Sehnaoui (@sehnaoui) June 4, 2019
Public Service Announcement (2):
If you're eating a pot pie without flipping it over, you're doing it wrong (important thread) pic.twitter.com/ytB32b4wHz

— Eater (@Eater) June 4, 2019
Public Service Announcement (3):
* * *
Readers, feel free to contact me at lambert [UNDERSCORE] strether [DOT] corrente [AT] yahoo [DOT] com, with (a) links, and even better (b) sources I should curate regularly, (c) how to send me a check if you are allergic to PayPal, and (d) to find out how to send me images of plants. Vegetables are fine! Fungi are deemed to be honorary plants! If you want your handle to appear as a credit, please place it at the start of your mail in parentheses: (thus). Otherwise, I will anonymize by using your initials. See the previous Water Cooler (with plant) here. Today's plant (mgl):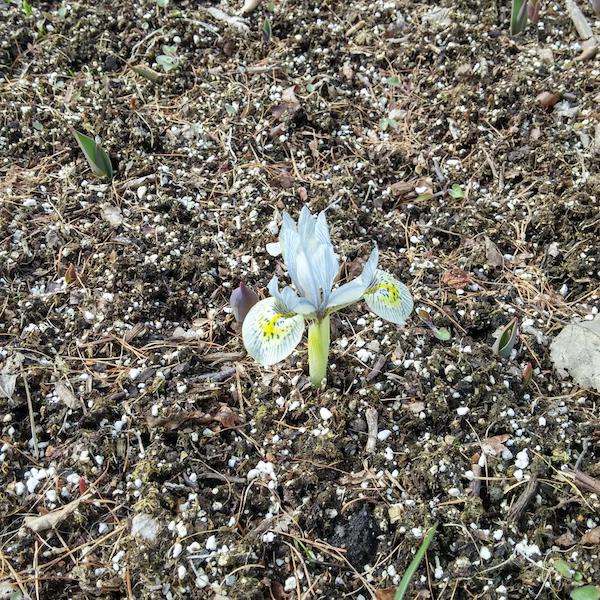 mgl writes: "Turns out there are miniature irises! This one couldn't be more than 2". I later learned they tend to bloom early along with crocus, which is pretty much all that's blooming now in Anchorage, AK (ok, maybe a few daffs in particularly warm, sunny spots)."
* * *
Readers: Water Cooler is a standalone entity not covered by the annual NC fundraiser. So do feel free to make a contribution today or any day. Here is why: Regular positive feedback both makes me feel good and lets me know I'm on the right track with coverage. When I get no donations for five or ten days I get worried. More tangibly, a constant trickle of small donations helps me with expenses, and I factor in that trickle when setting fundraising goals. So if you see something you especially appreciate, do feel free to click this donate button:
Here is the screen that will appear, which I have helpfully annotated.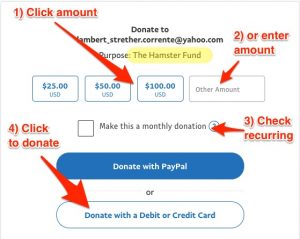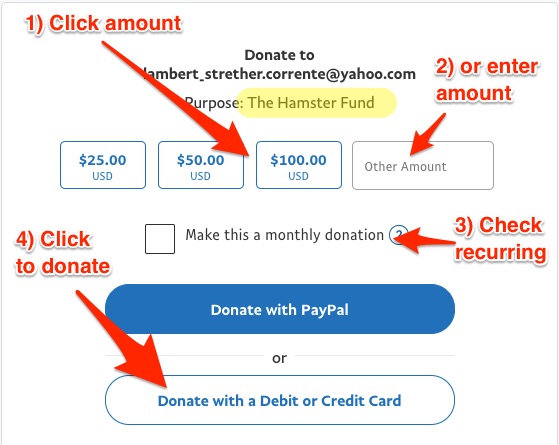 If you hate PayPal, you can email me at lambert [UNDERSCORE] strether [DOT] corrente [AT] yahoo [DOT] com, and I will give you directions on how to send a check. Thank you!