By Lambert Strether of Corrente
Politics
"But what is government itself, but the greatest of all reflections on human nature?" –James Madison, Federalist 51
"They had one weapon left and both knew it: treachery." –Frank Herbert, Dune
"2020 Democratic Presidential Nomination" [RealClearPolitics] (average of five polls). As of July 24: Biden flat at 28.6% (28.6), Sanders up at 15.0% (14.8%), Warren up at 15.0% (14.6%), Buttigieg up at 4.8% (5.0%), Harris down 12.2% (12.6%), others Brownian motion.
* * *
2020
Sanders (D)(1): "Tensions Between Bernie Sanders and MSNBC Boil Over" [Daily Beast]. "The backlash from Sanders-world reached a new high on Sunday, when MSNBC analyst Mimi Rocah, a former assistant U.S attorney for the Southern District of New York and occasional contributor to The Daily Beast, launched a personal critique of Sanders during a segment with host David Gura, saying that he makes her "skin crawl" and that he's not a 'pro-woman candidate.'… A senior campaign aide said the campaign believes there are possible biases in the network, but instead of shunning MSNBC they've been aggressive in getting their people booked. Sanders has been on the network at least nine times this cycle."

Warren (D)(1): "Elizabeth Warren Wants to Stop Banks From Dominating Trillions in Payments" [Bloomberg]. "At issue is the development of real-time payment systems that would allow consumers and businesses to instantly access money that's sent to their bank accounts. Everyone agrees that creating such networks is necessary. But they're at odds over whether it's a good idea to let big banks, which already have one up and running, reign supreme….. [Warren] wants the Federal Reserve to join the fray. The Massachusetts lawmaker, along with Senator Chris Van Hollen of Maryland and two House Democrats, plans to introduce a bill Wednesday that would require the Fed to build a competing system. They say they want to make the U.S. payments infrastructure a public utility and prevent big banks from gaining a monopoly." • Good!

Warren (D)(2): "Warren Is No Hillary. She's Also No Bernie" [Jacobin]. "Characterizing Warren as a 'neoliberal' or, even more stupidly, a 'Clintonite,' some misguided online Bernie Sanders supporters seem to be trying to cast her as the archvillain in the sequel to 2016's horror flop, Hillary. With Warren's advocacy for aggressive government regulation, her support for redistributive programs, her sharp critique of antisocial corporate behavior, and her rejection of individualistic folklore (remember 'You didn't build that'?), she's emerged as a relatively mild but nevertheless quite serious opponent of neoliberal ideology…. However, while Warren isn't a neoliberal, Sanders supporters aren't the only ones making shit up. Her own supporters have been spinning a series of fictitious narratives rooted in classic neoliberal identity politics, using feminism and anti-racism to discredit Sanders's socialist agenda… One of these curious neoliberal narratives is that only sexism could explain why people support Sanders over Warren, since the candidates are exactly the same politically. Earlier this year, Moira Donegan, writing in the Guardian, asked, 'Why vote for Sanders when you can have Elizabeth Warren instead?' While Warren calls herself a "capitalist to my bones," Sanders is a lifelong socialist."

* * *

"Biden tries to set the stage in Detroit" [Politico]. "CNN's broadcast, which begins at 8 p.m., will also feature an introduction of the candidates and playing of the national anthem." • The debates are already enough like a sporting event, so what next? A military flyover?

"Can't Buy Mohammed bin Salman Love" [Foreign Policy]. Last month, credible reports emerged that the U.S. Democratic presidential candidate Pete Buttigieg was courting campaign investors linked to Saudi Arabia. In June, Buttigieg held a fundraiser in the home of Hamilton James, a major Democratic donor and the mastermind behind a $20 billion deal to generate Saudi investment in U.S. infrastructure. Buttigieg is not alone. The Intercept revealed that former Vice President Joe Biden's American Possibilities PAC includes investment from former Democratic Sen. John Breaux, a lobbyist for the firm Squire Patton Boggs, which is registered as a representative for Saudi Arabia." • Classy!
Impeachment
"Mueller testimony fails to move needle on impeachment" [The Hill]. "[S]ome of the most vocal impeachment proponents said they don't expect Mueller's halting testimony — in which he asked legislators to repeat their questions on multiple occasions and often declined to answer questions at all — to lend any significant new power to the effort… More than 90 House Democrats have come out in favor of an impeachment inquiry, according to a tally kept by The Hill. But impeachment backers are still mostly progressives and amount to less than half of the 235-member caucus. Only a half-dozen Democrats representing swing districts have joined the push — and even they all hail from districts carried by Democratic presidential nominee Hillary Clinton."

Ouch:

Watching the dry prose of the Mueller report leap to life in the form of hours of committee hearings reminds me of when I was a fundamentalist kid and they tried to make the Bible fun using claymation. Now kids could SEE that Amminadab was the father of Nahshom, who begat Uzziah

— Pinboard (@Pinboard) July 24, 2019

"You Can't Beat Trump without Throwing a Punch" [National Review]. "[Democrats'] desire is that the president should be removed from office, perhaps that the result of the 2016 election itself could be abrogated. And that all this could all be effected while they remain passive observers and commentators. Perhaps they would only be the formal executors of a judgment made elsewhere…. In other words, pro-impeachment Democrats wanted Mueller to make the decision for them, to take responsibility for moving public opinion in their favored direction. This is not how impeachment works under the Constitution, and it is not how political conflict works anyway. Just as spectators of the political game, it should be obvious by now that this is the signature mistake that all of Trump's opponents have made. A fear of direct confrontation with Trump and his base leads his opponents to hope that Trump can be defeated without hard fighting….This is a vain hope. Like Jeb Bush, Marco Rubio, Ted Cruz, and Hillary Clinton before them, House Democrats will lose any contest with Trump so long as they are unwilling to sustain political damage in the act of inflicting more damage to him." • Hard to argue with any of this.
RussiaGate
"These Questions for Mueller Show Why Russiagate Was Never the Answer" [The Nation]. The best question: "3. Why didn't you interview Julian Assange? "The uncertainty in Mueller's account of how WikiLeaks received the stolen e-mails could possibly have been cleared up had Mueller attempted to interview Julian Assange. The WikiLeaks founder insists that the Russian government was not his source, and has repeatedly offered to speak to US investigators. Given that Assange received and published the stolen emails at the heart of Mueller's investigation, his absence from Mueller's voluminous witness sheet is a glaring omission." • Lawyers believe that you should never ask a question if you don't already know the answer. So what does Mueller's refusal to interview Assange say about his trust in the DNC?
Realignment and Legitimacy
"There Are Reasons for Optimism" [Noam Chomsky, Catalyst]. A long, long interview, well worth a read. Chomsky concludes: "A lot of things have improved and they've improved by active, organized, committed people who went to work on it and changed the world. That's a reason to be optimistic."
Stats Watch
Jobless Claims, week of July 20, 2019: "One of the Federal Reserve's two central pillars policy — employment — is showing increasing and unusual strength" [Econoday]. "Labor conditions in July [may] have been at least if not more favorable than conditions in June."
Durable Goods Orders, June 2019: "If manufacturing is the Federal Reserve's central focus, they have less to be worried about. [Econoday]. "It's a rare 1.9 percent jump in core capital goods orders that points to new confidence in the business outlook and the release of prior pent-up demand for new production equipment." • What you want to see in a capitalist economy, even if most of turns out to be going to robots. More: "Revisions and the Boeing 737 aside, this report is an echo of the strength of last week's industrial production report where manufacturing posted its strongest performance of the year, and it diminishes the need for Fed rate cuts and will have to be put into broad context or explained away by Jerome Powell at his press conference next week should the Fed indeed lower rates."
Kansas City Fed Manufacturing Index, July 2019: "Weighed down by increased uncertainty due to trade concerns and weaker domestic demand, Tenth District manufacturing activity unexpectedly slid into mild contraction" [Econoday]. "Today's survey from Kansas joins yesterday's Richmond Fed survey in showing manufacturing in contraction in their respective region, scaling back expectations of a general rebound in the nation's flagging manufacturing sector that were aroused by last week's positive Philly Fed and Empire State surveys,"
International Trade in Goods, June 2019: Exports fell very sharp[ly] with imports down. These are among the weakest results in 2-1/2 years and outside of isolated gains in May" [Econoday]. "Capital goods are the US's strongest exports and these fell… Import contraction was deepest in industrial supplies…. Facing a sudden rush of improving economic data — whether employment or retail sales or core capital goods — the Federal Reserve will be able to point to declines in global trade as a justification for what appears to be an approaching rate cut at next week's meeting."
Retail Inventories [Advance], June 2019: Retail inventories contracted unexpectedly [Econoday]. "However unfavorable for the GDP calculation, low inventories at a time of strong consumer demand and what may be, based on this morning's durable goods report, improving business demand point to the need for inventory building which would be a plus for third quarter employment and production."
Wholesale Inventories [Advance], June 2019: Wholesale inventories rose lower-than-expected [Econoday]. As above on inventory building.
Retail: "Amazon Has 'Destroyed' U.S. Retail Industry, Mnuchin Says" [Bloomberg]. "U.S. Treasury Secretary Steven Mnuchin alleged that Amazon.com Inc. has "limited competition" and harmed the retail industry as the Trump administration announced a broad antitrust review into whether technology companies are using their power to thwart rivals. 'If you look at Amazon, although there are certain benefits to it, it destroyed the retail industry across the United States, so there's no question they've limited competition," Mnuchin said in an interview with CNBC Wednesday.'" • And just think! If Kamala Harris had prosecuted Mnuchin, he wouldn't be saying this today!
Housing: "Nearly 250,000 NYC rental apartments sit vacant" [6sqft]. Early numbers from the Census Bureau's Housing and Vacancy Survey show that the number of unoccupied apartments throughout New York City has grown significantly over the past three years–a whopping 35 percent to 65,406 apartments since 2014, when the last survey was taken. As the Daily News puts it, "Today, 247,977 units — more than 11% of all rental apartments in New York City — sit either empty or scarcely occupied, even as many New Yorkers struggle to find an apartment they can afford." One reason for the growing vacancy rates, as the article states, is the city's high rent, which has risen twice as fast as inflation….. Many of the 75,000 temporary apartments are pied-à-terres–think weekend or vacation homes for the rich–a number that's expanded from 9,282 in 1987."
Tech: "Twitter, Unable to Control Its Worst Elements, Rolls out a Site Redesign" [Fortune]. "The social media site began testing the new version of its site back in September 2018. The new look better resembles the site's experience on modern smartphones. At the start, the new look was optional, and only available to some. Now, the redesign will be mandatory for Twitter users, disabling their ability to switch to the social network's legacy layout." • Amazingly, press coverage of this debacle has been universally positive; neither the designers nor the press seem to understand that phones (tiny screens, touch) and laptops (bigger screens or even monitors, mouse/keyboard) are different media. Hence the grotesquely oversized menu, the big type, the wasted screen real estate, the extra steps, and so on. The good news is that there are workarounds to the so-called "mandatory" redesign, if design is the word I want.
Tech: "How to switch back to the old Twitter layout" [ShackNews]. • The new Twitter laptop redesign really is ghastly. This technique works, though it's not clear for how long.
Manufacturing: "Boeing says 737 MAX crisis could temporarily shut down Renton production" [Seattle Times]. "Boeing CEO Dennis Muilenburg said Wednesday that though the company's "best estimate" is that the 737 MAX will return to service in October, a slip in that optimistic timeline could mean the Renton 737 production line would be temporarily shut down. 'That's not something we want to do, but something we have to prepare for,' he said on Boeing's second-quarter earnings call with analysts and the press. Such a drastic step would mean temporary layoffs at the plant, which employs more than 10,000 people. 'A temporary shutdown could be more efficient than a sustained lower production rate,' Muilenburg said. 'That's what we are thinking our way through.' Wednesday's call also included worrying news for Boeing's Everett factory: The new 777X that rolled out of the factory in March will not fly until next year because of delays in fixing a problem with the plane's GE-9X engine."• A firm with enormous quality assurance problems considers screwing over its workers…
Manufacturing: "Southwest ceasing operations at Newark airport because of 737 Max delays" [CNN]. "Southwest Airlines is ceasing operations at Newark Liberty International Airport because of the continued grounding of the Boeing 737 Max. The airline announced Thursday that Boeing's (BA) "extensive delays" in getting its 737 Max plane back in service, Southwest has to stop flying in and out of the New Jersey airport starting November 3. Southwest called it a financial decision, saying its financial results at the airport have fallen below expectations, and it had to "mitigate damages and optimize our aircraft…. The airline operates 20 flights per day from Newark to 10 cities, including Phoenix, Austin and Chicago. Southwest (LUV) will still continue to fly from two New York area airports including LaGuardia and Islip on Long Island." • Newark or LaGuardia…. I'd have to give it some thought.
Manufacturing: "Airbus A350 software bug forces airlines to turn planes off and on every 149 hours" [The Register]. "Some models of Airbus A350 airliners still need to be hard rebooted after exactly 149 hours, despite warnings from the EU Aviation Safety Agency (EASA) first issued two years ago." • Funny to have the famous Help Desk reponse — "Please reboot your machine and try again" — appear at such a high level. To be fair to Airbus, the problem was fixable. The article has interesting information on how Airbus aircraft are wired up.
The Biosphere
"Moody's Buys Climate Data Firm, Signaling New Scrutiny of Climate Risks" [New York Times]. "The rating agency bought a majority share in Four Twenty Seven, a California-based company that measures a range of hazards, including extreme rainfall, hurricanes, heat stress and sea level rise, and tracks their impact on 2,000 companies and 196 countries. In the United States, the data covers 761 cities and more than 3,000 counties." • I'm reminded of the scene from The Big Short where Mark Baum visits Standard & Poors:
"I work in the environmental movement. I don't care if you recycle." [Vox]. "All too often, our culture broadly equates "environmentalism" with personal consumerism. To be "good," we must convert to 100 percent solar energy, ride an upcycled bike everywhere, stop flying, eat vegan. We have to live a zero-waste lifestyle, never use Amazon Prime, etc., etc. I hear this message everywhere…. While we're busy testing each other's purity, we let the government and industries — the authors of said devastation — off the hook completely. This overemphasis on individual action shames people for their everyday activities, things they can barely avoid doing because of the fossil fuel-dependent system they were born into…. If we want to function in society, we have no choice but to participate in that system. To blame us for that is to shame us for our very existence." • Amen.
"Special Report: A Cloudspotter's Guide to Climate Change" [Reuters]. "When Gavin Pretor-Pinney decided on a whim to inaugurate the Cloud Appreciation Society at a literary festival, he never expected it to draw much attention. Fifteen years later, more than 47,000 members have signed up for a group that could have been dismissed as another example of quintessentially British eccentricity…. Global climate models are a computational mesh that use grids of the Earth that are tens to hundreds of kilometers wide. Clouds and the complicated processes they are made under are smaller in size and present a 'blind spot' in climate modeling, says [Tapo] Schneider, the Caltech climate scientist…. [T]he Cloud Appreciation Society decided not to get involved in the climate change debate. Asked what he made of his fellow members' reluctance to include climate advocacy in the Cloud Appreciation Society's work, [Walt Lyons, an atmospheric scientist and former broadcast meteorologist who belongs to the society] pauses for a moment. 'Just appreciating clouds is a big job, because people are reconnecting with nature,' he says finally. 'If more people could begin to understand what they're about to lose…' He walks away and settles his bill with the cashier." • Great metaphor, there. A sad ending! A very good article on clouds; the Cloud Appreciation Society is the story hook (or, I suppose, barb). Well worth a read.
"Sacramento UC Master Gardeners to host annual Harvest Day gardening event in Fair Oaks" [Sacramento Bee]. "Gardening is incredibly rewarding, but it can also frustrate, especially when a plant is struggling or bugs are plaguing your garden. But there's help available: The Sacramento UC Master Gardeners are here to help and give advice at their annual Harvest Day event." • Master Gardeners are a great resource.
For rail fans, a thread:
Trains are running at reduced speeds tomorrow, because of all this heat causing the rails to buckle.

Inevitably this brings out people asking "why doesn't this happen in Spain/Mexico/other hot countries", so it's time for a thread about railway track. https://t.co/YlwCUiaVAl

— Alex Chan (@alexwlchan) July 24, 2019
"Real Estate Agents Trying To Gentrify Run-Down Earth By Renaming It West Saturn" [The Onion (RH)]. "With Mars almost sold through, demand for the good spots on Earth is only going to heat up, much like Earth itself."
Guillotine Watch
Get used to it:
Tonight I tweeted a pic of a Georgetown party hosted by @maureendowd, attended by @SpeakerPelosi, @SenSchumer and DC journos. In the old days it would've been a benign big-shot brag. No more. It was viciously ratio'd by left and right. I deleted it. All establishments are hated.

— Howard Fineman (@howardfineman) July 25, 2019
Here's Fineman's deleted tweet:
— Walter (@Waltersghost1) July 25, 2019
Class Warfare
"If You Hate Capitalism You Will Love This Map" [Vice]. "The Black Socialists of America (BSA), a coalition of 'anticapitalist, internationalist Black Americans,' just launched its Dual Power Map. The map promises to plot every single worker cooperative, small business development center, community land trust, and dual power project in America so 'you can support them right now.' But what are any of these things? What is dual power? Why should you care? At its heart, dual power is a socialist strategy concerned with helping people who are unable to have their needs met by capitalism. The strategy calls for 'counter-institutions' that not only meet the needs of those left behind but are run by those very people. It also calls for people to protect and develop these institutions into forms of social, economic, and political 'counter-power' through social movements or organizing efforts." • Good press for BSA. I've been following BSA for awhile and they seem quite disciplined.
From an actual organizer on the shop floor, a thread:
I want to share some thoughts on rank and file work. I am going to avoid the touchy debates and focus on the experience of embedding yourself in a workplace to carry out work.

— Comrade Scalawag ✊? (@ComradeScalawag) July 21, 2019
The labor aspect of the Gulf tanker seizures:
The tanker's owners are registered in Britain in order to be defended by her military and diplomatic power but the vessel is 'flagged' to Liberia in order to avoid British employment and health and safety legislation. And of course to avoid having RMT organised ratings on board. https://t.co/05cvtrfy3c

— Eddie Dempsey (@EddieDempsey) July 22, 2019
"Baby Boomers are staying in the labor force at rates not seen in generations for people their age" [Pew Research Center]. "The relatively high labor force participation of Boomers may be beneficial both to them and the wider economy. Some retirement experts emphasize working longer as the key to a secure retirement, in part because the generosity of monthly Social Security benefits increases with each year claiming is postponed. For the economy as a whole, economic growth in part depends on labor force growth, and the Boomers staying in the work force bolsters the latter."
News of the Wired
The stuff of nightmares:
Two franchises can play at that… pic.twitter.com/WCuJyycxRi

— ρhαετhøṉ (@PhaethonTweets) July 24, 2019
(You may have to click "View" to see the "sensitive content," for some nutty reason.
I like these stories:
Do good recklessly is my new motto https://t.co/u6sXHC0jlN

— dr. phoenix calida is bearly black (@uppittynegress) July 25, 2019
At the university cafeteria, the person behind me in line paid for my food — just randomly! So I have done the same for others. Not every day, but often enough. Its a small tradition and maybe not reckless, but I like it.
* * *
Readers, feel free to contact me at lambert [UNDERSCORE] strether [DOT] corrente [AT] yahoo [DOT] com, with (a) links, and even better (b) sources I should curate regularly, (c) how to send me a check if you are allergic to PayPal, and (d) to find out how to send me images of plants. Vegetables are fine! Fungi are deemed to be honorary plants! If you want your handle to appear as a credit, please place it at the start of your mail in parentheses: (thus). Otherwise, I will anonymize by using your initials. See the previous Water Cooler (with plant) here. Today's plant (JN):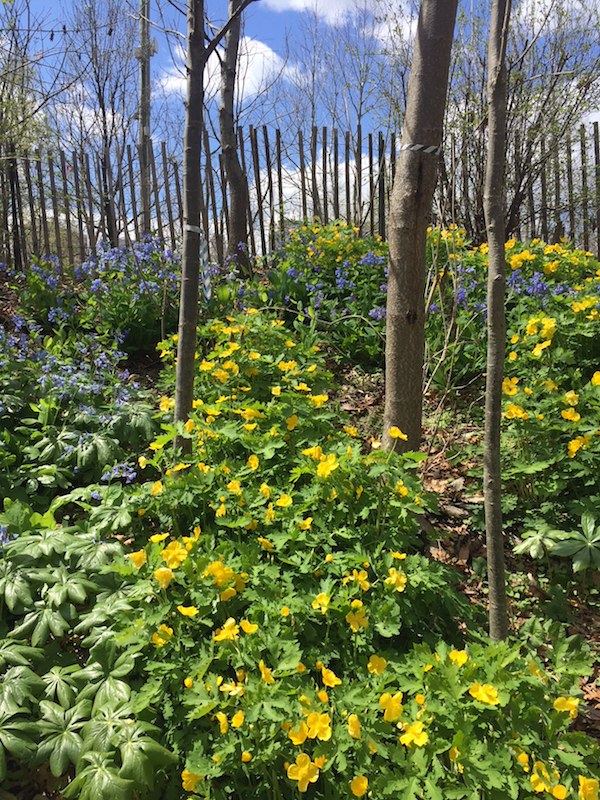 What a pleasing prospect!
* * *
Readers: Water Cooler is a standalone entity not covered by the annual NC fundraiser. So do feel free to make a contribution today or any day. Here is why: Regular positive feedback both makes me feel good and lets me know I'm on the right track with coverage. When I get no donations for five or ten days I get worried. More tangibly, a constant trickle of small donations helps me with expenses, and I factor in that trickle when setting fundraising goals. So if you see something you especially appreciate, do feel free to click this donate button:
Here is the screen that will appear, which I have helpfully annotated.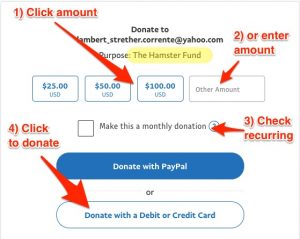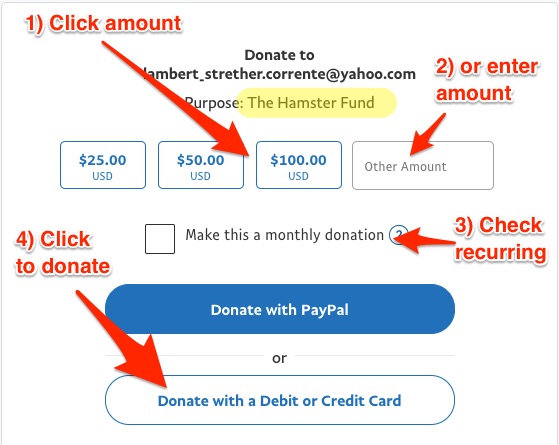 If you hate PayPal, you can email me at lambert [UNDERSCORE] strether [DOT] corrente [AT] yahoo [DOT] com, and I will give you directions on how to send a check. Thank you!