By Lambert Strether of Corrente
Patient readers, I had a household event and got a late start. I'll return with more shortly. –lambert UPDATE All done!
Trade
"Trump Says Apple Won't Get China Tariff Relief" [Industry Week]. "The president tweeted on Friday, 'Apple will not be given Tariff wavers, or relief, for Mac Pro parts that are made in China. Make them in the USA, no Tariffs!'" • If we can, without an industrial policy of any kind….
Politics
"But what is government itself, but the greatest of all reflections on human nature?" –James Madison, Federalist 51
"They had one weapon left and both knew it: treachery." –Frank Herbert, Dune
"2020 Democratic Presidential Nomination" [RealClearPolitics] (average of five polls). As of July 25: Biden up at 29.3% (28.6), Sanders flat at 15.0% (15.0%), Warren down at 14.5% (15.0%), Buttigieg flat at 5.0% (5.0%), Harris down 11.8% (12.2%), others Brownian motion. Harris reminds me of Clinton, in that her numbers are like a hot air balloon, which sinks unless air is pumped into it.
* * *
2020
Biden (D)(1): "Two longtime Biden African American supporters in S. Carolina defect to Tim Ryan" [NBC]. "Fletcher Smith and Brandon Brown, who played senior roles in Biden's last presidential campaign in 2008, attended a meeting Biden held last month with a small group of African-American leaders in Columbia and both told NBC News that he's neglected some relationships in the state." • Tim Ryan?

Gabbard (D)(1): "Tulsi Gabbard sues Google over censorship claims" [The Hill]. "In a federal complaint filed Thursday in the U.S. District Court for the Central District of California, Gabbard alleged Google censored her presidential campaign when it suspended their advertising account for several hours last month…. 'In the hours following the 1st debate, while millions of Americans searched for info about Tulsi, Google suspended her search ad account w/o explanation,' the campaign said. … 'For hours, as millions of Americans searched Google for information about Tulsi, and as Tulsi was trying, through Google, to speak to them, her Google Ads account was arbitrarily and forcibly taken offline,' it reads. 'Throughout this period, the Campaign worked frantically to gather more information about the suspension. In response, the Campaign got opacity and an inconsistent series of answers from Google,' it states."• Like everybody else who tries to contract Google. Google's response: Blame the algos, as usual: "We have automated systems that flag unusual activity on all advertiser accounts." Come on. The brain geniuses at Google can't figure out that searches for a Presidential candidate are likely to spike after a debate? Gabbard did well in that debate; it's unconscionable the Google throttled her.

Sanders (D)(1):

I congratulate the millions of people in Puerto Rico who came together to demand the resignation of Governor Rosselló.

When we stand together, there is nothing we cannot accomplish. https://t.co/bBJaz2Jd3q

— Bernie Sanders (@SenSanders) July 25, 2019

Sanders (D)(2): Whaddaya know:

Bernie Sanders current support is disproportionately coming from voters of color (especially Latinos), voters under 45, and voters without college degrees.

Warren and Harris are drawing from college educated voters, women, and voters over 45.

via @MorningConsult pic.twitter.com/r7vA4FxqAP

— Waleed Shahid (@_waleedshahid) July 23, 2019

Warren (D)(1): "Elizabeth Warren Has a Radical Plan to Beat Trump at His Own Game" [Bloomberg]. "Warren made the wealth tax the centerpiece of her campaign. It's part of a fusillade of proposals that are more aggressive, far-reaching—and expensive—than any previous Democratic front-runner would have dared venture: break up big tech companies like Google and Facebook; abolish private health insurance and give everyone Medicare; start a $2 trillion industrial policy built on "economic patriotism" to boost exports; crack down on private equity's "Wall Street looting"; overhaul corporate governance by putting workers on boards; eliminate the filibuster; cancel student loan debt; and establish free public college and universal child care. Together, Warren's platform amounts to a giant leap in Democratic ambition—some would say radicalism—that dwarfs the steady but safe achievements of the Clinton and Obama eras." • Fair's fair. That's an impressive list of policy proposals. Though I don't know if I'd classify ObamaCare as either "steady" or "safe."

* * *

"Democratic super PAC launches 'hyper-local' ads targeting Trump supporters in rural America" [McClatchy]. "American Bridge officials describe their effort as one that will forgo conventional TV and digital ads and instead fixate on what they identify as "hyper-local" effects of Trump's policies in each targeted rural area…. The campaign will focus on featuring rural voters who feel burned by the White House and are willing to speak on camera about it. Their stories, rather than just polling data, will drive the media strategy, the officials said…. American Bridge has traditionally been in charge of Democrats' national opposition-research efforts, providing damaging footage and information about Republican candidates up and down the ballot. Running a large paid-media campaign like this, officials there acknowledge, is a different effort than they're used to." • American Bridge is David Brock, so there must be some sleazy, horrid angle to this.

"The 2020 Congressional Elections: A Very Early Forecast" [Larry Sabato's Crystal Ball]. "In the House, we are in an era with limited ticket-splitting and a weak incumbency advantage. Additionally, the overall House map has a Republican lean: Republicans could win the House back by defeating fewer than two-thirds of the 31 Democrats who hold seats that Trump carried in 2016 (and only three Republicans hold seats that Hillary Clinton carried). The confluence of these factors could allow Republicans to overperform the projection in this model, particularly if Trump is reelected. While the model predicts a good chance of a Democratic majority in the Senate in 2021, that prediction should be taken with considerable caution considering the margin of error of the model and the fact that only a handful of Republican seats that are up next year are in Democratic-leaning or swing states."
Puerto Rico
Against stupidity the Gods themselves contend in vain:

Hi David, I worked in Florida for @BarackObama in 2012. Respectfully, as Obama's campaign architect, there's a bit more listening in order. One of many frustrations that drive Puerto Ricans to the streets is the Austerity Board that Obama signed into law and imposed on PR. https://t.co/4DaFAHzqpJ

— Ricardo A. Ramírez (@RicardoEnDC) July 25, 2019

I guess Plouffe was too busy cashing in at Uber to keep up.
2019
"Pelosi downplays differences with Ocasio-Cortez after talk" [Associated Press]. "'In our caucus we have our differences. Respect that instead of making a big issue of it,' Pelosi told reporters, displaying a little exasperation with the media's fixation with their relationship. 'We just had a meeting to clear the air.' Corbin Trent, a spokesman for Ocasio-Cortez, said, "It was a very positive and productive meeting about progressive priorities.'" • Like, ya know, the "Green Dream or whatever."
Identity Politics
"Maybe It's Lyme What happens when illness becomes an identity?" [New York Magazine]. "Decades after Polly Murray kept her diary of symptoms, the spirit of advocacy associated with Lyme disease endures. But while Murray's efforts were ultimately vindicated by medical science, a new fight — for the recognition of something known as "chronic Lyme," which can encompass a vast range of symptoms and need not be linked to any tick bite — has grown into a phenomenon often untethered from scientific method or peer review. The chronic-Lyme community has a new agenda, one that was visible at last fall's Global Lyme Alliance Gala in New York, where supporters gathered at Cipriani heard a speech from Real Housewife of Beverly Hills Yolanda Hadid."
RussiaGate
"Trump: Mueller made Biden 'look like a dynamo'" [The Hill]. • Ouch.
2018 Post Mortem
"A Non-Hack That Raised Hillary's Hackles" [Ray McGovern, Consortium News (Furzy Mouse)]. "Independent forensic investigations demonstrated two years ago that the DNC emails were not hacked over the Internet, but had been copied onto an external storage device — probably a thumb drive. Additional work over recent months has yielded more evidence that the intrusion into the DNC computers was a copy, not a hack, and that it took place on May 23 and 25, 2016. The DNC almost certainly knew what had happened — not only that someone with physical access to DNC computers had copied thousands of emails, but also which ones they had copied, and thus how prejudicial to the Clinton campaign they would be when they saw the light of day." • IIRC, the Mueller "investigation" never had access to the DNC servers, and thus all forensics remain a matter of at best conjecture (including those of DNC vendor CrowdStrike, upon whom Mueller relied.
Realignment and Legitimacy
The Cybersecurity and Infrastructure Security Agency (@CISAgov) is a thing. Thread:

.@CISAKrebs, speaking at #ICCS2019, says the Obama administration was "caught a little flat-footed" on election interference in 2016.

"We're not going to be caught flat-footed again. We're ready for what they're going to bring at us."

— Eric Geller (@ericgeller) July 25, 2019

Again, there's only one litmus test for balloting: Hand-marked paper ballots, hand-counted in public. Anybody who tries to sell you a digital intermediary is selling fraud.

"Structure, Subjecthood, & Socialist Workers: A Response to the Bread & Roses Labor Resolution" [The Organizer]. • Can't take a position one way or another. But again, this encouragingly serious.

"Green candidate's entry pushes Maine toward ranked-choice U.S. Senate race in 2020" [Bangor Daily News (OregonCharles)]. "A Green candidate from Waldo County is expected to announce his 2020 candidacy for U.S. Senate this week, increasing the likelihood that the nationally targeted race for the seat held by Republican Susan Collins will be decided by ranked-choice voting…. if three or more candidates qualify for the ballot, the race will be decided by Maine's first-in-the-nation statewide system of ranked-choice voting…. It's unclear if Gibson will be able to get on the ballot in 2020. The Maine Green party dates back to 1984, making it the oldest one in the U.S., but it has receded during this decade and hasn't nominated a candidate for statewide office since Pat LaMarche in the 2006 gubernatorial race."
Stats Watch
GDP, Q2(a) 2019: "If there's one strength that is most important for the economy, it's personal consumption expenditures which along with government spending held up second-quarter GDP to a 2.1 percent annual rate that beats Econoday's consensus by 2 tenths. Beating Econoday's consensus by 4 tenths is inflation-adjusted consumer spending which came in at a very hot 4.3 percent pace. This is directly tied to the strength of the labor market. Government purchases, here tied to heavy government spending, grew at a 5.0 percent pace. Consumer spending contributed 2.85 percentage points to the quarter's growth while government purchases contributed 0.85 points" [Econoday]. "Though the dip in nonresidential investment does fit with the Fed's main concern which is weakness in business investment, this report doesn't speak to any urgency for new monetary stimulus."
The Bezzle: "Atlanta pauses scooter permits after deaths" [NBC]. "Atlanta's mayor put a pause on the city's issuance of permits for smartphone-based electric scooter rentals Thursday following two recent deaths. Like many U.S. cities, Atlanta is trying to figure out how to deal with the sudden appearance of startups that offer dockless, electric scooters that are rentable via smartphones." • "Sudden appearance" = regulatory arbitrage.
The Bezzle: "McKinsey Advised Johnson & Johnson on Increasing Opioid Sales" [New York Times]. "One lawsuit stated that McKinsey advised a pharmaceutical company to 'get more patients on higher doses of opioids' and study techniques 'for keeping patients on opioids longer.' And in a civil trial that wrapped up last week, Oklahoma joined two other states — Massachusetts and New Jersey — in showing that McKinsey offered advice to a drug company on how to increase opioid sales at a time when abuse of its pain medicine was widespread. Although McKinsey is not a defendant, Oklahoma used McKinsey consulting records to help build its case." • Have I run this clip from Michael Clayton before? It's about a large law firm, but it might as well be about McKinsey:
How do they sleep nights?
The Bezzle: "Tesla Loses a Founder, and a Piece of Its Soul" [Industry Week]. "On Wednesday, as Tesla announced that it had delivered 95,356 cars in its most recent quarter and another net loss, it also revealed that [J.B.] Straubel will cede his CTO position and step away from the daily grind to become an adviser to the company. For longtime Tesla watchers, it's an astonishing change. Straubel, 43, represents, alongside Elon Musk, the soul of the automaker—a true believer in electric cars and how they could reshape the world…. [S]traubel very much was the Woz to Musk's Jobs and so many of the great parts of Tesla emanated from the spirit of that kid playing with batteries in his backyard." • The author was Musk's biographer, which no doubt accounts for his curious notion that Tesla has a soul.
Tech: "Chris Hughes Worked to Create Facebook. Now, He Is Working to Break It Up." [New York Times]. "Chris Hughes used to huddle with Mark Zuckerberg in a Harvard dorm room building Facebook from scratch. Now, he's huddling with regulators to explain why Facebook needs to be broken up."• But as Aaron Greenspan percipiently asks: "Would it have helped to separate Madoff Securities LLC into one company per floor, or split up Enron by division?"
The Biosphere
"The Risk of Conflict Rises as the World Heats Up" [Scientific American]. "Scientists who study the issue say one of the clearest findings so far on climate change and state security is the former's role in increasing the risk of domestic conflict. "There's a lot of evidence that internal stability of societies is strongly coupled to the climate," says Solomon Hsiang, a professor of public policy and director of the Global Policy Laboratory at the University of California, Berkeley. He and other researchers have been looking at historical events to see if climate factors have increased the risk of conflict, and used their findings to extrapolate what might happen as global warming intensifies. One of Hsiang's studies found, for instance, that the risk of civil conflict in African countries has risen 11 percent since 1980 because of the warming climate… How climate might influence international conflicts is not as clear. " • So that's good news. I was thinking we'd need the oil for the Pentagon. I guess we'll just need it for the cops and the National Guard.
"Water Shortages, Murder, and Chaos: The Grim Future of Heat Waves" [Vice]. "Compare that to India's heat wave and drought earlier this summer, during which police had to guard water deliveries from rioters. A water tanker driver was beaten up, one man stabbed six people, and a 33-year-old named D Anand Babu died after being attacked with logs and "hacked with deadly weapons." He'd reportedly confronted an older man and his three sons for taking large amounts of water from a public tap. That heat-related brutality seems shocking, but climate change could make it more common. A violence researcher contacted by VICE, Iowa State University's Andreas Miles-Novelo, suggests that the difference between the outcomes of each heat wave comes down to the U.S. being in a temperate climate and having more abundant natural resources. He warns that as rising global temperatures make extreme events and conditions more common, not even America's vast environmental privilege will make its citizens immune from violence."
"In the US, wells being drilled ever deeper as groundwater vanishes" [Ars Technica]. "[C]urrent levels of groundwater use are not sustainable: resources are being steadily depleted as groundwater use outpaces natural replenishment….. Not only is the US one of the world's largest food exporters (with a great deal of that food reliant on groundwater), but similar dynamics will be at play in other countries that rely on depleting groundwater, including China and India."
"News Feature: Do hosts and their microbes evolve as a unit?" [PNAS]. "[O]ne theory of evolution… proposes that hosts and their resident microbes function as an evolutionary unit. This unit, dubbed the holobiont, carries what some have termed a hologenome, meaning the genetic information encoded by both a host and its microbes. The hologenome theory suggests that evolutionary pressure acts on holobionts, not hosts or microbes alone, and so the two should be considered a single unit of selection. Studies of fish, wasps, corals, and several other animals provide evidence to support the provocative idea that creatures and their microbial inhabitants are linked as holobionts through evolutionary time." • Rather like debtors and creditors?
Games
"65% of online gamers face threats, stalking, other 'severe harassment'" [CNET]. "Online gaming may be popular and fun, but it's not without pitfalls. More than 70% of online gamers have experienced some form of harassment, according to a survey released Thursday from the Anti-Defamation League's Center on Technology and Society. And 65% of players said they've experienced "severe harassment," including physical threats, stalking and sustained harassment…. Among online gamers who experience harassment, 53% reported being targeted based on their race, religion, ability, gender, sexual orientation or ethnicity, according to the ADL. Nearly 30% also report being doxed, which means having their contact or other personal information published online." • What do our gamer readers think of this?
"The happiness of the otaku: Daydreaming to well-being" [Japan Times]. "Otaku now is mostly taken to mean people with an obsessive interest in something, particularly manga and anime. The nickname seems to have come about because of a feeling that such people are socially withdrawn and never progress beyond calling other people by super-formal pronouns. And while there has been some reclaiming of the name, there is still a negative connotation attached to it…. Yoshinori Sugiura and Tomoko Sugiura of Hiroshima University surveyed 800 adults and scored them for their consumption of 'otaku contents' — that is, the amount of time they spent watching anime or playing video games, their sense of well being and their tendency to daydream…. Sure enough, the survey indicated that among avid consumers of otaku contents or highly mindful people, a higher frequency of daydreaming was related to higher feelings of well-being. The pattern wasn't seen in people not consuming large amounts of anime or games, or in people who do not practice mindfulness."
Health Care
"How "Medicare Extra" gets to universal coverage without single-payer" [Vox]. "Like Medicare-for-all — and unlike Obamacare — it's universal, it uses Medicare's pricing power to hold down costs, and it rebuilds the entire health system around public insurance. But like Obamacare, it's designed to minimize middle-class tax increases while stepping gingerly around people's fear of change and mistrust of the government. And so, unlike Sen. Bernie Sanders's Medicare-for-all bill, it holds on to much of the employer-based private insurance market and includes means-tested premiums and cost sharing for all but the poorest Americans." • If only venues like Vox hadn't worked so hard, along with conservatives, to maximize "people's fear of change and mistrust of the government."
Black Injustice Tipping Point
"Hundreds of black deaths in 1919 are being remembered" [Associated Press]. "America in the summer of 1919 ran red with blood from racial violence, and yet today, 100 years later, not many people know it even happened. It flowed in small towns like Elaine, Arkansas, in medium-size places such as Annapolis, Maryland, and Syracuse, New York, and in big cities like Washington and Chicago. Hundreds of African American men, women and children were burned alive, shot, hanged or beaten to death by white mobs…. "The people who were the icons of the civil rights movement were raised by the people who survived Red Summer," said Saje Mathieu, a history professor at the University of Minnesota." • Well, as for "distrust," there was the whole slavery thing. The story also mentions the Chicago Defender, which sadly just went all digital this year. Read the whole thing.
"'Ready to explode': How a black teen's drifting raft triggered a deadly week of riots 100 years ago in Chicago" [Chicago Tribune]. "[Juanita Mitchell] — one of the last living eyewitnesses to Chicago's most violent racial conflict that began on July 27, 1919 — still recalls her uncle Cecil's signal that white men armed with guns had crossed Wentworth Avenue, the racial dividing line, and entered their neighborhood." • An episode of the Red Summer. This too is worth reading in full.
Guillotine Watch
"Amtrak will launch nonstop service between Washington, D.C. and New York" [WaPo]. "Acela Nonstop will include one northbound and one southbound train per day on weekdays only. The southbound train will leave New York's Pennsylvania station at 6:35 a.m. and arrive at Washington, D.C.'s Union Station around 9:10 a.m. The northbound train will leave Union Station at 4:30 p.m. and arrive in New York around 7:05 p.m." • I would think that, things being as they are, we would want to slow down decision-making on the Acela Corridor, rather than speed it up.
"Photographers, Instagrammers: Stop Being So D*mn Selfish and Disrespectful" [PetaPixel]. From the lavender fields of Provence: "These weren't people wanting to enjoy the view – or even capture the scenery to share and enjoy well into the future with friends. These are people so obsessed with their own sense of self-importance for the sake of a few instant 'likes' on their social media profile that they find it perfectly acceptable to trespass, steal, disrespect the workers and their land – all in the name of 'influencing'… Slowly, an hour before sunset, a tractor and cherry-picker made its way towards 'the tree' at the end of the rows. The tree that everyone had been focused on, the tree that 'made the shot'. Not to harvest, but to unveil…
…their sign. A PLEA, to those who were trampling their hard work, produce and land."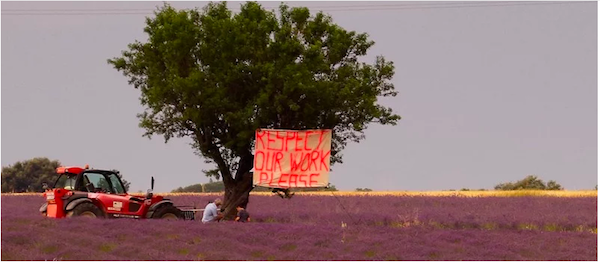 "Did it have the desired effect? No, of course not." • Sigh. Don't be like infuencers.
Class Warfare
I was looking for an appropriate song to share my emotions about Brexit, and came up with this:
but I also encountered this wonderful article on the Ramones from Rolling Stone–
"The Curse of the Ramones" [Rolling Stone]. On the music: "When Tommy joined the band as drummer – as the story goes, none of the drummers they auditioned could play without bombast and flourishes – the Ramones' sound came together. 'I wanted to lock in with the guitar,' he told Mojo in 2011. 'Most people assume that the bass and drums lock in together … But I locked in with Johnny, and Dee Dee's bass was the underpinning of it all.' The effect was primitive but also avant-garde: harmonic ideas stacked on a rapid-fi re momentum. 'We used block chording as a melodic device, and the harmonics resulting from the distortion of the amplifiers created countermelodies,' Tommy told Timothy White in Rolling Stone. 'We used the wall of sound as a melodic rather than a riff form; it was like a song within a song, created by a block of chords droning.'" • But read the article for the life stories of each of the Ramones; it's quite likely that if they had been born into the opioid epidemic, they would have been caught up in it and not survived. So everything's going according to plan!
News of the Wired
"The Strange Similarity of Neuron and Galaxy Networks" [Nautilus]. "[W]e—an astrophysicist and a neuroscientist—joined forces to quantitatively compare the complexity of galaxy networks and neuronal networks…. Not only are the complexities of the brain and cosmic web actually similar, but so are their structures. The universe may be self-similar across scales that differ in size by a factor of a billion billion billion…. Is the apparent similarity [between images of the cosmic web and the brain] just the human tendency to perceive meaningful patterns in random data (apophenia)? Remarkably enough, the answer seems to be no: Statistical analysis shows these systems do indeed present quantitative similarities. Researchers regularly use a technique called power spectrum analysis to study the large-scale distribution of galaxies. The power spectrum of an image measures the strength of structural fluctuations belonging to a specific spatial scale. In other words, it tells us how many high-frequency and low-frequency notes make the peculiar spatial melody of each image. A stunning message emerges from the power spectrum graph in Figure 2 (below): The relative distribution of fluctuations in the two networks is remarkably similar, over several orders of magnitude." • Word of the day: Isomorphism.
"'How to Read a Japanese Poem' by Steven D Carter" [Asian Review of Books]. "[T]he poem included here is actually about love, and we know that Shikishi was a virtual recluse. What could she know about that subject? The comment section explains; she creates a persona, 'a rhetorical extension of herself based on literary precedents' and, of course, drawn on her own life in the formality of the imperial court." More isomorphism?
* * *
Readers, feel free to contact me at lambert [UNDERSCORE] strether [DOT] corrente [AT] yahoo [DOT] com, with (a) links, and even better (b) sources I should curate regularly, (c) how to send me a check if you are allergic to PayPal, and (d) to find out how to send me images of plants. Vegetables are fine! Fungi are deemed to be honorary plants! If you want your handle to appear as a credit, please place it at the start of your mail in parentheses: (thus). Otherwise, I will anonymize by using your initials. See the previous Water Cooler (with plant) here. Today's plant (WB):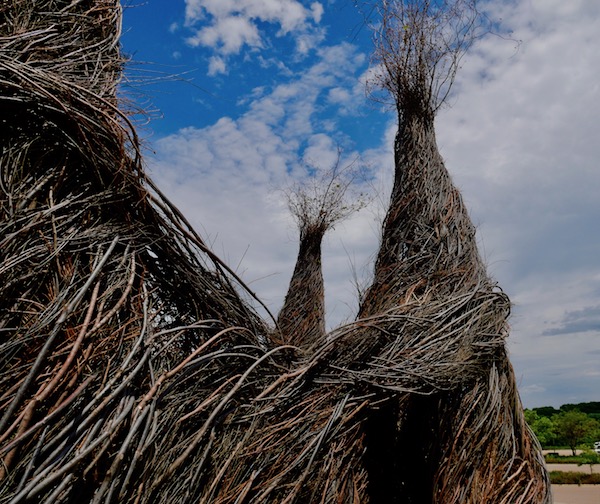 WB writes: "Willow branch sculpture at the University of Minnesota Landscape Arboretum. Artist's Statement: "Often the public imagines that a work of art should be made to last, but I believe that a sculpture, like a good flower bed, has its seasons.'" – Patrick Dougherty
* * *
Readers: Water Cooler is a standalone entity not covered by the annual NC fundraiser. So do feel free to make a contribution today or any day. Here is why: Regular positive feedback both makes me feel good and lets me know I'm on the right track with coverage. When I get no donations for five or ten days I get worried. More tangibly, a constant trickle of small donations helps me with expenses, and I factor in that trickle when setting fundraising goals. So if you see something you especially appreciate, do feel free to click this donate button:
Here is the screen that will appear, which I have helpfully annotated.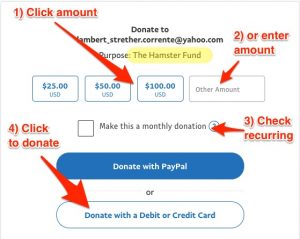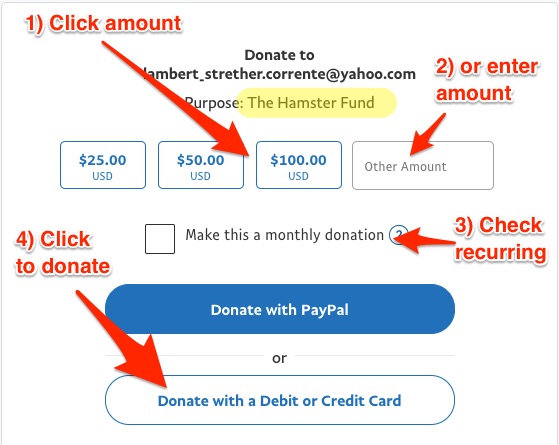 If you hate PayPal, you can email me at lambert [UNDERSCORE] strether [DOT] corrente [AT] yahoo [DOT] com, and I will give you directions on how to send a check. Thank you!