By Lambert Strether of Corrente
Politics
"But what is government itself, but the greatest of all reflections on human nature?" –James Madison, Federalist 51
"They had one weapon left and both knew it: treachery." –Frank Herbert, Dune
"2020 Democratic Presidential Nomination" [RealClearPolitics] (average of five polls). As of July 5: Biden down at 26% (31.5%), Sanders down at 15.2% (14.7%), Warren up at 13.8% (13.5%), Buttigieg flat at 5.2% (5.3%), Harris jumps at 7.8% (7.8%), others Brownian motion. Of course, it's absurd to track minute fluctuations at this point. Looking at the shapes of the curves on the graph, I'd guess that Harris took a big chunk out of Biden's support, and Warren a smaller chunk out of Sanders. Assuming the numbers aren't gamed; I've started taking a record of the polls used by RCP, because I'm not sure they're stable.
* * *
2020
Biden (D)(1): "Biden: Russian Election Interference Would Not Have Happened 'On My Watch And Barack's Watch'" [RealClearPolitics]. "Look at what's happened with Putin. While he — while Putin is trying to undo our elections, he is undoing elections in — in Europe. Look what's happened in Hungary. Look what's happened in Poland. . You think that would have happened on my watch or Barack's watch? You can't answer that, but I promise you it wouldn't have, and it didn't." • "Barack."

Buttigieg (D)(1): "Mayor Pete Buttigieg's Friendly Police Fantasy" [The American Conservative (re Silc)]. "In June's Democratic presidential candidate debate, South Bend, Indiana, mayor Pete Buttigieg said he is 'determined to bring about a day when' any driver, white or black, has a 'a feeling not of fear but of safety' when a police officer approaches them…. The best way to encourage citizens to have 'a feeling not of fear but of safety' is to repeal legions of laws empowering police to unjustifiably accost and wrongfully subjugate peaceful citizens."

Gravel (D)(1): Dunno about this:

We will give $2,000 to a random person who follows this account and retweets this tweet by July 10—we're announcing a promotion soon and wanted to make sure it gets seen by new people. No purchase, payment, or contribution is necessary to enter, only U.S. citizens are eligible.

— Sen. Mike Gravel (@MikeGravel) July 5, 2019

Harris (D)(1): "Kamala Harris Says She Was a Progressive Prosecutor. Her Record Tells Another Story" [Democracy Now]. "when you go down the list of the issues that we think about when we think about a progressive prosecutor, on every single one of those issues she was on the wrong side. And in some cases, her opponents ran to her left. So, for example, with marijuana legalization, in her run for re-election as attorney general, her opponent ran to legalize, she was against it. She's since changed her position, now that the vast majority of the Democratic Party has moved in that direction. There are other examples, as well: her failure to support legislation that would reduce certain felonies to misdemeanors, going after parents criminally for having truant children. So, there's a lengthy list of policy positions where there was the progressive path and there was the center-right path, and she did not take the progressive path." • Harris's record on wrongful convictions is also… not good.

O'Rourke (D)(1): "Rich father-in-law has helped, complicated O'Rourke's career" [Associated Press]. "O'Rourke's campaign says [illustrious real estate investor William Sanders] plays no role — either formal or otherwise — in their candidate's 2020 bid. Still, O'Rourke, known as a down-to-earth champion of little-guy values, might never have made it on the national stage without the help of an intensely private tycoon who embodies the kind of figure top Democrats now rail against…. The two are both advocates for virtually open U.S. southern borders. While O'Rourke argues it's a cultural and humanitarian imperative, though, Sanders approaches the issue more as an economic opportunity."

Sanders (D)(1): "27,110 Steps With Bernie Sanders In Iowa" [Iowa Starting Line]. "Who are you calling old? Bernie Sanders showed off both his organizational strength and personal stamina during a marathon of parades over the 4th of July holiday in Iowa. While nine other candidates criss-crossed the state this week, the 77-year-old Sanders certainly had them beat on distance traveled – by foot, that is. Sanders spent three days in Iowa this week, hosting an immigration roundtable discussion, opening three new campaign offices and walking in five parades – four of them on the 4th of July alone. The immigration roundtable saw a max-capacity crowd, and Sanders' crew at each of the parades grew ever larger. During the parades, many of the local party organizations had one group for their Democrats coalition, but Sanders and his group walked separately. Some people with the local parties criticized the move, while others said it was the respectful thing to do with the Sanders groups being so large." • Hmm.

Sanders (D)(2): "Where is Bernie's climate plan?" [Grist]. "Climate activists aren't questioning Sanders' commitment, but some have begun to question whether he is leading on the issue in the 2020 race."

Trump (R)(1): "The Daily 202: 'Do not write him off.' Five savvy observations about Trump from the British ambassador's cables." [WaPo]. "But, perhaps presciently, [Sir Kim Darroch, the British ambassador to the United States whose diplomatic cables leaked to a London tabloid this weekend,] told the British national security adviser that he 'wouldn't bet' on the president's downfall. 'Trump has been mired in scandal pretty much all his life and has come through it. He seems indestructible,' Darroch wrote. Last month, a senior British diplomat flew to Orlando to watch Trump formally kick off his reelection campaign. Based on that, Darroch explained to London that 'there is still a credible path for Trump – but so much rides on who the Democrats choose in July 2020.'" • Yes, Trump has form.
Stats Watch
There are no official statistics today.
"Facebook Doesn't Know If You're Psychotic" [Bloomberg]. "That reality is reassuring for our privacy, if disappointing for those wanting Facebook to deliver deep new insights into why people get sick. Even with some advanced big data techniques that scanned 20 million words, researchers didn't do much better than they would have using demographic data and guesswork. Also, remember: ." • Remarkable to see that last sentence in a business publication ("they").
"Electric scooters: not so eco-friendly after all?" [Agence France Presse]. "'As of today, it is impossible to say whether e-scooters are good or bad for the environment because we lack long-term statistics on life cycles,' said Denis Benita, a transportation engineer at Ademe." • Certainly not if people throw them up in trees!
Rapture Index: Closes up one on Earthquakes. "Southern California is hit by the strongest quake in 25 years" [Rapture Ready]. Record High, October 10, 2016: 189. Current: 183. Remember that bringing on the rapture is a good thing.
The Biosphere
"Gas fears from mass of dead mangroves more than just hot air" [Brisbane Times]. "A huge area of mangrove forest on the Gulf of Carpentaria coast experienced a die-off in late 2015 and early 2016, affecting about 1000 kilometres of coastline…. [Southern Cross University researcher Luke Jeffrey] found an unexpected result: 'The dead trees were emitting about eight times the rate as the living ones,' Mr Jeffery said. 'You picture all these dead trees sitting in this sediment, the methane was travelling from the sediment up the dead trunks and being released.'"
"Scientists find carbon from thawing permafrost is released into the atmosphere at higher rates than previously thought" [Phys.org]. "New research from Northern Arizona University shows even more carbon is being released from thawed permafrost than climate scientists previously thought…. 'This study was novel because we used new methods to directly track the soil carbon losses, and they were much higher than we previously thought,' Schuur said. 'This suggests that not only is carbon being lost through greenhouse gases directly to the atmosphere but also dissolved in waters that flow through the soil and likely carried carbon into streams, leaves and rivers.'"
"Analysis: Major update to ocean-heat record could shrink 1.5C carbon budget" [Carbon Brief]. "The UK's Met Office recently released "HadSST4″, the largest update since 2011 to its widely used sea surface temperature (SST) record…. The corrections introduced in HadSST4 bump up ocean temperatures by around 0.1C during the past few decades." • Fascinating discussion of the various methods used to take readings: Wooden buckets, canvas buckets, engine room intakes… Regardless, the trends are clear.
"The California coast is disappearing under the rising sea. Our choices are grim" [Los Angeles Times]. "In the last 100 years, the sea rose less than 9 inches in California. By the end of this century, the surge could be greater than 9 feet…. Should California become one long wall of concrete against the ocean? Will there still be sandy beaches or surf breaks to cherish in the future, oceanfront homes left to dream about? More than $150 billion in property could be at risk of flooding by 2100 — the economic damage far more devastating than the state's worst earthquakes and wildfires. Salt marshes, home to shorebirds and endangered species, face extinction. In Southern California alone, two-thirds of beaches could vanish."
"Welfare of Fish—No Longer the Elephant in the Room" [Fishes]. "The concept of fish welfare is fairly recent and was overlooked for many years, based on a popular misconception that fish were 'stupid' creatures devoid of any kind of sentience or mental capability. However, a growing body of research on fish behaviour, cognition, learning and neuroscience made clear that this is evidently not the case—fish are indeed socially complex, have developed cognitive and learning abilities with the neural substrate to support them and are sentient… These two studies emphasize a correlation that should be clear for the fish industry: when the welfare of animals is improved, both the quality of the product and its value increase—a rare case when the interest of the industry and the ethical standards underlying its activity walk hand in hand." • Hmm. "Product quality."
"Black Resistance in Louisiana's Cancer Alley" [Boston Review]. "My friends, Janice Dickerson and Vivian Chiphe, were up against Axiall Chemical, one of the largest vinyl manufacturing facilities in North America. , where Dickerson's and Chiphe's forebears, some of whom had worked the land beneath the plant as slaves, were buried…. Why does a tiny cemetery plot matter to Axiall? The company is worth billions; it is a Leviathan in no danger of shuttering if it cannot own a half-acre parcel of grass and bones. And yet here we were, three years into the legal battle and staring down a team of six corporate lawyers fighting for a company that wanted to own Revilletown's dead—the most recent of whom it may have had a hand in killing with its years of pollution. Why?" • A cemetary!
Our Famously Free Press
"The death of the political cartoon" [Al Jazeera]. "According to Terry Anderson, Deputy Executive Director of Cartoonists Rights Network International, which monitors threats and abuses against cartoonists, since 1999 over a hundred cartoonists have been victims of 'murder, assault, kidnapping, physical intimidation, imprisonment, arrest, travel bans, police harassment, politically motivated lawsuits, freezing or seizure of assets, vandalism, cyber attack, online harassment, blacklisting and bullying.'"
Health Care
"How to Straighten Out the Medicare Maze" [New York Times]. "As parents of a child with a disability caused by a rare genetic syndrome, we've wasted hundreds of hours sorting out enrollment choices, completing unending forms and engaging in maddeningly repetitious conversations, all to ensure that our daughter receives the care she needs and that we don't get stuck with financially devastating bills. While many other Americans continue to struggle with these problems, ours have mostly disappeared because we are spending the year in Britain. In its National Health Service, we found a system that did not demand an expertise in navigating bureaucracies. After , we enrolled our daughter. Within two days she had an appointment and a filled prescription for medication, which was free. We had anticipated the financial relief that can come from a single-payer system, but not the administrative relief. It had never occurred to us that it could be so different." • Yes, #MedicareForAll should make the "tax on time" that private health insurers demand part of their case. And you pay the tax when you're sick!
Loss aversion:
VP Biden defended "employer-based insurance" because "a lot of unions broke their neck to get it." But isn't that precisely the problem! American workers should not have to break their necks to get healthcare. With M4A, unions can to focus on more pay, not basic healthcare.

— Ro Khanna (@RoKhanna) July 5, 2019
"A Tennessee Hospital Sues Its Own Employees When They Can't Pay Their Medical Bills" [National Public Radio]. "But what is striking at Methodist, the largest hospital system in the Memphis region, is how many of the patients being sued are the hospital's own employees. Hardly a week goes by in which Methodist workers aren't on the court docket fighting debt lawsuits filed by their employer. Between January and mid-June, a reporter observed more than a dozen Methodist employees in court to defend themselves in suits brought by the hospital over hospital bills." • The circle of life…
July 4
First time as farce:
today is the 7th anniversary of san diego accidentally setting off their entire show at the same time, resulting in the funniest and most efficient fireworks show ever

(CAUTION: LOUD ?) pic.twitter.com/4qJ2h63HFy

— tiger swan lady (@mrs_hippiequeen) July 4, 2019
Second time as farce:
This Fourth of July display in Kyle, Texas, was already supposed to be the largest fireworks show in city history — and then a malfunction caused numerous fireworks to go off at once https://t.co/sVJiAyLEpa pic.twitter.com/P409hpZqv2

— CNN (@CNN) July 6, 2019
Class Warfare
"Progressive Boomers Are Making It Impossible For Cities To Fix The Housing Crisis" [HuffPo]. The headline leaves out the "wealthy enclave" part. More: "Rowdy public hearings are nothing new in city politics, of course. But campaigners and elected officials told HuffPost that the nature of local opposition has changed in recent years. Where protest movements and civil disobedience were once primarily the tools of the marginalized, they have now become a weapon of privilege — a way for older, wealthier, mostly white homeowners to drown out and intimidate anyone who challenges their hegemony. 'Most of the abuse I got came from older suburban or retired folks, and always from people who considered themselves progressive,' said Rob Johnson, a Seattle City Council member who retired in April after three years in office. During his tenure, he supported proposals to increase housing density, expand public transit and establish safe use sites for drug addicts. Despite representing a constituency with bright-blue voting records on immigration, reproductive rights and LGBTQ equality, Johnson's progressive positions on local issues provoked a large and organized backlash. In 2017, after supporting a plan to install bike lanes on a major thoroughfare, Johnson received a death threat on social media. Opponents posted his home address on Nextdoor. Eventually, he stopped visiting local businesses and even skipped events at his children's school to avoid the increasingly frequent confrontations with other parents." • I'm really coming to hate that "blue" branding. Most of the issues that come under that heading are non-profit industrial complex-driven, and NGOs aren't the same as the Party (or are they?).
"Gee Whiz! Communism is sure gonna be keen!" [Monthly Review]. A review of Aaron Bastani's Fully Automated Luxury Communism. Love the title, but: "Bastani repeats the oft-told story of the 'Horse Manure Crisis' that 'struck fear into the hearts of Londoners' in 1894. There were so many horses in the city that, The Times calculated, 'In fifty years, every street in London will be buried under nine feet of manure." An urban studies conference held four years later found the problem insoluble—but of course it disappeared when automobiles replaced horses a few years later…. [T]he Horse Manure Crisis is a myth. The article he confidently quotes was never published in The Times or anywhere else, and that urban studies conference didn't happen. The Times itself says the story is 'fake news.' A simple internet search would have shown him that the anecdote and his conclusion are, well, horse manure." • The nice thing about bullshit is that there are no physical constraints on it. It doesn't pile up, unlike manure.
News of the Wired
"Map Of Other History Podcasts" [Timur]. "Other," because Timur is itself a history podcast, on Tamerlane. The map isn't clickable, but the list is intriguing.
"Australian message sticks: Old questions, new directions" [Journal of Material Culture]. From the abstract: "Message sticks are tools of graphic communication, once used across the Australian continent. While their styles vary, a typical message stick is a flattened or cylindrical length of wood with motifs engraved on all sides. Carried by special messengers over long distances, their motifs were intended to complement a verbally produced communication such as an invitation, a declaration of war, or news of a death."
There's a lot of this going around (DK):
Driving home tonight from the lake and saw this: pic.twitter.com/yJfsMN2OzC

— Jered Bare (@jeredbare) July 5, 2019
"How to speak Silicon Valley: 53 essential tech-bro terms explained" [Guardian]. This is a really great glossary. For example: "disrupt (v) – To create a new market, either by inventing something completely new (ie the personal computer, the smartphone) or by ignoring the rules of an old market. If the latter, often illegal, but rarely prosecuted. Uber disrupted the taxi industry by flooding the market with illegal cabs, while Airbnb disrupted the hotel market by flooding the market with illegal sublets. See sharing economy." • They're not wrong, are they?
* * *
Readers, feel free to contact me at lambert [UNDERSCORE] strether [DOT] corrente [AT] yahoo [DOT] com, with (a) links, and even better (b) sources I should curate regularly, (c) how to send me a check if you are allergic to PayPal, and (d) to find out how to send me images of plants. Vegetables are fine! Fungi are deemed to be honorary plants! If you want your handle to appear as a credit, please place it at the start of your mail in parentheses: (thus). Otherwise, I will anonymize by using your initials. See the previous Water Cooler (with plant) here. Today's plant (IM):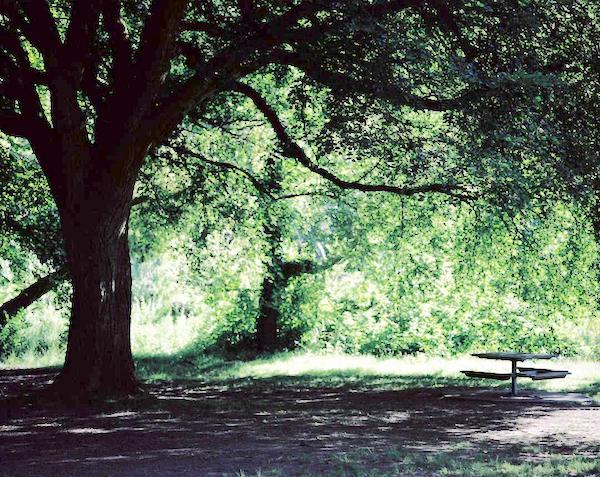 IM writes: "There is a line in Marvell: 'Annihilating all that's made / to a green thought in a green shade.' The season of green shade is upon us again. From Jericho Beach, Vancouver."
* * *
Readers: Water Cooler is a standalone entity not covered by the annual NC fundraiser. So do feel free to make a contribution today or any day. Here is why: Regular positive feedback both makes me feel good and lets me know I'm on the right track with coverage. When I get no donations for five or ten days I get worried. More tangibly, a constant trickle of small donations helps me with expenses, and I factor in that trickle when setting fundraising goals. So if you see something you especially appreciate, do feel free to click this donate button:
Here is the screen that will appear, which I have helpfully annotated.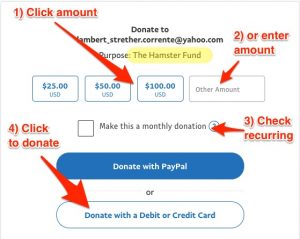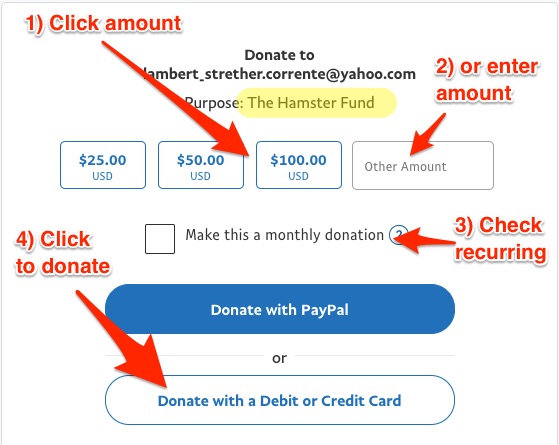 If you hate PayPal, you can email me at lambert [UNDERSCORE] strether [DOT] corrente [AT] yahoo [DOT] com, and I will give you directions on how to send a check. Thank you!