As much as we enjoy mining the seemingly bottomless vein of misconduct at  CalPERS, we feel compelled to commemorate an incident from last week's offsite because it so deeply offended the people who saw it live — many of them CalPERS beneficiaries who are retired after decades of honorable government service.
This incident, of General Counsel Matt Jacobs literally draping himself over CEO Marcie Frost's shoulders for a long tete-a-tete, was a cut-and-dried violation of CalPERS' Harassment, Discrimination, and Retaliation Prevention Policy. It epitomizes CalPERS' hypocritical and two-faced posture toward board members and senior staff, by which members of the power faction are never held to account or even criticized. By contrast, those who are seeking to clean up CalPERS' misconduct and incompetence are often severely sanctioned, in ways designed to interfere with the performance of their fiduciary duties.1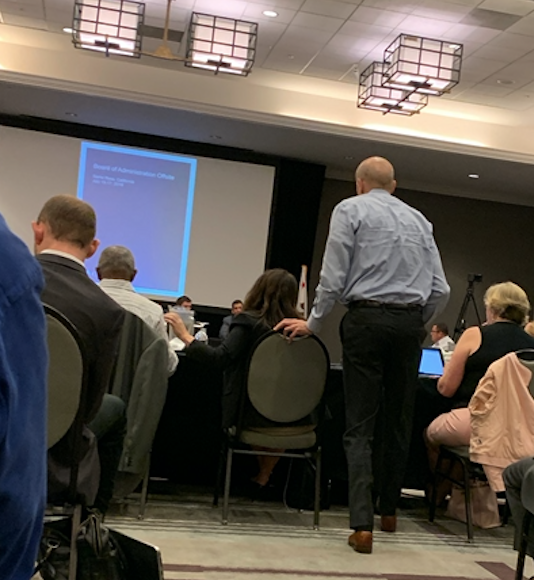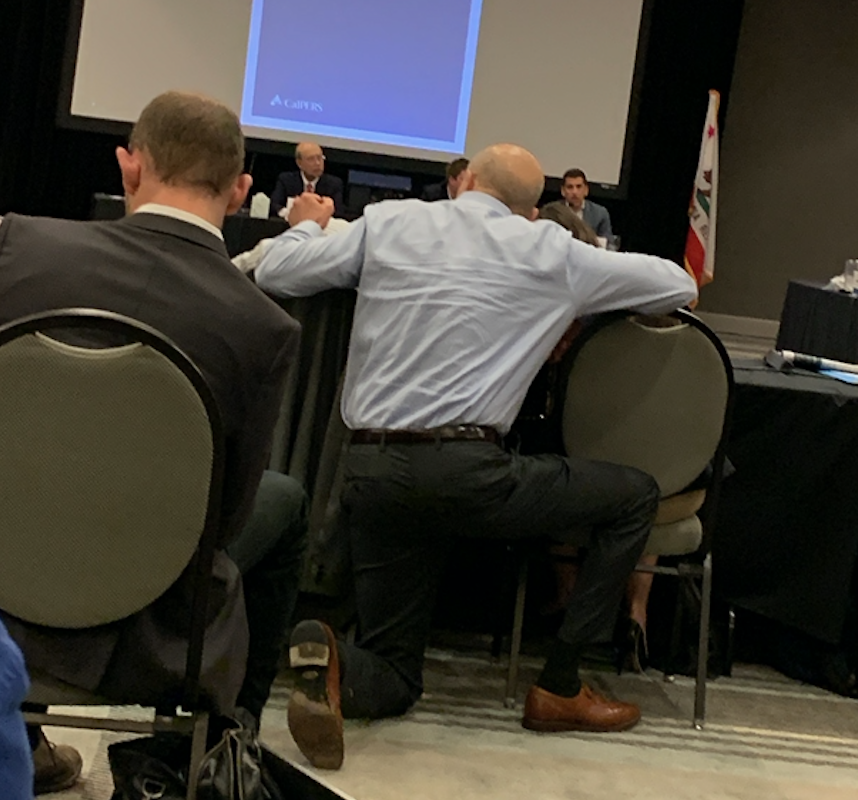 This misconduct was highly visible to everyone at the offsite on the Monday of the offsite, July 15. If you look at the YouTube videos of the event, the "grownup" tables were arrayed in a U shape, with the screen and the guest speakers seated on the open portion of the U. Frost and Board President Henry Jones were seated opposite the screen and speakers, with the audience seated in rows behind them. So an estimated 20 CalPERS employees plus beneficiaries and other participants were staring straight at this display.
Reports from a half dozen independent sources show that these witnesses were appalled. In fact, the degree of upset was what led one observer to take the pictures above, noting:
Matt ❤️ Marcie.  CalPERS Santa Rosa off-site.  I was a little slow with my camera, so I missed the minutes-long embrace from the other side — because I couldn't believe that this was actually happening.

I was sitting with a woman from XXX and a woman from YYY who both attend SCORE. There was a third woman who I had just met that day who was a [former government job]. They were freaking-out.

It started looking like a casual huddle to whisper, but it lingered on-and-on to the point that the women were saying, "Somebody take a picture, this is completely inappropriate!"  Jacobs had draped himself over both of Frost's shoulders with his left arm, his hand casually cupping one of them.  I couldn't tell if it was a "power move" to dominate her or if there was some sort of creepy mutual cuddle-thing going on, because I couldn't see their faces.

He's huge and she's tiny; which made the whole incident even creepier from the peanut gallery. Just a horrible "look" smack in front of a group of retired female shop-stewards. There's also still a soupçon of salaciousness.
Other reactions, each from additional sources:
Audience Member 1: Attorney Mr Jacobs went to CEO Ms. Marcie Frost and proceeded to put his arm around her shoulders to have a private conversation, he then went to board President Mr. Jones and CEO Ms. Frost and repeated this act from the other side. During this interaction the previously mentioned board member [Theresa Taylor] glanced at this interaction and said nothing.

I found the interaction as unacceptable staff interaction and the non action of the board member as conflicting…Persons seated near me commented that the interaction appeared to be inappropriate contact between supervisor and subordinate.

Audience Member 2: His behavior was unsettling. I don't know if he was being controlling or sexual towards little Marcie but it was unprofessional at best and sexual at worst.

Audience Member 3: It wasn't appropriate For a staff member and his boss. It was sexual harassment.

Audience Member 4: It was gross. It looked like it could have been sexual but I doubt that. It reminded me more of a big dog we had. He'd put his paw on other dogs to show he was the boss.
It is noteworthy that most of the individuals above were older women. Generally speaking, older women grew up in an era where sexual banter and flirting in the workplace were seen as acceptable within bounds. The fact that women of this age group were deeply disturbed suggests that young women would have been even more upset. But as the last comment made explicit, they were disturbed by the power dynamic. By putting his hands on Frost and keeping them there, Jacobs was making a big and very public display of his dominance.
One male observer spent a lot of energy wondering whether Jacobs could have executed his move without brushing against Frost's breasts. This is not how you want the public to think about the head of a $360 billion fund.
Yet another observer speculated that perhaps Frost had gotten some bad news and Jacobs was trying to comfort her. One of the audience members in close range pooh-poohed that idea:
The body language was not consoling. It was conspiratorial. The female retirees in the seating area were appalled by the appearance being given off. Frost cynically projects sexual vulnerability in order to manipulate, while Jacobs bullies through physical intimidation. Not a good look, but readily apparent to the retirees.

I question whether Jacobs is Frost's de facto subordinate. Jacobs was engaging in a domineering and paternalistic behavior toward both Frost and Jones. This was my take-away from the interaction.
According to CalPERS written policy, Jacobs' conduct is clearly verboten and grounds for investigation and punishment:
CalPERS has zero tolerance for harassment and discrimination of any kind based on any protected characteristic. CalPERS expects its managers and supervisors to vigorously and visibly promote a harassment-free and discrimination-free work environment and expects its employees to read, understand and comply with this policy…

Common Forms of Prohibited Conduct

Unlawful harassment for the purposes of this policy includes, but is not limited to, the following….

• Physical touching or assault, as well as impeding or blocking movements….

All such conduct violates this policy and is unacceptable in the workplace and in any work-related settings, such as business trips and business-related social functions.
Moreover, as multiple CalPERS insiders pointed out, the standard is understood to be not simply if the conduct is unwelcome by the recipient, but if it makes the people who saw the conduct uncomfortable. One can imagine a superior and a subordinate openly having a consensual affair. Even though displays of affection would be consensual and even welcomed by the subordinated, they would send an inappropriate message that sexualized conduct in the office is OK and would also remind co-workers that the couple don't have an arm's length professional relationship. That makes it all too obvious that the boss is likely to favor his lover.
As a consequence, the policy obligates employees to report conduct that they think may be violations of policy. Specifically:
Employee Responsibilities

All employees are responsible for ensuring that violations of this policy do not occur by:..

• Reporting conduct that they reasonably believe violates this policy…

Manager and Supervisor Responsibilities

Managers and supervisors must take affirmative steps in regard to conduct that violates this policy. When managers and supervisors obtain information indicating that a violation of this policy may have occurred, even if not directly within their line of supervision or responsibility, they have an affirmative obligation to immediately inform their manager or supervisor immediately and concurrently report the matter to the EEO Officer, so CalPERS can try to resolve the claim internally.

Important! Failure to promptly report perceived violations of this policy may subject a manager or supervisor to disciplinary action
Here, the photo plus multiple eye-witness accounts is unambiguous evidence that Jacobs did violate the policy. Marcie Frost herself is therefore obligated to sanction Jacobs under the "zero tolerance" policy terms.
But we can also see from the section above that the policy is designed for selective enforcement. Reporting a violation by a boss, even to an "EEO officer" is career suicide if the object of the complaint is a direct report to the CEO and therefore senior to the EEO officer or otherwise in an influential position.
If CalPERS wanted to look half-way serious, it would have an external hot line with the complaints investigated by a more-neutral-looking party, such as an outside law firm. Of course, with Jacobs sitting atop all compliance functions, there's no such thing as an independent investigation.
But there is an important lesson in what on the surface seems to be merely yet another eye-rolling example of how CalPERS executives do the institution and themselves harm by acting as if they are above the law and good governance standards.
This incident proves that when CalPERS waves the "harassment" bloody flag, it's a joke. The entire point of a policy with overreaching grounds for deeming an individual as a harasser and toothless enforcement (the "so CalPERS can try to resolve the complaint internally" says it all) is to pick and choose who gets charged. Those who have become inconvenient or demanding are accused on thin, subjective grounds, while the true members of protected classes, like Matt Jacobs, get away scot free.
_____
1 This is not an exaggeration. Readers may recall that then new board member Margaret Brown was sanctioned because a friend who was helping her perform CalPERS duties also, without Brown's knowledge, scanned a few documents on a copier on CalPERS' premises and e-mailed them to herself. Note that this involved no cost to beneficiaries or the state. CalPERS board president Priya Mathur denied Brown access to the CalPERS building by having her access card turned off, which resulted in Brown missing a board closed session. Brown was also denied access to her office for two months, preventing her from accessing board information such as closed session transcripts, documents on closed session agenda items, and official e-mails. Not only did this prevent Brown from meeting outside parties, but it also made it impossible for Brown to access records important for her to perform her duties as a fiduciary and an elected state officer.