Deutsche Bank has been the poster child for how long a sick but ginormous bank can be allowed to limp along.
As we wrote in March:
That does not excuse Deutsche Bank having long been spectacularly mismanaged. It's been operating under what amounts to regulatory forbearance since the crisis, with capital levels way way below any other big international bank. But Deutsche is the classic "too big to fail" bank. Whether it is too big to bail is debatable, but the EU's new Banking Recovery and Resolution Directive, which banking experts almost to a person declared to be a horrorshow, was supposed to end bailouts and force bail ins….refusing to recognize that that's a prescription for bank runs. And even though Deutsche is very much the German government's problem, as readers no doubt have figured out, German politicians hate fiscal spending and stealth monetization of spending. So until there is a crisis to force their hands, they are allergic to providing official support to Deutsche.
The last desperate effort to shore up the clearly listing Deutsche was the idea of merger with wobbly Commerzbank. The scheme was met with remarkably open skepticism, including from nearly all of Deutsche's big shareholders.
After those talks failed, Deutsche was back to Plan A, of year another restructuring, but one intended to be big enough to have a hope of getting the bank on the right path. Deutsche had already been through a series of "Yes we are really gonna fix this garbage barge" plans over the years, which did not satisfy Mr. Market. One analyst pegged Deutsche's market cap at a mere 1/5 of its book value before the restructuring was announced, reflecting considerable skepticism over the value of the bank's assets.
On Sunday, Deutsche announced its program, The cornerstone is moving significant operations and the related assets, including its global equities sales and trading, into a "bad bank" to be liquidated over time.
Key elements of the plan include:
Sequestering €288 billion of assets (€74 billion risk-weighted assets) in the "bad bank"; the language used by Deutsche hinted that this number could grow

Shutting down global equities sales and trading; the bank says it will still provide underwriting to corporate clients, but it's hard to see how it will be competitive given the lack of distribution and much (any) research support1

Eliminating 18,000 jobs by 2022 out of a workforce of 91,000 and recognizing €7.4 billion in "restructuring charges" over time, starting with €3 billion in the quarter just ended

Halting dividends for 2019 and 2020
The official story, per the Financial Times:
The axe will fall hardest on the investment bank, where the balance sheet allocated to trading will be slashed by 40 per cent. Job cuts will start first thing on Monday morning in London and New York, and three top executives have been replaced….

The new strategy signals a retreat from Deutsche's global ambitions and its aim to be Europe's main rival to Goldman Sachs. One year ahead of Deutsche's 150th anniversary, [CEO] Mr [Christian] Sewing is refocusing the lender on its historic foundations — financing German and European corporate clients and domestic retail banking….

Deutsche has also struck an agreement with regulators to gain more breathing space on its minimum common equity tier one ratio, the most important measure of balance sheet strength.
Mind you, Deutsche's capital isn't its only asset under stress. From the Guardian:
Deutsche Bank has suffered multiple blows to its reputation over the past year, having failed US bank stress tests, suffered downgrades to its investment grade ratings, and had its offices raided by German police in November as part of a money-laundering investigation linked to the Panama Papers revelations.

Following the raid, the bank said that it had "no concrete evidence that would support the allegations against us or any of our employees".

The bank has also paid billions in fines and settlements relating to behaviour before and after the global financial crisis, including a $7.2bn settlement in 2017 with the US Justice Department over the sale of bonds based on mortgages to people with unreliable credit.
Far too many institutions have failed or been forced into major retreat in trying to become a global capital markets player. The problem is that the minimum scale to be competitive is high and includes having equities and fixed income trading operations (including all of the back office, information and IT support) in major financial centers around the world. That means high fixed costs (yes, they are variabilized to some degree by having a large bonus component to compensation, but the nut is still large). If you are an aspirant, you have say 50% to 60% of the revenues of a Goldman….and have to have at least 80% of the infrastructure. So the wanna-bes often wind up taking on risk to try to boost their profits so they can bulk up faster. But we can see how that movie ended with Bear Stearns and Lehman, who both bet on risky real estate as the way to close the gap with industry leaders, or Eurobanks who placed big CDO and derivatives business bets on top of exposures to frothy residential real estate markets.
Deutsche started far too late down the path of trying to become an investment bank, and on top of that was extremely inept in how it went about it.
Deutsche bought Morgan Grenfell, a well-regarded but not particularly large UK merchant bank, in 1990, but let it operate autonomously until 1995. By contrast, Citibank and JP Morgan had been trying to turn themselves into investment banks since the early 1980s. Credit Suisse acquired a large stake in bulge bracket investment bank First Boston in 1988 and completed the takeover in 1992. Swiss Bank bought the Chicago options trading firm O'Connor & Associates in 1992, with the intent that the transaction would be the vehicle for turning Swiss Bank into an investment bank.2
In 1999, Deutsche acquired Bankers Trust, which had fallen greatly from its status earlier in the decade as one of the two top derivatives traders. Procter & Gamble had sued Bankers over derivative losses, and recordings the bank handed over in discovery revealed Bankers sales personnel gloating about how they ripped off their chump customers. Deutsche acquired Bankers after a second scandal, when New York State caught it keeping escheated funds.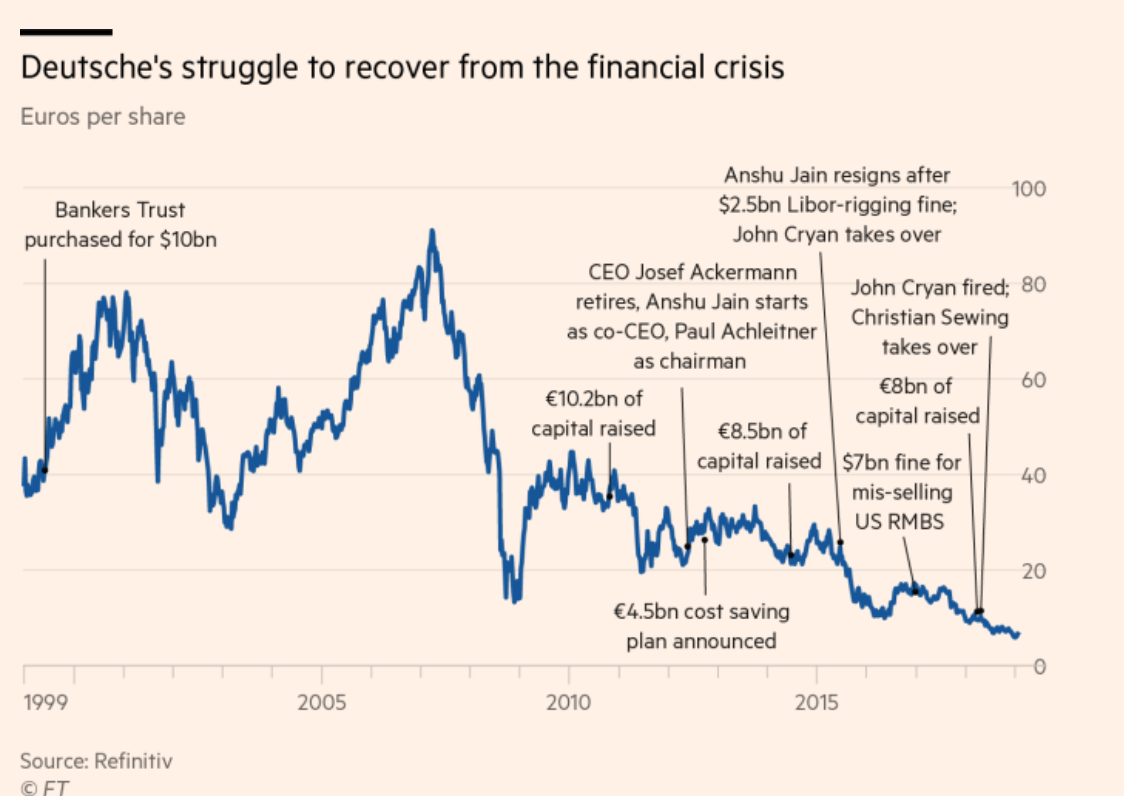 In other words, it was hard to fathom what Deutsche thought it could possibly be getting from this deal.
To make a bad situation worse, Deutsche was known even back then to have disastrously-behind-the-state-of-the-art IT. And it didn't get any better with time. A colleague who'd worked for Deutsche in a compliance role for a couple of years in the early 2000s was interviewing with the bank again in 2015. A rough recap of what the Deutsche staffers said: "You remember how things were when you worked here. Nothing has changed."
Further confirmation from a 2018 article, Inside Deutsche Bank's "dysfunctional" IT division
So, COO Kim Hammonds is leaving Deutsche Bank. Less than a month after describing Deutsche as, "vastly complex," the, "most dysfunctional place she's ever worked," and in the middle of a, "difficult transformation," Hammonds has left, "by mutual agreement with the supervisory board." She was, "a breath of fresh air," according to the chairman. In some ways, however, Hammonds does not seem to have been fresh enough.

Hammonds' key task at Deutsche Bank was to streamline the bank's unwieldy array of operating systems. When now ex-CEO John Cryan presented his "Strategy 2020" plan in October 2015, he expressed his intention of eliminating 6,000 Deutsche Bank contractors and cutting the bank's operating systems from 45 to four. Two and a half years later, Deutsche still has 32 different operating systems, and the contractors we spoke to complained that the bank has become "toxic" to work for.
Other regulators have been more bloody-minded in dealing with Eurobanks who got themselves in hot water thanks to chasing investment banking dreams and pay packages. After costly bailouts, Swiss regulators forced Credit Suisse and UBS to abandon their sizable investment banking and derivatives operations and retreat to being traditional Swiss banks.
It remains to be seen as to whether the Deutsche Bank makeover can turn the bank around. It's very difficult to fix systems and a bad culture while also trying to plug financial holes. It at least recognizes it has a problem. Again from the Financial Times:
Deutsche also said it would invest another €4bn in improving its controls, combining its risk, compliance and anti-financial crime functions after a string of high-profile failings, including processing as much as €160bn of potentially suspicious transactions for Danske Bank's Estonian unit, and helping to launder $10bn in dirty money out of Russia.
Unfortunately, the odds are not on Deutsche's side, and not just due to its sorry history. In most countries, retail banks can at least benefit from being able to amass deposits cheaply. This isn't the case for Deutsche (or Commerzbank), which faces competition from players that aren't as mercenary. Germany's Landesbanken have government backing and their Sparkasse purportedly are not profit oriented.
The less-badly-managed SocGen went through a similar exercise, ring fencing and selling troubled assets. Even so, costs are allegedly still too high in the shrunken remainder.
It's hard to see how Deutsche pulls out of its nosedive. Hoisted from the Financial Times comments section:
This is more like the next step of a shutdown of DB than the rebirth of the company.

Fact #1 – the new DB is still way behind the competition on even it's 'strong' businesses.

Fact #2 – it has less firepower to invest that it's competition so is not ever likely to catch up with them.

Fact #3 – it's competition are more concerned about the disruptive forces of technology, virtual banks etc to care about this creaking monstrosity that is continually cutting itself to oblivion.

Game over DB (but congrats on stringing it out a few more years).
Having said that, banks of even the newer, smaller Deutsche Bank's size pretty much never fail because regulators do not like taking them over. They are not just too hard to manage, but they are also too hard to unload. When the comparatively simple Continental Illinois failed in 1984 (it was then the fourth largest bank in the US), it took the government seven years to exit its ownership.
So if Deutsche Bank continues to founder, the next chapter might be to break up the bank into (theoretically) more manageable pieces which then down the road wind up in stronger hands. So shutdown isn't likely but a slow butchering is. Will German egos be satisfied if the Deutsche name is kept alive, say on a reasonably-sized retail branch network?
_____
1 Commercial and investment banks often can twist the arms of close corporate clients and get themselves included in the well-paid and not-much-work role of being a co-manager of an underwriting.
2 Swiss Bank took the radical step of putting some former O'Connor partners on its board.