The Financial Times has done a lot of important reporting on Brexit, such as being early to warn of the utter lack of customs IT systems preparedness (Customs was almost certain to be getting an inadequate upgrade planned before Brexit in place late) and on the number of agreements the UK would need to renegotiate. But it would also run the occasional too-obviously-planted story, such as ones that took the City's demands way too seriously.
Today the Financial Times published a supposedly important story (a "Big Read") on the impact of a Brexit crashout that was stunningly uninformative. Any two posts on Richard North's blog would be more educational.
It may be that the authors were trying to say something new and the piece didn't come together well by deadline. But it gives the impression that the analysis, such as it is, was poorly framed so as to make the impact seem less bad and to give near-equal play to harm suffered by the EU.
Having said that, it does have an important chart near the top: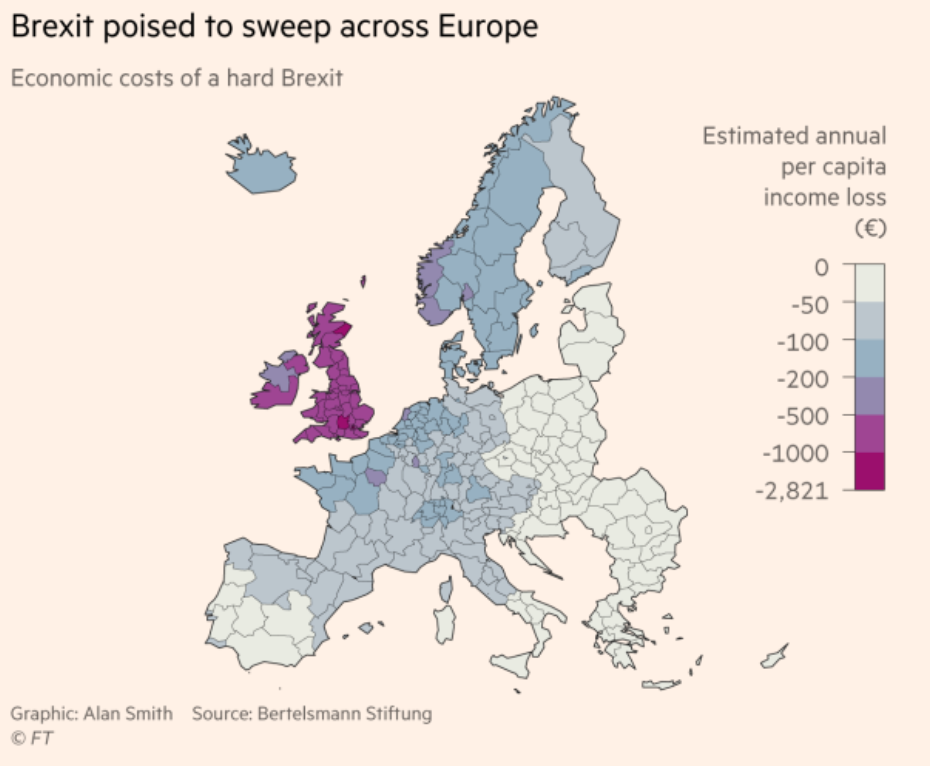 But then it breathlessly promises to tell readers where "the biggest impacts" from a crash out might be, and comes up with an apples and stinky fruit set of categories:
Data flows
Financial services
Customs
Transport
Fisheries
Huh? These aren't commensurable.
Two, financial services and transport, are industry sectors, so for instance, transport includes airlines, Eurostar, and truckers. Fisheries is just one industry. The impact of data flows and customs cuts across many industries, and this short article does not do a great job of parsing that out. By contrast, Richard North has done many deep dives on how the imposition of a hard border between the EU and UK will affect documentation requirements, compliance, and other controls. For instance, North anticipates that a hard Brexit would wipe out the UK live animal shipment business. Herds would be slaughtered because animals once destined for export could not be sold due to the double whammy of tariffs and non-tariff trade barriers, meaning no longer being in compliance with EU regs by virtue of being outside the EU (and not having replacement mechanisms in place). On top of that, North anticipates that these farmers won't even be able to sell in the UK after they've thinned their herds. The UK will almost certainly eliminate tariffs on food imports, which would make these farmers uncompetitive.
The piece reaches conclusions for each item, in order:
VERDICT: Both the UK and the EU face equal damage.

VERDICT: A key part of UK economy faces significant disruption.

VERDICT: The UK is likely to be disproportionately hit by disruption.

VERDICT: Both sides will face temporary disruption.

VERDICT: EU stands to lose more than UK.
It looks like the list was constructed to create the impression that the two sides would suffer similar levels of damage, while conceding the UK will take the worse hit. But come on. The EU is not going to have to worry about food shortages. The EU is not going to have to worry about manufacturers that are party of global supply chains see their non-UK-end-market business stripped from them over time. And US and EU firms will try to take advantage of the hit to the City. Even if UK firms hold their own, the cost will still be loss of UK-based activity.
The section on data flows is so vague on what the practical impact on particular businesses would be so as to make the problem sound trumped up, particularly since Silicon Valley ignores rules and boundaries until a big regulator tries to hit key players between the eyes with a two by four….which usually turns out to be more like a ruler. No one has been willing to impose fines big enough to make the law-breakers scream "uncle".
Maybe Clive can translate but despite the apparent illegality of post-crashout data transfers, I don't see a mechanism by which the officialdom readily finds out about misconduct, much the less intervenes. And it appears the issue is personal data privacy. Can't firms get waivers from customers?
Vast volumes of personal digital data from EU and UK citizens are transferred by businesses and public sector bodies across the English Channel every day.

Under no-deal, the legality of these data flows will be under question, having an impact on businesses including tech groups, healthcare companies or any services that deal with EU customers. 

The disruption to data flows would be a significant barrier to trade and in the worst cases could force British companies to halt their European operations.

A system of contractual clauses offered by Brussels, allowing non-EU companies to carry out data transfers in compliance with European law, could offer a fallback….small and-medium sized enterprises have little awareness of what a hard Brexit means for them and the contingencies available. 

In the longer term, the UK says it wants to sign an agreement on data-flows with the EU that would effectively treat Britain as if it was still a member state….but Brussels officials have warned it could take "years" for it to be concluded.
In practice, one would assume that government-related data transfers would be held up unless it suited the EU to give interim relief. Elsewhere, query how the EU would find the point of entry to intervene.
Other parts have me again scratching my head. For instance, the comparatively cheery section on transport ignore draft EU ownership rules that could give some important UK carriers real grief. From AirlineGeeks in February:
The measured proposed by EU officials in a draft law, involves European carriers requiring at least 50 pecent EU ownership and control in order to obtain or maintain full flying rights across the continent. This presents additional challenges for some of the region's most important airline groups to maintain operations within the EU bloc and will potentially require the forced sale of UK and non-EU owned shares from some operators to meet legislative measures.

EasyJet, on one hand, has been preparing for such scenario, by increasing EU ownership on UK registered EasyJet plc, which owns EasyJet's subsidiaries in Austria and Switzerland to meet European Union requirements on ownership and control. Up to now, 47 percent of EasyJet plc shares have already been transferred to European owners.

On the other hand, under its current ownership structure, only 25 percent of IAG's shareholders are from within the European Union, which is causing concerns amongst EU officials.

The parent company of British Airways and Iberia, presented a contingency plan late last year in case of a non-deal Brexit; which would involve individual airlines being domestically owned through trusts and companies in order to maintain operating rights in both the UK and the EU. Yet, this move has been questioned by authorities as it would maintain IAG's headquarters in London, with Iberia, Vueling and Level being based in Spain; raising further questions about the group's ownership structure post-Brexit.

To allow airlines time to find a way around this, EU officials have proposed a seven-month grace period for airlines to present a plan that complies with EU ownership legislation.
Some of this may have been resolved but if so, the press has been slow on updates.
And this bit is maddening:
UK truckers — the lifeblood of goods trade with the EU — will be granted temporary haulage rights to ensure "basic connectivity" to help minimise disruption and queues at ports like Calais. The measures will stay in place until the end of 2019 but restrict UK lorries to limited deliveries in the EU.
This completely misses the point that UK truckers do round trips into the EU carrying loads both ways. "Limited deliveries" will wreck their routes and their economics. And what will fill in? Plus "to the end of 2019" is hardly any time.
You get the picture.
Is the pink paper punting on tough Brexit talk? Its comment section has a surprisingly high representation of Brexit cheerleaders given its presumably high London/finance industry readership. Or was it just having a bad day?