The beached financial whale known as Deutsche Bank is going to find it awfully hard to get itself back into the drink, let alone find good feeding grounds. After a pop over the news that Deutsche was Doing Something Big, the stock skittered as the CEO Christian Sewing presented more details of the turnaround plan. As we'll discuss, it didn't help that the press was unusually skeptical, reflecting the lack of confidence in Deutsche's scheme among investors and experts.
The Wall Street Journal worked up this helpful chart: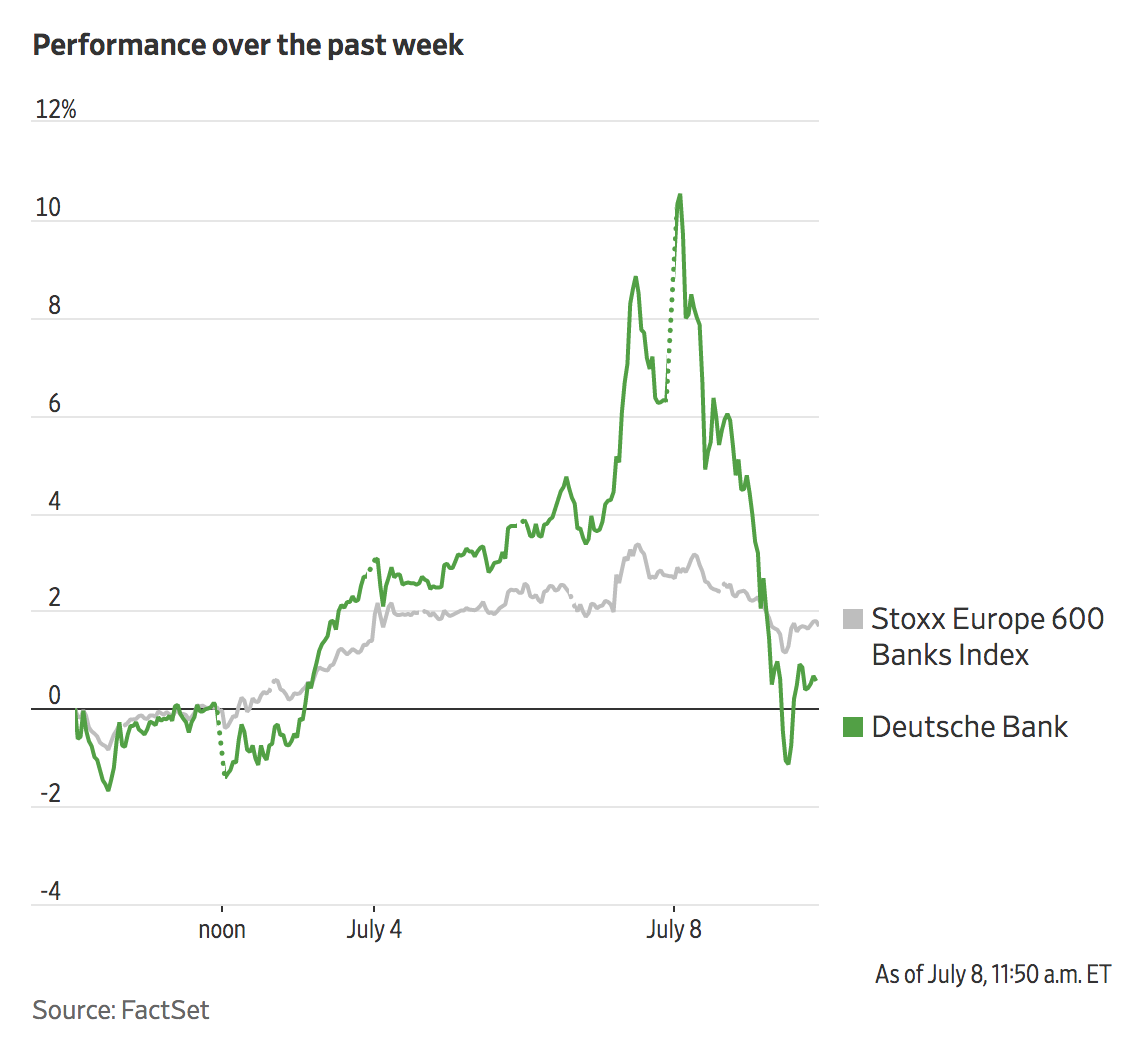 Stock prices matter more for sick concerns than for healthy ones1 since their access to credit is usually risky or costly, and if they need more capital or need to fund losses, they have nowhere to go but sell assets or sell new equity. In 2008, leveraged financial firms like the monolines went into death spirals due to the one-two punch of credit and equity funding becoming prohibitively expensive.
Mind you, we're not saying that Deutsche will come to that sort of end. A combination of zombification and amputations is more likely.
Nevertheless, shareholders, who were initially relieved that the German bank said it wouldn't need to raise new capital to implement its makeover, saw upon further inspection that those plans are awfully, erm, ambitious. Everything has to break Deutsche's way for the bank to claw its way back to mere so-so returns. It has not gone unnoticed that the estimated cost of the cleanup of the bad bank, €7.4 billion, is about half Deutsche's current market value, and Deutsche has also budgeted €13 billion for patching up its IT systems and another €4 billion on improving controls. As Clive put it yesterday, "So where is the inevitable capital needed to support the restructuring going to come from?"
The Financial Times published a long and unusually critical article Monday on Deutsche's restructuring plan, amplifying doubts that market participants expressed over the weekend about Deutsche's projected returns: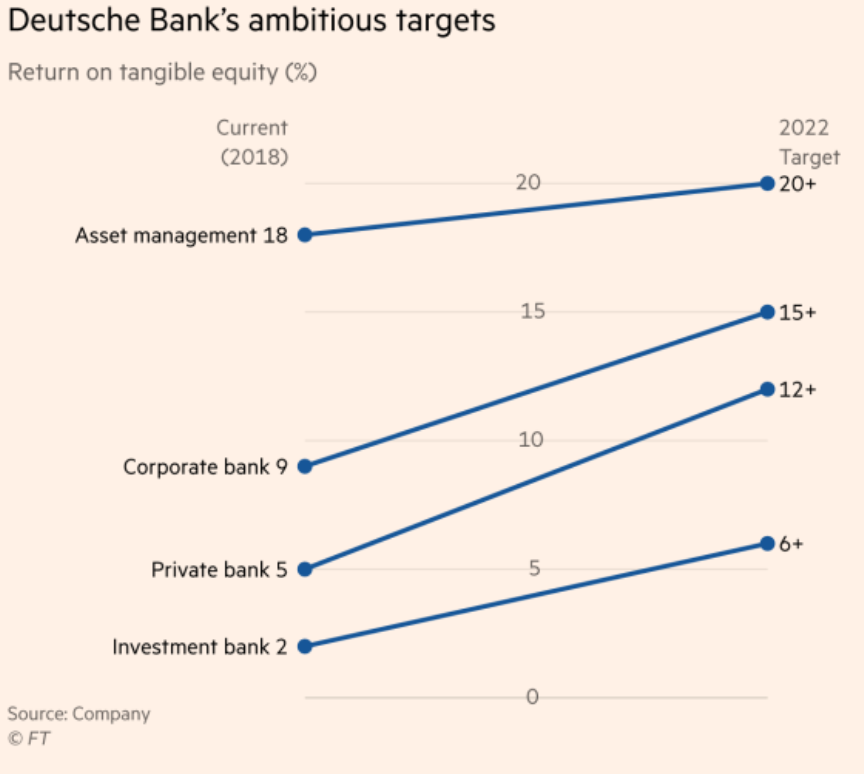 While it appears that most observers applaud Deutsche's decision to cut its investment banking operations, that doesn't mean that there's a good end game for the bank. Although "synergies" is a badly overused word, there really are a lot of them in investment banking. That costly corporate calling effort, for instance, is more effective the more relevant products you can offer to the target client. "Relevant" means both fit to the corporate customer's situation and the authority of the contact but is also a function of the bank's perceived competence in that product. The Financial Times account described some of these issues:
"Further client loss should be anticipated given a reduction in the 'full service' investment banking model," KBW analyst Thomas Hallett said, with clients likely to defect to competitors that offer a broader suite of products and expertise.

Without any equity sales or trading capacity, corporate clients and private equity groups could lose faith in Deutsche's equity capital markets unit — meaning it could miss out on the lucrative business of underwriting their share sales.

"There is nothing exciting about this plan . . . we worry about the ancillary impact on the client franchise," said a spokesman for one of the bank's top-10 investors. "If you're an asset manager you want to trade equities through the same bank as you trade fixed-income."….

In any case, significant revenue will disappear. KBW reckons the equities closure will result in €2bn of lost revenue, while a parallel slimming of the bond and rates trading means another €750m could go. That means Deutsche will need to find other ways to increase its core revenue by 10 per cent to the required €25bn to hit its 2022 targets.
For instance, we scratched our head yesterday about Deutsche's belief that it could exit equity sales and trading while still being able to do some equity underwriting. True, back in the old days, boutiques like Lazard could win some co-manager mandates solely based on the strength of their senior relationship. We had assumed that Deutsche was going to shutter its equity research (or scale it way down to any star analysts that might be important to German clients) since those analysts are a cost center that justify their existence via supporting new issues and the sales force.
But the Journal picked up on a worrisome tidbit. The German bank plans to keep equity research…for reasons that don't make a lot of sense:
It will also continue to produce equity research as a stand-alone product to sell to institutional investors even though it won't offer equities trading. The bank said equity and macroeconomic research would support its advisory work for companies looking to do deals or list their shares on stock markets in its remaining equity capital markets business.

"Deutsche has a good product, but it is pretty hard to make money from stand-alone equity research," said Daniel Davies, a managing director at Frontline Analysts, an outsourcing and training firm for financial analysts. "This may have been cooked up by a manager who doesn't understand the importance of being in the flow of equity trading when it comes to equity capital markets."
Ouch. This remark, hoisted from the Financial Times' comment section, gives further cause for pause:
Sunday Afternoon Three O Clock
Based on anecdotal evidence I'm concerned they're going cold turkey on traders with complex positions that should be winded down carefully.

I hope Deutche is not pulling a Metallgesellschaft on themselves…
It's also not a good sign that Deutsche was unable to defend its prime brokerage operation, a lucrative business in which it was once one of the top four players. From a March Bloomberg story:
The German firm's revenue from prime services declined for a third straight year in 2018, while rivals Morgan Stanley, Goldman Sachs Group Inc. and JPMorgan Chase & Co. all saw jumps, according to people with knowledge of the business….

The relationship forged by the prime brokerage divisions with hedge-fund clients can often be the lifeblood of banks' trading units. Deutsche Bank's decline in the business is symptomatic of the broader prolonged revenue slide that has left the firm struggling to improve profitability and discussing a merger with fellow beleaguered German lender Commerzbank AG.

Deutsche Bank built up its prime brokerage operations in the wake of the financial crisis by seizing on the weakness of its U.S. competitors. In recent years, that dynamic has flipped, with the bank losing customers concerned about its ability and willingness to devote capital to the unit. The firm's high funding costs and the risk of a credit-rating cut make lending through the prime brokerage less profitable…
On Monday, Sewing stressed it was going to prioritize corporate clients over investors like hedge funds. But all investors are not created equal. Again from the Journal:
That said, it has no plans to trim down its U.S.-focused business of creating and selling risky loans for private-equity backed companies, according to Mr. Sewing, despite widespread warnings from regulators and others of the growing risks in this market.
In the last crisis, banks who were stuck with unsold collateralized loan obligations from the pre-crisis private equity lending boom were rumored to be trading teeny amounts with each other and with friendly hedge funds to enable them to claim fictitiously high valuations. Regulators pretended this sort of thing wasn't happening due to how bad things were generally; CLOs were far from their biggest worry. The officialdom is much less likely to be forgiving in the event of bad-recession-level losses, as opposed to a full-blown crisis.
And there is also the wee problem of morale. From a Financial Times piece focusing on the firings:
The ripples were felt far wider than those losing their jobs immediately. In Singapore, an employee not directly affected by the cuts told the Financial Times: "The mood is always depressed in Deutsche. People know the bank is not doing well . . . It's not like a party."
But even giving Deutsche the benefit of the doubt, and positing that it leaders do a great job of execution, is there really an end game that makes sense? Europe is overbanked. Retail banking in Germany isn't terribly profitable, which means Deutshe lacks an obvious avenue of retreat. And as vlade pointed out yesterday:
DB's problem is that it's too large to serve only German corporates, but too small to do so if it shrinks too much (because those corporates are very much export looking, so you need a good global footprint. EUR was a big hit to bank's revenues in a way.. ). It also lacks the retail base of the French competitors, and is unlikely to be able to get it (it tried with PostBank, which was another debacle.. ).
In other words, Deutsche looks to lack a good business foundation. Even the best management, which Deutsche sorely lacks, would find it daunting to fix that.
_____
1 Unicorns being an exception that proves the rule.