By Lambert Strether of Corrente
Patient readers, I'll have more on politics after I throw in a laundry! –lambert UPDATE All done!
Politics
"But what is government itself, but the greatest of all reflections on human nature?" –James Madison, Federalist 51
"They had one weapon left and both knew it: treachery." –Frank Herbert, Dune
"2020 Democratic Presidential Nomination" [RealClearPolitics] (average of five polls). As of July 31: Biden dips to 32.0% (32.2), Sanders up to 16.4% (16.2%), Warren up at 14.8% (14.3%), Buttigieg flat at 5.6% (5.5%), Harris up at 11% (10.8%), others Brownian motion. All the bottom-feeders — except O'Rourke! — went down.
* * *
2020
Biden (D)(1): "Can the Joe Biden who's leading in polls survive Joe Biden the candidate?" [WaPo]. "Biden has three things going for him, of which a sense of electability is only one. The other two are his strong grip on moderate Democrats — aided by the fact that more progressive candidates are splitting the pool of liberals — and strong support from black Democrats. That support is bolstered by the other two positives Biden enjoys. Black voters tend to be more moderate, and most Democrats see Biden as the best candidate against Trump."

Gabbard (D)(2): "Gabbard vs. Harris: You Kept Prisoners Locked Up For Labor, Blocked Evidence That Would Free Man On Death Row" (transcript) [RealClearPolitics]. Gabbard on Harris: "Now Senator Harris says she's proud of her record as a prosecutor and that she'll be a prosecutor president. But I'm deeply concerned about this record. There are too many examples to cite but she put over 1,500 people in jail for marijuana violations and then laughed about it when she was asked if she ever smoked marijuana. She blocked evidence — she blocked evidence that would have freed an innocent man from death row until the courts forced her to do so. She kept people in prison beyond their sentences to use them as cheap labor for the state of California. And she fought to keep [a] Bail system in place that impacts poor people in the worst kind of way." • All true. Good staffwork. Oppo works!

Gabbard (D)(2): "Russia's propaganda machine discovers 2020 Democratic candidate Tulsi Gabbard" [NBC]. "Since Gabbard announced her intention to run on Jan. 11*, there have been at least 20 Gabbard stories on three major Moscow-based English-language websites affiliated with or supportive of the Russian government: RT, the Russian-owned TV outlet; Sputnik News, a radio outlet; and Russia Insider, a blog that experts say closely follows the Kremlin line. The CIA has called RT and Sputnik part of "Russia's state-run propaganda machine." • So "meddling" means "covering the election," much in the same way our own State media does. What's the issue? NOTE * That's 202 days, so one story every 10 days or so, spread out over three venues. One can only imagine the hysteria if there were two stories every ten days, or even — hold on to your hats, here, folks — one a week!

Harris (D)(2):

BREAKING:

Kamala Harris arrives at night two of Democratic Primary debate in chariot pulled by imprisoned mothers of truant children. pic.twitter.com/8P3WmU4L2Y

— MSDNC (@MSDNCNews) July 31, 2019

Harris (D)(3): Well, identity is fluid, after all:

Wearing my favorite traditional Indian pavadai #tbt #throwbackthursday pic.twitter.com/o7HH7uY2AW

— Kamala Harris (@KamalaHarris) October 3, 2013

Not the campaign poster I wanted, but still.

Hickenlooper (D)(1): "Hickenlooper takes aim at socialist agenda in NH appearance" [New Hampshire Union-Leader]. "'You have to hand it to the GOP for achieving the near-impossible,' said Hickenlooper. 'Just years after the collapse of the Soviet Union, their greedy mismanagement has revived the lure of socialism for a whole generation of Americans. Who would have imagined the Koch Brothers and Donald Trump could help resuscitate the discredited ideas of Karl Marx and Joseph Stalin?'" More: "Do I respect [Sanders]? Absolutely,' said Hickenlooper of Sanders. 'Do I respect his supporters? Absolutely. I'm not going to demonize him [Bernie's not at all like Stalin!] or go out and attack him. I'm going to put out the reasons why I think this is a better place to go. And we might get to the same place, but it might take 20 years — 10 years, maybe eight years.'" • Always, always delay. Just like Harris' ridiculous ten-year phase-in for her fake #MedicareForAll plan.

Sanders (D)(1): "Sanders Calls Out CNN for Airing Pharma Commercials During 2020 Debate" [Truthout]. "Pointing to the PAHCF commercial — which is part of a six-figure ad campaign against Medicare for All — Warren Gunnels, Sanders's staff director, tweeted, 'If Medicare for All was on trial, the entire corporate media would have to recuse itself for a y-u-g-e conflict of interest.'"

Sanders (D)(2):

Tim Ryan on the debate stage & liberals on twitter: Bernie is so loud & yells a lot.

Jewish people: Ummm, that's a cultural thing. This is how we communicate in our community. https://t.co/YMmfEmIAtX

— Tania Singh (@TwinklingTania) July 31, 2019

Code-switch, people! Code-switch!x

Williamson (D)(1): "Marianne Williamson isn't funny. She's scary." [Vox]. "In her book A Return to Love, Williamson wrote that "sickness is an illusion and does not exist," and that "cancer and AIDS and other physical illnesses are physical manifestations of a psychic scream.'"
The Debates
"5 takeaways from the second night of the Democratic presidential debate" [CNN]. Pretty good wrap-up. This caught my eye: "'Did you say those deportations were a good idea or did you go to the President and say, 'This is a mistake. We shouldn't do it'?' de Blasio asked. Biden said he wouldn't talk publicly about the advice he had given Obama privately on the issue — and that's when Booker piled on. 'You can't have it both ways,' Booker said. 'You invoke President Obama more than anyone in this campaign. You can't do it when it's convenient and then dodge it when it's not.'" • Solid jab by Booker.

"How Badly Did Kamala Harris Stumble at the Democratic Debate?" [New York Magazine]. The headline is deceptive, this is a wrap-up discussion between wonks. This caught my eye: "[Zak Cheney-Rice]: Agree that Biden was lucky. I think at the very least, last night's debate demonstrated how uninspiring and dare I say anti-telegenic the whole 'Here's all the things we can't do to fix health care' position is when confronted by Warren and Sanders. It's a topic and format in which they've been at their most inspiring, to me at least. ." • Yep.

"Biden's Foes Back Themselves Into a Corner" [Politico]. "First, Democrats have to pray that the field narrows dramatically before the fall, because a debate with ten candidates is a guaranteed disaster, even without CNN's clownish gimmicks, diminishing the top candidates and playing to the stereotype of the current Democratic Party as a bunch of obscure characters trying to out-liberal each other. Second, we are not going to get a real sense of how this campaign is going until Bernie Sanders, Elizabeth Warren, Kamala Harris and Joe Biden are on the same stage. That's the test the party needs to run." • It makes sense that Sanders, Warren, Harris, and Biden would only meet in the later brackets.

"Only 7 Candidates Have Qualified for the Next Democratic Debate" [New York Times]. "The Democratic National Committee has set stricter criteria for the third set of debates, which will be held on Sept. 12 and Sept. 13 in Houston. If 10 or fewer candidates qualify, the debate will take place on only one night. Candidates will need to have 130,000 unique donors and register at least 2 percent support in four polls. They have until Aug. 28 to reach those benchmarks. These criteria could easily halve the field." • The seven are: Biden, Booker, Buttigieg, Harris, O'Rourke, Sanders, and Warren. Castro, Klobuchar, and Yang are close.

"Can Someone Please Vote CNN Off the Stage?" [Bloomberg]. "Ten of the Democrats debated on Tuesday night. But the debate was dominated by Jake Tapper, Dana Bash and Don Lemon – CNN's moderators…. ˛After Tuesday night's event, I have to believe that there are plenty of people at the Democratic National Committee – and plenty of candidates and their staff – who are fed up with debates that put the TV stars first. I wouldn't be surprised, especially if things go badly over the rest of the cycle, if both parties start thinking seriously about running their own shows in 2024." • Yes, it's always possible to make things worse. Why not go back to the League of Women Voters? The very last thing I want is the DNC exerting even more control over the process, and I would bet there are plenty of voters who think just the same about the RNC.
Obama Legacy
"Obama Presidential Center would have 'adverse impact' on historic Jackson Park, federal review concludes" [Chicago Sun-Times (DG)]. "The project would diminish the 'the historic property's overall integrity by altering historic, internal spatial divisions that were designed as a single entity' by renowned landscape architect Frederick Law Olmsted, the [Federal Highway Administration] concluded. It also concludes the 'size and scale of new buildings' would 'diminish the intended prominence of the Museum of Science and Industry building and alter the overall composition and design intent of balancing park scenery with specific built areas.' … The finding puts pressure on the Obama Foundation to find a way to 'resolve adverse effects' and turns up the heat on Mayor Lori Lightfoot to order the foundation to make those changes. 'The Obama Foundation has yet to show any interest in compromising on any of this. It may take [Lightfoot] to bring them to the table,' said Margaret Schmid, co-president of Jackson Park Watch. 'It means there are lots of new obstacles facing this proposal. A big question is, does Chicago want to go on record as having allowed a project that has major adverse impacts on this important historic park or can the project be redesigned to be compatible with this historic landscape?'" • A classic permitting battle. Go forth and do likewise with your local fossil fuel infrastruture project!
2018 Post Mortem
"'Claw is the law': Why American 'bros' suddenly can't get enough of White Claw hard seltzer" [Business Insider]. "For the uninitiated, an Urban Dictionary definition of 'bro' describes them as 'obnoxious partying males who are often seen at college parties' and 'usually just stand around holding a red plastic cup waiting for something exciting to happen so they can scream' about 'how much they enjoy partying.' It says that 'they often wear a rugby shirt and a baseball cap.'" • That's what "bro" connoted in 2016, too, which is one reason "Bernie Bro" ticked me off so much.
Realignment and Legitimacy
"Local Infrastructure Report: The Tools We Have & The Tools We Need" [Build]. • Another DSA caucus document in preparation for the upcoming Atlanta meeting. All I can do is remark on the commendable seriousness.
Stats Watch
Jobless Claims, week of July 27, 2019: "New claims are steady and low and consistent with strong demand for labor" [Econoday]. "This report together with this morning's Challenger report point to decreasing layoffs and increasing strength for jobs."
Challenger Job-Cut Report, July 2019: "Increasing strength in the labor market is the indication from Challenger's job-cut count" [Econoday]. "Yet weakness in manufacturing and related equipment investment, not questions in the labor market, is what the Federal Reserve cited as central to yesterday's rate cut and here the news is not upbeat."
Institute For Supply Management Manufacturing Index, July 2019: "Extending a straight slope down, ISM's index fell" [Econoday]. "This report, together with very similar results from the manufacturing PMI sample released earlier this morning, do support the Federal Reserve's concerns over manufacturing and specifically confirm Jerome Powell's remarks at yesterday's press conference that business contacts in the manufacturing sector, citing global slowing and tariff effects, are reporting trouble."
Purchasing Managers Manufacturing Index, July 2019: "Markit's US manufacturing sample has been moving steadily from slowing conditions to nearly stagnant conditions" [Econoday]. "The lack of confidence is affecting staffing levels which for this sample posted their first reduction in six years. Production moved forward last month but at the expense of backlogs which edged lower."
Construction Spending, June 2018: "The construction sector has been a stubborn disappointment all year, failing to show much life despite strong conditions in the domestic economy and favorable financing rates" [Econoday]. "This report brings up questions of possible contraction in foreign investment in US real estate and whether construction, like manufacturing, is being pulled down by global slowing and related tariff effects."
Banking: "AI is a road to customer success—but banks need to create guardrails too" [American Banker]. "Customers today yearn for a personalized human experience tailored to their needs, wants, and expectations – whether they are in your branch, dialing into your call center, or contacting you over social media. Advanced technologies can help banks create such experiences." • Yeah, I'm yearning for a personalized human experience delivered by a human.
Banking: "Digital banks are racking up users, but will they ever make money?" [Quartz]. "The UK has become something of a laboratory for newfangled digital banks, which are attracting thousands of new customers each day. But there are some big questions: Will bigger legacy banks eventually learn the fintech firms' tricks? And will the so-called neobanks ever become profitable?… 'I've heard of situations where core banking platforms are written in COBOL and the coders are starting to die out,' said Michael Kent, CEO of money transfer startup Azimo and a founder of Tandem, a neobank. 'They're spending billions and billion and billions to try to fix that huge technical debt.'" • I'm sure writing everything from the ground up in Node.js will solve everything.
Credit: "Sorry, you're not getting $125 from the Equifax settlement, FTC says" [MarketWatch]. "The Federal Trade Commission announced Wednesday that, due to an overwhelming response, cash payments aren't going to be anywhere near $125 each, and urged consumers to sign up for the free credit monitoring offered as an alternative." • So, if I have this right, I now have to give Equifax even more of my data, as compensation for the data they lost? More: "'A large number of claims for cash instead of credit monitoring means only one thing: each person who takes the money option will wind up only getting a small amount of money,' the FTC said in a blog post Wednesday." • What kind of settlement is that? What was the FTC thinking when it drafted it? Wikipedia notes: "Most people get little benefit from paying for regular credit reporting." Who on earth wouldn't want the [family blogging] cash?
Housing: "LGBTQ-centric neighborhoods offer home price premiums, studies suggest" [Los Angeles Times]. "[G]ayborhood residents can cash in big — up to 294% more value for their homes compared with those in surrounding metro areas, as shown in the [Zillow] analysis of 36 housing markets, released in May."
Shipping: "The world's biggest shipyards are forging a new landscape for buying and building ocean vessels. The impending mergers of the shipbuilders in South Korea and in China will create two behemoths that will control around 46% of the global market among the world's top 10 yards" [Wall Street Journal]. "That will give the combined Hyundai Heavy Industries Co. and Daewoo Shipbuilding & Marine Engineering Co. and the merged China Shipbuilding Industry Corp. and China State Shipbuilding Corp. weightier control of the global market for ships over smaller competitors."
Manufacturing: "Airbus SE is trying to speed up its supply chain while rival Boeing Co. is just hoping to get part of its production line moving at all. Airbus increased its quarterly profit more than fivefold despite bottlenecks that have hobbled the company's ability to step up the delivery pace… Airbus has been struggling to produce more of the largest version of its A321 single-aisle aircraft, and delays in deliveries have aggravated airlines' capacity issues caused by the grounding of Boeing's 737 MAX" [Wall Street Journal]. "Airbus increased its deliveries by 28% in the first half of the year to 389 planes but still must deliver about 500 jets the rest of the year to meet its financial targets. Airbus may face pushback from parts suppliers. Slower traffic growth has suppliers to both Airbus and Boeing getting cautious about supporting higher aircraft production."
Fodder for the Bulls: "The Next Bailout May Come From Consumers" [Conor Sen, Bloomberg (FluffytheObeseCat)]. "Now that we know the saving rate is at 8.1%, rather than 6.1% as believed a month ago, we can see how different this environment is for households versus the past two cycles. In December 2000, on the brink of the 2001 recession, the saving rate was 4.2%. In December 2007, as the great recession was beginning, the saving rate was 3.7%. The saving rate would have to fall by around 4% — equivalent to around $750 billion i.. n annual consumption — before households would find themselves as tapped out as they were then…. With the saving rate high relative to the last 25 years, households aren't in the position where they need to save more. So if an economic shock originated elsewhere — if corporations or the government found themselves needing to save more — households could spend more." • The comments are interesing: "Too bad all that saving is only in the top 10% of incomes," "The problem with the suggestion that savings rate is up… up for who? We have auto loan defaults higher than ever. There is a disconnect between who is saving and who is not… my guess is the savers are not spenders and will not spend us out of an economic slowdown." What do readers think?
The Biosphere
"Life is tough" [Aeon]. "Extremophiles tell us that everything we think we know about the fragility of life is wrong. Life is indeed extraordinary, not to mention precious and deserving of reverence – but not in any sense miraculous. The word extremophile didn't exist until the 1970s. It entered wide circulation only after 1979 when the US Navy's submersible Alvin revealed ecosystems prospering in deep-ocean hydrothermal vents. The Alvin scientists discovered organisms living in superheated water and largely metabolising hydrogen sulphide, which until then had been thought toxic and incompatible with life…. Extremophiles are in a sense antitheological and a cure for life-worshipping mysticism, another nail in the coffin that proclaims living things to be divinely created because they couldn't possibly derive from natural processes. They also expand the possible playing field within which life initially evolved."
* * *
First Philly, now these. Summer heats up the pipes, or something?
"Kentucky gas explosion: One person killed, 5 injured" [CNN]. "A gas explosion rocked a Kentucky community Thursday morning, leaving one person dead and lighting at least six homes on fire, according to local authorities…. Gilliam said authorities believe the explosion was the result of a rupture of a 30-inch gas transmission pipeline, but it will take time to definitively determine the cause."
"Explosion, fire at Exxon Mobil Baytown plant injures 37" [Houston Chronicle]. "A fire at an Exxon Mobil plant in Baytown Wednesday morning injured 37 people and sent a plume of smoke over a Houston-area chemical facility for the fourth time since April. It was the second fire this year at an Exxon Mobil facility in Baytown. The company's operations in the east Harris County city have a history of environmental violations stretching back to 2013. The cause of Wednesday's fire was not immediately known, although the company said the blaze began with an explosion."
"Boom Goes the Plastics Industry" [Sierra Club]. "Facing intensifying global efforts to curtail the use of oil and gas for transportation and energy—and at the same time seeking markets for the torrent of oil and gas from the US fracking boom—the fossil fuel industry is looking to plastics as a lifeline. Today, 14 percent of oil and 8 percent of gas is used for the manufacture of petrochemicals, the essential feedstock of plastic production. The International Energy Agency predicts that by 2050, 50 percent of the growth in oil demand will be related to petrochemicals… ExxonMobil and Saudi Aramco, among the world's largest fossil fuel companies, are betting big on plastics. … The American Chemistry Council reports that since 2010, plans for 333 new chemical-manufacturing projects have been announced in the United States, representing more than $200 billion in capital investments; the industry association notes that "much of the investment is geared toward export markets for chemistry and plastics products.'"
Guillotine Watch
"Backlash at barefoot Prince Harry and 'hypocrite Greenerati': Eco-warrior elite who turned up at secret climate change Google camp in 114 private jets, helicopters and mega yachts are mocked for leaving their own carbon footprint" [Daily Mail]. • As usual, the Daily Mail headline tells the entire story, but for more detail: "A host of A-list celebrities faced an angry backlash today after they travelled to a climate change conference in Italy in a fleet of supercars, expensive yachts and more than 100 private jets…. h The event, created by Google co-founders Larry Page and Sergey Brin, sees some of the world's wealthiest business leaders and tech gurus discussing various issues in morning sessions before relaxing in the Italian sunshine in the afternoon." • Poor optics! The guest list is amusing, too.
"Where the Wealthy Go in Private Jets, From Bahamas to Barbados" [Bloomberg]. "Private jet flights climbed almost 10% last year, according to an analysis of 30 island destinations by real estate broker Knight Frank and aviation adviser WingX. Private jets flew to islands in the Americas almost 30,000 times, making them the world's top hub for non-commercial aviation, led by the Bahamas, Puerto Rico and the Cayman Islands… The Philippines, Maldives and Bali were the top destinations in the Asia-Pacific region, which saw private-jet arrivals increase more than 80%, reflecting a wealth boom in which China minted a new billionaire roughly every other day."
"Harvard has the highest number of ultra-rich alumni — by an insane margin" [MarketWatch]. "Harvard is in an Ivy League of its own, with more than 13,650 estimated [Ultra-High Net Worth (UHNW)] alumni worth $4.769 trillion — more than double the figure for Stanford…. Wealth-X reports that almost 80% of this group made their own fortunes, rather than inheriting it. In fact, most of the UHNW alumni (84%) were self-made…. [J]ust 244 of the 2,153 billionaires in the world are women, and women account for just 6.6% of Fortune 500 CEOs."
"Jeffrey Epstein Hoped to Seed Human Race With His DNA" [New York Times]. "On multiple occasions starting in the early 2000s, Mr. Epstein told scientists and businessmen about his ambitions to use his New Mexico ranch as a base where women would be inseminated with his sperm and would give birth to his babies, according to two award-winning scientists and an adviser to large companies and wealthy individuals, all of whom Mr. Epstein told about it. It was not a secret. The adviser, for example, said he was told about the plans not only by Mr. Epstein, at a gathering at his Manhattan townhouse, but also by at least one prominent member of the business community." • Lifting the lid on elite networking and money-grubbing. Epstein's Harvard sweatshirt is prominently displayed in the photographs that accompany the article…
Class Warfare
"As Alaska's budget uproar rolls on, a top Dunleavy adviser has seen it before" [Anchorage Daily News]. "But say the name "Donna Arduin" to an Alaskan these days and they're likely to know exactly who you're talking about. Arduin has been in the spotlight since Gov. Mike Dunleavy hired her as his top state budget executive shortly after his election in November, at a salary of $195,000. Her reputation preceded her: Arduin, 56, has an almost 30-year career as an itinerant 'budget fixer' of sorts, working for a series of Republican governors to balance state budgets, often by instituting drastic spending cuts…. "I joined government to shrink it," Arduin said in a profile published in her Duke University alumni magazine in 2006. (The profile ends with Arduin whispering under her breath "get a job" to a panhandling man.)" • She sounds nice. The same alert reader who submitted this link also sent this note about the Alaska ferries:
I am one of the ferry passengers who has been stranded due to the shutdown of the ferries. I am currently on an island which is only accessible by boat and plane, and since the government-operated ferry is out of service, and there is no private ferry which can get me closer to my destination, plane is the only option. I have booked a flight ticket out, which will be my first time on an airplane since 2014. I am in a better position than many of my fellow passengers. Many other passengers have vehicles, which cannot be moved by airplane. Some of them were also riding the ferries to get medical care not available in their home communities, and are concerned about being able to make their doctor's appointments. Some of them are also going to take a much bigger financial hit than I will. Of course, those of us who are not Alaska residents (or who are leaving Alaska) will not need to deal with this situation anymore once we manage to leave Alaska. The coastal communities of Alaska will continue to feel the repercussions as long as there is a loss of ferry service, especially if the severe budget cuts make the loss of ferry service permanent.
"Labor of Love"' [The Baffler]. ""Full Surrogacy Now," the rallying cry, is a radical demand for the dissolution of notions like 'biological parents' and their opposites, (underpaid) (hired) (invisible) gestational surrogates. 'We are the makers of one another,' [Sophie] Lewis writes. 'And we could learn collectively to act like it. It is those truths that I wish to call real surrogacy, full surrogacy.' …. The problem, in Lewis's view, isn't that women are risking their lives and paid shockingly low wages to bear the offspring of others, efforts which are considered 'generous' instead of 'a job,' before being erased from family histories entirely. The problem is that we haven't spent any time considering what the fact and endurance of surrogacy from at least the transatlantic slave-trade days to the present might say about unwaged pregnancy. After all, pregnancy is—well, labor." • Hmm.
No aristocracy here:
Blue Ivy Carter, daughter of Beyoncé, just scored her first Billboard Hot 100 hit with "Brown Skin Girl."

She's 7. pic.twitter.com/nAnZLeXi2r

— AJ+ (@ajplus) August 1, 2019
News of the Wired
The historical record:
O thank goodness, someone has finally made a documentary about ANSI arthttps://t.co/CSBJGEZP5j

— Jason Scott (@textfiles) July 31, 2019
* * *
Readers, feel free to contact me at lambert [UNDERSCORE] strether [DOT] corrente [AT] yahoo [DOT] com, with (a) links, and even better (b) sources I should curate regularly, (c) how to send me a check if you are allergic to PayPal, and (d) to find out how to send me images of plants. Vegetables are fine! Fungi are deemed to be honorary plants! If you want your handle to appear as a credit, please place it at the start of your mail in parentheses: (thus). Otherwise, I will anonymize by using your initials. See the previous Water Cooler (with plant) here. Today's plant (Eric W):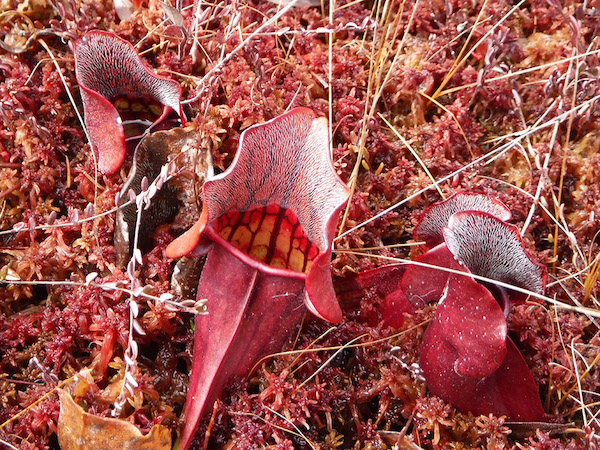 Eric W writes: "The pitcher plant is from early April in Maine. Wow." Indeed!
* * *
Readers: Water Cooler is a standalone entity not covered by the annual NC fundraiser. So do feel free to make a contribution today or any day. Here is why: Regular positive feedback both makes me feel good and lets me know I'm on the right track with coverage. When I get no donations for five or ten days I get worried. More tangibly, a constant trickle of small donations helps me with expenses, and I factor in that trickle when setting fundraising goals. So if you see something you especially appreciate, do feel free to click this donate button:
Here is the screen that will appear, which I have helpfully annotated.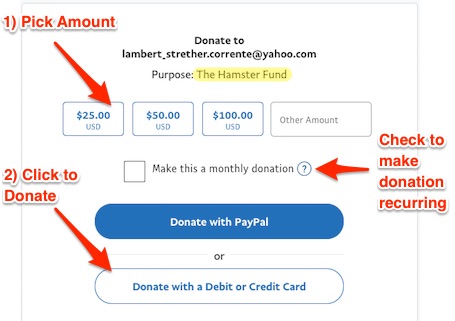 Readers, I have redesigned the image above because the composition of your Water Cooler donations has changed. For the last few months, donations have shifted to monthly donations in smaller amounts, with very few one-time donations in larger amounts. While I'm very happy to have enabled small contributions (Luke 21:1-4), the lack of larger contributions has cut into the trickle of funding from Water Cooler that I really do depend on. In other words, your contributions are way down. (Readership and comment counts have not fallen, so I don't think Water Cooler editorial content as such is the issue, though do feel free to drop me a line if you have thoughts.)
So, I redesigned the image to emphasize one-time donations, while still enabling smaller monthly donations. And if you've been waiting for a good excuse to contribute, perhaps last night's debate coverage will provide an excuse!
If you hate PayPal, you can email me at lambert [UNDERSCORE] strether [DOT] corrente [AT] yahoo [DOT] com, and I will give you directions on how to send a check. Thank you!