By Lambert Strether of Corrente
Readers, I had a schedule debacle and so this Water Cooler is at present shockingly truncated. I'll update in a rolling fashion section by section. I hope there's enough here to get you going. –lambert UPDATE All done.
Politics
"But what is government itself, but the greatest of all reflections on human nature?" –James Madison, Federalist 51
"They had one weapon left and both knew it: treachery." –Frank Herbert, Dune
I'm abandoning the RCP poll on the Democrat Presidential nomination race, despite the fancy presentation, because I don't like the way the polls used keep changing (and RCP doesn't include Reuters/IPSOS either, at least not now, even though Reuter is one of the polls that the DNC uses to determine — if that's the word I want — candidate eligibility for the debates. So I'll try FiveThirtyEight (I know, I know) for awhile. Here are results going a week back, last updated 2019-08-20: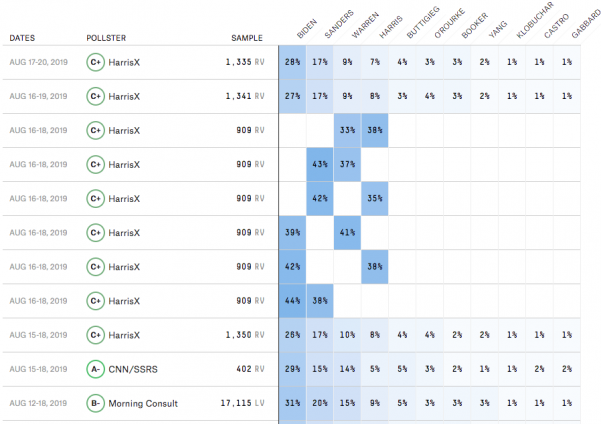 Top two new from Harris. Morning Consult (B-) is still the pick of the litter today on sample size, and it has Biden, Sanders, and Warren, in that order, and Sanders solidly ahead of Warren. CNN (A-) has Warren breathing down Sanders' neck. Harris (C+) has interesting head-to-head comparisons. Hopefully we'll have something better than this screen dump shortly.
* * *
2020
Biden (D)(1): "EXCLUSIVE: Newlywed Hunter Biden DENIES he is the father of the one-year-old baby of 28-year-old Arkansas woman who claims he impregnated her during his relationship with brother Beau's widow" [Daily Mail]. • Hunter seems to lead a complicated life.

Harris (D)(1): "Harris to appear in CNN climate town hall after backlash" [The Hill]. "The California Democrat was hammered by environmental groups, including the Sunrise Movement, after Harris was the only one of nine initial Democrats invited to the town hall who did not confirm her attendance…. Sunrise had accused Harris of skipping the climate town hall to attend a fundraiser." • Harris does vacillate rather a lot. She should have just stiffed the donors to begin with; they probably would have respected her for it. This way, she just appears weak.

Sanders (D)(1): Warren works to overcome hurdles with black voters in S.C." [WaPo]. Despite the headline: "Sanders used his trip to release a wide-reaching criminal justice plan. "This state is a state which has an even more broken criminal justice system than the country, and the country is pretty bad," Sanders said… at a partitioned-off area at a luncheon hosted by Brookland Baptist Church in West Columbia. Although black churchgoers ate nearby, Sanders delivered his remarks to a group of mostly white voters who came just to see him. Several Sanders supporters insisted they shouldn't have to pay for the luncheon since they had come only to hear the candidate. The overall effect — a crowd of largely white outsiders descending on a weekly lunch for a black church — alienated several churchgoers. 'I was eating when he spoke," said Maxine Moses, an African American woman. Although she sat with her son just feet from Sanders, she didn't go listen to him. 'I might have gone and listened to him if he had attended the Sunday service,' she said." • Of course, this is the Post; I would have liked to know what the (younger) son thought. But this anecdote combines what looks like poor advance work (the partitioned off area) and tactless (if true) behavior, set up by the "partitioned area," by some Sanders supporters (who might have been poor; and whose race is unstated). Sanders supporters really need to understand that they represent their candidate to an unusual degree at all times, because the slightest slip will be amplified by the press. As here.

UPDATE Sanders (D)(2): "Polls suggest Sanders may be underestimated" [The Hill]. "But the surveys give considerable hope to Sanders, who has been largely overshadowed over the past few months by Warren's buzzy campaign. Given his grass-roots fundraising and his organization, the polling suggests Sanders will be in the race for the long haul and that he stands a good chance of winning. 'He has the money, the campaign infrastructure and an intense base of supporters,' said one Democratic strategist. 'Does he have a tough road to the nomination? Of course, all of the candidates do. But has he been overlooked so far? Absolutely. Out of all the candidates, he is the one you can definitely say is in this for the long haul.' Then again: "Veteran Democratic pollster Mark Mellman, a columnist for The Hill, said the challenge for Sanders is that it can be difficult for a universally known candidate to grow support. 'There's no question he's a serious candidate in this race and has a real possibility of winning the nomination,' Mellman said. 'But he's also one of the best known, he's been around the track before, his name recognition is as high or higher than most others, and it can be harder to grow when you're that well-known.'" • Sanders' campaign manager:

Indeed. You haven't seen this campaign sweating or panicking. Steady as we go https://t.co/Yznk3nzwQx

— Faiz (@fshakir) August 21, 2019

UPDATE Sanders (D)(3): "Bernie Sanders' famed $27 donors are split in 2020's sprawling Democratic field" [Los Angeles Times]. "But in the 2020 race, nearly 1.7 million, or more than 80%, of the donors who fueled his earlier run have stayed on the sidelines, according to a Times analysis of campaign finance disclosures through June 30. The 2016 donors who are contributing this election cycle have given more than $32 million to the Democratic field. More than $16.2 million of that went to Sanders, making up about 45% of the money he has raised. But nearly as much went to his rivals, a sign of how split Democrats are as they try to figure out the best candidate to take on President Trump. The numbers need to be viewed in context: It is early. The 2016 donation figures represent 19 months of contributions, including the height of the fiery competition between Sanders and Clinton. But Sanders has an enormous pool of former donors who have not yet committed whom he may be able to tap in coming months." • And yet Sanders still leads in campaign cash! This shows that Sanders vs. (the widely hated) Clinton is not the same as Sanders vs. a crowded field. The same was true for O'Rourke vs. Cornyn, and O'Rourke vs. a crowded field.

UPDATE Sanders (D)(4): "Bernie Sanders Unveils Sweeping Labor Plan With Sectorwide Bargaining" [Bloomberg]. "Sanders's labor platform includes ending 'at-will' employment, so companies could no longer fire workers without showing they had 'just cause'; extending collective bargaining rights to state and local government employees; and allowing federal employees to strike. The plan would create a European-style sectoral collective bargaining system in which labor and management would negotiate minimum standards for entire industries, rather than only company by company. ' • There's the appeal to older voters. Sanders has pensions on his radar, eh? Hmm.

Trump (R)(1): "Trump critics eye GOP primary race, even if defeating him seems 'preposterous'" [WaPo]. "Joe Walsh, a pugnacious former congressman, is preparing a Republican primary challenge to President Trump that he previewed as a daily 'bar fight' with the incumbent over his morality and competency. Mark Sanford, a former South Carolina governor and congressman, said he is inching closer to a bid of his own by sounding out activists in New Hampshire and other early-voting states about an insurgency focused on the ballooning deficit. Jeff Flake, a former Arizona senator and Trump antagonist, said he has taken a flurry of recruitment calls in recent days from GOP donors rattled by signs of an economic slowdown and hungry for an alternative to Trump. And former Ohio governor John Kasich will head to New Hampshire next month to 'take a look at things' after experiencing 'an increase' in overtures this summer, an adviser said. The anti-Trump movement inside the Republican Party — long a political wasteland — is feeling new urgency to mount a credible opposition to Trump before it's too late." • Trump [licks chops]: "Mmm, lunch!"

Warren (D)(1): "Warren works to overcome hurdles with black voters in S.C." [WaPo]. "In South Carolina, Warren and her team appeared to be navigating the racial landscape more astutely than Sanders. Among the speakers warming up a crowd for her Saturday evening in Aiken, S.C., was Lessie Price, a local black leader and the first vice chair of the state's Democratic Party. Warren's message, Price said, speaks to African Americans. 'Often­times, it's getting that message out over and over and over, and someone starts hearing it,' said Price, who is staying neutral in the primary. Speaking to a black church is particularly sensitive, she said. 'The church in the past has been a rallying point to really see what a candidate is truly about,' Price said. 'You have to change your message in that setting.' And Warren adjusted her rhetoric when she stepped up to the pulpit at a sparsely attended service at Reid Chapel AME Church on the other side of Columbia on Sunday morning. Rather than her usual firebrand stemwinder, she talked about her hardscrabble biography, including an anecdote about how she once struggled to control an unruly fifth-grade Sunday school class." • Of course, this is the Post. And see above from Sanders.

UPDATE Warren (D)(2): "Elizabeth Warren Has a Plan to Finish What FDR Started" [The Nation]. "Where to begin? Massachusetts Senator Elizabeth Warren is proposing a strikingly bold, and strikingly smart, plan to close the digital divide that, according to a 2017 FCC report, has left 26.4 percent of people living in rural areas–and 32.1 percent of people living on tribal lands– without access to minimum speed broadband. The 2020 Democratic presidential contender's plan can best be understood as a 21st-century version of rural electrification…. The Office of Broadband Access that Warren wants to establish to manage the federal grant program would require that '—and all grants will be used to build the fiber infrastructure necessary to bring high-speed broadband to unserved areas, underserved areas, or areas with minimal competition. The federal government will pay 90 cents on the dollar for construction under these grants. In exchange, applicants will be required to offer high-speed public broadband directly to every home in their application area.'" • That's not too bad!

UPDATE Warren (D)(3): "There's a secret anti-tech message hidden on this campaign website" [Yello]. Lots of info about Trump merch. And all the way at the bottom of the "View Source' page for Warren's site:

* * *

UPDATE "Who is ahead in the Democratic primary race?" (charts) [The Economist]. • "National poll average": Biden 28%; Warren 19%; Sanders 15%; Harris 6%; Buttigieg 5%.

CA: "Which Democrat is your L.A. block backing?" (map) [Los Angeles Times]. The summary: "Sen. Kamala Harris leads all Democrats in the race for L.A. County cash. Large hauls from fundraisers on the wealthy Westside have helped top her rivals here, including Sen. Bernie Sanders, who holds the nationwide lead thanks to an army of small donors spread across America." • I have never broken down that national map of donors from the Times by location, which I really should do one day.
2019
"Ocasio-Cortez blasts Electoral College as a 'scam'" [The Hill]. • I want the AOC who occupied Pelosi's office back. I hope she's taking care of constituent services, at least.
Realignment and Legitimacy
UPDATE "The Democratic Party isn't who Twitter thinks it is" [Chris Cillizza, CNN]. "According to the new CNN-SSRS national poll, self-identifying liberals make up less than half of all Democrats: 42%. The rest of the party calls itself either "moderate" (43%) or conservative (11%)…. What all of these data points say is that while the most liberal elements within the party — which tend to spend lots and lots of time online and on Twitter — are the loudest, they are not nearly as dominant a voice within the party as they (and the candidates vying for their votes) would have you believe." • He's right.
Stats Watch
MBA Mortgage Applications, week of August 16, 2019: "The surge in refinancing is easing" [Econoday].
Existing Home Sales, July 2019: "Resales have been trending cautiously higher this year with July proving the best month since February" [Econoday]. "Housing hasn't shown much momentum this year despite low mortgage rates and a strong a labor market. Yet today's report does point to sales momentum going into August."
The Bezzle: "Disney whistleblower told SEC the company inflated revenue for years" [MarketWatch]. "A former Walt Disney Co. accountant says she has filed a series of whistleblower tips with the Securities and Exchange Commission alleging the company has materially overstated revenue for years. Sandra Kuba, formerly a senior financial analyst in Disney's revenue-operations department who worked for the company for 18 years, alleges that employees working in the parks-and-resorts business segment systematically overstated revenue by billions of dollars by exploiting weaknesses in the company's accounting software… .Kuba's whistleblower filings, which have been reviewed by MarketWatch, outline several ways employees allegedly boosted revenue, including recording fictitious revenue for complimentary golf rounds or for free guest promotions…. Kuba said she brought her concerns to the SEC in August 2017. She was fired from Disney about a month later…. The pattern of interaction with the SEC suggests the regulator is taking the allegations seriously, said Jordan A. Thomas, a former attorney in the SEC's enforcement division and chairman of Labaton Sucharow's whistleblower-representation practice."
Intellectual Property: "Ohio State seeks to trademark the word 'The'" [ESPN]. "The school, formally known as The Ohio State University, is seeking a trademark on the word 'The' for use on clothing and hats. According to the U.S. Patent and Trademark Office, the filing was made Thursday."
* * *
Today's Fear & Greed Index: 28 Fear (previous close: 23, Extreme Fear) [CNN]. One week ago: 21 (Extreme Fear). (0 is Extreme Fear; 100 is Extreme Greed). Last updated Aug 21 at 12:59pmd. Note that the index is not always updated daily, sadly.
The Biosphere
UPDATE Ice:
1/3 Good news for the Greenland ice sheet! MAR forecasts, for the 1st time from 23-May-2019, positive SMB on 24-AUG-2019 suggesting soon the end of the melting season… pic.twitter.com/esvqWOYH6M

— Xavier Fettweis (@xavierfettweis) August 19, 2019
Fire:
The control of fire is a goal that may well be as old as humanity, but the systematic monitoring of fire on a global scale is a much newer capability. This animation shows the locations of actively burning fires on a monthly basis for nearly two decades https://t.co/4ejctOmQQB pic.twitter.com/sQDcXWkmRz

— Massimo (@Rainmaker1973) August 21, 2019
No song, though.
UPDATE "Scorched Portugal Turns to the Goat as a Low-Cost Firefighter" [New York Times]. "The absence of shepherds, goatherds and farmers has left forest lands overgrown, allowing fires to spread and burn faster. Steep slopes are out of reach for a tractor and are very costly to tend by hand, difficult in any case for an aging population. A simple, low-cost solution, Portuguese officials now hope, may lie with the humble goat, which feeds on the underbrush that fuels fires, if only enough goatherds and shepherds can be found and supported in a way of life that is disappearing." • I wonder if goats would work in California?
UPDATE "Gardeners learn to see time differently" [WaPo]. "But I can't put aside the fact that with each bud and bloom and fade cycle, first of the bleeding hearts, then the lilacs, then the irises, the Shasta daisies and the butterfly bush, it's that much closer to fall. I am trying, unfortunately with only limited success, to mature along with my plantings. They'll come back, I keep reminding myself — the true definition of a perennial optimist."
"Alarm as devastating banana fungus reaches the Americas" [Nature]. "TR4 infects several varieties of banana and plantain, but is particularly harmful to the Cavendish, which is the main variety sold in grocery stores and accounts for the lion's share of international exports…. The TR4 strain — which started destroying Cavendish crops in Asia in the 1990s, then spread to Australia and, later, Africa — infects banana plants through the roots and spreads throughout the vascular system, starving the plant of water and nutrients. The fungus can be transmitted by moving infected plants from one area to another, or through water and soil. It can't be controlled with fungicides, so the main way of dealing with TR4 is to try to stop it spreading…. TR4 can linger in the soil for roughly 30 years. 'Soil is very difficult to contain,' says Fernando García-Bastidas, a plant pathologist at KeyGene in Wageningen, the Netherlands."
"Marsh Mud Hides a Key Ingredient for 'Anti-Greenhouse Gas'" [Inverse]. "The smell that wafts off of the ocean is instantly recognizable: Sometimes it smells fresh and clean, but other times it's a little clammy, briny, or sulfuric. That smell actually indicates a plentiful source of what some scientists call an 'anti-greenhouse gas.'… That sea smell is partially the odor of dimethyl sulfide (DMS), which is released when marine microorganisms break down another sea nutrient called dimethylsulfoniopropionate (DMSP). DMS has sometimes been called the 'anti-greenhouse gas' because once it's in the atmosphere it rapidly breaks down into aerosols that allow clouds to form. Those clouds can help scatter UV radiation back into space, creating a cooling effect. In a paper published Monday in Nature Microbiology Jonathan Todd, Ph.D., and a team at the University of East Anglia have shown that bacteria hidden deep in marsh mud can manufacture DMSP, which is the key ingredient needed to make DMS. 'Previously DMSP was largely thought to be a molecule made by eukaryotic algae in Earth's surface ocean,' Todd tells Inverse. 'However, we show that DMSP concentration, DMSP and DMS synthesis rates are far higher in all tested coastal mud samples than in the surface water.'"
Water
UPDATE "States cut water use as Colorado River runs low. That's actually good news." [Grist]. "For the first time in history, low water levels on the Colorado River have forced Arizona, Nevada, and Mexico to cut back the amount of water they use. It's the latest example of climate change affecting daily life, but also an encouraging sign that people can handle a world with less: These orderly cutbacks are only happening because seven U.S. states and Mexico had agreed to abide by conservation rules when flows subside, rather than fight for the last drops….. A Bureau of Reclamation study of Colorado River levels, released Thursday, triggered the cutbacks. The Rocky Mountains finally turned white with heavy snow last winter, but despite a galloping spring runoff, drought persists and bathtub-ringed reservoirs in the Grand Canyon are low. In its study, the Bureau highlighted the unique circumstances: 'This 20-year period is also one of the driest in the 1,200-year paleo record.'" • Nice to see the science driving policy, too.
UPDATE "Iowa uses less restrictive standards than EPA guidance for blue-green algae toxins" [Des Moines Register]. "A toxin from blue-green algae poisoned a child playing in a southern Iowa lake this summer, sending the youngster to the doctor with a headache, rash, diarrhea and sores in her mouth, the state reported. The child might have avoided getting sick had the state followed federal recommendations about when to warn families it's unsafe to swim in Iowa's lakes. Iowa instead relies on less-restrictive World Health Organization guidelines when issuing swim advisories."
Health Care
UPDATE "The Collapse Of A Hospital Empire — And Towns Left In The Wreckage" [KHN]. "The money was so good in the beginning, and it seemed it might gush forever, right through tiny country hospitals in Missouri, Oklahoma, Tennessee and into the coffers of companies controlled by Jorge A. Perez, his family and business partners. It was his "secret sauce," the rotund Miami entrepreneur would smilingly tell people in their no-stoplight towns. The money-making ventures he proposed sounded complicated, sure, but he said they would bring in enough cash to save their hospital and dozens, even hundreds, of good jobs in rural towns where gainful employment is hard to come by." • Fraud, naturally. It's not the prospect of #MedicareForAll that should scare rural hospitals.
Class Warfare
"Predatory precarity" [Interfluidity (JB)]. I apologize for the length of this extract: "There are people at the top of the American food chain who are stupid rich, for whom questions of making ends meet and financial security are laughably distant. People like that, they are easy to deal with. If it was "us" (whoever the fuck we are) versus only them, politics would be easy. We'd have taxed the billionaires to pay their fair share a long time ago. But most of the people towards the top of the American food chain are not stupid rich, but stupidly rich. They "make" sums of money that by any fair reckoning, obviously in a global context but even in an American context, are huge. But they plow that affluence into bidding wars on incredibly (if artificially) scarce social goods. Nobody "needs" to live in Arlington (or my own San Francisco). No one's kid 'has' to go to private school (or for the more woke among us, notionally public schools rendered exclusive by the cost of nearby housing). … The point of this is not that you should have sympathy for the Arlingtonians (or San Franciscans). Fuck 'em (er, us). But you are missing something important, as a matter of politics if nothing else, if you don't get that the people who are your predators financially are, in their turn, someone else's prey. Part of why the legalized corruption that is the vast bulk of the (dollar-weighted) US economy is so immovable is that the people whose lobbyists have cornered markets to ensure they stay overpaid are desperately frightened of not being overpaid, because if they were not overpaid they would become unable to make all the absurd overpayments that are now required to live what people of my generation (and race, and class) understood to be an ordinary life. It's turtles all the way down, each one collecting a toll and wondering how it's gonna pay the next… When goods like health, comfort, safety, and ones children's life prospects are effectively price-rationed, individuals will lever themselves to the hilt to purchase their place. The result is a strange precariot, objectively wealthy, educated and in a certain sense well-intended, who justify as a matter of defensive necessity participation in arrangements whose ugliness they cannot quite not see. In aggregate, they are predators, but individually they are also prey, and they feel embattled." • The 10% is, in its own way, precarious. Well worth a read.
News of the Wired
"Funniest Edinburgh joke 2019: What do you think of this year's winner" [Sky News]. • My favorite is the Australian public's #1 ("Somebody stole"). #4 ("A cowboy"), too.
"Only a Fool Would Challenge the Pumpkin Spice Latte" [New York Magazine]. "The spice returns in late August, its earliest return ever, but it cares not for your feeble cries of 'but it's still summer!'… The spice does not need your approval, or acceptance — all it needs to survive is your continued compliance in the ever-expanding commercialization of fall within an economy reliant on endless growth." •
"Imitation and Extinction: The Case Against Reality" [Los Angeles Review of Books]. For the philosophers among us, but I think worth a read for anyone: "Natural selection now has a precise formulation known as evolutionary game theory. Applying game theory to evolution means we can run simulations and prove theorems about its effects. The results are clear. Veridical perception does not assist with survival. In fact, an organism whose perceptions are veridical is less fit than its nonveridical twin whose perceptions are focused on what we call 'fitness payoffs.'… Our senses do not present "a marvelously detailed and accurate view of the outside world" as Robert Trivers writes. They present payoffs. The very language of our senses — space, time, objects, shapes, colors, tastes, smells, and sounds — is simply the wrong language to describe reality; its vocabulary was not shaped to that end." • This is the first serious article in a mainstream venue that I, at least, have read that is thoroughly a product of a gamers' perspective.
* * *
Readers, feel free to contact me at lambert [UNDERSCORE] strether [DOT] corrente [AT] yahoo [DOT] com, with (a) links, and even better (b) sources I should curate regularly, (c) how to send me a check if you are allergic to PayPal, and (d) to find out how to send me images of plants. Vegetables are fine! Fungi are deemed to be honorary plants! If you want your handle to appear as a credit, please place it at the start of your mail in parentheses: (thus). Otherwise, I will anonymize by using your initials. See the previous Water Cooler (with plant) here. Today's plant (Amfortas the Hippie):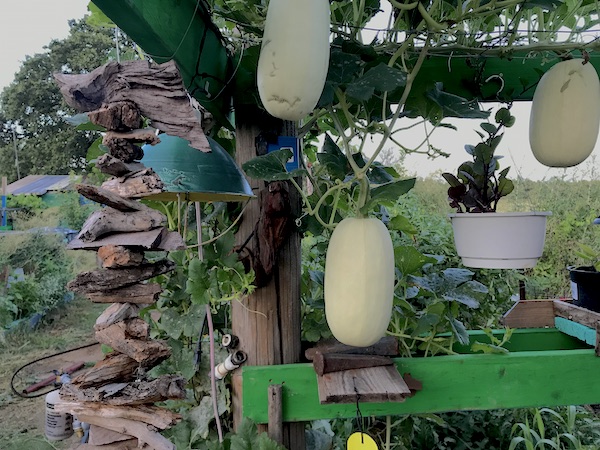 A sculpture at left; and… cantaloupes at the right?
* * *
Readers: Water Cooler is a standalone entity not covered by the annual NC fundraiser.Remember, a tip jar is for tipping! So if you see a link you especially like, or an item you wouldn't see anywhere else, please do not hesitate to express your appreciation in tangible form. Regular positive feedback both makes me feel good and lets me know I'm on the right track with coverage. When I get no donations for five or ten days I get worried. More tangibly, a constant trickle of donations helps me with expenses, and I factor in that trickle when setting fundraising goals:
Here is the screen that will appear, which I have helpfully annotated.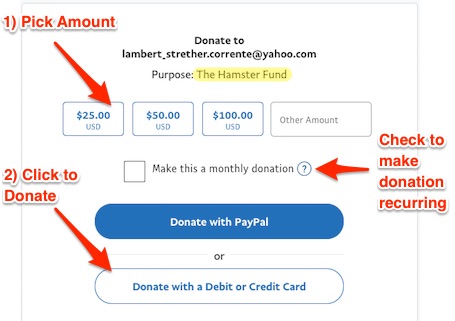 If you hate PayPal, you can email me at lambert [UNDERSCORE] strether [DOT] corrente [AT] yahoo [DOT] com, and I will give you directions on how to send a check. Thank you!