By Lambert Strether of Corrente
Readers, this Water Cooler is a bit light because I'm finishing up a post. –lambert
Politics
"But what is government itself, but the greatest of all reflections on human nature?" –James Madison, Federalist 51
"They had one weapon left and both knew it: treachery." –Frank Herbert, Dune
I'm abandoning the RCP poll on the Democrat Presidential nomination race, despite the fancy presentation, because I don't like the way the polls used keep changing (and RCP doesn't include Reuters/IPSOS either, at least not now, even though Reuter is one of the polls that the DNC uses to determine — if that's the word I want — candidate eligibility for the debates. So I'll try FiveThirtyEight (I know, I know) for awhile. Here are results going a week back: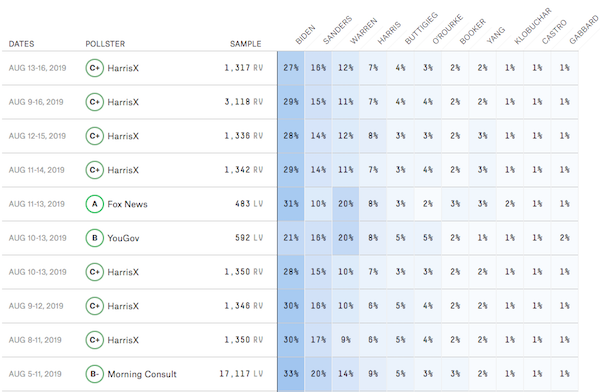 Although FiveThirtyEight doesn't give a view of the polling over time, it rates the pollsters, gives the sample size, and categorizes the sample (e.g., likely voter). Morning Consult is obviously the pick of the litter today, and it has Biden, Sanders, and Warren, in that order, and — despite some excitable stories to the contrary — Sanders solidly ahead of Warren. Maybe somebody clever has found a way to turn FiveThirtyEight's data into a fancy, RCP-like chart, and if so, I'll take a look at that.
* * *
2020
Buttigieg (D)(1): "'A heavy lift': SC's religious black voters weigh Pete Buttigieg's bid" [Post and Courier]. "Joe Darby, a South Carolina pastor in the African Methodist Episcopal Church, pondered a sensitive question that he knew was on the mind of his congregation. Would black voters be able to reconcile their conservative religious doctrine with voting for a gay candidate for president? 'It's a heavy lift in the black church,' says Darby, who is also a Charleston-area NAACP leader. 'Just as nobody who is racist likes to say, 'I'm a racist,' nobody who is homophobic in the black community likes to say, 'I'm homophobic.""

Harris (D)(1): "'I Believe in Capitalism': Kamala Harris Courts Big Donors in the Hamptons" [Bloomberg]. "Teslas and Maseratis lined the street as Kamala Harris greeted guests sipping drinks from plastic cups with her name on them and eating cinnamon sugar donuts from Dreesen's at a fund-raiser hosted by movie executive Jamie Patricof and his wife Kelly as the summer of Democratic fund-raisers rolled on in East Hampton." •

O'Rourke (D)(1): "2020 hopeful Beto O'Rourke visited an Arkansas gun show to talk about gun control" [ABC]. "O'Rourke, who was in between campaign events in Arkansas on Saturday, paid $10 to enter the event, and walked through aisles lined with handguns, AR-15s, stun guns, hunting rifles, scopes, magazines and knives before striking up a conversation with Preston Linck, who was selling handguns and rifles. Linck, who later said he doesn't identify with either political party, supports closing the so-called gun-show loophole and requiring background checks for all gun sales." • Good for O'Rourke.

Sanders (D)(1):

The use of the word "anymore" here is so priceless https://t.co/neKYt0Tc4S

— David Sirota (@davidsirota) August 19, 2019

Ian Sams is National Press Secretary for Harris.

NH: "A tale of two rallies: Elizabeth Warren and Bernie Sanders have similar ideas but competing paths to 2020 victory" [Los Angeles Times]. "A pair of rallies last week by the two candidates, only 11 miles apart on consecutive days in New Hampshire's mountainous North Country, showcased their differences of style, tone and potential paths to the Democratic nomination…. Sanders spoke at a small-town opera house in Littleton to about 300 supporters, including many from his 2016 following who are crucial to his ability to win. Warren went to a splashier setting — a tony estate in Franconia with a spectacular view of the White Mountains — to address an audience of 700, which included not just die-hard supporters but also curious voters checking her out for the first time…. Warren's coalition is older , better educated and more affluent. Sanders has stronger appeal to young voters, people without a college degree and the less affluent. That puts Sanders in competition with Biden for blue-collar voters."

NM: "Progressive or Former DCCC Head for Senator of New Mexico?" [The Intercept]. • I'm thinking….

* * *

"Does anyone understand the 2020 race? This scholar nailed the blue wave — here's her forecast" (interview) [Salon]. "July 1, newcomer Rachel Bitecofer, assistant director of the Judy Ford Wason Center for Public Policy at Christopher Newport University in Newport News, Virginia, released her prediction of a 42-seat 'blue wave,' while also citing the Arizona and Texas U.S. Senate races as "toss-ups." Her startling prediction was numerically close to perfect; Democrats will end up with a gain of 40 or 41 seats, depending how the re-run in North Carolina's 9th district turns out." Bitecofer: "The explanation, of course, is that it was this giant turnout of core constituencies, that either are Democrats or favor Democrats — they're independents who favor Democrats — and they have a huge turnout explosion. So it's not the same pool of voters changing their minds and voting Democrat after voting Republican because of the issue of health care. It's a whole different pool of voters. They might have many reasons that they cite, and probably this is not the reason they would cite. But what made them enraged and show up is Trump Inc., the negative partisanship. I don't know why Nancy Pelosi, the DCCC or many of these moderate members are convinced that moderate Republicans crossed over and voted for them. I have the data for some of these districts and the data tells a very different, very clear story: If Republicans voted in huge numbers, they voted for Republicans." • Important!

"In God's country: Evangelicals view Trump as their protector. Will they stand by him in 2020?" [Elizabeth Bruenig, WaPo]. "On Holy Saturday, the day before Easter, I met Joe and Daniel Aguilar, both evangelical, 65 and 33, respectively, father and son. While age has increasingly defined political divisions nationwide — most notably inside the Democratic Party — research has revealed a surprising continuity between older and younger evangelicals. As professor Ryan Burge of Eastern Illinois University has found using survey data, while younger evangelicals show signs of parting from their elders when it comes to prioritizing issues such as immigration, young white evangelicals voted for Trump at roughly the same rate as their parents and grandparents. But a fraction — less than 20 percent — didn't, and Daniel was among them." • I like Bruenig because she doesn't caricature her interviewees and sources. This is well worth a read.

Oh no. No. Please, no:

Democrats are privately pushing polling showing that going after Trump's Twitter addiction — and accusing him of being ineffective because of it — may be the party's most effective message. https://t.co/uI4LzUzrcH

— Sam Stein (@samstein) August 19, 2019

"May be the party's most effective message" cuts both ways…

"The Dow Drops" [The Big Picture]. This rant is all over the place, but the conclusion: "I thought America was the land of DOERS!" • See above.
2018 Post Mortem
"CNN Focus Group: Obama Voters Explain Why They Voted For Trump, Talk 2020 Choices" [RealClearPolitics]. From June, still germane. The last comment: "WIMBLEY: You know what? I deserve a better life as an American. When you can take care of Americans and I've got something left over, I'll give it to you." That's scarcity talking; austerity. On the other hand, if the role of the State is not to take care of its citizens first, what is it?
Realignment and Legitimacy
Decay of religion:

Mainline is a tradition that has declined rapidly over the last 40 years, while nones have risen just as dramatically. It seems that a lot of kids who were raised mainline left religion entirely – their parents stayed. But, that means mainlines are going to face an age cliff soon pic.twitter.com/77e4uCMXXF

— Ryan Burge ? (@ryanburge) August 17, 2019

"Art Spiegelman: golden age superheroes were shaped by the rise of fascism" [Guardian]. "Enter Jerry Siegel, an aspiring teenage writer, and Joe Shuster, a young would-be artist – both nerdy alienated Jewish misfits many decades before that was remotely cool. They dreamed of the fame, riches and admiring glances from girls that a syndicated strip might bring, and developed their idea of a superhuman alien from a dying planet who would fight for truth, justice and the values of President Roosevelt's New Deal. Barely out of childhood themselves, the boys' idea was rejected by the newspaper syndicates as naive, juvenile and unskilled, before Gaines bought their 13 pages of Superman samples for Action Comics at 10 bucks a page – a fee that included all rights to the character. Not only was Siegel and Shuster's creation the model for the brand new genre that came to define the medium, their lives were the tragic paradigm for creators bilked of the large rewards their creations brought their publishers." • History of comic books.
Stats Watch
E-Commerce Retail Sales, Q2 2019: "E-commerce sales rose a quarterly 4.2 percent in the second quarter versus a revised 4.0 percent in the first quarter" [Econoday]. "As a percentage of total retail sales, second-quarter e-commerce rose 2 tenths to 10.7 percent." • Ya know, the nice thing about shopping in a bricks-and-mortar store is that there are no dark patterns. I think.
Big Ag: "Corn Industry Reeling After Shocking Ethanol Decision" [Safe Haven]. • The mix between oil and ethanol in fuel is set by "waivers" granted by the EPA. This year, ethanol got the short end of the stick. Sorry, Iowa farmers, but ethanol was always a boondoggle.
Tech: "Biostar security software 'leaked a million fingerprints'" [BBC]. • Please reset your biometrics.
Tech: "Wireless Carrier Throttling of Online Video Is Pervasive" [Bloomberg]. "U.S. wireless carriers have long said they may slow video traffic on their networks to avoid congestion and bottlenecks. But new research shows the throttling happens pretty much everywhere all the time. Researchers from Northeastern University and University of Massachusetts Amherst conducted more than 650,000 tests in the U.S. and found that from early 2018 to early 2019, AT&T Inc. throttled Netflix Inc. 70% of the time and Google's YouTube service 74% of the time. But AT&T didn't slow down Amazon.com Inc.'s Prime Video at all." • My goodness!
Tech: "AI emerges as new teacher for music education in China" [Nikkei Asian Review]. "The piano is especially suited for online instruction and visualization of sounds because each key on the keyboard represents a specific music note, making it clear when the student makes a mistake in finger position. Some 20,000 pieces of music, played by professional pianists, are stored in 01yinyue, and the process of playing is shown on the chart on the screen in real time when any of them is reproduced. Tempo and finger pressure, as well as pedal techniques and finger movements, are also displayed on the chart. The user's performance is checked via smartphone or tablet and evaluated, and mistakes are pointed out in real time. Based on the practicing data, the app works out a new practicing plan for the user." • An over-wrought headline. Playing the piano is good, but it's not the same as "music education."
Tech: "China Now Has AI-Powered Judges" [Radii]. "This virtual judge, whose abilities are based on intelligent speech and image synthesizing technologies, is to be used for the completion of 'repetitive basic work' only, according to the Beijing Internet Court's official statement on the move. That means she'll mostly be dealing with litigation reception and online guidance." Another over-wrought headline. Not "judge." "Receptionist."
Transportation: "UPS Has Been Secretly Delivering Mail in Self-Driving Trucks for Months" [Interesting Engineering]. "The parcel delivery company has revealed a collaboration with [China's] TuSimple. In a statement, they said that, since May, the autonomous truck company has been carrying UPS cargo on a 115-mile route between Phoenix and Tucson." • No snow, straight roads. No left turns?
* * *
Today's Fear & Greed Index: 26 Fear (previous close: 20, Extreme Fear) [CNN]. One week ago: 23 (Extreme Fear). (0 is Extreme Fear; 100 is Extreme Greed). Last updated Aug 19 at 12:39pm. Note that the index is not always updated daily, sadly.
Rapture Index: Closes down one on Oil Supply/Price. "The oil prices are down on oversupply" [Rapture Ready]. Record High, October 10, 2016: 189. Current: 184. Remember that bringing on the rapture is a good thing.
The Biosphere
"Bee population recovering due to regenerative farming, producers say" [Global News (CI)]. "The new farming system, and increased number of bees, has attracted the attention of General Mills, the maker of Cheerios and Lucky Charms. 'This is all-important to rebuild [the] soil health from areas where we source the ingredients,' said Jim Eckberg, a General Mills research agronomist. He said that GM is interested in the regenerative agriculture that Dancey, Kernaleguen and Elmy are using to improve the sustainability in their supply chain. 'Ultimately, to move into the 21st century, to be able to cope with the big challenges we have we need a healthier soil base,' he said, referring to soil depletion and sustainability." • General Mills?!
"Bizarre Happenings in the Far North: Lightning, Tropical Moisture, and More" [Weather Underground]. "You'll have to forgive the Arctic. It's had a rough summer. Sea ice is running neck and neck with 2012 for the lowest values on record for this time of year. Wildfires are ringing the Arctic, pouring more carbon dioxide into the air than in any comparable period in 17 years of satellite observing. Alaska saw its hottest month by far in almost a century of recordkeeping. And a surge of warm air with origins in last month's record-devouring European heat wave pushed across Greenland at the end of July, melting 55 million tons of sea ice in five days. That's an unprecedented rate in satellite records, according to the European Union's Copernicus project, and more than three times the average melt rate for 1981-2010.
The past several days have doubled down, bringing weather events that wouldn't be out of place in the U.S. South but that stand out in the far north like a magnolia tree sitting on tundra."
"NASA's Investigating the Impact of Arctic Wildfires on Earth. Here's Why" [Space.com]. "Using a combination of field and laboratory work, as well as satellite and airborne observations, NASA is launching a study of the effects of Arctic wildfires in Alaska on the surrounding habitat and people's health, as well as how the increased frequency of these events affects climate forecasting…. Wildfires in the Arctic contribute to carbon emissions created by the burning of a thick, carbon-rich layer of soil, which also acts as an insulation for the permafrost — a frozen layer of ground that lies beneath the soil. 'When you burn the soil on top it's as if you had a cooler and you opened the lid,' Hoy said. 'The permafrost underneath thaws and you're allowing the soil to decompose and decay, so you're releasing even more carbon into the atmosphere.' The thawing of this layer of ground also causes land subsidence and soil collapse, according to NASA."
"California oil regulators made 'dummy' approval files for risky drill permits, records show" [Desert Sun]. "Just as chefs and cleaners use steam to remove stubborn bits of dirt from pots and carpets, oil companies in California use steam injection to extract the state's uniquely heavy, hard-to-pump petroleum. The process, while effective, is also dangerous and environmentally destructive, experts say. Since a Chevron oil worker died in a boiling sinkhole in 2011, regulations on the practice have gradually tightened. But employees inside California's embattled Division of Oil, Gas and Geothermal Resources, or DOGGR, say higher-ups are using empty "dummy" files that allow petroleum firms to avoid upfront reviews of the risky projects and keep operations moving. Documents and emails obtained by The Desert Sun appear to back up their assertions." • Everything is like CalPERS…
"We Can't Confront Climate Change While Lavishly Funding the Pentagon" [Truthout]. "When we talk about the U.S. as the 'world's policeman,' much of the beat Uncle Sam walks is paved with oil. The Persian Gulf, the Niger River Basin Region of Africa, the Horn of Africa, the South China Sea, Central Asia, Venezuela and Libya are all places of U.S. 'national interest' because U.S. policymakers are really interested in preserving the dominant role of hydrocarbons in the global economy."
Gunz
Interesting framing:
The jump to a new equilibrium level after the 2008 legitimacy crisis is very distinct. https://t.co/XCD6HtTYU0 pic.twitter.com/T9ihHaEF4e

— John Robb (@johnrobb) August 18, 2019
Class Warfare
Unpaid Miners Blocked a Coal Train in Protest. Weeks Later, They're Still There." [New York Times]. "A protest that began with five men blocking a train full of coal has grown into a small 24-hour tent city along some railroad tracks next to the highway. It has become a pilgrimage site for labor activists, a rallying point for the community — "a tailgate party on steroids," as one local official approvingly put it. And it is the first organized miners' protest that anyone can remember for decades in Harlan County, Ky., a place once virtually synonymous with bloody labor wars…. A philanthropic foundation gave $2,000 to each miner, and the owner of a local Chinese restaurant has raised thousands of dollars for them on her own…. Much of the daily life at the tent city has been organized by a group of activists who are camping there, many of whom identify as transgender and anarchist. The activists came from around the region in the first few days of the blockade, some with experience operating these sorts of camps at environmental protests, and they quickly got to work running the kitchen and tapping networks of liberal interest groups for contributions." • Fascinating! Apparently, they train they're stopping has a million dollars worth of coal on it. A million dollars would solve a lot of problems
"'Deaths Of Despair' Grew Slowly In Arizona, But Still Higher Than U.S." [Arizona Independent (RH)]. "Deaths of despair – the catchall name for deaths from drug overdoses, alcohol and suicide – have seen 'alarming' increases across the country since 2005, said the Commonwealth Fund's Scorecard on State Health System Performance for 2019. The report, released in June, said those increases have come as access to health care has started to level off after several years of improvement when states were expanding access to Medicaid. It said most states "are losing ground on key measures related to life expectancy as premature deaths from suicide, alcohol and drug overdose continue to increase… In Arizona, the growth in overdose deaths was slower, but the rate was no better: The overdose death rate rose 57% in the same 12-year period, from 14.1 deaths per 100,000 Arizona residents to 22.2… Suicides nationally rose from 10.9 per 100,000 in 2005 to 14 per 100,000 in 2017, a 28% increase. In Arizona, the suicide rate rose just 11% but was still higher than the national rate…. When it came to alcohol-related deaths, Arizona was both higher than the national rate and was rising at a faster rate. Alcohol-related deaths rose 43%, from 11.3 to 16.2 per 100,000 Arizonans, compared with a national rate increase of 37%." • Everything's going according to plan. RH comments: "The Arizona Daily Independent is a conservative publication. For them to use Deaths of Despair framing indicates it has either entered the mainstream, or at least conservative circles." Trump 2.0 may end up using it.
News of the Wired
"What Your Snapchat Selfie Has in Common With the Army" [Bloomberg]. "Sixty years after fighter pilots used the precursor to AR technology, the ability to view the world enhanced with digital imagery is now available in the dashboard of your car, in eyeglasses or on your smartphone…. AR is what happens when you superimpose computer-generated information such as text and images onto the real world in front of you. Widely used examples include face-distorting lenses on the Snapchat photo-sharing app, which add effects like face swaps and virtual rainbows to selfies, and an iPhone feature called Animoji that incorporates the user's expressions to animate virtual animal faces." • I've seen those effects, and I don't think "augmentation" is what's going on.
"One more big push, then just say cheese!: High-end photographers enter delivery rooms" [Los Angeles Times]. "In Los Angeles alone, dozens of professional photographers now make their living in the delivery room — and, increasingly, in the OR — documenting the first moments of motherhood for clients who pay thousands of dollars for wedding-style albums of their labor…. Birth photographers charge anywhere from $1,500 to more than $4,000, . But the practice is so popular at Westside hospitals like Cedars-Sinai, UCLA and St. John's that some providers carry photographers' business cards in their exam rooms." • "Many"?
"Mortal remains" [Aeon]. "For many bereaved Americans, the funeral has become instead a 'celebration of life'. It has a guest list open to everyone except the actual corpse, which is often dismissed, disappeared without rubric or witness, buried or burned, out of sight, out of mind, by paid functionaries such as me — the undertaker."
Now try "May":
the future is shit pic.twitter.com/5s0lKjDLvr

— Rutherford Craze (@rutherfordcraze) August 16, 2019
* * *
Readers, feel free to contact me at lambert [UNDERSCORE] strether [DOT] corrente [AT] yahoo [DOT] com, with (a) links, and even better (b) sources I should curate regularly, (c) how to send me a check if you are allergic to PayPal, and (d) to find out how to send me images of plants. Vegetables are fine! Fungi are deemed to be honorary plants! If you want your handle to appear as a credit, please place it at the start of your mail in parentheses: (thus). Otherwise, I will anonymize by using your initials. See the previous Water Cooler (with plant) here. Today's plant (MF):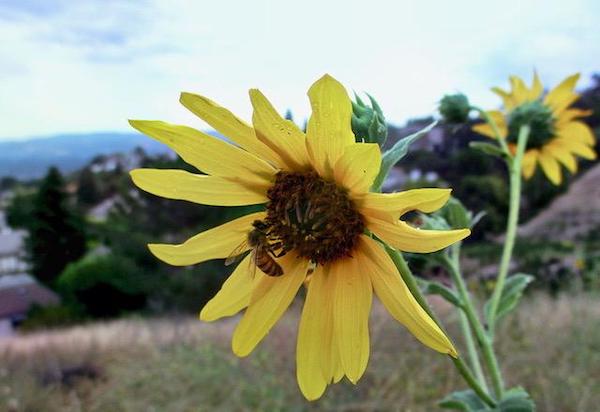 Busy bee!
* * *
Readers: Water Cooler is a standalone entity not covered by the annual NC fundraiser.Remember, a tip jar is for tipping! So if you see a link you especially like, or an item you wouldn't see anywhere else, please do not hesitate to express your appreciation in tangible form. Regular positive feedback both makes me feel good and lets me know I'm on the right track with coverage. When I get no donations for five or ten days I get worried. More tangibly, a constant trickle of donations helps me with expenses, and I factor in that trickle when setting fundraising goals:
Here is the screen that will appear, which I have helpfully annotated.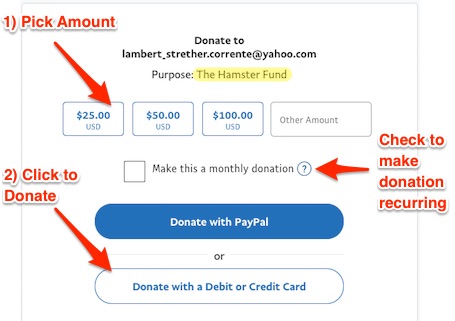 If you hate PayPal, you can email me at lambert [UNDERSCORE] strether [DOT] corrente [AT] yahoo [DOT] com, and I will give you directions on how to send a check. Thank you!