Yves here. As John Siman describes below, Richard Vague, who has done considerable work on the economic damage done by high levels of private debt, extended it by making an in-depth study of financial crises. Vague documents that private debt growth over time exceeds GDP growth, creating the need for writeoffs. If they don't come voluntarily or through state-mediated processes like bankruptcy, they come involuntarily, via crises.
By John Siman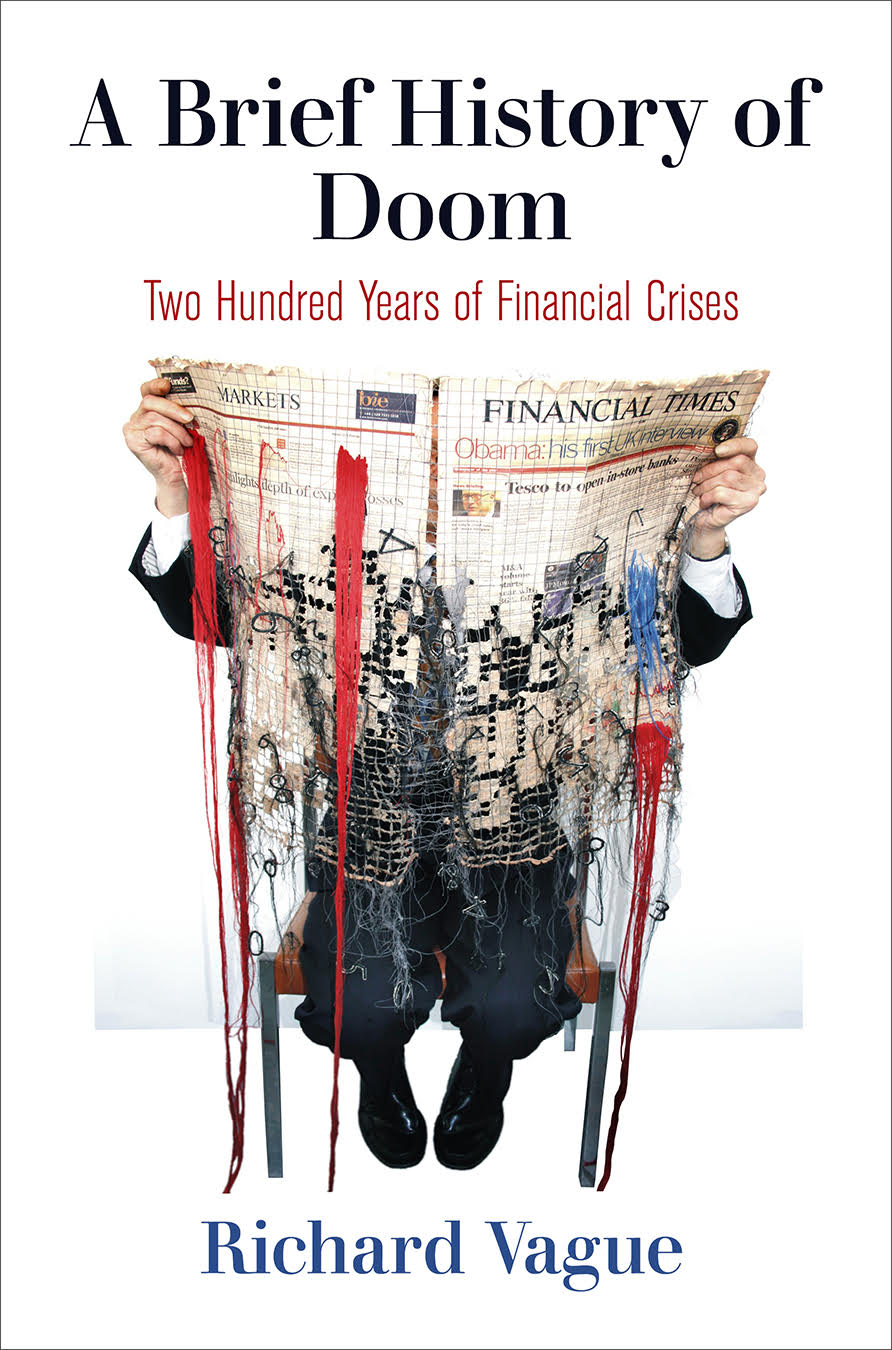 I do not doubt the existence of God, nor that of money.
On the other hand, I suspect that the learned neoclassical economists of our time, like the learned theologians of yesteryear, who at one point, I am told, aspired to formulate sophisticated mathematical models predictive of the number of angels likely to be found dancing upon the head of any given pin, tend, perhaps by virtue of their  exclusive and recondite training, to produce wizardry that upholds the providential rightness of the status quo and their employers' exalted status in it. It is unsurprising, then, that they generally lack the time or curiosity to entertain questions about what happens to those billions of wage-earners and debt-slaves who labor and sweat in the earth's various vineyards.
These learned neoclassical economists uphold dogmas like the Infallibility of the Market and so teach the eschatological inevitability of economic equilibrium: to question such orthodoxy is heresy.  Moreover, it is "the special purview" as Richard Vague observes in this book, of the economic hierophants who are "… in power at the time of a financial crisis to later assert that crises cannot be predicted or prevented and that when a crisis happens, we are in the grip of economic complexities that we can neither foresee nor prevent nor entirely understand" (p. 5).
But what if their arcane doctrines were the economic equivalent of geocentric models of the universe?
What if financial crises could be predicted?
And what if some good-natured but very shrewd down-home guy from Texas rounded up a bunch of diligent young mathematicians and library-science nerds and dared to argue publicly that the official geocentric model was just plain wrong, and then proceeded to compile the data, the facts and figures, to show that the sun does not go around the earth, no, not at all, but that instead there is in nature a quantifiable force of universal gravitation, which can be used to describe — and then predict— the true orbital motions of all celestial bodies? What then?
Well, I would suggest that it is not in the least preposterous for us to try to re-imagine the clarity unveiled by the Copernican and Newtonian Revolutions in order to place in an economic-historical context the magnitude of the accomplishment of Richard Vague, who has discovered with a similar "causal elegance" that we can understand the performance of any modern economy through changes in the ratio of privatedebt to GDP (see his crisis data at https://bankingcrisis.org/) and that private"overlending is the necessary and sufficient explanation for a majority of financial crises…" (p. 44).
In A Brief History of Doom Vague has pulled together a history of all the major financial crises in the largest countries over the last two centuries, presenting detailed and often previously missing financial data on each. "This book," Vague writes, "… emphasizes in particular the rapid growth in loans — which we refer to as private debt — that [have] preceded [these major financial crises]. It concludes that almost all financial crises follow a simple if ultimately agonizing equation: widespread overlending leads to widespread overcapacity that leads to widespread bad loans and bank (and other lender) failures. This is the essence of a financial crisis" (p. 4).
Vague continues: "The formula is straightforward: overlending leads to overcapacity, which makes those loans bad. It's never subtle. There have to be far, far too many houses or office buildings or some other 'something' built for a crisis to ensue. Overbuilding and overcapacity are at the very heart of a financial crisis because vast overbuilding and overcapacity are possible only through an equally vast amount of overlending. It almost always occurs in a few short years" (p. 4).
Furthermore, Vague writes, "Notably, the government (or public) debt of major, advanced economies has not been much of a factor in financial crises [italics mine] until after the collapse" (p. 5).
So runaway private debt is not only the single outstanding cause of financial crises — like the railroad crisis of 1857 (the first truly global financial crisis), like the Great Depression which began in 1929, like the Great Recession which began in 2008 — a lending boom in the economy is also, if you have the data in hand, as easy to spot, Vague told me when I went to meet him at his office in Philadelphia, as a drunk guy in a boardroom. "[F]inancial crises," he writes, "across time or place, have measurable prerequisites and a predictive indicator — once we start to pay attention to lending" (p. 5).                                          *               *               *
It certainly does seem incumbent upon all of us then, given Richard Vague's potentially revolutionary discoveries, to start paying attention to lending, to private lending, to private lending booms and the runaway debt which seems to follow them inevitably: to reconsider the history of economics from the time of François Quesnay and Adam Smith and see for ourselves whether each of the financial crises of the modern era was indeed predictable, and therefore, in theory at least, preventable. This is what I have been doing this summer! After Richard Vague invited me to interview him at Gabriel Investments at the beginning of July, he graciously carried on an extensive email correspondence with me, and so I have edited the exchange that follows to combine, as seems most useful to the reader, both his oral and written replies to questions I asked him over the course of several weeks.
JS: Could the unprecedented economic growth of the last quarter-millennium have been possible without lending booms? — i.e. are lending booms the sine qua non of fantastical economic growth, from the railroads of the 19th century to the China of today?
Richard Vague:I would differentiate between lending growth and lending booms. Lending almost always outpaces GDP growth (lending growth), but it can do so without causing a financial crisis if that lending growth never becomes excessive in a short period (a lending boom). For example, a boom and bust would likely occur if private debt to GDP grew 20% in years 1 through 5 (the boom), which would be followed by a bust/crash in which private debt to GDP shrinks by 8% in years 6 through 10, followed by growth of a more normal 5% in years 11 through 15. Couldn't, with better oversight, it have instead grown 5% to GDP in each of these three five year periods? In both cases, the result is about 16% growth to GDP over 15 years. But in the second case, you don't have a financial crisis.
I call it the whole phenomenon "the paradox of debt." Debt, mainly private debt, is indispensable and necessary in commercial economies. A number of economists have pointed to the difference in the development of India and China over the last 30 or so years as evidence of this—they both started at a similar level and China, through debt, has achieved a much higher growth. The paradox of debt is this: Private debt can be very beneficial—UNLESS it grows too fast or gets too high.
I would add to this I believe one of the most profound aspects of modern economies is the fact that, absent calamity, debt, mainly private debt, always outgrows GDP. It is a constant, irrevocable march that has lasted over 200 years, punctuated only by epoch-making calamities such as the Great Depression. This fact begs for certain new mechanisms, such as oversight mechanisms to make sure it doesn't grow to fast, and better mechanisms for restructuring excess private debt along the way (swaying the balance more in favor of borrowers).
JS: If the governments of the USA and the UK etc. had understood all along your principle of runaway private debt as the primary cause of financial crises (as physicists had understood all along exactly how gravity causes physical objects to come crashing down), could they have averted or at least mitigated the many financial crises that followed the lending booms? Could they have, in other words, taken the metaphorical punch bowl away, again and again, with such precise financial timing as to have consistently prevented runaway private debt while still having encouraged the huge levels of productive lending necessary for modern economic growth?
Richard Vague: My answer is yes, if sufficient political will could be mustered. The guidelines for determining excessive growth are not hard to establish. And the egregious departures in sound lending practices are not hard to spot. But political will is a tricky thing, and it may be too optimistic to think it could be maintained in the face of the riches a boom always brings.
JS: Does the likelihood of the failure of political entail a need for modern-day jubilees? As I understand the matter, such "jubilees" (= programs of large-scale debt forgiveness) become necessary because the leaders of a political economy, whether out of corruption or greed or incompetence, have failed to avert financial crisis. So after a crash has occurred, it becomes both economically shrewd and morally right to find a way to restructure the debts of the millions of people who face financial disaster. So we should work out the details for modern-day jubilees now so that we will be ready, to the extent that we will fail to get future lending sprees under control, to help the victims of inevitable future financial crises. Do you agree? 
Richard Vague: Absolutely! If we can get anybody to pay attention and agree. Frankly, a big part of "jubilee" could take the form of much more borrower-friendly bankruptcy laws. I've long felt that more lenient bankruptcy laws alone would make lenders much more careful to begin with, and make the shedding of unproductive debt easier. It's all part of what I intended by my earlier phrase "better mechanisms for restructuring excess private debt along the way." Those mechanisms could, in essence, be a built-in form of jubilee.
JS: But if, on the other hand, good and farsighted leaders spot — and then stop — runaway debt and excessive growth in a timely fashion, there would be, ideally, no crashes and therefore no need for jubilees. Do you agree?
Richard Vague: Not quite. Here's the catch. Even if the growth in private debt to GDP is smooth and thus financial crises are avoided, the fact remains that in developed economies, total debt to GDP, which is typically largely private debt, marches ever higher, except when there are catastrophic events. (The most studied catastrophic event, the Great Depression, was at its heart a massive deleveraging event). The exceptions are few, far between, and temporary. So economies inevitably and inexorably accumulate an excessive burden of debt, which is another way of saying highly leveraged businesses and households—and that eventually bogs an economy down.
It's really a two-fold problem. Private debt is a problem if it grows too fast or gets too high. And while private debt usually gets too high because of a period of rampant lending growth, it can and will inevitably get there even without such a period. Preventing short bursts of excessive loan growth does not mean that loan growth won't inevitably creep to levels that are so high that they overburden the private sector and start adversely impacting GDP growth.
Which brings us back to the need for structural jubilee discussed above.
JS: You have got me thinking about what economics — political economy — was originally supposed to be: a liberation from feudalism, from greedy rentiers and so the freedom for the common man to enjoy the fruits of his own labor and for the enterprising man to undertake great business projects. We should tax only unearnedincome! — that's what the classical economists taught, right? So my deep worry: Are our academic neoclassical economists really latter-day medieval theologians, using arcane learning to uphold the privileges —specifically, to protect the unearned income — of a corrupt elite? After two or three centuries is the Enlightenment over as we enter a new feudalism? (It seems to me that we are already in a new Gilded Age.) This to me would justify your publisher's enthusiasm for the word Doomin your title.
Richard Vague: Great question. I think you are on to something—so I'll give you a partial yes. I think a subset of economists is very definitely under the sway of big business (though as in most disciplines, most economists simply adhere to the predominant theories.) For the most part, I don't view this as inherently nefarious. Most businesses act in their own interests (I'm lumping the "elite" in with big business), and since they have the most resources, there is always a lot of money moving in support of those interests.
A large cohort of big businesses benefit from neoclassical economic theory—the theory that markets are efficient and best left alone. Greenspan's work for the financial industry is a pronounced example of this, such as when he was hired by Charles Keating to recruit senators to intervene with regulators on his behalf, and when he warned Brooksley Born not to increase regulation of derivatives. During most of my business career, all this was simply taken as a given, and we lauded assertive theorists like Milton Friedman who made that case. My good fortune was being able to step away from business and focus on this virtually full time for the last decade—providing me the opportunity to deeply examine these beliefs.
And it was not easy. For example, in 2009, when I started to research the private debt buildup in the 1920s to see if it contributed to the crash, I thought it would take a day or two. Instead it took months—and years. In some respects I still haven't finished the job.
For me, the two big sins of orthodox economists are faith in markets and the omission of private debt as a central, crucial determinant of economic outcomes. Those two sins come crashing together in financial crises. Since they have come crashing together in a financial crisis over forty times in world's six largest countries over the past two hundred years, I have almost come to the opposite conclusion—at least for financial markets. Left to their own devices, financial markets almost always lead to excess. And that is almost always a function of excessive lending.
A brief digression: A couple of years ago, I was lamenting the fact that the U.S. did not have an industrial policy of the sort China now has and the U.S. itself has had in the past in efforts like the construction of railroads and canals. I was lamenting the lack of significantly stepped up government support for areas like 5G, high tech manufacturing, genetic engineering, and artificial intelligence, and expressed fear that China would surpass us in those areas as Japan had in automobiles in the 1980s. A friend quickly corrected me, saying that the U.S. most definitely had an industrial policy, even though it was largely unstated: namely, support for the financial and real estate sectors. That support is manifested in tax laws, regulation, and a host of other ways.
A light bulb went off, since his statement was in lockstep with what I had been finding in my research. Bit by bit, by hook and by crook, there has been a disproportionate accumulation of policy support for these two industries—the very two industries I had come to view as the "swing sectors" in the economy, the most frequent source of booms and busts. And they are wed together—it is increased leverage that directly results in increased asset values. And orthodox economics, both by commission and omission, has facilitated this.
And that gets directly back to your question. Through government policies and actions, in symbiosis with economists and these sectors, we find ourselves at this point. Asset values (which is akin to saying unearned income) are increasing faster than salaries, which brings greater inequality, which has quickly become one of the defining issues of our age.
As to your "medieval theologian" comparison—I kind of like that, though the economists I've dealt with are by and large very good folks (as is the case in any industry). Nevertheless, when I read a highly detailed economic paper from a neoclassical economist, replete with dense mathematical formulas, I'm reminded of blood-letting in the medical profession in the 18th century, and the pre-Copernican belief that the planets orbited the earth. In both cases, there were very learned tomes, expounding in great detail on which vein to let for which disease, or the precise route of Mars's orbit around the earth. Lengthy, impressively detailed, exact, solemn-toned, and wildly incorrect.
That's my view of neoclassical economics.
 JS: A little more about that word Doom. You told me it was your publisher's decision to put it in the title, not your own. Was it maybe a little alarmist/dishonest for the publisher to do that?
Richard Vague: Perhaps! Like I said, my bright idea was to use Bagehot's phrase and title it A Failure of Credit by Intrinsic Defect. But alas, the one thing the publisher reserved for themselves was selecting the title. (That's typically been true of articles I've published as well!). However, the book is a HISTORY of doom, not a forecast, and I think many of the crises I wrote about had a devastating impact on thousands and sometimes millions of lives—often including death as was the case for so many in the Great Depression—and lasted for years and years.
JS: So what is in store for us in the USA? I just read that our economy has grown for 121 — or is it 122? — consecutive months. This is supposed to be the longest economic expansion in American history. To me this news is just surreal. Back in October of last year, for example, I saw David Stockman give a presentation in NYC, and he was sounding all sorts of alarms about 111 consecutive months of growth. But Stockman ended up seeming like the boy who cried wolf. What is wrong with this picture? 
Richard Vague: I've never put much stock into "length of expansion" type analysis because it ignores so many factors, especially differences in the conditions at the beginning of the expansion. In this case, 2008 was the second biggest economic collapse in the last hundred years, so circumstances were drastically different at the beginning of our current expansion versus all those it is compared against.
I prefer to consider the whole set of circumstances in a given period, and forecast based on those—and ignore the inherently specious metric of length of expansion.
Now that I've finished the book, my team and I are now refocusing on the present instead of the distant past— and we do plan on developing a set of ongoing forecasts for the top twenty countries. We haven't completed our analysis yet, but from our work so far it is reasonable to expect a U.S. slowdown or recession in the next year or two. If so it will be a regular slowdown or recession, of the type we have experienced many times in my life, but NOT of the type experienced in 2008. My concern for more significant near-term economic trouble relates mainly to Asia.
JS: I think that's basically good news — because you have given us a metric so we know we don't have to panic and can take a step back and listen to the doomsters' prophecies with a grain of salt. On the other hand, in the long run, to paraphrase Keynes, we are all doomed!