Video: Peregrine falcons can fly at more than 200 miles per hour Boing Boing
Poland lightning strike kills four, injures 100, in Tatra mountains storm BBC
Scientists detect a black hole swallowing a neutron star EarthSky (Chuck L)
Are farmers setting the Amazon ablaze in support of Bolsonaro? Grist Evil.
Amazon fires an 'international crisis', says Macron BBC
Guided by AI, robotic platform automates molecule manufacture MIT News (David L)
Electric Dump Truck Produces More Energy Than It Uses Hackaday
A super-secure quantum internet just took another step closer to reality MIT Technology Review (David L)
Vaping Is Suspected In Severe Lung Illnesses The Verge
China?
Canadians tortured while 'red princess' goes shopping Asia Times
Korea severs military intelligence ties with Japan Asia Times. (Kevin W)
Kashmir
'Collective Punishment': UN Experts Slam Kashmir Communication Clampdown The Wire (J-LS)
Inside India's Messy Electric Vehicle Revolution New York Times
French Yellow Vests join global activists at G7 counter-summit France24 (resilc)
Brexit
Emmanuel Macron dashes Boris Johnson's hope for Brexit deal Financial Times. As we indicated in Links, Merkel's remarks have been sorely misrepresented. She made clear she was discussing only negotiation of the future relationship document, not the Withdrawal Agreement.

Johnson's 'victory' and a misleading photo: How the UK papers reacted after Boris met Macron RTE (PlutonimumKun)

Irish-America Upends Trump-Johnson Brexit Plan Strategic Culture (Chuck L). Reported here earlier…
New Cold War
Why Russia's relationship with the G-7 collapsed Washington Post (Kevin W)

US Navy 'ready' for Venezuela mission, says a top commander Al Arabiya (resilc)
Syraqistan
Outsiders' Battle to Rebuild Libya Is Fueling the Civil War There," Foreign Policy

It is fascinating to watch the armchair internet warriors who front for the so-called Syrian opposition in action. Their origins lie in a social media campaign conceived by the Iran-Syrian Operations Group (ISOG), which oversaw regime change efforts in Syria during the Bush era.

— Scott Ritter (@RealScottRitter) August 22, 2019

Netanyahu: Hitler didn't want to exterminate the Jews Haaretz
Big Brother is Watching You Watch
The insidious threat of biometrics Financial Times (David L)

Security Researchers Find Several Bugs In Nest Security Cameras Vice

The FCC Has No Idea How Many People Don't Have Broadband Access ars technica
Imperial Collapse Watch
The A-10 Warthog Lives To Fly Again Popular Mechanics. Resilc: "At least it flies."

How Amazon and Silicon Valley Seduced the Pentagon ProPublica (UserFriendly)

Rudyard Kipling, American Imperialist New Republic (resilc)
Trump Transition
Bibles but Not Textbooks: Trump's Tariff Exemptions Pick Winners and Losers ProPublica (UserFriendly)

Revealed: emails raise ethical questions over Trump official's role in gas project Guardian (resilc)

10 declassified Russia collusion revelations that could rock Washington this fall The Hill
2020
L'affaire Epstein
A Dead Cat, A Lawyer's Call And A 5-Figure Donation: How Media Fell Short On Epstein NPR (David L). Important as a media story
Why Slavoj Zizek thinks political correctness is dumb Big Think. "Dumb" is charitable.
Overstock CEO Patrick Byrne resigns after his 'deep state' comments sparked stock selloff CNN (furzy)
Loan funds on course for worst outflows on record Financial Times
Apple Advises Owners of Its New Credit Card To Keep It Away From Leather, Denim BBC
The Exclusive Inside Story Of The Fall Of Overstock's Mad King, Patrick Byrne Forbes (furzy)
Tensions rise between Facebook and its Libra founding partners Financial Times. Wowsers, this is even more vaporware than this cynical blogger thought: "The 28 members of the Libra Association…made a non-binding pledge to invest at least $10m in the project…"
Economics After Neoliberalism Suresh Naidu, Dani Rodrik, Gabriel Zucman, Boston Review
Class Warfare
Antidote du jour. David S: "This little fox is as tame as a house cat. Visits us to beg. Kanaka Bay, San Juan Island, Washington."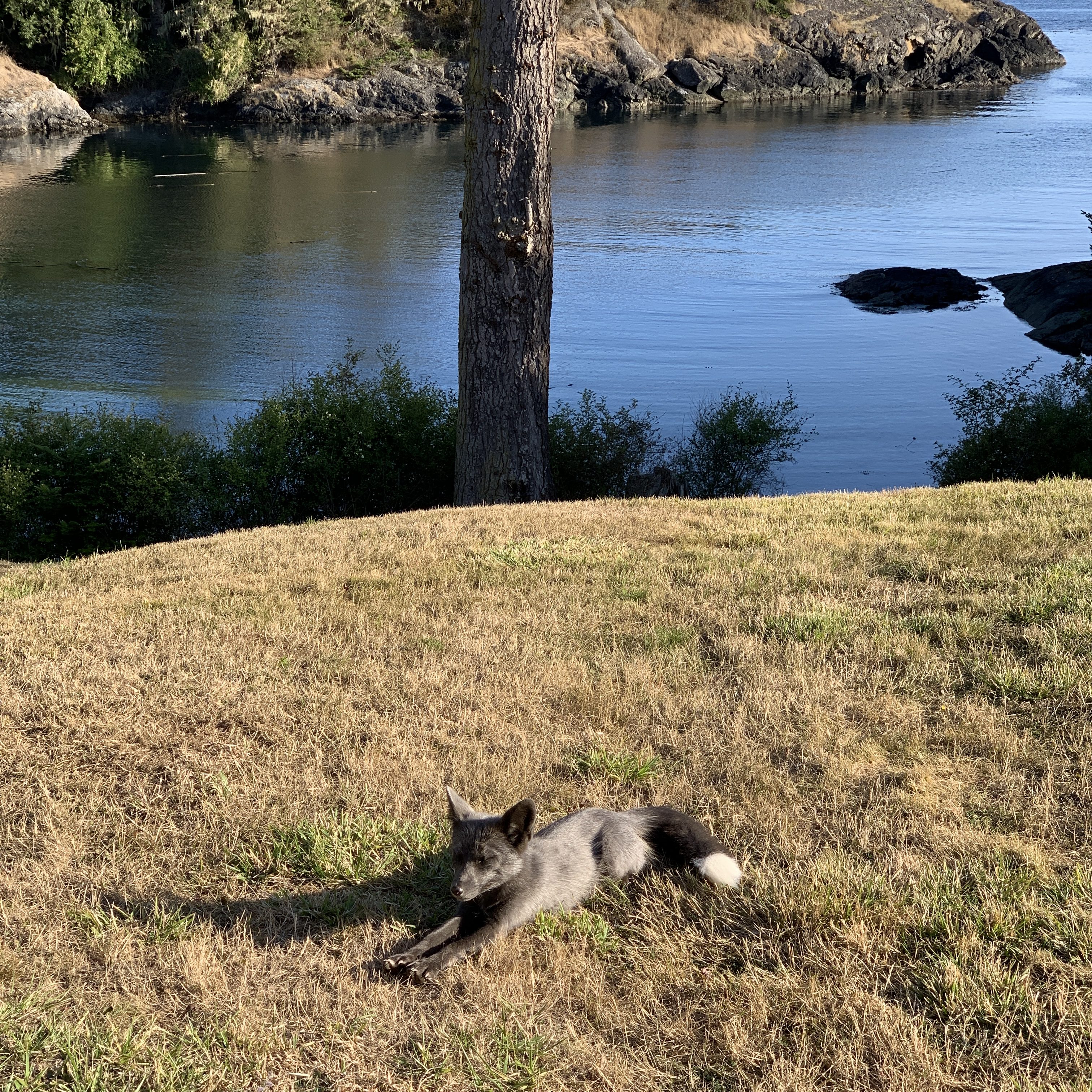 And a bonus:
Hey ! Can i help you for packing 😑😑 pic.twitter.com/oFWxS5KdyO

— Tiny Animals 🐾 (@tinyanimaIs) August 23, 2019
See yesterday's Links and Antidote du Jour here.