Earthquake caught on 'cat cam' BBC
Meet 'Squawkzilla,' the massive prehistoric parrot scientists say terrorized other birds Washington Post (Kevin W)
The 'warspeak' permeating everyday language puts us all in the trenches The Conversation
Earth's last magnetic field reversal took far longer than once thought PhysOrg (David L)
"Qutrit" Experiments Are a First in Quantum Teleportation Scientific American (David L)
Battery-Powered Ships Next Up In Battle To Tackle Emissions Bloomberg
Too many female doctors go part-time or stop working — why that's a big problem MarketWatch (resilc)
Kashmir
Article 370: Pakistan to Downgrade Diplomatic Ties With India The Wire (J-LS)
Brexit
Britain's luxury property market remains under pressure as million-dollar homes sell at a bargain https://t.co/asX5T8wHsb

— Bloomberg (@business) August 8, 2019

Boris Johnson pledges £250m for NHS artificial intelligence Guardian. Kevin W: "After the fiascos of IT and the health system in my own state, I can say that they would be better spending the money on nurse and increasing bed numbers instead. IT here is just a subsidy dumpster."

These Are The Foods You Might Not Be Able To Buy In A No-Deal Brexit Britain Huffington Post
Syraqistan
Charles Lister is promoting the leader of al-Qaeda in Syria as Che Guevara-like in an effort to have Hayat Tahrir al-Sham's (rebranded AQ) designation as a terrorist organization lifted.

Who in 2001 could've imagined that al-Qaeda would have a lobbyist in Washington DC in 2019? pic.twitter.com/GetXm6EmKQ

— Dan Cohen (@dancohen3000) August 7, 2019

Iran is reportedly jamming ship GPS navigation systems to get them to wander into Iranian waters Business Insider (David L)

Dead Aircraft Carrier: What If Iran Sunk a Navy Carrier? National Interest
US Empire Tightens Sanctions On Venezuela And Manning Caitlin Johnstone (UserFriendly)
Big Brother is Watching You Watch
Imperial Collapse Watch
National Guard general who avoided combat in every war since Vietnam retires Duffle Blog
Trump Transition
Health Care
A diabetic groom-to-be died after switching to $25 over-the-counter insulin to cut costs. His prescribed insulin cost nearly $1,200. Business Insider (Kevin W)
2020
Covering a @BernieSanders town hall on housing in Northridge

First 3 people told their stories and broke down crying in a room of several hundred. Haven't seen this on the trail. Bernie told the first person that his folks would get her # and work to help her today. pic.twitter.com/yUT6kDLWQi

— Zohreen (@Zohreen) August 6, 2019

How Elizabeth Warren plans to reboot the farm economy Politico (resilc)

Kamala Harris Has Tulsi Gabbard Arrested Beet Press. UserFriendly: "Better than The Onion."

California Scrubs Kamala Harris AG Records From Its Website PJMedia (furzy). Anyone could put in a Public Records Act request and the records would have to be provided…but one wonders what stalling tactics they might try.
L'affaire Epstein
Billionaire Leslie Wexner Says Jeffrey Epstein Misappropriated 'Vast Sums' From Him Wall Street Journal
The Emerging Republican Majority, 50 Years Later Atlantic
Kansas' Long Road to Recovery After Years of Severe Budget Cuts Governing
Pacific Standard too:
Really bummed as hell that @GOVERNING is closing down. What a tragedy

— Jeff Stein (@JStein_WaPo) August 8, 2019
Gunz
Trump quietly used regulations to expand gun access Politico (resilc)

No Terrorist Is A 'Lone Wolf' FiveThirtyEight
Black Injustice Tipping Point
Texas police apologise for horseback officers leading black man by rope BBC (resilc)
The Oil Giants Might Finally Pay for Pulling the Biggest Hoax of All Esquire (David L)
How Economists' Faith in Markets Broke America Atlantic
US yield curve sends strongest recession warning since 2007 Financial Times. Don't forget the saying: "An inverted yield curve predicted nine of the last five recessions."
Review: 'Transaction Man' and 'The Economists' Hour' Atlantic (UserFriendly)
Why Trade Tariffs and Currency Devaluation Are a Dead End American Conservative (resilc)
Asset Managers With $74 Trillion Are Perched on Brink of Crisis Bloomberg. Important. Wish I had time to write this up. This is a development sorely to be wished since secondary market securities trading is the part of the financial services industry which is the biggest drag on productive activity.
Class Warfare
Antidote du jour. From the Pleasant Lake e-mail, courtesy Lawrence R:
Monarch caterpillar munching on milkweed seed pod. As you probably know, milkweed sap is sticky and very toxic. It doesn't take much to kill a cow or horse! Yet this is the caterpillar's primary host plant. Herbivorous insects are very good at detoxifying or sequestering plant chemicals that are there to deter consumption. Little wonder that they quickly evolve resistance to most the the chemicals we invent to kill or deter them from our crops and gardens!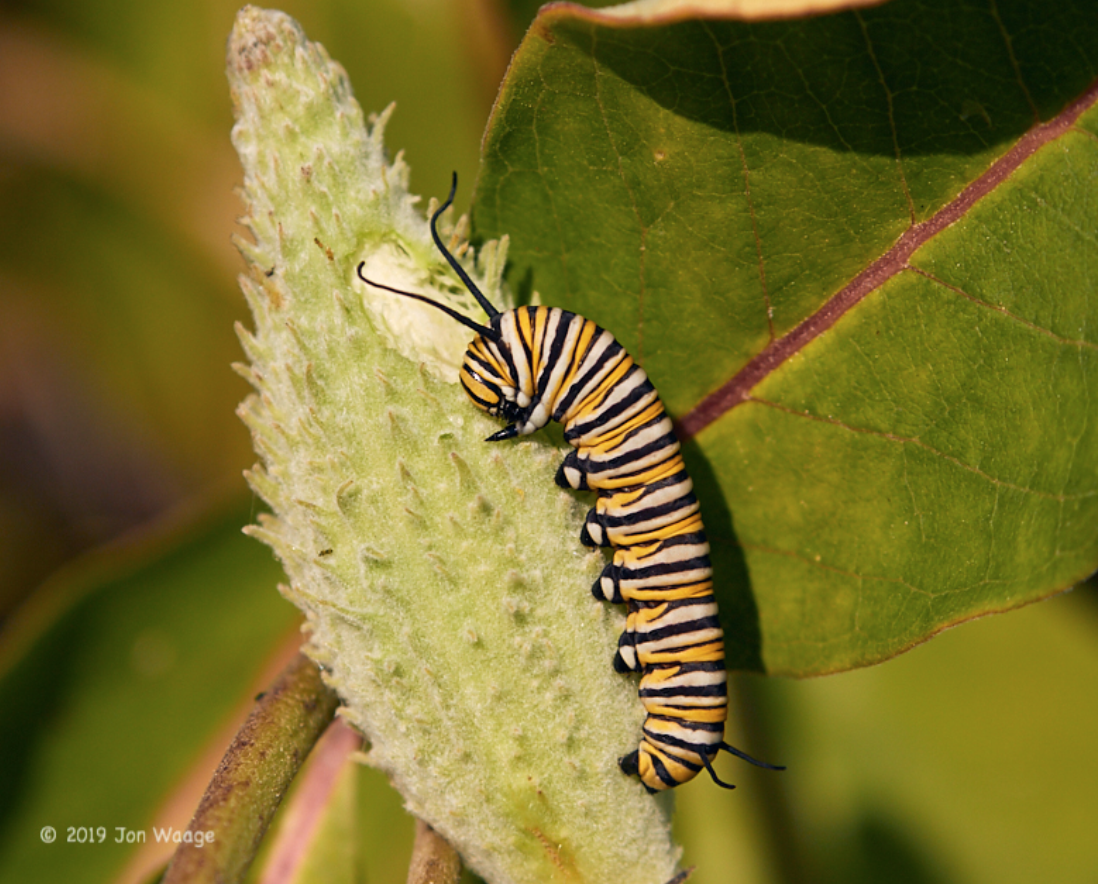 And a bonus. Even though this is a long video by YouTube standards for this genre, it's become popular in a short period of time. I was particularly taken by the Japanese-ness: the emphasis on the sadness of the cat, the selflessness of the vet, who took pride in her work, and the open sentimentality of the man who rescued her.
See yesterday's Links and Antidote du Jour here.