By Lambert Strether of Corrente
Trade
"WTO: US Can Sanction Nearly $8 Billion of EU Goods Over Airbus Aid" [Industry Week]. "The World Trade Organization will authorize the U.S. to impose tariffs on nearly $8 billion of European goods due to illegal state aid provided to aircraft maker Airbus SE, according to people familiar with the decision, a move that will likely trigger retaliatory measures from the European Union. The U.S. duties, which could hit as soon as October, will target planes and parts as well as luxury products, such as wine and spirits like Dom Perignon and Moet & Chandon — and leather goods under labels such as Givenchy and Louis Vuitton, according to a list published by the U.S. Trade Representative's office. The people who spoke of the ruling asked not to be identified because the confidential WTO decision isn't due to be published until Sept. 30."
"A big bet that U.S. hardwood lumber companies placed on China is collapsing. Exports to China of the wood often used in furniture manufacturing have fallen 40% this year and prices are diving since Beijing placed retaliatory tariffs on the goods [Wall Street Journal]. "[S]everal companies are laying off workers and slashing output, and supply chains are resetting as other countries rush to meet Chinese demand while U.S. companies look for new markets along with government assistance tied to the lost trade. In the first seven months of 2018 the U.S. sent 54% of all of its exported hardwood lumber by volume to China, but that share has fallen to 41% this year. U.S. hardwood producers started ramping up to meet Chinese demand two decades ago. But the focus left the companies unable to quickly find new buyers as trade tensions flared."
Politics
"But what is government itself, but the greatest of all reflections on human nature?" –James Madison, Federalist 51
"They had one weapon left and both knew it: treachery." –Frank Herbert, Dune
Alert reader dk (not to be confused with DK) is in the process of developing the following interactive chart:
And here is (are) the latest Dem Primary Polling as of 9/25/2019, 12:00 PM EDT: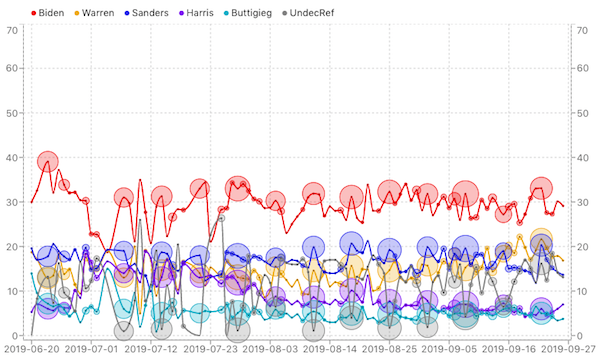 Top tier down, bottom tier up. With this one poll.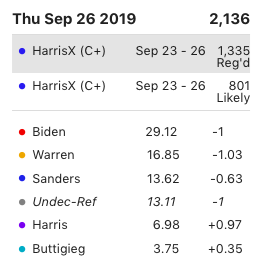 I think dk has started a really neat project, and in the near future we'll seek your feedback (within reason) for the tool "live."
UPDATE 2019-09-24: These screens are from a revised version that now includes Undecided-Refused, which is in grey.
UPDATE 2019-08-30: Now the polls aggregated (all available) are shown at the bottom of the poll. We also give more detail about each poll than RCP, and allow candidates to be selected or deselected. That's three reasons what dk is doing beats RCP, and if we can make the individual polls selectable/highlightable, that will be four reasons. With more to come, grid willing.
* * *
2020
Patient readers, I should have more, but the impeachment saga drowned everything out. Once again! This will also be Warren-heavy, because impeachment crowded out some material yesterday. –lambert

Sanders (D)(1): Paris is worth a mass:

#Bernie crushed it on The Late Show ?

Here's part 1 of his interview with #Colbert for those who missed it last night! https://t.co/UaRlzgwoyp

— Gill (@gillsterein) September 27, 2019

Warren (D)(1): #MedicareForAll. The audio is awful because Jailani recorded Plouffe's podcast in a coffee shop:

Elizabeth Warren's top strategist Joe Rospars dodges the question of how to pay for Medicare for All and suggests they're looking at other plans other than the Bernie Sanders one.

Listen closely to this answer, given on the David Plouffe podcast today. pic.twitter.com/HKs0q4ro9C

— Zaid Jilani (@ZaidJilani) September 27, 2019

"Overall, the program of MedicareForAll…." So Warren doesn't support one bill, and in fact the campaign is looking at the all the candidate's bill. Listen carefully, and you will not be able to reverse engineer the basic question out of Rospars' answer: Will private health insurance companies be able to sell competing products to #MedicareForAll?

Warren (D)(2): Not a good look for an academic:

Elizabeth Warren not only claimed to be "Cherokee" in contributing recipes to the "Pow Wow Chow" cookbook, but seems to have directly plagiarized the "Native American" recipes from Pierre Franey of the New York Times. pic.twitter.com/9zqEszML0h

— Nathan J Robinson (@NathanJRobinson) September 26, 2019

Warren (D)(3): Seems like a basic question:

FLAG: Senator Elizabeth Warren appears uncharacteristically flustered when asked if her ethics plan would allow her Vice President's son to serve on the board of a foreign company: "No," she said. "I don't know. I mean I'd have to go back and look at the details." #nhpolitics pic.twitter.com/EksLlMEsew

— Nicole Sganga (@NicoleSganga) September 25, 2019

Warren (D)(4): "Everybody has a plan until they get punched in the mouth." –Mike Tyson (apocryphal paraphrase):

A Warren campaign spox on whether, under a Warren administration, her VP's child could serve on the board of a foreign company: "The [ethics] bill doesn't prevent any children of a VP from serving on a company's board."

— Annie Linskey (@AnnieLinskey) September 26, 2019

* * *

"The party decides:"

Primary is a long way from over. But Warren rising while trying to unite the various factions of the Democratic Party, and Sanders flat/falling while not playing nice with others, is a datapoint that really supports the political science view on how nominations are won.

— Nate Silver (@NateSilver538) September 24, 2019

Nevertheless, it's interesting to consider what Silver might consider "playing nice with others" means, operationally, for Sanders. Join Warren in throwing #MedicareForAll under the bus?
Impeachment
"Efforts to impeach Donald Trump" [WikiPedia]. • Universal.

"Here is a timeline of the Ukraine events that led to the Trump impeachment inquiry" [CNBC]. • First event: 2002, "Burisma founded.

"Trump impeachment inquiry: A timeline" [Los Angeles Times]. • First event: "2014: The United States becomes one of Ukraine's strongest allies."

"Trump and Ukraine: Timeline of the events of the scandal" [Al Jazeera]. First event: "Late 2018 – Trump's personal lawyer Rudy Giuliani speaks to former Ukrainian Prosecutor General Viktor Shokin by Skype."

"A diagram of events in the impeachment inquiry of President Trump" [USA Today]. First event: July 29, 2019: "Special counsel Robert Mueller testifies before two House committees about Russia's "sweeping and systematic" interference in the 2016 election."

"When Impeachment Meets a Broken Congress" [Politico (RH)]. "…I venture a simple, sheepish question for the CIA operative turned freshman congresswoman…" • The elected before whom the reporter is fawning wouid be former (?) CIA operative Abigail Spanberger, from VA-07 in Northern Virginia. (If there's a joke about today's "Army of Northern Virginia" — the densely networked defense and intelligence national security class, who sleep in the bedroom communities of NOVA, it doesn't seem to have been made yet.)

"Let's get real: Democrats were first to enlist Ukraine in US elections" [John Solomon, The Hill]. • Immediately before Solomon's defenestration.
Stats Watch
Durable Goods Orders, August 2019: "Fizzling capital goods orders are the unwelcome key to what at the headline levels…. look like a better-than-expected durable goods orders report for August [Econoday]. "[C]ore capital goods orders (nondefense ex-air) fell… which misses Econoday's consensus for no change and include a major downward revision to July… These two readings are not favorable indications for third-quarter business investment, the lynchpin to Federal Reserve rate-cut policy and their concerns that slowing global growth will eat into US manufacturing."
Personal Income and Outlays, August 2019: "Personal income and consumer spending corrected in August what were uneven readings in July" [Econoday]. "[T]he marginal August gain for consumer spending wasn't expected and, despite July's strength, will mark down third-quarter GDP estimates. Inflation readings, and their implications for Federal Reserve policy, are curiously mixed…. This report has a little bit of everything and will feed lively cross debate among the doves and the hawks at the Fed. Inflation is improving but it's not quite there while consumer spending is soft overall but shows signs of underlying force."
Consumer Sentiment, September 2019 (Final): "Consumer sentiment did improve in the last half of September…, yet this is still among the very lowest readings of the last three years" [Econoday]. "The rival consumer confidence report (data posted Tuesday of this week) showed a sharp decline in September to bring these two reports more in line with each other, that is struggling to hold steady in a year that has seen major trade frictions and general slowing for domestic manufacturing. Yet consumer spending has remained strong, at least so far this year though today's data on August consumer spending, despite strength in durable spending, did come up short of expectations."
The Bezzle: "Cashing in on dementia patients: drugmaker to pay $116 million in fraud settlement" [CNN]. "A pharmaceutical company that whistleblowers alleged paid doctors to prescribe its main drug and urged salespeople to push it as a way to control unruly dementia patients will pay more than $100 million to settle government fraud allegations. The Department of Justice announced the settlement with Avanir Pharmaceuticals on Thursday, four years after these whistleblowers alerted the federal government that they believed the company was paying kickbacks to doctors and illegally marketing its main drug, Nuedexta — particularly in nursing homes. Each of these three whistleblowers will receive a portion of the millions Avanir has agreed to pay." • No executives in jail. No bonuses disgorged. Cost of doing business. More:
"Nuedexta, which hit the market in 2011, is only approved by the federal government for a rare condition characterized by uncontrollable laughing and crying, known as pseudobulbar affect, or PBA…. Avanir instructed sales representatives to provide false and misleading information that PBA patients could be exhibiting a wide variety of 'behaviors' such as , when, in fact, those symptoms are commonly observed in patients who have dementia but do not have a diagnosis of PBA," the DOJ's press release stated. "This strategy worked, and Nuedexta utilization in (long-term care) facilities increased."
So they strap to a bed in a nursing home and leave the TV on. Then you cry without years. So they drug you. Ka-ching!
The Bezzle: "This adviser's excessive trading cost a retired client $171,000 in commissions" [Francine McKenna, MarketWatch]. "The Financial Industry Regulatory Authority, or Finra, recently barred an adviser and fined his firm for his excessive trading of 14 clients' portfolios, including two retired women. In one scenario, the adviser, referred to as 'CJ,' made 267 trades over three years for a retired woman with a net worth of less than $500,000, causing her to pay more than $61,000 in commissions. CJ placed 533 trades in a three-year period for another client, a retired woman with a net worth of less than $1 million, which led her to pay more than $171,000 in commissions." • If you have a portfolio, especially one on this woman's scale, McKenna has what looks to me like good advice on how to avoid fraud like this.
The Bezzle: "L.A. drops lawsuit over DWP billing errors. Now ratepayers could owe millions" [Los Angeles Times]. "The city of Los Angeles moved Thursday to abandon its high-profile lawsuit against PricewaterhouseCoopers in what amounts to a stunning defeat for City Atty. Mike Feuer, who had tried to blame the consulting firm for the massive overbilling debacle at the Department of Water and Power. City attorney spokesman Rob Wilcox said that key witnesses in the city's case — namely David Wright, the former head of DWP, and Paul Paradis, an attorney who formerly consulted for Feuer's office — have invoked their 5th Amendment right against self-incrimination, impairing the city's ability to proceed with its lawsuit. Wright and Paradis also were named in a recent FBI search warrant, in which investigators were seeking information about potential crimes, including bribery and financial kickbacks." • Maybe the whole crew could get on at CalPERS?
Tech: "Apple Inc. is trying to keep one of its major suppliers running as the company rolls out its latest iPhone models. The electronics giant is looking at doubling its planned investment in financially-strapped Japan Display Inc. under a revised bailout plan for the manufacturer" [Wall Street Journal]. "Japan Display says a Chinese investment fund is dropping an agreement to supply more than half of the $742 million needed to rescue the business, leaving the manufacturer of liquid crystal displays for the new iPhone 11 to look for new investors. Apple has already put $100 million into Japan Display, and the new wrinkle is a sign of the closely intertwined relationship between the supplier and buyer. Japan Display gets about 60% of its revenue from Apple. And Apple's new phones cost so much partly because there are a limited number of suppliers for the screens."
Tech: "Hedge Fund Buys iPhone Suppliers Betting Apple Will Raise Orders" [Bloomberg]. "'Based on our supply chain data, we believe orders for iPhone 11 Pro for suppliers will be revised up,' Narci Chang, a Taiwan-based portfolio manager at Timefolio Asset Management SG Pvt, said in a telephone interview. 'I think that is going to be very encouraging for entire supply chain.'"
* * *
Today's Fear & Greed Index: 55 Neutral (previous close: 57, Greed) [CNN]. One week ago: 58 (Greed). (0 is Extreme Fear; 100 is Extreme Greed). Last updated Sep 27 at 11:59am.
The Biosphere
"The uncanniness of climate change" (interview) [Amitav Ghosh, Yale Climate Connections]. Hmm:
Amy Brady: This has happened to you before. I remember in your 2004 novel The Hungry Tide you describe an enormous storm surge in the Sunderbans, and not long after, a catastrophic tsunami happened there in real life.

Amitav Ghosh: Oh yes, and you may remember in Gun Island that there's a scene in Los Angeles with a fire headed toward a museum. This also happened just last year. The Getty Museum was in the path of the wildfires. But I wrote that scene six months before it actually happened. It's all so uncanny.

Amy Brady: Are you a prophet?

Amitav Ghosh: [Laughs] No, we're just living in an age where the improbable is becoming the probable.
Many opportunities for financial engineering!
Health Care
"Why the Private Health Insurance Industry Faces an Existential Crisis" [Wendell Porter, Portside]. "Our health insurance companies, in contrast, are not essential. They don't treat anyone. They don't prevent anyone from becoming sick. They don't take you to the hospital or make sure you take your pills. They don't fund or discover medical innovations. They're simply middlemen we don't need. And in the industry, we always dreaded the day American businesses and patients would wake up to that reality. That day has come. A majority of America's small businesses now support Medicare for All. So do a majority of Americans who receive health insurance through their employer. In my 20 years working inside the industry and the 11 years I've been watching from the outside, I have never seen such high support among the people who get their coverage through their employers for switching to a publicly financed, privately delivered health care system." • Well, hopefully the liberal Democrats can stand against the tide for another few Presidential cycles. For example–
"Why Is Teachers Union President Randi Weingarten Attacking Medicare for All?" [Jacobin]. "[Weingarten's most recent] column contains a series of vaguely progressive-sounding premises that somehow lead Weingarten to a full-on right-wing conclusion: that "preserving the option for employers and unions to continue to innovate in health care is critically important, and there is support for public and private options to coexist." Her appearance on The Hill's Rising on Wednesday is even worse. For reasons I can't quite fathom, Weingarten is on the offensive this week against a policy that union members support and from which almost all of us, myself included, would benefit. Her argument doesn't hold up well under scrutiny." • Ah, "innovation."

Class Warfare
"What the Apps That Bring Food to Your Door Mean for Delivery Workers" [New York Review of Books]. "Throughout it all, this high-tech speculation is powered by low-tech, physical labor. The digital-age customer interface may have changed, but the nature of the job remains what it has always been: ferrying food through hazardous roads from point A to point B. And that relies on the same inequities that have always enabled dangerous, low-wage work, both locally and globally: in the particularly clear example of Colombia, delivery apps are flourishing as Venezuelans fleeing hunger across the border provide a workforce reliably willing to work for less. 'Platform labor is migrant labor, everywhere,' said [Niels van Doorn, assistant professor in the media studies department at the University of Amsterdam]. … Bonuses encourage riders to work at certain times, in certain areas, and to accept orders that they generally wouldn't in order to hit targets with such motivational names as 'Quest' or 'Lunch Hustler' or 'Weekend Crusher.' Couriers value these bonuses, without which the job would often be barely worth their while, and there is a certain win-win logic to giving riders financial incentives to meet the algorithmically determined needs of the app. But the bonuses also reveal that the much-touted flexibility of the job is disingenuous, as the aggregate result is that couriers deliver more orders that individually pay less. 'It's physical work,' said Nazmus Saquib, who has worked as a courier for two years. 'Eight-hour work schedules should not be dependent on working more to be paid more. You should be able to make a living without wearing yourself out.' [V]an Doorn refers to this intricate system of bonuses as '.'" • So the bonuses are loot?
"'They Don't Need Us Anymore': Auto Workers Fear Electric Unrest" [Bloomberg]. "The milkman went missing thanks to the rise of refrigerators. Switchboard operators were done in by the dawn of direct dialing. And in the car industry, auto workers are deathly afraid the engine assembler will give way to battery builders. Dread over the prospect that plug-in cars — which have fewer parts and require less labor to build — will doom auto jobs helped spark the first United Auto Workers strike against General Motors Co. in over a decade. Ford Motor Co. and Fiat Chrysler Automobiles NV, which are rolling their own battery-powered models to market in the coming years, could face a similar fate if they're unable to quell the UAW's concerns that widespread adoption of EVs endangers the employment of 35,000 union members."
News of the Wired
"Red Sox And Rangers Cast Aside All Dignity In Battle Over Individual Statistical Milestone" [Deadspin]. "We can be sure that the Red Sox were determined not to let Minor get to 200 strikeouts on the season, even if it meant losing the game, because of what happened next." • Baseball is a wonderful game, actually. There's no clock!
* * *
Readers, feel free to contact me at lambert [UNDERSCORE] strether [DOT] corrente [AT] yahoo [DOT] com, with (a) links, and even better (b) sources I should curate regularly, (c) how to send me a check if you are allergic to PayPal, and (d) to find out how to send me images of plants. Vegetables are fine! Fungi are deemed to be honorary plants! If you want your handle to appear as a credit, please place it at the start of your mail in parentheses: (thus). Otherwise, I will anonymize by using your initials. See the previous Water Cooler (with plant) here. Today's plant (SV):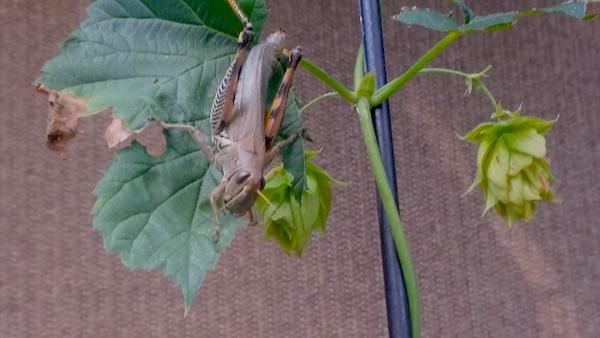 SV writes: "Grasshopper on… Er… Hops!"
Readers, I think one more round on plants? Just to take us through up to Autumn and the leaves changing. All plants and honorary plants welcome (as well as more of those very interesting garden projects).
* * *
Readers: Water Cooler is a standalone entity not covered by the annual NC fundraiser.Remember, a tip jar is for tipping! So if you see a link you especially like, or an item you wouldn't see anywhere else, please do not hesitate to express your appreciation in tangible form. Regular positive feedback both makes me feel good and lets me know I'm on the right track with coverage. When I get no donations for five or ten days I get worried. More tangibly, a constant trickle of donations helps me with expenses, and I factor in that trickle when setting fundraising goals:
Here is the screen that will appear, which I have helpfully annotated.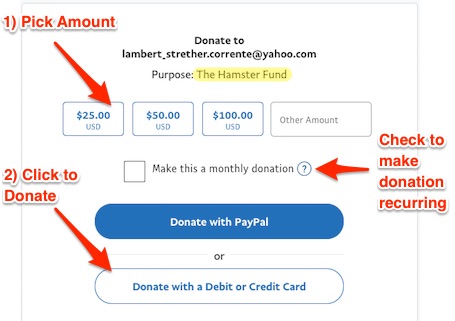 If you hate PayPal, you can email me at lambert [UNDERSCORE] strether [DOT] corrente [AT] yahoo [DOT] com, and I will give you directions on how to send a check. Thank you!