This is Naked Capitalism fundraising week. 1548 donors have already invested in our efforts to combat corruption and predatory conduct, particularly in the financial realm. Please join us and participate via our donation page, which shows how to give via check, credit card, debit card, or PayPal. Read about why we're doing this fundraiser and what we've accomplished in the last year, and our current goal, more original reporting.
Lambert here, repeating what I said yesterday: I want to put in a plug to pick up the pace on Original Reporting. Up to this point we have, as it were, funded the tour bus, the venues, the roadies, and the rhythm section. All those are essential! But Original Reporting is the lead guitarist and the singer! So please turn the knobs up to 11 and participate in the Harry Shearer "Double Your Donation" Challenge:
* * *
Politics
2020
"But what is government itself, but the greatest of all reflections on human nature?" –James Madison, Federalist 51

"They had one weapon left and both knew it: treachery." –Frank Herbert, Dune

* * *

Alert reader dk (not to be confused with DK) is in the process of developing the following interactive chart. Here is (are) the latest Dem Primary Polling as of 10/11/2019, 12:00 PM EDT:

Undecideds down, everybody else up, including the undisputed leader, Joe Biden. I'm starting to think that the "This time for sure!" dynamic applies to Biden as well as Trump.

Still waiting for the impact of Sanders heart attack. If there are no shifts by the end of the week, I'd say Sanders, er, dodges a bullet (though the impact may be to set a ceiling on his support). Ditto for Warren's various difficulties with oppo (which I think will affect her in the general anyhow, not the primary). And here are the poll results:

I think dk has started a really neat project, and in the near future we'll seek your feedback (within reason) for the tool "live."

* * *

Biden (D)(1):

"We talked about this in, in, in San Francisco's all about well, you know, gay, gay, gay bath houses, and everybody, it's all about round the clock sex. It's all. C'mon man."

Nailed it. pic.twitter.com/rETeLF6UNW

— Nate's Liver – Commentary (@SilERabbit) October 11, 2019

You say "round the clock sex" like that's a bad thing.

Trump (R)(1): "Trump attacks Bidens in personal and coarse terms at Minnesota rally" [WaPo]. • You mean "coarse" like the pee tape?

Warren (D)(1): "Warren's Plan to Spurn Big Money Donors Has a Catch" [The New Republic]. "In an interview with CBS News, Warren was asked if she would commit to forgoing fundraising events 'no matter how much money Donald Trump is raising,' and she affirmed that she would: 'Yeah, I'm not going to do the big-dollar fund-raisers. I'm just not going to do it. The whole notion behind this campaign is that we can build this together."… Hours later, the Warren campaign rowed back that statement, telling NBC News that Warren would 'continue to raise money and attend events that are open to the press' for the Democratic Party itself…. The distinction between raising money for her own campaign and raising it for the DNC is not as significant as her campaign makes it out to be. In 2016, the Hillary Clinton campaign raised millions for the Hillary Victory Fund, a joint fundraising committee with the DNC and state parties, though most of that money ended up back in the national DNC's hands. Politico reported at the time that this setup allowed Clinton to 'solicit checks of $350,000 or more from her super-rich supporters at extravagant fundraisers.'" • Surely the Warren campaign is well aware of this, since many of them come from the Clinton campaign. Concluding: "Warren's decision to placate and enmesh herself in these institutions is an indication that she has less interest in revolutionizing the party than in working within its creaky machinery to attain power. But we knew this already." Yep.

Warren (D)(2): "Elizabeth Warren Information" [Thoughts from Polly's Granddaughter]. • Quite a bill of particulars, from a Cherokee Nation geneologist.

* * *

"Winning the senior vote for Bernie with Letters to the Editor" [Alice Marshall, Medium]. "Letters to the Editor are the most widely read section of any newspaper, so this is a good place to get our message out. Seniors still get their news from newspapers. The best chance to get your letter printed is to related it to a specific article in the newspaper. Monitor your community newspaper for any articles concerning senior citizens, whether it be housing, healthcare, consumer fraud, or any other story about seniors. Then look at Bernie's legislature proposals for something that address that issue. I have created a Google Doc spreadsheet of Bernie's proposed legislation to assist with research. If we all get busy we can get the message out. DO relate your letter to a specific article, newspapers like to confine letters to actual readers." • I can testify to the effectiveness of Letters to the Editor in our fight against the landfill.
Impeachment
"Chris Hedges on Impeachment, Plus Matt's Take on Whistleblowers" (podcast) [Matt Taibbi and Katie Halper, Useful Idiots]. • This is a very good podcast, and the interplay between Taibbi and Halper is great. Apparently, Taibbi has gotten some pushback from the usual suspects — I wouldn't go so far as to say that all of them are intelligence community-adjacent, unlike, say, Moby or Ellen DeGeneres — using the usual techniques of character assassination (from, e.g., Adam Serwer: "The column makes a strong case that the whistle-blower is not punk enough for Taibbi." An intelligence analyst who worked for Joe Biden and leaked a memo to screaming applause from liberal Democrats, the intelligence community, and their assets in the press just isn't in the same league as Snowden, Manning, Assange, Drake, or Kiriakou. Spending time in solitary is for "punks"? Dude. Who's the punk, here? There's also the argument that real whistleblowers go through channels. Holy Lord. Here are the views of a former spook, if there is such a thing:

Oh my. It seems all the felons are coming out of their holes to claim whistleblower status. They are not whistleblowers. We are witnessing the proper way to do it. Kiriakou, Snowden, Sterling, Manning, Winner are criminals, not whistleblowers. https://t.co/EYyRF7f0tY

— John Sipher (@john_sipher) October 10, 2019
Realignment and Legitimacy
Yikes:

Amazing: this new Fox poll shows the groups that most trust the CIA – THE CIA! – are liberals, Democrats & Clinton voters. 77% of Dems trust the CIA; only 22% don't. 64% of liberals trust CIA; 22% don't. This is the enduring sickness of Russiagate/MSNBC: https://t.co/HcnCEeP24x pic.twitter.com/PQDeNUWTGA

— Glenn Greenwald (@ggreenwald) October 10, 2019

This is "looking forward and not back" with a vengeance. Quite literallly.

"Professional-Managerial Chasm" [n+1]. Very good potted history of thinking on the PMC/10% (as anatomized by Thomas Frank in Listen, Liberal!). "[S]ocial classes are historical phenomena. They cannot be properly understood as clusters in the income distribution or even as groups of people: they are only comprehensible as social relations first—there is no labor without capital or capital without labor; and second as the constantly changing pattern among those relations. Classes are, in other words, not categories, but processes.

"5 things that went wrong in election" [Cincinnatti Enquirer]. • Another electronic voting debacle. 2020 is gonna be great.

"Twitter Refuses to Verify Credible 2020 Primary Challengers" [The Intercept]. "Twitter's government relations team has been telling candidates seeking verification that they won't be giving any new contenders a blue check mark until after they win the state's primary…. Verification can increase a candidate's visibility and reach online among journalists, ordinary voters, and potential volunteers and donors. A lively social media presence alone certainly won't win an election, but the ability to look credible online is an undeniable material advantage. And, for aspiring politicians targeted by trolls, being verified means their accounts are more protected."
Stats Watch
Consumer Sentiment, October 2019 (Preliminary): "Consumer sentiment bounced sharply higher in October, to… easily exceed Econoday's consensus range" [Econoday]. "Also of note is that consumers see higher income gains at the same time that they see inflation on the decline, a combination that points to gains for real income where expectations are now at a two decade high…. Despite the headline gain for the index, sentiment is still below where it was in July and well below its peak in May… which was about when US trade tensions with China, among others, began to escalate."
Import and Export Prices, September 2019: "A swing higher for oil-related products boosted import prices to a stronger-than-expected… monthly rise" [Econoday].
"Today's report offers its indirect confirmation that global cross-border trade as a whole is flat if not in contraction."
Tech: "How my iPhone landed me with a £476 fine and made me a criminal" [Financial Times]. • This is brilliant, a must-read: "It all started one October afternoon last year, when a bus inspector asked to see my £1.50 ticket. I had tapped into the bus with my iPhone using Apple Pay, but alas, in the five minutes since I'd boarded, my phone had run out of juice, so I had no means of proving that I had paid. The inspector took my details and I didn't think much more about it." Time passes: "[A] few days later, I received a letter telling me that my case had been heard in a magistrates' court, that I had been found guilty, and I owed £476.50." • And it goes on. Of course, in America, they'd crapify the system even further, and then somebody would come up with the idea of selling insurance for e-payment failures…
Tech: "Is My Phone Listening in? On the Feasibility and Detectability of Mobile Eavesdropping" [Jacob Leon Kröger and Philip Raschke, IFIP Annual Conference on Data and Applications Security and Privacy]. From the abstract: "Based on previous research and our own analysis, we challenge the widespread assumption that the spying fears have already been disproved. While confirming a lack of empirical evidence, . Taking into account existing access control mechanisms, detection methods, and other technical aspects, we point out remaining vulnerabilities and research gaps."
Tech: "Virtual Reality Is Still Failing Half of the World's Population" [OneZero]. "As I strapped on a VR headset, I was transported to a warehouse, where a sex party was ramping up all around me…. Lust's film was dynamic and exciting, a sumptuous buffet of erotic action. But shortly into the presentation, I started to feel sick. The nausea I felt wasn't inspired by the content — Lust's 360° of Lust is a beautifully crafted experiment in immersive sexual media. My reaction was a run of the mill episode of motion sickness, a nasty side effect of VR immersion that's significantly more common for women than for men. As I grappled with my low-level nausea, it struck me that Lust's latest project represented an interesting feminist challenge. Since its earliest days, the porn industry has been seen as the domain of men. Though it's still in its nascent stages, the VR space is currently dominated by the same demographic. A report from 2017 found that a full 95% of HTC Vive users were men; although other headsets attracted more female users, non-Vive headset users were still 87% male. What does it mean to create something appealing to women using a film genre they're presumed to dislike and technology thought to make them sick — and what might the process of overcoming those barriers teach us about the biases that shape our media landscape?"
Manufacturing: "Aviation experts blast FAA over 737 MAX redesign approval: report" [Agence France Presse]. "The Joint Authorities Technical Review (JATR) was put together in March after a 737 MAX run by Ethiopian Airlines crashed, killing all 157 onboard… The FAA came in for harsh criticism from the JATR, which said there was 'an inadequate number of FAA specialists' in place to oversee a new design of the 737 MAX and they 'had inadequate awareness' of the system implicated in the crashes…. Their damning 69-page report also found that Boeing had put pressure on some of its staff who had FAA authority to approve the updated designs. The JATR panel included members of the FAA as well as NASA and other regulators from around the world."
Today's Fear & Greed Index: 42 Fear (previous close: 36, Fear) [CNN]. One week ago: 32 (Fear). (0 is Extreme Fear; 100 is Extreme Greed). Last updated Oct 11 at 12:31pm. As OregonCharles has pointed out, the wild swings seem to be getting more frequent.
The Biosphere
"Russian scientists find 'most powerful' ever methane seep in Arctic Ocean" [The Telegraph], "A research expedition from the Tomsk polytechnic university found the seep, as methane leaks are known, east of Bennett Island in the East Siberian Sea, where its violent bubbles seemed to make the water "boil" over an area of 50 square feet…. 'This is the most powerful seep I have ever been able to observe,' lead scientist Igor Semiletov, who has participated in 45 Arctic expeditions, said in a statement this week. 'No one has ever recorded anything similar.' Mr Semiletov warned last month that the sudden release of gases from underwater permafrost could harm oil and gas infrastructure. 'If we don't take into account research results about the condition of underwater permafrost, geological catastrophes similar to the (Deepwater Horizon) accident in the Gulf of Mexico could occur during exploratory and commercial activities, which would cause irreparable damage,' he said." • So leave it in the ground?
"Sutter, Kaiser among hospitals hit by Northern California blackouts" [Health Care Dive]. "Hospitals across the country are required to prepare for emergencies such as natural disasters. They are expected to develop preparedness plans and conduct drills and exercises to test those plans. These revamped laws came in the wake of Hurricane Katrina… Several inpatient facilities on Wednesday and Thursday were forced to use backup generators (which are required by both state and federal law) to continue operating. Many had to reschedule elective procedures. Several outpatient clinics were temporarily closed. Sutter Health, which operates hospitals in both the Bay Area and Sacramento, appeared to be the most affected. Spokesperson Amy Thoma Tan said four of its hospitals – in Amador, Auburn, Santa Rosa and Lakeside – had to resort to backup power, while an unknown number of procedures had to be rescheduled."
"This Interactive Map Shows Fall Foliage Predictions Across the U.S." [Smithsonian] (map here; it takes a few seconds to load). "the team analyzed millions of data points collected by the National Oceanic and Atmospheric Administration, as well as other private and public organizations. Dalbey writes that the researchers refine their predictive algorithm every year (this is the sixth annual iteration of the map), building on sources such as historical and forecasted temperatures, leaf peak trends, and peak observation trends to produce the final product…. Last year, a significant delay in fall colors' Midwest debut led the leaf-spotting Foliage Network to deem the season 'bizarre.' According to City Lab's Linda Poon, 2018 was the first time the group recorded almost no color change by the second half of October; when the leaves finally did change, green and brown appeared more often than vibrant orange and red. Experts say fall foliage is running similarly behind schedule in 2019. As Weather.com's Brian Donegan reports, above-average September temperatures have delayed the timing of peak foliage by about a week." • I hope this mao isn't too late; my hidden agenda is for readers to send in pictures!
"A food to farm as climate changes: elderberries" [Bulletin of the Atomic Scientists (!)]. "Ancient plant species might hold important clues about which crops will survive in a harsher climate. With that in mind, [Katie Fyhrie, a grower at Cloverleaf Farm] and her team have started growing elderberries. An indigo pearl-sized fruit that grows on a big bushy plant, the elderberry is relatively unknown in the United States; the majority of the commercial market comes from an imported European variety. But Native American communities have been using a Western elderberry subspecies for centuries. The elderberry that's native to California grows remarkably well in drought conditions. After a couple of years, you can completely remove irrigation and the plant will keep producing. This last season, Cloverleaf harvested 130 pounds of berries from each of its most mature trees, none of which are irrigated. 'That is a huge deal that we're getting berries that are good for you, really versatile for a lot of products, and that require no additional fertilizer or water,' Fyhrie says. Elderberries are just one of 'many hardy ancient foods and crops that may be a poised to make a twenty-first century comeback,' as Amanda Little puts it in her recent book The Fate of Food: What We'll Eat in a Bigger, Hotter, Smarter World."
Health Care
"As Medicaid work requirements cost taxpayers $408M, government watchdog calls for more oversight" [Health Care Dive]. "Implementing controversial work requirements in five states cost taxpayers nearly $408 million, according to a government watchdog report analyzing administrative costs over a three-year period.
The Government Accountability Office raised concerns about a lack of oversight regarding the administrative costs. The report warns some of the costs may not be allowable under CMS guidance. In one case, the costs in question have already amounted to tens of millions of dollars. "
Class Warfare
"Are the trades really the economy's best kept secret?" [The Week]. "We tend to assume that high pay is a sign of a labor shortage — demand for workers outpacing supply to a greater degree. But while those forces matter, labor markets are rarely 'markets' in the technical way economists mean. They're social institutions, structured by laws and contracts and the bargaining power of the players involved. According to [Dale Belman, a Michigan State University], the significant labor shortages in the trades actually tend to happen in the non-unionized regions with lower pay: 'There's a belt of labor shortages running from North Carolina across to Texas,' Belman said. 'That's also a heavily non-union area with particularly low wages and a lack of effective training systems. So they neither have the ability to train, nor are the jobs conducive to bringing in workers — because there's a lot of traveling in construction.'"
"A back-row seat" (interview) [Chris Arnade, World Magazine]. "I'm not religious, but the secular shift has not worked. And I don't just see religion as having a utility. I learned through this project that maybe religion is just as right as sciences. Maybe my privilege and the privilege of a lot of people like me is obscuring the evidence for religion. We've removed ourselves so much from the messiness of life that we don't see the evidence for faith as being true. I'm on unsolid ground here because I'm speaking about theology, but for me religion is about being humble. One of the things that comes with privilege is hubris. So in some sense, you're removed from the humility that allows you to understand other things greater than we can understand." • I hope religion isn't a requirement for humility, but I see Arnade's point.
News of the Wired
"Why deep-learning AIs are so easy to fool" [Nature]. "[It is easy] to break the leading pattern-recognition technology in AI, known as deep neural networks (DNNs)…. In their efforts to work out what's going wrong, researchers have discovered a lot about why DNNs fail. 'There are no fixes for the fundamental brittleness of deep neural networks,' argues François Chollet, an AI engineer at Google in Mountain View, California. To move beyond the flaws, he and others say, researchers need to augment pattern-matching DNNs with extra abilities: for instance, making AIs that can explore the world for themselves, write their own code and retain memories. These kinds of system will, some experts think, form the story of the coming decade in AI research." • Oh, great. The answer to poor algos is self-modifying code. What could go wrong?
"Why Everything Is Getting Louder" [The Atlantic]. "Noise is never just about sound; it is inseparable from issues of power and powerlessness. It is a violation we can't control and to which, because of our anatomy, we cannot close ourselves off. 'We have all thought of killing our neighbors at some point,' a soft-spoken scientist researching noise abatement told me." • Correct. Noise when I am trying to work or sleep is one of the very few things that can send me into a rage. It's why I love the Quiet Car! This is an excellent article (and the story hook is a hum that turns out to be from "chillers" at a ginormous data center).
Readers, feel free to contact me at lambert [UNDERSCORE] strether [DOT] corrente [AT] yahoo [DOT] com, with (a) links, and even better (b) sources I should curate regularly, (c) how to send me a check if you are allergic to PayPal, and (d) to find out how to send me images of plants. Vegetables are fine! Fungi and coral are deemed to be honorary plants! If you want your handle to appear as a credit, please place it at the start of your mail in parentheses: (thus). Otherwise, I will anonymize by using your initials. See the previous Water Cooler (with plant) here. Today's plant (TBH):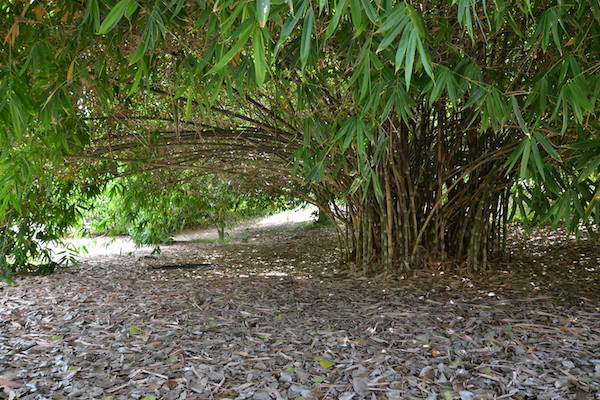 TH writes: "A little patch of bamboo goes a long way for a nice shade umbrella."