By Lambert Strether of Corrente.
Readers, a bit more on the election after I finish a laundry. –lambert UPDATE Done.
Trade
"After years of Western investment, there are more than 400 major automotive suppliers [in Turkey], including Bosch GmbH, Continental AG and Magna International Inc., and many feed auto factories in Europe. The sector has moved beyond producing cars for the Turkish market: Last year around 81% of the vehicles produced in Turkey were exported" [Wall Street Journal].
Politics
"But what is government itself, but the greatest of all reflections on human nature?" –James Madison, Federalist 51
"They had one weapon left and both knew it: treachery." –Frank Herbert, Dune
* * *
2020
Alert reader dk (not to be confused with DK) is in the process of developing the following interactive chart. Here is (are) the latest Dem Primary Polling as of Updated: 10/15/2019, 11:00 AM EDT:

Just for grins, I thought I would add Yang, because he got some buzz from Q3 fundraising. Yang is remarkably stable… And here are the poll results:

I think dk has started a really neat project, and in the near future we'll seek your feedback (within reason) for the tool "live."

* * *

Biden (D)(1): "The Biden Paradox" [Matt Taibbi, Rolling Stone]. This is a fine profile, worth reading in full. The conclusion: "After the event in Vegas, crowd members almost all say the same thing. They like the way Biden has handled the beating he's taken all around, from media jerks like me, from Democratic rivals, and especially from Donald Trump. 'Class,' says Alicia Tarr. 'Goes nose to nose with someone, doesn't put him down.' 'Experience,' says a local print-shop owner named Richard. 'Not too radical.' Ellen Vernon, a kindly Belize native, wanders out of the community center last of all the audience members, wearing a smile. She's a fan of Obama's, and predisposed to Biden, but his forbearance this campaign season in the face of constant attacks added to her admiration. 'He never gets mad,' she says. 'Now that is a man.' I ask her how she thinks a candidate with so many issues could prevail in a general election. 'People,' she says with a sigh, 'have soft hearts.'"

Biden (D)(2): "Hunter Biden is a reminder: Democrats are morally corrupt, too" [Guardian (Re Silc).] "The son of a longtime US senator gets his start as a lawyer with one of the biggest corporate donors to his dad's campaigns; a friend of his dad's gets him a job in the Clinton administration, and then as a lobbyist; later, while his father is vice president, he is given a $50,000 per month seat on the board of a Ukrainian energy firm, despite lacking any clear energy expertise. How does this all happen? It happened the same way that Chelsea Clinton became a "special correspondent" for NBC News, and Jenna Bush got a job as a Today show host, and the Trump children got jobs overseeing a real estate empire…. When you are the son of a famous and powerful politician, you are showered with opportunity, whether you deserve it or not. This is nepotism, but it is also, if we are being direct, a form of corruption. Moral corruption. Not only because these prestigious positions are not earned, and because these celebukids are taking something that rightly should have gone to someone more deserving; but also because, even though there is rarely anything so crude as a direct quid pro quo, this undeserved largesse is always motivated to some extent by a desire by some powerful interest to take advantage of the halo of influence cast by the parents. That influence should properly accrue to the public, who their parents work for." • Sounds like college admissions.

UPDATE Klobuchar (D)(1): "In Iowa, Amy Klobuchar compares Trump inquiry to Watergate, says Democrats can 'do 2 things at once'" [Des Moines Register]. • The Democrats can't even do one thing at once.

UPDATE Sanders (D)(1): "AOC, Rashida Tlaib, and Ilhan Omar endorse Bernie Sanders for president" [Vox]. • So Minnesota (Omar) and Michigan (Tlaib) are looking good for Sanders. And AOC, despite her recent stumbles, is still perhaps the most interesing and charismatic politician of our day:

Like Trump, she has lovers and haters. But almost everyone has an opinion on her. That is rare.

If i go into a truck stop in wherever after some news on her or Trump, I know I will hear someone mention the news in the truck stop.

No other politicians are like that

— Chris Arnade (@Chris_arnade) October 16, 2019

Sanders (D)(2):

"In a statement released late Tuesday night, @IlhanMN declared, 'Bernie is leading a working-class movement to defeat Donald Trump that transcends generation, ethnicity and geography.'" ?????????????

Thank you, Congresswoman Omar ♥️ https://t.co/9VLjrOUduf

— Woobie?Tuesday (@WoobieTuesday) October 16, 2019

I'd like to think there's more to the Sanders campaign than defeating Trump. Nevertheless, Omar is correct.

Sanders (D)(3): Since AOC is a de facto Sanders surrogate:

Thank you! There are too many plans out there that seem more interested in protecting corporate profits than protecting the lives of working Americans.

We need #MedicareForAll, and we need it now. https://t.co/Te8c8g0tJS

— Alexandria Ocasio-Cortez (@AOC) October 16, 2019

"Plans." Ouch.

Sanders (D)(4): "Bernie's Policies Are Good, But How Can He Appeal to the Absolute Worst People Ever?" [McSweeney's Internet Tendency]. "You see, Democrats must be able to maintain a centrist character and appeal to creepy freaks who would sooner microwave a hamster than vote to improve our crumbling social programs. Look ,  are these people a small minority, who we could easily and inconsequentially ignore, instead of focusing on millions of disenfranchised, dispassionate voters? Sure, but this is the Democratic Party for chrissakes!"

Warren (D)(1):

Warren, as much a pitchfork populist as anyone in the field, eggs on her crowds with soak-the-rich rhetoric. Supporters chant "two cents" at her rallies when she calls for a 2 percent annual tax on all assets worth more than $50 million.

— James Hohmann (@jameshohmann) October 16, 2019

To be fair, "90% Top Rate Like Under Eisenhower F.F.S." is not nearly to easy to chant.

* * *

Q3 funding results:

NEW: 3rd quarter $ among the top-polling Democratic candidates —

Sanders: $33.7 million on hand / 60% small dollar / 84% burn rate
Warren: $25.7 million / 60% / 75%
Buttigieg: $23.4 million / 45% / 95%
Harris: $10.5 million / 38% / 123%
Biden: $9 million / 31% / 110%

— Michelle Ye Hee Lee (@myhlee) October 16, 2019

I believe that Sanders' average contribution is now $18. And yet (?) he's the leader….
The Debate
"Presidential 'Debates' Aren't Debates at All – They're Joint Press Conferences" [Consortium News]. "So presidential debates are not really debates because presidential candidates answer wide-ranging and broad questions, not specific propositions. And because candidates are answering questions from journalists, they are often not engaging each other. Instead, they focus on responding to the moderator and playing to the audience. For instance, MSNBC co-moderator Savannah Guthrie asked candidates at the June 27, 2019, debate, 'Raise your hand if your government [health care] plan would provide coverage for undocumented immigrants.' That kind of question focused on engagement between candidates and the moderator, rather than between candidates. The end result of these now-normalized conventions is that they make it hard to deeply discuss serious issues. Instead, this kind of format promotes the use of candidates' focus-group tested messaging, 'one-liners and canned mini-speeches.' There is little back and forth between candidates. Viewers hear monologue, not debate." • Yep.

"'An Absolute Joke': Debate Moderators Condemned for Asking About Ellen and George Bush After Completely Ignoring Climate Crisis" [Common Dreams]. "While they completely ignored the climate crisis, the event's moderators—Erin Burnett and Anderson Cooper of CNN and Marc Lacey of the New York Times—managed to find time at the very end of the debate to ask a question that infuriated environmentalists who were waiting all night for the planetary emergency to take center stage….'Last week, Ellen DeGeneres was criticized after she and former President George W. Bush were seen laughing together at a football game. Ellen defended their friendship, saying, we're all different and I think that we've forgotten that that's OK that we're all different,' said Burnett. 'So in that spirit, we'd like you to tell us about a friendship that you've had that would surprise us and what impact it's had on you and your beliefs.'" • You'd almost think that the political class cares more about comity between its own members than voter concerns.

"CNN Moderator Desk Crowded After 16 Pundits Qualify For Debate" [The Onion (TH)].

"Democratic debate speaking time: By the numbers" [CNN (Ernie)].

* * *

"Bernie Sanders's Campaign Is Alive and Well" [Eric Levitz, New York Magazine]. "At the Democratic debate in Westerville, Ohio — his first major campaign event since taking ill — Bernie wasn't just his old, bizarrely sharp and energetic-for-a-septuagenarian self. He was better, crisper, and funnier than before. The hoarse voice that plagued Sanders on the last episode of this (wretched) TV show was gone…. Later, he delivered a rousing defense of his desire to expropriate Tom Steyer's wealth; interrupted Joe Biden to crack a joke amusing enough to earn him an impromptu embrace from the former vice-president; and still managed to stick a shiv between Uncle Joe's ribs when the time was ripe:"

.@BernieSanders to @JoeBiden: "You got the disastrous war in Iraq done, you got the bankruptcy bill which is hurting millions…, you got trade agreements like NAFTA and PNTR with China done which have cost us 4 million jobs" pic.twitter.com/aBjCAPjNnK

— Saagar Enjeti (@esaagar) October 16, 2019

"Meanwhile, in the face of heavy incoming fire, Warren's answers often came off as less crisp and self-assured versions of Sanders's (which had not, in my infinitely objective view, been the case at previous debates). The Massachusetts senator put up a solid performance. But the combination of Sanders's vitality, and Warren's incessant obligation to play defense, made Bernie look like the more effective messenger for the party's left flank (at least, for this evening)." •

UPDATE "There Are Only 5 Candidates Still Standing After the Latest Democratic Debate" [Frank Rich, New York Magazine]. Warren, Sanders, Klobuchar, Harris, Buttigieg. More: "[Biden] couldn't stop himself from repeating more than once his newly favored shtick (intended as a stab at Warren) trumpeting himself as the only candidate who's gotten anything done. That claim is not only false, but is wielded as a dodge to avoid any treacherous policy question. Worse, it left him open to this memorable riposte from Bernie Sanders: 'You got the disastrous war in Iraq done.' [Ouch!] Sanders damaged Biden in a less explicit way as well. Post–heart attack, he seemed looser, sharper, and less programmed than he did pre–heart attack. He seems younger than Biden though in fact he's two years his senior. Who would have ever imagined that Bernie Sanders could be a comeback kid?" • Clever character sketches of all the candidates.

UPDATE "5 winners and 3 losers from the October Democratic presidential debate" [Vox] Deck: "Winner: Bernie Sanders. Loser: Joe Biden." • Go figure.

"Warren takes fire from 2020 rivals: Takeaways from the fourth Democratic debate" [McClatchy]. "All told, eight of Warren's rivals launched some level of attack against her, focusing primarily on her health care and tax proposals. The Massachusetts senator repeatedly declined to say whether middle-class taxes would go up under Medicare for All plan. 'Your signature, senator, is to have a plan for everything — except for this,' Buttigieg said." • Sanders supporters would find it hilarious if Buttigieg took out Warren, bless his heart.
Impeachment
"Dems Torn Over How Much to Punish Rudy Giuliani for Ignoring Subpoena" [The Daily Beast]. "To some Democratic lawmakers, the idea of Trump's personal attorney skating by without a punishment while the courts decide whether he has to comply with their subpoena is infuriating. And it dredges up bad memories of their struggles to hold Trump administration officials to account for ignoring subpoenas over Special Counsel Robert Mueller's Russia investigation. In response, they want Giuliani to feel some pain, either personally or financially…. But the party's leadership is increasingly convinced that its Ukraine-focused impeachment inquiry is getting results—and that going after Giuliani with threats of contempt of Congress would turn a success into a show that unnecessarily muddies the waters." • Oh, heck, it's only a subpoena:

"Trump And GOP's Handling Of Impeachment Inquiry Get Low Marks In New Poll" [HuffPo]. "Americans are evenly divided on congressional Democrats' handling of the impeachment inquiry into President Trump, but disapprove of Trump and the congressional GOP's actions, a new HuffPost/YouGov survey finds. The poll, conducted last week, also suggests public support for impeachment has reached at least temporary stasis following an initial bump last month."
Stats Watch
Retail Sales, September 2019: "The consumer cooled but not enough to not knock back a still rising trend for retail sales which in September fell an unexpected 0.3 percent" [Econoday]. "Perhaps the best gauge to this report is the control group, which is part of the GDP mix and which came in flat. Limiting the unwelcome message from September is a revision to the upside for August… Today's report will limit expectations for the third-quarter contribution from consumer spending, which nevertheless remains favorable and the central underpinning for economic growth."
Business Inventories, August 2019: "Businesses are holding back inventory growth as sales growth stalls" [Econoday]. "When it comes to production and employment, nimble inventory management helps smooth out disruptions from economic ups and downs, yet however positive this may be for general economic health a slowing inventory build does hold down GDP growth."
Atlanta Fed Business Inflation Expectations, October 2019: "One indication that may have an even greater dovish effect on monetary policy than this morning's soft retail sales report is this morning's business inflation reading from the Atlanta Fed which is down" sharply [Econoday]. "The tandem moves in these reports, likely reflecting the general sinking in global demand and related trouble for US manufacturing, are certain to be pointed to with concern by those Federal Reserve policy makers who, routinely citing the primary importance of expectations in inflation policy, see risks to the economy tilted to the downside and see the need for further rate cuts."
Housing Market Index, October 2019: "Low mortgage rates are making for increasingly positive signals from the housing sector" [Econoday]. "Components showing the most strength are present sales and traffic… This move offers evidence perhaps that low rates… are attracting new buyers."
MBA Mortgage Applications, week of October 11, 2019: "In contrasting signals, the purchase index fell 4.0 percent in the October 11 week while the year-on-year rate, which is subject to less volatility, rose" [Econoday].
Shipping: "Mediterranean Shipping Co. is adding five mega-container ships to its order from South Korean yard Daewoo Shipbuilding & Marine Engineering Co….. in a new sign that ocean lines are building up their capacity despite falling freight rates and weak global trade growth" [Wall Street Journal]. "MSC's $762 million order confirms options the carrier had carried over from a previous order, and it shows that carriers are committed to an operating model built on economies of scale. The unit-cost advantages for ships now stretching to more than 23,000 twenty-foot-equivalent units, or TEUs, are compelling. But shipping executives say those efficiencies work best when the mega-ships are full, and faltering global trade isn't cooperating with the container lines' economic plans. Freight rates on the big Asia-Europe lanes are at the lowest levels in three years."
Retail:
Amazon counterfeit. Images were posted to https://t.co/4z9iYXPe65 by a concerned customer July 12, 2019, https://t.co/IbqmTC9uHS. Counterfeit is shipped and sold by https://t.co/4z9iYXPe65 — NOT a third party. Why do we have to police Amazon? Please RT. @nostarch @amazon pic.twitter.com/98CZ8UllmI

— Bill Pollock (@billpollock) October 12, 2019
The Bezzle: "Tulips from Amsterdam? Not so much says new probe" [France24]. "Tourists are being ripped off at Amsterdam's famous flower market, with just one percent of all bulbs sold at the floating bazaar ever producing a blossom, investigators said Tuesday. A probe commissioned by the Dutch capital's municipality and tulip growers also found that often only one flower resembled the pictures on the packaging, and that there were fewer bulbs than advertised. 'The probe showed that there is chronic deception of consumers,' at the sale of tulip bulbs at the flower market, the Royal General Bulb Growers' Association (KAVB) said." • Tulip markets, tulip markets… Something about tulip markets….
Tech: "SpaceX seeks permission to launch 30,000 more satellites" [Los Angeles Times]. "The new batch of 30,000 satellites are set to be in orbits ranging from about 200 miles to 360 miles above the Earth, according to filings submitted Oct. 7 to the International Telecommunication Union, which allocates radio spectrum and satellite orbits. The filings did not include details of when the satellites would be launched."
Tech: "Mail Data Loss in macOS 10.15" [Michael Tsai]. Ugh:
What I'm hearing:

Updating Mail's data store from Mojave to Catalina sometimes says that it succeeded, but large numbers of messages turn out to be missing or incomplete.
Moving messages between mailboxes, both via drag-and-drop and AppleScript, can result in a blank message (only headers) on the Mac. If the message was moved to a server mailbox, other devices see the message as deleted. And eventually this syncs back to the first Mac, where the message disappears as well.

I don't know whether these are due to Mail bugs or to other factors such as problems on the Mac or with the mail server. But my advice is to hold off on updating to Catalina for now. These sorts of issues are pernicious because:

You may not notice that anything is wrong unless you are looking at the particular mailbox or messages that are affected.
Because the data is synced to the server, problems can propagate to other Macs and iOS devices.
Tech: Use burner account wherever you can:
The cloud is code for "we can end your livelihood at any time" https://t.co/PgUgQH3JuF

— Mx Medea༗ ? ? Life (@Mx_Medea) October 8, 2019
Tech: "Docs Show Navy Got 'UFO' Patent Granted By Warning Of Similar Chinese Tech Advances" [The Drive]. "The United States Secretary of Navy is listed as the assignee on several radical aviation technologies patented by an aerospace engineer working at the Naval Air Warfare Center Aircraft Division (NAWCAD) headquarters in Patuxent River, Maryland. One of these patents describes a "hybrid aerospace-underwater craft" claimed to be capable of truly extraordinary feats of speed and maneuverability in air, water, and outer space alike thanks to a revolutionary electromagnetic propulsion system." • Worth a read…
* * *
Today's Fear & Greed Index: 49 Neutral (previous close: 42, Fear) [CNN]. One week ago: 30 (Fear). (0 is Extreme Fear; 100 is Extreme Greed). Last updated Oct 16 at 12:30pm.
The Biosphere
"WSJ, NYT Celebrate 'Shale Revolution' for Investor Class, Despite Its Leading to Our Doom" [FAIR]. "[I]t is hard to think of a more palpable example of corporate journalists seeing themselves aligned with the interests of the investor class, against literally everyone else on the planet, than the celebration of the 'shale revolution' and US 'energy independence,' found in their cheerleading coverage of the US's journey to becoming the world's top oil producer despite the ongoing climate catastrophe."
"Green Islands" [In Defense of Plants]. "Autumn is here and all across the northern hemisphere deciduous trees are putting on a show unlike anything else in the natural world. The range of colors are spectacular both from afar and up close. If you're like me then every single leaf is worth investigation. The trees are shedding their leaves in preparation for dormancy. The leaves aren't dying outright. Instead, the trees are reabsorbing the chemicals involved in photosynthesis as a way of getting back some of the energy investment that went in to producing them in the first place. If you look closely at some leaves, however, you may notice green spots in an otherwise senescent leaf. Why is it that certain parts of these leaves are still photosynthetically active despite the rest of the photosynthetic machinery shutting down around them? The answer to this question is way cooler than I ever expected." • Read on for the solution!
"Press Release: Axis Capital Becomes First U.S. Insurer to Restrict Both Coal and Tar Sands" (press release) [Insure Our Future]. "'We welcome AXIS Capital's new policy as a major win for our climate and for Indigenous rights. Without insurance, destructive energy projects cannot be built, and AXIS joins a growing movement of insurers taking action to keep fossil fuels in the ground,' said Elana Sulakshana, Energy Finance Campaigner at Rainforest Action Network. 'AXIS has raised the bar for U.S. insurers by restricting both coal and tar sands insurance. The ball is now in Liberty Mutual and AIG's court to take responsibility for their role in the climate crisis.'"
Class Warfare
"General Motors Co. and the United Auto Workers are getting closer to ending a 30-day strike even as broader labor tensions spread into the trucking sector. GM Chief Executive Mary Barra met with UAW officials at the bargaining table for the first time since the strike began… signaling the sides have made progress during lengthy bargaining sessions in recent days" [Wall Street Journal]. "The UAW has set a national meeting of its GM council for a contract update on Thursday, typically a sign that the sides are nearing an agreement. The upbeat signals from Detroit come as the UAW is moving against Mack Trucks, calling a walkout at the heavy-duty truck manufacturer's U.S. factories." • Watch for the elimination of two-tier.
News of the Wired
"Pumpkin Spice: Now For Men" [McSweeney's Internet Tendency]. "But through the darkness, you see a light in a gas station store refrigerator. You see a product called Jacked-O-Lantern Diesel Energy presented by Man Juice. You wonder whether this beverage could solve your problems."
"Brain tunes itself to criticality, maximizing information processing" [Washington University in St. Louis]. "Over the past 20 years, evidence mounted in support of a theory that the brain tunes itself to a point where it is as excitable as it can be without tipping into disorder, similar to a phase transition. This criticality hypothesis asserts that the brain is poised on the fine line between quiescence and chaos. At exactly this line, information processing is maximized." • I need more caffeine.
"Why You Never See Your Friends Anymore" [The Atlantic]. "Whereas we once shared the same temporal rhythms—five days on, two days off, federal holidays, thank-God-it's-Fridays—our weeks are now shaped by the unpredictable dictates of our employers. Nearly a fifth of Americans hold jobs with nonstandard or variable hours…. A 2018 review of the retail sector called the "Stable Scheduling Study" found that 80 percent of American workers paid by the hour have fluctuating schedules. Many employers now schedule hours using algorithms to calculate exactly how many sets of hands are required at a given time of day—a process known as on-demand scheduling. The algorithms are designed to keep labor costs down, but they also rob workers of set schedules…. It's a cliché among political philosophers that if you want to create the conditions for tyranny, you sever the bonds of intimate relationships and local community…. [W]e don't need a secret police to turn us into atomized, isolated souls. All it takes is for us to stand by while unbridled capitalism rips apart the temporal preserves that used to let us cultivate the seeds of civil society and nurture the sadly fragile shoots of affection, affinity, and solidarity."
"3000-year-old toolkit suggests skilled warriors crossed Europe to fight an epic battle" [Nature]. "Bronze Age Europe was a violent place. But only recently have scientists uncovered the scope of the violence, at a 3000-year-old site in northern Germany where thousands of well-armed young men fought with sophisticated weapons in what appears to be an epic battle. Now, a bagful of bronze artifacts and tools found at the bottom of the river in the middle of the battlefield suggests some of these warriors traveled from hundreds of kilometers away to fight. That suggests northern European societies were organized on such a large scale that leaders could call warriors to distant battlefields, long before modern communication systems and roads." • Mercs?
* * *
Readers, feel free to contact me at lambert [UNDERSCORE] strether [DOT] corrente [AT] yahoo [DOT] com, with (a) links, and even better (b) sources I should curate regularly, (c) how to send me a check if you are allergic to PayPal, and (d) to find out how to send me images of plants. Vegetables are fine! Fungi and coral are deemed to be honorary plants! If you want your handle to appear as a credit, please place it at the start of your mail in parentheses: (thus). Otherwise, I will anonymize by using your initials. See the previous Water Cooler (with plant) here. Today's plant (GlennF):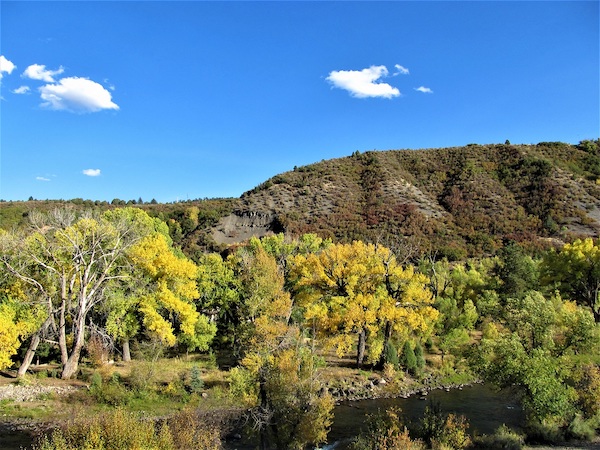 GlennF: "Attached is a photo I took yesterday in Durango CO before the cold air arrived. View is in town showing the Animas River (runs through the middle of town) and the riparian trees along the banks. Photo taken from the second floor outside balcony of the Durango Public Library (quite a beautiful building), which sits on the west bank of the river, looking east."
Bonus: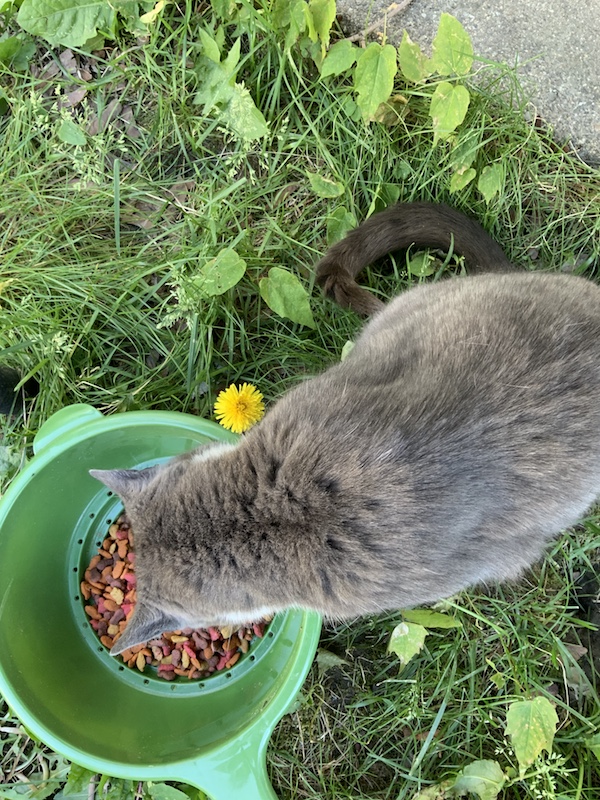 The cat has returned to winter quarters, wherever they are, so here is a photo from the summer, when the grass was green.
* * *
Readers: Water Cooler is a standalone entity not covered by the annual NC fundraiser (which has just concluded; thank you all very much!) Remember, a tip jar is for tipping! So if you see a link you especially like, or an item you wouldn't see anywhere else, please do not hesitate to express your appreciation in tangible form. Regular positive feedback both makes me feel good and lets me know I'm on the right track with coverage. When I get no donations for five or ten days I get worried. More tangibly, a constant trickle of donations helps me with expenses, and I factor in that trickle when setting fundraising goals:
Here is the screen that will appear, which I have helpfully annotated.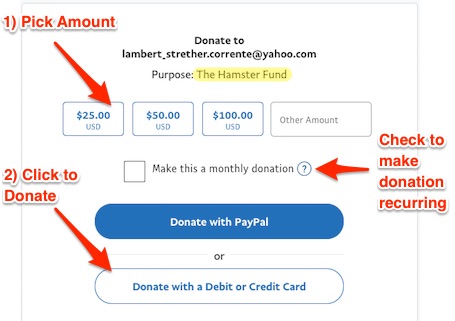 If you hate PayPal, you can email me at lambert [UNDERSCORE] strether [DOT] corrente [AT] yahoo [DOT] com, and I will give you directions on how to send a check. Thank you!