By Lambert Strether of Corrente.
Politics
2020
"But what is government itself, but the greatest of all reflections on human nature?" –James Madison, Federalist 51

"They had one weapon left and both knew it: treachery." –Frank Herbert, Dune

* * *

Alert reader dk (not to be confused with DK) is in the process of developing the following interactive chart. Here is (are) the latest Dem Primary Polling as of 10/22/2019, 12:00 PM EDT:

The biggest sample, Morning Consult: Biden juggernaut crushes all, Warren and Sanders in second, Warren by a nose:

dk went ahead and added states, which as readers know have smaller samples and are less frequent. Here's IA as of 10/22/2019, 12:00 PM EDT:

And the latest result:

I think dk has started a really neat project, and in the near future we'll seek your feedback (within reason) for the tool "live."

* * *

Biden (D)(1): Attaboy:

The Russian Facebook trolls are back — and this time, they're going after my campaign. We cannot let 2016 repeat itself.

Chip in $5 to our rapid response fund to help us fight back against their lies and foreign interference in our elections: https://t.co/6ehaYAjgxA https://t.co/9Zllaa9a5U

— Joe Biden (@JoeBiden) October 21, 2019

Booker (D)(1): "Booker urges voters at Dartmouth to 'fight for something'" [Valley News]. "Booker, a former mayor of Newark, N.J., reminded the crowd of moments in history when grassroots organization has brought about major changes, such as the civil rights movement and women getting the right to vote. In one poignant example, Booker recalled the 1911 Triangle Shirtwaist Factory fire, in which poor working conditions resulted in the deaths of 145 factory workers in New York City." • Stealing Warren's example? Really?

UPDATE Buttigieg (D)(1): "As He Attacks Medicare for All, Mayor Pete Gets Campaign Cash From Health Care Executives" [Sludge]. "Responding to criticism of his vague health care policies in early 2018, Buttigieg 'declared' on Twitter that, 'Most affirmatively and indubitably, unto the ages…I do favor Medicare for All.' Later, as he entered the Democratic presidential primary, he landed on a kind of compromise: a single-player option he likes to call 'Medicare for All Who Want It'… Over 100 individuals in leadership, legal, consulting, or financing roles in health sector donated $200 or more to Pete for America between July and September. These donors include pharmaceutical industry leaders such as the chief corporate affairs officer at drugmaker Pfizer, the president of Astex Pharmaceuticals, a state lobbyist for Biogen, a vice president of public policy at Novartis, and the deputy vice president at the nation's largest pharmaceutical trade association, PhRMA, as well as attorneys for AbbVie, Johnson & Johnson, and Merck. The donors identified by Sludge gave a total of close to $97,000 to the Buttigieg campaign in the third quarter of 2019."

UPDATE Castro (D)(1): "Julián Castro Says He Will End His Presidential Campaign If He Doesn't Raise $800,000 In The Next 10 Days" [Buzzfeed]. "Castro's campaign has very little cash on hand compared to most of his competition, according to the most recent FEC filings. His campaign, which raised $3,495,406 and spent $3,960,970.81 last quarter, had $672,333 on hand as of the end of September. The highest-polling candidates have millions of dollars on hand, and even low-polling candidates like Sen. Michael Bennet and Gov. Steve Bullock who have not qualified for recent debates have more on hand than Castro."

Gabbard (D)(1): "Clinton Fuels New 'Red Scare' With Political Attacks Against Gabbard [Jonathon Turley]. "These comments by Clinton seem right out of the infamous Republican National Convention speech by McCarthy in 1952, in which he painted a widening group of Americans as Russian assets. He declared, "Our job as Americans and as Republicans is to dislodge the traitors from every place where they have been sent to do their traitorous work." It is an irresistible temptation to portray opponents as Russian cutouts or conspirators, so perhaps it was only a matter of time before accusations of Russian conspiracy moved from Republican to Democratic rivals."

UPDATE Sanders (D)(1): "The Bernie Rally Felt So Much Bigger Than Bernie" [New York Magazine]. Final paragraph: "'Bernie's for working people, and that's what I like,' said Carla, a 17-year-old Latina from southern Queens whose parents are both airline employees. She will turn 18 days before New York's primary election, and intends to cast her first-ever electoral ballot for Sanders. When asked about whether she had qualms over voting for an old white guy, she rolled her eyes. 'Like, my father's an old white guy!' she said. 'He's okay! We welcome anyone into the movement, anyone who is on our side.'" • This election depends on how many Carlas there are, and how many of them (are allowed to) vote (and have their voters counted).

UPDATE Sanders (D)(2):

Tulsi Gabbard has put her life on the line to defend this country. People can disagree on issues, but it is outrageous for anyone to suggest that Tulsi is a foreign asset.

— Bernie Sanders (@BernieSanders) October 21, 2019

UPDATE Sanders (D)(3): A liberal Democrat shares his thoughts:

Fuck Bernie. I'd forgotten how much I despise that asshole. Thanks for the reminder.

— Adam Parkhomenko (@AdamParkhomenko) October 21, 2019

(Democrat strategist Parkhomenko was co-founder and executive director of Ready for Hillary.)

UPDATE Sanders (D)(4): A conservative Republican shares his thoughts:

It's a Bernie crowd. Imagine the smell. pic.twitter.com/rTibkmapdu

— Ian Miles Cheong (@stillgray) October 19, 2019

(Cheong is Managing Editor of Human Events.)

UPDATE Sanders (D)(5): "Ocasio-Cortez on Why She Backed Sanders Over Warren" [The Intercept]. "'For me, it wasn't even about helping the senator. It was a moment of clarity for me personally in saying, What role do I want to play?' Ocasio-Cortez told NBC. 'And I want to be a part of a mass movement.'… She told CBS News that she had met with Elizabeth Warren before making the announcement. 'I think she's a fabulous candidate,' Ocasio-Cortez said. 'Frankly, Senator Sanders, Senator Warren, and myself are in the party.'" • I think AOC is a talent that comes along once in a generation. She's also very young, and could be more disciplined in her thinking, and if she is not, others will be happy to discipline her themselves (as Pelosi yanking her choke-chain on staffing shows). Still, her joining Sanders is very good news.

Warren (D)(1): "Socialization of Risk: Bankruptcy Law and Financial Institutions" (video) [Elizabeth Warren, YouTube (Fern)]. Here's the video:

The podium was "The Federalist Society" on it, unsurprisingly since Warren was then a Republican. Alert reader Fern suggests starting at 51:08, so I did. This is a transcript made from cleaned up YouTube closed captioning.

"We bought labor peace in the '70s and '80s by promising those employees that they were gonnna have retirements like you wouldn't believe. You know what? They shouldn't have believed. Because what's happened [laughter]. Because what's happened, is that now it's time to pay the piper. LTV is just the first of many we gong to see along these lines. The question is what happens to all those promises you made to the employees with this steel business simply will not support that kind of payment. They all get dumped into bankruptcy when the markets change.

But now I'll come to my final point and that is, it hurts not to be paid. I don't like it any more than anyone else does. Makes me very angry. There are losses in bankruptcy to be distributed. That's what bankruptcy's about and that's why it's always fun to blame the bankruptcy for distributing the loss. If we're really taking about responsibility here, the point I'd like to make is that the bankruptcy system is something for which we should say a little prayer every night, because what it does is it stands between keeping this as a private loss and moving it over to a genuine socialized loss.

You know, we had a very significant thing happen in the late 1970s, and that was that Chrysler announced that it was tottering on the brink of bankruptcy. And at the time they announced this, the new Bankruptcy Code was not yet in effect. There was a lot of dissatisfaction with how chapter 11 worked. Do you remember the pressure at that time for those of you who were reading the newspapers back then? The pressure was enormous: the banks, the insurance company, the pension companies that pressured their Congressman to say "Come in and help Chrysler out." The big businesses who said "Help Chrysler," and that's what Chrysler was doing right? Lee Iacocca was livin' here in Washington. The investors who said "Help Chrysler out," and the employees who staged rallies, "Help Chrysler out." And the government said. "Okay, we'll do loan guarantees." They helped Chrysler out, because they were afraid that if they didn't help Chrysler out, the consequences maybe would be economically untenable, but more to the point they were politically untenable.

Eventually we got a little more experience with chapter 11. Johns Manville got into trouble, and you know what Johns Manville said? They went to Congress and said "Help us out." […] Their victims went to Congress and said "Help us out." Eastern got into trouble, said "Help us out." Continental Airlines, Braniff Airlines said "Help us out." even Wicks Lumber wanted help for "Help us out." But by then the answer was "Uh uh. That's what Chapter 11 is there for." You creditors, the debtors, go work it out privately. Work it out. You got into this arrangement without our help, you'll deal with the losses, distribute the losses through Chapter 11 and you'll survive on the other end without our help." Chapter 11, no, it's not working perfectly. Judge Jones is exactly right. But given the job that it's got to do, I think the alternative at best is maybe some tinkering around the edges but to keep the system very much intact."

Lambert here: Several comments. (1) As reader Fern points out, "The key thing here is that she gave this speech in 1991, well after she said that studying bankruptcy in the mid-80's made her feel the pain of ordinary people." I agree. I'm seeing zero empathy for workers here. Warren thinks they're chumps! (2) Warren seems to have no understanding that there might be a power differential, even a class conflict, between workers and owners: "You got into this arrangement without our help." But this is silly; are the managers managers, or not? Are the owners owners, or not? (3) It doesn't seem to enter Warren's thinking that owners or management might deliberately create bankruptcy to escape their pension obligations. (4) What's wrong with "socializing losses" for workers? (5) Warren's technocratic bias is on full display. Finally, (6) Warren's insider-to-insider "joke" — "You know what? They shouldn't have believed" — should be applied with full force to Warren's campaign and plans. ("When someone shows you who they are, believe them the first time." –Maya Angelou.) (7) If the Sanders campaign won't start differentiating Warren from Sanders, then volunteers should make videos that do that. Clips from videos like this would be a good place to start.

* * *

UPDATE "Anxious Democratic Establishment Asks, 'Is There Anybody Else?'" [New York Times]. "Mrs. Clinton and Mr. Bloomberg have both told people privately in recent weeks that if they thought they could win, they would consider entering the primary — but that they were skeptical there would be an opening, according to Democrats who have spoken with them." • Oy.

UPDATE "Mitt Romney is the leader the #Resistance deserves" [The Week]. "Those of us who (barely) remember the heady days when George W. Bush was Hitler but dumber are moderately amused by what a lovable teddy bear he has become in his post-presidency. Bush was always a charming guy — that was exactly the problem, as far as his opponents were concerned. Which is why the transformation of Willard Romney, him of the "binders full of women" and the infamous 47 percent remarks, into #Resistance hero is even more entertaining. When Mitt says that he would theoretically consider voting to remove Trump from office, we are not only supposed to be shocked at his courage, the almost indescribable sacrifice to his own political fortunes this selfless patriot is making at the altar of principle. We are also supposed to forget that only a few years ago he was roundly considered just as vile as Trump — and for mostly the same reasons." • Fun article, but the writer disses Teen Vogue. Teen Vogue has been unexpectedly great!

Is the country headed in the right direction (here's hoping the model accounts for the nihilists):

Laughter in the room when you show these differences…

Notably, Democrats weren't too thrilled with the direction in 2016.#AVS2019 pic.twitter.com/axxxb2ImaO

— Natalie Jackson (@nataliemj10) October 21, 2019

Note the independents.

"Facebook takes down Russian, Iranian accounts trying to interfere in 2020" [The Hill]. • They were "engaging in inauthentic behavior." Oh.

"The Coming of the Purple Better One" [William Burroughs, Esquire]. From (Chicago) 1968, still germane. NSFW.
Stats Watch
Richmond Fed Manufacturing Index, October 2019: "Fifth District manufacturing activity surprising bounced back into expansion in October" [Econoday]. "Today's report hints at a possible rebound for the factory sector where persistent weakness this year has provided some of the arguments for Fed rate cuts."
Existing Home Sales, September 2019: "Existing home sales fell back but from a tough comparison against a strong August" [Econoday]. "Low mortgage rates, now under 4 percent for conventional loans, are a major plus for the housing sector which continues, despite sometimes uneven monthly performances, to move ahead in what, compared to a disappointing 2018, looks to be a respectable year."
Banking: "Goldman's Unwelcome Streak: A String of Insider Trading Charges" [Bloomberg]. "Bryan Cohen, a Goldman investment banker in New York, was arrested Friday over allegations of insider trading, court records show. It comes just months after another banker was sentenced to three months in prison for sharing illicit deal tips. And a third pleaded guilty last year to leaking information to a National Football League linebacker in exchange for tickets to games. Such accusations strike at the sanctity of the business where corporate titans seek out the advice of large investment banks to navigate discussions over deals that can move billion of dollars in market prices. The allegations highlight the struggles of even top-tier banks in trying to successfully clamp down on such misconduct. For Goldman, the cases against these junior bankers each seem to have been carried out independent of each other." • Sanctity!
Shipping: "M&A bankers are looking for Amazon-proof logistics businesses" [Freight Waves]. "Kristopher Hopkins, head of transport and logistics at Houlihan Lokey, said that companies were already trying to diversify away from the concentration risk of having Amazon as a large customer." • "Concentration risk."
Gentlemen Prefer Bonds: "The Problem With Bringing Muni Bonds to the Masses" [Bloomberg]. "The $3.8 trillion municipal-bond market, which traces its roots back more than two centuries, easily swatted away a startup that sought to 'disrupt' the way states and cities issue debt. For the most part, they were common pitfalls of Bay Area upstarts. Profligate spending? Neighborly embarked on a company trip to Hawaii after its first debt sale. Erratic behavior? It frequently shifted focus away from underwriting, annoying employees who were pulled off projects for new ones and sowing doubts among municipal finance officers. It even faced a lawsuit that accused it of a 'racially and sexually hostile environment.' In other words, it's tricky to tell whether the company simply did itself in or if the business proposition just won't work."
Tech: "A Top DHS Staffer Who Defended The Muslim Travel Ban Now Works At Google" [Buzzfeed]. "Miles Taylor, who previously served as chief of staff to former DHS secretary Kirstjen Nielsen, started at the search and advertising giant last month as a government affairs and public policy manager. His LinkedIn profile confirms the change, though he lists his title on the professional social network as ''" • Yikes.
Tech: "Facebook and Amazon Set Lobbying Records Amid Washington Scrutiny" [Bloomberg]. "Facebook Inc. and Amazon.com Inc. set federal lobbying records in the third quarter as Washington ramps up oversight of the tech giants' business practices. Facebook spent $4.8 million, an increase of almost 70% from the same period the year before…. Amazon spent $4 million on lobbying, the most the e-commerce giant has ever spent in a single quarter." • Ka-ching.
Tech: "Amazon's First Fully Automated Factory Is Anything But" [New York Times]. "While it's true that Amazon has automated much of the process of sorting, distributing and delivering goods and eliminated much of the repetitive and backbreaking work it once took to do all of those things, the work of human employees is a necessary part of the facility's operations. By insinuating otherwise, Amazon is disempowering and even endangering those employees. I know, because I'm one of them. I have worked at this 'human free' facility since it opened, performing maintenance on its fleet of robots when they need repairs. I am part of what Amazon refers to as its 'contingency network': the third-party contracting companies that hire human workers to keep the automated facility running. Each of these companies categorizes workers like myself as independent contractors, so they don't have to pay for health care coverage, time off or workers' compensation insurance. We are the technicians who repair the machines when they break down. The janitors who clean up the messes the robots make when other robots can't do the cleaning or when management decides it would be cheaper or faster for a human to do the task instead. The programmers who fix glitches in the logistics software. And, yes, the pickers who help their robotic counterparts find the right items by hand when the robotic arms get jammed. Working in a supposedly automated warehouse is hard, lonely and often unsettling. Because of the employment structure — or, rather, the lack of one —." • What a dystopian hellscape.
Tech: "At an Outback Steakhouse Franchise, Surveillance Blooms" [Wired]. "According to Presto CEO Rajat Suri, Presto Vision takes advantage of preexisting surveillance cameras that many restaurants already have installed. The system uses machine learning to analyze footage of restaurant staff at work and interacting with guests. It aims to track metrics like how often a server tends to their tables or how long it takes for food to come out. At the end of a shift, managers receive an email of the compiled statistics, which they can then use to identify problems and infer whether servers, hostesses, and kitchen staff are adequately doing their jobs." • At last, we'll be able to automate flair minimums:
Tech: "The Case for an Outright Ban on Facial Recognition Technology" [leapsmag]. "In a surprise appearance at the tail end of Amazon's much-hyped annual product event last month, CEO Jeff Bezos casually told reporters that his company is writing its own facial recognition legislation….. Industry-friendly regulations won't fix the dangers inherent in widespread use of face scanning software, whether it's deployed by governments or for commercial purposes. The use of this technology in public places and for surveillance purposes should be banned outright, and its use by private companies and individuals should be severely restricted…. We need spaces that are free from government and societal intrusion in order to advance as a civilization…. In a world where private spaces don't exist, would people have felt safe enough to leave the closet and gather, build community, and form a movement? Freedom from surveillance is necessary for deviation from social norms as well as to dissent from authority, without which societal progress halts."
Today's Fear & Greed Index: 61 Greed (previous close: 56, Greed) [CNN]. One week ago: 42 (Fear). (0 is Extreme Fear; 100 is Extreme Greed). Last updated Oct 22 at 11:58am. Yay! Back to greed!
The Biosphere
"Quantifying operational lifetimes for coal power plants under the Paris goals" [Nature]. "National targets, communicated through the Nationally Determined Contributions (NDCs) to the Paris Agreement, articulate goals for lowering emissions but not explicit plans to move away from coal. The lack of alignment between current NDCs and the 1.5 °C to 2 °C goals, in terms of both total emissions and sectoral transformations being planned is attracting increasing attention." Handy chart:
Our new @NatureComms paper details how rapid global #CoalPhaseout must be: EVERY coal plant must shut down after 20 yr lifetime to reach 1.5C; 10 yrs if all proposed plants are built. @RynaCui @energymorgan @LinlangHe @kavsurana @ChristineSheare et al. https://t.co/7qgDCteUtT pic.twitter.com/CJO8b8HAKg

— Nate Hultman (@natehultman) October 18, 2019
"Climate Change Enthusiasts Will Create an Energy Crisis" [The National Interest]. "Whoever controls energy—mainly oil, natural gas, coal and increasingly nuclear power—rules with an iron fist or a benevolent one. But the world is in a stage of chaotic order with China, Russia and Iran challenging the U.S.-led liberal order in place since the end of World War II. Energy is the new superpower. Never before has energy and electricity played the leading role in alleviating poverty. Social order, religion, and family structure are still important—though all three are under attack over environmental extremism—but nothing has done more for human achievement, increased life expectancies, and ameliorating hunger like access to oil, natural gas, and coal that brings scalable, reliable affordable, abundant and flexible energy and electricity. Allowing the Guardian newspaper, and green clergy parading as environmentalists such as Bill McKibben, Paul Ehrlich and John Holden to determine energy policies that lead to poverty is evil and shameful. These men then attack human reproduction, productivity, longevity, and technological progress through delaying or crushing enhanced infrastructure projects."
"Trading tires: How the West fuels a waste crisis in Asia" [Reuters]. "Global trade in waste tires has almost doubled in the past five years, mainly to developing countries like India and Malaysia, according to customs data provided to the United Nations. Britain is currently the largest exporter, followed by Italy and the United States. India is by far the biggest buyer, accounting for 32% of global imports last year, up from 7% five years ago, the U.N. data shows."
"What to Expect When It Gets Hotter: The Impacts of Prenatal Exposure to Extreme Heat on Maternal and Infant Health" [Jiyoon Kim, Ajin Lee, Maya Rossin-Slate, NBER]. From the abstract: "prenatal exposure to extreme heat increases the risk of maternal hospitalization during pregnancy, and that this effect is larger for black than for white mothers. At childbirth, heat-exposed mothers are more likely to have hypertension and have longer hospital stays. For infants, fetal exposure to extreme heat leads to a higher likelihood of dehydration at birth and hospital readmission in the first year of life. Our results provide new estimates of the health costs of climate change and identify environmental drivers of the black-white maternal health gap."
"A Field Guide to Commonly Misidentified Snakes" [Cool Green Science]. "I like to make the analogy that recognizing snakes is a lot like recognizing family and friends. You would not measure the length of Uncle Michael's mustache to figure out who he is or examine the color patterns of Aunt Rochelle's highlights before you gave her a hug; you just look at them and you know who they are! Identifying animals is similar; once you know them well enough, you can recognize them at a glance. Focusing on specific features may be helpful when you are first learning your snakes, but they should be considered only one step toward achieving the ability to identify them."
Bee hotels:
These Girl Scout Cadettes created bee hotels using simple, every day items. ?? https://t.co/7QulFtHYhd #SaveTheBees #GirlScoutsGiveBack

— Girl Scouts (@girlscouts) October 21, 2019
Police State Watch
"California's historic overhaul of cash bail is now on hold, pending a 2020 referendum" [Los Angeles Times]. From January, still germane: "Bail groups fought the legislation since it was first proposed three years ago, saying it would result in the release of violent offenders to the streets and decimate a $2-billion national industry, including 3,200 bail agents registered in the state. A day after Brown signed the law, a national coalition of bail agency groups launched its referendum drive, raising about $3 million and collecting more than enough signatures to qualify the measure in just two months…. Sen. Bob Hertzberg (D-Van Nuys), who coauthored the legislation, said he was confident it would remain 'the law of the land. We know that private equity firms poured hundreds of thousands of dollars into this campaign — not to protect public safety, or decrease the number of innocent people in jail, but to protect their bottom line,' he said in a statement." • Bail bonds are not an "industry," for pity's sake, any more than health insurance is.
Class Warfare
"The geography of desperation in America: Labor force participation, mobility trends, place, and well-being" [Brookings Institution]. "Desperation – and the associated trends in premature mortality – are concentrated among the less than college educated and are much higher among poor whites than poor minorities, who remain optimistic about their futures. The trends are also geographically dispersed, with racially and economically diverse urban and coastal places much more optimistic and with much lower incidences of premature mortality (on average). Both death and desperation are higher in the heartland and in particular in areas that were previously hubs for the manufacturing and mining jobs which have long since disappeared. Our earlier work shows that the geographic patterns in lack of hope, worry, reported pain, reliance on disability insurance, and deaths of despair are remarkably consistent across these places. Monnat and Brown (2017) find that counties with higher levels of poverty, obesity, deaths due to drugs, alcohol, and suicide, more non-Hispanic whites, individuals on disability or other safety nets, and smokers were the same places where Trump "over-performed" in terms of predicted votes." • Everything's going according to plan except for the Trump part, and RussiaGate UkraineGate will solve that minor problem.
News of the Wired
"How Porn Changes Teens' Thoughts About Sex" [MedPage Today]. "We realized, by starting to experiment teaching some classes and consent respect in pornography, that trying to scare adolescents into a particular point of view or jam a one-sided argument down their throat about pornography not only probably does not work, but really doesn't model the kind of respectful, consensual behavior that we want them to learn. Our approach, what we call pornography literacy, is about presenting the truth about pornography to the best of our knowledge, given that there is an ever-changing evidence base."
"Matreon: The Patreon Platform for Emotional Labor" [McSweeney's Internet Tendency]. "Dear Guy Who Can't Read The Room…."
* * *
Readers, feel free to contact me at lambert [UNDERSCORE] strether [DOT] corrente [AT] yahoo [DOT] com, with (a) links, and even better (b) sources I should curate regularly, (c) how to send me a check if you are allergic to PayPal, and (d) to find out how to send me images of plants. Vegetables are fine! Fungi and coral are deemed to be honorary plants! If you want your handle to appear as a credit, please place it at the start of your mail in parentheses: (thus). Otherwise, I will anonymize by using your initials. See the previous Water Cooler (with plant) here. Today's plant (MF):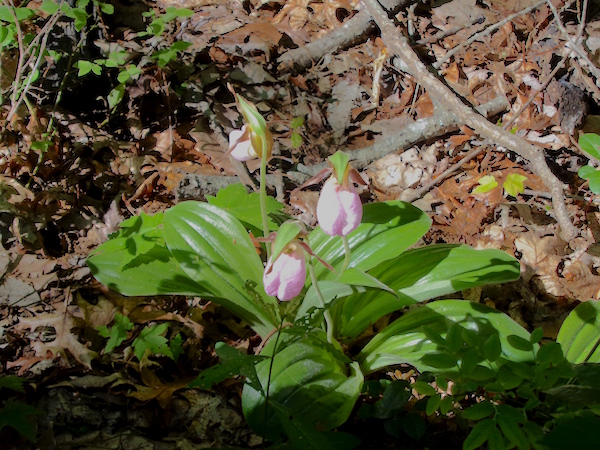 MF writes: "A Lady's Slipper from the Red River Gorge in Eastern Kentucky."
* * *
Readers: Water Cooler is a standalone entity not covered by the annual NC fundraiser (which has just concluded; thank you all very much!) Remember, a tip jar is for tipping! So if you see a link you especially like, or an item you wouldn't see anywhere else, please do not hesitate to express your appreciation in tangible form. Regular positive feedback both makes me feel good and lets me know I'm on the right track with coverage. When I get no donations for five or ten days I get worried. More tangibly, a constant trickle of donations helps me with expenses, and I factor in that trickle when setting fundraising goals:
Here is the screen that will appear, which I have helpfully annotated.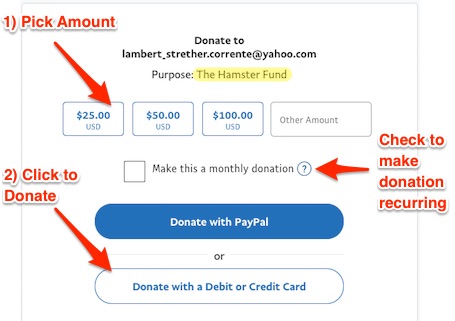 If you hate PayPal, you can email me at lambert [UNDERSCORE] strether [DOT] corrente [AT] yahoo [DOT] com, and I will give you directions on how to send a check. Thank you!