By Lambert Strether of Corrente.
Patient readers:
Well, that was embarrassing! More to come, partly because I need to make up for yesterday, partly because I got wrapped round the axle on two hairballs, and that metaphor might not be mixed: Mulvaney and Canning town. –lambert UPDATE All done!
* * *
Politics
2020
"But what is government itself, but the greatest of all reflections on human nature?" –James Madison, Federalist 51

"They had one weapon left and both knew it: treachery." –Frank Herbert, Dune

* * *

Alert reader dk (not to be confused with DK) is in the process of developing the following interactive chart. Here is (are) the latest Dem Primary Polling as of 10/18/2019, 12:00 PM EDT:

Joe Biden's brutallly effective juggernaut rolls on; he's got cash now, after all. Sanders' heart attack had no impact (though if the impact is to put a ceiling on his vote that would not be evident), and Warren hasn't put him away. And here are the poll results:

I've gotta put in some counters for the IA, NH, SC, and NV, as well as CA. Current polling (from RCP, yech):

If I were a Sanders supporter, I'd be worried about all four. IA because the expectation from 2016 is that Sanders will win (even if his opponent then carried an enormous amount of baggage), ditto NH, SC needs more than the black youth vote, and NV, where he is doing best, because (a) that's Reid's patch, and Reid is tight with Warren, and (b) the local Democrat loyalists have shown themselves adept at skuduggery. Interestingly, Sanders is doing quite well in California, at with Biden 23.8, Warren 22,0, and Sanders 21.0. All that will change, of course, after the initial four primaries.

I think dk has started a really neat project, and in the near future we'll seek your feedback (within reason) for the tool "live."

* * *

Biden (D)(1): "With Warren's rise, Biden faces Dems' anxiety about 2020 bid" [Associated Press]. "Joe Biden is confronting growing anxiety among would-be allies in the Democratic establishment about his ability to win the presidential nomination following underwhelming debate performances, lagging fundraising and withering attacks from rivals in his own party and from President Donald Trump . The former vice president's bank account is better suited for a city council race than a presidential election, warns Terry McAuliffe, a former Virginia governor and Democratic National Committee chairman." • Ouch! More: "Democratic donor Robert Zimmerman describes group 'therapy sessions' with some party financiers haranguing the direction of the race. And in New Hampshire, state House Speaker Steve Shurtleff is leaning toward backing Biden, but says 'people wish he'd be a little more forceful.' Their concern is heightened by the rise of Elizabeth Warren, a progressive long viewed by current and former elected officials, big donors and veteran strategists as too liberal to beat Trump in the general election. Warren and Biden are essentially tied at the top of the race with the rest of the field lagging behind." • (Note that dk's polling indicates that there's a third, unmentioned candidate very much in the race.) • If the party grandees can't accept Warren (let alone Sanders), wants to throw Biden under the bus, knows that Harris came up lame, who's left? Mayo Pete?

Bloomberg (D)(1): "Mike Bloomberg now hints he may run for president as Warren surges, Biden sags" [Salon]. "Bloomberg has told his inner circle that he is "still looking at" running for president, according to the report, though associates said he would only jump in if Biden slid so badly that he is forced to drop out early in the primaries. CNBC previously reported that Bloomberg was considering spending more than $100 million of his own money to fund a centrist run." •

Buttigieg (D)(1): "Buttigieg removes attorney from fundraiser after backlash" [Associated Press]. "Democratic presidential candidate Pete Buttigieg is returning campaign contributions from a former Chicago city attorney who led a vigorous effort to block the release of a video depicting the shooting of Laquan McDonald , a black teenager whose death at the hands of police stirred months of protest and resulted in an officer's conviction. Buttigieg is also removing Steve Patton as a sponsor of a Chicago fundraiser that will be held Friday, his campaign said. The move comes after The Associated Press reported on the event Friday morning and Buttigieg faced fierce online backlash." • Sloppy staffwork!

Buttigieg (D)(2):

Duuuuuuuude pic.twitter.com/D81PT5r8Aj

— noah kulwin (@nkulw) October 18, 2019

Nobody tell Stoller; he'd have a stroke.

Buttigieg (D)(3): On Buttigieg's "Medicare for All Who Want It" scam:

I can't tell if @PeteButtigieg is campaigning for President or my old job at @Cigna. Mayor Pete, DM me if you want to know how insurance companies really operate. https://t.co/LWlUxcqHeL

— Wendell Potter (@wendellpotter) October 16, 2019

Buttigieg (D)(4): I shouldn't dunk on Buttigieg too much, but I can't resist:

Pete Buttigieg cooking up bold, new policy ideas that will help normal working people. pic.twitter.com/fzUh7KPGsJ

— Zach O'Lantern (@zachheltzel) October 16, 2019

(And to be fair, what is true of Mayo Pete is also true of many other Democrat candidates:

Gabbard (D)(1): "Hillary Clinton appears to suggest Russians are 'grooming' Tulsi Gabbard for third-party run" [CNN]. • Clinton easing into her role as "kingmaker" by picking off one of the weaker candidates.

UPDATE Sanders (D)(1): "How Bernie won a prized endorsement from his hospital bed" [Politico]. "As the 78-year-old Sanders laid in a hospital bed in Nevada after a heart attack, with his presidential campaign in jeopardy, his campaign manager Faiz Shakir received a call and passed his phone to the Vermont senator. It was Rep. Alexandria Ocasio-Cortez. She told Sanders she was coming aboard his campaign, months before she was expected to issue an endorsement." • I think this speaks well of AOC.

UPDATE Sanders (D)(2): "Rep. Rashida Tlaib hasn't endorsed Bernie Sanders yet: What she's saying" [Detroit Free Press]. ""I have not made any endorsement at this time," Tlaib said in a statement to the Free Press, adding that she is planning to bring Sanders, the U.S. senator from Vermont, to her Detroit-based district on Oct. 27 for a tour. That doesn't mean Tlaib won't endorse Sanders, only that she hasn't done so at this time. Recently, Tlaib welcomed another Democratic presidential candidate — U.S. Sen. Elizabeth Warren, D-Mass. — and the two talked about environmental hazards in the district and filmed a Facebook piece together. In explaining why she hasn't made an endorsement yet, Tlaib told the Free Press, 'It is critically important to me to involve my residents and my district in every major decision I make because staying rooted in community makes our movement stronger.' 'I am looking forward to bringing Senator Sanders to Michigan on Oct. 27 for a tour of our district that will highlight economic justice issues and corporate tax giveaways, and (include) a roundtable with housing justice advocates,' she said. 'I need to know that anyone I choose to endorse will fight for my residents, and I appreciate the opportunity for them to have a dialogue with Sen. Sanders about these critically important issues.'" • If Tlaib wants to stage a beauty contest on behalf her constituents, I don't think that speaks badly of her, either.

UPDATE Sanders (D)(3): Post attributes Sanders "gotcha" moment to Warren in debate transcript, which many other venues pick up:

Hey @ed_kilgore you've got @ewarren and @BernieSanders mixed up here: pic.twitter.com/mTwdUIlufB

— ?? Eoin Hauntins ?? (@EoinHiggins_) October 17, 2019

The mistakes always seem to go in one direction….

UPDATE Sanders (D)(4): Another very creative ad from a Sanders supporters:

We have a political system that has ignored our suffering for far too long.

Enough is enough.

There's one candidate who has been supporting movements and listening to the demands of the working class for generations: @BernieSanders pic.twitter.com/Uk5DNWzuGE

— People for Bernie (@People4Bernie) October 17, 2019

Warren (D)(1): "My Warren Problem" [Richard Goldstein, First of the Month (MsExpat)]. "A real transformation has to be truly popular, and right now, Warren's movement is parochial. It's sense of the feasible is shaped by an environment that broadcasts its beliefs. Social media amplifies these assumptions exponentially, and the lust for clicks and ratings creates an echo chamber that can block the truth from sounding. Every blip in Warren's numbers reverberates, and the result is an exultant mood that doesn't reach very far beyond Rachel Maddow's demographics. If I'm proven wrong, I'll gladly eat my locally sourced hemp hat. But I've worked in liberal media long enough to know where its interests lie. It relies on the economic power of the professional classes, and it plays to their biases. No one makes stuff up, but a pervasive semiotics—the tone of headlines, the choice of images, decisions about whose name comes first in a list of candidates [or is disappeared from the list –lambert]—is always at work. It can seem that everything you read and watch affirms what your tribe believes. You wake up on the morning after the election in a state of shock because you never saw the outcome that was looming. This is the danger we face again." • So I'm not the only one. The whole piece is well worth a read, contrarian though it be. MsExpat comments: "Do you know who Richard Goldstein is? He is the longtime editor at the Village Voice, in its heyday. I'm surprised he wrote this, since it goes against the grain of NY liberal orthodoxy as exemplified by another ex Voice writer like Joe Conason or Michael Tomasky."

UPDATE Warren (D)(2): "Elizabeth Warren's Medicare for All Dilemma" [John Cassidy, The New Yorker]. "[T]he [option] I think [Warren] is most likely to choose, involves , and stressing that, if she does get elected, other priorities would come first. Adopting this strategy would be less of a reversal than a return to where she started. In an interview with Vox's Ezra Klein, shortly before the debate in June, Warren said that her first two priorities would be pursuing her anti-corruption package, which would severely restrict the activities of lobbyists and create a new U.S. Office of Public Integrity, and passing her wealth tax. She said that Medicare for All was a 'fight that matters to me' but didn't give any timetable for engaging in it." • So the "I'm with Bernie" story would have to change….

UPDATE Warren (D)(3): "Black farmers say Warren's plan wouldn't solve their biggest problem" [WaPo]. "More than 60 black farmers, advocates and academics have signed onto a letter critiquing Sen. Elizabeth Warren's farm plan, saying it fails to adequately help African American farmers. …. In the draft letter, advocates call on Warren to endorse reparations for black farmers who have lost their land. They propose creating a land trust that would buy land from retiring black farmers and set it aside for younger black farmers, and requiring federal agencies to provide better data on black farm losses. Another key complaint among advocates is that Warren's plan fails to eliminate a system that gives county-level committees significant influence over distributing federal resources to farmers." • And land seizures from black farmers have continued to the present day.

UPDATE Warren (D)(4): "Elizabeth Warren deletes infamous, year-old Native American DNA tweet" [New York Post]. "'My family (including Fox News-watchers) sat together and talked about what they think of @realDonaldTrump's attacks on our heritage,' wrote Warren in the since-deleted tweet, referring to the president's public chiding of her as 'Pocahontas' for her tenuous claims of Native American ancestry. 'And yes, a famous geneticist analyzed my DNA and concluded that it contains Native American ancestry.'" • Which isn't the same as being a Cherokee, because being a Cherokee is not by blood. This won't help.
Impeachment
"Mulvaney admitted to a quid pro quo with Ukraine. Was that a genius move?" [Guardian]. "nd there it was, practically out of the blue, at a press conference, Donald Trump's acting chief of staff, Mick Mulvaney, by and large admitted that the president held back military aid to force Ukraine to investigate the business dealings of Hunter Biden. Asked whether the administration had told the Ukrainian president, Volodymyr Zelenskiy, that funding would not flow unless the investigation into the Democratic server happened as well, Mulvaney said: 'We do – we do that all the time with foreign policy.'" • That, dear readers, is a classic Kinsley gaffe: "A gaffe is when a politician tells the truth – some obvious truth he isn't supposed to say." More: "But it also completely changes the importance of the impeachment procedure in the House. When the House committee will find evidence for the quid pro quo deal, which seems near certain at this point, many people, and particularly most Republicans, will respond much more blasé. "We already knew that." It raises the bar for the committee to come up with something 'new' and 'shocking.'" • Lost amidst all the triumphalist yammering is the fact that liberal Democrats have now succeeded in defining corruption down to quid pro quo, against the Framer's intent (see Zephyr Teachout), although naturally in conformance with the Republican view in Citizen's United, because who doesn't love them some conservative jurisprudence when money's at stake?

"Diplomat tells investigators he raised alarms in 2015 about Hunter Biden's Ukraine work but was rebuffed" [WaPo]. "George Kent, a deputy assistant secretary of state, testified Tuesday that he worried that Hunter Biden's position at the firm Burisma Holdings would complicate efforts by U.S. diplomats to convey to Ukrainian officials the importance of avoiding conflicts of interest, said the people, who spoke on the condition of anonymity because of confidentiality rules surrounding the deposition. Kent said he had concerns that Ukrainian officials would view Hunter Biden as a conduit for currying influence with his father, said the people. But when Kent raised the issue with Biden's office, he was told the then-vice president didn't have the "bandwidth" to deal with the issue involving his son as his other son, Beau, was battling cancer, said the people familiar with his testimony." • Ah, the Beau card. So, I mean, obviously, confronted with the spectre of the soon-to-be-only son of a Presidential candidate being open to kompromat, what Trump should have done was hire a law firm (Republican equivalent of Perkins Coie), to hire a cut-out (Republican equivalent of Fusion GPS), to hire an intelligence community-adjacent foreign oppo researcher (Republican equivalent of Steele), to get to the truth of the matter, dag nab it, and then route it through appropriate channels, including anonymously to the press. Instead, being Trump, he cut out all the layers indirection and got crass. You hate to see it.
Debates
"Democrats have reason to worry after the last presidential debate" [The Hill]. "the eventual nominee must make an emotional connection. This election cannot be about academic policies or convoluted plans that voters know will never pass Congress. It must be about connecting with people and laying out a better path forward for the country. Democrats have no choice other than to rely on historic turnout from African Americans, suburban women, and millenials. Without those critical demographics, Democrats risk another loss to Trump." • The author "served on the Democratic presidential campaigns for Barack Obama, Hillary Clinton, and John Delaney." You "serve" in the government or the military, not a political campaign, for pity's sake.
Realignment and Legitimacy
"Our Republic Is Under Attack From the President" [

UPDATE "Reason Won't Save Us" [Nautilus]. Long, but well worth a read. "If we are to address gathering existential threats, we need to begin the arduous multigenerational task of acknowledging that we are decision-making organisms rather than uniquely self-conscious and willfully rational. Just as we are slowly stripping away pop psychology to better understand the biological roots of mental illnesses such as schizophrenia, stepping back from assigning blame and pride to conscious reasoning might allow us a self-image that reunites us with the rest of the natural world as opposed to declaring ourselves as unique. Only if we can see that our thoughts are the product of myriad factors beyond our conscious control, can we hope to figure out how to develop the necessary subliminal skills to successfully address the world's most urgent problems. If AI can improve itself, so can we." • 

UPDATE "PX column: The perspective on Ohio's Trump Country you won't find anywhere else" [Cincinatti Enquirer]. From someone who grew up there, fortunately: "The truth is, these aren't a bunch of Bible-thumping hillbillies. I spoke with nearly 20 Trump supporters. Most of them didn't want to be quoted, but every single one of them said the No. 1 thing they like about Trump is he's focused on jobs. Nothing about Russia or building walls or locking anyone up." And:

Every person I talked to about Trump, generally said:

He was the lesser of two evils – and still is.

I like what he's doing on the economy.

I wish he'd stop tweeting.

More: "It's easy to see why the economy is top of mind. Gallia County is one of the poorest counties in the state… I can remember coming home a decade ago and there were four of those sleazy, check-cashing places within a 2-mile radius. All of the stores where we shopped growing up – Haskins-Tanner clothiers, Knight's Department Store, Carl's shoe store – had been shuttered. But the residents have optimism like I haven't seen in a long time. Gallia County's unemployment rate is 5.6%, the lowest its been since 1979. Most of the storefronts in Gallipolis again have businesses. Some residents attribute that to Trump, though the economy was showing signs of rebounding before he was elected."

UPDATE "What Liberals Miss About Trump Country" [Jacobin]. "The effects of Donald Trump's presidency on the American economy are widely debated, but there's at least one field of production whose boom is indisputably a result of his election: the conservative voter ethnography industry…. Though the image of the uneducated white Trump voter is omnipresent in American political discourse, the fact that Trump's support comes disproportionately from the affluent is seldom mentioned. And among the lower-income people who do pull the lever for the GOP, opinions tend to be very different from those of high-income Republicans, particularly when it comes to economics…. Among Republicans pulling in less than $40,000, 45 percent believed that economic inequality was caused by systemic unfairness in the economy. Only 18 percent of their wealthier counterparts endorsed such a view. Overall, the authors of the report concluded that about one in five Republican voters held views about the economy closer to the average Democrat than the average Republican. Though these poor Republicans are a minority of Trump's coalition, they are a substantial one."
Stats Watch
Leading Indicators, September 2019: "The index of leading economic indicators is pointing increasingly to slowing ahead" [Econoday]. "The report said the results reflect uncertainty in the outlook and falling business expectations."
Today's Fear & Greed Index: 50 Neutral (previous close: 50, Neutral) [CNN]. One week ago: 42 (Fear). (0 is Extreme Fear; 100 is Extreme Greed). Last updated Oct 18 at 1:21pm.
The Biosphere
Tactical issues, here:
Angry commuters clashed with climate protesters at peak rush hour in London this morning. Video shows crowds shouting at protesters who'd climbed on top of trains, throwing objects and dragging them down to the platform: https://t.co/W2pqCthnko pic.twitter.com/OeNtGZTKYF

— CNN (@CNN) October 17, 2019
Perhaps some of our UK readers can enlighten me on Extinction Rebellion's choice of venue. "Canning Town… remains among the 5 per cent most deprived areas in the UK." Just two stops down the Jubilee Line is Canary Wharf, "one of the main financial centres of the United Kingdom." What's the lesson here? "Rebel for life" means that Finance CEOs have impunity, but the working class needs to get over this public transportation thing and walk to work?
Water
Maybe I should have filed this under zeitgeist watch. Thread:
love to spend $12 for a case of canned water. pic.twitter.com/PZPthjLCND

— spoOky jOkErMan FoNt ?️‍? (@disco_socialist) October 18, 2019
Yes, "Liquid Death," a water brand in a tallboy can, raised $1.6 million on seed funding.
Let's not do this, either:
This is how artificial waves are made in a surf lake pic.twitter.com/bNiWXBWJE0

— How Things Work (@ThingsWork) July 1, 2019
Class Warfare
"'Go back to work': outcry over deaths on Amazon's warehouse floor" [Guardian]. "In September, Billy Foister, a 48-year-old Amazon warehouse worker, died after a heart attack at work. According to his brother, an Amazon human resources representative informed him at the hospital that Billy had lain on the floor for 20 minutes before receiving treatment from Amazon's internal safety responders…. Amazon said it had responded to Foister's collapse 'within minutes' [lol]. The worker, who requested to remain anonymous for fear of retaliation, noted the Amnesty worker started CPR after finding Foister. … The incident is among the latest in a series of accidents and fatalities that have led to Amazon's inclusion on the National Council for Occupational Safety and Health's 2019 Dirty Dozen list of the most dangerous employers in the United States." • Idea: Bezos could paint their names on the side of that space ship he's building so he can escape to Mars. A fitting memorial indeed!
UPDATE "Amazon Is Spending Big to Oust Seattle's Socialist Council Member" [The Nation]. "The Amazon-backed PAC is backing challengers against all but one of the three incumbents running for reelection, which has left many predicting that the City Council is going to look a lot different next year. The Washington Technology Industry Association, the state's largest tech trade group, which this year endorsed political candidates for the first time, also backed Orion. Top executives at Amazon, Boeing, and Microsoft have donated to Orion's campaign, including ; and Sam Whiting, director of Boeing Global Engagement. 'It's clear now to the majority of people that big corporations like Amazon are absolutely going to war against ordinary people in this city, in this election, and are attempting to buy this election,' said Sawant." •
UPDATE "When capitalisms collide" [Nature]. "Better metrics and theories will not be enough to create a sustainable economic and social model. Or, they could — but only if they convince policymakers and the public to act differently. The future of capitalism is out of the hands of those who spend their time thinking about it." • Book review of In Defense of Open Society, George Soro; Capitalism, Alone: The Future of the System That Rules the World, Branko Milanovic; and Measuring What Counts: The Global Movement for Well-Being, Joseph E. Stiglitz, Jean-Paul Fitoussi and Martine Durand.
News of the Wired
"Blood fills Iowa family's basement" [KTIV]. • With photo.
And as a palate cleanser:
Feetloaf pic.twitter.com/SeMSOY8w5D

— Lil Rich Aka Crash (@Crash_The_King) October 15, 2019
Quite a few interesting comments.
Sorry to end on the horror-film note, but that's what came over the transom. Light comedic responses in comments welcome!
* * *
Readers, feel free to contact me at lambert [UNDERSCORE] strether [DOT] corrente [AT] yahoo [DOT] com, with (a) links, and even better (b) sources I should curate regularly, (c) how to send me a check if you are allergic to PayPal, and (d) to find out how to send me images of plants. Vegetables are fine! Fungi and coral are deemed to be honorary plants! If you want your handle to appear as a credit, please place it at the start of your mail in parentheses: (thus). Otherwise, I will anonymize by using your initials. See the previous Water Cooler (with plant) here. Today's plant (hunkerdown):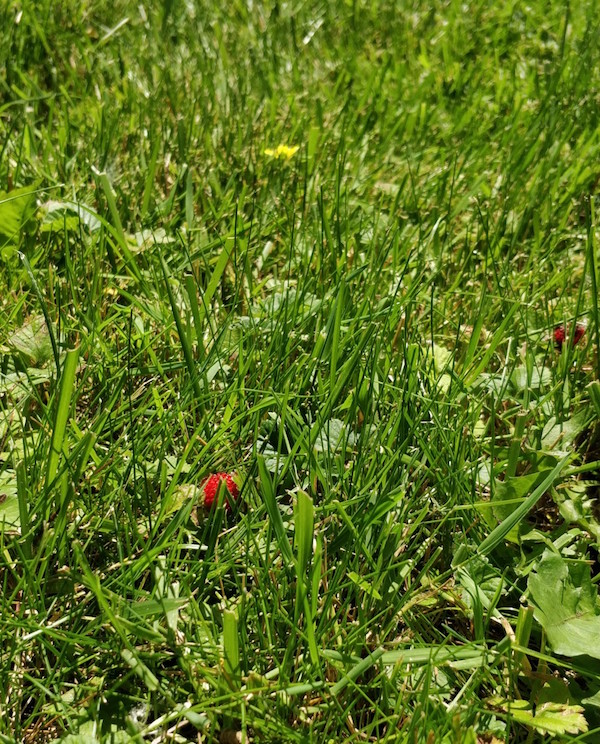 hunkerdown writes: "This bit of lawn probably irritates you. The local fauna don't seem to mind…" Not as much as the kind of lawn that looks like artificial turf….
* * *
Readers: Water Cooler is a standalone entity not covered by the annual NC fundraiser (which has just concluded; thank you all very much!) Remember, a tip jar is for tipping! So if you see a link you especially like, or an item you wouldn't see anywhere else, please do not hesitate to express your appreciation in tangible form. Regular positive feedback both makes me feel good and lets me know I'm on the right track with coverage. When I get no donations for five or ten days I get worried. More tangibly, a constant trickle of donations helps me with expenses, and I factor in that trickle when setting fundraising goals:
Here is the screen that will appear, which I have helpfully annotated.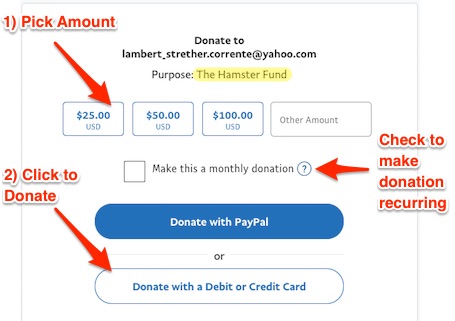 If you hate PayPal, you can email me at lambert [UNDERSCORE] strether [DOT] corrente [AT] yahoo [DOT] com, and I will give you directions on how to send a check. Thank you!