This is Naked Capitalism fundraising week. 1343 donors have already invested in our efforts to combat corruption and predatory conduct, particularly in the financial realm. Please join us and participate via our donation page, which shows how to give via check, credit card, debit card, or PayPal. Read about why we're doing this fundraiser and what we've accomplished in the last year, and our current goal, expanding our reach.
Trade
"Chinese trade negotiators are traveling to Washington this week and a stronger sign of a possible thaw in relations may be that new orders for U.S. soybeans are also coming in. Farm exports, new purchasing deals and prices have all been climbing again in recent weeks… as new reports show Chinese commodity buyers making some of their largest purchases in over a year" [Wall Street Journal]. "In August China purchased almost $1.5 billion of agricultural exports, including $945 million of soybeans and followed that by buying 1.5 million metric tons of soybeans in the last week of September. The deals are an upbeat signal as the countries prepare to resume trade talks this week after hitting an impasse in May."
Politics
"But what is government itself, but the greatest of all reflections on human nature?" –James Madison, Federalist 51
"They had one weapon left and both knew it: treachery." –Frank Herbert, Dune
* * *
2020
Alert reader dk (not to be confused with DK) is in the process of developing the following interactive chart. Here is (are) the latest Dem Primary Polling as of 10/8/2019, 12:00 PM EDT:

At dk's suggestion, I removed the lines. He writes: "Yes it's discontinuous but so is the data, I'd say this is actually pretty realistic picture of the insides of many minds+hearts over time, like clouds, like dreams. Note how Undecided has held fourth place for weeks… Biden anxiety or fear of Bernie and Liz? Why not both."

Still waiting for the impact of Sanders heart attack. If there are no shifts by the end of the week, I'd say Sanders, er, dodges a bullet. Ditto for Warren's various difficulties with oppo, And here are the poll results for Monday (Morning Consult was Sunday)

At dk's suggestion, here is Morning Consult since the start of the year, applying "applying the 7-poll averaging":

If Harris hadn't flamed out, would Warren be where she is? This chart doesn't reinforce "the narrative." And that loveable goof, Joe Biden, still looks like the candidate to beat. How the heck is he doing it?

I think dk has started a really neat project, and in the near future we'll seek your feedback (within reason) for the tool "live."

* * *

Biden (D)(1): "Donors express frustrations over Biden" [The Hill]. "Democratic strategist Brad Bannon said Biden's poor numbers suggest donors lack confidence in his campaign. 'The type of big donors that might give to Joe Biden only invest in sure things,' he said. 'Biden's nomination looked like a sure thing back in the spring when he got into the race with a 25 percent lead, so he raised a lot of money. Now his nomination is a crapshoot after flubs on the campaign trail, poor debate performances and the big surge by Elizabeth Warren.' Big money people who might favor Biden are investors, not gamblers or zealots, so the money is drying up,' Bannon concluded." • "Investors" is wonderfully clarifying, isn't it? And in games where an element of chance is involved, there's only one way to create a "sure thing," isn't there? That's right: Rig the game. So one wonders what kind of assurances the DNC gives "big money people." Not that I'm foily.

Harris (D)(1): "Kamala Harris embraced Peter Thiel's 'Big Data' tech in California. How about as president?" [McClatchy]. "As attorney general of California, Kamala Harris embraced the promise of data and technology to improve law enforcement – including data mining systems developed by the secretive Silicon Valley firm Palantir…. But Harris has remained silent about whether she would pursue some of the more controversial "Big Data" policing tactics she promoted while attorney general. And her campaign declined to respond to questions about whether she would continue to sign federal contracts with data-mining company Palantir…. The Palo Alto-based company was co-founded by Peter Thiel, a prominent supporter of President Donald Trump, as a counter-terrorism tool for the nation's military and intelligence agencies."

Sanders (D)(1):

Sanders' fundraising is a sea change in politics that should make the ruling class quake in terror. The people who break their bodies fulfilling your prime orders, stock the shelves and make your macchiatos have been quietly funding a revolution. FULL: https://t.co/ER7YtMmCVq pic.twitter.com/JSuBMYJglp

— Krystal Ball (@krystalball) October 7, 2019

"Vote yourself a farm and horses" —Abraham Lincoln's 1860 slogan. And why not?

Sanders (D)(2): "Bernie Sanders Is Spoiling for a Fight With the DNC" [Jacobin]. "In 2016, seventeen donors ponied up three-quarters of the Democratic National Convention's funding, with many corporate sponsors (including Facebook, Bank of America, and Comcast) donating over $1 million apiece. More than a few of those donors also shelled out for the Republican National Convention, sending a clear message: whoever wins, we expect our interests to be represented going forward. Otherwise, you can kiss our money goodbye. Today, Bernie Sanders threw down the gauntlet on corporate sponsorship of the convention. He released a multipoint plan to get corporate money out of politics. Its very first stipulation: 'As the Democratic nominee, Bernie will ban corporate contributions to the Democratic Party Convention and all related committees.'" • A real roach stuck in the wedding cake frosting, there, Bernie.

Sanders (D)(3): "Bernie Sanders Is America's Beating Heart" [Norman Solomon, Truthdig]. "The campaign looks set to fully resume soon. When Bernie left the hospital on Friday, NBC News quoted the chief of cardiology at the UC San Diego School of Medicine, Ehtisham Mahmud, who said that the three-day length of hospitalization indicates the senator 'probably had a small heart attack' — and 'they require really a very short recovery time.'" • Somehow that "small" seems to be missing from tje covervage. Odd. More: "Bernie has a huge and eternally healthy heart, filled with the lifeblood of empathy and dedication. In essence, that's what the Bernie 2020 campaign is all about. As he has been the first to say, it's not about him, it's about us. How much compassion and commitment can we find in our hearts?" • One common reaction from Sanders supporters that I have heard is "We have to work harder, so Bernie doesn't have to work so hard."

Warren (D)(1): "What's Behind Elizabeth Warren's Rise In The Polls?" [FiveThirtyEight]. "[I]f Warren is gaining among white voters who don't have a college degree, it's likely to the detriment of Biden and Sanders, who are the only other candidates who get at least double-digit support from this group. This is especially important in light of the fact that Iowa and New Hampshire, the first two states to vote in the Democratic primary, are predominantly white and, as a result, have a large share of white voters without a college degree."

Warren (D)(2): "The Emerging Anybody-But-Warren Campaign" [Ed Kilgore, New York Magazine]. "In a parallel development to the prospective revolt of the capitalists against Warren, those purporting to represent the #NeverTrump faction of alienated Republicans are beginning to let it be known that their willingness to support a Democrat in order to defenestrate President Trump and take back their party is strictly conditional on the ideology of the nominee, with Warren being beyond the pale…. So taken together, a powerful elite coalition of non-Democrats and at best quasi-Democrats is telling Democrats they cannot choose Warren because if that happens they will (a) destroy the economy and/or (b) throw the election to Trump. The thing to watch going forward is whether Warren's Democratic rivals begin to explicitly refer to these concerns as reasons not to nominate her, and tie their individual campaigns to an Anybody-But-Warren campaign."

Warren (D)(3): "Elizabeth Warren stands by account of being pushed out of her first teaching job because of pregnancy" [CBS]. • Which account? She has given two, both on video. That is the point.
Realignment and Legitimancy
"Restoring felon voting rights a 'mess' in battleground Florida" [Reuters]. "Under a Florida law that went into effect July 1, [felons] must pay [courrt-ordered fines and fees for three felony convictions] before casting a ballot or risk being prosecuted for voter fraud…. Florida has no consolidated system for determining what felons owe or certifying that they have paid up. It's a situation that ex-offenders say makes it virtually impossible for them to prove they are eligible to vote. Those claims are bolstered by state election officials who say they can't calculate what felons owe, either." • So liberal Democrats aren't the only ones who can manipulate complex eligibility requirements to their advantage.

"The Perils of the New, Shiny George W. Bush" [Jacobin]. "Besides this, what makes the sudden push to rehabilitate Bush particularly puzzling is that in many ways Bush's approach to government was identical to Trump's, both in its penchant for scandals and its pro-corporate approach." • What's puzzling about it? It appeals to suburban Republicans.
Stats Watch
NFIB Small Business Optimism Index, September 2019: "Small business optimism continues to ease" [Econoday]. "The report notes that uncertainty is up and respondents are more reluctant to make major spending commitments. Tariffs are cited by 30 percent of the sample as a negative for their business. Labor compensation continues to rise in contrast, however, to selling prices which are comparatively flat."
Producer Price Index (Final Demand), September 2019: "Inflation at the producer level had been flat and unexpectedly went into reverse in September" [Econoday]. "If inflation is in fact moving higher, it is no more than creeping higher and looks to be under what the Federal Reserve is hoping for. If consumer prices in Thursday's report show similar softness as today's report, which they are expected to, policy momentum is likely to shift to the doves in the FOMC's debate for further rate cuts."
Consumer Credit, August 2019: "Consumer credit came in roughly in line with expectations, up" [Econoday]. "The August decline in credit card debt shows consumers acting more frugal and paying down some of July's splurge, and larger payments due on their growing student loan or car loan debt may also be imposing necessary spending austerity."
Commodities: "Glencore's revamped GEM deal could leave electric vehicle makers short of sustainable cobalt" [Benchmark Mineral Intelligence]. "Benchmark Minerals estimates that the deal will account for 25% of Glencore's total cobalt hydroxide output in that time frame locking up a significant portion of 'sustainable' or traceable cobalt that is not associated with artisanal or illegal sources within the DRC. Glencore is the world's largest cobalt producer and we forecast that it will account for 31% of total supply in 2019. Having such a large proportion of its supply base being used by one customer will get the attention of those battery and automakers that are not locked into the Glencore-GEM supply chain." • I can't speak to the reliability of the source. Readers?
Retail: "Walmart Inc. appears to be overhauling operations in its money-losing e-commerce division. The retail giant is laying off some staff at its Bonobos men's apparel business just days after agreeing to sell its women's clothing brand ModCloth…. as the company looks to reset some of the digital investments it took on in a bid to reach new shoppers" [Wall Street Journal]. "The company has been spending heavily to ramp up the e-commerce operations, most prominently by buying Jet.com in 2016. Most of Walmart's profits still come from its traditional U.S. stores."
Big Ag: "The National Cattlemen's Beef Association and other groups say the plant-based producers shouldn't be allowed to call their products milk or meat, and bills have been introduced in 27 states that seek to police such labeling" [Wall Street Journal]. "The growing popularity of alternatives including Impossible Foods Inc. and Beyond Inc. has created a big new market for farmers, but ranchers fear they will lose market share. Advocates for the plant-based alternatives insist consumers know what they're buying, and that the broader change is that retailers are expanding the definition of the proteins they stock in cold cases.
The Bezzle: "SoftBank's Damage From Uber, WeWork Could Exceed $5 Billion" [Bloomberg]. "Masayoshi Son's startups have had a rough few months, from a botched initial public offering by WeWork to a sharp decline in shares of Uber Technologies Inc…. Son is going through a particularly rocky stretch after repositioning SoftBank from a telecom operator into an investment conglomerate, with stakes in scores of startups around the world. He built a personal fortune of about $14 billion with strategic bets on companies such as China e-commerce giant Alibaba Group Holding Ltd. But the recent troubles have weighed on SoftBank's shares, pushing them down about 30% from their peak earlier this year as investors grow skittish about startup valuations…. WeWork and Uber may be losing money now, but they will be substantially profitable in 10 years' time, Son said in the interview. At a private retreat for portfolio companies late last month he had a different message: become profitable soon. At the gathering, held at the five-star Langham resort in Pasadena, California, Son also stressed the importance of good governance." •.A bit late!
The Bezzle: "Meet the former prosecutor asked to investigate bitcoin who became the face of crypto VC investing" [CNBC]. • Very interesting (and reads like a beat sweetener).
Tech: "Supreme Court hands victory to blind man who sued Domino's over site accessibility" [CNBC]. "The Supreme Court denied a petition from pizza giant Domino's on Monday to hear whether its website is required to be accessible to the disabled, leaving in place a lower court decision against the company. The decision not to hear the case is a loss for the company and a win for disability advocates, who have argued that if businesses do not have to maintain accessible sites, disabled people could be effectively shut out of substantial portions of the economy. A panel of the 9th U.S. Circuit Court of Appeals sided with Robles, writing that the "alleged inaccessibility of Domino's website and app impedes access to the goods and services of its physical pizza franchises—which are places of public accommodation."
Manufacturing: "Airbus Plans Venture to Help Airlines Hedge Against Revenue Risk" [Bloomberg]. "Airbus SE plans to establish a financial venture that will help its airline customers hedge against risks to revenue. The London-based Skytra Ltd. operation was incorporated in May, according to filings with Companies House that describe its principal activity as the administration of financial markets… Financial News reported earlier that Skytra is targeting a launch date of May next year and will list futures and options contracts based on indexes designed to represent airline revenues. Carriers already commonly hedge against fluctuations in currencies and the price of fuel." • Hmm. So what else would they hedge against?
Honey for the Bears: "Decelerating Growth Calls for Accelerating Action" [Kristalina Georgieva, International Monetary Fund]. "Two years ago, the global economy was in a synchronized upswing. Measured by GDP, nearly 75 percent of the world was accelerating. Today, even more of the world economy is moving in synch but, unfortunately, this time growth is decelerating. In 2019, we expect slower growth in nearly 90 percent of the world. The global economy is now in a synchronized slowdown."
* * *
Today's Fear & Greed Index: 23 Extreme Fear (previous close: 30, Fear) [CNN]. One week ago: 48 (Neutral). (0 is Extreme Fear; 100 is Extreme Greed). Last updated Oct 8 at 12:09pm.
The Biosphere
"Convivial War: How Wall Street Recolonized Brazil. Part One." [BrasilWire]. • Must read. If you want to know why the Amazon is burning, one entity to ask is Big Ag behemoth Cargill.
"If 3.5% of the US Gets on Board With Climate Protesting, Change Will Happen" [Vice]. "[Extinction Rebellion's] strategy hinges on a critical figure: mobilizing 3.5 percent of the population in a given country, which has been repeatedly proven to be a threshold for systemic political change. In this case, members of XR want governments to accede to a key demand: creating a citizen's assembly that accelerates society away from climate-destroying industries and towards a net-zero emissions economy by 2025, five years earlier even than the ambitious 2030 target at the center of Alexandria Ocasio-Cortez's Green New Deal…. XR's strategy is drawn from serious academic research on nonviolent rebellion—in particular, a 2011 book called Why Civil Resistance Works by Erica Chenoweth and Maria J. Stephan, which analyzes nonviolent conflicts from 1900 to 2006 and concludes that overthrowing governments requires far fewer people and resources than you might assume." • On Chenoweth, see NC in 2012 (during Occupy). That 3.5% figure is not documented in the story. And *.5% feels an awful lot like spurious precision, to me.
"Capitalism Is Helping Us Use Less Stuff. No, Really." [Medium]. "Capitalism and technological progress are driving dematerialization…. [For example], some materials get replaced by nothing at all. When a telephone, camcorder, and tape recorder are separate devices, three total microphones are needed. When they all collapse into a smartphone, only one microphone is necessary. That smartphone also uses no audiotapes, videotapes, compact discs, or camera film. The iPhone and its descendants are among the world champions of dematerialization. They use vastly less metal, plastic, glass, and silicon than did the devices they replace and don't need media such as paper, discs, tape, or film."
"In the Pancreas, Common Fungi May Drive Cancer" [New York Times]. "Fungi, viruses and protozoa call your body their home, too. Your fungal residents are less numerous than your bacteria by orders of magnitude, but as researchers are learning, these overlooked organisms play an important physiological role — and when their numbers get out of whack, they can modify your immune system and even influence the development of cancer…. There is increasing scientific consensus that the factors in a tumor's 'microenvironment' are just as important as the genetic factors driving its growth."
"Cherokee Indians Can Now Harvest Sochan Within a National Park" [Smithsonian] (DL). "[Tommy Cabe], a forest resource specialist for the Eastern Band of Cherokee Indians and an enrolled tribal member in his 40s, grew up gathering sochan—a traditional Cherokee food akin to but milder than spinach that is rich in vitamin C and folic acid. For years, sochan gathering was relegated to small backyard plots, or along back roads. But one day this past May, clutching an official hunter-orange harvest bag, Cabe stood on a forested hillside in Great Smoky Mountains National Park, where his tribe became the first in generations to legally collect sochan within national park boundaries. Because of a new federal policy, 11 tribal members, as of now, are free to forage for sochan in tens of thousands of acres inside the park. The lifting on the prohibition of such foraging marks a reconciliation of sorts, with the federal government finally acknowledging American Indians' claim to their ancestral homeland." • The more people taking care of the land, the better.
Gunz
"The Las Vegas Shooter, Two Years Later" [TruthDig]. "Paddock. Palast. We sat next to each other at Fernangeles Elementary School, and later at Poly High in Sun Valley, Calif. Steve was a chess prodigy and a math whiz. He finally got to use his extraordinary gift to do complex ballistics calculations that allowed him to murder 58 people in Las Vegas in just minutes from a distant hotel window. That was two years ago this week. Steve should have gone to MIT, to Stanford. He didn't. For that, he needed Advanced Placement calculus. If you went to "Bevvie"—Beverly Hills High—you could take AP calculus. Or AP French. We didn't have AP calculus. We didn't have AP French. We weren't Placed, and we didn't Advance. According to a state investigation led by Tom Hayden, our high school was situated on top of a toxic dump site. No surprise there." • The waste.
Groves of Academe
Courage:
This is fantastic! ? https://t.co/tUMoLjKIer

— Steven J. Gibbons (@stevenjgibbons) October 8, 2019
Class Warfare
"Meet the Rich Kids Who Want to Give Away All Their Money" [Town and Country]. " Resource Generation [RG], an organization founded on the belief that young wealthy people should give away most or all of their inherited money or excess wealth…. RG has 15 chapters across the country. It's made up of wealthy ­individuals between 18 and 35 who are among the top 10 percent in wealth in the U.S., and its primary goal is to "redistribute all or almost all inherited wealth and/or excess wealth to social justice movements." And:
RGers also participated in numerous protests this year in New York, Washington, Los Angeles, and San Francisco in support of immigration, abortion rights, racial and gender justice, the Green New Deal, Puerto Rican independence, and, most important, higher taxes on the rich. They hosted webinars with ­titles like "Class Privilege and Activism," and in November Resource Generation will hold its annual conference, "Making Money Make Change," in the Hudson Valley.
I'm not seeing anything here about abolishing billionaires as a class. So apparently, "social justice" has its limits.
News of the Wired
"GNU means GNU's Not U: Stallman insists he's still Chief GNUisance while 18 maintainers want him out as leader" [The Register]. "Late last month, after resigning as president of the Free Foundation in the wake of catastrophically insensitive statements posted to an MIT mailing list, and a social media backlash, Stallman also appeared to resign as the head of the GNU Project. A statement saying as much appeared on his personal website. But then it disappeared, leaving speculation that his site had been hacked… In other posts and messages, Stallman has insisted he will continue to oversee the GNU Project." • It does seem that a lot of FOSS projects (Python, Perl, Linux) depend on a single leader.
"Raging robots, hapless humans: the AI dystopia" [Nature]. "In Human Compatible, his new book on artificial intelligence (AI), Stuart Russell confronts full on what he calls "the problem of control". That is, the possibility that general-purpose AI will ultimately eclipse the intellectual capacities of its creators, to irreversible dystopian effect…. Human Compatible marks a major stride in AI studies, not least in its emphasis on ethics. At the book's heart, Russell incisively discusses the misuses of AI. He warns about how, deployed in combination with invasive data collection, AI applications such as voice and facial-recognition technologies, deepfake generators and information-integration systems can be used for surveillance, control and mass-behavioural manipulation. Stressing human vulnerability to such technologies, he emphasizes the right to the mental security of living 'in a largely true information environment.'" • Yes, our information environment is disoriented enough as it is.
"Neurofeedback Gets You Back in the Zone" [Columbia Engineering]. "Our state of arousal—being fearful, agitated, or calm—can significantly affect our ability to make optimal decisions, judgments, and actions in real-world dynamic environments. Imagine, for instance, walking across a balance beam. Your performance—speed across the beam and the odds of making it across without falling off—are dramatically better if the beam sits a mere six inches off the ground and you are relaxed rather than terror-stricken on a beam 60 feet higher. To keep you in the zone of maximum performance, your arousal needs to be at moderate levels, not so high that it pushes you over the edge. Biomedical engineers at Columbia Engineering have shown—for the first time—that they can use online neurofeedback to modify an individual's arousal state to improve performance in a demanding sensory motor task, such as flying a plane or driving in suboptimal conditions. The researchers used a brain computer interface (BCI) to monitor, through electroencephalography (EEG) in real time, the arousal states of the study participants when they were engaged in a virtual reality aerial navigation task." • "Keep calm. I'm a cyborg."
"End of an Era: Radical Station WBAI Shuts its Doors, Possibly for the Last Time" [Spectrum News]. "Employees at WBAI woke to some bad news Monday morning: the longtime station was being shut down by the Pacifica Foundation, the nonprofit organization out of California that owns WBAI. Engineer and host Reggie Johnson learned of the news while on his way to work. 'And then when I got here, third floor is locked,' he said. 'The elevator to the third floor is not functioning whatsoever.'… Reached by phone, health guru Gary Null, who has probably raised more money for WBAI than any one person in its history, says he believes the Pacifica Foundation is setting the up station for a sale, and the license alone could yield more than $50 million. Null went on to say that, historically, the problem has been that the Pacifica Foundation has chosen ideology over competency when it picked the WBAI management team." • Competent enough to lock the doors, however.
* * *
Readers, feel free to contact me at lambert [UNDERSCORE] strether [DOT] corrente [AT] yahoo [DOT] com, with (a) links, and even better (b) sources I should curate regularly, (c) how to send me a check if you are allergic to PayPal, and (d) to find out how to send me images of plants. Vegetables are fine! Fungi and coral are deemed to be honorary plants! If you want your handle to appear as a credit, please place it at the start of your mail in parentheses: (thus). Otherwise, I will anonymize by using your initials. See the previous Water Cooler (with plant) here. Today's plant (TH):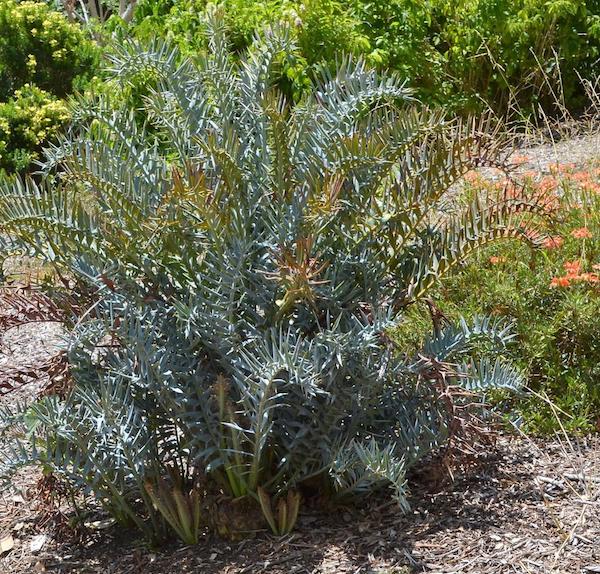 TH: "A rather fierce looking variety of Cycad (Eastern Cape Blue Cycad)." Spiky!