By Lambert Strether of Corrente.
Yesterday, October 29, was National Cat Day, which is intended to encourage adopting cats from shelters. As readers know, Yves and I are both ailurophiles. Here, sadly, are Yves' obituaries for her New York cats, Blake and Gabriel. I do not have a cat, but have been adopted by a cat whose summer residence is under the church porch next to my garden desk. Here is my tiny apex predator among the lilies, barred with the sun, and apparently having spotted something in the distance that might be worth attacking: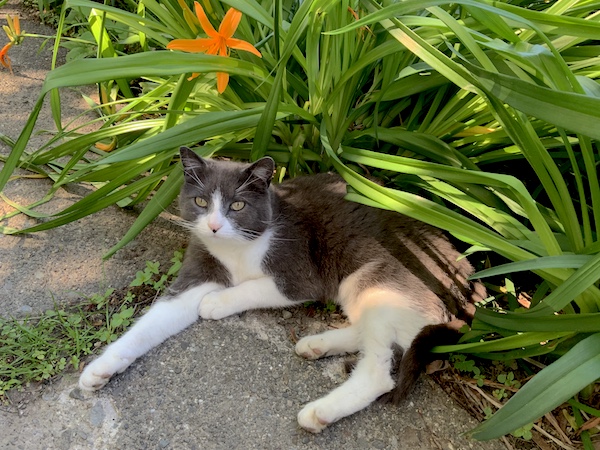 At one point I invented a name for the cat, but I have forgotten what is is. Anyhow, it makes more sense to me to think of the cat as this one cat. SInce it's now nippy, the cat — I assume — has moved to its winter quarters. I hope it returns next summer!
So, in honor of National Cat Day, and in honor of our various cats, here are answers to your cat questions, according to science!
What Is The Best Way To Pet a Cat?
Why would petting a cat be at all problematic? Live Science:
Domestic cats also display relatively modest genetic divergence from their ancestors, meaning their brains are probably still wired to think like a wildcat's. Wildcats live solitary lives and invest considerable time and effort communicating indirectly — via visual and chemical messages — just to avoid having to see each other. So it's unlikely that domestic cats inherited many complex social skills from their relatives.
And who wants to pet a wildcat? Still, if you do, pay attention not to what you want, but what the cat wants (which is a good lesson for other aspects of life, come to think of it):
The key to success is to focus on providing the cat with as much choice and control during interactions as possible. For example, the choice to indicate whether they want to be petted or not, and control over where we touch them, and how long for. Lots of cats do like being touched, but lots probably don't — and many tolerate it at best. Ultimately though, when it comes to cats, it's important to respect their boundaries — and the wildcat within — even if that means admiring their cuteness from afar.
Live Science then goes on to give an enormous list of signs of cat enjoyment ("Giving you a gentle nudge if you pause while you're stroking them") and signs of dislike or tension ("Biting, swiping or batting your hand away with their paw," or slashing you, as my Mother's Maine Coon Cat used to do).
What Is It With Cats and Boxes?
Everybody has seen how cats like to sit in boxes. Here is one variety of explanation from Mental Floss:
"There's that adage, 'Think outside the box,'" says Carole Wilbourn, a New York City-based cat therapist. "Cats like to think inside of the box."
There should be a science fiction novel about cat people that has this behavior as a premise. More:
Cats, Wilbourn reasons, take comfort in cramped spaces because it makes them feel more secure and dominant. "I think part of it goes back to when they were kittens and inside the womb, feeling safe and comforted. There's a feeling of coziness, being able to do what they want to do, and just feeling untouchable."

Science has been able to support this theory. Animal behaviorists have studied stress levels in newly arrived shelter cats and found that felines with access to boxes had lower stress levels and faster adjustment periods than those without [PDF]. Even if they're not quite as protected as they think they are—you can pretty much do anything to a cat who is inside a box as you could a cat who is outside of one—their perception may very well be that they're insulating themselves from harm.

Curling up in an undersized shelter has an additional benefit: it helps the cat retain more body heat. Cats tend to like running at a temperature between 86 to 97 degrees Fahrenheit, which is a reason you might also find them hanging out on a radiator, laptop, or other heat-emitting device. "When a cat is warm, the cat feels relaxed," Wilbourn says.

If you're still perplexed by the preference, remember that you've probably endorsed it by melting at the sight. "People see a cat in a box and say, 'Oh, that looks so nice and peaceful,'" Wilbourn says. "It's a positive association. It's easy for a cat to get blissed out in a box."
I don't buy Wilbourn's explanation, because I don't think cats like to go backward, let alone back to the womb. From Live Science:
Seeking out confined spaces is an instinctual behavior for cats. In the wild, these areas allow the animals to both hide from predators and surreptitiously stalk prey.

"Cats like boxes because they are cryptic animals; they like to hide," Stephen Zawistowski, science adviser for the American Society for the Prevention of Cruelty to Animals, told Business Insider. "And a box gives them a place of safety and security."

While inside a box, cats feel that they cannot be snuck up on from behind or the side — anything that wants to approach them must come directly into their field of vision. In effect, such hiding spaces allow them to watch the world around them without being seen.

And if something interesting passes in front of the cat — be it prey or a toy — it can dash out to get the object, and then quickly return to its safety spot.
Cats are cryptic animals. I'll say! Here is a video of Maru, the famous Japanese box-adjacent cat. I found it on the Internet:
Leading naturally to the question–
Is Watching Cat Videos on the Internet Good for Me?
Yes. NBC News:
"Some people may think watching online cat videos isn't a serious enough topic for academic research, but the fact is that it's one of the most popular uses of the Internet today," [Jessica Gall Myrick, a media researcher at Indiana University in Bloomington] said in a statement. "If we want to better understand the effects the Internet may have on us as individuals and on society, then researchers can't ignore Internet cats anymore."

Myrick tapped into the overwhelming popularity of cat videos to conduct the study, which relied on survey results from approximately 7,000 cat video viewers.

The participants in the survey said they felt more energetic and more positive after watching cat-related online media than they had before tuning in. They also reported feeling fewer negative emotions — including anxiety, annoyance and sadness — after viewing their favorite Internet cats.

Myrick's study was published online June 12 in the journal Computers in Human Behavior. The report follows an earlier study in which Japanese researchers reported that looking at images of cute animals can improve workers' performance on the job by increasing their attention and promoting careful behavior.
So don't worry about that. I mean, unless you spend hours watching cat videos, have a device to store thousands of downloaded cat videos, and so forth.
Do Cats Know Their Names?
The verdict is only partial. From NPR:
Researchers conducted a series of experiments in which a person would speak four different words and then say the cat's name. According to the study, the words chosen were "nouns with the same length and accents as their own names." If the cat acted differently when it heard its name, the scientists would know that the cat could distinguish its own name from other words.

The reason for saying four words before the name was to "habituate" the cats — or get them accustomed to hearing words spoken. Cats often move their heads or ears when hearing words spoken, but that response diminished after four words. Only then was it time to say the name — and see how the cats responded.

"We conclude that cats can discriminate the content of human utterances based on phonemic differences," the researchers wrote. "This is the first experimental evidence showing cats' ability to understand human verbal utterances."

Do the cats actually understand that the name represents their identity? That part is unclear, lead study author Atsuko Saito of Sophia University in Tokyo told The Associated Press. What is clear is that the cat's name is "salient stimulus," the researchers said, "and may be associated with rewards, such as food, petting, and play."
Hmm. I think the results might be stronger than the researchers think. When I feed the cat, there's a lot of stimulus. I do it at the same time, I announce that it's feeding time, I rattle the dry food, there's the sound of the tin opening… That's a lot of salient stimulus. But I never say the cat's name, because I forgot it. If the cat's "name" is the only stimulus, it's hard to think that the cat is not responding to an identifier unique to itself.
How Do I Get a Cat to Like Me?
Once again, Mental Floss. This article has lots of useful tips, but I want to call out the one point I disagree with:
A study conducted in Italy showed that felines who stayed mostly indoors (they had one hour of supervised access to a small garden each day) were more "in sync" with their owners than felines who were allowed free access to the outdoors. The indoor kitties were more active during the day, when their owners were likely to be active, and less active at night, when humans like to sleep. (Many people believe cats are nocturnal, but they are naturally crepuscular—active at dawn and dusk.)
The cat, unbelievably, follows me across the street to the ATM when I go out to forage at night (which terrifies me, since I don't want the cat to be hit by a car), and then started following me to the Circle-K when I go to buy snacks (which also terrifies me) and waits outside; in fact, the store staff recognizes the cat. The cat is definitely an outdoor cat, but it's hard to imagine being more "in sync" than that.
Conclusion
This article in Science explains why I like cats so much:
In the first study to directly compare how cats and dogs communicate with people, [Ádám Miklósi, a cognitive ethologist at Eötvös Loránd University in Budapest] and colleagues conducted the pointing test at pet owners' homes. The cats performed as well as the dogs. But, foreshadowing a headache that would plague the field of feline social cognition, of the study, according to the research paper. Some stopped paying attention. .
Cats don't need me. They choose me. Maybe, one day, the cat will choose a different summer residence. Good for the cat!