Abandoned by Great White Sharks, Cape Town Is Now Short of Whales, Too Bloomberg
Extraordinary pictures of the most ancient trees on Earth Gizmodo (David L)
Study: California's big July quakes strain major fault Associated Press (David L)
The US military is trying to read minds MIT Technology Review. Not new. After the USSR fell, a former top Soviet scientist published a book on how the USSR (as well as the US) had spend lots of time and money on parapsychological research (one wonders if the Men Who Stare at Goats was an effort to divert attention from the real effort). The USSR concluded that some people really did have what would informally be called psychic abilities, way above chance, the most likely population to have it was red-headed female peasants, but those talents were too unreliable to use for military purposes.
In this "biorecycling" factory, enzymes perfectly break down plastic so it can be used again Fast Company
Machines Beat Humans on a Reading Test. But Do They Understand? Quanta (David L). The other part, which this article does not address, is how researcher expectations influence human subjects. That is why clinical trials are double blind, placebo controlled. When the computers got to be close to as good as humans, one has to wonder if the researchers, who might have wanted their computers to win, sent negative signals to the human subjects. See the considerable literature on expectancy theory before you pooh pooh this idea.
A Great Example of Better Data Visualization: This Voting Map GIF Core77 (resilc)
The Great Biomass Boondoggle New York Review of Books (resilc)
New study pinpoints the places most at risk on a warming planet Grist. Be sure to check out the map.
New catalyst helps turn carbon dioxide into fuel Stanford News (David L)
Extinction Rebellion protesters dragged from Tube train roof BBC (Kevin W). This is not a way to win hearts and minds: "Many commuters were left scratching their heads this morning, bewildered by an environmental protest that targeted one of the most environmentally-friendly ways to travel." And in NYC, it's not hard to imagine the MTA running the trains anyhow and seeing if nature would take its course (there have been Darwin Award candidates who joyride on the top of subway trains).
Eco-Fascism doesn't exist. Yet. Paganarch. UserFriendly: "Important!"
Hacking Darwin: How the coming genetics revolution will play out New Atlas (David L)
Modern Humans Inherited Even More DNA From Neanderthals And Denisovans Than We Thought Gizmodo (Kevin W)
Inherited Learning? It Happens, but How Is Uncertain Quanta (David L)
China?
China's GDP growth sinks to new low of 6 per cent Financial Times

A Million People Are Jailed at China's Gulags. I Managed to Escape. Here's What Really Goes on Inside Haaretz (Troy). Today's must read. Indirectly confirmed by this take from an ex-McKinsey colleague a while back:

I've been to China often, built a factory there in the early 2000s, and our youngest son recently returned from working there (he's fluent in Mandarin). Last fall XXXX and I went to Xinjiang, the westernmost province of China, where the silk road enters China. That region and its capital, Kashgar, has gotten lots of recent press because of the oppression of the Uighur minority. It's worse than most press describe. It's a police state like the storm troopers of Star Wars. Last fall (after we were there) McK held its annual senior partner meeting in the desert near Kashgar. For that to have been done was, to me, a clear signal to the Chinese government of McK's tacit approval of their actions there. It was appalling. No other part of China, including Tibet, is even remotely as oppressive.

The Belt and Road Initiative is not exactly going into reverse, but the excitement of the early days is clearly fading: China's overseas construction projects are declining, and overseas lending has almost stopped growing. pic.twitter.com/EIiQanMiK7

— Andrew Batson (@andrewbatson) October 11, 2019
Brexit. Thin on links here, please see our post instead.
DUP to expand into f**king up other countries Daily Mash. Party leaders should consider applying for jobs in Langley.

Business concern at what deal means for UK-EU relationship Financial Times

Brexit: 40% jump in companies in significant financial distress since referendum, report finds Independent
Fridays for Horsepower: German Motorists Oppose Fridays for Future Der Spiegel (resilc)
Suicide rate among young Americans soars by more than 50% over 10 years MarketWatch
Syraqistan
Big Brother is Watching You Watch
How to Stop the Abuse of Location Data New York Times
Imperial Collapse Watch
America sold over $55 billion in weapons in FY19 Defense News (resilc)

Meet Ripsaw M5, Textron's Unmanned Battle Wagon Military (JTM)
Trump Transition
Never-Before-Seen Trump Tax Documents Show Major Inconsistencies ProPublica. UserFriendly: "ROFL the how they got it is the best part. You think team D might have noticed."

Update: We Found a "Staggering" 281 Lobbyists Who've Worked in the Trump Administration ProPublica (resilc)

Trump's 'China Muse' Has an Imaginary Friend Chronicle of Higher Education (resilc). Hahaha great minds think alike!
Impeachment
Mulvaney walks back comments tying Ukraine aid to 2016 probe The Hill v. Mulvaney Says No Quid Pro Quo Between Ukraine Aid and Investigations Wall Street Journal. Note that was the headline in the e-mail news alert; the apparent original headline Mulvaney Says Holdup of Ukraine Aid Was Tied to Trump's Demand for DNC Server is up on the site.

Gordon Sondland, Trump envoy and key figure in impeachment probe, faces criticism over $1 million taxpayer-funded home renovation Washington Post

Why the Pundits Got Impeachment Wrong New Republic. Resilc: "Why have Congress, just have a poll on everything then."
Health Care
We Don't Need to Raise Taxes to Have 'Medicare for All' New York Times (resilc)

Why We Need to Design Health Care Reform That Puts Patients Before Profits UserFriendly
2020
Truth Is A Kremlin Talking Point Caitlin Johnstone (UserFriendly). Here because used heavily to try to discredit Dem candidates.

Democrats Still Can't Level With Voters About the U.S. Empire Intercept

Mike Bloomberg signals he would run if Biden struggles against Warren CNBC (UserFriendly). One of my Dem insider contacts warned about this over a week ago.
Black Injustice Tipping Point
Inside the "Most Incarcerated" Zip Code in the Country New Republic (resilc)
Private Utility Companies Keep Merging and Merging American Prospect
Inside TurboTax's 20-Year Fight to Stop Americans From Filing Their Taxes for Free ProPublica (UserFriendly)
Saudi Aramco delays planned launch of long-awaited IPO Financial Times (Kevin W). Quelle surprise!
Facebook's Mark Zuckerberg Defends Free Speech Amid Calls for Tighter Controls Wall Street Journal
When Democrats Used to Indict Plutocrats and Monopolists Matt Stoller. The MSNBC interviewer is just vile. Matt's response when she made the abjectly false claim that the corporate tax cuts went to R&D wasn't the best (although it wan't bad), but it's hard to swat back lies that are so out there that they're unexpected. It's hard to muster it, but the best would have been to start laughing and then shellack her.
Tech Companies Are Destroying Democracy and the Free Press Matt Stoller, New York Times
Class Warfare
Reporters' Memo: Data Show Trade Had Greater Impact Than Automation on Manufacturing Job Loss Public Citizen

Felicity Huffman's Release from Prison Set for Oct. 27 People (resilc)
Antidote du jour. Tracie H: "Sinbad (chair-back), Sherlock (groomie), and Tinkerbell (groomer)."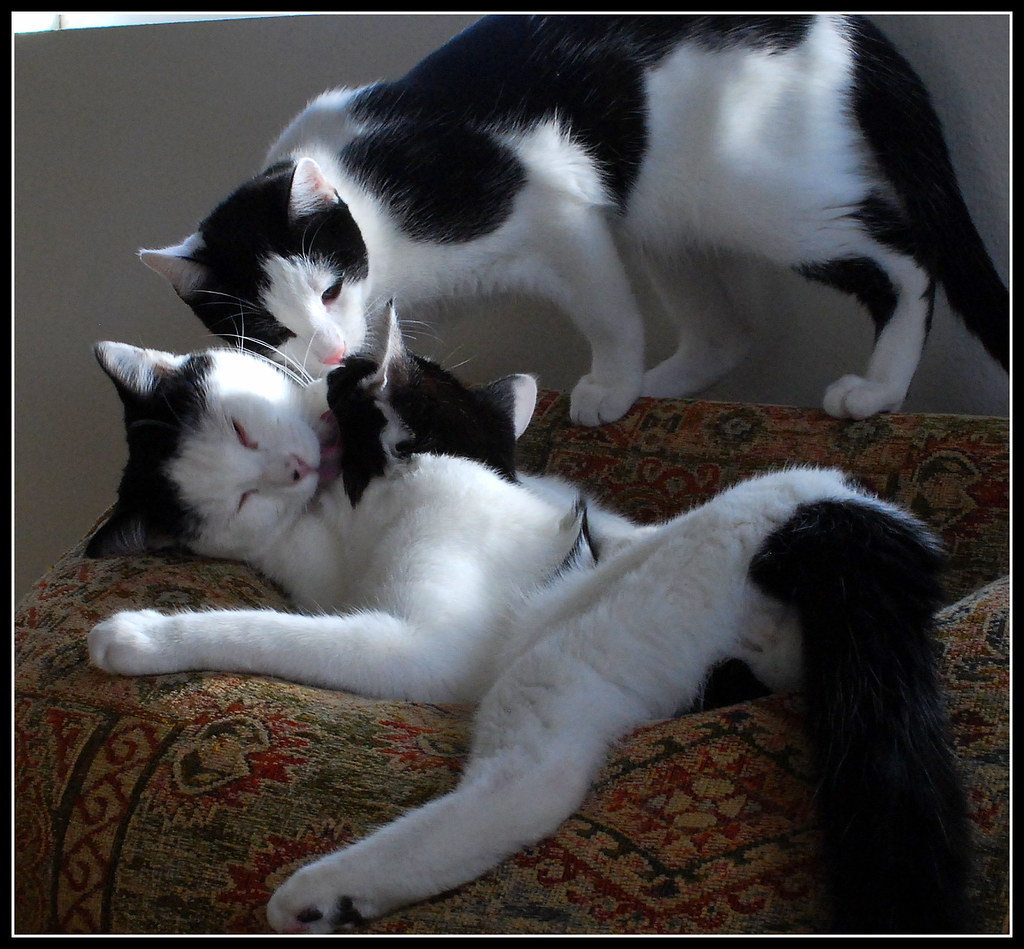 See yesterday's Links and Antidote du Jour here.