Migrating Russian eagles run up huge data roaming charges BBC (resilc)
Lawmaker Kills Repair Bill Because 'Cellphones Are Throwaways' Vice
Soil in the Arctic Is Now Releasing More Carbon Dioxide Than 189 Countries Global Citizen (David L)
MIT engineers devise system that removes carbon dioxide from the air CNET (David L)
Trying to Plant a Trillion Trees Won't Solve Anything Wired (David L)
Glacial Rivers Absorb Carbon Faster Than Rainforests, Scientists Find Guardian
Earth's rocks can absorb a shocking amount of carbon: here's how National Geographic (David L)
Common healthcare algorithm biased, reduces care for black patients by more than half, study finds Becker Hospital Review. Lambert featured a different write-up of this study yesterday. Eileen Appelbaum: "Great, easy-to-understand example of how bias gets into algorithms."
Why Terminator: Dark Fate is sending a shudder through AI labs BBC
Greta Thunberg Meets Our Malthusian Reality American Conservative (resilc)
Dementia: New Alzheimer's drug 'could slow rate at which disease progresses' BBC
Man Kept Getting Drunk Without Drinking. Docs Found Brewer's Yeast In His Guts ars technica
Brexit?
How Brexit Will End New Yorker

Jeremy Corbyn 'taken prisoner by chief whip to stop him caving in to Boris Johnson's snap election demands' Evening Standard (furzy). Confirms what a mess Labour is.
Trouble in Paradise: Chile's Inequality Explodes New York Times
Harvard and TIAA's farmland grab in Brazil goes up in smoke Farm Land Grab (Ignacio)
The streets of Barcelona OffGuardian (JTM)
New Cold War
How Climate Change Will Help China And Russia Wage Hybrid War Defense One (resilc)
Syraqistan
Dozens killed as fierce anti-government protests sweep Iraq Al Jazeera (resilc)
Big Brother is Watching You Watch
Joe Rogan Experience #1368 – Edward Snowden YouTube Lambert featured yesterday in Link but re-running to add BC's comment:

He makes an interesting point about the "Deep State" that has been my experience too in that the IC is not a homogeneous family, rather a series of competing interests of career bureaucrats whose authorities outlast Presidential administrations. Human nature drives the rivalry between agencies that all wish each to portray themselves as the Country's premier go-to, can-do, agency. Their foremost priority is to protect their agencies, their power and secrecy, and their personal careers. They come together when there is a mutual threat to those priorities or an opportunity to further fortify them. When conspiratorial behaviors occur, it is typically not some grand plan as much as (the more reactionary) protection of interest.

Republican campaign put beacons on lawn signs to track phones, company says Mashable (David L)

Microsoft wins $10 billion JEDI defense cloud contract, beating Amazon CNBC. BC: "'Alexa, play 'Cry Me A River'"
Imperial Collapse Watch
Trump Transition
Why isn't Trump serious about fixing NAFTA? Lori Wallach, Sister Simone Campbell, The Hill

Judge grants Democrats access to unredacted Mueller report – as it happened Guardian (furzy)

This President* Will Burn Everything Down Rather Than Surrender Power Esquire
Impeachment
How a Veteran Reporter Worked with Giuliani's Associates to Launch the Ukraine Conspiracy ProPublica (UserFriendly)

Frank Rich: Republican Impeachment Panic Sets In New York Magazine
Health Care
Make no mistake: Medicare for All would cut taxes for most Americans Emmanuel Saez and Gabriel Zucman, Guardian (resilc)
2020
The DNC Versus Democracy CounterPunch (resilc)

Gotta imagine AOC's response here to Lawrence O'Donnell's condescending question is rattling a few establishment cages. pic.twitter.com/OB3WHMnb7h

— Wooooobie ? Boos Day (@WoobieTuesday) October 25, 2019

Meet the deep-pocketed Biden Bros: lobbyists for arms dealers, for-profit health-care, Azerbaijani oligarchs, Comcast Boing Boing (resilc)

'A Prophet': The Zeal of Bernie Sanders Supporters New York Times. UserFriendly: "'Will his supporters fall in line?; Kill me."

The Cannabis Catch-Up: Sanders Plan to Bern It All Down VT.com (resilc)

Eating Their Own: How the Clinton Wing is Retaliating Against Gabbard by Funding Her Opponent Ghion Journal (UserFriendly)
The Bezzle
The Not-Com Bubble Is Popping Atlantic (David L)

Man Sues AT&T, Saying He Lost $1.8 Million In Cryptocurrency With SIM Card Hack ABC

SoftBank-backed start-up Fair to cut 40% of its staff Financial Times (David L)
Our Famously Free Press
When CNN & MSNBC now cover the criminal inquiry into conduct of intel officials in Russia probe, they are literally covering their employees — John Brennan (MSNBC); James Clapper, Andrew McCabe, James Baker (CNN). I avoid the term, but it's appropriate here: Deep State TV.

— Aaron Maté (@aaronjmate) October 26, 2019

Algorithms Will Be 'Driving the Majority of Facebook News,' Says Facebook TechCrunch

Facebook includes Breitbart in new 'high quality' news tab Guardian (furzy)

BBC Launches Tor Mirror Site To Thwart Media Censorship NPR (David L)

What's Really Behind the Media's Deepfake Panic Truthdig (Robert H)

Lithuanians are using software to fight back against fake news Economist
Toyota's New Mirai Could Run on a Single Cow's Poop for a Year Car and Driver (David L)
Class Warfare
Elizabeth Warren's wealth tax is 'pretty nuts' and a VAT would be much better, according to billionaire who would pay a lot in wealth tax and barely any VAT https://t.co/C7zVw4c7lY

— Gabriel Zucman (@gabriel_zucman) October 25, 2019

Education Department official says he will resign and calls for massive student-loan forgiveness: Does he have a good idea? Condemned to DEBT (UserFriendly)
Antidote du jour. Tracie H: "This little flower-pollinating honeymaker is on a Coastal Goldenbush."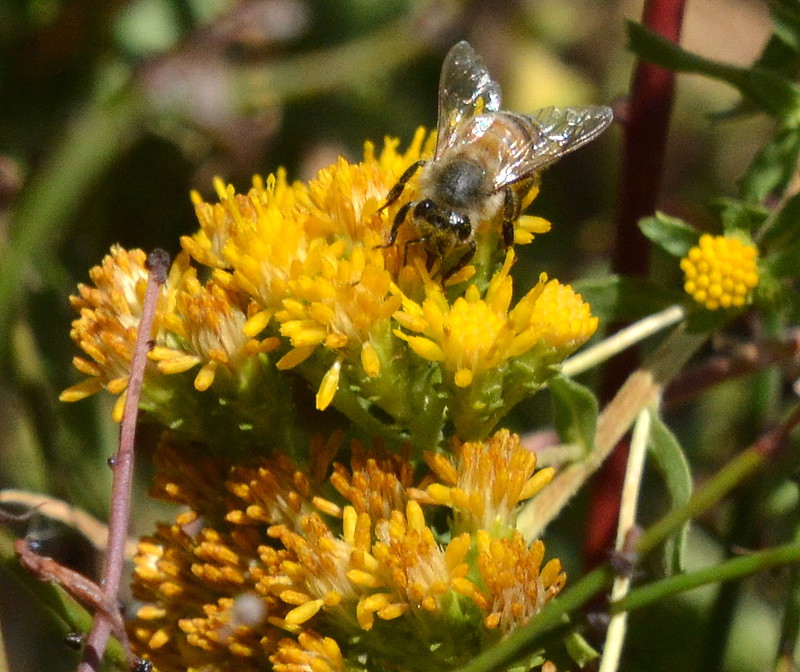 See yesterday's Links and Antidote du Jour here.