Search continues for the Alabama sturgeon, one of the rarest fish on earth AL.com. From an excellent series, but how I loathe the elimination of real newspaper names in favor of bland, state-based URLs. How I prefer even the utilitarian "Birmingham News"!
After This Fungus Turns Ants Into Zombies, Their Bodies Explode NYT (GF).
Cyber Attack Hits Prominent Hedge Fund, Endowment, and Foundation Institutional Investor
WeWork's sparsely populated China offices drain company's cash FT
Kincade Fire: PG&E tower near ignition point of Sonoma County wildfire was not shut off, had broken equipment ABC7
'Evil economics': William Barber condemns proposed plastics facility in Cancer Alley Guardian
The Permian Basin Is Facing Its Biggest Threat Yet Bloomberg
Thirst turns to anger as Australia's mighty river runs dry Reuters
Brexit
Bolivia elections: Morales officially declared winner BBC
Around the World, Protesters Take to the Streets Foreign Policy
Syraqistan
India
Kashmir is seething — and somebody needs to step in before it's too late The Independent
China?
U.S. Fears Mass Boycott as Chinese Turn to Homegrown Brands Bloomberg
Former Malaysian PM Najib Razak had no idea millions in his accounts came from 1MDB, defence argues South China Morning Post
New Cold War
Zombie NATO Expansion Stumbles On The American Conservative (Re Silc).
How Vodka Became a Currency in Russia Atlas Obscura
Impeachment
The Codevilla Tapes Tablet. A very, very interesting interview — you can skip past the lengthy intro — with an old school national security mandarin, Angelo Codevilla. Here is an important nugget:

INTERVIEWER: I have some close personal friends who are more on the left, and I said to them: OK. Where's the evidence? Who did what when to whom? Where are the quids and where are the quos? What's going on here? And all they could say is, "Well, the investigation is going on."

Whose fault is this?

[CODEVILLA:] The fault here is not of Democrats on the left. The fault here is of Donald Trump and his friends who have refused to enforce the most basic laws here. The most obvious one is . It states that any revelation, regardless of circumstance or intent, any revelation period, of anything having to do with U.S. communications intelligence is punishable by the 10 and 10. Ten years in the slammer, and $10,000 fine. Per count.

Now .

Considering these matters are highly classified, and that the number of the people involved is necessarily very small, identifying them is child's play. But no effort to do that has been made.

I'm not a lawyer, but Codevilla seems like an authoritative source (e.g., "directly involved in the drafting of the original FISA law in 1978").

Justice Dept. Is Said to Open Criminal Inquiry Into Its Own Russia Investigation NYT. Before, Durham didn't have subpoena power. Now he does.

The Blob Strikes Back The National Interest
Trump Transition
2020
Warren faces tough choices on funding 'Medicare for all' The Hill. "Government faces tough choices in funding F-35," wrote no editor, ever.

Economists rush to help Sen. Elizabeth Warren solve Medicare-for-all tax puzzle WaPo. At this point we recall this chart, which I have suitably annotated:

Are Our Brains Wired to Reject Medicare for All? David Corn, Mother Jones. Every time I think we've reached peak liberalism, Clara Jeffreys proves me wrong. Redeploying Corn from the RussiaRussiaRussia desk to the #MedicareForAll desk is a master-stroke (and shows what the liberal Democrat hive mind perceives as the real threat).

Bernie Sanders Vows to Revive Criminal Prosecutions of CEOs for Unfair Trade Practices The Intercept (nippersmom). Even the horrid Bush administration prosecuted Enron executives. But [genuflects] Obama? Not so much.
Who Revolts? Empirically Revisiting the Social Origins of Democracy The Journal of Politics. Important in the Sanders v. Warren controversy.
Big Brother Is Watching You Watch
Joe Rogan Experience #1368 – Edward Snowden YouTube

Snowden reconsidered Gilbert Doctorow
Imperial Collapse Watch
OK, the collapse of the British Empire, but still. Thread:

A friend in the army once told me how he got into a fight with his horse and ended up biting the horse. He got in trouble because technically the horse outranked him.

He went on this massive rant about how everyone automatically took the side of officer horse because of its rank

— James Felton (@JimMFelton) October 24, 2019
Black Injustice Tipping Point
A Health Care Algorithm Offered Less Care to Black Patients Wired
An Undeserved Gift The Bitter Southerner. Okra.
Microsoft Surface Laptop 3 (15-inch) Teardown iFixit. Microsoft (!) makes a real move toward right-to-repair. "[W]e take a stab with our opening tool at the seam between the upper and lower case, and … it comes right apart! With nary a speck of unsightly glue in sight! … Just like that, the whole top cover assembly lifts away! This is a magical moment."
Book Review: Against the Grain Slate Star Codex
Antidote du jour (via):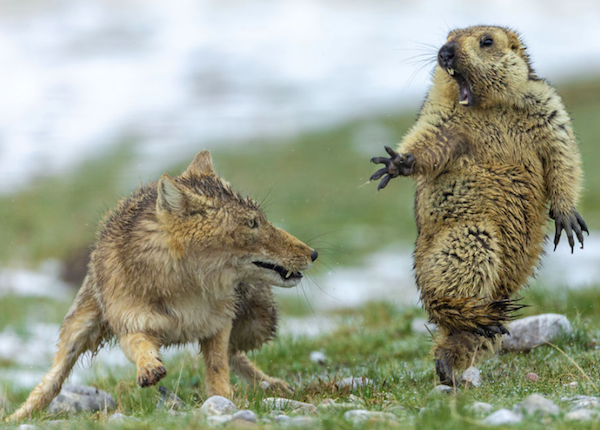 Nice marmot!
Bonus antidote:
A moose family crossing the road at Denali National Park pic.twitter.com/5ZI4mbc1Zo

— Life on Earth (@planetpng) October 25, 2019
Stay in your lane…
See yesterday's Links and Antidote du Jour here.