Maine is home to hundreds of spider species. Here's a guide to the ones you might find. Bangor Daily News
Wilderness areas could reduce extinction risks by more than half Anthropocene
Economics' Biggest Success Story Is a Cautionary Tale Foreign Policy. More on faux Nobelists Duflo and Banerjee.
WeWork, Neil Woodford and the modern 'bezzle' FT. A word with which NC readers will be familiar…
Amazon's facial recognition misidentified Boston athletes as criminals Daily Dot
Indigenous elder slams 'hollow and tokenistic' consultation by Sidewalk Labs Toronto Star
Oil sands found to be a leading source of air pollution in North America Globe and Mail
AOC v. Exxon:
Rep. @AOC: Exxon accurately predicted future global warming in 1982, correct?

Former Exxon consultant turned whistleblower: "We were excellent scientists." https://t.co/oQLEPdkBGH

— Benjamin Franta (@BenFranta) October 26, 2019
Brexit
Syraqistan
India
Kashmir: Bipartisan consensus in US is in meltdown Indian Punchline
Coffee Prices Have Collapsed, Threatening the Livelihood of Millions Across the Global South The Nation (Re Silc).
China?
How China's mystery author called its economic slowdown Financial Times

Pay with your face: 100m Chinese switch from smartphones Nikkei Asian Review

Interpretation on Several Questions on the Application of Law in Handling Criminal Cases Such as Criminal Use of Information Networks, and Assisting in Criminal Information Network Activities China Law Translate
New Cold War
$500,000 of Russian Cheese, Wasted? Matt Bivens, Medium. By the former editor of the Moscow Times. (This one is good, too.)

Russia Will Test Its Ability to Disconnect from the Internet Defense One

America Sponsors Far-Right Holocaust Revisionist Exhibit in Kiev, Part I Yasha Levine
Impeachment
Thanks, Whistle-Blower, Your Work Is Done Editorial Board, NYT

Frat Boy Thermopylae Rod Dreher, The American Conservative
Trump Transition
Unprecedented: The Trump NLRB's attack on workers' rights Economic Policy Institute
2020
Our Famously Free Press
Media amnesia and the Facebook News Tab Columbia Journalism Review. All the controversy is about Breitbart, but I'm also concerned that only large venues (like Murdoch's properties) will be paid to appear on the "news tab," and smaller venues won't. There should be a sliding scale. Otherwise, all we have is monopolists mutually reinforcing their market power.
Boeing 737 MAX
On Malfunctioning Max, Captain Had the Flu and Copilot Was a Sub Bloomberg. From the report by Indonesia's National Transportation Safety Committee.
Sports Desk
Advertisers flood World Series for D.C. opinion leaders Axios. One more reason not to root for The Nationals.
Imperial Collapse Watch
Do the Public and 'the Blob' Want the Same Things? The American Conservative

UK, US Enter New Era: 'Unprecedented' Carrier-Sharing Plan Breaking Defense. What's the big deal about sharing the UK's aircraft carrier deck space when we can turn to whole island into Airstrip One after Brexit?
PG&E connection to Kincade Fire could deepen utility's jeopardy San Francisco Chronicle. Who missed the "enterprise risk" here?
A Utility Company Is Scheduled To Shut Off Power To Nearly 3 Million Californians As A Massive Fire Grows Buzzfeed. The utility being PG&E. Handy map. "The company warned that outages could last more than 48 hours, and suggested customers should prepare for outages lasting several days." What, the day before?
Guillotine Watch
While California Fires Rage, the Rich Hire Private Firefighters NYT (PR).
Class Warfare
Bernie Sanders compares the ultra-wealthy to drug addicts: "I need more, more, more" CBS

Teamsters won't deliver across Chicago Teachers Union picket lines: 'Today it's them, tomorrow it's us' Chicago Tribune
The Twilight of Autopia Places Journal
Repressed Memories Are Back, Baby! The Stranger
Antidote du jour (via):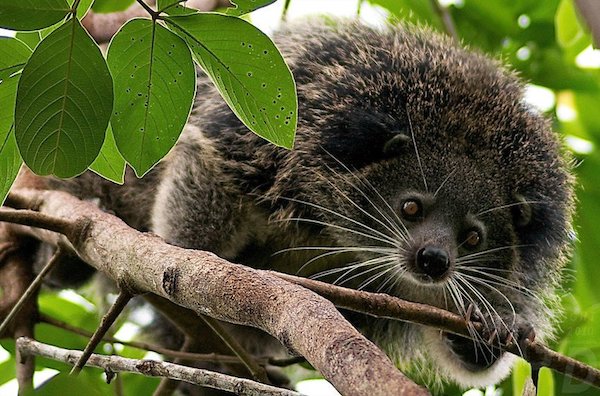 Bonus antidote:
TOO CUTE: Two adorable snow leopard kittens — which are highly endangered — made their public debut at Salzburg's zoological garden Hellbrunn on Thursday ❤️ https://t.co/8wJgK4quj1 pic.twitter.com/OsEMpyzoPv

— CBS News (@CBSNews) October 26, 2019
See yesterday's Links and Antidote du Jour here.