This is Naked Capitalism fundraising week. 698 donors have already invested in our efforts to combat corruption and predatory conduct, particularly in the financial realm. Please join us and participate via our donation page, which shows how to give via check, credit card, debit card, or PayPal. Read about why we're doing this fundraiser and what we've accomplished in the last year, and our current goal, funding comments section support.
Yves here. It was 103 degrees in Birmingham yesterday.
I Gave My Cat a Fitness Tracker and the Results Were Worrying Vice (resilc)
Woman Caught On Camera In Bronx Zoo Lion Exhibit YouTube. Darwin award futures.
National Poetry Day 2019: 28 of the most powerful lines ever written Independent. Readers please provide your picks! Some of the ones here weren't that strong, IMHO. What about Blake, Robert Lowell, Seamus Heaney? The Ezra Powell choice strikes me as odd. And what about the thumpy but effective Charge of the Light Brigade?
How anti-vaxxers target grieving moms and turn them into crusaders against vaccines NBC (resilc)
China?
Southbound flows rescuing Hong Kong equity market Bruegel

From Dan K. A must read:

(Warning: thread ahead)

A salute to the people of Wan Chai (& by extension, all of #HK)

Of all the attacks by police I've experienced in nearly 4mo of protest, the one in Wan Chai yesterday (10/1) was the most intense; this, because of the tactics the police adopted.

— Kong Tsung-gan / 江松澗 (@KongTsungGan) October 2, 2019

This will unite HK more than the extradition law…. https://t.co/mOi5qAvtZB

— Victor Shih (@vshih2) October 3, 2019
North Korea: 'Grave moment' as North tests missile fired from sea BBC
Brexit
Dismay in Brussels as Boris Johnson finally reveals Brexit plan Guardian (furzy). Um, it is not as if anyone was surprised.

UK parliament to be suspended again from Tuesday Politico. As we predicted. And this is well within the parameters that the Supreme Court set out. Like it or not, Johnson is within his rights to want a Queen's Speech.

Note this was telegraphed yesterday but now it is official:

#BREAKING — #EU Parliament's #Brexit Committee sees UK govt's new proposal 'not a basis for an agreement'.

— Yannis Koutsomitis (@YanniKouts) October 3, 2019
Syraqistan
Exclusive: In Saudi Arabia, criticism of Crown Prince grows after attack Reuters

MBS must shelve his vicious war in Yemen Asia Times
Imperial Collapse Watch
What If The World Treated The U.S. Like a Rogue State? HuffPost (UserFriendly)

France Set to Roll Out Nationwide Facial Recognition ID Program Bloomberg. Cross them off my tourism list.
Big Brother is Watching You Watch
Google contractors reportedly targeted homeless people for Pixel 4 facial recognition The Verge (Paul R)

What Is the FISA Spy Court and Why Do People Keep Bashing It? RealClearInvestigations (UserFriendly)
Trump Transition
Justice Department Weighs Collecting DNA From Migrants in Custody Wall Street Journal

This poll number proves how powerful Trump's misinformation machine really is CNN (furzy). No, it's that most people don't care. An intra-elite cage match has nothing to do with putting food on the table.

There's Another Whistleblower Complaint. It's About Trump's Tax Returns. Washington Post (furzy). *Sigh*. Complaint is re alleged undue influence re Trump's audit, which knowing Trump's bullying tendencies, is entirely plausible. However, first we get garbage like this:

….whom he gets money from, whom he owes money to (and on what terms) or how his 2017 tax overhaul enriched him personally.

Repeat after me: tax returns are not Rosetta stones. They show general categories of income, and the names of partnerships (for the K-2 filings). They most certainly don't show the names of creditors. And the tax reform issue is a stretch since both houses voted through legislation that Trump signed. Regular readers will remember that the reform plan that Mnuchin presented was so thin as to be embarrassing, but the Republicans have been salivating for tax "reform" for years and had draft language all ready to go.

The Americans who think a monarchy would solve their political problems Guardian (resilc). They need to pay attention to Brexit.
Impeachment
Oh boy. Apparently Zelensky really did have no idea he was being pressured by Trump to investigate Russiagate/Biden, even after Ukraine learned the aid was held up. https://t.co/5m2F25WOUu

— Mark Ames (@MarkAmesExiled) October 2, 2019
2020
Is the US Political System Beyond Repair? CounterPunch. We need to ask?
ALEC's gerrymandering summit taught lawmakers how to get away with gerrymandering. Slate (Chuck L)
Everything about this is awful. pic.twitter.com/vfkmricvfP

— Walker Bragman (@WalkerBragman) October 3, 2019
Gunz
Mass shootings have hit 158 House districts so far this year The Hill

Democrat Biden will seek if elected to ban assault rifles but not force owners to sell them Reuters. Resilc: "Please tell me why the cops are not against assault rifles, body armor and silencers big time?????"
UAW rejects new GM offer as strike forces 6,000 Mexico layoffs Reuters (resilc)
U.S. to impose tariffs on $7.5 billion of EU imports after WTO ruling: report MarketWatch
Scotch whisky and French wine hit by $7.5bn US tariffs Guardian. Note that this is jumping the gun (natch), the WTO is supposed to give the $ amount of tariffs the US can apply and it has not done so yet.
Federal R&D, Tax Credits, Immigrants Might Boost Tech Innovation Bloomberg. Resilc: "I will repeat: a much bigger crisis than climate change is deciding on the iPhone 11 or wait for the iPhone 12 in 2 months. The marginal utility of new crap is nada. I want old stuff I can fix easily and it works the majority of the time."
Global market rout hands FTSE 100 worst day since 2016 Financial Times
The Dow dropped more than 800 points in two days — here's what's going on CNBC
Boeing 737 Max Safety System Was Vetoed, Engineer Says New York Times (Paul R)
IRS: Sorry, but It's Just Easier and Cheaper to Audit the Poor ProPublica (UserFriendly)
Will a wealth tax be crippled by avoidance schemes? The Week (UserFriendly). Gives a more detailed summary of the Summers/Sarin piece in the Washington Post than I did, and also includes a rebuttal by Zucman and Saez that I chose not to dignify…their claim that the rich hold only 20% of their wealth in private businesses. That is a completely made up number. There is absolutely no way to know. As I pointed out, little old moi has had multiple clients who were WAY above the threshold for inclusion in the Forbes 400 (domestic or int'l) and weren't because their holdings were mainly in real estate or private companies. And keep in mind I have a microscopically small data set.
No, We Don't "Need" a Recession J. Bradford DeLong, Project Syndicate
Class Warfare
Wealth Identity Politics: Billionaires Acting Like A Persecuted Minority Is Peak Capitalism Caitlin Johnstone (UserFriendly). The coincidence of Schwarzman saying maybe Bernie Sanders shouldn't exist and Sanders angina is creepy.

Here's how much things have changed for women-owned businesses since the '80s (and how far we have to go), by the numbers Business Insider (Kevin W). Some eye-opening factoids.

I Worked at Capital One for Five Years. This Is How We Justified Piling Debt on Poor Customers. New Republic
Antidote du jour. John D:
I stepped out from the kitchen onto the back patio this morning, and happened to look forward into the peach tree, where I saw this owl calmly meeting my eyes. I talked a little to my treasured rodentophile friend, felt a warm communion, gently went back in and got Jenny's smartphone, and took 3 photos, of which this is the middle. The owl is still there, about 6 hours later. We have not seen our friend since last winter, but we have not seen many mice since then, either.

Screech owl I think, comparing to online images. Same size as last year, about 8″ tall.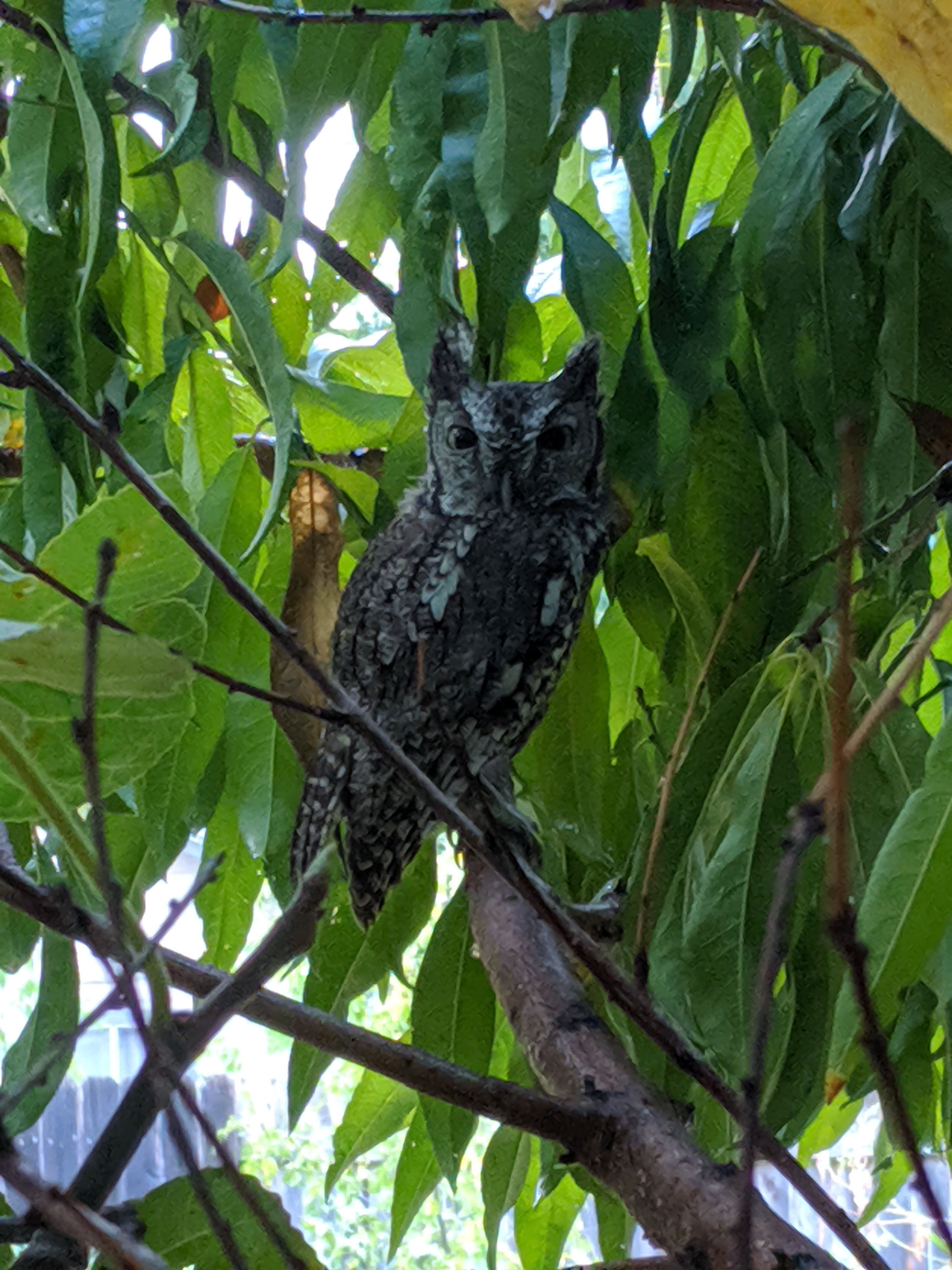 And a bonus:
Economist trying to understand economics pic.twitter.com/aPSAClUgL8

— Ramanan (@Ramanan_V) October 3, 2019
See yesterday's Links and Antidote du Jour here.