This is Naked Capitalism fundraising week. 1268 donors have already invested in our efforts to combat corruption and predatory conduct, particularly in the financial realm. Please join us and participate via our donation page, which shows how to give via check, credit card, debit card, or PayPal. Read about why we're doing this fundraiser and what we've accomplished in the last year, and our current goal, burnout prevention.
Remembering Jessye Norman, Voice of a World-Weary Angel American Conservative
Six elephants die trying to save each other at Thai waterfall BBC
AP hyphen outrage continues with guidance update Columbia Journalism Review
Pope Opens Debate on Celibacy Requirement for Catholic Priests WSJ
Turning Over VAN Magazine
Prejudiced and unaware of it: Evidence for the Dunning-Kruger model in the domains of racism and sexism Science Direct (Dr. Kevin)
A Philosopher's Definitive (And Slightly Maddening) Case Against Replay Review Deadspin
Scavenger of eternal truths TLS
Class Warfare
Reaganism Must Be Defeated Once and for All TruthDig
The rise of the financial machines Economist (UserFriendly)
FATF Arm Finds 'Critical Gaps' in Pakistan's Actions Against Terror Groups The Wire
PayPal has backed out of Facebook's digital currency project MIT Technology Review
Net neutrality is alive and well after this week's crushing court defeat Quartz (The Rev Kev)
North Korea
North Korea-US talks derailed in Sweden Asia Times (The Rev Kev)
German authorities say Mercedes may have manipulated emissions readings on hundreds of thousands of vans Business Insider (David L)
Senators Frustrated by Amazon's "Evasive" Response to Questions on Driver Safety ProPublica
Who's liable for a Tesla Summon fender bender? Lawyers weigh in Autoblog (The Rev Kev)
Syraqistan
White House: Turkey to begin military operation in Northern Syria Al Jazeera
India
Michael Moore UserFriendly: "now I really want to see it."
China?
Russia
Thousands rally in Kiev to protest autonomy plan for eastern Ukraine Reuters
2020
Haitian protesters are holding up a giant Bernie Sanders tweet about their human rights as police repress their demonstrations against corruption Reddit. UserFriendly: "As usual Bernie is the only one to stick his neck out on something like this."

Biden Reassures Top Donors He's Ready to Battle Donald Trump BloombergQuint

UserFriendly:

Biden allies offer up the fake & then real reason for his failure to push back on Ukraine. Fake = his "reverence for congressional prerogatives." Real = he doesn't want "to answer questions about Hunter Biden's work that few of his own aides dared pose." https://t.co/fXlqbuqaey pic.twitter.com/UvhcMQIFnt

— Aaron Maté (@aaronjmate) 5 October 2019
A Century of Cars Driving the Fourth Amendment The New Rambler
Big Brother IS Watching You Watch
Decades-Old Code Is Putting Millions of Critical Devices at Risk Wire (David L)
Waste Watch
Recycling rates improve when people know what items will become TreeHugger
SEC green light prompts rush into marijuana ETFs FT
Impeachment
The 'Whistleblower' Probably Isn't Rolling Stone (UserFriendly) Matt Taibbi.
Trump Transition
Antidote du Jour TH: A couple of Lesser Goldfinch on sage: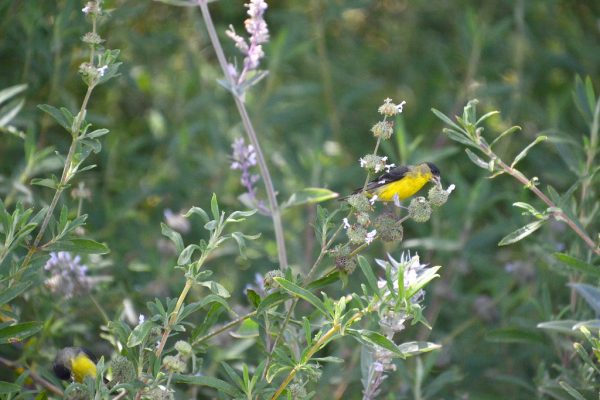 See yesterday's Links and Antidote du Jour here.