This is Naked Capitalism fundraising week. 1410 donors have already invested in our efforts to combat corruption and predatory conduct, particularly in the financial realm. Please join us and participate via our donation page, which shows how to give via check, credit card, debit card, or PayPal. Read about why we're doing this fundraiser and what we've accomplished in the last year, and our current goal, more original reporting.
Yves here. I'm a bit behind schedule but will be all done by 7:30 AM EDT, so refresh your browser a bit later if you get here before that time.
Cows Painted Like Zebras Attract Fewer Flies CNN
Saturn Overtakes Jupiter As Host To Most Moons In Solar System Guardian
Recycling plastic is probably not worth it, according to MIT expert Business Insider (David L)
Hurricane Dorian Was Worthy of a Category 6 Rating Scientific American (resilc)
Carbon Engineering – Taking CO2 Right Out Of The Air To Make Gasoline Forbes (David L)
Comedians are being hired by the hour to help dementia patients. Their goal? 'A full belly laugh.' Washington Post
China?
Tracking foreign interference in Hong Kong Asia Times (Kevin W). Takes pains to point out the evidence isn't conclusive.

Sanctioned Crude? China Ship-To-Ship Oil Imports Leap Higher In September OilPrice (resilc)
Official Reforms and India's Real Economy, Pt. 1 and Official Reforms and India's Real Economy, Pt. 2 Triple Crisis
Brexit
Brexit: Deal essentially impossible, No 10 source says after PM-Merkel call BBC

Brexit is a journey without end for Britain Martin Wolf, Financial Times

Revealed: the EU's point-by-point rejection of Johnson's Brexit plan Guardian. From yesterday, and linked to in a Richard North post that Lambert featured, but important for its detail.

Lucid writing from David Edgerton: "Brexit is a necessary crisis, and has provided a long overdue audit of British realities. It exposes the nature of the economy, the new relations of capitalism to politics and the weakness of the state" https://t.co/yM2MmycJZd

— Pedro Ramos Pinto (@pedroramospinto) October 9, 2019
New Cold War
One of Russia's most prominent investigative journalists, Sergey Kanev, says there is nothing super-secret about unit 29155 of GRU which NYT reported on yesterday. When you google, the unit's address and commander's name pop up on numerous yellow pages type sites. pic.twitter.com/2WuGOQnjqH

— Leonid Ragozin (@leonidragozin) October 9, 2019
Syraqistan
The US military used more bombs and missiles in Afghanistan last month than it has since 2010 Task & Purpose (resilc)

Iraq Protests: Death Toll Soars as Militias Target Protesters Counterpunch
Big Brother is Watching You Watch
This is article is a little old because I just heard about this. I think this is a bad idea. My Defense background really concerns me that this could potentially be an "Information Operation" by an unknown party to trick first responders around the globe into revealing what specific equipment they have (typically referred as "kit"), which would reveal the extent of capabilities they have (or don't). A nefarious actor could use this information to tailor an attack designed to exceed their limits to respond to maximize effect, or pick the softest targets.
Imperial Collapse Watch
UN Warns It May Default on Salaries by November in a Cash Crisis Bloomberg

Why democracy is crumbling in the West Al Jazeera (resilc)
Trump Transition
Impeachment
Trump fires back on impeachment The Hill

READ: White House letter to House Democrats CNN (Kevin W). Important. But would have been better to have stopped with the due process points under the first header. The argument about turning over an election is silly and undermines some solid scores earlier in the letter.

Whistleblower had 'professional' tie to 2020 Democratic candidate Washington Examiner

Hunter Biden's web of interests Financial Times

Ukraine Continued: How a Crucial Witness Escaped New York Review of Books. Resilc: "USA USA could care less. People are worried about their co-pays."

The New Yorker's Partisan Attempt to Refute Its Claim of Partisan Disinformation Consortiumnews (UserFriendly)
Health Care
The Plot Against Medicare for All New Republic (UserFriendly)

Elizabeth Warren and Bernie Sanders struggle to explain Medicare-for-all impact on the middle class. Washington Post. UserFriendly: "Just shoot me. The tax is fixed, if it costs more it goes on the deficit."
2020
California faces historic power outage due to fire danger Associated Press (David L)
Japanese owners of plant at heart of US Cancer Town refuse to meet activists Guardian (resilc)
J&J Hit With $8 Billion Jury Award Over Antipsychotic Drug Wall Street Journal
Marketing Expert Scott Galloway on WeWork and Adam Neumann New York Magazine
Elon Musk Wants You To Know The 'Pedo Guy' Thing Has Been Very Hard On Elon Musk – Jalopnik. Kevin W: "The article itself is loaded with many images of the deposition of Musk in court."
Did Ethiopian Airlines tamper with Boeing 737 Max maintenance records? Former chief engineer alleges airline accessed files a day after crash. Chicago Tribune (Robert M). Paging Moe Tkacik….
Meet America's newest military giant: Amazon MIT Technology Review (resilc)
MMT Theory Could Be Winning In Washington, Worrying Economists – Bloomberg (furzy). How about "Worrying the economics mainstream that didn't see the crisis coming, didn't think there was anything wrong with sharply rising inequality until it hurt groaf and led to (horrors) populists being elected all around the world, can't be bothered to think much about climate change, and didn't foresee that QE was an asset bubble blower that helped banks at the expense of savers and real economy investment (witness stock buybacks). Those economists?
Class Warfare
https://www.realclearpolicy.com/articles/2019/10/09/this_cat_is_a_dangerous_dog_111285.html
Against the Pundits' Class Nation (UserFriendly)
Antidote du jour (Nature via Ian P):
Happy World Octopus Day! This beauty is the wonderpus octopus (Wunderpus photogenicus). Octo-fans should also check out Heidi the day octopus (Octopus cyanea) changing colour as it sleeps. Then go 1,600 metres deep with a probably-as-yet-unknown-to-science cirroteuthid octopus that billows so soothingly it looks like it's in slow motion. (Reinhard Dirscherl/Getty)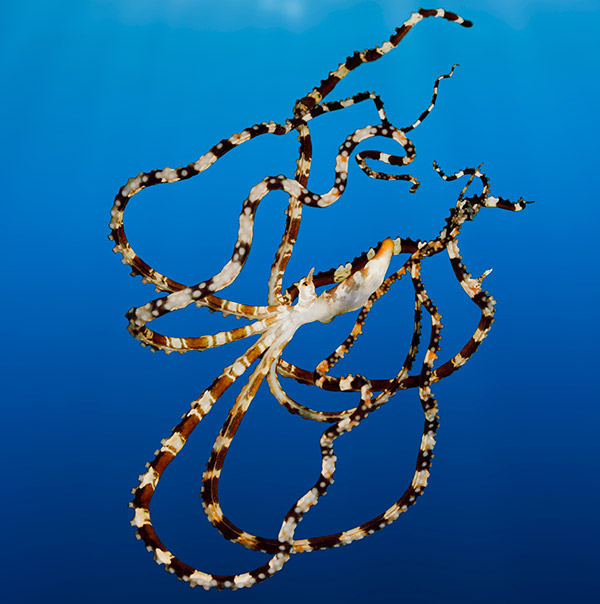 And a bonus from Kevin W. I must confess I enjoy birds with a sense of humor.
See yesterday's Links and Antidote du Jour here.