By Lambert Strether of Corrente.
The debate begins at 8:00pm ET, one-half hour from now. It is being held at Otterbein University in Westerville, OH, near Columbus[1].
The debate is titled "The CNN/New York Times Democratic Presidential Debate," which is vile clickbait-driven corporate branding of an electoral function that ought to be returned to a non-profit like the League of Woman Voters, who did a fine job on the issues without a stage-set with all the class of The Price is Right, a format with all the analytical depth of Jeopardy!, and with all the empathy of Fear Factor. Here is an image of the stage: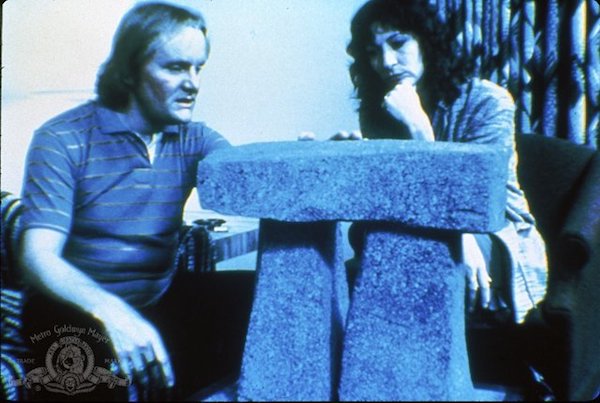 Oh, I'm sorry. That's a Spinal Tap stage. I meant these Druidic megaliths: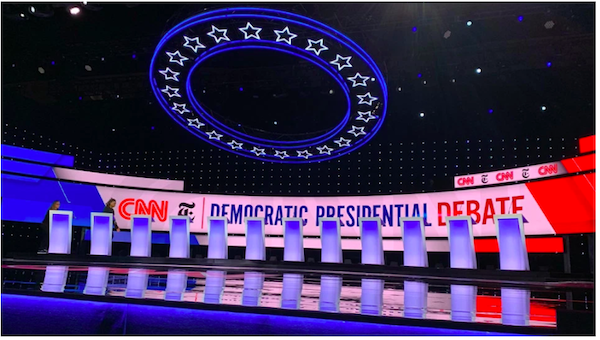 (I don't know why there are 22 stars. Readers, any ideas?)
That said, here are the candidates who made the DNC's weirdly arbitrary and pollster-driven cut:
Joe Biden (Former Vice President)
Cory Booker (Senator, NJ)
Pete Buttigieg (Mayor, South Bend, IN)
Julián Castro (Former HUD Secretary)
Tulsi Gabbard (Representative, HI)*
Kamala Harris (Senator, CA)
Amy Klobuchar (Senator, MN)
Beto O'Rourke (Former Representative, TX)
Bernie Sanders (Senator, VT)
Tom Steyer (Billionaire investor and activist)**
Elizabeth Warren (Senator, MA)
Andrew Yang (Entrepreneur)
* Yes, Gabbard decided to participate
** Steyer's first debate.
The moderators are CNN anchor Erin Burnett, CNN anchor Anderson Cooper and New York Times national editor Marc Lacey. Could be worse.
CNN, CNN International, and CNN en Español will all broadcast the debate live; it'll stream on both CNN.com and NYTimes.com beginning at 8 pm ET. Note that you will not need a cable or other subscription log-in to watch online tonight—the DNC's partners for all these debates have agreed to make them as accessible as possible.

To that end, there are still more options for watching the debate live. It will be available on mobile devices via CNN and the Times apps for iOS and Android; on Roku, Apple TV, Amazon Fire, and a number of other smart TV devices via the CNNgo apps; The debate will also stream live on Facebook. In addition, audio from the debate will be broadcast on SiriusXM, the Westwood One Radio Network, and National Public Radio.
"[T]he DNC's partners." Ugh. I imagine there will be plenty of advertising.
There are a boatload of links on what to watch for out there (here, here, here), but I don't think the NC readership will need any help with that. What I would watch for:
Can anybody lay a glove on front-runner Joe Biden? (Harris had her pre-packaged moment, and then faded)
How is Sanders physically? (Say what you will about the DNC, they've made this race an endurance contest, and that could actually be good for the country, even if that's unlikely to have been their intention.)
Will Sanders draw distinctions between himself and Warren, especially on #MedicareForAll?
Will Warren continue her "friends close, enemies closer" strategy with Sanders? ("I'm with Bernie on Medicare for All," forsooth; a moderator should really call her on that)
Now that Steyer has bought his way in, can he change the subject to climate?
Will any of the second or third tier candidates break out, and, if so, which of the leaders will they attack?
It would be nice if the "narrative" of the debate didn't turn out to be sentimental Middle East surrealpolitik twaddle or competitive virtue signaling on the impeachment saga (and if Bernie says "I'm tired of hearing about Hunter Biden" I'm gonna kill myself).
I'm not sure I will be able to attend, because I have plans; and if so, not at the beginning. So, have fun and be excellent to each other. Also, for those who come in late, please keep your comments as informative and analytical as possible. There are no points at NC for context-free one-liners that only those who are also watching can make sense of; that's for Facebook or Reddit. I think it adds more value if you take a moment, interpret, and then readers can discuss that. That is what the NC commentariat is so very good at, after all. Thank you!
NOTES
[1] Otterbein has hosted Presidential debates before:
Previously, Otterbein University has hosted several Republican presidential candidates including Mitt Romney in 2012, John McCain in 2008 and Bob Dole in 1996. In March of 2018, Otterbein was the host site for former Ohio Governor John Kasich's final State of the State Address to the Ohio Legislature.