By Lambert Strether of Corrente.
Warren has released her #MedicareForAll plan. I'll have a post up shortly. –lambert
Politics
"But what is government itself, but the greatest of all reflections on human nature?" –James Madison, Federalist 51
"They had one weapon left and both knew it: treachery." –Frank Herbert, Dune
* * *
2020
Alert reader dk (not to be confused with DK) is in the process of developing the following interactive chart. Here is (are) the latest Dem Primary Polling as of 11/1/2019, 11:00 AM EDT:

I'm using the results from the last national poll, YouGov, as of 11/1/2019, 11:00 AM EDT:

A new Iowa state poll is out, also as of 11/1/2019, 11:00 AM EDT:

Warren, Sanders, Buttigieg climbing into contention, then Biden. The results:

Here is an explainer on the Iowa poll from dk. Thread:

New: IOWA poll shows Warren with a slim lead, with Bernie (steady), Buttigieg (rising) and Biden (fading) knotted close behind her

A defining feature of the race is a generational divide in what Dem voters want in a nominee – tons of details here ?https://t.co/x2sLhXfEmj

— Alex Burns (@alexburnsNYT) November 1, 2019

More on Iowa:

NYT poll finds that majorities of Iowa voters want a moderate, common-ground candidate who will use those traits to bring fundamental, systemic change to American society pic.twitter.com/hDY9f87IwK

— dan solomon (@dansolomon) November 1, 2019

No contradictions there!

I think dk has started a really neat project, and in the near future we'll seek your feedback (within reason) for the tool "live."

* * *

Biden (D)(1): "2020 rankings: The struggle is real for Joe Biden" [CNN]. "If Joe Biden were a stock, he'd be a "sell." Or a "hold" at best. Why? Because the man who spent eight years as vice president, another 30+ in the Senate and has been the front-runner in the 2020 race since the day he got into it continues to struggle to convince voters and donors that he is their guy…. Then there is the money primary. Biden has never liked raising money and, as a result, never been terribly good at it. But even by those lowered standards, the fact that he ended last month with less than $9 million in the bank is truly incredible…. Could Biden still be the nominee? Sure! He remains the preferred candidate of minority voters, who have been — and will be — a decisive presence in past nomination fights. But Biden today is in a much weaker position than he was even a few months ago. And this is the time to be peaking, not losing your stride."

Trump (R)(1): "I predicted Trump would win in 2016 — and I'm predicting the same for 2020. Here's why liberals don't understand what he represents" [Alternet]. Quite a rant, concluding: "[Trump] is the perfect mirror, just as Nixon followed Lyndon Johnson, Reagan followed Carter, and Bush followed Clinton, in performing not so much an oscillation but an exaggerated return to form. Empires, heavy and difficult to maneuver, don't engage in circular or sideways motions. Trump is the accelerant to the end point that empire needs now, just as Reagan and Bush served their functions earlier, and in that sense he is a true man of the people. You don't beat a man of the people electorally. You just don't."

UPDATE Warren (D)(1): Give credit:

At Elizabeth Warren's pre-rally site for this afternoon: a giant Bailey with a two-cent collar #LJ19 pic.twitter.com/BCmNrIJem3

— Iowa Starting Line (@IAStartingLine) November 1, 2019
Impeachment
"Americans sharply divided over whether to impeach and remove Trump from office, Post-ABC poll finds" [WaPo]. "The poll finds that 49 percent of Americans say the president should be impeached and removed from office, while 47 percent say he should not. Among Democrats, support for removing the president from office is overwhelming, with 82 percent in favor and 13 percent opposed. Among Republicans, it is almost the reverse, with 82 percent opposed and 18 percent in favor, even as the president's approval rating reached a new low among members of his party. Independents are closely divided, with 47 percent favoring removal and 49 percent opposed." • If one wished to be completely cynical, one might argue that the quick release and simple story of UkraineGate was more effective than the constantly shifting story of RussiaGate.

"Impeach Trump. Then Move On." [David Brooks, New York Times]. "During Watergate, voters trusted federal institutions and granted the impeachment process a measure of legitimacy. Today's voters do not share that trust and will not regard an intra-Washington process as legitimate," • Yep. More: "I get that Democrats feel they have to proceed with impeachment to protect the Constitution and the rule of law. But there is little chance they will come close to ousting the president. So I hope they set a Thanksgiving deadline. Play the impeachment card through November, have the House vote and then move on to other things." • The Democrats were muttering about the end of the year. No way.

UPDATE "Why the Impeachment Fight Is Even Scarier Than You Think" [Politico]. "Democrats and Republicans might still disagree about policy, but they are increasingly also at odds over the very foundations of our constitutional order. Political scientists have a term for what the United States is witnessing right now. It's called "regime cleavage," a division within the population marked by conflict about the foundations of the governing system itself—in the American case, our constitutional democracy. In societies facing a regime cleavage, a growing number of citizens and officials believe that norms, institutions and laws may be ignored, subverted or replaced." • Seems reasonable. Here's the tell: "Decades ago, a regime cleavage divided Chileans, with conservatives aligning against the elected government of Salvador Allende and eventually leading to a coup that replaced him with General Augusto Pinochet." How on earth to do you write about the coup in Chile without mentioning the role of the intelligence community? Well, the same way you write about a change in the Constitutional order today, without mentioning the intelligence community.
2019
"Pro-Business House Democrat Loses Union Money as AOC Backs Rival" [Bloomberg]. "Unions may be hesitant to back Cuellar, but he still has the support of the most powerful Democrat in federal government: House Speaker Nancy Pelosi (Calif.), who recently endorsed him. While Ocasio-Cortez gets attention as a leader of a new generation of progressives, the number of Democrats considered moderate increased in the House with the 2018 midterm wave, which was fueled by moderates flipping seats from red to blue. Cuellar is member of Blue Dogs and the New Democrats, the more centrist Democratic caucuses. Despite this, Montserrat Garibay, secretary-treasurer of the Texas AFL-CIO, said Texas is changing and Cuellar should consider changing as well. The Texas AFL-CIO hasn't released its endorsement lists yet."
Realignment and Legitimacy
Important thread on "ballot marking devices" which, since they make marks on paper, are being marketed as "paper ballots."

Ballot Marking Devices are dangerous bc they receive programming b4 each election from central county or state computers, which means they are subject to a central point of attack.

"[I]t is unsafe for a system…to have a central point of attack…" https://t.co/ewd8Sf8nu5 1/

— Jennifer Cohn (@jennycohn1) November 1, 2019

"Amazon's cloud computing services elections data in 40 states, report finds" [MSN]. "[M]ore than 40 states are now using Amazon Web Service for elections. AWS handles state and county election websites, stores voter registration rolls and ballot data, facilitates overseas voting by military personnel, and helps provide live election-night results, according to the company. Elections officials have welcomed the company, as they say it has been a struggle to keep elections systems up to date. But security experts claim that it makes Amazon a bigger target for hackers." • Or Amazon itself,

* * *

"Revolutionary Quotes from Centrist History" [McSweeney's (NippersMom)]. ""A house divided against itself sounds expensive to rebuild." — Abraham Lincoln, 1858

"How to Write a Memo to Convince a President: Walter Heller, Policy-Advising, and the Kennedy Tax Cut" [OpenEdition]. "The purpose of this paper is thus to use Heller's successful attempts to persuade Kennedy as a case study to reinvestigate the interactions between economic knowledge and public reason."
Stats Watch
Employment Situation, October 2019: "GM strike or not, October's employment report came in solid and steady and in line with the Federal Reserve's outlook for respectable overall economic growth" [Econoday]. "Manufacturing, reflecting the effects of the now settled GM strike, fell 36,000 in a very steep decline that looks, however, to reverse in the November…. Yet is there available capacity in the labor market to extend job growth in the coming months? The answer, judging by wage pressures, would appear to be yes as average hourly earnings managed only a 0.2 percent rise following the prior month's unexpectedly low and unrevised no change… [T]here's no indications of weakening in October's employment report which instead points to building momentum for the consumer going into the holiday shopping season."
Purchasing Managers' Manufacturing Index, October 2019: "The manufacturing PMI improved further in October" [Econoday]. "This report has been stabilizing in recent months in sharp contrast, however, to the rival ISM manufacturing report which has been sinking into contraction."
Institute For Supply Management Manufacturing Index, October 2019: "On the low side of expectations but not at increasing rates of contraction" [Econoday]. "The good news in this report is the rise in export orders, a move confirmed by the PMI manufacturing report which was released earlier this morning. Yet overall conditions are still very soft and are not pointing to any year-end acceleration for a sector that has been holding back the 2019 economy and where export-related trouble has helped trigger three straight rate cuts from the Federal Reserve."
Construction Spending, September 2019: "Construction spending improved for a third straight month in September" [Econoday]. "The decline in nonresidential spending, where spending on commercial building has been very weak this year, will be a concern for the Federal Reserve which is closely watching the status of business investment. Otherwise, there's more positives than negatives in today's report especially single-family homes where increased building looks to keep emerging sales momentum alive for new homes."
Retail:"How a thriving indie bookseller is taking on Amazon's bricks-and-mortar insurgence" [Los Angeles Times]. "She didn't intend to be flippant. But when asked how her independent bookstore will fare with an Amazon store moving in across the street, author Ann Patchett replies: 'They don't have a deaf border collie who jumps through hoops.'" • The owner is not just an author, but a best-selling author. But still, the collie!
Retail: "Retailer J.C. Penney is plotting a turnaround for its brick-and-mortar stores that includes far less merchandise on the floor. The company is testing a new model for its buildings that would hold fitness studios, a videogame lounge and style classes…, as it tries to transform a chain of 850 stores overstocked with clothing and consumer goods while its customers increasingly move online" [Wall Street Journal]. "That would mean more yoga classes and fewer truckload deliveries, extending a lean supply-chain effort that has already helped Penney slash inventories by 12.5% over the past year. Shoppers aren't helping them shed that inventory very much: U.S. government figures show department store sales fell 6.1% in September from last year while the category that includes e-commerce grew 12.9%."
The Bezzle: "Startup Molekule Is Using the California Wildfires to Sell Its Crummy Air Purifier" [OneZero]. "As huge swaths of land went up in flames, some Bay Area residents noticed something odd: their social media feeds were peppered with content from the air purifier startup Molekule, a sleek, San Francisco-based company that claims its $800 air purifier can eliminate pollutants at the molecular level. The company saw a financial opportunity in the crisis, apparently, and targeted Northern Californians with ads for its products…. By many accounts, Molekule is not a good air purifier. The device does not use HEPA filters and is not HEPA-rated; instead, it uses a proprietary UV light-based 'photo electrochemical oxidation' technology to break up particulates. Wirecutter called it 'the worst air purifier we've ever tested,' and said that having no purifier running at all was potentially better than running the device. Other reviewers have also given Molekule negative ratings."
Tech: "A downturn in the memory-chip market has Samsung Electronics taking a hard look at its high-cost, high-yield semiconductor supply chain. Third-quarter profit at the world's largest producer of memory chips fell 52%… despite growth at its mobile and display businesses" [Wall Street Journal]. "The company is being roiled by shifting buying patterns for electronics like smartphones that are disrupting Asia-based supply chains. Samsung has sought to cut costs, and in September shut down its smartphone production in China [(!)] after losing its grip on that enormous market. The company has also overturned longstanding strategy by outsourcing some manufacturing as its own production lines became inefficient when Chinese competitors launched cheaper and better quality devices."
Tech: "Think you're anonymous online? A third of popular websites are 'fingerprinting' you." [WaPo]. "There's a tactic spreading across the Web named after treatment usually reserved for criminals: fingerprinting. At least a third of the 500 sites Americans visit most often use hidden code to run an identity check on your computer or phone. Websites from CNN and Best Buy to porn site Xvideos and WebMD are dusting your digital fingerprints by collecting details about your device you can't easily hide. It doesn't matter whether you turn on 'private browsing;' mode, clear tracker cookies or use a virtual private network. Some even use the fact you've flagged 'do not track' in your browser as a way to fingerprint you. They're doing it, I suspect, because more of us are taking steps to protect our data…. Fingerprinting happens when sites force your browser to hand over innocent-looking but largely unchanging technical information about your computer, such as the resolution of your screen, your operating system or the fonts you have installed. Combined, those details create a picture of your device as unique as the skin on your thumb."
Concentration: "Q&A: Travelfish's Stuart McDonald on the OYO and Instagram problems plaguing Southeast Asia" (interview) [Phocus]. • How Google screwed yet another good small business:
How does Google factor in, and how are you trying to compete?

They shouldn't be allowed to do what they're doing. I guess it's good for Google shareholders. I have no problems with competing with other people in search on a level playing field, but when Google gets its material and shovels it in at the top – that's all revenue-earning for Google. That's very problematic.

A report recently said 70% of clicks on Google go to another Google property – might be YouTube or Google Maps or their travel portal or whatever. Back in the day, Google was all about, "We're going to send you to answer as quickly as possible." Now it's much more keep answer here [within Google].

As example for us: We rank very well for general weather questions, that's always been a good traffic source for us. Now Google puts all that on their own site.

We've also paywalled a lot of the site to drive the membership, but when you do that then Google penalizes you and you get pushed down in the search because people will click through and see it's paid and bounce back, so the signal is they're not getting a good experience.
Concentration: "Linguistic capitalism. Has Google become an all powerful usurer of language?" [We Make Money Not Art]. "Google Ads (formerly AdWords) is an advertising platform that allows businesses to bid on the keywords they are interested in. The higher your bid, the more prominent your clickable ad on the search engine results. In poetry and other forms of literature, words acquire value based on the type of emotions, mental landscapes and history they evoke. For Google algorithm however, the value of a word fluctuates according to the power of the industry that uses and advertises it. The term "cloud", for example, evokes meditative moments, dreams and celestial visions. But on Google planet, it is associated to the technology that uses the internet and remote servers to store data and applications. Which explains why the word "cloud" is much more expensive than the word "sunny" for example. This type of emotionless commodification of language has helped Google become one the most successful and wealthy companies in the world."
Honey for the Bears: "A 'Big Short' Investor's New Bet: Climate Change Will Bust the Housing Market" [Vice]. "[Investor David] Burt sees similarities between now and the lead-up to 2008. 'There's a lot of parallels, it's a big real estate mispricing issue. At its core that presents a lot of the same risks. A lot of real estate is massively overpriced and there's a lot of risk associated with that and the big risk is another foreclosure crisis,' he said. 'Now, it's a very different dynamic that's creating the mispricing but actually magnitude-wise it looks pretty similar, maybe even bigger.'…. Burt sees similarities between now and the lead-up to 2008. 'There's a lot of parallels, it's a big real estate mispricing issue. At its core that presents a lot of the same risks. A lot of real estate is massively overpriced and there's a lot of risk associated with that and the big risk is another foreclosure crisis,' he said. 'Now, it's a very different dynamic that's creating the mispricing but actually magnitude-wise it looks pretty similar, maybe even bigger.'" • With an ingenious reworking of The Big Short's Jenga Tower into a "a brand new condo tower on the beach, with "penthouse is occupied by banks and other investors."
* * *
Today's Fear & Greed Index: 76 Greed (previous close: 72, Greed) [CNN]. One week ago: 62 (Greed). (0 is Extreme Fear; 100 is Extreme Greed). Last updated Nov 1 at 11:38am.
The Biosphere
"De-Growth vs a Green New Deal" [New Left Review]. The conclusion: "[I]f the left is serious about mounting a viable, global, climate-stabilization project, it should not be losing time seeking to build an all-purpose, broad-brush degrowth movement—which, for the reasons outlined, cannot succeed in actually stabilizing the climate. This is even more emphatically the case when a fair and workable approach to climate stabilization lies right before us, by way of the Green New Deal." • As usual from NLR, a tightly reasoned but long read.
"Keystone Pipeline leaks 383,000 gallons of oil in North Dakota" [KTVZ]. • Nobody could have predicted….
"The rise of the greedy-brained ape" [Nature]. "Gaze into a mirror. Reflected is a marvel of evolution: a weak-jawed, bipedal omnivore with a greedy brain, in which 100 billion neurons consume 20% of the body's energy intake. Science journalist Gaia Vince urges us towards such reflections in Transcendence, a book tracing the journey of Homo sapiens through genes, environment and culture to what might be, she surmises, a new state of being…. She tracks the cultural explosion, triggered by technological discovery, that gathered pace with the first trade in obsidian blades in East Africa at least 320,000 years ago. That has climaxed this century with the capacity to exploit 40% of the planet's total primary production. How did we do it? Vince examines, for instance, our access to and use of energy. Other primates must chew for five hours a day to survive. Humans do so for no more than an hour. We are active 16 hours a day, a tranche during which other mammals sleep. We learn by blind variation and selective retention. Vince proposes that our ancestors enhanced that process of learning from each other with the command of fire: it is 10 times more efficient to eat cooked meat than raw, and heat releases 50% of all the carbohydrates in cereals and tubers." • One more book to read!
Games
"The games that smart people play" [Financial Times]. "[O]f all the deep pastimes one might embrace there's nothing quite like a tabletop game to sharpen the mind, strengthen friendships and ease the soul…. Thomas Schelling — a cold war strategist and winner of the Nobel Prize in economics — once wrote: 'One thing a person cannot do, no matter how rigorous his analysis or heroic his imagination, is to draw up a list of things that would never occur to him.' War games offer a solution to that conundrum: the experience of trying to outwit a gaming opponent makes the unimaginable start to seem familiar."
"Why we still love board games" [The Undercover Economist]. ""There are two schools of thought as to why the Germans love board games," says Martin Wallace of Warfrog. 'The Germans are of the opinion that it's down to their superior education system. We English are of the opinion that it's because German TV is shite.' There are, in fact, many more than two schools of thought about why Germany is the world's board game superpower. It could be the enthusiasm of the citizens. In a country such as Britain, it is downright odd to pull a board game out of a cupboard and offer to teach it to friends alongside after-dinner coffee. In Germany, people do that and more. They discuss old games and act as evangelists for new ones. Naturally, the games are better as a result."
"Selling Toys with the Sailor Moon Transformation Sequence" [JSTOR Daily]. "As [Kumiko Saito] explains, selling toys was always a key part of the 'magical girl' anime. 'While Western concepts of 'genre' may entice people to define the magical girl based on plots and settings,' she writes, 'the most practical way to identify this category is primarily by means of its business structure. Many of Japans anime programs for children are founded on toy marketing that capitalizes on gender-divided sales of character merchandise and gadgets used by characters in television programs.'" • I suppose I can file an anime story under Games…
Halloween
Accurate (1):
Accurate pic.twitter.com/2ktlR7LETP

— Spencer Stasmore (@AD_Renaissance) October 25, 2019
Accurate (2):
Scariest costume this year! pic.twitter.com/S7mtm2gIEc

— OWS_ellie ॐ #Bernasté TURN OFF YOUR TV! (@OWS_ellie) November 1, 2019
Black Injustice Tipping Point
"How slavery still shadows health care" [The Harvard Gazette]. "[City College of New York journalism Professor Linda Villaros] also found disturbing signs in her own dealings with the system. She noted that in many hospitals, the spirometer (used to measure lung capacity) is given a 'racial correction' because of the perception that African Americans have inferior lungs — an infuriating falsehood that she traced back to something Thomas Jefferson wrote. She suspected that such an adjustment was made on her when she was pregnant, which was ironic, since she'd been raised at higher altitudes in the Colorado mountains and so probably had stronger-than-average lungs. Worse, when she developed a complication during her pregnancy, her doctor asked whether she'd used crack cocaine, despite her status as the health editor of a national magazine."
Class Warfare
"'I Was Proud to Do This Work With Him': David Simon on James Franco Controversy" [Rolling Stone]. • Hoo boy. Not a whole lot of understanding of power dynamics, here. Introduces the term "intimacy coordinator." Very Hollywood!
"NBC News digital staffers opt to unionize, citing questions about sexual misconduct procedures" [WaPo]. "Three-quarters of the staff — which includes reporters, editors, designers, video journalists and social media staff at news sites run by the company — have signed on to the effort, according to a statement released Wednesday by the NewsGuild of New York, the union that will represent the employees. Calling itself the NBC News Guild, the union said the reasons behind the push included concerns about the company's treatment of women and people of color and the way it handled recent incidents of sexual misconduct."
News of the Wired
"The Weird Psychological Theory behind Gym Class" [JSTOR Daily]. "[Geographer Elizabeth A. Gagen] writes that one of the most influential advocates for physical education and playgrounds was the psychologist G. Stanley Hall. Hall argued that the development of an individual human 'recapitulated' evolutionary history. In this formulation, Gagen writes, until age 8 'children may exhibit prehensile movements or yearn for the sand pit which reminded them of the primeval muds.'… "To the young child," Hall wrote, 'There is no gap between his soul and that of animals.' Between ages 8 and 12, Hall's (racist, colonialist) theory equated children with 'savage' people. It was only in adolescence that people could enter what Hall considered a modern human existence."
"How Magazine Pages Were Created Before Computers: A Veteran of the London Review of Books Demonstrates the Meticulous, Manual Process" [Open Culture]. "Pasting-up, which Dalefield frames as a marrying of the work of editors and typographers, will seem astonishingly labor-intensive to most anyone under the age of 50, few of whom even know how magazines and newspapers put together their pages before the advent of desktop publishing. But the very word 'desktop,' in the computer-interface sense, speaks to the metaphorical persistence of the old ways through what Dalefield calls the 'falling out of trades' in the digital age. I myself have done a fair bit of 'cutting,' 'copying,' and 'pasting' writing this very post — but I suppose I never did say, 'Oh, that's very sticky' while doing so." • The video:
I loved doing paste-up, and I was really accurate and fast, probably because in common with all the old guys, I used single-edged razor blades instead of that X-Acto knife…
Movie nook:
ahahah this is 100% it and, like. Darth Vader is a guy who got promoted out of a role that he likes and is good at (jedi murder) into a role that he hates (consulting infrastructure project manager) https://t.co/INz4YMEpmO

— dad tired (@markpopham) October 25, 2019
Culture nook:
Vermeer milkmaid study pic.twitter.com/9DbKRYn4p9

— Courtney Hopkinson (@3Dstoryteller) October 18, 2019
"Little Feat Guitarist Paul Barrere Dead at 71" [Rolling Stone]. • Not by Barrere, but a propos:
Readers, feel free to contact me at lambert [UNDERSCORE] strether [DOT] corrente [AT] yahoo [DOT] com, with (a) links, and even better (b) sources I should curate regularly, (c) how to send me a check if you are allergic to PayPal, and (d) to find out how to send me images of plants. Vegetables are fine! Fungi and coral are deemed to be honorary plants! If you want your handle to appear as a credit, please place it at the start of your mail in parentheses: (thus). Otherwise, I will anonymize by using your initials. See the previous Water Cooler (with plant) here. Today's plant (New Wafer Army):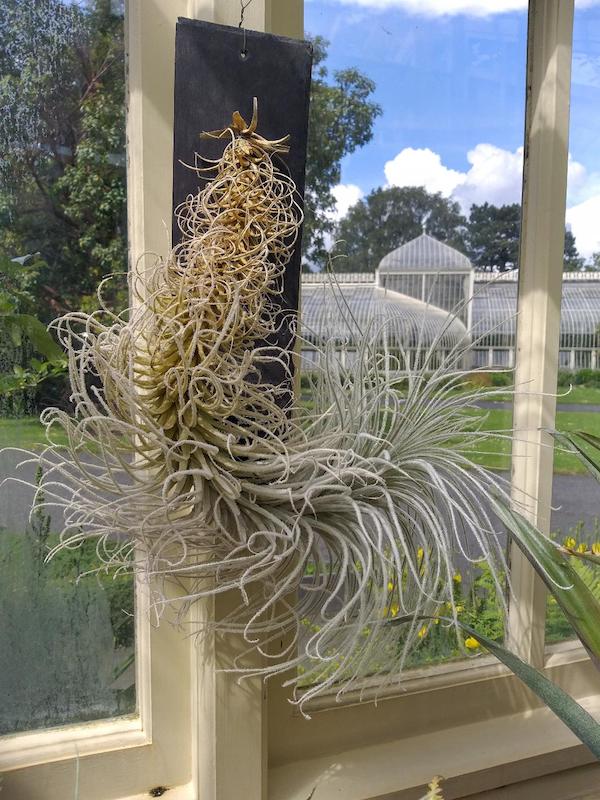 New Wafer Army: "Please find attached a picture of an unknown (to me) plant taken in Dublin's National Botanic Gardens." I have pleasant memories of Dublin's National Botanic Gardens from long, long ago. But I don't know what that plant is!
* * *
Readers: Water Cooler is a standalone entity not covered by the annual NC fundraiser. So if you see a link you especially like, or an item you wouldn't see anywhere else, please do not hesitate to express your appreciation in tangible form. Remember, a tip jar is for tipping! Regular positive feedback both makes me feel good and lets me know I'm on the right track with coverage. When I get no donations for five or ten days I get worried. More tangibly, a constant trickle of donations helps me with expenses, and I factor in that trickle when setting fundraising goals:
Here is the screen that will appear, which I have helpfully annotated.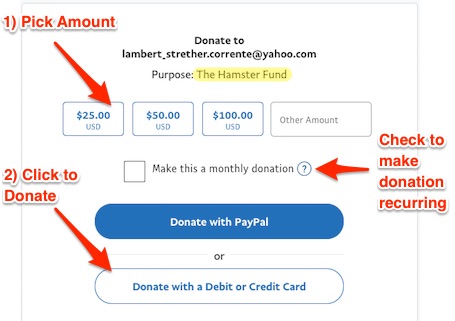 If you hate PayPal, you can email me at lambert [UNDERSCORE] strether [DOT] corrente [AT] yahoo [DOT] com, and I will give you directions on how to send a check. Thank you!