By Lambert Strether of Corrente.
Trade
While U.S.-China trade tensions weighed on results at Hasbro Inc., rival Mattel Inc. saw a sharp jump in quarterly profit and says looming levies on Chinese goods including toys had minimal impact on its bottom line" [Wall Street Journal]. "Many retailers agreed to buy Mattel's products in China rather than ask the toy maker to import them to the U.S. and store them in warehouses stateside. The company says it also has less exposure to trade tensions than some because less than two-thirds of its products sold in the U.S. are imported from China, compared with the industry average of 85%. Over at Hasbro, retailers canceled direct import orders and required the toy maker to import the products themselves, adding to shipping and inventory costs.
Politics
"But what is government itself, but the greatest of all reflections on human nature?" –James Madison, Federalist 51
"They had one weapon left and both knew it: treachery." –Frank Herbert, Dune
* * *
2020
Alert reader dk (not to be confused with DK) is in the process of developing the following interactive chart. Here is (are) the latest Dem Primary Polling as of 10/31/2019, 12:00 PM EDT

I know it's early days, and we haven't even had a primary vote yet, but with all the debates and the newsflow and the polls and the DNC manipulation it feels like we're already in the midst of an election. I'm starting to think that the real story is why the heck is Joe Biden still cruising serenely along in the lead? Is everybody who was wrong about Trump — and that was almost everybody — wrong about Biden too? What kind of world are we living in? And here are the poll results, as of 10/31/2019, 12:00 PM EDT:

The state polling is still miserably inadequate, and there are no new polls of note.

I think dk has started a really neat project, and in the near future we'll seek your feedback (within reason) for the tool "live."

* * *

Biden (D)(1): "Joe Biden claims he's getting 'beat up because I'm not the socialist' as Democrats worry his presidential primary campaign will flop in Iowa caucuses" [Daily Mail]. "Joe Biden claims he's getting 'beat up' in the Democratic presidential primary 'because I'm not the socialist' – unlike rival Bernie Sanders. The former vice president made his claim at a fundraiser in Florida on Monday night at a time when the socialist label has been thrown around as an insult in the primary process." • As so often with the fearsome Daily Mail, this is a surprisingly good wrap-up, well worth a read.

Biden (D)(2): "Joe Biden to attend Seattle fundraiser co-hosted by Amazon general counsel" [Seattle Times]. "Former Vice President Joe Biden is scheduled to return to Seattle next month for a pair of fundraisers, including one co-hosted by Amazon general counsel David Zapolsky. Biden will attend a late-afternoon reception on Nov. 15 in the Madison Park neighborhood, hosted by Seattle philanthropist Janet Ketcham, with tickets starting at $1,000 and ranging to $2,800, according to an invitation. A second fundraiser is set for that evening at the Queen Anne neighborhood home of Zapolsky and his wife, Lynn Hubbard, a community volunteer and a former attorney, with admission set at $2,800 per person, according to an invitation. Co-chairs at each fundraising event are expected to raise $25,000. Biden's tapping of financial help from a top Amazon leader comes as his polling and fundraising edges have faded in the Democratic presidential primary. It's also another sign of ." • That's nice. I'm starting to admire Biden at this point; he gives zero f*cks. And he's still in the lead!

Buttigieg (D)(1): "Buttigieg distances himself from his McKinsey consulting days" [Politico]. "For years, Buttigieg's stint at McKinsey & Company, the international management consulting firm, formed a key part of his political biography — from selling Hoosiers on his "experience around economics and business" as a green, 28-year-old candidate for Indiana state treasurer to talking earlier this year about the "perspective" he gained as part of the business world. But the resume line has faded from Buttigieg's stump speech amid revelations about McKinsey's work with authoritarian governments and growing skepticism of large corporations." • Presumably Mayor Pete has asked McKinsey to release him from his NDA, so we can examine is record?

UPDATE Buttigieg (D)(2): "Pete Buttigieg Is Still Fighting the Last War" [The New Republic]. "This is among the many things about Buttigieg—next to the talk about freedom and security, the educational credentials, the military service, and his invocations of religion—that make it seem as though he's been engineered as a response to Republican Party of 2004. He offers the kind of rhetoric one imagines the Democratic Party might have leaned into if Obama's rise had never occurred—less soaring and more concerned with countering Republican suggestions of weakness. This is perhaps what made his early talk about not caring what Republicans say about Democrats so short-lived and personally untenable. Buttigieg has spent much of his life caring very deeply about what Republicans say—so deeply, in fact, that he is still doggedly fighting the rhetorical battles of the Bush presidency, a marooned soldier who hasn't been told the war is over."

Gabbard (D)(1): "Tulsi Gabbard is having a moment, and the party is getting nervous" [Yahoo News]. "According to New York magazine columnist Jonathan Chait, that threat is becoming clearer every day. Citing an op-ed published by Gabbard in Wednesday's Wall Street Journal — and singling out a passage in which the congresswoman claims that "whether Mrs. Clinton's name is on the ballot or not, her foreign policy will be, as many of the Democratic candidates adhere to her [hawkish] doctrine" — Chait argues that Gabbard is now "heavily hinting at a spoiler campaign to help Trump."" • Who is this Jonathan Chait dude, anyhow?

UPDATE Gabbard (D)(2):


In a nutshell, Obama is saying we all need a little more aloha spirit—being respectful & caring for one another. Not being so quick to judge. Not seeing everything as black/white. I hope you'll join me in bringing the spirit of aloha to the White House. https://t.co/tYADx6Dzqs

— Tulsi Gabbard (@TulsiGabbard) October 30, 2019

Come on, man.

Sanders (D)(1):

No one was supposed to find out about this. https://t.co/cx4vQtFC28

— Bernie Sanders (@BernieSanders) October 29, 2019

Notice the difference between The Onion's headline and Politico's.

Sanders (D)(2): "The surprise voting bloc Bernie is banking on to win the nomination" [Politico]. "That might sound like a crazy thing to say about the 78-year-old senator from one of the whitest states in the country. But Latino activists say they hear all the time from voters in their community who are high on Sanders, and that's backed by polling showing him leading or tied among Latinos. Sanders won the highly coveted endorsement of Alexandria Ocasio-Cortez. His campaign co-chair is San Juan Mayor Carmen Yulín Cruz. Afro-Latina rapper Cardi B is a fan…. 'They're enormously important,' Sanders said in an interview with POLITICO. 'We are seeing the Latino population growing very significantly. We're seeing young people getting involved in the political process in a very important way. The challenge that we face is that, historically, voter turnout in the Latino community is not very high. So we are doing everything we can in a variety of ways to organize.'" • Hope the Sanders app has a multilingual UI/UX….

Sanders (D)(3): "Bernie Sanders on socialism, taxes and why he thinks fossil fuel executives are 'criminals'" (interview) [CNBC].

John Harwood: One health question as we start. Has what you went through affected you emotionally, how you think about life or what's important?

Bernie Sanders: As somebody who has had great endurance as a kid — I was a long-distance runner, thank God I've been healthy as a horse — it was a little bit shocking to me when the doctor there told me, "Hey, you're having a heart attack." I could not believe that that was the case.

I don't want to be overly political in saying this, but my life is political. I went into the hospital and I didn't worry about whether I could afford to pay. I have good insurance. And I'm sitting there, and thinking somebody else here has that same discomfort, and they're sitting and thinking, "Should I go into the hospital and end up with a large bill? Maybe it'll get better tomorrow, maybe I'll forget about it." Some of those people die or suffer permanent health damage. That's one of those things that I thought about.

Sanders (D)(4): Stoller is correct:

Then let's get different lawyers. pic.twitter.com/rbitnwNsz5

— Matt Stoller (@matthewstoller) October 30, 2019

Maybe not from Yale? Or Harvard? Imagine the screaming!

Trump (R)(1): "Poll: Who's sticking with President Trump, through trouble and tweets? His seemingly unshakable base."[USA Today]. "Americans are split in [a new USA TODAY/Suffolk University Poll] about whether Trump should be convicted by the Senate in an impeachment trial and removed from office: 46% in favor and 47% against. Having close to half of registered voters support his eviction from the White House is politically perilous territory for any president, of course. Despite damaging new testimony, however, 30% to 40% of those surveyed remain solidly on Trump's side…. The president's solid core of supporters don't comprise a majority of the electorate, but they do provide a political foundation that energizes him – witness his speeches that stretch an hour and longer at raucous rallies – and helps limit defections from other GOP officials."

Williamson (D)(1): "Marianne Williamson places campaign ad on reparations in South Carolina" [CNN]. "'The first enslaved persons are brought over in 1619, slavery not abolished until 1865. That's 250 years, followed by another hundred years of institutionalized violence against black people,' Williamson says in the video. 'That's 350 years of institutionalized violence,' she continues. 'That's longer than this country has been in existence.' 'Paying reparations for slavery will not fix everything,' Williamson says. 'But America will not have the future that we want if we're not willing to clean up the past, to clean up this original character defect of racism.'" • Character defect?!?
Our Famously Free Press
Jack.

We've made the decision to stop all political advertising on Twitter globally. We believe political message reach should be earned, not bought. Why? A few reasons…?

— jack ??? (@jack) October 30, 2019

Also issue ads. This is good, but now all the money that would have been spent on ads will be spent on troll armies.
Impeachment
"House approves road map for Trump impeachment" [The Week]. "The House voted 232-196 Thursday to approve Democrats' terms for an impeachment inquiry into President Trump. The vote on the resolution was largely along party lines, though Rep. Justin Amash (I-Mich.) did side with Democrats, and two Democrats did disapprove the plan. The vote came after reports spelled out the increased rights Trump would be afforded under the resolution, and as Republicans criticize House Speaker Nancy Pelosi (D-Calif.) for not taking the vote sooner. The resolution provides an impeachment "road map" that lets House Intelligence Committee Chair Adam Schiff (D-Calif.) call for hearings with witnesses and lets Republicans request subpoenas, among other things. It also includes increased rights for Trump, which can be rescinded if he continues to block Democratic subpoenas."

"Democrats are giving Trump more impeachment rights than Clinton or Nixon got — but there's a catch" [The Week]. "The Judiciary Committee is distributing charts listing 'every protection that Clinton and Nixon got' and showing "that the Democrats will give Trump those — and even more," he added. But there's a catch: Judiciary Committee Chair Jerrold Nadler (D-N.Y.) can rescind some of those rights if Trump refuses to hand over documents or blocks witnesses."

"Pelosi is Blowing Smoke, But Where's the Fire?" [The American Conservative]. "Trump then released the memorandum of conversation between himself and Ukrainian president Zelensky. This is the U.S. government's record of what was said and as such will form near 100 percent of what Dems will use to impeach. After all, it is the only primary document in the case…. To impeach, one must conclude from the text above that a) Trump asking for information, however far-fetched, on possible foreign interference in the 2016 election was wrong (and then explain why the Dems conducted a three year investigation of the same); b) Trump asking for an investigation into whether then-Vice President and perhaps soon President Biden used his office for personal gain is of no interest to the people of the United States, even if that same information were also of interest to Trump (and account for Dems asking in 2018 the Ukraine to cooperate to dig up dirt on Trump, and allowing that a Ukrainian investigation would supposedly exonerate Biden); c) that Trump made clear to Zelensky aid was contingent on these investigations and; d) explain why the aid paid out soon after the call without any investigation. The base problem is Trump never said he was withholding aid in the July 25 call…. That leads to a second base problem. Nothing happened. Trump never asked the attorney general to contact Zelensky. It is unclear who if anyone Guiliani spoke with, but either way the Ukrainians never investigated anything. This impeachment will be the first in American history without any underlying actual crime taking place on the ground. Democrats seek to impeach Trump for talking about something, and never doing something, that itself may not be a real offense anyway. If you hear echoes of Russiagate, obstructing something that wasn't actually obstructed, you have sharp ears." • Worth reading in full, though I think — sadly — that where we are now, realpolitik is far more important than "high crimes and misdemeanors," however defined, and no matter which narrative emerges triumphant. Do note, however, that Trump is many things, but not dumb; he did, after all. attack and best two party establishments. If he released the so-called "transcript" — granted, complete with ellipses, but why add a red flag like that in the first place? — that can only be because he thinks it will help him toward some objective he desires.
Health Care
Accept no substitutes:

Tweets about "single payer"

111 – Bernie Sanders
11 – Andrew Yang
3 – Michael Bennet*
1 – Julian Castro
1 – Beto O'Rourke
0 – Joe Biden
0 – Cory Booker
0 – Pete Buttigieg
0 – Tulsi Gabbard
0 – Kamala Harris
0 – Amy Klobuchar
0 – Tom Steyer
0 – Elizabeth Warren

— Rob (@philosophrob) October 30, 2019
Realignment and Legitimacy
"Friend or foe? Washington is vexed by an uninvited visitor" [Los Angeles Times]. "Even in an intrigue-filled capital accustomed to shadowy visitors with vague intentions, one that recently took up residence at a very fancy address here is particularly unnerving. It arrived without warning and refuses to leave. It moves slowly but stubbornly, like some members of Congress. Government scientists are still trying to sort out if it is friend or foe…. Not since a spaceship parked downtown in the 1950s sci-fi classic "The Day the Earth Stood Still" has Washington been so confused by an uninvited guest as it is by the bacteria, fungi and algae creeping over the once-gleaming dome of the Jefferson Memorial, leaving black splotches in its wake. The outbreak of "biofilm," as the mysterious microbial mix is known, is more confusing than even Rudolph W. Giuliani. The Jefferson Memorial and a hallowed shrine at Arlington National Cemetery have been stained with dark blotches. Biofilm is beginning to emerge at several other fabled memorials, including the Washington Monument and Lincoln Memorial, though they have not been visibly marred." • The symbolism is pretty obvious…

UPDATE He's a real Democrat!

Joe Manchin says he "absolutely will not" support Bernie Sanders' agenda, says he won't vote for him vs. Trump, and refuses to rule out voting for Trump pic.twitter.com/7YIds0bI5j

— Ibrahim (@ibrahimpols) October 31, 2019
Stats Watch
Jobless Claims, week of October 26, 2019: "Jobless claims remain very stable and consistent with strong demand for labor" [Econoday].
Challenger Job-Cut Report, October 2019: "Layoff announcements rose in October but were still on trend," [Econoday]. "Altogether, technology companies accounted for nearly 16,000 of October's announcements with health care also high at 5,400 as hospitals cite lower Medicare and Medicaid reimbursements. But retail, a sector adjusting to new technologies, has announced the most cuts this year…. Altogether, however, October's announcements confirm steady conditions in the labor market ahead of tomorrow's employment report."
Chicago Purchasing Managers Index, October 2019: "It's often hot or cold for Chicago's PMI sample and October, likely due to the GM strike, was a very cold month" [Econoday]. "the leading indicator among the report's details, that is the new order index, is at a 10-year low and a very depressed score… Order scores in the 30s are usually seen at times of economic crisis which this sample may be suffering from the GM strike which, however, has been tentatively settled in what might prove to be a major positive for November's report."
Employment Cost Index, Q3 2019: "An increase in wages & salaries along with higher benefits made for an uptick in employer costs during the third quarter" [Econoday]. "An increase in wages & salaries along with higher benefits made for an uptick in employer costs during the third quarter."
Personal Income and Outlays, September 2019: "Moderate if not moderation is the theme from September's sweep of personal income, consumer spending, and PCE inflation data" [Econoday]. "This report is soft and is on the weak side of the Federal Reserve's outlook for the economy, based on yesterday's press conference by Jerome Powell who is expecting a little more punch. Whether consumer spending improves in October will go a long way to establishing expectations whether the Fed in December cuts rates once again."
Commodities: "Zimbabwe Eyes Platinum-Led Revival. Miners See Little Chance" [Bloomberg]. "Since Emmerson Mnangagwa took over as leader of the country following a coup in late 2017, platinum projects valued at more than $8 billion have been announced by Cypriot and Russian investors. Still, two decades of political and economic instability and a government with a track record of seizing privately owned assets makes many in the industry skeptical about the new ventures."
Big Ag: "China's hunger for protein is causing big swings in global meat markets. The lifting of a four-year-old Chinese ban on U.S. poultry shipments sent stocks of producers such as Tyson Foods Inc. surging and chicken prices are expected to follow… signaling market hopes for a surge in exports" [Wall Street Journal]. "The U.S.-China accord comes as an outbreak of African swine fever has slashed some 40% of China's hog herd, pushing domestic pork prices up by 69% from the prior year and setting off a hunt for alternative protein sources. China's chicken imports are projected to more than double in 2020, according to the U.S. Agriculture Department. Ample U.S. poultry supplies have dragged down domestic prices, and American poultry executives are licking their chops at the opportunity to fill China's pork gap with exports of dark-meat chicken."
Big Ag: "Grain Quality Questions Linger" [Ag Pro]. "It's just one setback after another this season. From major planting delays, too wet or too dry mid-season to early frost and wet harvest, it seems like this crop just can't catch a break. As grain comes pouring into elevators and on-farm storage quality concerns are mounting. 'There will be issues when poor quality grain is being put into storage for a longer period than normal,' said Tom Dahl, president of the American Association of Grain Inspection and Weighing Agencies, in a recent press release. 'Producers and users need to understand that these poor quality conditions can affect storability and long-term quality condition.'"
Shipping: "AAR: U.S. Traffic Not Improving" [Railway Age]. "It appears we're still in a freight recession, as total carloads for the week ended Oct. 26 were 243,321 carloads, down 9.4% compared with the same week in 2018, while U.S. weekly intermodal volume was 269,826 containers and trailers, down 8.3% compared to 2018. None of the 10 carload commodity groups posted an increase compared with the same week in 2018. Commodity groups that posted decreases compared with the same week in 2018 included commodities such as coal, down 14,797 carloads, to 73,184; grain, down 2,152 carloads, to 21,135; and metallic ores and metals, down 2,064 carloads, to 21,291."
Manufacturing: "The French plane maker slashed its delivery target for the year over production problems… even as a flurry of new orders pushes it past rival Boeing Co. Both manufacturers have been ramping up production to meet surging demand for narrow-body planes, with Boeing taking a big hit from the March grounding of its best-selling such jet, the 737 MAX" [Wall Street Journal]. "But Airbus is still recovering from delays last year by engine suppliers that hampered delivery of its narrow-body A320neo jets, and has had challenges building bigger versions for longer flights. A more than 7,000-order backlog now leaves Airbus little room to accommodate new orders as it seeks to capitalize on Boeing's woes."
Manufacturing: "Faury looks to transform Airbus" [Leeham News & Analysis]. "Guillaume Faury assumed his office as chief executive officer of the Airbus Group at a time when the company was trying to emerge from years-long scandals over bribery and corruption probes and the industry was only beginning to reel from the grounding of the Boeing 737 MAX."
Manufacturing: "Manufacturing Is Now Smallest Share of U.S. Economy in 72 Years" [Bloomberg]. "Manufacturing made up 11% of gross domestic product in the second quarter, the smallest share in data going back to 1947 and down from 11.1% in the prior period, a Commerce Department report showed Tuesday…. While manufacturing has added about half a million workers on the whole since Trump took office, states like Pennsylvania and Wisconsin that helped him win in 2016 are now losing factory jobs amid a persistent trade war with China and a weaker global economy."
* * *
Today's Fear & Greed Index: 71 Greed (previous close: 75, Extreme Greed) [CNN]. One week ago: 57 (Greed). (0 is Extreme Fear; 100 is Extreme Greed). Last updated Oct 31 at 12:19pm.
The Biosphere
"One Wildfire Metric Threatens to Upend PG&E's Bankruptcy" [Bloomberg]. "PG&E Corp. investors looking to learn their fate may not get the answer from the bankrupt power company. Instead, the key data point could pop up within days on the website of California's forestry service. That's where firefighters are tracking how many structures the Kincade fire has damaged and destroyed — 147 as of Tuesday morning. If the tally tops 500, and it turns out that PG&E equipment started the fire, the backers of two competing reorganization plans for the San Francisco-based utility giant have the right to withdraw because of the soaring liability." • 500 is a very small number!
Classy:
OMG PG&E is literally out here making money off the generators people are buying in response to the problems they've created! pic.twitter.com/cnW5B8wNCE

— Danielle Kosecki (@dkos07) October 25, 2019
"Formal U.S. Withdrawal from Paris Climate Agreement Looms" [Scientific American]. "One week from today, President Trump gets his earliest opportunity to make good on his pledge to pull the United States out of the Paris Agreement. The president made it clear last week that his plans had not changed, telling an audience in Pittsburgh that staying in the climate pact would have the effect of 'shutting down' American energy companies while allowing foreign firms to 'pollute with impunity.'"
"Gullah Geechee worry their unique island culture won't survive climate change" [Grist]. "Fiercer storms and the encroaching seas are gnawing away at the Gullah Geechee nation, a distinct cultural group that historically dwelt on a 425-mile stretch of coastline from Jacksonville, North Carolina, to Jacksonville, Florida. Today, the bulk of this community, descendants of African slaves and native Americans, resides only on the low-lying fringes of South Carolina and Georgia… The plight of the Gullah Geechee is echoed in other distinct cultures across the U.S. that find themselves on the frontline of the climate crisis. Often forced onto land vulnerable to drought or flooding by colonial dispossession and a lack of political clout, these communities face an overwhelming threat to their way of life."
"Neanderthals were master fire-starters, cave chemistry suggests" [Chemistry World]. "Neanderthals were masters at making and controlling fires, suggests new research that found distinctive hydrocarbons from ancient hearths in a cave inhabited up to 60,000 years ago. The study gives weight to the theory that Neanderthals and other early humans were skilled at making fires, rather than just exploiting natural wildfires…. The mastery of fire by early humans is a hot topic. A 2016 study suggested Neanderthals used powdered magnesium dioxide as a fire lighter, and a 2018 study led by [Archaeologist Andrew Sorensen from the University of Leiden, the Netherlands] proposed that distinctive marks on Neanderthal tools from around 50,000 years ago were evidence of fire-making."
"How the earliest mammals thrived alongside dinosaurs" [Nature]. "Kayentatherium's skeleton is mammal-like in many ways, but the fossil suggested that it still reproduced very much like a reptile, giving birth to large litters of small-brained offspring. By contrast, 'mammal moms invest a lot in a smaller number of babies, each of which has a better chance of surviving', says [Eva Hoffman, a palaeontologist at the American Museum of Natural History in New York City]. Mammal babies spend longer under their parents' care, developing relatively large brains, whereas these fossil hatchlings had well-developed bones and teeth, hinting that they could fend for themselves and were not nourished by milk, as all mammals are today. The find is among a mass of discoveries in the past 10–20 years that are illuminating milestones in mammalian evolution. Although major finds are emerging all over the world, the largest number are coming out of China; together, they have overturned the now dated belief that dinosaur-era mammals were small, unremarkable insectivores, eking out a life in the shadows of the giant reptiles."
Our Famously Free Press
"Very, Very Large and Very Underserved": John Heilemann's New Venture Is Betting People Want More Political Video on Their Phone Vanity Fair
Big Brother Is Watching You Watch
Awwww….
The new season of "Border Security: America's Front Line" is now streaming on @Netflix! The series highlights the 24/7 work of CBP's Office of Field Operations in screening travelers, cargo, packages and agricultural products destined for U.S. soil: https://t.co/84uz2URBMV pic.twitter.com/aj1k1Sn58e

— CBP (@CBP) September 28, 2019
Games
"Verb-noun vs noun-verb" [Red Blob Game's Blob]. "Sometime in my teens I got to meet Lord British (Richard Garriott) and Iolo the Bard (David Watson). My mom was shopping, and I went to the computer aisle to browse the games I couldn't afford. Richard and Iolo were talking about Ultima 6. Nobody else was there, so I got to talk to them for half an hour! I learned about OOP, UI, testing, systems thinking, and more. Really cool! They told me about how they coded puzzles to look for the state of the world (nouns) instead of the player actions (verbs). For example, there was a puzzle where they expected players to cast Telekinesis (ᚩᚣᛕ ORT POR YLEM) on a lever on the other side of a chasm. Instead, during playtesting, they saw that one player killed a party member, tossed the body over the chasm, cast Resurrect (ᛁᛗᚳ IN MANI CORP), then have the party member pull the lever."
"Play like me: Similarity in playfulness promotes social play" [PLOS One]. From the abstract: "Social play is associated with the experience of positive emotions in higher vertebrates and may be used as a measure of animal welfare…. This study investigated how forming groups based on known differences in the personality trait 'playfulness' (i.e., the longer-term propensity of an individual to actively play from adolescence to early adulthood) affects social play…. Groups made of animals with similar playfulness, even those initially scoring relatively low in this trait, seemed to be more successful in establishing play relationships during adolescence."
Halloween Watch
"Who Invented The 'Bedsheet Ghost'?" [Daily Beast]. "There is perhaps no Halloween costume more clichéd than the easy-peasy "bedsheet ghost," the most primitive of which can be fashioned with nothing but white linens and scissors for eyeholes…. French medium and photographer Edouard Buguet spent a year in jail for fraud in 1874, when it was discovered his renowned ghost photos actually captured shrouded dummies. Decades later, Scottish medium Helen Duncan released photos of herself with a 'ghost' that ended up being a doll beneath a white sheet….. [O]ur contemporary vision of the 'bedsheet ghost' certainly owes more to the pranksters and frauds than to any earnest homage to Victorian spectres or Celtic paganism…. "
Speaking of cats:
i really tried @poorlycatdraw pic.twitter.com/L36xWlH8VT

— felicity (@pnwfelicity) October 31, 2019
Hard to imagine Disney producing this today:
Night on Bald Mountain – Fantasia (1940) https://t.co/x7LX3fzxNG /3 pic.twitter.com/5D3x3NL394

— Masque of the Red Death (@doctorow) October 31, 2019
Class Warfare
"Ford Reaches a Tentative Deal With UAW on New Pact, Averting a Strike" [Industry Week]. "Ford Motor Co. reached a tentative agreement with the United Auto Workers union on a new labor contract for its U.S. workers, likely avoiding a strike that cost crosstown rival General Motors Co. billions of dollars. The accord includes $6 billion of product investment in U.S. facilities and the creation and retention of more than 8,500 jobs… 'Pure electric vehicles require 40% fewer hours to assemble the powertrain than internal combustion vehicles,' said Mark Wakefield, head of the automotive practice at consultant AlixPartners. 'So the automakers and their workers have some difficult EV realities to tackle over the next few years.'"
News of the Wired
"Why Libraries Are Eliminating Late Fees for Overdue Books" [City Labs]. "Chicago libraries will no longer collect late fees starting this month, becoming the largest public library system in the U.S. to do away with overdue fines. The city is also erasing all currently outstanding fees, which is good news to the more than 343,000 cardholders whose borrowing privileges have been revoked for accruing at least $10 in unpaid fines. Chicago is one of a growing number of cities trying to make access to libraries more equitable….. By imposing fines, and prohibiting people from borrowing books when the fines add up, the libraries are effectively driving away the very residents who need them the most…. The decision to remove fines is a growing nationwide movement. Already, dozens of U.S. libraries have fully or partially eliminated overdue fines (usually for teens and children), according to a "fine-free" map from the Urban Libraries Council (ULC)."
Like a WASP:
In order to relieve shyness, J. R. R. Tolkien would ask his students at an 11am tutorial, 'Do you think it's too early for gin?' before pouring them a glass.

— Literary Interest (@InterestingLit) October 29, 2019
Readers, feel free to contact me at lambert [UNDERSCORE] strether [DOT] corrente [AT] yahoo [DOT] com, with (a) links, and even better (b) sources I should curate regularly, (c) how to send me a check if you are allergic to PayPal, and (d) to find out how to send me images of plants. Vegetables are fine! Fungi and coral are deemed to be honorary plants! If you want your handle to appear as a credit, please place it at the start of your mail in parentheses: (thus). Otherwise, I will anonymize by using your initials. See the previous Water Cooler (with plant) here. Today's plant (PS):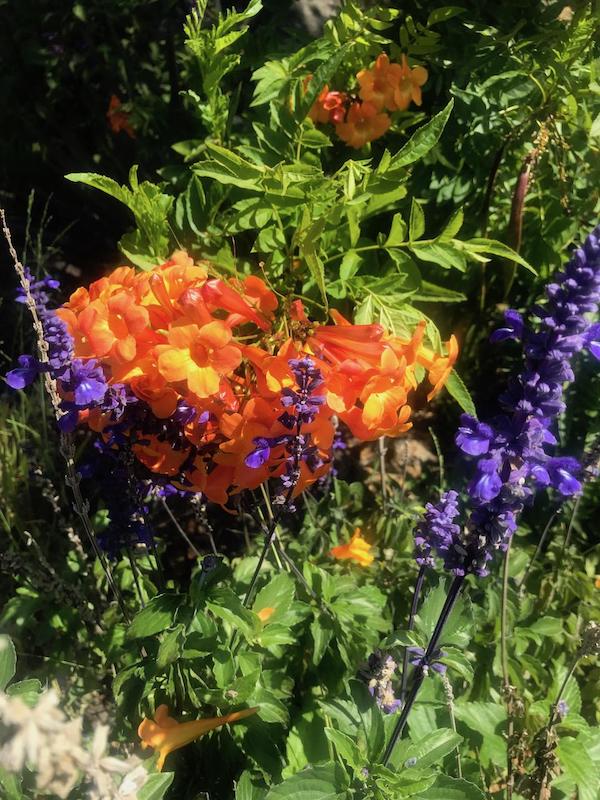 PS writes: "Salvia 'Midnight Spires' and Tecoma x smithii, Berkeley, California."
Bonus plant:
this is where one might say "same" pic.twitter.com/AjhHwlsnvN

— Sarah Holder (@sarahsholder) October 29, 2019
* * *
Readers: Water Cooler is a standalone entity not covered by the annual NC fundraiser. So if you see a link you especially like, or an item you wouldn't see anywhere else, please do not hesitate to express your appreciation in tangible form. Remember, a tip jar is for tipping! Regular positive feedback both makes me feel good and lets me know I'm on the right track with coverage. When I get no donations for five or ten days I get worried. More tangibly, a constant trickle of donations helps me with expenses, and I factor in that trickle when setting fundraising goals:
Here is the screen that will appear, which I have helpfully annotated.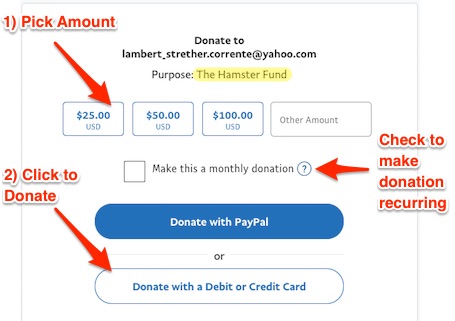 If you hate PayPal, you can email me at lambert [UNDERSCORE] strether [DOT] corrente [AT] yahoo [DOT] com, and I will give you directions on how to send a check. Thank you!