Mexico City's 'walking fish' BBC
AWS Elasticsearch: a fundamentally-flawed offering Spun (cnchal). From October still germane.
'It's Really Refreshing And Relaxing': College Students Say Ditching Their Smartphones For A Week Changed Their Lives CBS New York
In pursuit of big profits, hemp growers blaze a perilous new path in Northwest agriculture Seattle Times
You're Not Worth My Time Notes on Liberty (BC)
Pacific seals at risk as Arctic ice melt lets deadly disease spread from Atlantic Guardian (re Silc)
We've Found a Serious New Health Risk to Human Spaceflight Science Alert (David L)
Waste Watch
California's methane super-emitters Ars Technica
In the Great Lakes' most productive fishing grounds, algae-fueled dead zones are eroding livelihoods Chicago Tribune (RM)
Black tide in Brazil Agence France-Presse
2020
Sheriff deputy wrestles quadruple amputee teenager in violent video Independent (re Silc)
Democrats in Disarray
I want to be the party of the New Deal again.

The party of the Civil Rights Act,
the one that electrified this nation and fights for all people.

For that, many would call us radical.
But we aren't "pushing the party left,"
we are bringing the party home.pic.twitter.com/wLeDaxCHkZ

— Alexandria Ocasio-Cortez (@AOC) 17 November 2019
The Miracle of General Equilibrium Inference (tony)
l'affaire Jeffrey Epstein
Prince Andrew's Epstein interview roundly panned: 'nuclear explosion level bad' WaPo
Researchers identify seven types of fake news, aiding better detection Phys.org (chuck l)
Bolivia
Protesters are flooding the streets of Bolivia, mostly from Indigenous communities, rising up against the US-backed far-right military coup

This is even after the dictatorial regime passed an order granting impunity to all soldiers who massacre protesterspic.twitter.com/KuSJjiemYw

— Ben Norton (@BenjaminNorton) 18 November 2019
The genetic basis of Peruvians' ability to live at high altitude Ars Technica
Shut Down the School of the Americas/ WHINSEC Jacobin
California Burning
Diary Meehan Crist London Review of Books (clive)

PG&E warns of potential power shut-offs Wednesday and Thursday San Francisco Chronicle

Amid Blackout, a California Tribal Village Kept Lights On With Solar Energy TruthOut
Class Warfare
Brexit
Brexit news – live: Farage accuses Tories of 'corruption' over alleged offer of peerages for election favours Independent
China?
India
Thousands of birds have died at India's largest inland saltwater lake from suspected botulism, officials said https://t.co/jFwyJL4SL6

— AFP news agency (@AFP) 17 November 2019
Syraqistan
Impeachment
Impeachment hearings don't move needle with Senate GOP The Hill
Trump Transition
Trump tells Kim Jong Un that 'Sleepy' Joe Biden is 'somewhat better' than a 'rabid dog' NY Post
Saving the blue parrots of South America BBC
Antidote du Jour (via):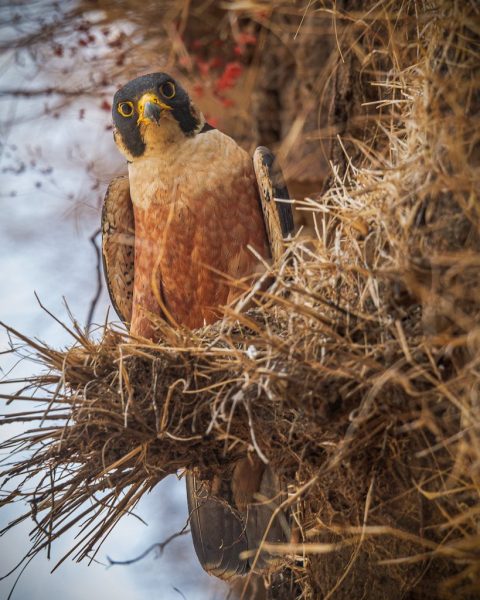 See yesterday's Links and Antidote du Jour here.