Feral Horses Helping Restore Butterfly Habitat Ecowatch (Glenn F)
This is a picture of a stag found yesterday on the West Coast of Jura, covered in plastic from the beach. #notoplastic #wildsideofjura pic.twitter.com/Bz4aYY9gSE

— wildsideofjura (@wildsideofjura) November 14, 2019
Global heating supercharging Indian Ocean climate system Guardian (resilc)
People Are Having Sex With 3D Avatars of Their Exes and Celebrities Vice
Can pro-vaccine bills save us from ourselves? Popular Science (resilc)
Pointless work meetings 'really a form of therapy' BBC (Chuck L). Well, if you consider feeling that you need a lobotomy to get through the meeting a form of therapy.
Brain wave study explains why a DMT trip is like entering an alternate reality Inverse (David L). n=13, so big red flag re tiny sample size. However, sounds like DMT is superior to LSD by virtue of the "trip" being short, as opposed to the typical 24 hours with LSD.
Bonkers pricing of "free" flu shots shows what's wrong with US healthcare ars technica (Chuck L)
China?
Senator Introduces Bill That Would Block US Companies From Storing Data In China The Hill. Josh Hawley strikes again.

U.S. Senate passes HK rights bill backing protesters, angers Beijing Reuters (furzy)

Former U.K. Consulate Employee Says Chinese Secret Police Tortured Him Wall Street Journal. The Journal broke this story. Ugly. Very detailed account of torture and psychological abuse. They reduced him to considering suicide after about two weeks of detention. Key section: "… he also was questioned repeatedly about the role his interrogators presumed Britain was playing in fomenting the unrest.
U.S. breaks off defense cost talks, as South Korea balks at $5 billion demand Reuters
Brexit
The Daily Mail guide to Corbyn's Communist Britain Daily Mash

It is funny how Boris Johnson claims to hate socialism yet he just can't help being publically owned. ?#WinForCorbyn #LeadersDebate #Corbyn4Christmas

— SφlidⒶrity In ☭xile ?? (@ComradeStars) November 19, 2019

Voters say Boris Johnson edged live ITV debate with Jeremy Corbyn by 51% to 49% Sun

Election 2019: Latest poll shows narrowing of Tory lead Times. Note before the debate.
Bolivia Coup
Opinion: The OAS lied to the public about the Bolivian election and coup MarketWatch (Dan K).First sentence: "Facts show nothing suspicious about the re-election of Evo Morales."

Unpacking Media Propaganda About Bolivia's Election FAIR

En Bolivia matan al perro de Evo Morales (UserFriendly)
New Cold War
Russian Hacking 2.0 Could Employ a Whole New Bag of Digital Dirty Tricks Vanity Fair (resilc)

Pelosi doubles down on anti-Russia politics of impeachment inquiry WSWS
Syraqistan
EU disagrees with US over legality of Israeli settlements Middle East Online
Big Brother is Watching You Watch
Imperial Collapse Watch
The End of the American International Order: What Comes Next? Time

Democrats Should Debate Arms Policy, Not Just Impeachment Defense One
Trump Transition
Trump Enforces Omertà With Latest Round of Pardons New Republic

Mike Pompeo Looks to Resign From State to Run for Senate Seat: Sources Time. UserFriendly: "Rats are jumping ship."

FCC Chairman Wants Public Auction To Repurpose Satellite Bands For 5G engadget
Impeachment
In Impeachment Hearing, Volker And Morrison Shed Light On Giuliani's Role NPR

These Key Witnesses Won't Appear At The Impeachment Hearings HuffPost

The Spectacular Failure of the Trump Wranglers New Yorker

Impeachment hearings: America's epistemic crisis has arrived – Vox. Lambert: "Sort of amazing the guy passes over the collapse of RussiaGate, given that would show how all the epistemic issues he identifies in Republicans apply to liberal Democrats as well."

Media and Democrats agree: The impeachment witnesses have 'impeccable' credentials Washington Examiner
Sharing my full letter on the the sentencing of Patrick W. Carlineo, a man convicted of threatening my life.

We must apply a system of compassion to criminal justice.

Who are we as a nation if we respond to threats of political retribution with retribution ourselves? pic.twitter.com/s96jjh8AlD

— Rep. Ilhan Omar (@Ilhan) November 19, 2019
Two federal prison officers charged with falsifying records in connection with Jeffrey Epstein's suicide USA Today
2020. Mirabile dictu, I am told Bernie Sanders was on NBC Nightly News discussing opioid addiction. An even-handed treatment right before a Dem debate? What next?
This looks like a mandatory corporate retreat event on "team building" or "enthusiasm". And apparently it's working. What a weird country. https://t.co/Dh1pRs83zP

— Mark Ames (@MarkAmesExiled) November 18, 2019
tune in at 10am today, Wed Nov 20https://t.co/k87XYwMF7l

— Pavlina R Tcherneva (@ptcherneva) November 20, 2019
DTE and Consumers Energy are broken and dangerous. Is it time for publicly owned utilities? Metro Times (julsseta). More Metro Times: Project Censored's Top 10 stories the mainstream media missed in 2019
Trump Administration Declares Open Season on Consumers for Subprime Lenders Adam Levitin, Credit Slips
Hope Is Bullshit Ian Welsh
Negative interest rates threaten to choke bank IT systems ITNews
Against Economics David Graeber, New York Review of Books (resilc)
'Their house is on fire': the pension crisis sweeping the world Financial Times
Class Warfare
UserFriendly: Help me!

Moi: Moar demonization of the deplorables. A psychologist once clued me in that virtually no instruments used in psychological assessment are well validated. One has to think this one was made up and even worse than the ones widely used in the profession.

Political scientist and expert on elections Tom Ferguson: Some of the problem is the name. "Neuroticism" is pretty obvious nonsense. On the other hand, there are lots of reasons why people in "left out" areas would score higher on anxiety or perhaps depression. The thing is a stupid construct with prejudicial implications.
Antidote du jour. Paul H sends photos of Canadian mammals: "A yellow-pine chipmunk, Eutamias amoenus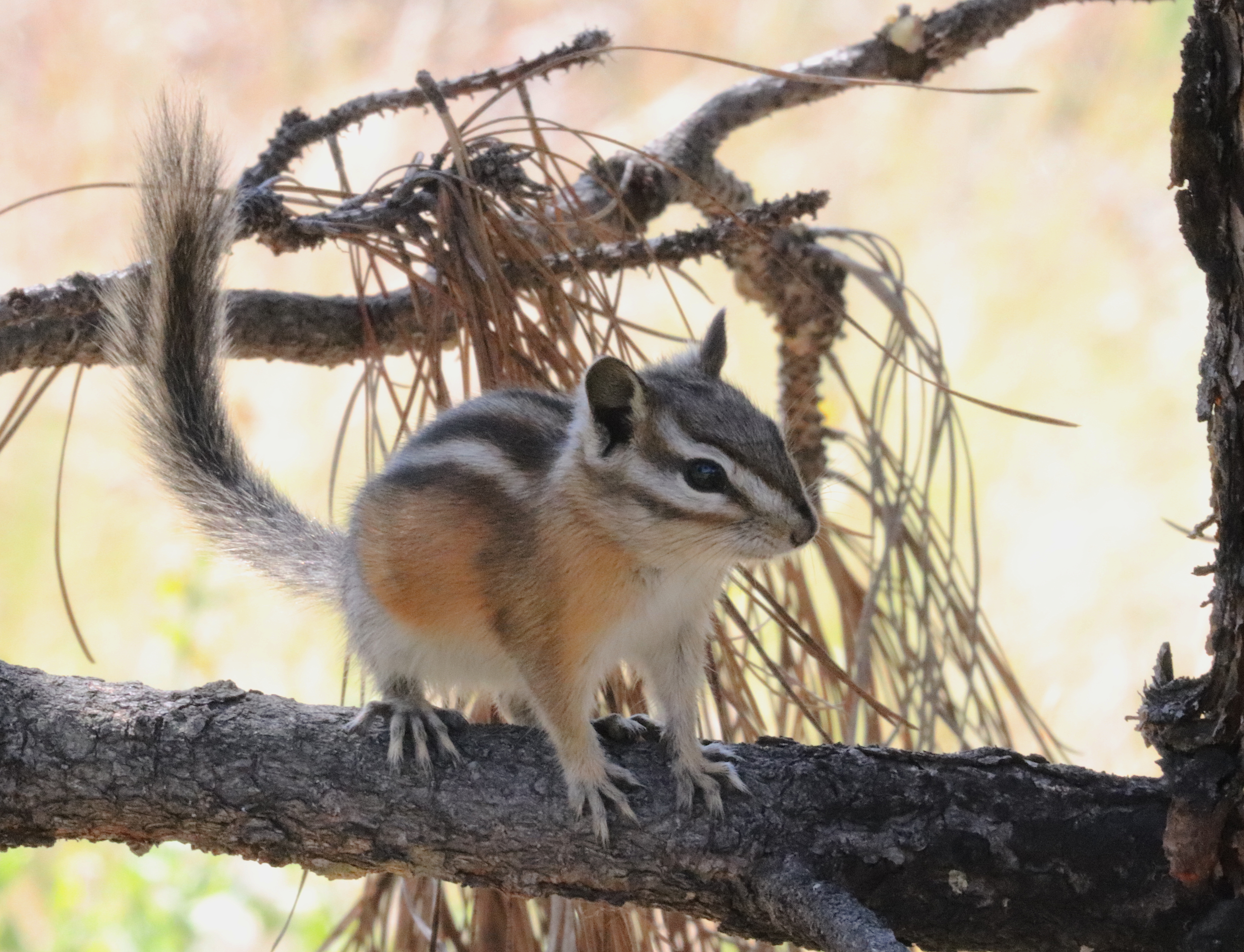 And a bonus (John Siman). Does this mean cats could pass the mirror test and they've been messing with researchers all these years?
See yesterday's Links and Antidote du Jour here.