By Lambert Strether of Corrente.
Politics
"But what is government itself, but the greatest of all reflections on human nature?" –James Madison, Federalist 51
"They had one weapon left and both knew it: treachery." –Frank Herbert, Dune
Here is a second counter for the Iowa Caucus, which is obviously just around the corner:
* * *
2020
Alert reader dk (not to be confused with DK) is in the process of developing the following interactive chart.

We only have yesterday's YouGov and Emerson (Iowa) polls, as of 12/12/2019, 12:00 PM EST. Biden leads, Sanders strong second, Warren six points back, Buttigeig trailing (Bloomberg above the bottom feeders). This seems to be an established pattern (or, if you prefer, narrative). On to the next debate (December 19), and Iowa:

Here is the latest result, as of 12/12/2019, 12:00 PM EST:

For grins, here is another Tufte-style "small multiples" chart, with more candidates:

Biden is the only one with outliers (along with Undecided, which really leaps around, I assume because of methodology). Biden is also flat, in contrast to the steady rise of Sanders (and Buttigieg). Note that although one may think of Harris's rise as steep, and her fall as precipitous, Warren's rise and fall are steeper and more precipitous. Note also the slope of Bloomberg's curve. He's well-equipped to fight a post-IA/NH/SC/NV air war in California.

CAVEAT I think we have to track the polls because so much of the horse-race coverage is generated by them; and at least with these charts we're insulating ourselves against getting excited about any one poll. That said, we should remember that the polling in 2016, as it turned out, was more about narrative than about sampling, and that this year is, if anything, even more so. In fact, one is entitled to ask, with the latest Buttigieg boomlet (bubble? (bezzle?)) which came first: The narrative, or the poll? One hears of push polling, to be sure, but not of collective push polling by herding pollsters. We should also worry about state polls with very small sample sizes and big gaps in coverage. And that's before we get to the issues with cellphones (as well as whether voters in very small, very early states game their answers). So we are indeed following a horse-race, but the horses don't stay in their lanes, some of the horses are not in it to win but to interfere with the others, the track is very muddy, and the mud has splattered our binoculars, such that it's very hard to see what's going on from the stands. Also, the track owners are crooked and the stewards are on the take. Everything's fine.

I think dk has started a really neat project, and in the near future we'll seek your feedback (within reason) for the tool "live."

* * *

Biden (D)(1): "Joe Biden's Individual Mandate Madness" [The New Republic]. "In July, Joe Biden said on CNN that he would bring back the Affordable Care Act's (ACA) individual mandate. The scant coverage that Biden's plan received failed to spark much of a broader conversation, despite the fact that there's been a near constant demand placed on Medicare for All proponents to show how that plan would be financed. This is madness. The individual mandate was terrible policy and worse politics, and Biden has only set himself up for the kind of attack ads that supposedly make Medicare for All too risky to contemplate. It is, perhaps, no surprise that a party so steadfastly committed to not admitting its mistakes would toy with such a dangerous notion."

Buttigieg (D)(1): Thread:

It brings me no joy that my hunch that @petebuttigieg advised Blue Cross Blue Shield in the run-up to layoffs and rate hikes, was revealed to be right. Campaign spin aside, as a former insurance exec I know what that work really entails, and it is devastating. (1/7) https://t.co/kPxx3xBoWi

— Wendell Potter (@wendellpotter) December 11, 2019

Warren (D)(1):

When unions win, all workers win. I'm proudly fighting alongside @Culinary226 to protect unions and empower the voices of their members! pic.twitter.com/cUlnY4mIR0

— Elizabeth Warren (@ewarren) December 12, 2019

Harry Reid, who originally brought Warren into politics, is well-connected with the Culinary Workers.

* * *

"How the Candidates Stack Up" [Indivisible]. "We asked the 2020 candidates how they aligned with what Indivisibles care about. We will update these scores as candidates' positions evolve—so see the results below and push the candidates to improve where they fall short." Their results:

How on earth does Sanders get fined on "Building Grassroots Power"? Here is Indivisible's methodology, which they call a "rubric"; it's in GoogleDocs, so naturally I cannot simply copy and paste it. So here's a screen shot:

So far as I can tell, Sanders got dinged for three reasons. The trivial reason is that he didn't suck up to Indivisible by filling out their questionaire. The less trivial reason is that Indivisible seems to have confused Democrat party-building and support for the NGO industrial complex with grassroots power. Even less trivially — so far as I can tell; readers who want to get a really good insight into the Indivisible mindset could do worse than read their "rubric" — they aren't giving Sanders any points for trying to bring non- and discouraged voters into the electoral process! So.

"The Grassroots Plot to Take Down Susan Collins" [Medium]. • In essence, Indivisible v. Collins. Maybe.
The Debates
"Democrats set early state primary debates for 2020" [The Hill]. "The Democratic National Committee (DNC) will sponsor four presidential debates in key early voting states in January and February, giving candidates a final chance to introduce themselves before the first votes take place. CNN will air the first debate of the new year at in Des Moines in partnership with the Des Moines Register. Days after Iowans caucus, ABC will host a debate at with WMUR-TV and Apple News. That debate, the eighth of the cycle, will take place . Two weeks later, on , NBC News and MSNBC will host a debate in , just ahead of that state's early caucuses. The television networks will partner with The Nevada Independent, a nonprofit news site run by veteran Nevada political reporter Jon Ralston*. And CBS News will host a debate with the Congressional Black Caucus Institute at the Gaillard Center in . The DNC said Twitter would be a partner for the debate." • The whole sorry spectable should be dynamited. NOTE * Yes, That Jon Ralston. See how virtue is rewarded at the DNC?
Our Famously Free Press
Sanders blackout (1):

Here are the results of this poll:

Sanders 24%
Warren 22%
Biden 14%
Buttigieg 12%

Now look at the headline.

It takes the LA Times three paragraphs to mention who is leading.https://t.co/f6J9JFEsZa pic.twitter.com/gi1hw0KN8M

— Ari Rabin-Havt (@AriRabinHavt) December 5, 2019

Sanders blackout (2):

THREAD
Here's a fun game
The media bias against @BernieSanders is real
Let's start posting examples#BernieBlackout

Here's one to get us startedhttps://t.co/q2B7EEuQoi

— ???Mackenzie ??? (@MackenzieHaas1) December 12, 2019

C'mon, man. Could y'all make it a little less obvious? This is just crass.
Impeachment
"Judiciary Committee clashes over impeachment ahead of vote to send articles to the floor" [CNN]. "Thursday's committee vote to approve the articles sets the stage for a vote on the House floor that is likely to make Trump the third president in US history to be impeached. Democratic leadership sources say they could lose more than at least two moderate Democrats on the impeachment votes, but there's no concern about major defections that could endanger the articles. House Speaker Nancy Pelosi said she is not lobbying moderates on the fence to vote for impeachment. 'People have to come to their own conclusions,' Pelosi said. The speaker said the facts are clear, and she isn't concerned about losing more Democrats on the articles of impeachment than the two who voted against the resolution establishing procedures for the inquiry. 'People will vote the way they vote," she said.'"

"Trump's impeachment mood morphs from anger to mockery" [Politico]. "[Trump has] become so outwardly nonchalant about the Democratic impeachment push that he's taken special joy in giving visitors a look at the private study off the Oval Office — playfully pointing out where one of President Bill Clinton's infamous dalliances with Monica Lewinsky occurred and ultimately triggered the 42nd president's impeachment. It's become one of many ways Trump has found his footing during the most serious threat yet to his presidency." • So crass. Let's impeach him for that.
Stats Watch
Commodities: "Diamond Crisis Gets Worse for Global Giant De Beers" [Bloomberg]. "Anglo American Plc curbed its plan to expand diamond production over the next two years after sales slumped in 2019 amid a wider industry crisis. Anglo's De Beers unit will mine 1 million carats less than previously forecast in both 2020 and 2021, according to an investor presentation on Tuesday. That equates to less than 1% of global output, but slows the pace of the company's expansion as an oversupply of rough diamonds weighs on the industry. De Beers's buyers have grown increasingly frustrated with the cost of rough stones as the price of polished gems slump."
Transportation: "Missed Signs of a Freight Rail Slowdown?" [Railway Age]. "Clair observes that the 2015 U.S. economy was about 75% larger than it had been in the base year of 2000. If we mentally adjust that downward for inflation, we might moderate this to a calculated 30% to 40% growth in the economy. On a carload basis, railroads didn't keep pace. Where have railroads been succeeding? It is in the financial area. U.S. railroad management success between about 2004 and 2014 was in pricing leverage. In that recent decade, nominal rail prices increased significantly." • Very interesting, and not the usual narrative of success post-deregulation.
Revolving Door: "Another senior Gov.UK bod makes a dash from public sector, falls into AWS's arms" [The Register]. "Amazon Web Services has once more dipped into its public sector employee tech training academy – also known as Her Majesty's government – and made off with another senior head to bulk out its division. Holly Ellis has crossed the divide into the private sector, and joined AWS as senior manager for solution architects for the public sector UK and Ireland, following other senior personnel that left government positions for a new life working for Jeff Bezos. Prior to landing at AWS, Ellis was director of digital, data and technology (DDT) for the Department of International Trade." • Yeah, good time to leave that sinking ship….
Tech: "The Influencer and the Hit Man" [OneZero]. ""Okay, motherfucker," Deyo recalled him saying. "GoDaddy.com."
The man handed him a piece of paper, which contained handwritten directions on how to transfer the domain name DoItForState.com from Deyo to someone else. Deyo knew the domain name well; ever since he and his brother purchased it two years earlier, DoItForState.com had brought them nothing but grief.
To most of the public, "Do It For State" sounds like a word salad or a patriotic call to duty, but on college campuses around the United States, the four words have become shorthand for a burst of online notoriety. "Do It For State" is the hyperviral tagline associated with the social media company State Snaps, which aggregates and posts debaucherous college-aged behavior on its Instagram, Snapchat, and Twitter accounts for the entertainment of millions of adoring, chuckleheaded fans." • I hope somebody's optioned this.
* * *
Today's Fear & Greed Index: 70 Greed (previous close: 61 Greed) [CNN]. One week ago: 67 (Greed). (0 is Extreme Fear; 100 is Extreme Greed). Last updated Dec 12 at 12:49pm.
The Biosphere
"Putting a Price on Pollution" [International Monetary Fund]. "A $35 per ton carbon tax by itself would exceed the level needed to meet mitigation commitments in such countries as China, India, and South Africa, and it would be about right to meet pledges in Indonesia, the Islamic Republic of Iran, Pakistan, the United Kingdom, and the United States. But even a carbon tax as high as $70 per ton (or equivalent measures) would fall short of what is needed in some countries like Australia and Canada (Chart 1). These findings reflect differences not only in the stringency of commitments, but also in the responsiveness of emissions to taxes: emissions are most responsive to carbon pricing in countries consuming a great deal of coal, such as China, India, and South Africa…. Although nearly 60 carbon tax and trading systems are in operation at the national, subnational, and regional levels in various countries, the average price of emissions worldwide is only $2 a ton—a small fraction of what is needed. This underscores the political difficulty of ambitious pricing."
"Hot Earth Rebels" [New Left Review]. Long interview with Extinction Rebellion member: "The starting point was the need to find a more effective form of protest than what we'd all been doing to date. Pretty much none of this came out of our own innovative thinking. It was about looking at the research, adding up the facts. Conventional A-to-B marches don't work: millions of us demonstrated against the Iraq War and it didn't make any difference. A key piece of research was Erica Chenoweth and Maria Stephan's Why Civil Resistance Works. They take data from hundreds of 20th-century social movements and analyse what they did right and what they did wrong. The most successful ones, those that had their demands met, used forms of decentralized, non-violent civil disobedience—large-scale direct action. The tipping-point, Chenoweth and Stephan found, was to get 3.5 per cent of the population involved."
The vulnerability of the supply chain:
BREAKING: Four people are blockading a coal train headed to Merrimack Station In Bow, NH.

Now it's not heading anywhere, because the people say NO to #ClimateEmergency & no to deadly coal.

It's 2019 & the world is burning. No. More. Coal.#NoCoalNoGas #CloseBow #BucketByBucket pic.twitter.com/3EOZXbxF26

— Collin Rees (@collinrees) December 8, 2019
You criticize society and yet you are part of society:
A short thread on individual actions to reduce carbon footprint

What do you think happens when you don't take a plane flight? Do you think that fewer planes fly? No. Is there at least less fuel used because less weight on the plane? Also no. The airline sells the seat cheap

— Rich Puchalsky Ⓐ (@RichPuchalsky) December 10, 2019
Health Care
Draconian:
Here's what Utah is going to require for its Medicaid expansion beneficiaries on 1/1/20 as a result of their unique work requirement.
Among other things, no coverage unless you've applied for a job w/ 48 employers. This will create huge coverage losses esp in rural areas. pic.twitter.com/UqVcAxgT4p

— Joan Alker (@JoanAlker1) December 11, 2019
I don't know about Utah, but 48 would be an appreciable percentage of the jobs available at any one time in Bangor, Maine. Holy moley.
The 420
"Sinclair Stole My Stash" [The Baffler]. "On a Thursday morning in March of last year, television viewers in Baltimore who tuned into WBFF Fox 45 were treated to a cheery report on medical marijuana. 'Cannabis dispensaries are opening up in Maryland,' morning-show anchor Tom Rodgers noted. 'One of those centers is looking to set itself apart.' Rodgers then introduced a bearded and bespectacled pharmacist named Brian Sanderoff, who appeared on the TV studio set with an array of products from a business called Curio Wellness. Rodgers paused for a casual disclaimer: 'And we want to note, David Smith, chairman of our parent company Sinclair Broadcast Group, is an investor in Curio Wellness.' The two then proceeded to discuss Curio's offerings, with Sanderoff noting that it's the THC in marijuana that gives the high but 'there are a whole host of other cannabinoids' that have different effects. There were even some products that were designed to calm the anxieties of pets. It made for a strangely incongruous moment, with a super-square anchor on a renowned right-wing station talking about weed and wellness." • While the entrepreneurs who made the market, mostly black, are still in jail under the War on Drugs legislation. Take a bow, Bill! Joe! Barry!
Groves of Academe
The beatings will continue until morale improves:
ok but does your school have designated a crying area pic.twitter.com/LL3D1BV6sR

— Ishaan (@Ishaanese) December 10, 2019
Xmas Pre-Mortem
Bolivia still in the news:
Walmart has apologised for selling a jumper on its website that appears to show Father Christmas doing lines of cocaine https://t.co/ewdZ3BLSdH

— Sky News (@SkyNews) December 11, 2019
Guillotine Watch
Shot:
Lachlan Murdoch "has paid roughly $150 million for Chartwell, a Bel-Air estate." It is "the second most expensive residential sale ever recorded in the country…" https://t.co/nz035SyeMW

— Brian Stelter (@brianstelter) December 12, 2019
Chaser: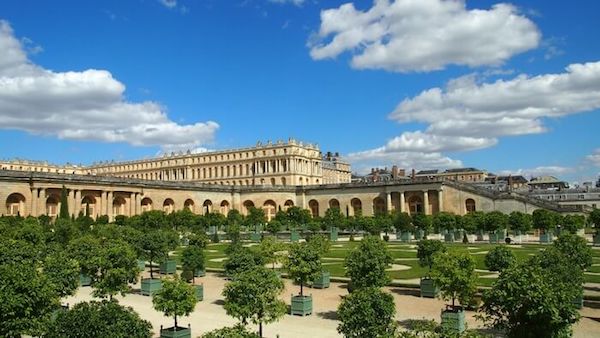 Class Warfare
"U.S. Employers Spend $340 Million a Year Busting Unions" [Vice]. "A new report on employer opposition to union campaigns released today by the Economic Policy Institute (EPI) found that employers spend hundreds of millions of dollars a year against union organizing efforts, and were charged with breaking federal labor laws in 41.5 percent of union campaigns in 2016 and 2017. While the authors of the report, who gained access to unfair labor complaints through FOIA requests, could not comment on specific cases, they say the newly organized tech industry is no exception."
"Two Texas Billionaires Think They Can Fix Philanthropy" [Bloomberg]. • Euthanize the NGOs would be my approach. Then tax the billionaires at Eisenhower-era levels.
News of the Wired
"What Are Your Options for Cognitive Enhancement?" [IEEE Spectrum]. "However, a new generation of engineers and software coders, centered in Silicon Valley but not limited to the world's premier innovation hub, are now imitating Jobs in a rather dramatic way. They are routinely dropping "microdoses" of acid—about one-tenth the amount of the standard recreational dose—in order to achieve higher levels of creativity on the job, and greater intensity and focus." • It certainly does seem to be working out.
"Porn Is Demonic, Says Top Occultist" [The American Conservative]. Quoting John Michael Greer (!): "2) Yes, using less porn will starve it, but of course it'll double down at first, trying to get fed. If you go to the Magic Monday FAQ cited in the post, you'll find instructions for a hoodoo protective bath, and for an amulet using salt and a bent nail. Both of those would be useful in your situation." • Oh.
"Do I Have a Normal Penis? 8 Myths to Stop Believing About Your Penis" [Teen Vogue]. "No matter what body parts you have, you get to define your own gender identity. There are men without penises, and there are people with penises who don't identify as men." • Oh.
Next year's color, auspicious or inauspicious?
Presenting PANTONE 19-4052 Classic Blue, the Pantone Color of the Year 2020. A timeless and enduring blue hue, timeless in its simplicity. #pantone2020 #coloroftheyear pic.twitter.com/L0qH6CohsC

— PANTONE (@pantone) December 5, 2019
* * *
Readers, feel free to contact me at lambert [UNDERSCORE] strether [DOT] corrente [AT] yahoo [DOT] com, with (a) links, and even better (b) sources I should curate regularly, (c) how to send me a check if you are allergic to PayPal, and (d) to find out how to send me images of plants. Vegetables are fine! Fungi and coral are deemed to be honorary plants! If you want your handle to appear as a credit, please place it at the start of your mail in parentheses: (thus). Otherwise, I will anonymize by using your initials. See the previous Water Cooler (with plant) here. Today's plant (TH):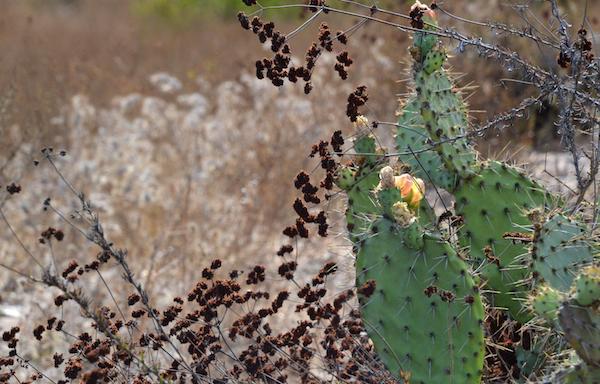 TH writes: "A prickly pear cactus at the Laguna Coast Wilderness Park. I use the 'single point' focusing mechanism on my camera and I had the little red dot right over that bright orange flower, but alas, I think the camera and I had a misunderstanding, as that is not the sharpest spot of this image. I guess I'd better play with the other options." It's fun to experiment!
* * *
Readers: Water Cooler is a standalone entity not covered by the annual NC fundraiser. So if you see a link you especially like, or an item you wouldn't see anywhere else, please do not hesitate to express your appreciation in tangible form. Remember, a tip jar is for tipping! Regular positive feedback both makes me feel good and lets me know I'm on the right track with coverage. When I get no donations for five or ten days I get worried. More tangibly, a constant trickle of donations helps me with expenses, and I factor in that trickle when setting fundraising goals:
Here is the screen that will appear, which I have helpfully annotated.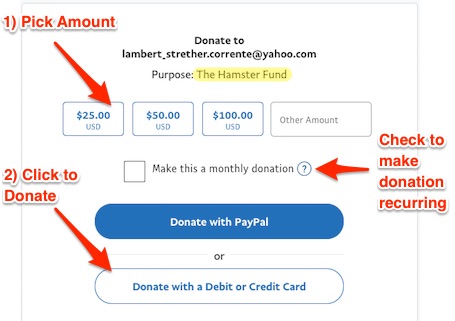 If you hate PayPal, you can email me at lambert [UNDERSCORE] strether [DOT] corrente [AT] yahoo [DOT] com, and I will give you directions on how to send a check. Thank you!