By Lambert Strether of Corrente
Trade
"Robert Lighthizer says Trump 'focused' on EU trade" [FInancial Times]. "Robert Lighthizer, the US trade representative, suggested the Trump administration was ready to escalate its trade confrontation with the EU, potentially through new tariffs, after sealing a truce with China and enacting the USMCA agreement with Canada and Mexico to replace Nafta. In an interview with the Fox Business Network on Tuesday, Mr Lighthizer said the US had a 'very unbalanced relationship' with Europe on trade, with an annual bilateral deficit of up to $180bn this year, which was unsustainable for Washington."
Politics
"But what is government itself, but the greatest of all reflections on human nature?" –James Madison, Federalist 51
"They had one weapon left and both knew it: treachery." –Frank Herbert, Dune
Here is a second counter for the Iowa Caucus, which is obviously just around the corner:
* * *
2020
Alert reader dk (not to be confused with DK) is in the process of developing the following interactive chart.

Nationally, we have new polls from Emerson and YouGov of 12/18/2019, 12:00 PM EST. Biden first, Sanders strong second, Warren drops, Buttigeig drops, Bloomberg up, though still flirting with the bottom feeders. The top four seem to be an established pattern (or, if you prefer, narrative). On to the next debate (December 19), and Iowa:

And the numbers

Here is a small-multiple represenation of all the candidates on tomorrow's debate stage:

Plus Bloomberg. Look at that slope!

CAVEAT I think we have to track the polls because so much of the horse-race coverage is generated by them; and at least with these charts we're insulating ourselves against getting excited about any one poll. That said, we should remember that the polling in 2016, as it turned out, was more about narrative than about sampling, and that this year is, if anything, even more so. In fact, one is entitled to ask, with the latest Buttigieg boomlet (bubble? (bezzle?)) which came first: The narrative, or the poll? One hears of push polling, to be sure, but not of collective push polling by herding pollsters. We should also worry about state polls with very small sample sizes and big gaps in coverage. And that's before we get to the issues with cellphones (as well as whether voters in very small, very early states game their answers). So we are indeed following a horse-race, but the horses don't stay in their lanes, some of the horses are not in it to win but to interfere with the others, the track is very muddy, and the mud has splattered our binoculars, such that it's very hard to see what's going on from the stands. Also, the track owners are crooked and the stewards are on the take. Everything's fine.

I think dk has started a really neat project, and in the near future we'll seek your feedback (within reason) for the tool "live."

* * *

Biden (D)(1): "Democrats are sleepwalking into a Biden disaster" [Ryan Cooper, The Week]. "The front-runner continues to be former Vice President Joe Biden, and there is little sign as yet that he is going to lose his lead, despite his fumbling campaign…. Some of Biden's support seems to come from the perception that, like Trump, he is somehow immune from the normal laws of politics. Several scandals and gaffes that would have ended a typical campaign dented his support not at all — which is to say his backers are creating a self-fulfilling prophesy that if they support him no matter what he does then he will continue to be supported… So far Biden has not drawn many attacks from the other candidates. They seem to accept the widely-held belief that his campaign will surely collapse from the inside at some point. But if that were true then it surely would have happened by now." • Yep. Imagine what Biden could do if he had any money (although Obama seems to have slipped in the shiv with his comment that women always make better leaders. We'll see if Biden bleeds out now).

Buttigieg (D)(1): "The insider: How national security mandarins groomed Pete Buttigieg and managed his future" [The Gray Zone (RH)]. "His Harvard social network has been a critical factor in his rise as well, with college buddies occupying key campaign roles as outside policy advisors and strategists. Among his closest friends from school is today the senior advisor of a specialized unit of the State Department focused on fomenting regime change abroad. That friend, Nathaniel "Nat" Myers, was Buttigieg's traveling partner on a trip to Somaliland, where the two buddies claimed to have been tourists in a July 2008 article they wrote for The New York Times. Their contribution to the paper was not any typical travelogue detailing a whimsical safari. Instead, they composed a slick editorial that echoed the Somaliland government's call for recognition from the US government." • Odd.

Buttigieg (D)(2): "Buttigieg omitted high-powered bundlers from disclosure" [Politico]. "In a statement, the Buttigieg campaign said it had made an error and would update its public list of campaign bundlers 'to include an accurate accounting.' The campaign said the error happened as it tallied the total amount of money the bundlers had raised. 'In creating this updated list, we went through to recalculate totals from the earlier list to make sure we were being accurate,' campaign spokesman Chris Meagher said in a statement. Some people who had been previously disclosed in a document to donors were 'inadvertently' not listed again in the disclosure Friday, Meagher continued." • So we're blaming the intern? I thought Buttigieg was supposed to be good with spreadsheets…..

Sanders (D)(1): "New Report From Bernie Sanders Details Declining Living Standards for Millennials" [Teen Vogue]. "'Our young people did what they were told: they got an education and worked hard. But instead of being rewarded, millennials are now being punished with crushing student debt and low-paying jobs,' said Sanders. 'It is about time we take a hard look at this research and stand up for our young people who dream of making it into the middle class. We must tell the economic elite who have hoarded income growth in America: No, you can no longer have it all.' 'In the richest country in the history of the world, we have an obligation to turn this around and make sure our kids live healthier and better lives than we do,' concluded Sanders." • Earned media. Can't beat it.

UPDATE Sanders (D)(2): "Exclusive: One-on-one interview with Bernie Sanders" [KESQ]. "Democratic presidential candidate Bernie Sanders spoke one-on-one with News Channel 3's Jake Ingrassia about campaign issues that affect the Coachella Valley. It's the only television interview Sanders gave during his one-day visit Monday… 'We intend to win California and to win California, we're going to have to campaign very, very hard,' Sanders said." • The Bernie Blackout doesn't apply to local news, it seems. And Sanders throws down the gauntlet!

Warren (D)(1):

I'm grateful to have the support of these Obama campaign alumni and my fellow Obama administration alumni. Their work changed what we know is possible in our politics. Together, we can win in 2020 and build a government that works for everyone. https://t.co/BPlavS9uSz

— Elizabeth Warren (@ewarren) December 18, 2019

Obama intervening through straws to do what he said he would do: Stop Sanders.

UPDATE Warren (D)(2): "Inside Elizabeth Warren's Push To Win Lee County" [Iowa Starting Line]. "The Warren campaign has made a name for itself as an organizing machine, putting in the long hours to try and 'outwork, out-organize and outlast' their Democratic competitors." • Interesting interview with a staffer. No numbers on calls or door-knocking.

Yang (D)(1): "Andrew Yang draws contrasts with rest of field on new health care plan" [ABC]. "Andrew Yang released his health care plan Monday morning, a proposal with elements of Medicare for All, but without the public option plan that even moderate candidates like former Vice President Joe Biden and South Bend, Indiana, Mayor Pete Buttigieg have committed to implementing. ' Yang said in outlining his plan, before adding, 'Swiftly reformatting 18% of our economy and eliminating private insurance for millions of Americans is not a realistic strategy, so we need to provide a new way forward on healthcare for all Americans.'" • Clear indeed!

* * *

UPDATE "Former Obama campaign manager advising $75 million anti-Trump digital campaign" [The Hill]. David Plouffe, late of Uber: "The New York Times reported Monday that Acronym, a group founded by Obama's 2008 campaign manager David Plouffe, will spend millions on digital advertising in Ohio, Florida and other swing states where Trump has already spent around $26 million in advertising. Plouffe characterized the general election in 2020 as a game of catch-up for a Democratic challenger, regardless of who wins the contentious primary. 'Our nominee is going to be broke, tired, have to pull together the party and turn around on a dime and run a completely different race for a completely different audience,' Plouffe told the Times in an interview." • Hmm. I'm not sure all the candidates would have to "run a completely different race for a completely different audience."
Impeachment
"Trump Approval Inches Up, While Support for Impeachment Dips" [Gallup]. "President Donald Trump's job approval rating has inched up again and is now at 45%. The president's ratings have increased six percentage points since the House of Representatives opened an impeachment inquiry against him in the fall…. Approval of the president's performance remains high among Republicans (89%) and low among Democrats (8%). Less than half of political independents approve, but the current 42% is up from 34% at the start of the impeachment hearings and matches their highest rating of Trump so far."

"Trump Faces Historic Rebuke as House Opens Impeachment Debate" [Bloomberg]. • I have never, literally never, heard "rebuke" used in another context than mainstream Beltway reporting. Is my experience unique?

"Wait — did liberals actually think they'd remove Trump from office?" [Matthew Walker, The Week]. "Liberals will be glad they did six months from now, when they find themselves in the exact same position they did four years ago: trying to prevent the guy who once got paid millions of dollars to pretend to fire Gary Busey on television from being duly elected president of the United States. They thought it would be easy in 2016. They should know better now." • Fun piece.

"Impeachment and the crack up of the conservative mind" [Politico]. "One consequence of the Trump years is that it has knocked conservatives off a high horse that they had been riding since the Reagan era. Ideas matter, they said triumphantly, drawing a contrast with the supposedly transactional, spoils-based nature of Democratic politicians and the interest groups they relied on. Another favorite: denunciations of moral relativism, a way of justifying any kind of selfish behavior, when in fact right and wrong are absolutes." • Trump does bring a wonderful clarity to any situation in which he becomes involved, the conservative weltanschauung included.This article is better than the headline, especially the discussion of "tribalism."

What is this, day care?

The evidence is overwhelmingly clear, to stand against the articles of impeachment is to simply support his inappropriate behavior. https://t.co/ShEVgCWKl2#Impeachment

— Our Revolution (@OurRevolution) December 18, 2019

"Inappropriate behavior." Like what? Knocking over a sippy cup? And signal boosting Slotkin, a CIA Democrat? Who's minding the store over there at OR? Somebody from CAP?
Our Famously Free Press
Cheeky:

Washington Post belatedly recognized my reporting on FISA abuses was accurate. https://t.co/UFsK8PYad0

— John Solomon (@jsolomonReports) December 17, 2019

I think the Times shouldn't have fired all those copy editors; they would have known irony when they saw it:

Has isn't running for office, Cenk is. And your network said he "invited former KKK leader David Duke for a segment about his anti-Semitic views" when he PUMMELED him for those anti Semitic views. Will @CNN retract like NYT did or keep the blatant falsehood? @ryanobles @merica pic.twitter.com/7KGr3Ds5sT

— Secular Talk (@KyleKulinski) December 17, 2019
Realignment and Legitimacy
"The Decade Political Comedy Stopped Being Funny" [Medium]. "As Donald Trump's presidential bid went from waggish long shot to terrifying sure thing, he upended the foundation on which political comedians relied: pointing out hidden injustices, the doublespeak of politicians, the hypocrisies of the powerful. Politics for the first part of the 21st century weren't obviously funny or explicitly loony, but comedians like Stewart saw the underlying truth: it was a farce, and the hubris of the people leading the country were materially damaging our lives. Stewart and his ilk were the court jesters, mocking the kings. But then Trump, an orange-skinned jester, became the king himself. Four year later, Saturday Night Live's political sketches are now extra stale, in part because they are structurally identical to what the show was doing before Trump — as far as SNL is concerned, nothing had really changed."
Stats Watch
Big Ag: "Food inspectors warn of 'mystery' pork under new meat inspection rules" [The Hill]. "Food Safety and Inspection Service (FSIS) inspectors Anthony Vallone and Jill Mauer told NBC News that they filed whistleblower disclosure forms with the Office of Special Counsel about their concerns with the reduction of the required number of federal inspectors at plants. 'The consumer's being duped,' Mauer said, adding that the meat may be more likely to contain feces, sex organs, toenails, bladders and unwanted hair."
Shipping: "[FedEx Corp.] cut its earnings targets for the fourth time this calendar year… after a grim second fiscal quarter that included declining revenue in its Express business, higher costs tied to delivering e-commerce packages to homes and a 40% drop in net earnings" [Wall Street Journal]. "[D]rastically thinner margins at the start of the holiday shipping season signals potentially bigger structural changes in the company's core markets. FedEx is still coping with the loss of a swath of business from Amazon.com Inc., and its domestic Express package revenue and volume both declined."
The Bezzle: "SoftBank Vision Fund Employees Depict a Culture of Recklessness" [Bloomberg]. "[T]he Vision Fund's problems don't stop with some bad bets. Current and former employees of the fund and SoftBank describe an environment of sycophancy toward Son, internecine political rivalries, harassment, compliance issues, and an abnormally high tolerance for risk—all wrapped in a casing of general weirdness." • Froth? Finally?
Tech: "We Tested Ring's Security. It's Awful" [Vice]. "Last week a wave of local media reports found hackers harassed people through Ring devices. In one case a hacker taunted a child in Mississippi, in another someone hurled racist insults at a Florida family. Motherboard found hackers have made dedicated software for more swiftly gaining access to Ring cameras by churning through previously compromised email addresses and passwords, and that some hackers were live-streaming the Ring abuse on their own so-called podcast dubbed 'NulledCast.'… Ring is not offering basic security precautions, such as double-checking whether someone logging in from an unknown IP address is the legitimate user, or providing a way to see how many users are currently logged in—entirely common security measures across a wealth of online services. ',' Daniel Cuthbert, who is on the committee for annual cybersecurity conference Black Hat, and who is also a Ring owner, told Motherboard." • At some point one has to wonder if a lack of security is good for Amazon's business model. But why?
Tech: "Idiotic security mistakes in smart conferencing gear allows hackers to spy on board rooms, steal presentations" [Boing Boing]. "Dten is a 'certified hardware provider' for Zoom, making smart screens and whiteboards for videoconferencing; a Forescout Research report reveals that Dten committed a string of idiotic security blunders in designing its products, exposing its customers to video and audio surveillance, as well as theft of presentations and whiteboard data. Among the mistakes Forescout identified:
Storing customer data in unsecured Amazon web buckets; all you needed to do to spy on a customer's stored data was to change the customer ID in the standard URL provided to each customer;
Not using SSL to encrypt data in transit, making it trivial to eavesdrop on conferences
Forescout identified five bugs in July. As of today, Dten has fixed three of them.
Manufacturing: "Boeing Co.'s decision to suspend production of the 737 MAX jetliner will land hard in aerospace supply chains. General Electric Co. will likely take a significant hit to its cash flow from the move… and it could affect the large network of suppliers enough to have a measurable impact on the manufacturing economy" [Wall Street Journal]. "The impact on GE highlights the high value and big stakes in a supply chain that is a fundamental piece of the U.S. factory economy." • Nice work, MBAs.
* * *
Today's Fear & Greed Index: 87 Extreme Greed (previous close: 85 Extreme Greed) [CNN]. One week ago: 61 (Greed). (0 is Extreme Fear; 100 is Extreme Greed). Last updated Dec 18 at 12:10pm.
The Biosphere
"Shift in Earth's magnetic north throws navigators off course" [Financial Times]. "Navigators have relied upon it for centuries. More recently it has become an essential aid in everything from smartphone apps to aviation and shipping. The magnetic north pole is the peripatetic point on the Earth's surface where its magnetic field, created by molten iron churning deep within the planet's core, points directly downwards. But the latest calculations reveal how magnetic north is shifting position at a rate that is unprecedented in recorded history, racing across the Arctic region at 50 kilometres a year and showing little sign of slowing down…. The updated model also confirmed that the Earth's magnetic field is weakening by about 5 per cent every century. If this continues, the field could reverse, ushering in an era of magnetic chaos as the north pole flips south and vice versa. Geological records show this has happened before, most recently 780,000 years ago."
"Icebound: The climate-change secrets of 19th century ship's logs" [Reuters]. "An eccentric group of citizen-scientists called Old Weather has transcribed millions of observations from long-forgotten logbooks of ships, many from the great era of Arctic exploration. As the polar regions grow ever warmer, the volunteers have amassed a rich repository of climate data in a 21st century rescue mission." • There should be much, much more citizen science. A Jobs Guarantee would be ideal as a funding source.
"History's Greatest Sea Is Dying" [The Atlantic]. "The Med is warming at one of the fastest paces in the world (up to 0.12 degrees Celsius, or 0.216 Fahrenheit a year, on the surface), and it is choked with plastic. Though the Mediterranean constitutes less than 1 percent of the world's oceans, it holds 7 percent of its microplastics. The coastal states continue to sully the sea with tons of everything from shipping oil to untreated sewage, meaning there's scarcely an untarnished ecosystem left. (It's a similar story on land: Naval bases sit alongside garbage-strewn beaches and coastal dump sites—relatively high military budgets juxtaposed with penniless environment ministries.) …. But there might be an even more important subtext to the eastern Med's decline. For millennia, those who lived near it thrived off one another, always trading and frequently cooperating from coast to coast, creating some of the greatest civilizations in world history. Yet that was long ago, and the region's intellectual slump mirrors its environmental decay. Stifled by unilateralism, greed, and chronic short-termism, antiquity's greatest sea resembles the contemporary world in miniature—and with this year's United Nations climate talks having concluded in Madrid with little tangible progress, the lessons the eastern Med offers are not particularly hopeful."
"Climate Change Is Fueling a Farming Boom in Alaska" [In These Times]. "From 2012 to 2017, the number of farms increased by 30% while total U.S. farms dropped by more than 3%, according to data from the U.S. Department of Agriculture's 2017 Census of Agriculture. Alaska's growth is largely in small farms of 1 to 9 acres—up 73% those same years. The value of farm goods sold directly to consumers doubled from $2.2 million to $4.4 million in that time—still less than almost any other state, but growing fast. Like much of the country, Alaska is gripped by a local-food movement with a range of benefits, including economic opportunities for immigrants and newly settled refugees. Many of the new arrivals were smallscale farmers in their home countries, Bachman says. But there is a special force behind Alaska's farming boomlet: climate change. Alaska is warming twice as fast as the global rate, and changes in the state are accelerating."
"Life and soil on planet Earth Environment documentary" [Deutsche Welle (AM)].
Health Care
"Insurance Company Annoyed Customer Doesn't Realize They Were Just Being Polite When They Said They'd Cover Healthcare Bills" [The Onion (RH)]. "[C]ase manager Raymond Carberry … expressed frustration when a customer stepped completely outside the bounds of a normal, courteous interaction with her submission of a claim form for a broken arm. 'Every non-crazy person knows how this works, they're just supposed to pay us a premium and then move on. What kind of weirdo actually asks for money? It's deranged.'"
Games
"In the virtual world of Fallout 76, Gun Runners are making thousands in real-world cash" [Eurogamer (Basil Pesto)]. "One source told me he estimates 90 per cent of Fallout 76's wealth is held by less than one per cent of the player base: a small group of glitchers, dupers and traders who all know each other and share secrets."
Xmas Pre-Mortem
Foodways:
Once more unto the breach, dear friends pic.twitter.com/9WuEOtm5L3

— 70s Dinner Party (@70s_party) December 12, 2019
New Year's Pre-Mortem
Alert reader DJG throws the following over the transom:
Ten words to throw in the trash now

Make those new year's resolutions! Plus a bonus term!

1. "Regime" and its derivative "regime change." [Wow, you know so much about geopolitics.]

2. "Fierce." [Oh, please.]

3. "Personal savior." [Anyone can mangle a biblical verse. Can we all stop singing "Amazing Grace" now?]

4. "Emoluments." [So you finally decided to read the Constitution of the United States? I'm so impressed. Did you get all the way to the Bill of Rights? See number 10.]

5. "Go paperless." [So that you can lose my records.]

6. "Free market." [The oldest joke in the book. Even the Code of Hammurabi had to regulate markets, because of the cheating.]

7. "Putin." [Baby, baby, your knowledge of geopolitics gives me such a charge. By the way, who is the president of Brazil?]

8. "Cis-" [Another geographic term. Is this the year of geography? I suspect that "cis-" doesn't explain what you think you are explaining.]

9. "Whataboutism." [Because your fan club couldn't possibly be riddled with corruption and immorality, too.]

10. "Foreign interference in elections." [Actually uttered in a country where people cannot be bothered to protect the right to vote of black Americans.]

And eleven: "Intelligence community." [Barely contained laughter.]
12. "Our democracy" ["Ours?"]
Class Warfare
"Beneath Las Vegas' Glittering Strip, Homeless People Live In Storm Tunnels" [HuffPo]. "Donovan has been taking shelter in the concrete flood channels and tunnels that run directly under the Las Vegas Strip for the past two years. These dark passageways are part of a huge drainage network designed to protect the glittering casino district and its sprawling suburbs from flash flooding. And Donovan's not alone down there. It's estimated that nearly 300 homeless people live in these tunnels. Although the figure represents just a fraction of the thousands living on the streets of Las Vegas, the tunnel dwellers are among the most difficult to reach for the social workers, who work below ground by flashlight to offer everything from clean socks and sandwiches to a chance at substance abuse treatment. Those living here choose to go underground for a variety of reasons, authorities say, but many suffer from substance abuse ― including heroin, crack and meth ― alcoholism and mental illness. The conditions they endure are extreme. A heavy rainstorm can send millions of gallons of water rushing at up to 30 miles an hour through the concrete drainages. The last three flood-related drowning deaths in the city involved homeless people in the tunnels."
"Jimmy Hoffa Is At The Bottom Of A Pit In New Jersey" [The American Conservative]. "For Moldea, the life and times of Jimmy Hoffa is a personal obsession, as the Hoffa saga is a kind of undercarriage of American history—ugly, oily, and strange, but essential. For Hoffa led a union, the International Brotherhood of Teamsters, that was, at its worst, the most corrupt and criminally compromised (or "mobbed up," as it was said) labor organization in the country. But it was also a lifeline that delivered the American dream to tens of thousands of truckers. All of those houses in Akron, Toledo, Youngstown, and Detroit, the homes of the rank-and-file, also housed men (and the Teamsters, then mostly men) who, because of their union, could put food on the table. And more: by the 1970s, the homes of unionized steelworkers, tire workers, autoworkers, electricians, plumbers, carpenters, and truckers in Akron, Toledo, Youngstown, Cleveland, Detroit, and Gary had new cars parked out front, vacation cottages in Michigan or Wisconsin, health insurance that worked, promises of pensions, and a good shot at sending their sons or daughters to the state university. In the 1980s, conservative Reaganites nosed it around that the unions were ruining the country and were violent to boot. But those unions had successfully delivered what politicians couldn't: a decent living wage and hope for the future. Violence? 'Truckers didn't get what they have by just asking for it,' Bill Hill once explained to me. Sadly, the thing that eventually brought down FASH, and put Bill Hill out of business, was not the collapse of the trucking industry, but the collapse of America's industrial heartland."
News of the Wired
"Consciousness is real" [Aeon]. "The 'illusionists', by contrast, take the scientific route, accepting physicalism (or materialism, or some other similar 'ism'), meaning that they think – with modern science – not only that everything is made of the same basic kind of stuff, but that there are no special barriers separating physical from mental phenomena. However, since these people agree with the dualists that phenomenal consciousness seems to be spooky, the only option open to them seems to be that of denying the existence of whatever appears not to be physical. Hence the notion that phenomenal consciousness is a kind of illusion…. Computer icons, cursors and so forth are not illusions, they are causally efficacious representations of underlying machine-language processes. … Or take a more mundane example. Would you call the wheel of your car an illusion? … Similarly with phenomenal consciousness. The 'what is it like' feelings and thoughts that we have are high-level representations of the (entirely different in nature) underlying neural mechanisms that make it possible for us to perceive, react to, and navigate the world. Instead of more or less clever programmers, we have to thank billions of years of evolution by entirely mindless natural selection for these causally efficacious representations. To call them illusions is to derail our thinking along unproductive tracks." • As usual, I find Aeon (and Quanta) almost impossible to excerpt but this is a very interesting piece.
"The Siren Sound of the Clash's 'London Calling,' 40 Years Later" [The Ringer]. "Here, in both sonic and thematic terms, we see punk rock stretched from its minimalist, street-fighting-man ethos into something wholly unexpected. Strummer and the Clash became bon vivants, historians, and traveling evangelists for human decency. If Anthony Bourdain's unofficial philosophy of radical empathy through cultural understanding has any direct antecedent, it is the Clash in the years of London Calling and its 1980 follow-up, Sandinista!" • Hmm.
* * *
Readers, feel free to contact me at lambert [UNDERSCORE] strether [DOT] corrente [AT] yahoo [DOT] com, with (a) links, and even better (b) sources I should curate regularly, (c) how to send me a check if you are allergic to PayPal, and (d) to find out how to send me images of plants. Vegetables are fine! Fungi and coral are deemed to be honorary plants! If you want your handle to appear as a credit, please place it at the start of your mail in parentheses: (thus). Otherwise, I will anonymize by using your initials. See the previous Water Cooler (with plant) here. Today's plant (AM):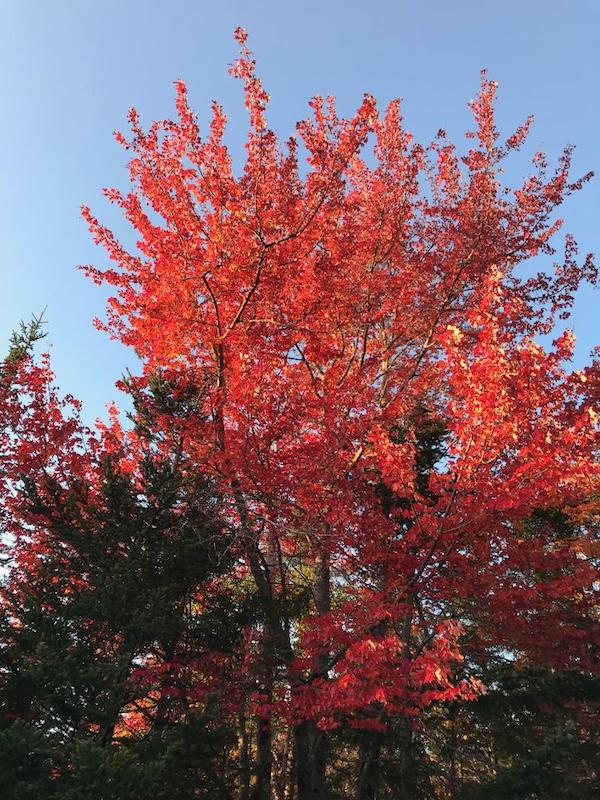 AM: "Maple tree from the Parkman Mountain carriage road in Acadia National Park." Even though the snow is flying now, it's still beautiful.
* * *
Readers: Water Cooler is a standalone entity not covered by the annual NC fundraiser. So if you see a link you especially like, or an item you wouldn't see anywhere else, please do not hesitate to express your appreciation in tangible form. Remember, a tip jar is for tipping! Regular positive feedback both makes me feel good and lets me know I'm on the right track with coverage. When I get no donations for five or ten days I get worried. More tangibly, a constant trickle of donations helps me with expenses, and I factor in that trickle when setting fundraising goals:
Here is the screen that will appear, which I have helpfully annotated.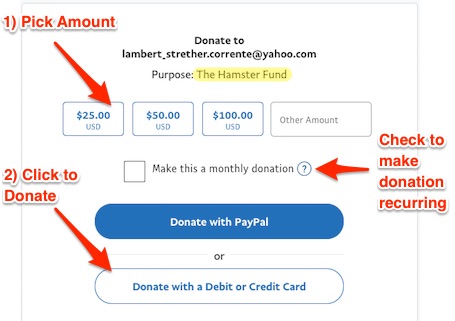 If you hate PayPal, you can email me at lambert [UNDERSCORE] strether [DOT] corrente [AT] yahoo [DOT] com, and I will give you directions on how to send a check. Thank you!