By Lambert Strether of Corrente.
Patient readers, lots of political events over the weekend, but my connection was tooth-grindingly slow, and so I'll have a bit more shortly. –lambert UPDATE All done!
Politics
"But what is government itself, but the greatest of all reflections on human nature?" –James Madison, Federalist 51
"They had one weapon left and both knew it: treachery." –Frank Herbert, Dune
Here is a second counter for the Iowa Caucus, which is obviously just around the corner:
* * *
2020
Alert reader dk (not to be confused with DK) is in the process of developing the following interactive chart.

Nationally, we have a new poll from IBD/TIPP as of 12/16/2019, 12:00 PM EST. Biden leads, Sanders strong second, Warren three points back, Buttigeig trailing (Bloomberg flirting with the bottom feeders). This seems to be an established pattern (or, if you prefer, narrative). On to the next debate (December 19), and Iowa:

And the numbers

The Biden juggernaut rolls on! Since the press seems to be puffing Klobuchar I thought I'd add her. Hilariously or ominously, she and Bloomberg are tied.

As a lagniappe, here is a HuffPo survey on enthusiasm v. upset, and electability (dk):

We've also got new numbers on:
-Perceived electability
-Whom voters would be enthusiastic about/upset to see nominated
-Overall feelings about the Dem fieldhttps://t.co/RsC62PJQ7c pic.twitter.com/5pOXdP364W

— Ariel Edwards-Levy (@aedwardslevy) December 13, 2019

Bloomberg is upset: 12% enthusiastic if he is the nominee; 27% upset.

CAVEAT I think we have to track the polls because so much of the horse-race coverage is generated by them; and at least with these charts we're insulating ourselves against getting excited about any one poll. That said, we should remember that the polling in 2016, as it turned out, was more about narrative than about sampling, and that this year is, if anything, even more so. In fact, one is entitled to ask, with the latest Buttigieg boomlet (bubble? (bezzle?)) which came first: The narrative, or the poll? One hears of push polling, to be sure, but not of collective push polling by herding pollsters. We should also worry about state polls with very small sample sizes and big gaps in coverage. And that's before we get to the issues with cellphones (as well as whether voters in very small, very early states game their answers). So we are indeed following a horse-race, but the horses don't stay in their lanes, some of the horses are not in it to win but to interfere with the others, the track is very muddy, and the mud has splattered our binoculars, such that it's very hard to see what's going on from the stands. Also, the track owners are crooked and the stewards are on the take. Everything's fine.

I think dk has started a really neat project, and in the near future we'll seek your feedback (within reason) for the tool "live."

* * *

Bloomberg (D)(1): "Bloomberg's bottomless wallet funds hiring frenzy" [Politico]. "Mike Bloomberg is making up for lost time — just two weeks after his late entry into the Democratic presidential primary, the former New York City mayor has hired more than 300 people so far to work on his campaign…. His headquarters on Manhattan's tony Upper East Side employs more than 200 people, including familiar faces from his days in City Hall. Former deputy mayors Kevin Sheekey and Patti Harris are his campaign manager and chair, respectively. Among his recent hires is Jeff Glueck, CEO of Foursquare, a mobile app that allows users to virtually check into bars and restaurants. Glueck, who cut his teeth in Silicon Valley, will work as director of digital research & engagement, according to a release from Bloomberg's team."

UPDATE Bloomberg (D)(2): "Bloomberg opens NC HQ on Sunday, promises to send Trump 'back to Mother Russia'" [Charlotte Observer]. "The former New York mayor drew nearly 200 people to the opening on North Tryon Street. The crowd included U.S. Rep. Alma Adams as well as as state lawmakers, members of Charlotte's city council and Columbia Mayor Steve Benjamin, a national co-chair of the presidential campaign. Bloomberg was welcomed by council member James Mitchell, his North Carolina campaign director, and Charlotte Mayor Vi Lyles. The former mayor was in Charlotte a year ago to announce the city a winner of his American Cities Climate Challenge, a designation that has brought the city more than $2 million. 'I am a better mayor because of Mike Bloomberg,' Lyles told the packed crowd. 'We're a better city because of Mike Bloomberg. And I think this country can be a better country because of Mike Bloomberg.'"

Buttigieg (D)(1): Then:

Gosh! Okay… I, Pete Buttigieg, politician, do henceforth and forthwith declare, most affirmatively and indubitably, unto the ages, that I do favor Medicare for All, as I do favor any measure that would help get all Americans covered. Now if you'll excuse me, potholes await.

— Pete Buttigieg (@PeteButtigieg) February 19, 2018

Buttigieg (D)(2): Now:

Buttigieg: "I trust you to figure out your own health care."

— David Smith (@SmithInAmerica) December 13, 2019

Gosh. Lot of dunking on this one. A thread:

I'm a lawyer, my wife's a doctor. We got a $10k bill from the hospital she worked for because they said we didn't get our newborn, born in that same hospital, signed up on health insurance fast enough. For the hospital stay. Where she was born. Took me months to fight that. https://t.co/xNXFyNQEBD

— Chip Stewart (@MediaLawProf) December 15, 2019

Buttigieg (D)(3): "Pete Buttigieg Was Part of McKinsey Team That Pushed Postal Service Privatization" [HuffPo]. "The United States Postal Service has been reporting billion-dollar losses annually for more than a decade. In 2010, the agency hired private consultants who advised it to cut back operation days, increase mail delivery times, automate postal services and replace unionized labor with non-unionized labor. Pete Buttigieg was on that team of consultants as an employee with McKinsey & Company."

Buttigieg (D)(4): "Buttigieg's Bundlers Include Blackstone Vice Chair, Tech Chiefs" [Bloomberg]. "The disclosure of the names of the so-called bundlers — supporters who collect campaign contributions from multiple donors — comes in response to rival Elizabeth Warren, who has criticized Buttigieg for what she says is a lack of transparency." And–

"During a campaign event, a student activist asked @PeteButtigieg whether taking big money out of politics includes 'not taking money off of billionaires and closed-door fundraisers' in a clip that went viral on social media. 'No,' #Buttigieg responded before walking away." https://t.co/ohoo9IUtKN

— Alexandra Halaby (@iskandrah) December 15, 2019

Buttigieg (D)(5): "Mainstream media sees a puzzling obstacle to Pete Buttigieg's rise: The voters" [Salon (RH)]. • Pesky voters! This is an old-fashioned media critique, and it delivers quite a beating.

Klobuchar (D)(1): "Amy Klobuchar Stakes Her 2020 Candidacy on a Narrow Path in Iowa" [Bloomberg]. "Since mid-October Klobuchar's support in Iowa has more than tripled to 6.5% from 2%, though she still is far behind Pete Buttigieg, who leads with 22.5%, or Bernie Sanders, Elizabeth Warren and Joe Biden, whose support is between 16% and 19%, according to the RealClearPolitics average of polls. Possibly in her favor is that Iowans are known for being late deciders, many voters making up their minds only weeks before the caucuses. A November poll from the Des Moines Register and CNN found that more than two-thirds of Iowans could be persuaded to change their vote or had no first-choice candidate. Klobuchar, 59, is building her candidacy on a record of bipartisanship in her three terms in the Senate and presents herself as a moderate who can win over Midwestern blue-collar voters who voted for Donald Trump in 2016. She won re-election in 2018 with 60% of the vote in a state that only very narrowly went for Hillary Clinton two years earlier."

Sanders (D)(1):

Last night in Nashua, NH @berniesanders talked about his critics of Medicare for All. He mentioned three groups:
1. Trump and Republicans
2. The health care industry
3. Establishment Democrats
Listen for which group got the loudest boo from the crowd pic.twitter.com/TdI5tTDbr1

— Annie Grayer (@AnnieGrayerCNN) December 14, 2019

Sanders (D)(2):

Mayo Clinic executives have decided to strip away access to health care from tens of thousands of rural Midwesterners—putting profits over people. Under Medicare for All we will end the corporate greed in health care that is leaving rural Americans behind.https://t.co/0niOP7A5TI

— Bernie Sanders (@BernieSanders) December 13, 2019

Sanders (D)(3): Trial balloon:

Campaign reporters, please ask Bernie when you get the chance about his apparent tolerance for the occasionally anti-Semitic indulgences of his surrogates and campaign staff. It's important. https://t.co/16NZKlBLC3

— Noah Rothman (@NoahCRothman) December 13, 2019

Sanders (D)(4): "How Bernie Sanders's Endorsement Of An Ally Blew Up In His Face" [HuffPo]. "When Bernie Sanders endorsed Cenk Uygur's congressional bid in Southern California on Thursday, it was not altogether surprising. Uygur, a founder of the left-wing Young Turks network and outspoken critic of campaign finance corruption, is one of Sanders's loudest and most prominent supporters in the media. But the backlash, particularly among the Vermont senator's allies on the left, was swift and overwhelming, triggered in part by Uygur's history of sexist and otherwise offensive comments. By Friday, Uygur claimed he was no longer taking endorsements, and Sanders withdrew his blessing. The net result was a negative two-day news cycle for a Democratic presidential hopeful who often lambastes media outlets for ignoring his candidacy. The campaign looked amateurish and had alienated some of its closest supporters in the process." • Sanders is ordinarily very chary in his endorsements (see, e.g., Tim Canova). So I'm not sure what went wrong here.

UPDATE Sanders (D)(5): "You Don't Know Bernie." [Buzzfeed News]. Really interesting detail on the Sanders media operation: "The visit continues like this. 'Show them,' [Sanders] keeps saying. 'Show them.' He speaks only to ask questions, prompting Pamela to 'explain' this or that, pointing her to an unseen audience on the other end of his camera lens. It's like he's directing his own video — except the video isn't about him or his campaign or his policy agenda. He is, it seems, somewhere offscreen, an omniscient narrator, felt maybe, but not seen or heard. This is not a public event. There is no crowd. There is no podium, no speech. Mostly, there is silence. The leader of the political revolution — a man who has spent 50 years of his life trying to talk about his ideas — is not saying much at all…. 'Who wants to share their story?' he'll say. 'Don't be embarrassed. Millions of people are in your boat.'" • Extremely interesting, and in great contrast to Warren's selfie line.

Trump (R)(1): "What if Trump Weren't Nuts?" [Politico]. "Trump's ideas on trade — as reflected in this week's deal on a new North American trade agreement — show how he has routed a free-trade orthodoxy that was once embraced by business-minded elites in both parties. Likewise, his view that the United States should recognize China as a long-term adversary on economics and projection of global power is ascendant in both parties. So, too, is his view on the need to extract the nation from "endless wars." So, too, are his tolerant views on Big Government spending and his blithe rejection of old notions of fiscal restraint and discipline. His ideas on immigration, by contrast, are deeply polarizing, but even there he has drawn support from many working-class voters who used to be instinctual Democrats. A Quinnipiac University poll this week found that 57 percent of voters say they are "better off" financially since Trump became president — an obvious reelection asset." • A welcome dose of sanity. As I keep saying, Trump will be a formidable opponent. A second article with the same message–

UPDATE Trump (R)(2): "Why Trump's path to reelection is totally plausible" [Poltico]. " There is a path to reelection for a president who never cracks 50 percent approval in polls that is entirely plausible. It's not because the normal dynamics of politics do not apply to Trump, but because they do… Trump strategists differ modestly on some details or use different language to say the same thing, but all describe a plan that rests on three pillars":

— Narrative: First, the campaign intends to repackage Trump, albeit within the narrow limits possible for a politician whose public image is already indelibly cast. The message: Sure, Trump is wild, but a disruptive character is precisely what's needed to disrupt a failed status quo and force change. Second, the campaign will use its overwhelming financial advantage to repackage — i.e., viciously demolish — the public image of whoever becomes the Democratic nominee.

— Turnout: Trump aides assert they can outperform their polls in key states by 2 percentage points or more on the strength of a voter ID-mobilization-and-turnout operation that likely will be vastly better organized and staffed than what Democrats will be able to muster…. Trump's team points to public polls that show he is competitive with prospective Democrats in the small number of states that will be essential to either side if the Electoral College landscape remains mostly as it was in 2016.

— Minority voters: … Trump will use highly targeted advertising in key states combined with the presidential podium to tout how the robust economy has helped African Americans. If the notion provokes eye rolls — how does someone despised by Democrats more than any president in generations expect to cut into Democrats' most loyal constituency? — recall that this strategy does not need to work a lot to be pivotal at the margins.

UPDATE Warren (D)(1): "Elizabeth Warren's message for final sprint before Iowa: 'I believe in markets'" [Yahoo Finance]. "'I believe in markets,' Warren said without naming the Vermont senator who identifies as a Democratic Socialist. 'I'm proud of what American businesses can create and I want them to thrive.' She was a bit more direct when she pushed back against those who choose to label her a socialist. Noting that her plans will 'save people money and spur economic growth and innovation, but every time I talk about them, there's somebody who wants to call me a socialist or a radical.' She went on to note that Franklin Roosevelt and Barack Obama — two popular Democrats — faced similar attacks." • "Two popular Democrats."

Warren (D)(2): "Rapinoe kicks 2020 into gear with endorsement of Democrat Warren" [Reuters]. "Rapinoe, who won the World Cup Golden Boot and Golden Ball, as well as the Ballon d'Or, claimed Sports Illustrated's Sportsperson of the Year prize on Monday, where she told Reuters she was enthusiastic about hitting the campaign trail in 2020. 'Get me on the bus, get me on one of those planes,' Rapinoe said. 'I want to rile people up! Something about me is motivating people to do something, or people are interested. 'If I've got to knock on doors to get people to vote, I'm down.' Rapinoe will next take to the field with her U.S. team mates in the 2020 Olympic qualifiers starting in January."

* * *

IA: "Iowa Democrats worry 'Medicare for All' hurts key industry" [Associated Press]. "Nearly 17,000 Iowans are either directly employed by health insurance companies or employed in related jobs, according to data collected by America's Health Insurance Plans, an industry advocacy group. Des Moines, the seat of the state's most Democratic county, is known as one of America's insurance capitals partly because of the high number of health insurance companies and jobs in the metro area. Wellmark Blue Cross Blue Shield's health insurance headquarters employs roughly 1,700 in the metro area, and that's just one of the 16 health insurance companies domiciled in Iowa, according to the Iowa Insurance Division. For many Iowans, the Medicare for All debate is personal, and the prospect of losing a job could influence whom they support in the Feb. 3 caucuses."

California voters, pay attention:

Everyone check your voter registration. I just received this in the mail today. I have been a registered Dem my entire life. I have been voting by mail for 5 yrs. This is due by Dec 20th. Look at the difference in the dates 4 Dems & GOP also look at the difference in the wording. pic.twitter.com/8dL3bFGxEI

— maygin mcewen ?? ♈ ?️‍?⛤♂☠?☯️ (@mayginmcewen) December 14, 2019

What the tweet does not mention is that the tricky "American Independent Party" is a honeypot for voters who want to be "Independents" (AFAIK, "No Party Preference") and who will "accidentally" get deked into signing up for the AIP, an actual (albeit a straw) party.
Health Care
"Choice" is a health insurance talking point. Thread (dk):

Lately I've noticed some Democratic politicians defending the current healthcare system by saying it preserves "choice" for Americans. As a former health insurance exec who helped draft this talking point, I need to come clean on its back story, and why it's wrong and a trap 1/11

— Wendell Potter (@wendellpotter) December 16, 2019

Candidates using the "choice" talking point are doing P4AHCF's work against #MedicareForAll. The real choices here are being made because P4ACHF controls a gusher of campaign cash and has an army of lobbyists.

"Why a Medicare for All public option won't work" [Charlotte Observer]. "Abraham Lincoln didn't end slavery incrementally, nor did we incrementally become a nation or defeat Hitler. Some things require bold action to help the most people. Medicare for All is one of those things. There are two fundamental reasons that a public option cannot work. The big, solvable issue in our healthcare system is the 30 percent of every healthcare dollar that is squandered on administrative overhead… A public option cannot save that $500 billion, nor can it reduce healthcare costs. It will only add one more choice of insurance provider to the current complex mix…. The other fatal flaw in a public option is that it will likely become the insurer of last resort to the sickest and oldest among us. The insurance playing field will be anything but level. As deficient as they are, for-profit insurers will cleverly market themselves to the young and healthy, leaving those who use more healthcare to the public option. Its costs will balloon, dooming it to fail, to the delight of for-profit companies."
Impeachment
"Freshman Democrats want Justin Amash as impeachment manager: report" [New York Post]. "Many of the Democrats believe Amash would be able to speak more effectively to conservative voters on the fence about impeachment and could fight GOP claims that the party is seeking a partisan impeachment process, several Democratic Party officials told the newspaper. Democrats reportedly believe the staunch libertarian would be able to reach independent and centrist Republican voters with whom the party would otherwise struggle." • Cool, cool. Elevating a young, charistmatic libertarian Republican in an election year. What could go wrong?

"Jeff Van Drew's party switch is a godsend for Donald Trump" [CNN]. "Van Drew was one of only two Democrats to vote against formalizing an impeachment inquiry into Trump and, as recently as last week, made clear he planned to vote against the articles of impeachment. His planned party switch (which led to the resignation of many of his staffers) seems entirely driven by his feeling on impeachment as, on other issues, he is a moderate Democrat. He even endorsed New Jersey Sen. Cory Booker in the 2020 presidential race! The image of Van Drew, then, being driven from his party because of impeachment plays directly into Trump's hands." • Lol, I guess the DCCC shouldn't have given that Blue Dog so much money.
Realignment and Legitimacy
"What the U.S. Left Can Learn From the Labour Party's Epic Loss" [In These Times]. "There are three key areas where learning will be essential, and contested: Staving off character assassination… Maintaining the coalition…. Spin, not socialism. The issue was that, in the end, it didn't really matter. The raft of policies that the Labour Party ushered into its manifesto—the stuff of a progressive wonk's dreams, and the hard work of so many brilliant and creative young policy thinkers in the UK—simply did not bring people to the polls in their favor. Simply put, socialism was not too strong an ideology, but too weak an electoral strategy."

UPDATE Get out of Starbucks:

Brakelight clinics changed my life. They've given me hope. I've spent two years having conversations with people I just met where we bond immediately by understanding that the law itselft is unjust, and that together we can change that. Start one if you see this. I'll help you. https://t.co/kVSsfxphCB

— Babejamin (@benjaminhoffazz) December 16, 2019

* * *

Again, the only unique selling proposition I can think of for voting machines is that they emable election theft; a pitch with bipartisan appeal:

The fact that @accgov describes these 100% unverifiable touchscreen BMD voting systems as "paper-based" is obscene and an insult to every one of its voters. They think you are stupid, apparently. But this comes from the top via @GaSecofState who believes same. https://t.co/vrJ31f1Jrc

— Brad Friedman (@TheBradBlog) December 14, 2019
Stats Watchd
UPDATE Manufacturing: "New York Fed's Factory Outlook Index Jumps to Five-Month High" [Bloomberg]. "The Federal Reserve Bank of New York's survey measure of general business conditions in the next six months jumped 10.4 points in December to a five-month high of 29.8, according to a report Monday. The bank's gauge of the orders outlook advanced 11.4 points to 35.6, the strongest since February. The U.S.-China tariff war has been blamed for holding back business investment, and now that could be changing. The Fed survey showed the outlook for capital expenditures climbed, while expectations for technology spending matched the highest since 2011. Factory manager outlooks for sales, unfilled orders and delivery times rose. Even with the bump in optimism, manufacturers have yet to see much of a change in sluggish demand. The New York Fed's headline measure of current general business conditions crept up to 3.5 in December from 2.9 as orders grew at a slower pace."
Manufacturing: "Boeing is reportedly on the brink of stopping 737 Max production while it waits for the troubled plane to return to the sky" [Business Insider]. "Boeing is reportedly considering halting or cutting down production of the grounded 737 Max aircraft after it failed to get approval last week for the plane's return to service from the Federal Aviation Administration before the end of the year.
The Bezzle: "The Away Luggage Saga Shows Venture Capital Needs a Reality Check" [Marker]. "It has long been known that the short time horizon of the VC model stifles true innovation. While a new luggage or CBD brand can (and regularly does, per the Verge's article) speed up their growth to meet exits, startups working with A.I., blockchain, or biotechnology require longer implementation horizons. They are unlikely to have a breakthrough within the timelines enforced by VCs. Couple this with a decrease in federal funding of science over the last 40 years, and it's clear that we need a new model of investment…. But the VC industry needs a reality check beyond reckoning with the pace of scientific advancements. As Uber, Tesla, Deciem, WeWork, and now Away and Equinox show, VC-fueled startups aren't held to the same business and operational standards as their publicly traded counterparts…. VCs rarely seem to think about how ideas they fund fit within the existing social and economic infrastructures. 'There is nothing innovating about underpaying someone for their labor and basing an entire business model on misclassifying workers,' California State Senator Maria Durazo said of Uber." • Yep.
* * *
Today's Fear & Greed Index: 81 Greed (previous close: 75 Greed) [CNN]. One week ago: 68 (Greed). (0 is Extreme Fear; 100 is Extreme Greed). Last updated Dec 16 at 12:39pm. Mr. Market delivers his verdict on impeachment?
Rapture Index: Closes up one on volcanoes. "Several volcanoes have erupted in the past week" [Rapture Ready]. Record High, October 10, 2016: 189. Current: 182. Remember that bringing on the rapture is a good thing. I would expect the Rapture Index to jump if evangelicals thought impeachment was likely to hurt Trump. So it looks to me like this index is delivering a verdict on impeachment as well.
The Biosphere
"Preservation or development? Brazil's Amazon at a crossroads" [Associated Press]. "Brazil's President Jair Bolsonaro, a former Army captain, won last year's election with support from farmers, truckers and miners by resurrecting the dictatorship-era desire to develop the world's largest tropical rainforest. But he did so at a different stage of human history, one where scientists recognize the Amazon must remain to suck carbon from the air and help arrest climate change. Some also argue the Amazon, which has lost some 20% of its original forest, is nearing an irreversible tipping point. In that sense, Brazil itself is at a crossroads." • This is really good, about a highway through Amazonia.
"Is the tide turning in favor of a Blue New Deal?" [Grist]. "The clearest sign that ocean research is starting to impact policy discussions is Democratic presidential candidate Elizabeth Warren's new ocean policy proposal. At CNN's climate town hall in September, a shellfish fisherman asked Warren whether she'd support a "Blue New Deal," a climate action agenda for the world's oceans. "I like that!" Warren replied. Three months later, on Tuesday, she released a proposal by that very name. It's the first policy plan in the 2020 presidential field to focus explicitly on the role government can play in both reducing the impacts of climate change on oceans and using oceans as a tool to fight the crisis. (Warren's plan was influenced by 2018 Grist 50 member Ayana Johnson.)" • Good for Warren. This speaks well of her.
"It's a Vast, Invisible Climate Menace. We Made It Visible." [New York Times] • Photos of methane emissions in Texas. Impressive.
Games
"Mutazione review – warm-hearted gardening in a neglected world" [Eurogamer (AC)]. "It's an exploration game as you learn to find your way around an island where a now-distant catastrophe has given life to a new culture, where bars and archives and boat yards are pulled together out of leaning chimneys and stoved-in roofs, where weird nature is on the march again. And yes! It's a gardening game – a gardening game! – as you plant seeds and learn how to grow different types of shrub and lichen and tree and grass, each one reaching up to form the kind of dreamily abstracted, almost childish shapes beloved of Clarice Cliff and her Bizarre Ware." • And a second review–
"Mutazione's gardening reminds me that when video games give me order, I want chaos" [Eurogamer]. "It doesn't seem like a huge act of player freedom to let them grow a garden willy-nilly, but I enjoyed it so much because I simply couldn't go wrong." • That has been my experience with gardening in RL. I like being in a situation where even bad decisions can bring good results. Plants are smarter than I am!
Xmas Pre-Mortem
Several words of the day, including philoxeny:
Who needs a pre-Christmas thread of nothing but nice, positive words? Y'know, apart from everyone? pic.twitter.com/BAPznB89hM

— Haggard Hawks ?? (@HaggardHawks) December 13, 2019
On the new movie version of Little Women:
you guyz, i just don't know if i can force myself to go see this movie, even with all the stupendous reviews it's getting. the march family is *poor*. the tallest one has short hair bcz she had to sell it. look at that silky arm of emma. look at the lovely decorations. pic.twitter.com/FNIsSUvB3h

— RustBelt Rebel (@RustBeltRebel) December 16, 2019
I read Little Women when I was young; it's a great book, and Louisa May Alcott is an interesting historical figure. And yes, they were all poor. It's a theme of the book!
"'You're My Present This Year': An Oral History of the Folgers Incest Ad" [GQ]. • Well, er: "The reaction to the ad was an example of the internet at its most fun—the phenomenon of collectively realizing that the specific thing that you believed you've singularly noticed is actually a widely-held opinion."
Class Warfare
UPDATE If you accept GDP as a useful metric:
U.S. economic activity is becoming increasingly concentrated in large cities and by the coasts—and less so in rural counties https://t.co/lIKwF929ve pic.twitter.com/8eredlZO1O

— Bloomberg Markets (@markets) December 16, 2019
"Even Hermit Crabs Have Wealth Inequality" [New York Times]. "The team used a number called the Gini coefficient to measure overall inequality among the crabs. It found a value similar to that in small human populations, though not as great as in today's large countries. The top 1 percent of hermit crabs owned only about 3 percent of the total shell weight, Dr. Chase and his co-authors noted: 'There are no Warren Buffetts or Jeff Bezoses.' There is also no transfer of shells between crabs and their offspring…. The notion that crabs can teach us about human wealth distribution 'may be a little preposterous,' Dr. Borgerhoff Mulder added. But she said this kind of idea sharing between studies of humans and other animals is making social science, as a whole, richer."
"Transgender and Gender Diverse Children and Adolescents: Fact-Checking of AAP Policy" [Journal of Sex & Marital Therapy]. The abstract: "The American Academy of Pediatrics (AAP) recently published a policy statement: Ensuring comprehensive care and support for transgender and gender-diverse children and adolescents. Although almost all clinics and professional associations in the world use what's called the watchful waiting approach to helping gender diverse (GD) children, the AAP statement instead rejected that consensus, endorsing gender affirmation as the only acceptable approach. Remarkably, not only did the AAP statement fail to include any of the actual outcomes literature on such cases, but it also misrepresented the contents of its citations, which repeatedly said the very opposite of what AAP attributed to them." • Hmm.
News of the Wired
"Gary Snyder on the Sacred Power of a Little Bit of Dancing" [Gary Snyder, LitHub]. "I was standing outside the wood-frame community hall of the newly built St. Johns Woods housing project in Portland, Oregon, on a Saturday summer eve, 1943. It pulsed, glowed, and wailed like a huge jellyfish—there was a dance going on. Most of the people who had come to live in St. Johns Woods were working in the shipyards, but there were a few servicemen home on leave, and a lot of teenagers from the high school. Most of them were from the Midwest or the South. I was from farther north, up by Puget Sound, and had never heard people speak southern before. I hung around and finally got up my nerve to go in and listen to the live band play swing and jitterbug. At some point they were playing the Andrews Sisters song 'Drinking Rum and Coca Cola.'" • This is terrific, especially for our friends in the Pacific Northwest.
The Internet, foretold:
Anti-electricity propaganda pic.twitter.com/Bf5bitLaeh

— Michael ? (@FloridaManSiam) December 16, 2019
* * *
Readers, feel free to contact me at lambert [UNDERSCORE] strether [DOT] corrente [AT] yahoo [DOT] com, with (a) links, and even better (b) sources I should curate regularly, (c) how to send me a check if you are allergic to PayPal, and (d) to find out how to send me images of plants. Vegetables are fine! Fungi and coral are deemed to be honorary plants! If you want your handle to appear as a credit, please place it at the start of your mail in parentheses: (thus). Otherwise, I will anonymize by using your initials. See the previous Water Cooler (with plant) here. Today's plant (CR):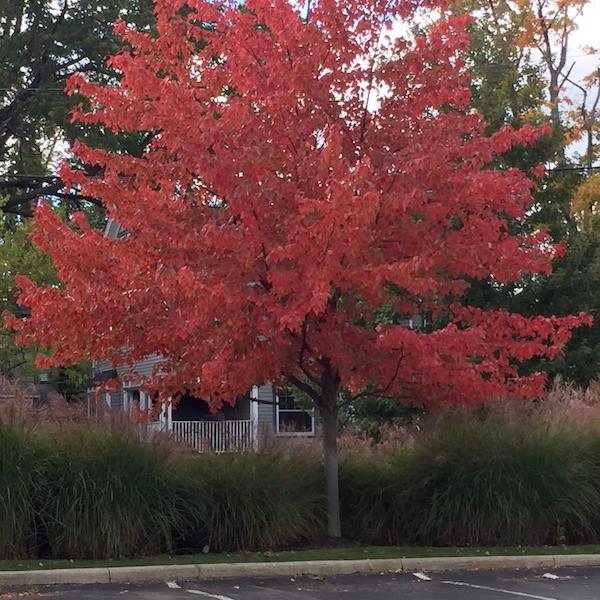 CR: "Plantidote—grocery store parking lot maple, October 2019, NE Ohio." The square format really works here.
* * *
Readers: Water Cooler is a standalone entity not covered by the annual NC fundraiser. So if you see a link you especially like, or an item you wouldn't see anywhere else, please do not hesitate to express your appreciation in tangible form. Remember, a tip jar is for tipping! Regular positive feedback both makes me feel good and lets me know I'm on the right track with coverage. When I get no donations for five or ten days I get worried. More tangibly, a constant trickle of donations helps me with expenses, and I factor in that trickle when setting fundraising goals:
Here is the screen that will appear, which I have helpfully annotated.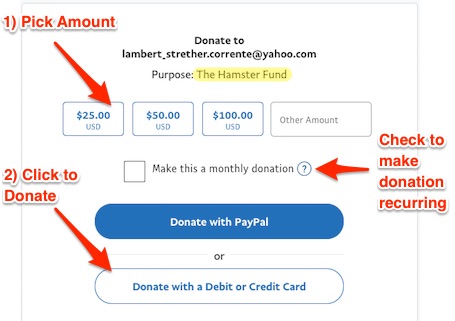 If you hate PayPal, you can email me at lambert [UNDERSCORE] strether [DOT] corrente [AT] yahoo [DOT] com, and I will give you directions on how to send a check. Thank you!