By Lambert Strether of Corrente.
Politics
"But what is government itself, but the greatest of all reflections on human nature?" –James Madison, Federalist 51
"They had one weapon left and both knew it: treachery." –Frank Herbert, Dune
Here is a second counter for the Iowa Caucus, which is obviously just around the corner:
* * *
2020
Alert reader dk (not to be confused with DK) is in the process of developing the following interactive chart.

Here is (are) the latest Dem Primary Polling as of 12/2/2019, 12:00 PM EST. Biden leads, Sanders strong second, Warren five points back (!), Buttigeig trailing. Quite a reversal for Warren, but Buttigieg, despite all the puffery, is still barely within striking distance of the leaders. This is the fourth post-debate national poll with the same pattern: Survey USA, Morning Consult, Quinnipiac, and now YouGov.

I think we have to track the polls because so much of the horse-race coverage is generated by them; and at least with these charts we're insulating ourselves against getting excited about any one poll. That said, we should remember that the polling in 2016, as it turned out, was more about narrative than about sampling, and that this year is, if anything, even more so. In fact, one is entitled to ask, with the latest Buttigieg boomlet (bubble? (bezzle?)) which came first: The narrative, or the poll? One hears of push polling, to be sure, but not of push polling by herding pollsters. And we should really worry about state polls with very small sample sizes and big gaps in coverage. And that's before get to the issues with cellphones (as well as whether voters in very small, very early states game their answers). So we are indeed following a horse-race, but the horses don't stay in their lanes, the track is very muddy, and the mud has splattered our binoculars, such that it's very hard to see what's going on from the stands…

We have no polling over the Thanksgiving weekend.

I think dk has started a really neat project, and in the near future we'll seek your feedback (within reason) for the tool "live."

* * *

UPDATE Biden (D)(1): "Biden Aims to Rejuvenate Iowa Campaign, Insisting He Can Win" [Politico]. "Biden kicked off an eight-day bus tour this weekend that focuses on rural areas. He's traveling with Tom Vilsack, a former Iowa governor and agriculture secretary under President Barack Obama, and Vilsack's wife, Christie…. . 'We're going to go to 18 counties, on a 660-mile trip across the state, and we're going to touch on what we think is a forgotten part of most campaigns — the rural part of your state, rural America,' Biden said Saturday in Council Bluffs, the first stop of the 8-day bus tour… .Sitting down to breakfast on Sunday with the Vilsacks at Queen Beans Coffee House in Carroll, population about 9,800, Biden said he wants the tour to remind Iowans why he continues to lead in national polls. 'We're here to translate the polls nationally to here,' he said. 'Look, I feel good about Iowa and the fact is that my impression — and the Vilsacks have forgotten more about this than I'll ever know but I know a little about it — is that Iowans make up their minds late. And they change. The front-runner ends up getting behind and the front-runner comes back.'" • Biden is in fact correct that Iowa is volatile. And if somebody needs to take Biden aside and tell him he's losing his mind, it won't be the Vilsacks. Personally, I'm a fan of bus tours, but I'd take careful note of Biden's crowds, both in number and tone. And notice how low the campaign has set the bar. 15%? Sure, play the expectations game, but that hard?

UPDATE Bloomberg (D)(1): "The Democrats Have a Big Decision to Make About Mike Bloomberg" [Vice]. "Bloomberg's pledge not to accept any donations for his late-entry bid for the Democratic presidential nomination means that, as the rules currently stand, he'll never be on a debate stage opposite his progressive opponents. The Democratic National Committee requires a candidate to have a certain number of donations to qualify (200,000 unique donors for the December debate, for instance). So unless the DNC changes its debate qualification rules, the entirely self-funding Bloomberg would not make the cut. There's also a polling threshold, which Bloomberg has yet to hit." • Rules? What rules?

UPDATE Bloomberg (D)(2): "Here's why Bloomberg insists he's not crazy" [Politico]. "What Bloomberg contemplates is not so much an exercise in threading the political needle as pulverizing that needle as it has existed for decades. 'We're just going to rewrite a new system,' said Kevin Sheekey, a senior Bloomberg strategist. 'Our theory of the case is that we're going to skip the first four early states and we're going to run as intensive a campaign' in other Democratic states as rivals do in Iowa and New Hampshire. That plan kicks in with the March 3 run of Super Tuesday states, but won't stop there." • So, Bloomberg does plan to buy the race? Sheekey managed Bloomberg's three mayoral campaigns, and held various positions at Bloomberg L.P.

Bullock (D)(1): "Steve Bullock drops out of Democratic presidential race" [NBC]. • Who?

UPDATE Buttigieg (D)(1): "Buttigieg has a serious Latino problem, too" [Politico]. "Buttigieg's struggles to connect with voters of color, even as he's vaulted into the top-tier of the Democratic presidential race, doesn't end with black voters. The South Bend mayor polls in the low single digits among Latinos, too. And Nevada — the third state to cast ballots and where Latinos make up about a third of the population — threatens to deliver a blow to the 37-year-old's campaign before South Carolina even votes." • Hard to see how whoever's inflating Buttigieg's bubble couldn't see that far ahead.

Buttigieg (D)(2): "Pete Buttigieg Admits Only Recently Realizing Black People Can Vote" [The Onion]. Buttigieg: "But going forward, my message to black Americans is that I want your vote now that I know that you have one."

UPDATE Sanders (D)(1): "Bernie Sanders to Receive Iowa Citizens for Community Improvement (CCI) Endorsement" [Blog4President.us]. "'Some 2020 Presidential candidates have been embracing or acknowledging movement politics. But only one of them has been doing it for decades, just like Iowa CCI Action and our sister organization Iowa CCI,' Iowa CCI Action Board President Cherie Mortice wrote in an email to members. 'That's why Iowa CCI Action is endorsing Bernie Sanders. We're standing with Bernie because Bernie stands with us.'" • The headline is confusing. Iowa CCI (headline) and Iowa CCI Action (body) are sister organizations but not identical. Iowa CCI, as a 501(c)(3) cannot endorsel Iowa CCI Action, as a 501(c)(4), can. This is an important endorsement for Sanders on the left.

UPDATE Sanders (D)(2): " A warm reception for liberal presidential candidates, lion's den for moderates at CCI forum in Iowa" [Des Moines Register]. "When Mayor Pete Buttigieg argued at a presidential forum Saturday for a government-run health insurance option that people could buy into, while leaving the private industry intact, the crowd chanted 'Medicare for All' so loudly organizers needed to tell the shouters to calm down…. The forum only drew a relative handful of candidates, even as almost the entire field stopped by the Polk County Democrats' Steak Fry four miles away…. Only U.S. Sen. Bernie Sanders, whose 2016 presidential campaign shifted Democratic politics in a distinctly more progressive direction, received an overwhelmingly positive welcome. 'You did not eat any steak,' Tom Rendon, with CCI, said in the event's closing remarks. "… That's what they're doing on the other side of town — they're practicing politics as usual. Here, we are practicing movement politics.'"

Sanders (D)(3): "Surprising candidate draws support deep in Trump country" [CNN]. • This would come as a surprise only in the Acela Corridor. And the Trillbillies make Newsweek! I just hope it doesn't swell their heads so much they can't get out the door.

Sanders (D)(4): Sanders ad on Amazon:

This Bernie Sanders ad with Amazon workers is very, very good. pic.twitter.com/BsJU86H4pt

— Woobie?In a Pear Tree (@WoobieTuesday) November 30, 2019

Sanders (D)(5): "A Hillary 'shill' goes all-in for Bernie" [Politico (Re Silc)]. "[Peter Daou's] devotion to Clinton was such that he co-founded "Hillary Men," a website aimed at creating a "safe space" for her male fans…. Fast-forward to the 2020 primary: Daou has appeared on the Sanders campaign's official podcast, praised the Vermont senator to his nearly 300,000 social media followers and passionately railed against the Democratic establishment… Daou discussed his transformation last week on an episode of 'Hear the Bern' with host Briahna Joy Gray, Sanders' national press secretary, whom he had brawled with in 2016. "I just took it too far," he told her of that campaign. 'After 2017, 2018, I thought, 'I need to take responsibility for how toxic things became. I can't put it on everybody else and just keep blaming others.'" • I remember Daou from the blogosphere 2003-2006, and from 2008. While I'm leery of conversion experiences — David Brock from Republican to Democrat, for example — I never saw Daou as a mercenary; just very stubborn and very wrong. People do change!

UPDATE Steyer (D)(1): Reading the room:

"Some Granite staters report seeing Steyer's ads dozens of times a day.

One reporter sat through 17 of them in an hour of YouTube viewing.

Steyer has spent $55.6 million in advertising so far…he has steadily polled around 2% in N.H."

Beyond parody.https://t.co/TRyTwny5kn

— Samuel D. Finkelstein II (@CANCEL_SAM) November 30, 2019

Trump (R)(1): [Axios]. Brad Parscale: "Bloomberg News has declared that they won't investigate their boss or his Democrat competitors, many of whom are current holders of high office, but will continue critical reporting on President Trump. As President Trump's campaign, we are accustomed to unfair reporting practices, but most news organizations don't announce their biases so publicly. Presented with this new policy from Bloomberg News, our campaign was forced to determine how to proceed. Since they have declared their bias openly, the Trump campaign will no longer credential representatives of Bloomberg News for rallies or other campaign events. We will determine whether to engage with individual reporters or answer inquiries from Bloomberg News on a case-by-case basis. This will remain the policy of the Trump campaign until Bloomberg News publicly rescinds its decision."

UPDATE Trump (R)(2): "Trump has turned the suburbs into a GOP disaster zone. Does that doom his reelection?" [Los Angeles Times]. "The orderly subdivisions and kid-friendly communities that ring the nation's cities have become a deathtrap for Republicans, as college-educated and upper-income women flee the party in droves, costing the GOP its House majority and sapping the party's strength in state capitals and local governments nationwide. The dramatic shift is also reshaping the 2020 presidential race, elevating Democratic hopes in traditional GOP strongholds like Arizona and Georgia, and forcing Trump to redouble efforts to boost rural turnout to offset defectors who, some fear, may never vote Republican so long as the president is on the ballot." • As we started to see in the mid-terms, as my worksheets showed. That's the liberal Democrat theory of change: Appeal to suburban Republicans, especially women, and don't expand the base.

UPDATE Trump (R)(3): "Trump Shows Off His Own Circle of Hell" [McSweeney's]. "As we step inside the mansion, I want you to look at those spikes. Those came from 1400s Spain. Everything is deluxe. We've got copies of all the magazines I've been on. This is me on the cover of Rolling Brimstone. This is me on the cover of Playboil. I'm one of the only men to get a cover. This is me on the cover of TIME Magazine, which we still get down here." • I know I ran this once, but it's so good I have to run it again.

Warren (D)(1):

I like Warren a lot and am very glad she's in the race, but this is just patently false https://t.co/l8dJj84JBY

— Kate Aronoff (@KateAronoff) December 2, 2019

Indeed. And this is a big issue to make "patently false" statements about.

UPDATE Warren (D)(2): WTF:

WATCH: @ewarren tells me she doesn't think her campaign does internal polls.

Asked about touting the popularity of her wealth tax, she says "I just read the newspapers, I actually read the media, what you guys put out." pic.twitter.com/4gzJ6eolaF

— Zak Hudak (@cbszak) December 1, 2019

Nah. If Warren's campaign doesn't use internal polls, they're guilty of malpractice. And if she truly doesn't know that, she is. And if she doesn't….

Warren (D)(3):

Women know who he really is. https://t.co/aJofaF6vAr

— The Nation (@thenation) December 1, 2019

Ostensibly pro-Warren, but never a good sign when goofy or repellent photos of your candidate start appearing (as they have for Sanders, consistently, though my subjective impression is that favorable photos increased after he recovered from his heart attack, oddly).

* * *

"The 2020 corporate hit list" [Axios]. "Presidential candidates have called out more than 80 companies across 30 industries on Twitter over the past six months — mostly in a negative context… Why it matters: From Amazon to Lyft, many of these companies are facing populist attacks from candidates including Bernie Sanders and Elizabeth Warren on the left — but also from the right by President Trump, who's lashing out over his own issues."

"A guide to the millions pouring into Maine for the 2020 US Senate race" [Bangor Daily News]. "The candidates have raised nearly $13 million so far, with 98 percent of it coming from either Collins, a Republican, or House Speaker Sara Gideon, the nationally backed frontrunner in a four-way Democratic primary — more than two hopefuls have raised in a race in Maine history. National interest has led to $6.3 million in advertising related to the race, according to data from Advertising Analytics. That exceeds spending on Maine ads in the past two presidential races combined. The firm projected $55 million in ad spending — more than double the money spent on any Maine race in history — would flow into the campaign by 2020's end." • So far as I can tell from her site, Gideon (supported by the DSCC) opposed #MedicareForAll, though to give credit she did good work on Medicaid expansion and opioids.

"New York Democrats Try to Take Working Families Party Off the Ballot" [The Intercept]. "At a meeting on Monday, a commission created to implement New York's public campaign finance system voted to pass a proposal that would make it significantly more difficult for alternative political parties to operate in the state… Both party leaders and the WFP say the change would also build a structural advantage for Republicans in swing districts across the state by eliminating the WFP's margins and boosting numbers for the state's biggest minor party, the right-leaning Conservative Party." • I don't know why Cuomo is so committed to boosting conservatives (like "the Independent Democratic Conference, including Cuomo allies who helped stall progressive legislation for years under a power-sharing scheme with Republicans"). To be fair to national Democrats, they're against this, fearing loss of seats in the House.
Impeachment
"'I Don't Trust Anyone at All.' Ukrainian President Volodymyr Zelensky Speaks Out on Trump, Putin and a Divided Europe" [Time]. Zelensky: "America, first of all, has its direct relations with Russia. To influence Russia, to make everyone see that this [war] is a big tragedy, and that it must end, I think that Mr. Trump can speak directly, and I think they do talk about these things."

"Here's the Proof that Trump's "No Quid Pro Quo" Call Never Happened" [Just Security]. "At the heart of the impeachment inquiry, members of Congress may have been mistakenly led to believe that there were two phone calls between President Donald Trump and Ambassador Gordon Sondland in early September—with the second call having the possibility of helping the President's case. That's not what happened. There was only one call, and it was highly incriminating… As this article was in the publication process at Just Security, the Washington Post published a report raising doubts about the existence of the September 9 call. The analysis that follows is consistent with the Post's report and, among other points, shows why Sondland's "no quid pro quo" call is in fact the same as the September 7th call that Morrison reported to NSC lawyers on September 7th." • Call me crazy, but didn't we have hearings to straighten this kind of thing out? With cross-examination and stuff like that?
2019
AOC v. the Military Industrial Complex:

.@AOC to military contractor exec: I could have covered the insulin costs of a community of 21,400 people for the cost of your price-gouging. I could have sent 21 kids to college. I could have sent 18 toddlers to free preschool for a year. Why should we give you another dime? pic.twitter.com/2gWhwPMVgP

— Public Citizen (@Public_Citizen) November 29, 2019
Obama Legacy
A clip from Michael Moore's new movie, Fahrenheit 11/9:

At some point in my life I thought Obama was a decent guy with bad politics. I was very wrong. He not only signed up for the political agenda of the billionaire class, he embraced their sickest impulses too. Here he is mocking the Flint water crisis. pic.twitter.com/IUQ9H5UF02

— Neal (@nealmeyer) November 25, 2019
Realignment and Legitimacy
"'Faithless Electors' Could Tip the 2020 Election. Will the Supreme Court Stop Them?" [New York Times]. "On Dec. 19, 2016, a little more than a month after the presidential election, members of the Electoral College gathered around the nation to cast their votes. Ten of them went rogue. A swing by that number of electors would have been enough to change the outcomes in five of the previous 58 presidential elections, according to a petition filed last week in the Supreme Court. In the 2000 election, after an assist from the Supreme Court, George W. Bush beat Al Gore by just five electoral votes. The petition asked the justices to decide whether 'faithless electors' were free to disregard pledges they made to vote for their own parties' candidates. It urged the court to act quickly. 'This case permits the court to issue a decision outside of the white-hot scrutiny of a contested presidential election,' the petition said…. Two things are reasonably clear. The first is that the framers of the Constitution and the language they used seemed to contemplate that electors would use independent judgment. The second is that over time people have come to assume that electors are meant to vote for their parties' candidates." • Erased in all this is that Clinton supporters, in 2016, advocated shifting the votes of faithless electors based on material provided by the intelligence community.
Stats Watch
Purchasing Managers' Manufacturing Index, November 2019: Within consensus change [Econoday]. • Again, the number is current, but the prose interpretation is not. What's going on at Econoday?
Institute For Supply Management, November 2019: Within consensus range [Econoday] • Ditto.
Construction Spending, October 2018: Below consensus range [Econoday]. • DItto.
Shipping: "Empty container movements signal freight shift to the East Coast" [Freight Waves]. "The number of empty containers moving into the Elizabeth New Jersey market over the past two weeks has almost tripled, while inbound empties moving to the Los Angeles market has dropped 46%. Pair that with the fact outbound Los Angeles trucking volumes have dropped approximately 14% since the start of November, it seems the country's capacity is in need of re-balancing. The question to ask is whether this is a proactive or reactive move to import behaviors by the large shipping companies and what does this mean for domestic freight. The impact of the U.S. trade war with China has been discussed ad nauseum to this point, so it would seem the international shipping companies, who own the most of the 20 and 40-foot containers in the world, have already figured out shippers have begun to ship more freight to the East Coast from Asia. Domestic 53-foot containers have also been increasingly re-positioned to the Northeast over the past several weeks. Shippers can shave a few days on the water and a few dollars when shipping through the Suez Canal in the Middle East versus the Panama Canal from China.
Shipping: "Maersk Line parent A.P. Moller-Maersk A/S will cut about 200 jobs at its headquarters in Copenhagen and at the Hamburg Süd German shipping business. … [T]he labor move comes as the shipping giant prepares for significantly higher fuel spending next year just as it prepares to invest more in inland logistics services" [Wall Street Journal]. "The rising energy costs will come from a new emissions-reduction mandate. Maersk's attention to its business model is also at work as the company directs resources to growth outside traditional port-to-port services. The carrier is reining back capacity growth and automating more ocean operations with tools like instant digital quotes for booking."
Retail: "Retail workers this year are behaving a lot like distribution center staffers. Chains including Target Corp. and Walmart are trying to adapt to a world of changing consumer behavior and competition by staffing stores differently: [Wall Street Journal]. "Target says it now sources 80% of its online orders from stores, not warehouses… Target is responding by having workers take on more tasks, including tracking inventory to both stock shelves and fill online orders."
* * *
Today's Fear & Greed Index: 73 Greed (previous close: 79 Extreme Greed) [CNN]. One week ago: 70 (Greed). (0 is Extreme Fear; 100 is Extreme Greed). Last updated Dec 2 at 12:40pm
Seven Fear & Greed Indicators.
Rapture Index: Closes up 1 on earthquakes: "Albania hit with 6.4 magnitude earthquake" [Rapture Ready]. Record High, October 10, 2016: 189. Current: 182. Remember that bringing on the rapture is a good thing. I wonder when, in 2020, the index will start flirting with 190 again. So far, the latest impeachment push hasn't affected the Index.
The Biosphere
"Maine lobster catch headed for decline but not crash, scientists say" [Bangor Daily News]. "Noah Oppenheim, author of one of the studies, said his model projects the lobster catch in the Gulf of Maine "will return to previous historical levels." That means tens of millions fewer pounds of lobster per year, but still enough lobsters to support a robust business and supply hungry seafood lovers. Oppenheim and colleagues base their opinion on a finding that temperature and the number of young lobsters populating shallow coastal areas allow scientists to predict what lobster catches will look like in four to six years. …The other article states that recent high catches have been aided by an expanded area in the eastern Gulf of Maine that is especially suitable for baby lobsters to grow. The article, written by UMaine graduate student Andrew Goode in the journal Global Change Biology, states that the cool deep-water habitat might have protected the baby crustaceans from the negative impacts of a warming ocean." • good news for Maine. The Gulf of Maine is one of the most affected by climate change.
Massive takedown of GMO by Taleb:
RISK MANAGEMENT 101 we teach students: What @sapinker says is 1) wrong, 2) dangerous, 3) unrigorous & primitive *scientism*, with probability approaching 1.https://t.co/B7YWrA1Vib https://t.co/5aJZNrJ4h7 pic.twitter.com/gb53Lao2u3

— Nassim Nicholas Taleb (@nntaleb) December 2, 2019
See the table.
"Banks worth $47 trillion adopt new U.N.-backed climate principles" [Reuters]. "Banks with more than $47 trillion in assets, or a third of the global industry, adopted new U.N.-backed "responsible banking" principles to fight climate change on Sunday that would shift their loan books away from fossil fuels…. The principles' main backers say the norms will encourage banks to pivot their loan portfolios away from carbon-intensive assets and redirect capital to greener industries. Critics argue that banks should go much further by explicitly committing to phasing out financing for fossil fuel projects and agribusiness that drive deforestation in the Amazon, Southeast Asia and other regions. However, the new standards could also force participating banks to choose between foregoing business from clients in high-carbon sectors and the risk of being accused of backsliding on the principles if they continue to finance such firms." • What "risk"? Reputational damage? (And "worth" is doing a lot of work in that headline, too.)
"Climate Change: How Lucky Do You Feel?" [Reason]. "Will climate change be apocalyptic? Probably not, but the possibility is not zero. So just how lucky do you feel? Frankly, after reviewing the scientific evidence, I'm not feeling nearly as lucky as I once did." • Note the source.
Thanksgiving Post Mortem
Tell me it's not a great country:
Firefighters demonstrate the dangers of deep-frying a frozen Thanksgiving turkey in a video filmed by the Phoenix Fire Department.

Read today's top stories here: https://t.co/4ozTbgdN8L pic.twitter.com/nFZcYTWNh3

— Sky News (@SkyNews) November 29, 2019
Health Care
Horror story (1):
A single mom had to get all her teeth pulled because she couldn't afford her co-pays. Today, she supports Medicare for All pic.twitter.com/PghHRfSvKm

— Olga Khazan (@olgakhazan) November 21, 2019
Horror story (2):
A major university is telling students on Medicaid: buy private insurance plan, or drop out.

Students who are on Medicaid are, by definition, low income.

Some who can't afford the premium — $1,500 per year — say they're going to have to quit school.https://t.co/tibdx26TbF

— Sarah Kliff (@sarahkliff) November 25, 2019
Horror story (3): Thread:
I'm going to listen to @P4AHCF Executive Director Lauren Crawford Shaver's recent talk radio interview and share some thoughts in this <THREAD>. The interview is available here: https://t.co/2sQnDiC5UL #SinglePayerSunday

— Medicare For All (@AllOnMedicare) December 1, 2019
@laurenecrawford's bio: Partner; Forbes Tate Partners; Director of Expansion State Programs, Hillary for America (2016); Deputy Assistant Secretary for Public Affairs (ASPA) for Health Care; Senior Associate, Dewey Square Group; GOTV Hillary Clinton for President (2008). How odd that such a well-connected liberal Democrat is working so fervently against #MedicareForAll.
Our Famously Free Press
"Sacramento Bee receives grant to hire new reporter covering the region's Latino communities" [Sacramento Bee]. • It's great that there's a new reporter — how horrible that a single reporter being hired is headline news — but apparently the Bee doesn't have the reporters to cover CalPERS. So it's too bad there wasn't a grant for that.
Imperial Collapse Watch
Sir is this your cat:
Heckin chonker is causing this BMP some suspension issues https://t.co/NwWURMh4pY

— Angry Staff Officer (@pptsapper) November 29, 2019
News of the Wired
"One diorama at a time, miniaturist reconstructs aftermaths of 'lonely deaths'" [Japan Times]. :Her jobs often involve cleaning up after what is known as kodokushi — 'lonely deaths' — where those living alone are found dead in their homes, sometimes going unnoticed for days or even weeks." • This is more than a little gruesome, but on the other hand making kodokushi the word of the day allows me to suggest that if you have the holiday blues, get up, go outside, look up at the sky, and talk to people! If you are not doing that. Of course, even better, make a project of taking pictures of plants :-) And now another gruesome story from Asia–
"K-pop stars get prison terms for gang rape" [Deutsche Welle]. "The defendants are well-known celebrities and friends, but the chat they've had showed that they simply considered women as objects of sexual pleasure, and committed crimes that were extremely serious,' Judge Kang Seong-soo said as he handed down the verdict. 'Strict punishment is inevitable as the damage inflicted has not properly been recovered and the victims demand harsh penalties.' Both men wept as the verdict was read."
"Virginia Woolf's First Car" [The Virginia Woolf Blog]. "Virginia confessed that driving began to invade her thoughts: 'All images are now tinged with driving a motor. Here I think of letting my engine work, with my clutch out…' She later declared driving a great evolutionary leap: 'Soon we shall look back at our pre-motor days as we do now at our days in the caves' and stated 'the motor is turning out the joy of our lives, an additional life, free & mobile & airy alongside our usual stationary industry.'"
* * *
Readers, feel free to contact me at lambert [UNDERSCORE] strether [DOT] corrente [AT] yahoo [DOT] com, with (a) links, and even better (b) sources I should curate regularly, (c) how to send me a check if you are allergic to PayPal, and (d) to find out how to send me images of plants. Vegetables are fine! Fungi and coral are deemed to be honorary plants! If you want your handle to appear as a credit, please place it at the start of your mail in parentheses: (thus). Otherwise, I will anonymize by using your initials. See the previous Water Cooler (with plant) here. Today's plant (TD):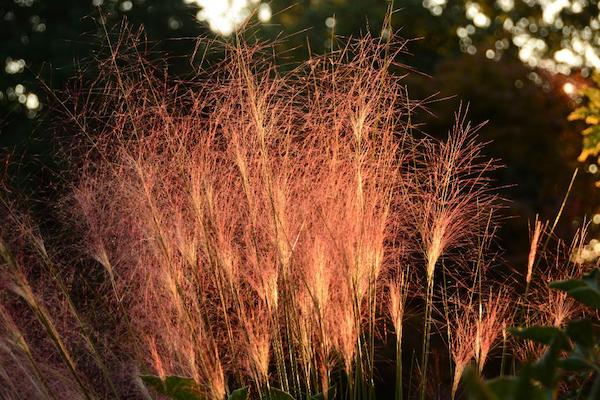 TD: "Recently the muhly grass began blooming and saw this effect from a setting sun." Lovely, and good observation! More on this ornamental grass.
* * *
Readers: Water Cooler is a standalone entity not covered by the annual NC fundraiser. So if you see a link you especially like, or an item you wouldn't see anywhere else, please do not hesitate to express your appreciation in tangible form. Remember, a tip jar is for tipping! Regular positive feedback both makes me feel good and lets me know I'm on the right track with coverage. When I get no donations for five or ten days I get worried. More tangibly, a constant trickle of donations helps me with expenses, and I factor in that trickle when setting fundraising goals:
Here is the screen that will appear, which I have helpfully annotated.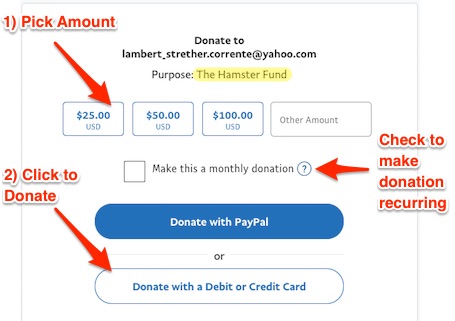 If you hate PayPal, you can email me at lambert [UNDERSCORE] strether [DOT] corrente [AT] yahoo [DOT] com, and I will give you directions on how to send a check. Thank you!