By Lambert Strether of Corrente.
Patient readers, I am being lazy today because it is the Friday after Thanksgiving. –lambert
Politics
"But what is government itself, but the greatest of all reflections on human nature?" –James Madison, Federalist 51
"They had one weapon left and both knew it: treachery." –Frank Herbert, Dune
Here is a second counter for the Iowa Caucus, which is obviously just around the corner:
* * *
2020
Biden (D)(1): "Did Joe Biden Overstate Democratic Voters' Opposition To 'Medicare For All'?" [Kaiser Health News]. "When the subject of 'Medicare for All' came up during the Democratic debate last week, former Vice President Joe Biden claimed that the majority of his party does not favor it.

'The fact is that right now the vast majority of Democrats do not support Medicare for All,' he said, adding, 'It couldn't pass the United States Senate right now with Democrats. It couldn't pass the House.'… The KFF Health Tracking Poll, done monthly, indicates Democrats' support for Medicare for All has weakened, but not entirely. Its most recent version, published in November, revealed large majorities of Democrats support a public option (88%) and Medicare for All (77%), while a January poll showed 85% of Democrats backed a Medicare buy-in." • Yes, with #MedicareForAll at a mere 77%, despite root and branch opposition to it from all branches of the establishment, we should certainly pre-compromise with ourselves and settle for the pissant public option.

Trump (R)(1): "Trump Will Likely Win Reelection in 2020" (PDF) [Musa al-Gharbi, Academia.edu]. The baseline: "Eleven presidents have been electedsince then: Truman, Eisenhower, JFK, LBJ, Nixon, Carter, Reagan, Bush I, Clinton, Bush IIand Obama. Eight administrations won arenewed mandate: Truman, Eisenhower, JFK/LBJ, Nixon, Reagan,Clinton, Bush II and Obama. Three presidents inthis period stood for reelection and lost: Ford (who served out the rest of Nixon's 2nd term), Carter, and Bush I. That is, the base-rate for presidential reelections is 8:3. Prima facie,Trump would have a 72.7% chance of being reelected in 2020. However, looking more closely at thosewho failed to win re-election, most were continuations of previous administrations: Ford followed after two terms of Nixon (and lost his bid to win a full term of his own). Bush I followed after two terms of Reagan (and was elected to one full term of his own). In the modern political era there was literally only one instance where there was a change of party in the White House that persisted for less than 8 years: the administration of Jimmy Carter from 1976-80. Viewed in this way, the base-rate of reelection looks more like 8:1–meaning the ex ante likelihood of Trump winning reelection in 2020 would be about 88.8%." • Of course, you could argue that Trump is uniquely bad, or that liberal Democrats are uniquely outraged, or that Sanders is uniquely equipped to make a revolution. Nevertheless. Interesting article

Trump (R)(2): "Recession fears recede in boost to Trump" [The Hill]. "After a summer dip, consumer spending has roared back to life heading into the holiday shopping season, giving the stock market a boost and fending off recession fears with less than a year until the 2020 elections. The improving economic picture could be a boon for President Trump, who has made the economy a central argument for his reelection. Recent economic data stands in contrast to just a few months ago, when economists were worried that consumer spending would be the next shoe to drop after manufacturing hit a slump and as investment was in the midst of contracting." • I dunno, I dunno. What happens when Coyote looks down?

* * *
Realignment and Legitimacy
"Huey Long and the Power of Populism" [Current Affairs]. "America, Long explained, was the barbecue. God had set the table, but Rockefeller, Mellon, and the rest of the robber barons had carried off nine-tenths of the food, leaving the scraps for everyone else. It was about time, he said, to call them back to the table with their heaping plates and make them share it out. He concluded the speech with a promise that, under his program, 'none shall be too big, none shall be too poor; none shall work too much, none shall be idle. No luxurious mansions empty, none walking the streets, none impoverished, none in pestilence, none in want.'" • Where do I sign up? The rest of the article is a bit more nuanced…

"Brett Kavanaugh's latest opinion should terrify Democrats" [Vox]. "Beginning in the latter half of the Obama administration, Federalist Society gatherings grew increasingly fixated on diminishing the power of federal agencies to regulate businesses and the public — an agenda that would severely weaken seminal laws such as the Clean Air Act and the Clean Water Act. On Monday, Justice Brett Kavanaugh signaled that he is on board with this agenda." • Normally, I skip over stories with "terrifying" in the headline, but this rings true. Of course, liberal Democrats should have fought all Federalist Society nominees tooth and nail on ideological grounds over the last few decades…. Unless they share the same ideology, of course.
Our Famously Free Press
"Ex-MSNBC host says network is 'shameless' in coverage of Sanders, Yang, Gabbard" [FOX]. "Former MSNBC host Krystal Ball ripped into her former employer on Monday, arguing that it had 'officially lost the left' and was 'shameless' in its unfair coverage of anti-establishment Democrats. '[T]he network is absolutely shameless in the way that it covers the 3 anti-establishment candidates, Bernie [Sanders], Tulsi [Gabbard], and [Andrew] Yang,' she said, according to The Hill. She was referring to three of the candidates seeking the Democratic nomination for 2020. 'Every interview with Tulsi must include the obligatory 'Assad apologist' question and conspiracies about her running third party or being a Russian asset abound. In These Times [magazine] recently did an analysis of Bernie's primetime coverage on the network and found that he is mentioned one-third as often as Biden and far more negatively than any other candidate.' She also complained that outside of host Steve Kornacki, the network 'never took' Sanders seriously 'or covered him like a real challenge to Hillary' in 2016." • The boundaries of the Party are pretty sketchy, and one might as well include MSNBC inside them.
Stats Watch
There are no official statistics of note today.
Honey for the Bears: "Why Superyacht Sales Are Key to the Global Economy" [Bloomberg]. "[Flashy superyachts for the megarich] often seen as a barometer of consumer spending, and as the holiday shopping season gets in full swing, all eyes are on American wallets… Bloomberg reporter Michael Sasso visits a big boat show in Florida only to discover that sales aren't looking so great." • But maybe they're all buying seats on rocket ships to Mars or bunkers in New Zealand.
Hedge Funds: "The Curious Case of Aurelius Capital v. Puerto Rico" [New York Times]. "That a firm holding a paltry 0.5 percent of the island's debt could trigger even one of Francisco's hypothetical scenarios reveals the disproportionate power that this tiny corner of Wall Street has accrued over the past generation. Largely out of view, distressed-debt hedge funds have honed a set of tools for recovering bad foreign debt, turning courts into collection agents. The tools work so well, and with such sophistication, that it was probably a matter of time before they were requisitioned from abroad and applied to a territory of U.S. citizens." • Hmm. I wonder if Aurelius is thinking of turning its attention to student debt. Worth reading for their involvement with Puerto Rico (see NC here).
* * *
Today's Fear & Greed Index: 78 Extreme Greed (previous close: 78 Extreme Greed) [CNN]. One week ago: 69 (Greed). (0 is Extreme Fear; 100 is Extreme Greed). Last updated Nov 26 at 1:00pm. Last updated Nov 29 at 12:50pm. So Mr. Market came back from the Thanksgiving table still greedy.
The Biosphere
"Caring for family is what motivates people worldwide" [Medical Xpress]. "An international team of researchers led by evolutionary and social psychologists from Arizona State University surveyed over 7,000 people from 27 different countries about what motivates them, and the findings go against 40 years of research. The study will be published on December 3 in Perspectives on Psychological Science. 'People consistently rated kin care and mate retention as the most important motivations in their lives, and we found this over and over, in all 27 countries that participated,' said Ahra Ko, an ASU psychology graduate student and first author on the paper. 'The findings replicated in regions with collectivistic cultures, such as Korea and China, and in regions with individualistic cultures like Europe and the US.' The study included people from diverse countries—ranging from Australia and Bulgaria to Thailand and Uganda—that covered all continents except Antarctica." • Makes "population control" not so easy, especially where children are not only earners but a social insurance program.
"More reasons air pollution will send you to the hospital" [CNN]. "Even at levels below international air quality guidelines, short-term exposure to pollution can send you to the hospital for more reasons than scientists originally thought, a new study finds. The pollution investigated, known as fine particulate matter or particle pollution — with a diameter less than 2.5 micrometers and smaller — is a mix of solid and liquid droplets found in the air, according to the US Environmental Protection Agency. It's so tiny — 1/20th of the width of a human hair — that you cannot see it, and it can travel past your body's usual defenses. This form of pollution can be very damaging to your health because once you breathe it in, the particles can get stuck in your lungs or work their way into your bloodstream, causing irritation and inflammation that can lead to respiratory problems and other diseases. Some of the sources of this particulate matter are coal- and natural gas-fired plants, cars, agriculture, unpaved roads and construction sites, with the pollution then coming in the form of dirt, dust, soot or smoke."
"California snow-bound highway reopens but storm snarls Thanksgiving travel" [Reuters]. • As alert reader Wukchumni pointed out, that snow could have been smothering some controlled burns. Oh well.
Health Care
"Clashes among top HHS officials undermine Trump agenda" [Politico]. "President Donald Trump's health secretary, Alex Azar, and his Medicare chief, Seema Verma, are increasingly at odds, and their feuding has delayed the president's long-promised replacement proposal for Obamacare and disrupted other health care initiatives central to Trump's reelection campaign, according to administration officials. Verma spent about six months developing a Trump administration alternative to the Affordable Care Act, only to have Azar nix the proposal before it could be presented to Trump this summer, sending the administration back to the drawing board, senior officials told POLITICO. Azar believed Verma's plan would actually strengthen Obamacare, not kill it."
"Anthem Blue Cross draws heavy fines in California over how it handles complaints" [Los Angeles Times]. "The fines against Anthem are related to many of the 553 enforcement actions that the department has taken against the health plan for violations such as taking too long to respond to enrollee grievances, inappropriately denying claims and not covering the cost of out-of-network care that should have been covered. The sanctions against Anthem make up more than one-third of the 1,432 enforcement actions the department issued."
Thanksgiving Post Mortem
Alert reader JU: "'Our' flock of wild turkeys who moved in…"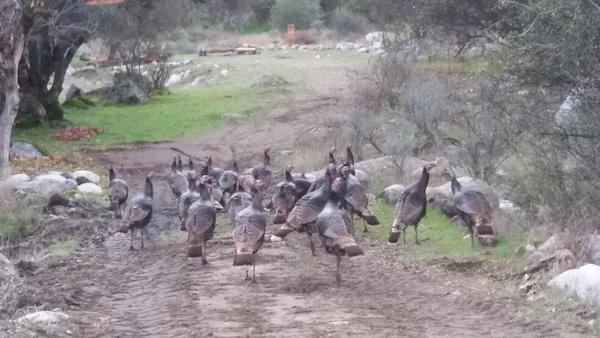 Wild turkeys are said to be very intelligent, and to perform elaborate dances as a mating ritual in the spring.
"Yes, Practicing Gratitude Comes With Legit Health Benefits" [Runner's World]. "Research has shown that making time to practice gratitude helps improve your sleep, reduce your blood pressure, lower your levels of inflammation, and heal from injury faster." • A compendium…
"Customers are slamming Macy's, Best Buy, and Target for opening stores on Thanksgiving" [Business Insider]. "At least 35 retailers won't be opening for Thanksgiving this year, however, amid evidence this shopping day doesn't carry the same weight it once did. As consumers are increasingly shopping for deals online, they feel less of a need to line up outside stores for one big day of shopping. Moreover, they're used to having deals year-round, which takes the pressure off Black Friday." • I loathe Black Friday: Degrading scenes of people wrestling for shoddy merchandise.
A heartwarming story:
11 years ago, I was texting a dude I'd hooked up with a few times as I got ready for thanksgiving back in my hometown. "I forget, what's your town called again?" He asked. I told him. One EIGHT HOUR DRIVE later he appeared at my doorstep.
WHAT A DUMBASS.
Anyway we're married.

— Jessica Ellis (@baddestmamajama) November 27, 2019
Black Injustice Tipping Point
"UNC to give Silent Sam statue to Sons of Confederate Veterans" [News and Observer]. The headline misses a key part of the story: "Silent Sam, the Confederate statue that stood on UNC-Chapel Hill's campus before it was torn down by protesters in 2018, is now in the hands of the Sons of Confederate Veterans. And the organization will have to transport and preserve the monument through a charitable trust set up by the UNC System. The allowed expenses could also include a facility to house and display the monument. The money is coming from accruing interest from the UNC System's endowment that's built through donations, not tax-payer money." • Wouldn't it have been simpler and cheaper to cut it up and sell it for scrap? Also, UNC is a public university. All UNC money is public money, including the endowment, and the interest on it, although I grant boosters and donors may not think of it that way.
Guillotine Watch
"Australia's first underwater hotel to open on Great Barrier Reef" [Xinhua]. "Set to take Australia's long-standing tourism hot spot to 'another level,' Luke Walker, CEO of the experiential travel company Journey Beyond, said creating the aquarium-like space without harming the ecosystem was the top priority of the 14-month construction process. 'It's a balance of allowing people to immerse themselves in this World Heritage-listed natural wonder without doing any damage,' he told the Australian Associated Press on Thursday. 'In everything we do, the sustainability of the reef is part of the conversation, it's a live topic on the table with any decision we make.'" • Note that down for when the inevitable disaster appears.
Class Warfare
"Thomas Piketty's Capital in the Twenty-First Century is Now a Movie" (interview) [Justin Pemberton, Worth]. Pemberton: "The one percent slogan actually comes from French Revolution. That's where the Occupy Movement got it from. I didn't know that until I started making this film, but that was one of the things Thomas told me. In Paris just before World War I, 1 percent of the people owned 70 percent of the land. One of the things he found most alarming is that the level of inequality in America and in Britain today is at the same levels it was in France and Britain before World War I." • Hmm. I'm not sure of heard that factoid on the 1% anywhere. Can readers confirm?
"Oracle finally responds to wage discrimination claims… by suing US Department of Labor" [The Register]. "With one hand holding the constitution and the other bashing its chest, the database giant warned perilously that 'the rise of the modern administrative state has altered our government structure' but that it had 'not undone our constitutional structure.'" • Sounds like Oracle is heading for the Supreme Court. Which might agree with them.
"Sonoma County allows portable toilets at Joe Rodota Trail homeless camp in Santa Rosa" [Press Democrat]. "One of her predecessors representing the west county, former Supervisor Ernie Carpenter, said homelessness has grown so visible in the county — with camps along roadways, spread throughout the lower Russian River and on various corners of public and private land — that it can't be overlooked by local officials…. The outhouses, delivered Tuesday, were sought by a group allied with Homeless Action, the local organization pushing for establishment of sanctioned encampments. The restrooms will be paid for by Sonoma Applied Village Services, the allied group, which is trying to raise money for the effort." • "Sanctioned encampments" sounds next door to "normal," to me.
News of the Wired
"Russian dairy farmers gave cows VR goggles with hopes they would be happier and make better milk" [CNN]. "The [Ministry of Agriculture of the Moscow region] rationalizes it like this: Studies have shown that cows' environmental conditions can impact the milk produced, specifically improving its quality or increasing its quantity. So, a team of developers, with the help of veterinarians and consultants for dairy production, made some oversized VR glasses for cows. They adapted the human versions to account for cows' different head shapes and eyesight, the news release says. And then voila! Cow VR glasses. And what were these cows experiencing with their new VR glasses? A wild, expansive field beneath the summer sun. A cow's (virtual) paradise. So far, it's unclear if the glasses have helped milk production — further study will be needed for that. But a first test did reveal a decrease in anxiety and an increase in the emotional mood of the herd."
* * *
Readers, feel free to contact me at lambert [UNDERSCORE] strether [DOT] corrente [AT] yahoo [DOT] com, with (a) links, and even better (b) sources I should curate regularly, (c) how to send me a check if you are allergic to PayPal, and (d) to find out how to send me images of plants. Vegetables are fine! Fungi and coral are deemed to be honorary plants! If you want your handle to appear as a credit, please place it at the start of your mail in parentheses: (thus). Otherwise, I will anonymize by using your initials. See the previous Water Cooler (with plant) here. Today's plant (KL):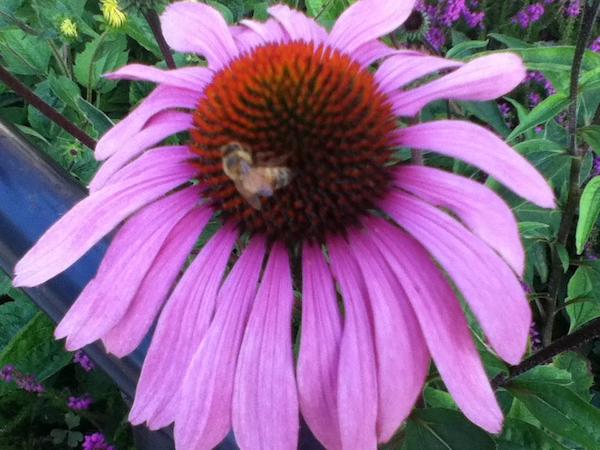 KL writes: "Bee on echinacea."
* * *
Readers: Water Cooler is a standalone entity not covered by the annual NC fundraiser. So if you see a link you especially like, or an item you wouldn't see anywhere else, please do not hesitate to express your appreciation in tangible form. Remember, a tip jar is for tipping! Regular positive feedback both makes me feel good and lets me know I'm on the right track with coverage. When I get no donations for five or ten days I get worried. More tangibly, a constant trickle of donations helps me with expenses, and I factor in that trickle when setting fundraising goals:
Here is the screen that will appear, which I have helpfully annotated.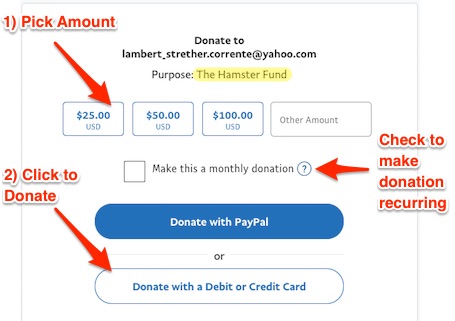 If you hate PayPal, you can email me at lambert [UNDERSCORE] strether [DOT] corrente [AT] yahoo [DOT] com, and I will give you directions on how to send a check. Thank you!