By Lambert Strether of Corrente.
Politics
"But what is government itself, but the greatest of all reflections on human nature?" –James Madison, Federalist 51
"They had one weapon left and both knew it: treachery." –Frank Herbert, Dune
Here is a second counter for the Iowa Caucus, which is obviously just around the corner:
* * *
2020
Alert reader dk (not to be confused with DK) is in the process of developing the following interactive chart.

Nationally, we have yesterday's polls from Emerson, YouGov, and NBC. Nothing new as of 12/20/2019, 1:00 PM EST. Biden first, Sanders strong second, Warren drops, Buttigeig drops, Bloomberg up, though still flirting with the bottom feeders. The top four seem to be an established pattern (or, if you prefer, narrative). On to the next debate (today, December 19), and Iowa:

And yesterday's numbers:

It would be nice if we didn't have an enormous gap between the debate and the next round of polling, though truth to tell, I don't know either how long it takes for the biomass to assimilate poll results, and I also don't know if Xmas and the holidays will have an effect.

CAVEAT I think we have to track the polls because so much of the horse-race coverage is generated by them; and at least with these charts we're insulating ourselves against getting excited about any one poll. That said, we should remember that the polling in 2016, as it turned out, was more about narrative than about sampling, and that this year is, if anything, even more so. In fact, one is entitled to ask, with the latest Buttigieg boomlet (bubble? (bezzle?)) which came first: The narrative, or the poll? One hears of push polling, to be sure, but not of collective push polling by herding pollsters. We should also worry about state polls with very small sample sizes and big gaps in coverage. And that's before we get to the issues with cellphones (as well as whether voters in very small, very early states game their answers). So we are indeed following a horse-race, but the horses don't stay in their lanes, some of the horses are not in it to win but to interfere with the others, the track is very muddy, and the mud has splattered our binoculars, such that it's very hard to see what's going on from the stands. Also, the track owners are crooked and the stewards are on the take. Everything's fine.

I think dk has started a really neat project, and in the near future we'll seek your feedback (within reason) for the tool "live."

* * *

Biden (D)(1): "'Biden has never won a debate. And it has worked.'" [Politico]. "No candidate has surged to the top. And as long as the electorate remains divided, the status quo continues to reign and Joe Biden takes another step toward the nomination." • This is actually an interesting wrap-up.

Buttigieg (D)(1): "Amy Klobuchar Exposes Pete Buttigieg's Electability Problem" [The Intercept]. "'If you want to talk about the capacity to win, try putting together a coalition to bring you back to office with 80 percent of the vote as a gay dude in Mike Pence's Indiana,' Buttigieg told fellow Midwesterner Sen. Amy Klobuchar of Minnesota…. 'Mayor, if you had won in Indiana that would be one thing,' Klobuchar pushed back. 'You tried and you lost by 20 points.' Klobuchar didn't go into detail, not naming the race or the year, but an examination of Buttigieg's 2010 statewide run — which he actually lost by 25 percentage points — is damaging to his key claim that he can win in "Mike Pence's Indiana." •

Sanders (D)(1):

When Bernie accesses his epigenetic old Jewish Catskill's comedian roasting abilities, it becomes clear it's the only thing that can defeat Trump's catty page 6 bitchiness.

— Dr. Manhattan was, is & always shall be a Cop (@jefmbv) December 20, 2019

I've heard Trump's style compared to a Borscht Belt comedian on the Useful Idiots podcast; it's interesting to think of Trump v. Sanders trying to top each other doing stand-up.

Warren (D)(1): "Inside the Secret List of Demands Warren Gave Hillary" [Politico]. • Warren's inside game in 2016 and how it all worked out.

* * *
The Debates
"The moment the Warren-Buttigieg slugfest went national" [Politico]. "In a riveting, minutes-long exchange that punctuated just how much the two leading candidates view one another as a threat, Warren and Buttigieg tussled over high-dollar fundraisers, hypocrisy and personal wealth. The clash during the PBS NewsHour/POLITICO debate came as the two favorites of well-educated white voters compete for the top spot in Iowa, a must-win state for both. Each of them attacked the other as phony. Buttigieg denounced Warren's 'purity tests,' adopted for political expediency; Warren, in so many words, dismissed Buttigieg as a phony reformer who sidles up to millionaires and billionaires in chandalier-filled wine caves." • Could they both be right? This is classic Bernie Blackout material: "Bernie Sanders and Andrew Yang jumped in, too, his universal basic income proposal would get more women to run for office 'because they don't have to go shake the money tree in the wine cave.'" • Oddly, or not, neither Politico nor New York Magazine mention what Sanders said:

"My good friend Joe, and he is a good friend, he's received contributions from 44 billionaires," Sanders said during last night's debate. "Pete on the other hand, is trailing, you only got 39 billionaires contributing." https://t.co/JygwHpHT1H

— VTDigger (@vtdigger) December 20, 2019

"Key Moments From the December Democratic Debate" [New York Magazine]. "When Warren shot back, "I do not sell access to my time," Buttigieg asked, 'Since when, Senator?' Though Warren has not held big-ticket fund-raisers during her primary run, she did pursue moneyed donors in her last Senate race, and transferred $10.4 million from that fund to her 2020 war chest. There's a debate over who came out on top, but the phrase 'wine cave' trending on Twitter isn't helping the mayor's perception among the online left."

"Newsletter: Greetings from the wine cave" [Los Angeles Times]. "California figured early and often in the 2½-hour debate, including a question about climate change that specifically referenced the Northern California town of Paradise, which was ravaged by last year's Camp fire. But most of the California talk was made in passing, as opposed to much substantial courting of Golden State voters. (The in-passing mentions included references to California being 'majority-minority' and home to more DACA recipients than any other state, as well as shout-outs to Gov. Gavin Newsom and Oakland Rep. Barbara Lee, who issued the sole "no" vote on authorizing force in the immediate aftermath of the Sept. 11 attacks.)"
Impeachment
"Queens man impeached" [Queens Daily Eagle]. "Former Jamaica Estates resident Donald Trump was impeached Wednesday by the U.S. House of Representatives. He is the third president to be impeached in United States history — and the first from Queens…. The entire Queens House delegation voted in favor of impeachment…" • Hero headline-writer. And the final paragraph: "Trump's parents' graves are located at All Faiths Cemetery in Middle Village. The cemetery was slapped with a lawsuit by New York Attorney General Letitia James earlier this year for allegedly misappropriating funds." • Ouch!

""We Have to Hold This President Accountable": In Historic Vote, House Impeaches President Trump" [Democracy Now!] Pramila Jayapal: "And the idea that he would withhold this critically needed, congressionally approved military aid to Ukraine, very fragile country fighting Russian aggression, desperately needing that aid, is really an affront." • Yikes. A progressive.

"Pelosi Buys Democrats Time With Impeachment Trial Standoff" [Ed Kilgore, New York Magazine]. • Maybe — follow me closely, here — if the Democrats hadn't put impeachment on the rocket docket, they wouldn't need to "buy time" now?
L'Affaire Joffrey Epstein
"JEFFREY EPSTEIN SUICIDE ATTEMPT VIDEO MISSING … After Ex-Cellmate Request" [TMZ]. "The Jeffrey Epstein story just gets more and more suspicious, because now … surveillance video from his failed suicide attempt has mysteriously vanished. Prosecutors revealed in court Wednesday they could not locate the footage from outside of Epstein's cell on July 23 — the day of his first reported suicide attempt at the Metropolitan Correctional Center in NYC. That was 2 weeks before he successfully killed himself … according to the Medical Examiner's report. The feds had no explanation for why the footage has gone missing — they said they simply can't find it." • Odd
Realignment and Legitimacy
"Dictionary.com chooses 'existential' as word of the year" [Philadelphia Inquirer]. "'In our data, it speaks to this sense of grappling with our survival, both literally and figuratively, that defined so much of the discourse,' said John Kelly, senior research editor for the site, ahead of Monday's announcement. The word earned top of mind awareness in sustained searches at Dictionary.com in the aftermath of wildfires and Hurricane Dorian, and mass shootings in Christchurch, New Zealand, and El Paso, Texas. It also reared itself in presidential politics and pop culture, including Forky the white plastic spork who was the breakout star of 'Toy Story 4.' The soiled utensil is convinced his destiny is in the trash, until he embraces his purpose as a treasured toy of kindergartener Bonnie. 'Forky underscores how this sense of grappling can also inspire us to ask big questions about who we are, about our purpose,' [said] Kelly."
Stats Watch
The Bezzle: "State of Startups" [First Round]. "This year, over two-thirds of founders who ventured a guess think we are in a bubble for technology companies. It's the highest number we've seen since 2015 — up 12% from 2018 and 25% from 2017…. 65% of founders believe capital will be harder to raise in 2020, and 70% predict the balance of power will shift towards investors."
The Bezzle: "Travis Kalanick on course to sell out of Uber" [Financial Times]. "Travis Kalanick has sold the vast majority of his stake in Uber, liquidating more than $2.5bn worth of stock in less than two months. Mr Kalanick, Uber's former chief executive, has now sold more than 90 per cent of his shareholding at the time of the ride-hailing group's initial public offering in May. The scale and pace of his share sales has prompted speculation that Mr Kalanick could sell his entire stake in the company he co-founded before the end of the year." • Good job, Trav!
Manufacturing: "Battery Sales by Panasonic, BYD Drop on Slow Electric-Car Demand" [Bloomberg]. "Panasonic Corp. and BYD Co. saw sharp declines in sales of electrified-vehicle batteries in October as demand weakened in the U.S. and China, SNE Research said. Measured by capacity, sales by Panasonic fell 38%, while BYD's plunged 66%, causing it to lose its No. 3 ranking to South Korea's LG Chem Ltd., the research firm said Thursday. Sales by market leader Contemporary Amperex Technology Co. Ltd. declined 17%. Slumping electric-car demand in China is pulling down the global market and weighing on battery purchases by automakers. Sales of new energy vehicles, which includes electric cars, plug-in hybrids and fuel-cell autos, have declined for five consecutive months in China after the government scaled back subsidies."
Manufacturing: "Starliner's timer was off—capsule thought engines were firing when they weren't" [Ars Technica]. "After being released by the rocket, Starliner was supposed to use its Orbital Maneuvering and Attitude Control engines to provide the thrust needed to reach a stable orbit and begin the process of catching up to the International Space Station. But that did not happen. During a post-launch news conference, NASA Administrator Jim Bridenstine explained that the mission elapsed timing system had an error in it, with the net effect that the spacecraft thought it was performing an orbital insertion burn, when in fact it was not. The on-board computer then expended a significant amount of propellant to maintain a precise attitude, thinking it had reached orbit. When ground-based controllers realized the problem, they immediately sent a command to begin the orbital insertion burn, but due to a communications problem—which could have been a gap in coverage of NASA's Tracking and Data Relay Satellite System or some spacecraft error—those commands were not received right away by Starliner. So it continued to expend fuel to maintain a precise attitude." • Boeing, eh?
* * *
Today's Fear & Greed Index: 92 Extreme Greed (previous close: 90 Extreme Greed) [CNN]. One week ago: 75 (Extreme Greed). (0 is Extreme Fear; 100 is Extreme Greed). Last updated Dec 20 at 12:29pm.
The Biosphere
"Revealed: the 20 firms behind a third of all carbon emissions" [Guardian]. "The analysis, by Richard Heede at the Climate Accountability Institute in the US, the world's leading authority on big oil's role in the escalating climate emergency, evaluates what the global corporations have extracted from the ground, and the subsequent emissions these fossil fuels are responsible for since 1965 – the point at which experts say the environmental impact of fossil fuels was known by both industry leaders and politicians. The top 20 companies on the list have contributed to 35% of all energy-related carbon dioxide and methane worldwide, totalling 480bn tonnes of carbon dioxide equivalent (GtCO2e) since 1965." • Here they are: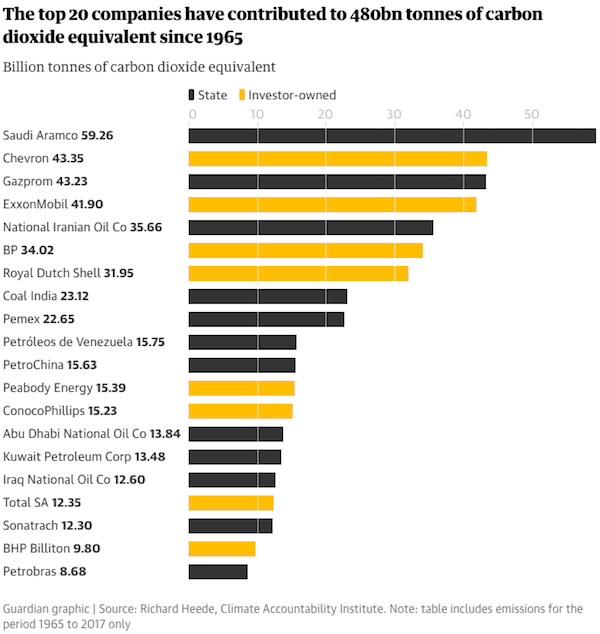 "U.K. Banks Asked to Tell BOE About Risks From Climate Change" [Bloomberg]. "The central bank published a discussion paper on its planned 2021 stress tests on climate change Wednesday. It's not a pass or fail capital test for companies, and only aggregate results will be published rather than those for individual firms. The discussion paper said the bank will examine three possible scenarios: an abrupt transition to lower emissions, a smooth transition, and a world with no transition whatsoever where physical risks are higher. The message is to move in an early and orderly way, rather than a late and disruptive one with more economic damage. Companies are, for example, being asked to judge the hypothetical valuation of a corporate bond issued by an energy utility company, or how much their mortgage loans could be affected by rising sea levels or flooding. Feedback on the BOE's proposals, which would also see financial firms explaining how they would respond to the risks, is due on March 18, the BOE said. It aims to publish results in two years." • Stately progress….
"Newly Identified Jet-Stream Pattern Could Imperil Global Food Supplies, Says Study" [State of the Planet]. "Scientists have identified systematic meanders ["Rossby Waves"] in the globe-circling northern jet stream that have caused simultaneous crop-damaging heat waves in widely separated breadbasket regions—a previously unquantified threat to global food production that, they say, could worsen with global warming. The research shows that certain kinds of waves in the atmospheric circulation can become amplified and then lock in place for extended periods, triggering the concurrent heat waves."
Resource curse:
The night sky above North Dakota, Texas and Louisiana is lit up by the flaring of fracked gas. @VisualCap via @SoberLook pic.twitter.com/GEWXfVIl2N

— Adam Tooze (@adam_tooze) December 19, 2019
"Valuing humans over animals – Gender differences in meat-eating behavior and the role of the Dark Triad" [Appetite]. "Empirical findings demonstrate gender differences in attitudes toward meat consumption and actual meat-eating behavior. Furthermore, several studies have found that men score higher on all three Dark Triad personality dimensions (Machiavellianism, narcissism, and psychopathy)…. These findings support the idea that Machiavellianism is partly able to explain gender differences in meat-eating justification, which is associated with higher meat consumption." • Interesting…
Health Care
"Scenes From the Ragged Edge of American Health Care" [The New Republic]. "RAM is an organization founded in 1985 by Stan Brock, a former actor and ascetic servant of the poor…. As the name implies, the organization was founded with the intent to serve inaccessible parts of the world, but it quickly became clear that the need was also severe closer to home…. The clinic coordinator, Vicki Gregg, has worked at RAM for about five years, after a lengthy tenure as a volunteer. She spoke with admiration and at length about Brock, as we discussed the irony of RAM having to serve areas as wealthy as Washington, D.C. Unlike the remote places that inspired RAM's creation, she said, in America, it's "a financial border," not a geographic one, that stops people getting health care. She said RAM has even been asked to go to Martha's Vineyard—to serve the service workers who prop up that plutocratic aerie. I asked her if the Affordable Care Act had made any difference to the number or needs of patients who showed up; she shook her head."
"Medicare-for-All Opponents Aren't Murderers" [Bloomberg]. • A pretty low bar, even leaving aside the concept of "social murder" (originated by Friedrich Engels, interestingly).
"Women make up the majority of U.S. medical students for the first time" [USA Today]. • I hope this transition doesn't presage a decline in the prestige of the professions (as it sadly has done in other fields).
Games
"Korean Go master quits the game because AI 'cannot be defeated'" [CNN]. "'With the debut of AI in Go games, I've realized that I'm not at the top, even if I become the number one through frantic efforts,' Lee told South Korea's Yonhap news agency this week. 'Even if I become the number one, there is an entity that cannot be defeated.'
Lee told the news agency that his victory in 2016 was likely down to a bug in Google's code, after he used a move that could not be 'countered straightforwardly' and the program responded in an unusual way that gave him an opening and eventually forced AlphaGo to surrender." • But bugs are intrinsic to code…
Feral Hogs Return
"Swine cave." Make up your own jokes!
Bill Clinton gave the wine-cave owner an ambassadorship to Austria: https://t.co/aPkKrPqAsa (Nice digs, btw: https://t.co/GaKsgOlG6t) [fixed link] pic.twitter.com/jXuM6ND4BM

— Dan Froomkin/PressWatchers.org (@froomkin) December 20, 2019
And, of course:
Here is a "wine cave," every vineyard has one. Many/most use them for event spaces/part of their tasting rooms. It's one of the ways for a farming community under enormous pressure to get by. So anyway, diss the fundraiser if you like, but leave wine caves alone. pic.twitter.com/HUHogRVpm3

— Clara Jeffery (@ClaraJeffery) December 20, 2019
Imperial Collapse Watch
"America weaponized the global financial system. Now other states are fighting back." [WaPo]. "Since 2001, America has increasingly turned global economic and financial networks into weapons that can be used against adversaries. As we showed in earlier research, financial networks such as the "dollar clearing system" and the SWIFT messaging service, which provide foundations for the global financial system, have been used by the United States to gather intelligence and to isolate entire economies, such as Iran, from the global financial system. Control of these networks allows the United States to issue "secondary sanctions" against countries, businesses or individuals that it wants to target, obliging non-U.S. actors to adhere to the sanctions or risk substantial penalties. Now, these tools are leading to backlash and reaction. As we discuss in a new article in Foreign Affairs, other countries are beginning to think about how they can best respond: by threatening retaliation, by creating their own networks, or by insulating themselves from U.S. pressure.
Class Warfare
"3 French Executives Convicted in Suicides of 35 Workers" [New York Times]. "The former chief executive of one of France's biggest companies and two subordinates were convicted on Friday of "institutional moral harassment" in the suicides of 35 employees in the mid-2000s, in a landmark ruling that represents the first time a French company has been held responsible for such a crime…. The criminal court in Paris found that the three men were responsible for creating an atmosphere of fear during a desperate company restructuring that led directly to the suicides and attempted suicides of numerous employees." • More like this, please.
"Julia DeCook — How Deep Does the Rabbit Hole Go? The "Wonderland" of r/TheRedPill and Its Ties to White Supremacy" [b2o]. "To "Red Pillers" (what r/TheRedPill members call themselves and are referred to as outside of the community), feminism and society in general promote "sexual strategies" that favor women, thus giving women power in relationships, whereas The Red Pill community teaches men sexual strategies to take back the power in sexual or romantic relationships." • This is very similar to Corey Robin's definition of conservatism: "A meditation on — and theoretical rendition of — the felt experience of having power, seeing it threatened, and trying to win it back."
News of the Wired
Useful tip for your holiday travels, if any:
I don't remember who posted this on Twitter a few years ago, but whoever you are: you have improved every night I've spent in a hotel since. pic.twitter.com/NpuuumqHV8

— Rick Klau (@rklau) October 4, 2019
* * *
Readers, feel free to contact me at lambert [UNDERSCORE] strether [DOT] corrente [AT] yahoo [DOT] com, with (a) links, and even better (b) sources I should curate regularly, (c) how to send me a check if you are allergic to PayPal, and (d) to find out how to send me images of plants. Vegetables are fine! Fungi and coral are deemed to be honorary plants! If you want your handle to appear as a credit, please place it at the start of your mail in parentheses: (thus). Otherwise, I will anonymize by using your initials. See the previous Water Cooler (with plant) here. Today's plant (Carla):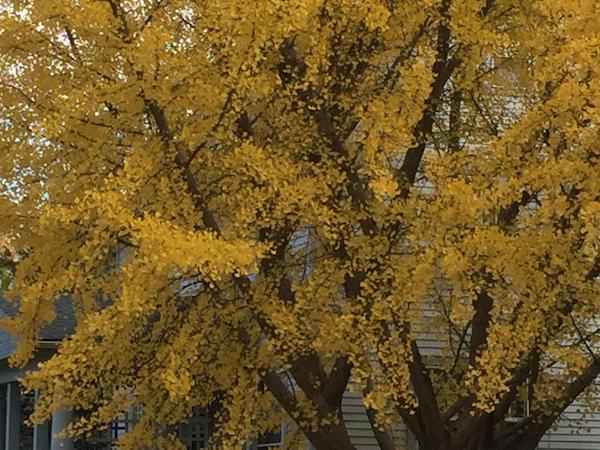 Carla writes: "November, NE Ohio."
* * *
Readers: Water Cooler is a standalone entity not covered by the annual NC fundraiser. So if you see a link you especially like, or an item you wouldn't see anywhere else, please do not hesitate to express your appreciation in tangible form. Remember, a tip jar is for tipping! Regular positive feedback both makes me feel good and lets me know I'm on the right track with coverage. When I get no donations for five or ten days I get worried. More tangibly, a constant trickle of donations helps me with expenses, and I factor in that trickle when setting fundraising goals:
Here is the screen that will appear, which I have helpfully annotated.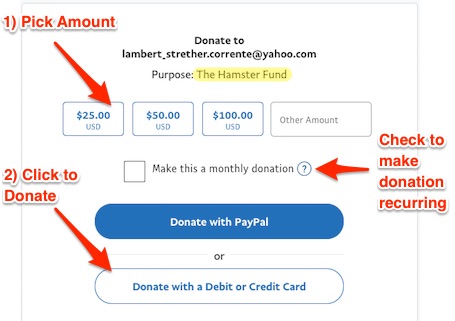 If you hate PayPal, you can email me at lambert [UNDERSCORE] strether [DOT] corrente [AT] yahoo [DOT] com, and I will give you directions on how to send a check. Thank you!