By Lambert Strether of Corrente.
Trade
"New fronts are opening in the global trade war. France is threatening to strike back if President Trump follows through on a plan to impose tariffs on up to $2.4 billion of French imports… the latest in a series of disputes that show tensions between the U.S. and trading partners are escalating" [Wall Street Journal]. "The president today signaled the trade tensions could drag on, saying that he has 'no deadline' for reaching an agreement with China."
Politics
"But what is government itself, but the greatest of all reflections on human nature?" –James Madison, Federalist 51
"They had one weapon left and both knew it: treachery." –Frank Herbert, Dune
Here is a second counter for the Iowa Caucus, which is obviously just around the corner:
* * *
2020
Alert reader dk (not to be confused with DK) is in the process of developing the following interactive chart.

Here is (are) the latest Dem Primary Polling as of 12/3/2019, 12:00 PM EST. Biden leads, Sanders strong second, Warren five points back (!), Buttigeig trailing. Note that Morning Consult has a nice big fat sample size. This pattern seems temporarily stable. On to the next debate, and Iowa:

For grins, I removed the three-day averaging:

Imagine the narratives that could have been constructed from that "swoon" by Biden the averages smooth out?

Here is the latest, as of 12/3/2019, 12:00 PM EST:

UPDATE I think we have to track the polls because so much of the horse-race coverage is generated by them; and at least with these charts we're insulating ourselves against getting excited about any one poll. That said, we should remember that the polling in 2016, as it turned out, was more about narrative than about sampling, and that this year is, if anything, even more so. In fact, one is entitled to ask, with the latest Buttigieg boomlet (bubble? (bezzle?)) which came first: The narrative, or the poll? One hears of push polling, to be sure, but not of collective push polling by herding pollsters. We should also worry about state polls with very small sample sizes and big gaps in coverage. And that's before we get to the issues with cellphones (as well as whether voters in very small, very early states game their answers). So we are indeed following a horse-race, but the horses don't stay in their lanes, some of the horses are not in it to win but to interfere with the others, the track is very muddy, and the mud has splattered our binoculars, such that it's very hard to see what's going on from the stands. Also, the track owners are crooked and the stewards are on the take. Everything's fine.

I think dk has started a really neat project, and in the near future we'll seek your feedback (within reason) for the tool "live."

* * *

Bloomberg (D)(1): Greenwald's theory of the case:

I also think that if Bloomberg did run as a 3rd Party candidate if Sanders is the Dem nominee, many Democrats will support Bloomberg – refusing to vote for the Dem nominee – and justify on the ground that Sanders isn't really a Democrat. Get pledges now that they won't.

— Glenn Greenwald (@ggreenwald) December 2, 2019

That "pledges" idea is a good one. Does anyone know if Bloomberg was forced to sign the DNC loyalty oath that Sanders was forced to sign?

Buttigieg (D)(1): "Column: Buttigieg is wrong — free college should be free for all, including children of the rich" [Michael Hiltzik, Los Angeles Times]. "The argument that public programs designed to be universal are somehow flawed because they benefit all echelons of society, rich and poor alike, indeed is a common Republican talking point. It's so superficially logical, in fact, that it's not uncommon to hear it leaching into Democratic Party policy debates…. Yet as Ocasio-Cortez observed, the argument has a nasty subtext and ugly consequences. Social programs that serve limited economic groups, especially the middle-class and poor, are always more vulnerable to political attack than those that serve everyone… . The pioneer of this argument was hedge fund billionaire Pete Peterson, who waged a years-long campaign to cut Social Security benefits on the grounds that America, then as now the richest land on Earth, couldn't afford them." • Good for Hiltzik! The whole piece is worth reading.

Harris (D)(1): "Kamala Harris drops out of presidential race" [The Hill]. "Two campaign aides told The Hill that Harris informed staff Tuesday she would suspend the campaign…. 'Californians can be proud of Sen. Harris,' said Bob Mulholland, a Democratic National Committee member from California who supported her nomination. 'There's not enough length even on the L.A. freeway for these candidates, so she had a tough road but did well. Not this time.'" • Lol. My heart goes out to the donor class, especially those in the Hamptons and on Martha's Vineyard. About the timing:

Some context: Harris only had a few days to get out before her name would appear on the California ballot, which gets mailed to voters in early February. Getting crushed in California would have been devastating, and set her up for a challenge in 2022 for her reelection.

— Ryan Grim (@ryangrim) December 3, 2019

Sanders (D)(1): "Bernie Sanders, Rob Manfred meet over proposed minor-league cuts" [Associated Press]. "Democratic presidential candidate Bernie Sanders met Monday with baseball Commissioner Rob Manfred to discuss MLB's proposal that would drop 42 minor league teams from their leagues after the 2020 season…. Sanders, a senator from Vermont, sent Manfred a letter on Nov. 25 calling the plan 'an absolute disaster for baseball fans, workers and communities throughout the country.'" • Imagine the tsunami of coverage if this were Buttigieg! Earned media of the best kind. For example:

Sanders (D)(2): "Recalling the Rainbow Roots of the Bernie Sanders Presidential Run" [The Nation]. • Cf. Matt 5:17. Worth reading in full. Also, oddly, this incident is not included: "In 1988, Sanders attended a non-binding Vermont Democratic-party caucus in Burlington, supporting Jesse Jackson. In Outsider in the House, he writes, 'A number of old-line Dems stood up and turned around as I delivered my speech. And when I returned to my seat, a woman in the audience slapped me across the face.' Sanders said it was the first and last time he ever participated in a formal Democratic-party function."

Sanders (D)(3): Subtweeting Biden:

Here is an 8-stop malarkey tour:

? Health care plan leaving 10 million uninsured
? Welcoming Super PAC $$$
? Voting for the Iraq War
? Billionaire fundraisers
? Writing the Bankruptcy bill
? Championing NAFTA
? Pushing TPP
? Defending the War on Drugs

? #NoMalarkey ?

— Bill Neidhardt (@BNeidhardt) November 30, 2019

Sanders (D)(4): Subtweeting Bloomberg:

If you had a couple billion dollars, you could announce your candidacy for president and be taken seriously, even if you were the dumbest person on Earth.

Billionaires should not be able to buy our elections and we're going to change that.

— Bernie Sanders (@BernieSanders) December 2, 2019

Trump (R)(1): "Mike Pence isn't Donald Trump. And that's exactly why he's on the 2020 ticket." [McClatchy]. "Mike Pence does not have the star power of President Donald Trump and is not one to draw large crowds on the campaign trail. His political team has crafted a 2020 strategy that both plays to the vice president's strengths and compensates for what doesn't come naturally to Trump: shaking hands in local diners and ice cream parlors. Pence recently completed a bus tour in Kentucky and has similar ones planned for Michigan, Pennsylvania and Wisconsin — three states his campaign strategists believe are critical to reelection and where they see the Republican politician's midwestern roots as being most useful. The former Indiana governor will direct his energy to states heavily populated by white, working-class voters that he and Trump must win next November to stay in office. 'The vice president can't get the same audience as the president can on his own,' Marc Short, chief of staff to Pence, candidly acknowledged [(!!)] in an interview. 'Let the president do the giant rallies, and let the vice president do a lot more of the traveling through the district, getting local press attention leading into the big event with the president.' The strategy is to complement 'their styles,' he said. Trump is at his most energetic and in his element when he's facing an arena of people who waited in line for hours to listen to him speak. Pence is at his best when he's making small talk with patrons of local restaurants, telling them anecdotes, and listening attentively to their comments, people close to him say." • Or is Pence just a wooden public speaker? Readers?

Warren (D)(1): "What is happening with Elizabeth Warren?" [Chris Cilizza, CNN]. "Less than two months ago, it looked as though Elizabeth Warren might just run away with the 2020 Democratic presidential nomination…. Then that Warren wave hit a wall. Starting right around mid-October, Warren's numbers not only stopped moving upward but also began trending down… Add it all up and there's plenty of reason to believe that Warren's full-fledged support for Medicare for All — coupled with her less-than-successful attempts to defend that position in the last two debates — led to her current reduced status in the race." • If this were true, Sanders should drop as well. I think Cilizza should give consideration to the idea that not only did Warren botch the rollout, her plans were bad, and were seen as bad.

UPDATE Warren (D)(1): "Elizabeth Warren cries and tries to regain ground with voters" [Joan Vennochi, Boston Globe]. The deck: "Meanwhile, Bernie Sanders, her ideological soulmate, rolls along, tears-free." Ouch. More: "According to the Des Moines Register, "after a long pause and with tears in her eyes, the senator from Massachusetts said 'yeah,' before telling the story of the divorce from her first husband," and how painful it was to tell her mother that her marriage was over. To showcase the significance of the encounter, Warren tweeted out a clip." • Dead Lord. You don't tweet out your own tears to show sincerity. Have somebody else do it! Isn't anybody on her staff protecting her?
Impeachment
"Barr rejects key finding in report on Russia probe: report" [The Hill]. "People familiar with the matter told The Post that Barr said he does not agree with the report's finding that the FBI had enough intelligence to initiate an investigation into the Trump campaign in July 2016. The long-awaited report from Justice Department Inspector General Michael Horowitz is expected to be made public in a week. But a draft is being discussed behind the scenes, and the attorney general reportedly is not persuaded that the FBI investigation was justified. The draft report is now being finalized and shown to the witnesses and offices investigated by Horowitz. People familiar with the matter told the newspaper that Barr believes information from other agencies such as the CIA could change Horowitz's finding that the investigation was warranted."
Our Famously Free Press
What next? The children's edition?

OMG GIVE IT UP ALREADY https://t.co/1ISNb6oJYP

— Julie Kelly (@julie_kelly2) December 3, 2019

I remember the Wall Street Journal hawked its books during the Clinton impeachment — right on the editorial page!
Realignment and Legitimacy
UPDATE "Democrats Should Make 2020 a Referendum on 'More Socialism for Old People'" [Eric Levitz, New York Magazine]. "The Democrats' leftward lurch on socialism for seniors is right on the merits: Owing in part to gains in life expectancy among the elderly, an American turning 65 today has somewhere between a 50 and 70 percent chance of eventually requiring long-term support by the end of his or her life. And yet, the U.S. is nearly alone among wealthy nations in lacking a universal long-term-care benefit…. America is in dire need of a wide variety of progressive reforms. And there are strong arguments against prioritizing new benefits for seniors over action on climate change or health care or voting rights, when and if Democrats retake the White House and Senate. But before worrying about exactly how they should wield power, progressives will first need to win it. And in both the primary and general elections, left-wing candidates have both an urgent need to increase their support among seniors and more to offer those voters than any of their rivals." • I agree with the proposal on the merits and the politics. However, socialism, as Levitz surely knows, is not targeted at age groups ("ok boomer socialism" is not a thing). Universal concrete material benefits, especially for the working class, is the moral center here, not this or that cohort.
Stats Watch
Commodities: "OPEC+ Gambles That U.S. Shale's Golden Age Is Over" [Bloomberg]. "For years, OPEC ignored the rise of the U.S. shale industry and came to regret its mistake. Now, the group is making another bold gamble on America's oil revolution: that its golden age is over…. OPEC isn't alone. Across the industry, oil traders and executives believe U.S. production will grow less in 2020 than this year, and at a significantly slower rate than in 2018. On paper, the cartel has the oil market under control."
Retail: "Competition among parcel carriers this holiday season is turning into a race against the calendar. Delivery companies are facing the tightest schedule in years because Thanksgiving fell on the latest possible date… giving carriers just 23 days until Hanukkah and 26 days until Christmas to collectively handle more than two billion packages" [Wall Street Journal]. "SJ Consulting Group Inc. projects Amazon.com Inc. will deliver 275 million packages this season, double last season's volume and a significant test for the company's burgeoning logistics • Hence–
Retail: "Exclusive: Amazon's Own Numbers Reveal Staggering Injury Rates at Staten Island Warehouse" [Gizmodo]. "Since opening in September 2018, Amazon's massive fulfillment center on New York's Staten Island has garnered a reputation as grueling and unsafe, even among a logistics network broadly criticized as such. Now, leaked company documents reveal that injury rates at the warehouse, known as JFK8, are over three times the industry average. What's unclear is if these numbers are at all anomalous compared to Amazon's other facilities." • Doubtful, given the level of control Amazon exerts over all its warehouse workers — control that's centralized in software.
Retail: "Horrifying Series Of Unspeakable Actions Result In $39 Crock-Pot Being Delivered To Man Same Day" [The Onion (RH)]. • Including–
Retail:
The story continuous. We start getting an impression that people took upon themselves the job that someone at @amazon should be doing: verifying the products that are uploaded there. Here is an "Arbeit macht frei" bath-beach-pool-gym towel. https://t.co/VD4uXikjpl https://t.co/DF4rChxIiV pic.twitter.com/NS9kROWIFp

— Auschwitz Memorial (@AuschwitzMuseum) December 2, 2019
Amazon: Not just crockpots!
Shipping: "America's Railroad System Is Great — for Freight" [Bloomberg]. "[T]he U.S. freight rail system [is] arguably the best and most efficient in the world. U.S. railroads carried 81% more ton-miles of freight in 2017 than in 1981, while average freight rates fell 46% in inflation-adjusted terms. Trains now carry almost as much freight (as measured in ton-miles or ton-kilometers) in the U.S. as trucks do, which certainly isn't the case in Japan or the world's other biggest economies….
Shipping: Handy chart:
Growth in global container traffic over last 30 years was phenomenal. Will it continue if narrowing wage differentials reduce incentives for out sourcing in manuf? What would a reconfigured, short-range trading system look like? Asks @RKWinvisiblemanhttps://t.co/LPummqtY7H pic.twitter.com/vK4znsEQ4H

— Adam Tooze (@adam_tooze) December 3, 2019
Shipping: "Engineering shipyard consolidation may turn out to be as tough as building bigger ships. South Korea's plan to merge its two big shipbuilders into a single behemoth is hitting bumps in Singapore… Merging the debt-ridden Hyundai Heavy Industries Co. and Daewoo Shipbuilding & Marine Engineering Co. would create a single builder controlling roughly 20% of the global market" [Wall Street Journal]. "Singaporean regulators are most concerned about the yards' dominant role in building liquefied natural gas carriers, a business that puts the planned merger at the center of the world's changing energy markets."
The Bezzle: "Amazon Still Does not Collect Sales Tax on All the Items it Sells" [CEPR]. "Through much of its existence Amazon did not collect sales tax in most states. As this became more contentious and it had a physical presence in more states, Amazon eventually agreed to start collecting sales taxes in all states. However, it still does not collect sales taxes on the sales of its affiliates, who account for more than 40 percent of the sales through Amazon's site. This is a massive subsidy with literally no policy rationale. In effect, the government is subsidizing purchases through Amazon at the expense of brick and mortar stores, many of which are small businesses. This policy is costing state and local governments billions of dollars in revenue and helping Amazon to grow at the expense of its competitors." • The original act of regulatory arbitrage — or, in the vulgate, theft and fraud — that gave Amazon its edge. That's what "innovation" and "disruption" generally mean in "startup culture." You'd also think those "rule of law" Democrats might be doing something about this, given that this subsidy to Amazon gutted small town retail everywhere.
The Bezzle: "Uber loses London licence after TfL finds drivers faked identity" [Guardian]. "Uber has been stripped of its London licence after authorities found that more than 14,000 trips were taken with drivers who had faked their identity on the firm's app…. The decision will not see Uber cars disappear from London immediately, as the firm has said it would appeal and could continue to operate pending the outcome, provided it launched official proceedings within 21 days.
The Bezzle: "Musk suggests Tesla has 200,000 orders for Cybertruck" [Reuters]. • At a hundred bucks a pop.
The Bezzle: "People have been ridiculing Tesla's new Cybertruck for its unusual design — but some big names in Silicon Valley say they love the pickup" [Business Insider]. For example: "Outside of the technology landscape, Blade Runner artistic director Syd Mead thinks highly of Tesla's Cybertruck, telling Business Insider's Aaron Holmes in an emailed statement that it "has completely changed the vocabulary of the personal truck market design." • My high concept of truck design vocabulary includes the idea that you can really load it up with stuff. Then tailgate, for example. A vehicle that can't do that is a car, not a truck.
Honey for the Bears: "Look To Older Workers For Clues About The Next Recession" [Teresa Ghilarducci, Forbes]. "The last time a recession started, which turned out to be the Great Recession, the official start date was late in the year. Holiday season 2007 shares similar characteristics to now. The last time a recession started things were looking good for older workers, just as they are looking good now. Back then the unemployment rate was 3.2% for people over 55. In October 2019, the unemployment rate for older workers was even lower: 2.6%. Low, low—almost too low? In the glass-is-half-empty interpretation of the data, unemployment rates are often at their lowest right when a recession starts… Wages started falling from the exact same place, $961 in the last quarter of 2018, to $916 in the most recent report. Note that when the recession was officially called over in mid-2009, the median weekly wages for older workers were $963, $47 higher than today. In economics, things look good before they get worse. Jobless rates for all workers, including workers over age 55, are usually unbelievably low right before they get inhumanely high. Unemployment is low now, but we don't know how low it can go. Yet falling wages for older workers are an ominous sign with jobless rates so low." •
Honey for the Bears: "Recession odds 'higher than normal,' says Janet Yellen" [Business Insider]. Pre-Thanksgiving, still germane. "Former Federal Reserve Chair Janet Yellen doesn't expect a recession in 2020, but mentioned two drivers of a potential downturn in a Thursday speech… Though recession fears have subsided from their summer highs, there are still risks coming together, Yellen said. She pointed to wealth inequality and the US-China trade war as two key threats to the record-long economic expansion, and signaled that the converging risks are setting a dim tone for investors moving forward. 'I would bet there would not be a recession in the coming year,' the former central bank chief said at the World Business Forum. 'But I would have to say that the odds of a recession are higher than normal and at a level that frankly I am not comfortable with.'" • "If you cross the river, a great empire will be destroyed."
* * *
Today's Fear & Greed Index: 60 Greed (previous close: 74 Extreme Greed) [CNN]. One week ago: 69 (Greed). (0 is Extreme Fear; 100 is Extreme Greed). Last updated Dec 3 at 12:14pm. Oy. That's a big drop for one day.
The Biosphere
"ESG phone Hohn" [Reuters]. "Chris Hohn made his name by assaulting the entrenched boards of European companies. Now the boss of activist hedge fund TCI is deploying those skills for a higher purpose. He's planning to vote against directors of companies that don't disclose how their balance sheets would be hit by climate change, the Financial Times reported on Sunday. Doing so would help outgoing Bank of England Governor Mark Carney's push for greater transparency about the financial risks of global warming. Yet for Hohn there's a fine line between being an outrider or a guinea pig. The Task Force on Climate-related Financial Disclosures, which Carney has championed, is founded on the notion that more information makes markets more efficient. If the body gets its way, every company will not only disclose its carbon emissions but also an analysis of the risks to its business from a warmer planet, and which assets could be devalued by the move to a zero-carbon world. That would allow markets to better sort sheep and goats, and value them accordingly. Greater clarity could then translate into higher multiples for stocks that Hohn owns, including Charter Communications and Airbus. The catch is that such lucidity is way off."
"How to Talk Like a Climate Negotiator" [Bloomberg]. "There are energy and environment ministers from almost 200 countries at the COP25 climate meeting in Madrid this week, and they share one common language: the jargon of carbon diplomacy. This tongue mixes United Nations terms of art with technical shorthand absorbed from the energy industry. The result is among the most [uh oh] in use by any international institution — a vocabulary that scarcely existed two decades ago. It allows more than 15,000 delegates at COP25 to invoke past treaties and conduct minute deliberations on the mechanics of pollution credits." • One buzzword:
Just Transition: New this year. Pressure groups are anxious that the wrenching changes required to slash fossil fuel emissions don't hit the poorest. They want to see a transition that helps those affected adjust. The emphasis seems to be on helping poor nations, not necessarily coal miners in rich countries.
Get ready flyover! Here comes The Big Weinie again! (And the tragedy is that with a Green New Deal, IMNSHO, it wouldn't have to be that way. I guess elites are committed to continuing the existing policy of depopulation; see falling life expectancy and birth rates.)
"Trees informing networks explaining trees" [The Genealogical World of Phylogenetic Networks]. The lead: "Working at the coalface of evolution, one phenomenon always intrigued me: How does the signal in the data build up a tree? Especially since we have to assume some sort of reticulation happened at some point — evolution is rarely a strictly dichotomous process, which we would model by a tree. In earlier posts, we have covered the difference between clades and grades in a tree, and Hennig's concepts of monophyly and paraphyly. Clearly, in the light of actual evolutionary processes, the cladistic approach synonymizing clades with monophyly is a simplification at best, and naive at worst." • This looks fascinating, though I confess I don't understand a word of it. It's about trees, the data structure, not "real" trees.
Games
"Inside Twitch's Wildest Talk Show" [Kotaku]. • Do we have any Twitch users in the audience? I do note that "live on camera to an average audience of 20,000" is rather small, so perhaps my horrified revulsion existential despair fear and trembling concerns are misplaced.
News of the Wired
This is apparently not a parody:
Ask consent for all sexual encounters, yes, even sexting. I just came up with this script that you're all welcome to borrow! pic.twitter.com/CXL5LggOMX

— Suzannah Weiss (@suzannahweiss) December 2, 2019
This year's winner, "Best Creepster Come-On"…
I never got the comic strip Nancy when I was a kid. However, Nancy now seems to have a new artist, and is rejuvenated (and often pleasingly off-kilter, though this strip is not):
Nancy by Olivia Jaimes for Tue, 03 Dec 2019 https://t.co/NlSA91WHZA pic.twitter.com/v44yhXtpsm

— Nancy (@SluggoIsLit) December 3, 2019
But how did they make up all the different names?
words for landscape features often show a lot of local variation, as we can see in today's map of terms for small natural watercourses #geography #linguistics #englishlanguage #dialect #maps #mapporn #dialectology #dataviz #gis #variation pic.twitter.com/7wnffjy9OX

— Tweetolectology (@tweetolectology) December 2, 2019
Beautiful:
my 94 year old great grandpa built this town by hand for over 3 years, he's incredibility talented. all we wants is for more people to enjoy his work. twitter do your thing pic.twitter.com/MEaWlwcuLg

— darc (@darcey_mariee) November 28, 2019
See the whole thread, because the comments are lovely.
* * *
Readers, feel free to contact me at lambert [UNDERSCORE] strether [DOT] corrente [AT] yahoo [DOT] com, with (a) links, and even better (b) sources I should curate regularly, (c) how to send me a check if you are allergic to PayPal, and (d) to find out how to send me images of plants. Vegetables are fine! Fungi and coral are deemed to be honorary plants! If you want your handle to appear as a credit, please place it at the start of your mail in parentheses: (thus). Otherwise, I will anonymize by using your initials. See the previous Water Cooler (with plant) here. Today's plant (GF):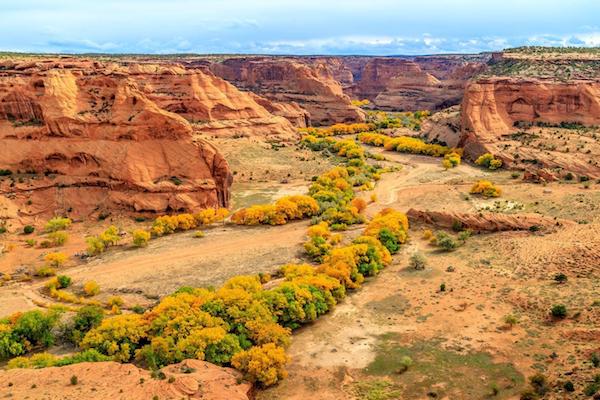 GF: "The attached image shows fall colors in Canyon de Chelly AZ with cottonwood trees providing the color. I did not take this photo and don't know who did – I am using it as an illustration of some differences between east (more red colors) and west (mostly yellow colors) during fall. Probably due to more hardwoods in the east and softer wood trees dominant in the west." With my New Englander bias, I had assumed that red dominated in fall colors everywhere. Not so! Clearly, I am still catching up with autumn images, but perhaps the bright colors will be welcome in the short days, just as snowy pictures will be welcome when the snow is past!
* * *
Readers: Water Cooler is a standalone entity not covered by the annual NC fundraiser. So if you see a link you especially like, or an item you wouldn't see anywhere else, please do not hesitate to express your appreciation in tangible form. Remember, a tip jar is for tipping! Regular positive feedback both makes me feel good and lets me know I'm on the right track with coverage. When I get no donations for five or ten days I get worried. More tangibly, a constant trickle of donations helps me with expenses, and I factor in that trickle when setting fundraising goals:
Here is the screen that will appear, which I have helpfully annotated.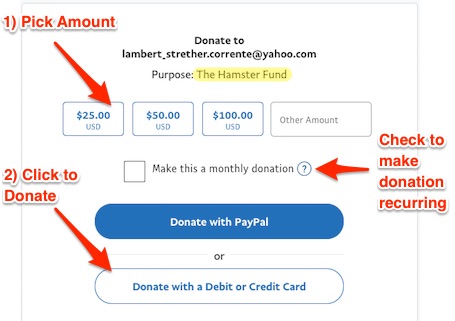 If you hate PayPal, you can email me at lambert [UNDERSCORE] strether [DOT] corrente [AT] yahoo [DOT] com, and I will give you directions on how to send a check. Thank you!