Bank robbery suspect threw stolen money and wished everyone a 'Merry Christmas,' witness said CNN. Hero.
In Asia Pacific the climate crisis is happening now, not in the future CNN
Cattle have stopped breeding, koalas die of thirst: A vet's hellish diary of climate change Sidney Morning Herald
Notre Dame rector: Fragile cathedral might not be saved AP
Brexit
UK at 'end of queue' for data deal with Brussels FT

UK must pay for it! Varadkar REFUSES to help Boris with Brexit bridge in huge blow to PM Express
Latest Bid by France's Macron to Quell Protests Over Neoliberal Pension Scheme Fails as Strikes Continue Common Dreams. Again, miserably inadequate mainstream coverage.
France strike leaves transport disrupted on Christmas Eve New Europe. The last paragraph should be the lead, on this and other stories.
Tutu revolt – French ballet dancers mount artful protest Agence France Presse
China?
* * *
Why Japan Is Obsessed With Kentucky Fried Chicken on Christmas Smithsonian
Jomon revival Japan Times
Malaysia imposes anti-dumping duties on China, Japan, South Korea and Vietnam steel imports Reuters
Syraqistan
Bolivia's coup Le Monde Diplomatique
Bolivian Free Territory of Chapare Ousted the Coup Regime, Braces for Bloody Re-invasion Orinoco Tribune. Not quite sure of the provenance on this one…
India
Citizenship Act protests: 16 people killed in Uttar Pradesh, 131 arrested in just one district Scroll.in

Why Hindutva is a pariah in world opinion Indian Punchline
Impeachment
The Articles of Impeachment Should Have Been These Instead Ted Rall. But they aren't, so from this point forward, all that is impeachable is what's in Pelosi's two articles. Good job!
Why DER SPIEGEL Stands Behind Its Magnitsky Reporting Der Spiegel
Trump Transition
The Ballad of Don and Nancy Politico
2020
* * *
The Medium Is the Mistake NYRB. Review of Taibbi's Hate, Inc.
Health Care
Crisis Looms in Antibiotics as Drug Makers Go Bankrupt NYT. Well, they can use fish antibiotics. The magic of the marketplace!

U.S. diabetes patients turn to 'black market' for medications, supplies Reuters

What It Looks Like When a Hospital We Investigated Erases $11.9 Million in Medical Debt Pro Publica (Re Silc).
Big Brother Is Watching You Watch
Mysterious drones flying nighttime patterns over northeast Colorado leave local law enforcement stumped Denver Post
Realignment and Legitimacy
In aftermath of Ukraine crisis, a climate of mistrust and threats WaPo. "But the jarring developments over the past three months have also exposed the extent to which the national security establishment and the values that have traditionally guided American foreign policy are facing an extraordinary trial of their own under Trump's presidency." "Traditionally" is doing more work there than any mere adverb should ever be called upon to do.
Black Injustice Tipping Point
Ramsey Orta filmed the killing of Eric Garner, so the police punished him The Verge
Guillotine Watch
"OxySacklers" angry that Tufts removed family name from campus Ars Technica (Re Silc). "Contrary to basic notions of fairness."
Class Warfare
How the rich plan to rule a burning planet Red Flag. Jackpot!

Property owner asks homeless Oakland mothers to leave vacant house San Francisco Chronicle (MoBee). "The real estate investment firm Wedgewood said it is partnering with the Los Angeles-based nonprofit Shelter 37 to provide training and job opportunities to at-risk Oakland residents and potentially sell the property at 2928 Magnolia St. to a first-time homebuyer." Uh huh [nods vigorously]. More on the NGO from Boots Riley here (and here).
Wheeling Island's Keeper of the Bees Belt Magazine
Why drink is the secret to humanity's success FT. From 2018, still germane.
Antidote du jour (original; via):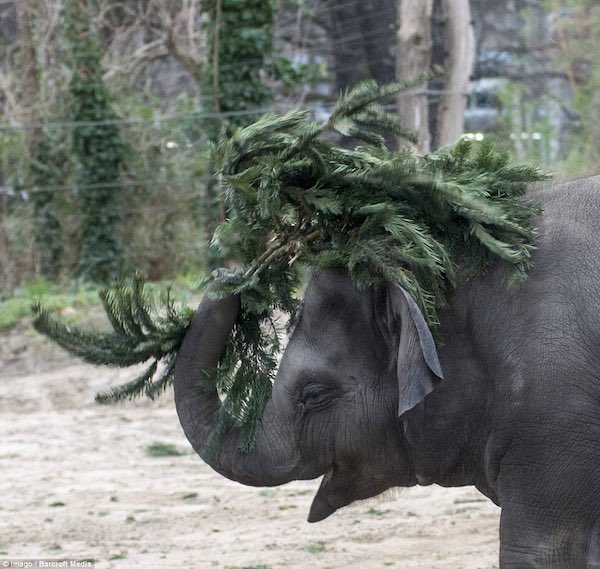 Bonus antidote, drama at an elephant sanctuary. Thread:
7. ? learn to become moms by babysitting babies in their herds

The big ? you see panicking is an ex-orphan named Makena

Makena was put in charge of babysitting Lili. She's upset because she thought she had lost Lili.

You can hear her former keeper say "the baby has gone" pic.twitter.com/riE3hVKeu7

— Yashar Ali ? (@yashar) December 24, 2019
See yesterday's Links and Antidote du Jour here.